BigCommerce Walmart Integration Guideline
If you're an eCommerce seller looking to expand your reach and streamline your operations, utilizing our LitCommerce BigCommerce Walmart integration is a smart and efficient solution.
By utilizing our tool, you can easily sell on Walmart using your BigCommerce store and synchronize your BigCommerce and Walmart platforms with just a single click. Let's explore the process of integrating BigCommerce with Walmart in four primary steps:
1. Connect BigCommerce and Walmart
2. List products on Walmart
3. Sync BigCommerce and Walmart
4. Manage Walmart orders on BigCommerce
Here is a detailed 4-step instruction guide for integrating BigCommerce with Walmart:
Step 1: Connect BigCommerce to Walmart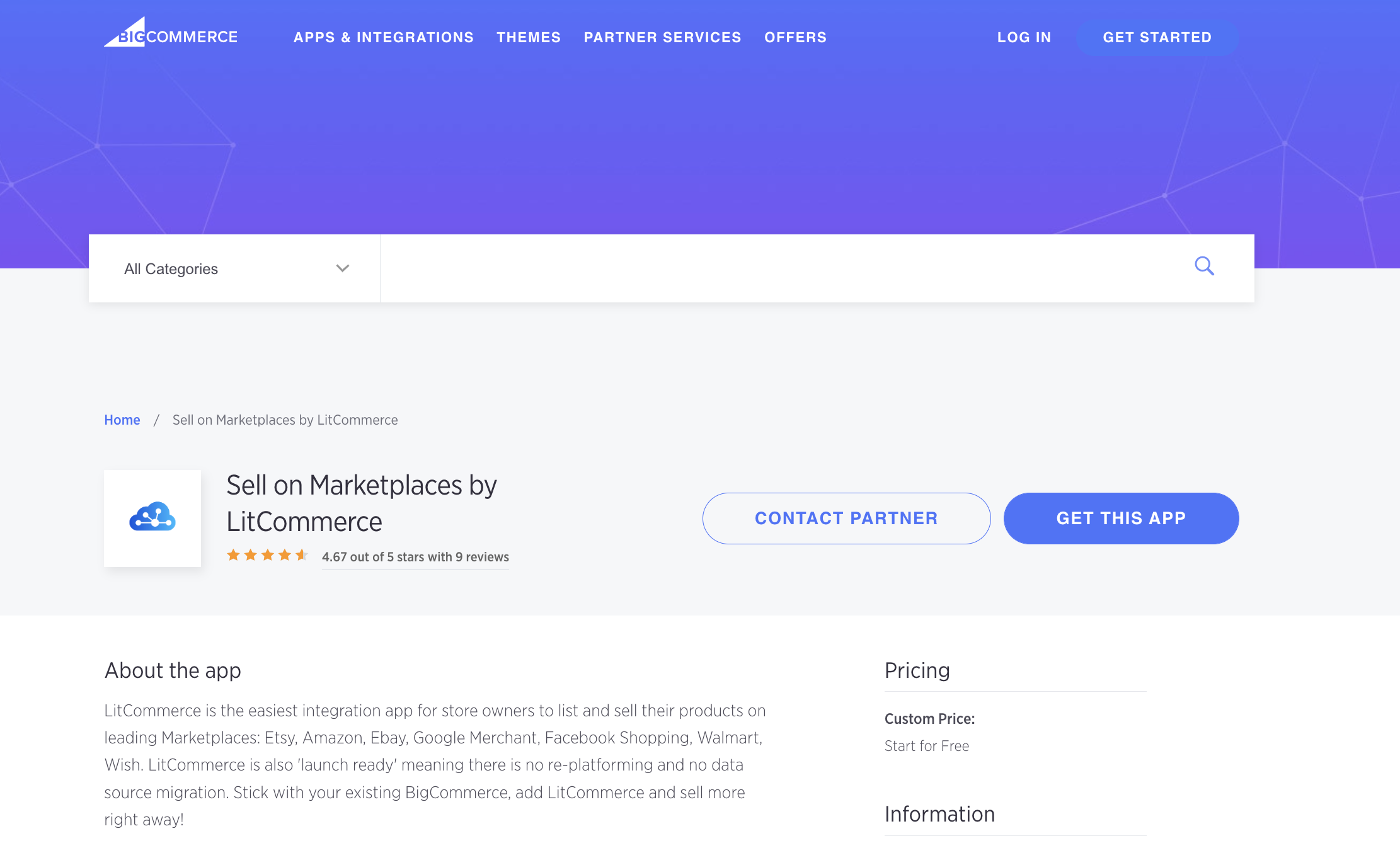 To begin the integration process, access bigcommerce.com and log in from the homepage. Then, search for LitCommerce in the search bar. Once you find the search result, click on the "Install" or "GET THE APP" button to install the LitCommerce app. Once the app is successfully installed, it will appear in the "My Apps" section. Click on it and follow the provided link to access the LitCommerce interface. To integrate BigCommerce with Walmart, follow these steps:
Click on "Add/Manage Channels" and select Walmart as your marketplace.
Enter your store's name and click "Connect."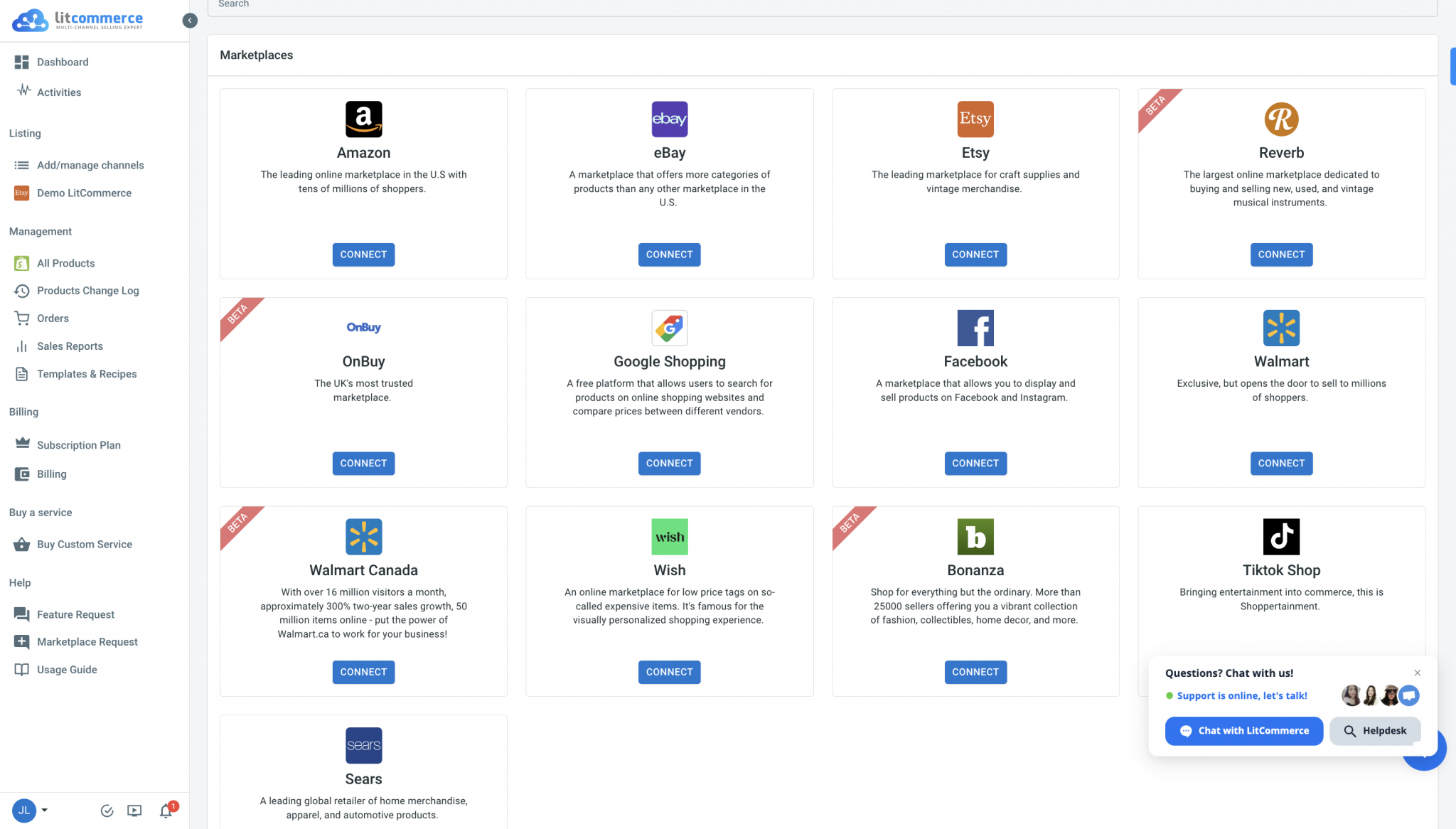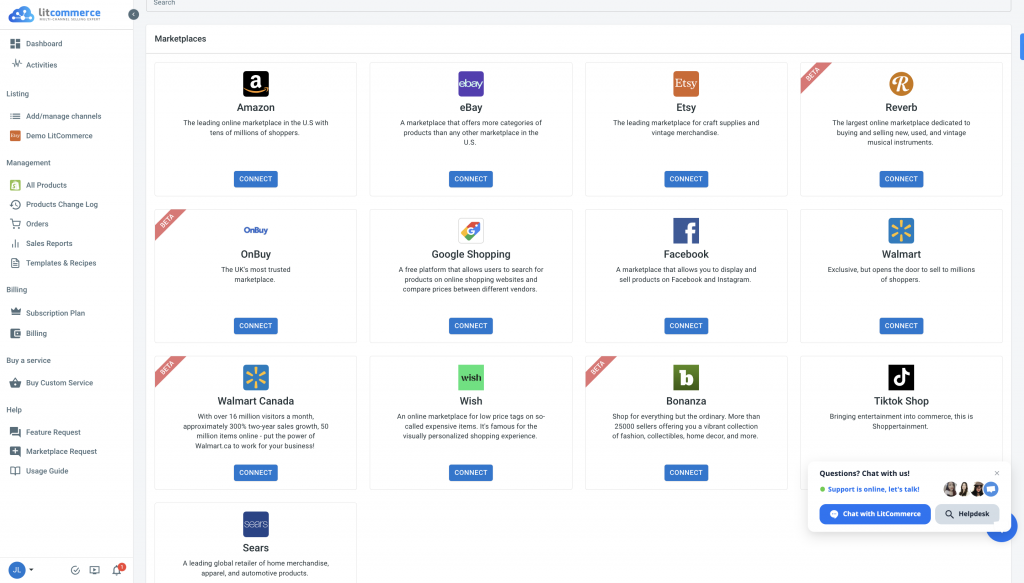 In addition to BigCommerce Walmart integration, online business owners can also explore integrations with other platforms, such as eBay, Amazon, and more. Refer to our video tutorial for guidance on connecting to Walmart.
Step 2: List BigCommerce products on Walmart
The next step in the integration process is listing your BigCommerce products on Walmart. Begin by accessing the "Management" section on the left panel of your screen and clicking on "All Products." This section displays all existing listings. Choose the products you want to list on Walmart.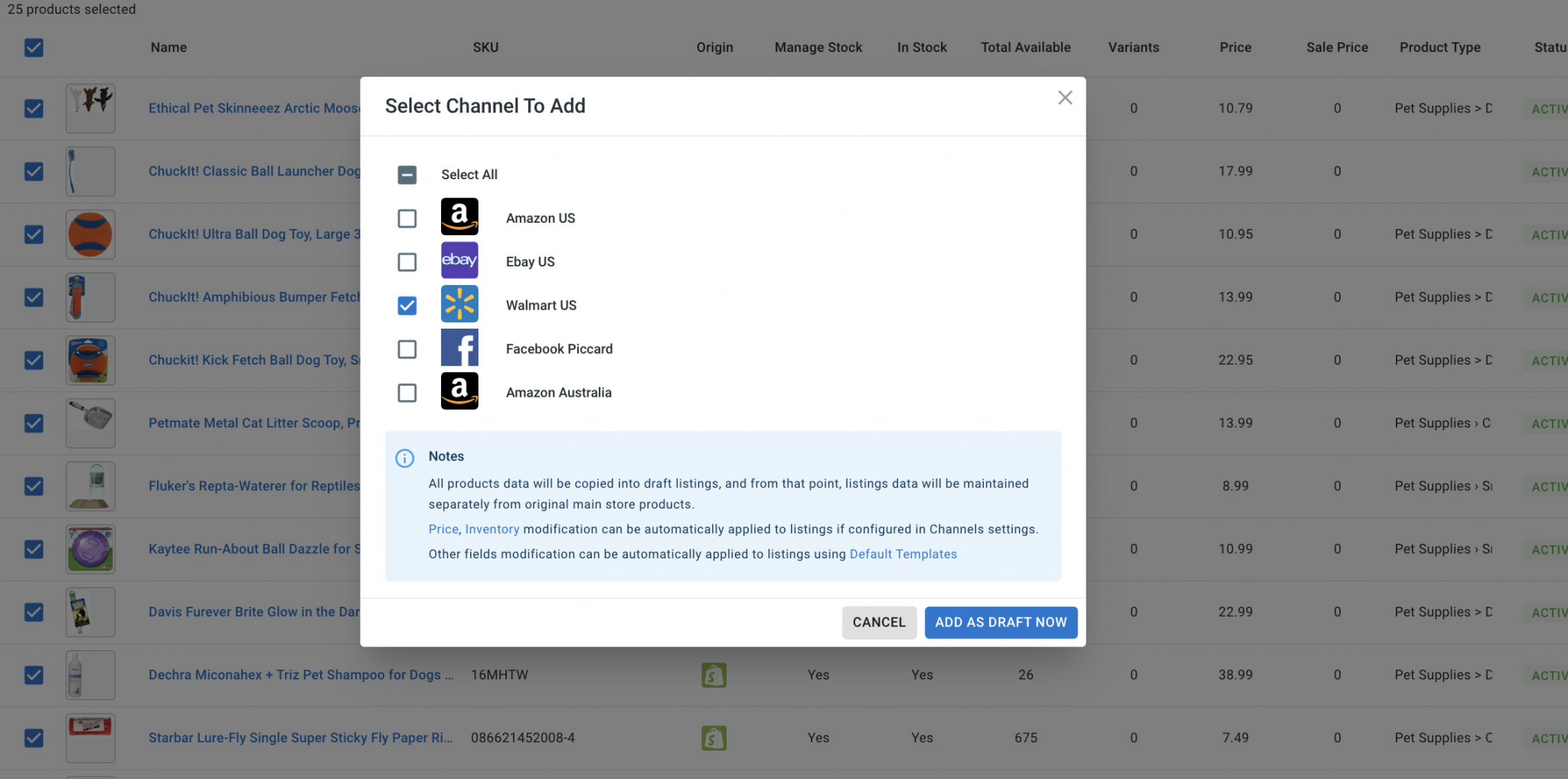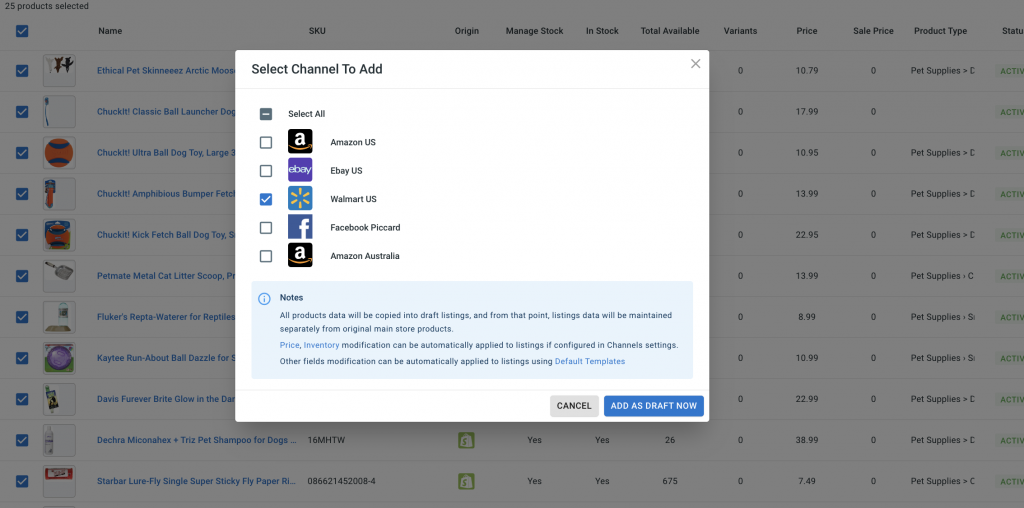 Once you've selected the items for your Walmart store, locate the "List Products on Channel" option in the upper left corner and choose Walmart. If you have new listings, select "Update from BigCommerce" and follow the provided guide.
You will be redirected to your new channel listings (in edit mode). Take this opportunity to optimize your Walmart listings before making them live. When using the LitCommerce app, you can edit your listings in two ways:
Simple mode: Click on the listing title and complete the necessary information in the pop-up window. Provide details about vital information, images, variations, category, and shipping.
Multi-edit mode: Utilize our QuickGrid feature to save time by editing multiple listings in one central dashboard. Please note that QuickGrid is only available for premium plans.
After completing the edits, select "Active Listing" from the "Select Action" menu to publish your item list on Walmart. This will transfer your listings from the draft tab to the active tab, reflecting your changes.
Step 3: Enable BigCommerce Walmart synchronization
The integration between BigCommerce and Walmart offers three types of synchronization: Pricing, Inventory, and Order. These features enhance your business operations. Here's how they work:
Pricing synchronization: This feature allows you to edit pricing independently on each channel. It means that your pricing on Walmart and BigCommerce does not have to be identical. Adjust your prices according to the specific audience, categories, and other factors on each platform.

Inventory synchronization: LitCommerce provides effective inventory control on both Walmart and BigCommerce. This function updates product quantities in your central catalog and prevents overselling. You can adjust inventory amounts individually on each platform and set minimum and maximum levels.

Order synchronization: With order synchronization, you can manage all orders from Walmart and BigCommerce in one central dashboard. This simplifies inventory control and order fulfillment processes. To use the order synchronization feature, enable the inventory synchronization first.

Step 4: Utilize the BigCommerce Walmart integrated order flow
The final step in the BigCommerce Walmart integration is to leverage the order flow supported by LitCommerce. With the three functions featured in our plan, you can manage orders from both Walmart and BigCommerce in one central dashboard.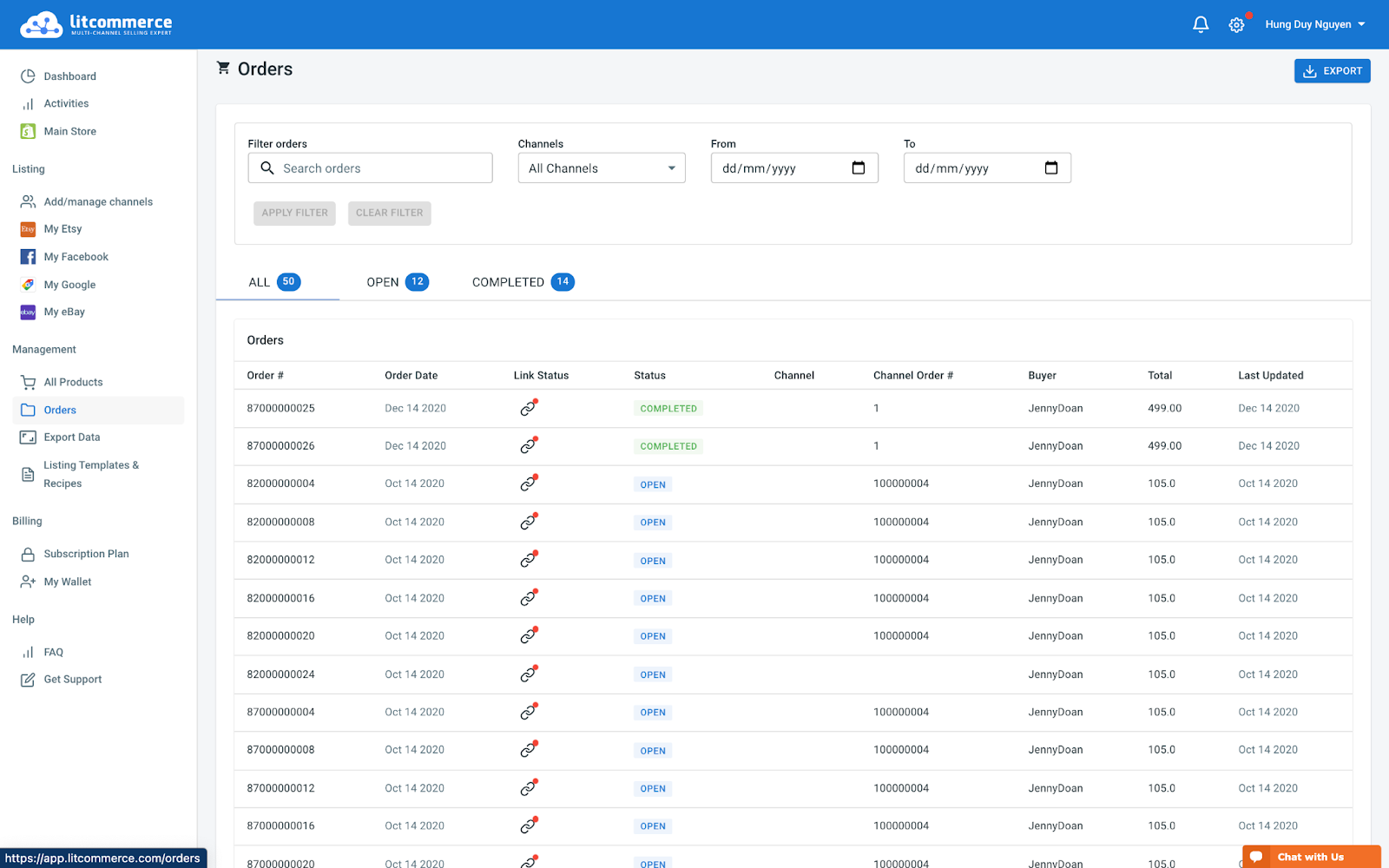 Within the BigCommerce central dashboard, you can review orders before proceeding with the fulfillment process or import them into your existing flow with the support of LitCommerce. If you choose the latter option, LitCommerce will assist you in:
Importing and tracking orders from a single dashboard
Providing real-time inventory updates for transferred orders
Updating tracking data and shipment information from all selling channels
With LitCommerce, achieving multichannel integration is made easier. In addition to BigCommerce Walmart integration, you can also connect to other selling channels such as Google Shopping, Facebook, and Amazon. We also offer integration options for Wix, Shopify, and WooCommerce.