For starters, you can use a brief rundown of selling on Amazon. As one of the top online marketplaces, Amazon remains the go-to option for millions of customers, suppliers, and sellers. The keywords in the search are a crucial mode of communication between both parties and the platform. If you can rank high for your keyword, you will get more customers. You can also improve your sales strategies by understanding the trends and changing the search styles of users. Let's dive in deeper to learn more about the Amazon keyword research process.
Understand Amazon keywords?
A keyword is a term used by buyers to search for a product. When used in the backend and product listings, these keywords can act as trigger points for potential buyers. These terms can be either short, medium, or long, depending on the user's needs. Long-tail keywords that contain three or more words have a higher conversion rate than those with just one or two words.
These keywords play a significant role in improving traffic and enhancing product visibility. If you can rank for keywords that are both low in competition and high volume in searches, you'll be able to raise your ranking and reach more potential buyers. To find high-performing keywords, you can use tools such as Semrush and Moz, which are based on targeted analysis.
Amazon Keywords: Types and Categories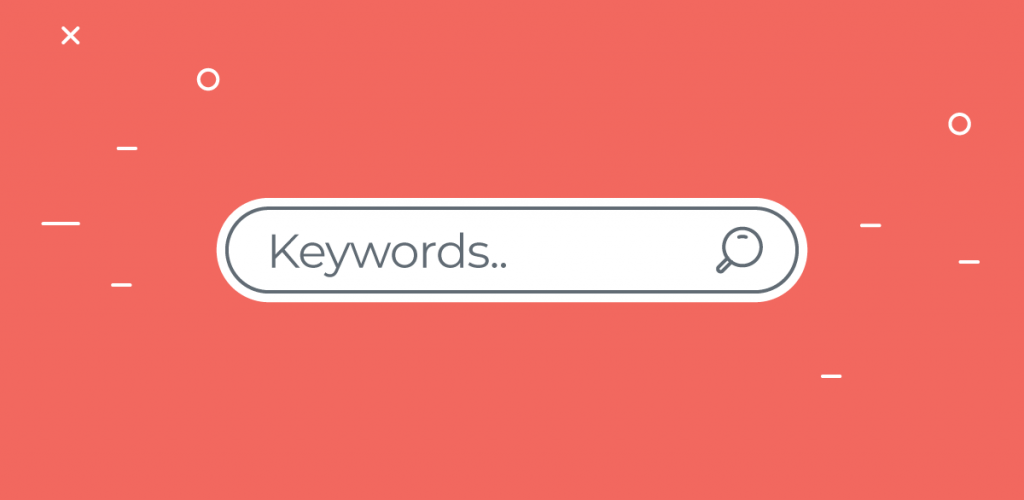 Three types of factors may include current trends, competitor listings, and search intent keywords for Amazon.
Product terms: These keywords refer to people who are able to identify what they are looking for and the exact search term that will answer their query.
Competitor terms: These terms can be derived from competitor listings or understanding search terms that work for them.
Audience terms: These keywords provide a broad net for potential prospects or casual visitors to the internet and could prove to be a buyer if directed to your product page.
Amazon Keywords can be classified into two types depending on their functionality and their usage.
Frontend keywords are keywords we use in the product title, description, and product listing. These keywords are forward-facing, and they are visible to buyers on your website or in their search results. They directly impact them.
Backend keywords: These keywords are generic keywords that can be used to attract visitors. However, they cannot be viewed from the backend. Backend keywords act like alt text for your product. They are applied from the seller's end and have a limit of 249 bytes for indexation. Optimizing your backend keywords is a key step in optimizing Amazon keywords for your product.
When deciding Amazon keywords, key parameters
Let's look at some of the key influencers who play an important role in growing your eCommerce business on Amazon.
Amazon's A9 Algorithm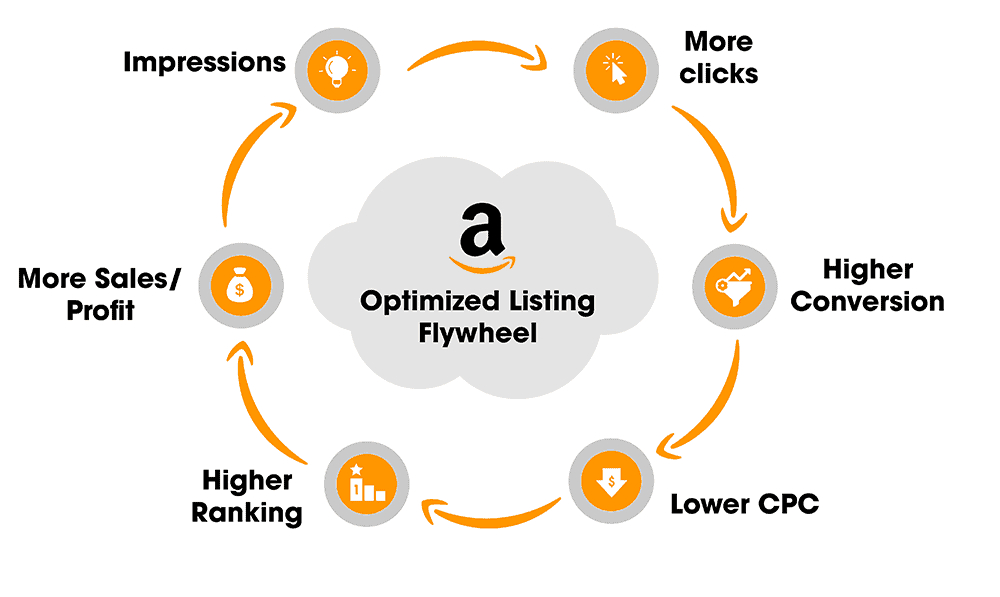 With the help of the A9 Algorithm, the products that fetch more traffic and show high sales history are ranked higher in the user search. Amazon flywheel has a cumulative effect that results in an excellent product ranking. These sellers use the right keywords to draw genuine prospects. This will drive more traffic to the product page. Once these products are properly listed and directed, they will result in conversions.
These conversions will also create a strong sales history and help rank the product higher in search results. Brand visibility will increase with better search results. This will lead to increased traffic and customers.
Relevance of the product
Visitors make purchases by looking at the product details and images. Hence, Amazon improves product relevancy by integrating keywords strategically into your product listings. Try to make your product's tone and keywords reflected in the listings.
Use catchy, persuasive language to describe your product.
Use proper narration, structure, and flow to your product listing.
Use bullet points to summarize the functionality and USP of your product.
You can trust the relevancy of your product with high-quality images and social proof methods
Do's and Don'ts
Be aware of specific guidelines for effectively using Amazon keywords. Let us understand,
It is always a good idea to use the same keyword strategy in your marketing funnel and on social media channels.
According to the Amazon A9 Algorithm, keyword stuffing can decrease readability and increase rejection chances.
Use only relevant and objective keywords to make sure your product is visible in search results. This can negatively impact the brand in many ways.
Also, repeated words and commas in backend keywords can eat up space and make it useless.
Note: Remember to consider the screen size. Keep in mind that your prospects can search Amazon for your product from different devices. That's why it's a good idea to include your focus keywords in your product title.
Amazon's ultimate keyword research tricks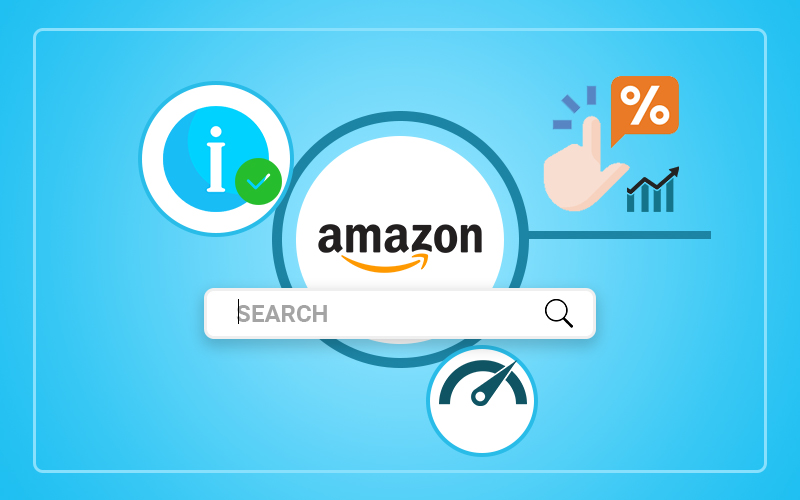 Amazon keyword research has one purpose: to bring in potential buyers for products or search queries that are relevant to your business. Let's look at these insights and discuss some tricks that will make this process easier.
1. Google Manual Search
Google is worth your time. Also, check out the People Also Ask section for related keywords to your product listing. These topics are often the most popular search terms based upon user queries.
2. Make use of the free tools available
Google Keyword Planner and Google Trends are two free tools that provide a detailed understanding of keywords along with stats.
3. Amazon Auto-Complete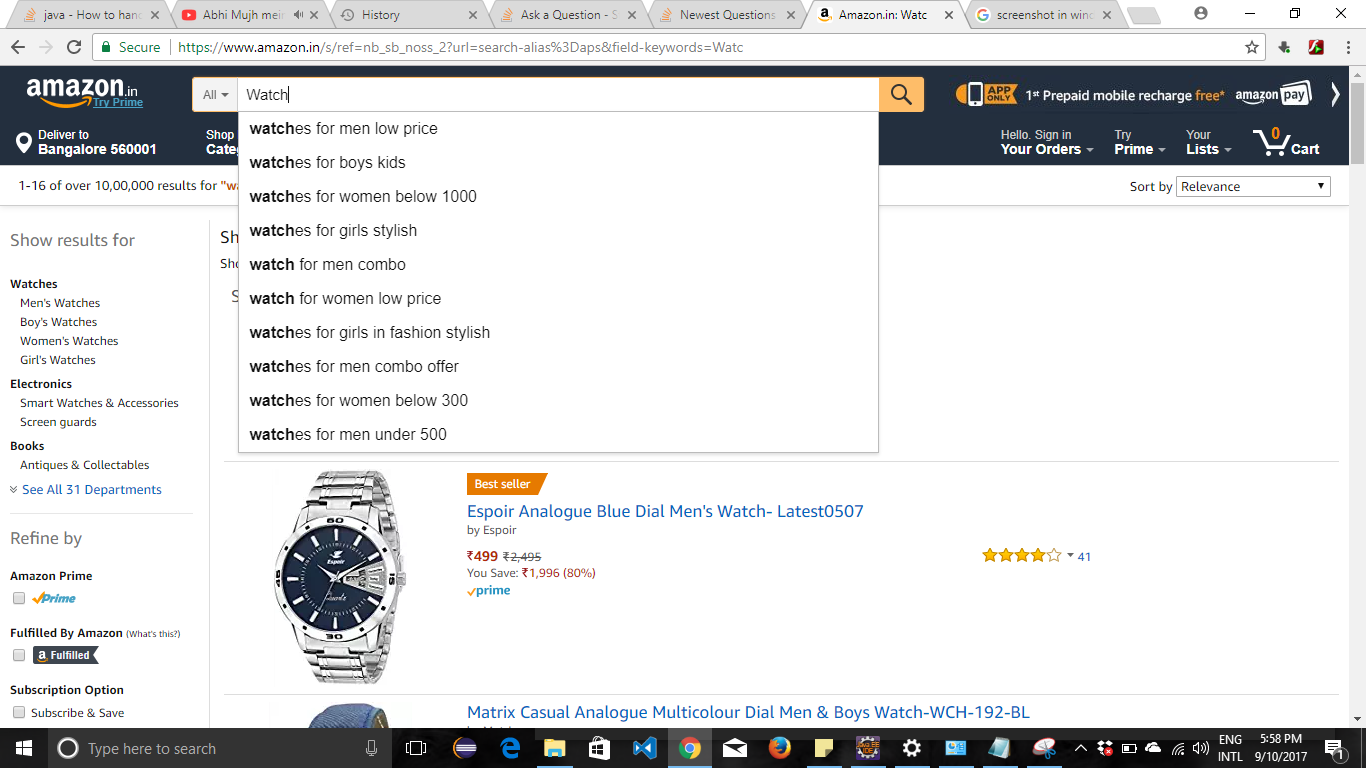 Amazon will suggest other terms that are related to your query using its search bar. These choices reflect a variety of buyer preferences. This information can be used to your advantage.
4. Get to know your Competitor.
Analyzing competitor listings can give you insight into keywords that are causing the competition. It also gives you insight into the strategies used by other sellers to attract prospects.
5. Improve Product Listings
To attract the right audience, it is highly recommended that you use your Amazon focus keywords smartly in your product descriptions. This will also increase your brand visibility on Google.
6. Keep track of customer reviews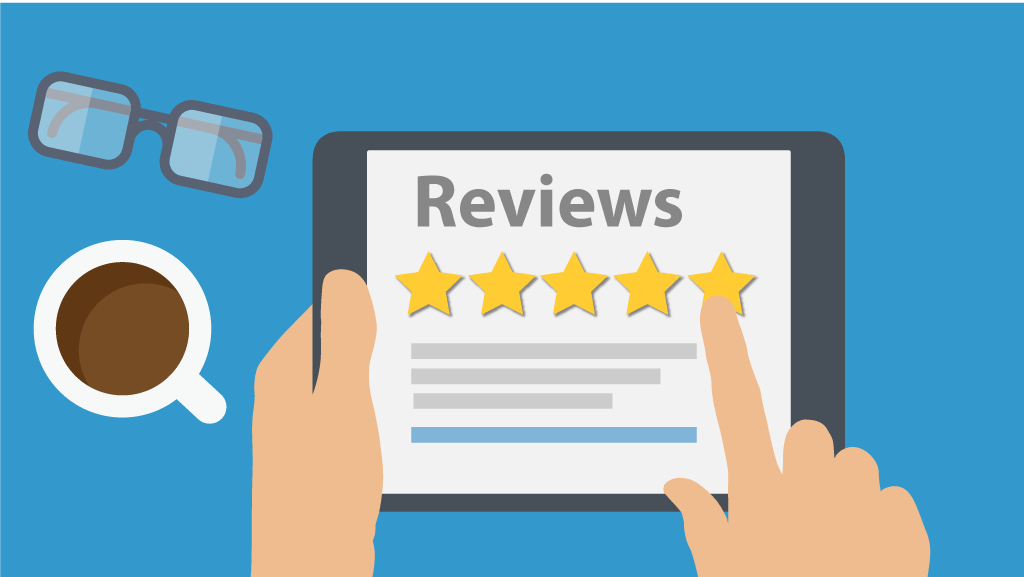 Customer is the king of any business. This means that your business will prosper if your customer is satisfied with your product. That's why customer reviews are critical, the more positive review you have, the more product you can sell on Amazon. Hence, increase sales by highlighting the features that customers love and reducing the problems that cause them to be turned off.
You can check out best products to sell on Amazon to better satisfy customers and earn more sales.
7. Be kind to the user
Your personal experience will help you to better understand customer search approaches. You should also be able to identify the range of keywords that a user could search.
8. Monitor your keyword performance
To rank higher, you should monitor the performance of your keywords. Manual SERP evaluation, search engine traffic analysis, volume, number, etc. are all methods to rank higher. Also, the relevance of keywords used is determined by the number of clicks.
Conclusion
Only the traffic that Amazon keywords generate will determine its success. They help increase sales by attracting potential buyers and ultimately increasing transactions.
That's an overview of Amazon keywords and a few tips to get a better ranking for your Amazon store. If you're trying to find an Amazon selling tool to get better management for your multichannel store, check out LitCommerce – an ease of use and affordable solution for multichannel selling.
If you need more info, please leave us a message, we're always ready to help.
Also, you can join our community for more exciting eCommerce news and tips. Good luck!
You might also be interested in reading: