It's always a scary experience when you're given two alternatives and have no clue which one is better for you. Almost everyone who sells on eBay has embarked on this adventure at some point. That was while you were registering for your eBay seller account. There is often some confusion at first since eBay provides two alternatives, eBay Business account vs Personal account.
In this article, LitCommerce will clear the air once and for all on which eBay account is most suited for you if you want to establish yourself as an eBay seller:
Let's scroll until the end to have the desirable choice!
---
eBay Business Account vs Personal Account – Overview
When you kick off an eBay seller account, you have two possibilities to choose from. Of course, you only can choose one of them:
Business Account
Personal Account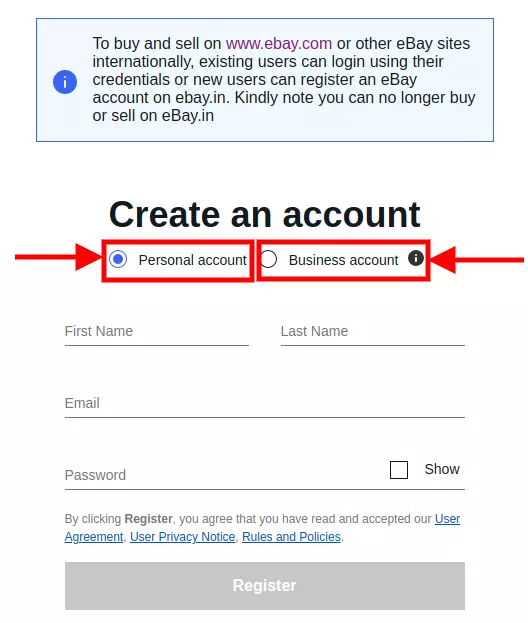 #eBay business account: Overview
If you want to sell on eBay full-time, deal in volume transactions, or resale things, a BUSINESS ACCOUNT is what you should go for.
Whether you want to register as a business but aren't sure if you should look for these 6 signals in your sales.
Assume you are a reseller who sells multiple items with high volume sales on eBay. The first thing you should do is open a business account.
Getting a business account is smart if you develop the things you're offering on eBay (which implies that you're already a manufacturer).
If you are a seller that deals in big amounts of transactions on a regular basis, a personal account will not suffice. Registering for a business account will lower the different fees placed on your items and sales while also opening up several additional avenues for your firm's development, such as having an eBay shop.
Selling products that aren't for your own purpose
When selling products on eBay that you purchased for the intention of selling rather than personal use, you might consider converting to a business account. It may be advantageous in the long term, allowing you to save taxes.
You work as a sales assistant
If you meet specific selling conditions, eBay will allow you to sell for others. So, if you're working as a selling assistant on eBay, it's strongly recommended that you open an eBay business seller account. Selling things for other companies on eBay is almost identical to selling your own products.
With a business account, you may be more flexible in terms of the number of listings you'll be expected to manage by the product owner.
Purchasing for your company
If you are purchasing things for your company, you should open a business account. For the things you want to sell on eBay, eBay allows you to do searches using keywords such as "bulk," "liquidation," and so on. It enables you to easily purchase and resell the same item on eBay.
#eBay personal account: Overview
Contrary to an eBay business account, an eBay personal account is often used when you want to sell on eBay casually as a hobby and just list a few personal items. The items are either antiques or are inactive and unused.
To summarize, if you do not intend to sell on eBay for professional reasons, you should consider opening an eBay personal account.
---
eBay Business Account vs Personal Account: Pros and Cons
Each type of eBay account has its own advantages and disadvantages. Therefore, it is difficult to confirm between personal vs business eBay accounts, which one will be a better start. There is only the most suitable choice for the demand and orientation of your eBay online store. Let's stay tuned and you will get something beneficial!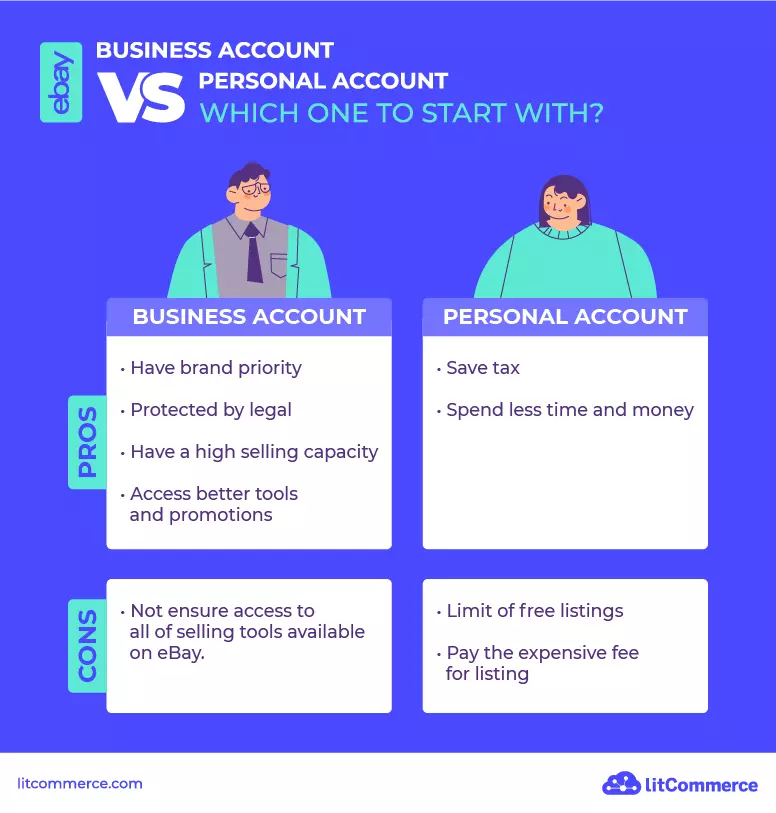 #eBay business account: Pros & cons
The following are some eBay business account pros and cons that may help you expand your eBay business. First, having an eBay business account has exclusive benefits:
When you sign up for a business account, you not only receive a better and more updated listing, but you also have access to a variety of subscriptions. Subscriptions may be used to improve your prospects for sales, promotions, and other perks that eBay provides to its sellers.
When you sell on eBay personal accounts on a regular basis, you'll find it difficult to handle your taxes and revenue when the time comes. In contrast, you may give your sales a legal identity with a business account. All of your invoices and bills will be associated with the company name you choose. It also opens the door to a variety of tax deductions and perks when paying your taxes.
Have a high selling capacity
Business accounts also lift many restrictions that are put on personal accounts. One of the most severe disadvantages of registering for a personal account is having a minimum listing limit for your products of 10. The business account boosts the listing capacity, enabling you to sell more by listing more.
Access better tools and promotions
When it comes to sellers, eBay has a lot to offer. However, if you attempt to access them using a personal selling account, you may find that they are unavailable. Various programs, such as Promotion Manager, Selling Manager Pro, and others, may significantly increase your sales.
However, a business account also brings some drawbacks. Converting to a business account does not ensure that you will have immediate access to all of the selling tools available on eBay.
#eBay personal account: Pros & cons
eBay personal account seems to have fewer benefits than a business account. Stop! This statement is not correct in all cases. When you use a personal account effectively and reasonably, it will bring 2 significant benefits you need.
It is a fault if not mentioning that you will save many fees for tax. Obviously, when you run a personal account, you mustn't pay double tax as a business account.
Spend less time and money on your eBay store
If you have other jobs and only sell on eBay for fun, a personal account will require less time and money to focus on. You have no need to promote marketing campaigns and spend much money on Ads.
However, the biggest disadvantage of eBay personal account is the limit of 10 listings. When you have more than 10  listings, you must pay much more.
Although the benefits of business accounts seem to outweigh those of personal accounts, business accounts are not always the best choice. Especially, when you do not have the desire to develop a long-term store on eBay, money spent to invest on eBay will be quite difficult to make a profit.
The verdict:
In conclusion, register a personal account when doing business on a small scale. On the contrary, if you want to grow your store, you should switch to a business account to receive the full benefits that eBay offers to business owners. And don't forget to consider the Shop package that suits your financial ability.
---
How to Switch eBay Personal Account to eBay Business Account
To change your account type from personal to business, follow these steps:
Select the My eBay tab.
After choosing the My Account header, click Personal Information.
Click the Edit button. It's right next to the Account Type.
On the Change Account Type screen, choose Business.
Fill out the form for the Business account, then click the Change to Business Account option.
HOW TO SELL ON EBAY?
eBay is a popular marketplace with over 19 million active sellers and 15 billion active listings. This will be a great opportunity to make big profits.
Let's explore how eBay works and how to get started selling on eBay.
eBay Business Account vs Personal Account – FAQs
1. Is it cheaper to sell on eBay as a business?
An eBay business account will not be cheaper but be much more profitable when you want to scale your business. Basically, eBay fees include a listing fee (also known as an insertion fee) and a final value fee when your item sells.
When creating a business account, you will be able to choose a Shop package that is suitable for the size and orientation of your business. Depending on the package you choose, the cost will be different.
Meanwhile, if you use a personal account, you will have to pay for each listing when you have more than 10 listings. If you want to sell a big number of items, it will cost much more. Don't worry about the first difficult startup period, you can use a personal account first. Then change to a business account whenever you need by the steps above.
2. Is it worth having an eBay business account?
Yes, definitely. It is worth having an eBay business account, especially in 2022. When using an eBay business account, you will receive many benefits and priorities compared to a personal account. As mentioned above, an eBay business account will help to increase brand displays, have legal protection, more listings limits, and tools to promote your stores…
3. Should I separate my eBay accounts for business and personal use?
It is recommended to use two accounts, one for selling and one for buying. In case you make a purchase and there is a conflict with those sellers, you will avoid cases of retaliation in your store.
It seems to cost a little more to run 2 accounts at the same time, but it will protect your development.
eBay Business Account vs Personal Account – Final Words
It's clear that, among the eBay personal vs business account, business accounts stand out. It provides access to superior facilities, larger selling limits, and instruments that would otherwise be unavailable.
You may also connect eBay with other selling platforms like Shopify, WooCommerce, Etsy, Amazon, Google, or Facebook to swiftly expand your consumer base and generate more money. To make administration easier, utilize a multichannel selling solution like LitCommerce to track everything in one location.
LitCommerce will assist you in speeding up the selling process by eliminating a large amount of repetitive effort and automating complex operations. If you want any other information, please contact us!
Join our community as well for more great eCommerce news and advice. Best wishes!