The need for vintage and handmade items from a huge group of customers has brought Etsy sellers endless opportunities for making money. Accordingly, there's no doubt that Etsy could be a great channel to start selling online.
In fact, many merchants choose to use an Etsy listing tool for their stores to speed up the management process. Moreover, you can have more time to focus on selling activities as well as take care of the customers.
In this article, we'll dig deep and show you the most valuable information about Etsy listing tools, keep reading to get:
Benefits of selling on Etsy.
Why should you use an Etsy listing tool?
The main function of an Etsy listing tool
The most simple Etsy listing software
---
Benefits of Selling on Etsy
Etsy is a two-sided online marketplace that connects millions of passionate and creative buyers and sellers. It's one of the best places to find unique and creative goods which are special and reflect the buyer's sense of style.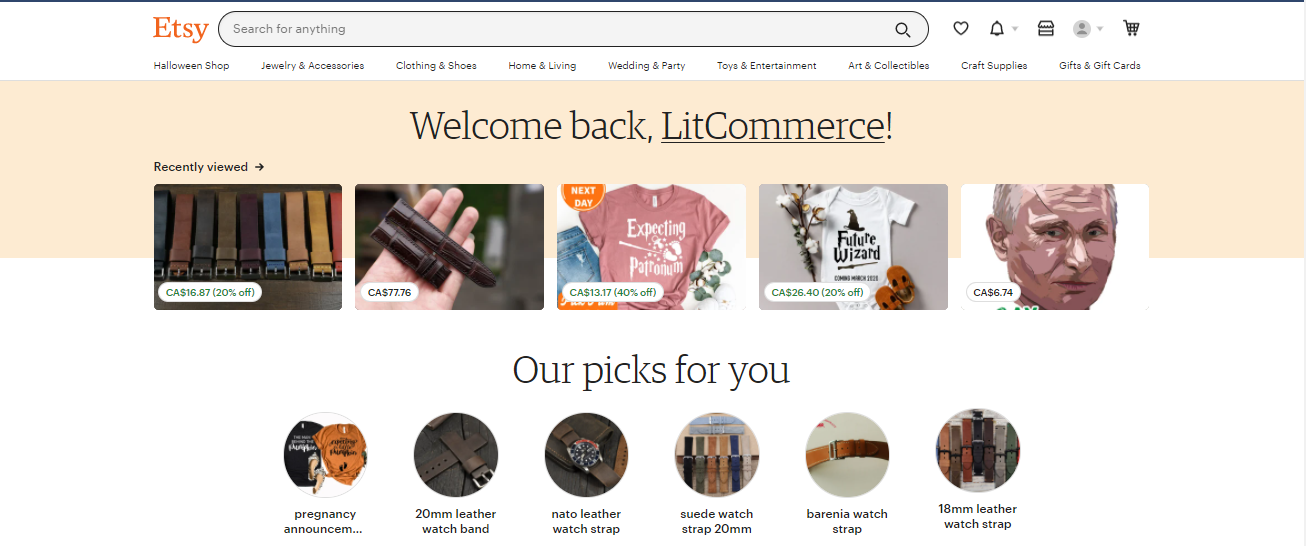 In addition to a wide range of customers with a quite special demand, Etsy is also outstanding when it comes to selling features, SEO, marketing, and much more. Let's explore why Etsy becomes one of the top online marketplaces!
#1. It's not hard to find a good market niche
One of the biggest problems that every merchant needs to find the answer to is choosing a profitable market niche. It means hundreds of hours to research, test, and analyze the results.
Fortunately, you can reduce a bunch of effort by joining an emerging marketplace where it is less competitive and there's still an ocean of opportunities for newcomers to explore.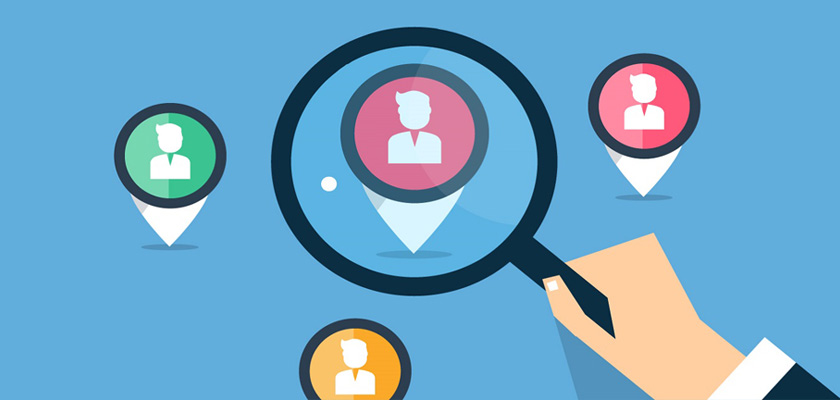 Etsy should be one of the top options on your list if this is what you are looking for. The marketplace has a very unique group of customers who are willing to pay for creativity and that's what you need to focus on. So go with Etsy if you need your sales strategies to hone in on a specific customer group.
#2. Etsy is quite easy to use
It's super fast to create an Etsy account and anyone can use it without any requirement for tech skills. If you're not tech-savvy, you can still master this platform in a few days. The Etsy development team gives you template-style editing making the process easier and more approachable.
Also, exporting data from Etsy is quite simple and available in many types. This makes planning and accounting for your business become more convenient and efficient.
#3. Etsy brings merchants a great community
There's no denying that community is a crucial part when it comes to selling on the E-market. With Etsy, you can easily access a forum for sellers to ask and answer questions, vent frustrations, or just share advice.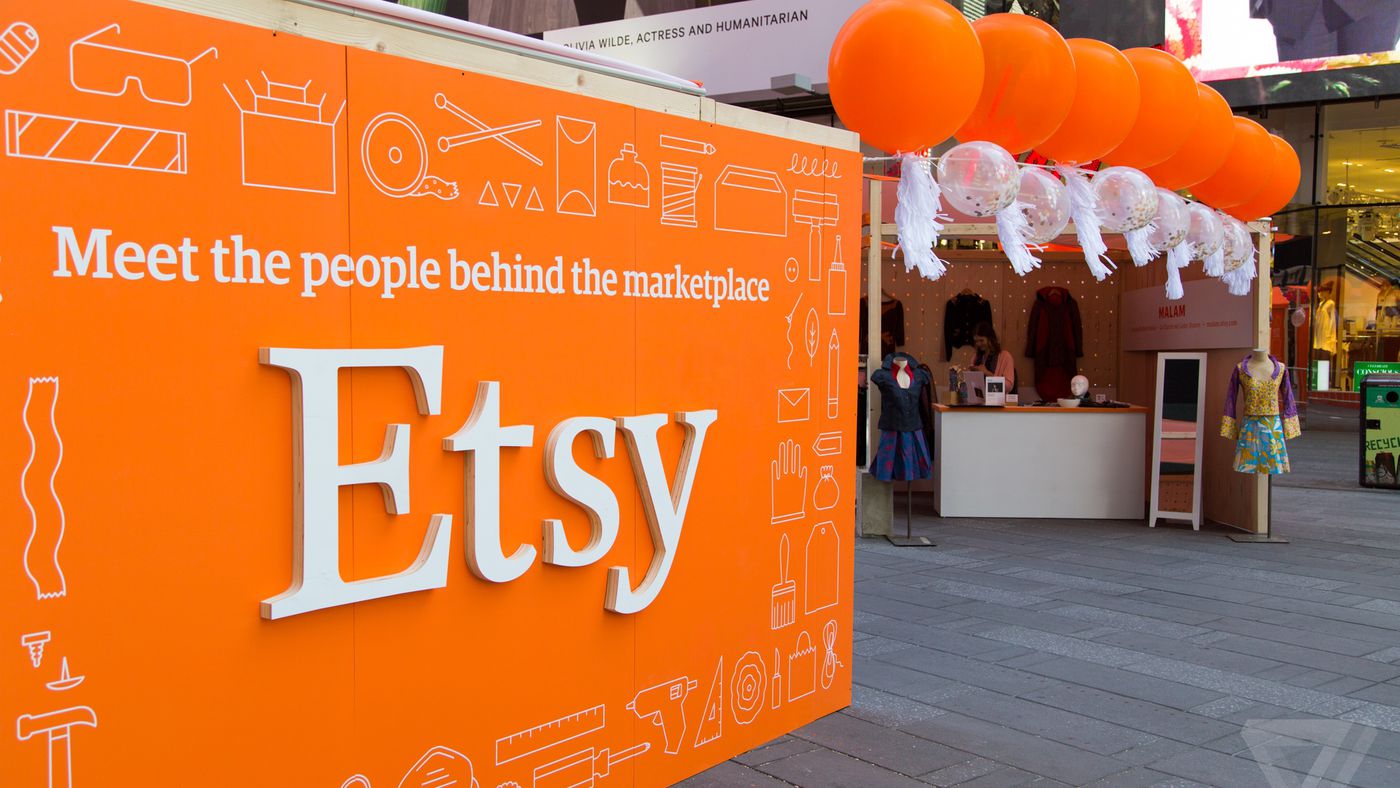 Etsy's community is quite famous for being friendly and supportive. Everyone will need help once in a while, and it'd be so much better if you can find a seller who is ready to back you up.
---
Why Should I Use an Etsy Listing Tool?
Etsy listing tool gives you a central platform that allows you to integrate your store with multiple channels such as marketplaces or shopping carts. The tool acts as a management hub and helps you to control nearly every aspect of your store such as income, sales, customers, products, listing, etc in just one platform.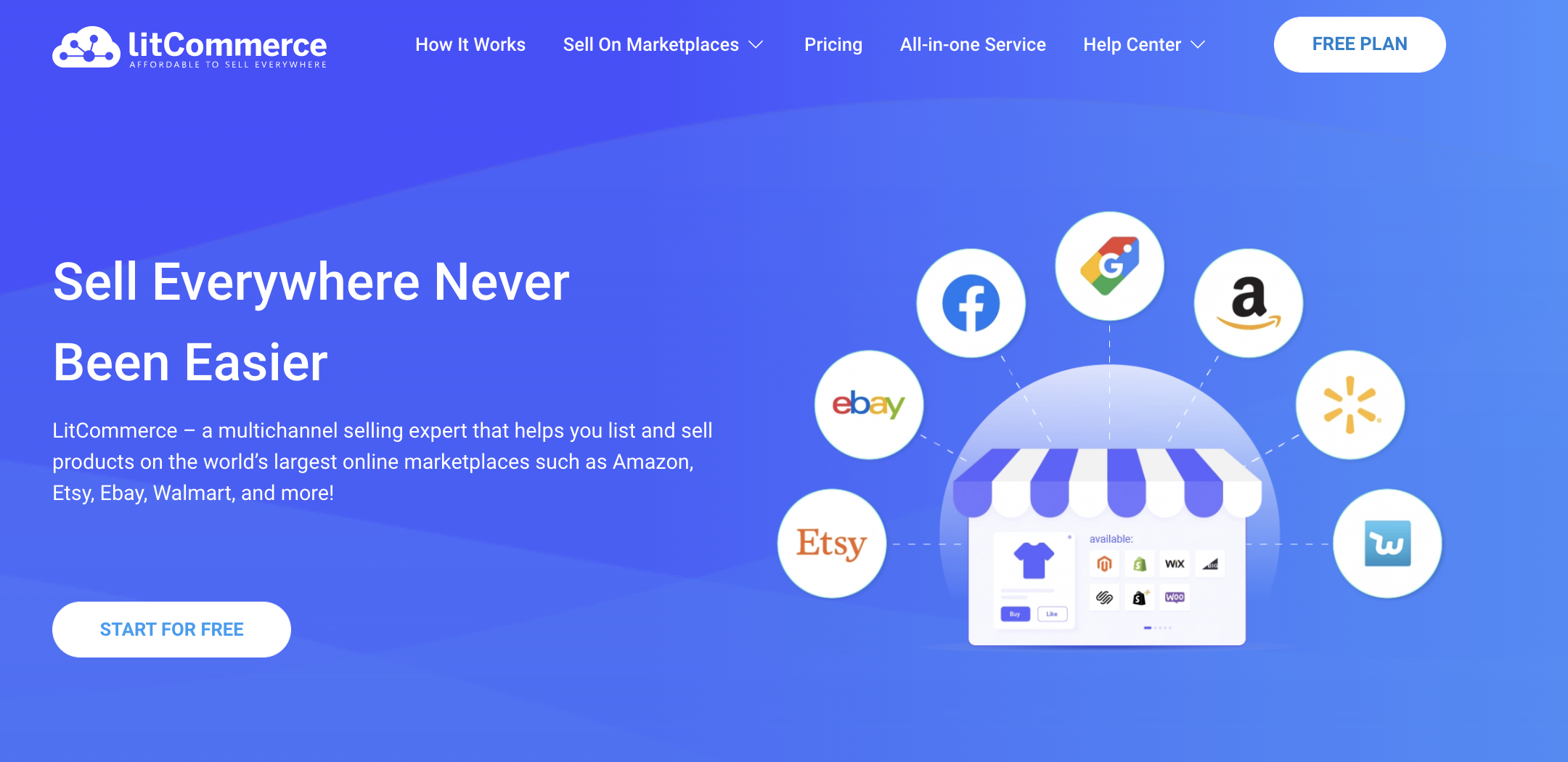 An Etsy listing tool using LitCommerce will help you monitor your Etsy store with ease and more efficiency. Instead of taking care of new orders/customers,  you will have your own management hub with special features such as Etsy bulk upload, automatic sync, or instant notification.
Now, let's explore three main benefits that an Etsy listing tool can do for you.
#1. Save time with Etsy bulk upload
This function makes listing on Etsy easy as a piece of cake. You can have an Etsy bulk listing in just a few clicks. The best thing about this feature is the special feature helps to make major changes to the whole listing in a breeze.
Notably, you can set your own rules such as decreasing all product prices by 10% or setting up the shipping method, and shipping fee for every item on your listing.
For example, you have 10 listings available for sale on Etsy and you need to go to each item and manually add information. With an Etsy listing tool, all you need to do is to create a "Template" and then simply apply it for the listing.
Moreover, you can also publish multiple listings using the central catalog. This will help to save you tons of time and effort. When importing products from your online store or from a selling channel, all the items will be stored in the central catalog to be easily managed. From your central catalog, you can distribute listings to all selling channels available in just some simple steps.
For instance, you're selling on Etsy, eBay, and your Shopify store. From the central catalog where contains all products, simply select the one you like and publish it on both Etsy and eBay.
#2. Better management for your Etsy store.
Most merchants choose to use an Etsy listing tool for a better management job with their store. Imagining you can control everything of your store: from products, listings, customers, orders to sales or taxes in just one place
One more outstanding feature you can get from your Etsy listing tool is automatic synchronization. This helps to instantly update any changes happening to your inventory, orders, or customers. No more overselling or underselling because of missing information. Also, you can easily get reports of your store such as annual income, advertising expenses, and so on.
#3. Selling on multiple channels.
Many merchants choose to go with an Etsy listing tool so they can broaden their selling channel and get as many customers as they can. Why is that? An Etsy listing tool or multichannel selling tool will let you integrate with multiple selling channels such as Etsy, Amazon, eBay or Shopify, BigCommerce, Wix, and much more into the system and take control of all of them in just one place.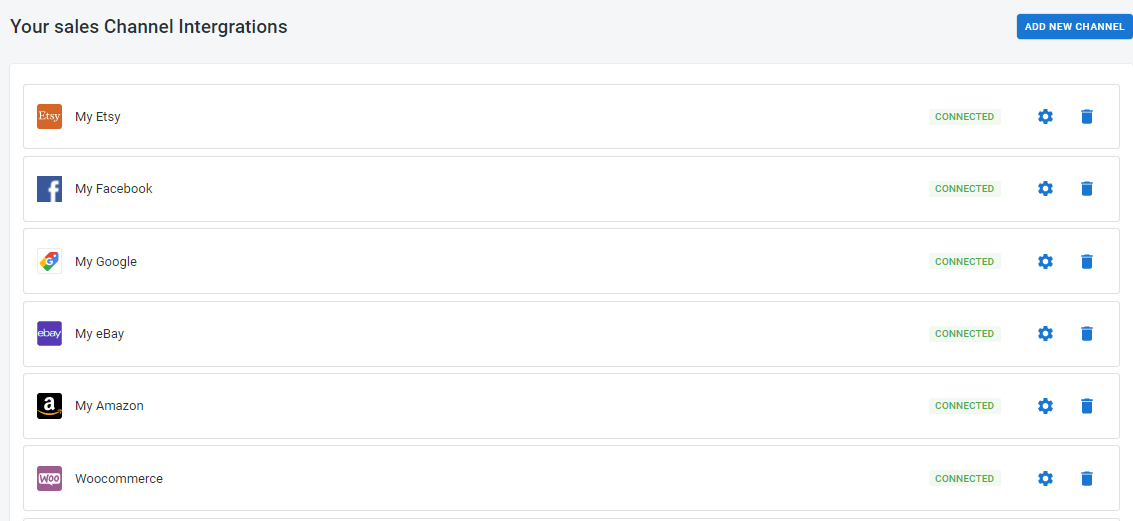 Some Etsy listing tools even let you create orders, fulfill and set up shipping within the system so all your daily jobs can be performed smoothly in just one central platform.
---
Main functions of an Etsy listing tool.
An Etsy listing tool acts as a bridge that connects your Etsy store with the central platform. The core power of a listing tool or multichannel selling tool is the ability to integrate with multiple sources such as Marketplaces, eCommerce platforms, or even third-party services.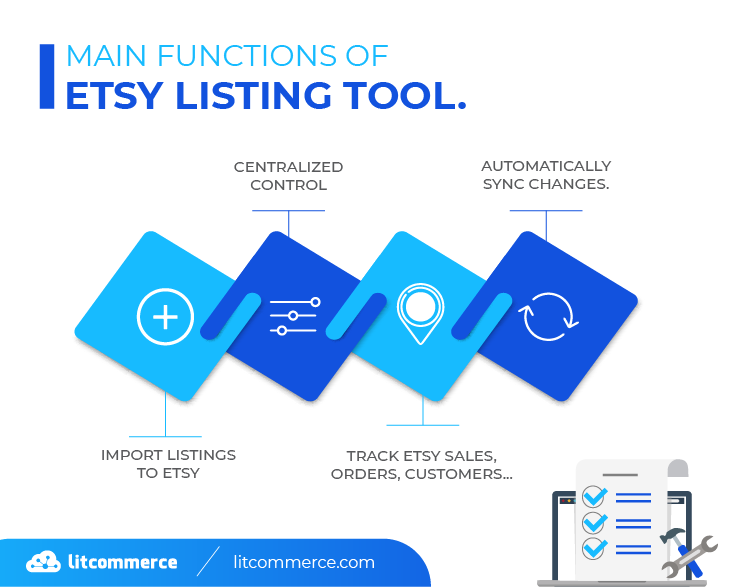 When the connection is established, the listing tool will export data from your sources, import it into the central platform, and rearrange it. This way, the system will automatically create a data streamlined flow and enable the central platform to receive and distribute data into your sources.
Also, it's quite easy to import data from your listing tool to the selling channel. For example, when you connect Etsy with the Listing tool, the system will collect all data from the Etsy store. Also, you can publish Etsy listings from your Etsy listing tool too.
In addition, an Etsy listing tool can come with tons of features to help merchants with store management and selling. Let's see 4 main features that an Etsy listing tool can offer your business
1. Import listings to Etsy
As mentioned before, this is one of the strongest functions of a listing tool. After connecting with Etsy, the listing tool will automatically access your Etsy store and create an API connection. As a result, you can easily create your listing and then publish to Etsy from the central platform.
It will be much more useful if you are currently selling on more than one marketplace. For example, in addition to Etsy, you also have your store on Amazon, eBay, Google Shopping, or Facebook.
Take a look at this feature of LitCommerce, you'll have all available listings on the listing management. Then you can easily pick the listing you like and bring it on Etsy in a few simple mouse clicks.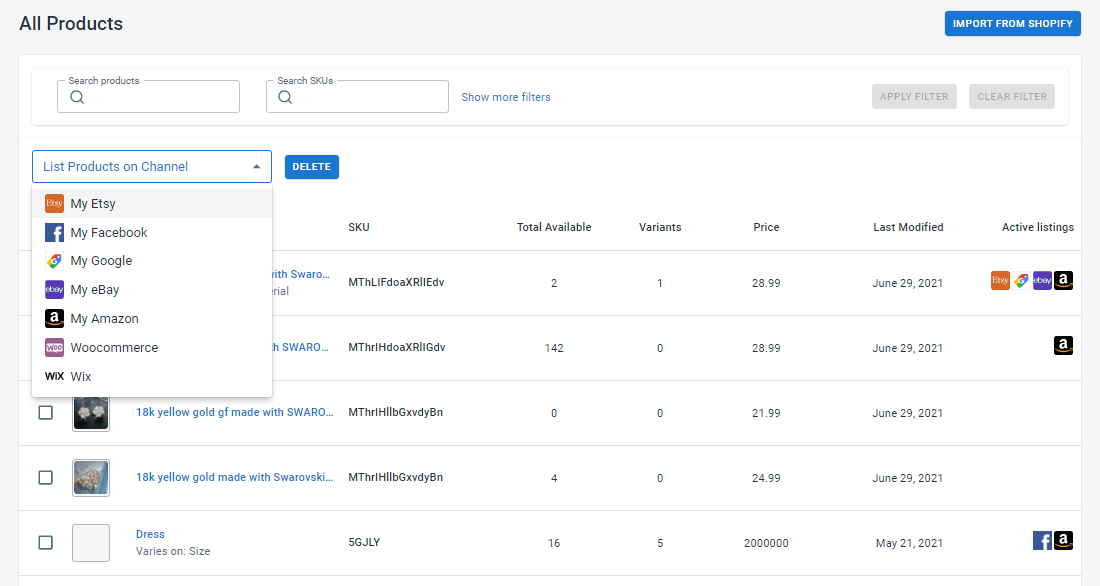 Using a listing tool allows you to publish one listing on all your channels in just a few clicks. More than that, an Etsy listing software with a bulk listing function lets you make major changes then apply for multiple channels in a breeze.
When you need to make major changes to a listing, you can create your own rules for Price, Shipping, Title, and Payment, and save them as a template. When activating, all products on your listing will automatically change as you need.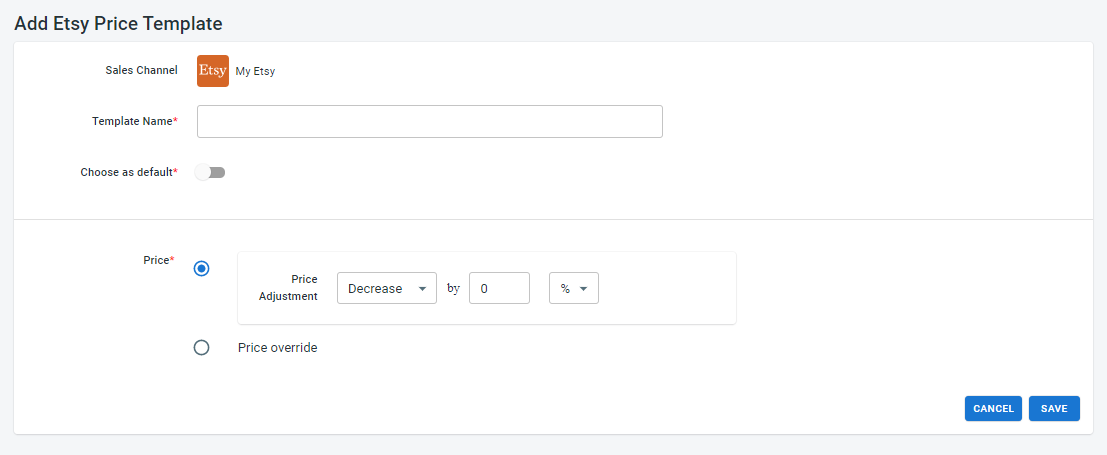 2. Centralized control
Let's say you have your own online store on Shopify and you're reaching out to sell on Etsy. However, going back and forth between Shopify and Etsy and trying to stay informed about new customers, new orders or inventory doesn't sound like an optimal way.
Therefore, the easier but more effective way could be using a listing tool or multichannel selling tool. This way, all selling channels can be unified into a single hub where management tasks become much easier.
Let's go through some of the key functions of an Etsy listing tool when it comes to centralized control:
In addition to details like quantity, price, selling channel… you can also perform Etsy bulk upload for your listing such as publish on selling channels or delete.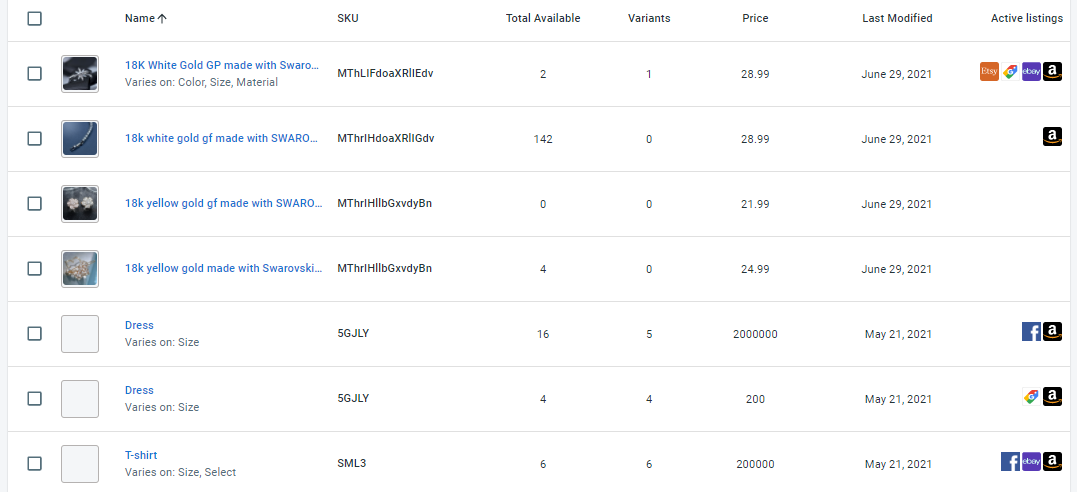 Order management and data export
Just like listing, you can see all your orders here with details such as order number, date, customer, price…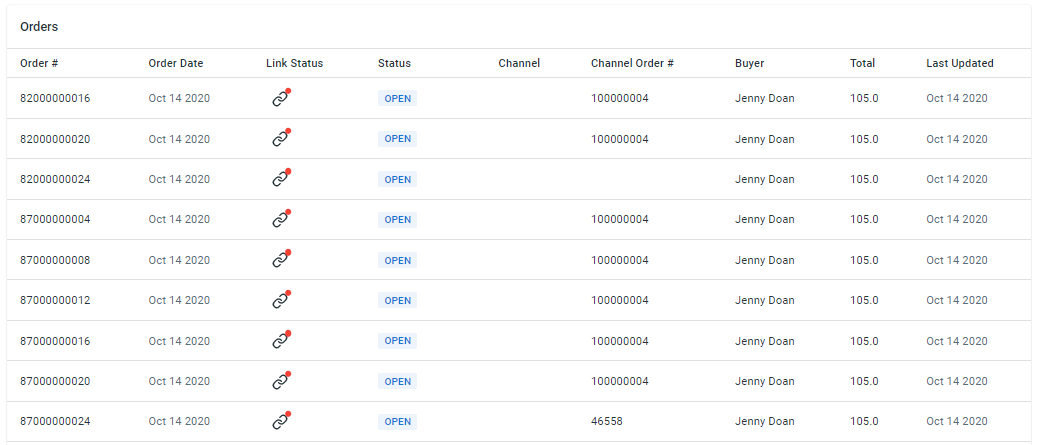 Also, you can easily export data in CSV file to help with making a plan for sale or marketing campaign
3. Track Etsy sales, orders, customers, and more.
When a new sale appears from Etsy, there'll be an instant notification from your listing tool. By this way, you will not miss any orders or messages from your customers. Any changes coming from your stores like new customers or orders will be automatically updated to the system.
Moreover, you can see an overview of your store at any time from the central dashboard. From total orders, sales on multiple channels, or recent activity.
4. Automatically sync changes.
Synchronization is also an amazing function of a listing tool. It ensures the data stays updated all the time so you can be aware of any change from your store. This is super important for sellers during the holiday season.
When new sales come with greater frequency, you need to ensure having enough inventory for customers. That's why the automatic synchronization feature is a must for a listing tool.
---
Etsy Listing Tool – FAQs
1. Is there a way to bulk-add listings to Etsy?
Yes, many merchants use a central platform to integrate with Etsy and other selling channels. This way, you can save time using the bulk listing function of the multichannel selling tool.
2. How do I bulk change prices on Etsy?
With bulk editing, you can edit titles, tags, descriptions, prices, personalization and much more without having to do it so many times. To do so,
Go to Shop Manager > Listings.
Go to Sections and choose your listing, choose one Section or all of the Sections if you like.
Choose what you would like to edit (titles, tags, etc.)
After completing, click Apply.
3. Can you transfer Shopify listings to Etsy?
Yes. You can use a central platform or an integration to create a data flow between the two platforms. This way, you can then transfer data (listing, product, customer…) from Shopify to Etsy.
The Most Simple Etsy Listing Software
An Etsy listing tool is built to help with multichannel selling. It lets you manage your store with ease and productivity even though you are selling on many E-channels. For Etsy sellers, if you like to broaden your customer base by opening new stores on Amazon, eBay, or Facebook Shops, LitCommerce can be a good choice for you.
LitCommerce is the easiest solution for store owners to list and sell their products on the world's largest online marketplaces such as Amazon, Etsy, and eBay,… You can manage everything in just one place with no technical skill required. If you need more information, leave us a message.
Also, you can join our community for more exciting eCommerce news and tips. Good luck!