The shopping experience is pleasant and helpful when smart product filtering is in place. If you sell a lot of different things or have more than one product category, filtered navigation is vital for letting your shoppers narrow down their product searches.
In today's article, we will explain why product filters are important, provide some filter design hacks, and show you how to get 7-digit online sales like top brands by improving your eCommerce filters. If you are an eCommerce manager or in a comparable position, you should not miss this article.
Why Product Filtering?
Before showing you why all online stores need a great filtering system, we will walk through a brief explanation of what it really means. Product filtering or faceted search helps online shoppers refine their product searches based on various factors like size, color, price, reviews, materials, and so on.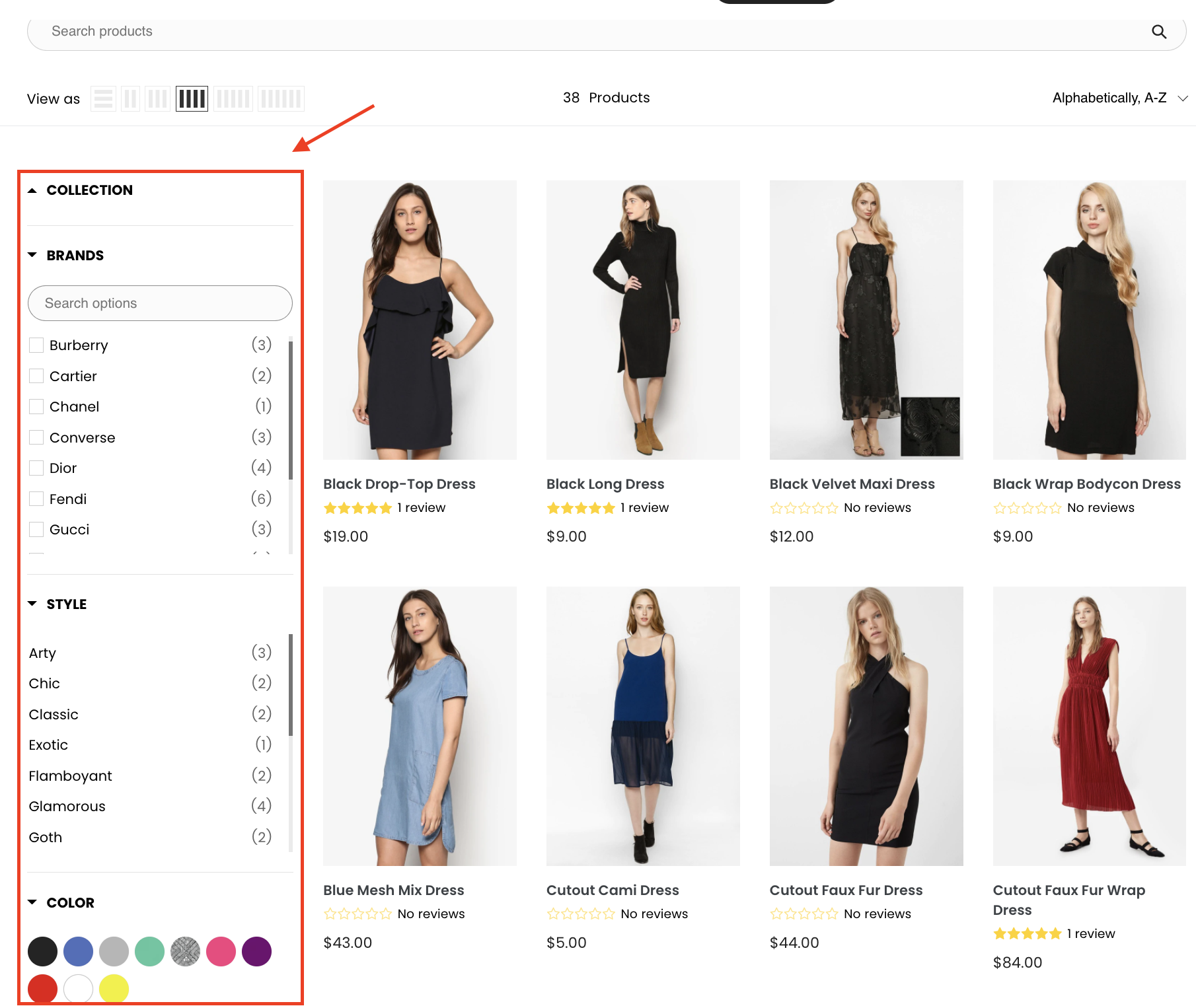 For the sake of convenience, using product filters on the storefront assists customers a lot in navigating items the way they want. Likewise, product filters can appear on your collection pages and search pages.
From the definition, you can see that a filtering system will allow visitors to swiftly sort through your product selection to find what they are looking for. Hence, it is the norm to have a useful search engine in guiding people deeper into your product catalog. Moreover, depending on how they want to use the site, users can both discover things they did not realize they were interested in and locate exactly what they want with the help of product filtering. By optimizing filters, a brand can earn a 5.97% increase in conversions. In a recent study conducted by the Boost Commerce team, over 6 months, the average orders generated by the filter for a store in:
Clothing & Fashion: 14,450
Home & Décor: 3,764
Jewelry & Accessories: 2,867
Food & Drink: 1,665
Electronics: 933
Unfortunately, most eCommerce sites do not employ product filters effectively. Only 16% of big eCommerce sites, according to the Baymard Institute study, give an excellent filtering experience.  42% of those sites lack category-specific filter types for their primary product categories, and 20% lack thematic filters to categorize items by themes or use cases (season, style, etc.).
So what happens if your product filters are not working properly? Some customers will abandon your site if they are unable to locate things that match their needs. Consequently, your conversion rate will suffer as well as your bottom line.
What should online merchants do to enhance their filters to stay ahead of the competition?
Top 5 Hacks to Optimize Your eCommerce Filtering
When it comes to product filtering best practices, there are tons of tips out there. However, it would be confusing to let you start from scratch, particularly those who are new to this game. Hence, we have compiled top practical eCommerce filter design strategies for all online stores with examples from real brands. Don't forget to add these to your checklist when building up and reviewing your site!
Allow Visitors to Apply Multiple Filter Values
In fact, not all visitors know exactly what they want even when coming to your store. Thus, customers would like to select several options at the same time to dig deeper into what is available before making a buying decision. For example, if consumers visit the Protein Package store and want to look at both low-calorie and low-fat protein cakes, let them. Don't force them to select one or the other.
Allowing online shoppers to choose several filter option values at once is a great way to show all the items that meet their personal demands without them having to click back and forth. Potentially, this trick can help the brand increase the average order value.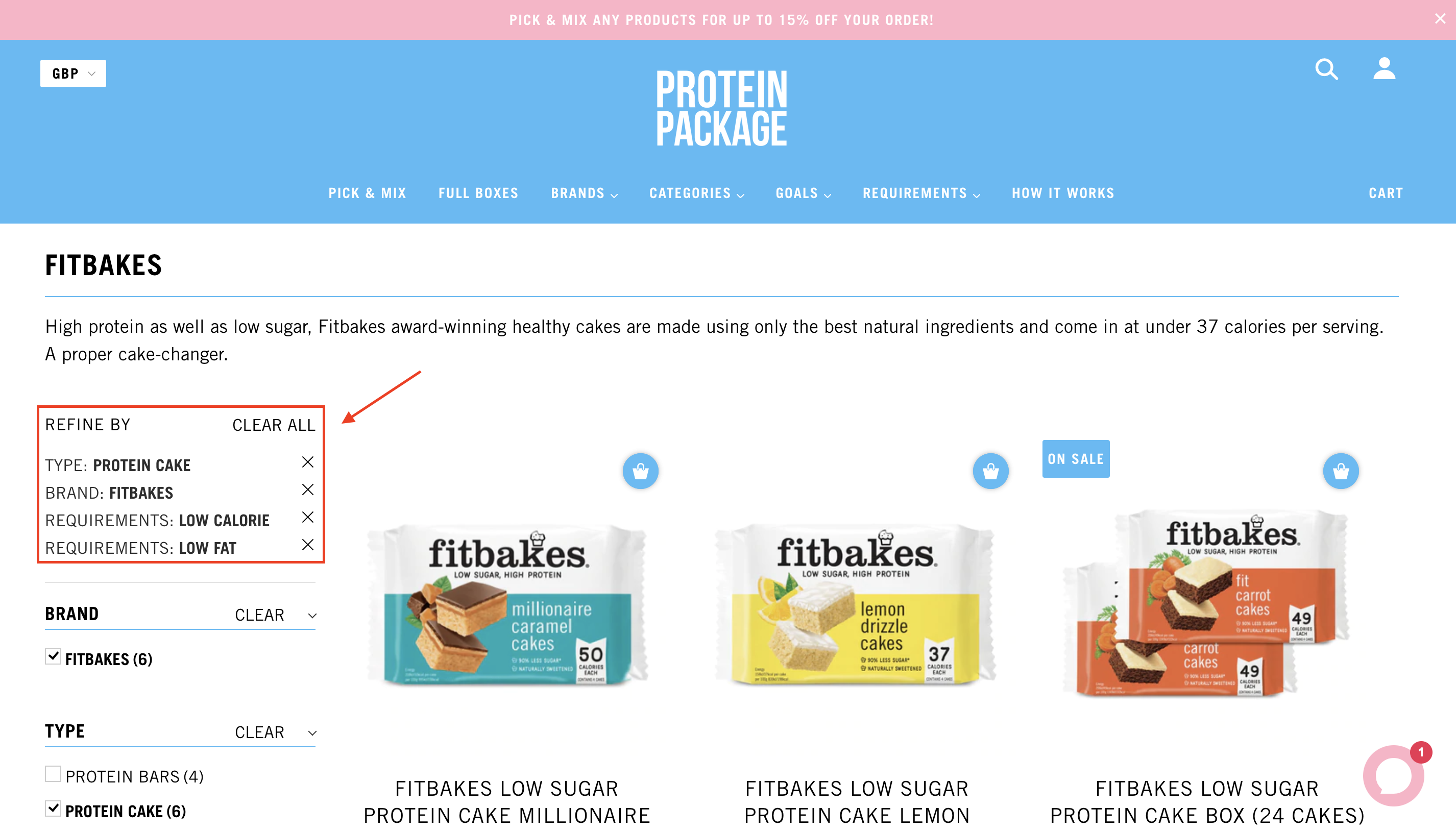 Aside from that, one more thing we could learn from Protein Package is to show the applied filters in their original position as well as in a summary. In other words, list all of the current eCommerce product filters as an overview and in the filters menu to make it easier for the user to follow. Thanks to the summary, consumers will have complete control over their experience.
Various Products Require Different Filter Configurations
Your filters should differ depending on the things customers are searching for. The best filters are organized into groups based on product categories, allowing only relevant filters to be presented. Now, let's take a look at Urban Natủal Home as our prime example here.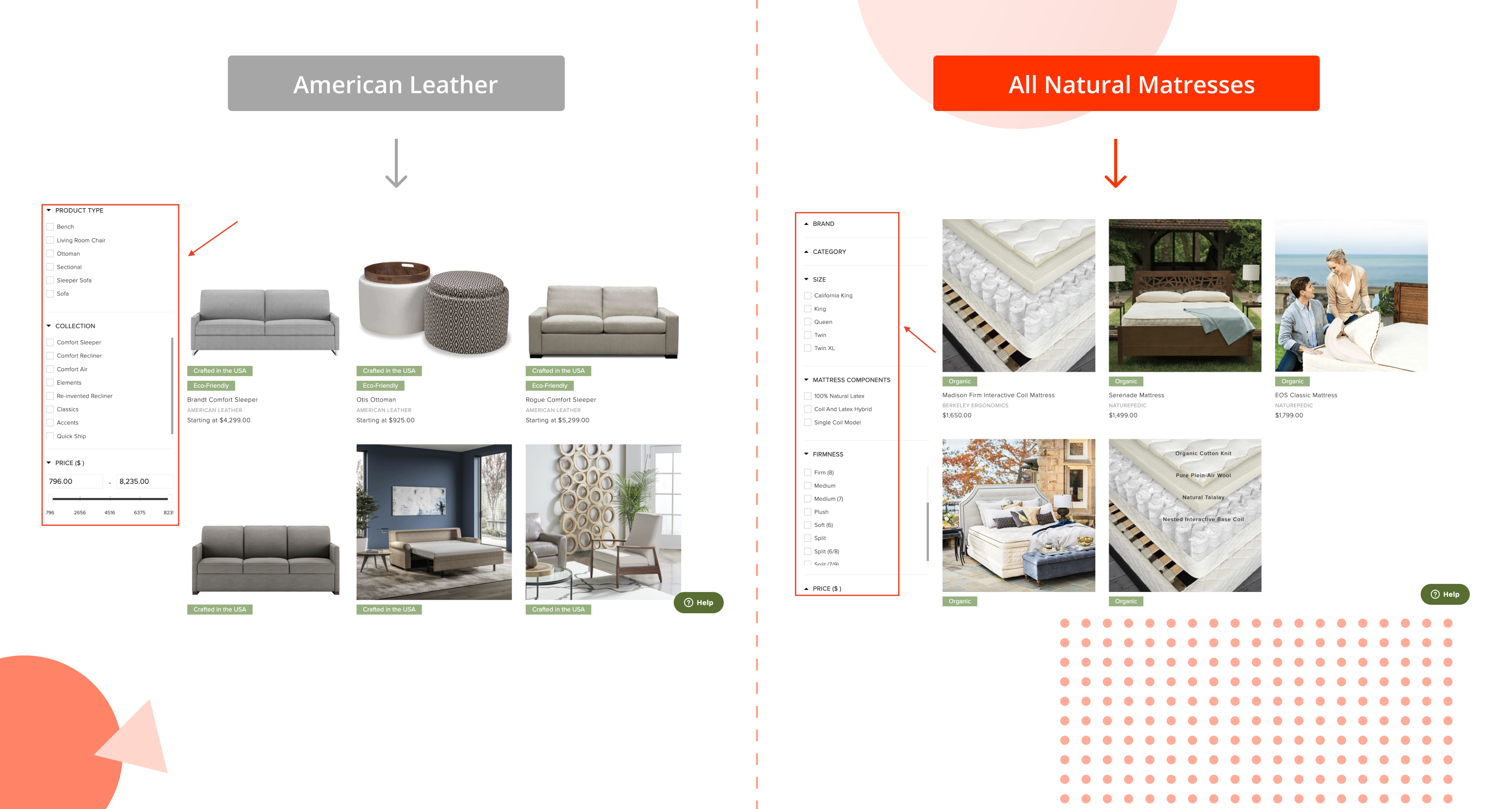 It is very clear that there are differences in the filter options between 2 categories – American Leather and All Organic Mattresses. While the former has 3 filter options which are product type, collection, and price, the latter has plenty of options like brand, size, mattress components, firmness, and price. The store owners did a great job in providing shoppers with custom filters based on different product attributes. Thanks to this setup, customers can make a wiser decision that will bring them greater satisfaction after purchase.
Use Terms That Shoppers Use to Describe Your Products
Sometimes, online merchants are too creative or show specialist expertise when naming filter options, collections, product titles, and writing product descriptions. Consequently, visitors find it confusing to browse the lists of products. If customers cannot get to the right place after many clicks, will they stay with your store? Well, that would be a big NO!
One thing that all merchants should keep in mind is to avoid using jargon from the industry as not all customers are experts. Your product filters should be straightforward and functional to make it as easy as possible for consumers to find exactly what they want like Dermalogica has been doing.
The brand has lots of product categories like toners, cleansers, masques, retinol, and targeted treatments. First-time visitors, particularly those who do not have expertise in skincare matters, will find it confusing to navigate between these categories. To make their products understandable, Dermalogica created a filter option called skin concern This allows consumers to reach the right products based on the skin issues they need to address without having to read all product details.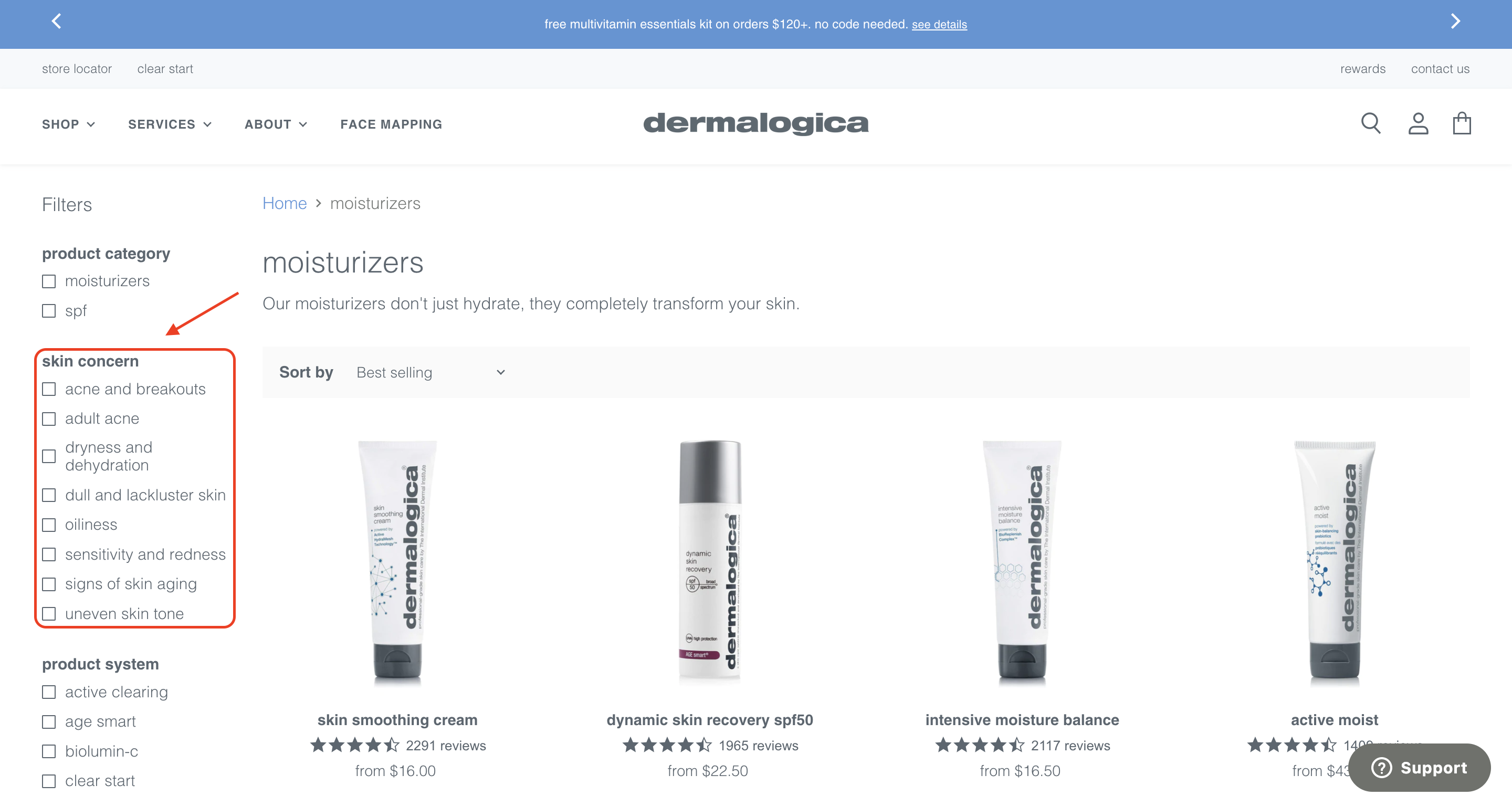 Indicate Product Quantity Beside The Filter to Avoid Over-Filtering
The number of products displayed in a filter helps customers assess the breadth of the category and whether they should use further filters to narrow their search. Notice how Cook Woods displays the number of products by species: Imbuia, Kingwood, Makore, and so on. This is a quite common practice where the filter counts update after a filter option value is chosen.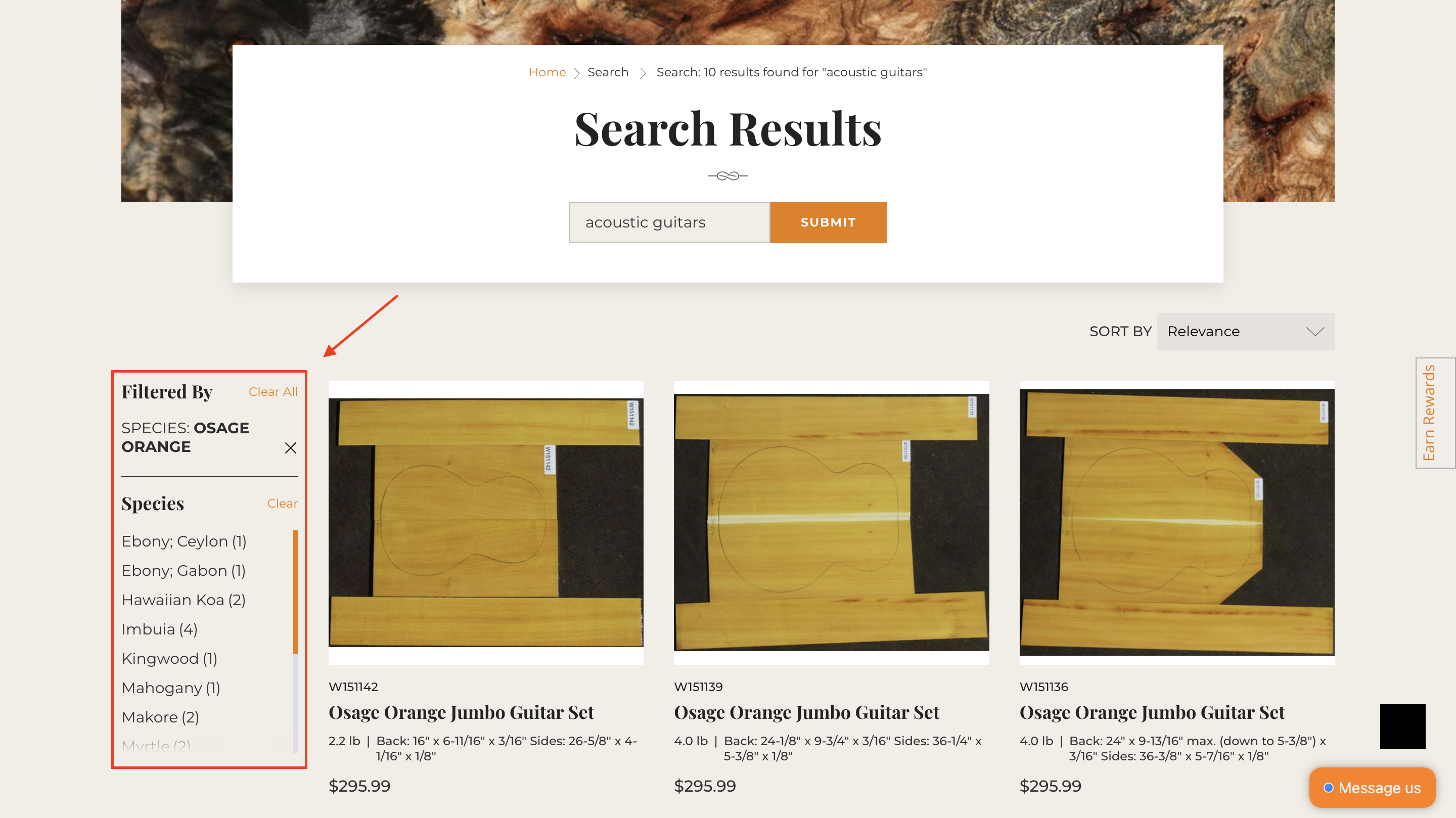 Informing customers of the availability of products is vital, which also means you will need to hide out-of-stock ones. Returning no results found after applying filters as a 404 page will cause your shoppers frustration. As a result, they will turn to your competitors to get what they are looking for.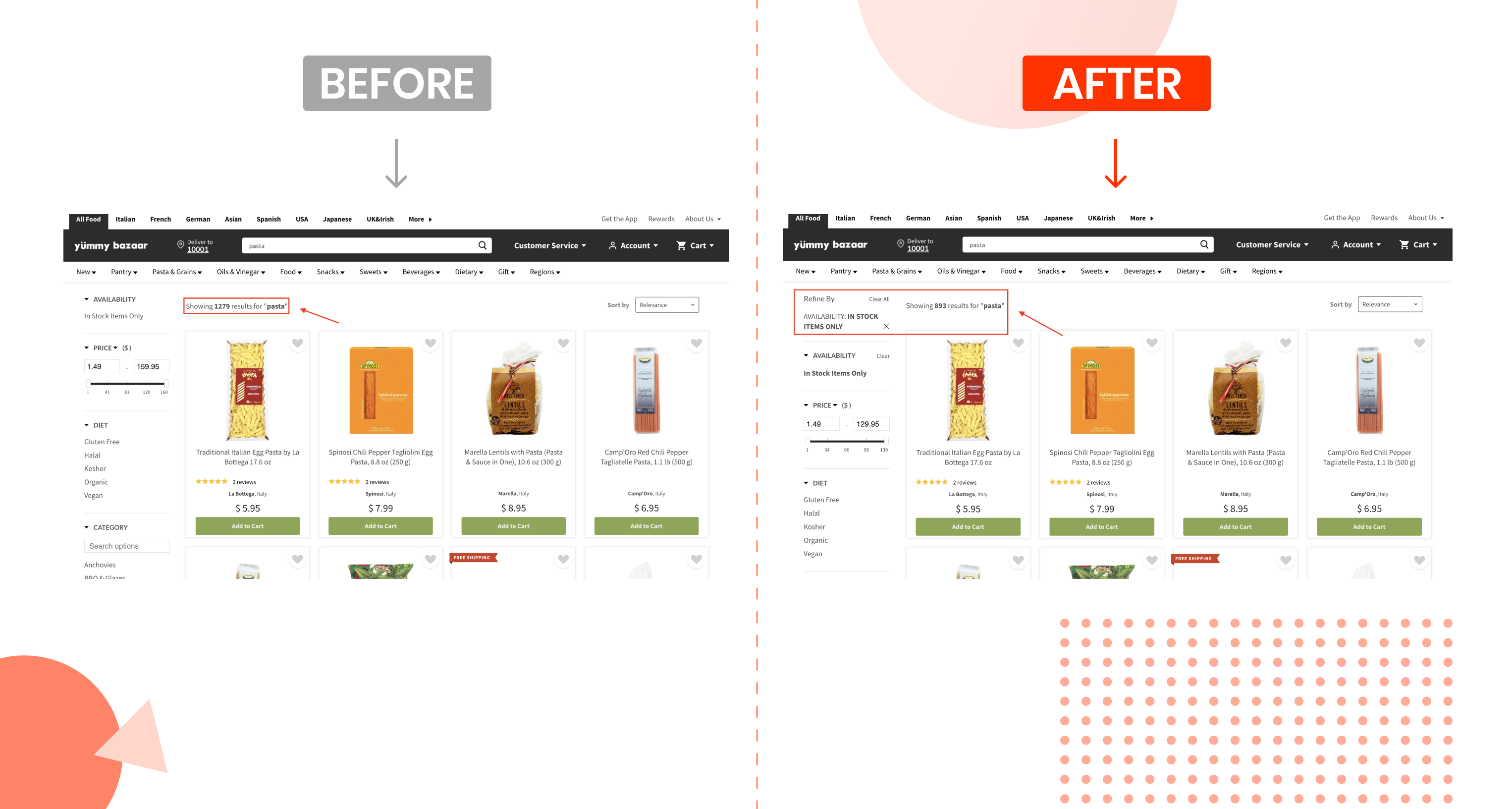 Yummy Bazaar, an online grocery store, always includes a filter option called Availability at the top of the filter tree. If consumers search for pasta, they will get 1,279 relevant results. After applying In-Stock Items Only, however, the total number of products decreased to 893. Hiding non-existing products will save your customers a lot of time on research while leading them to purchase decisions faster.
Include Product Specification
If a feature is important enough to be explained in the product description, ​​it should be used as a filter option. Hence, shoppers can have a quick and good opinion about items without clicking into and reading every single product page.
SourceBMX is a brand that provides customers with the largest collection of BMX bikes and parts as well as accessories. As shown in the image, top tube length and rear end length are all important factors to define BMX frames, aside from brands, color, and price, so they all serve as an excellent filter option.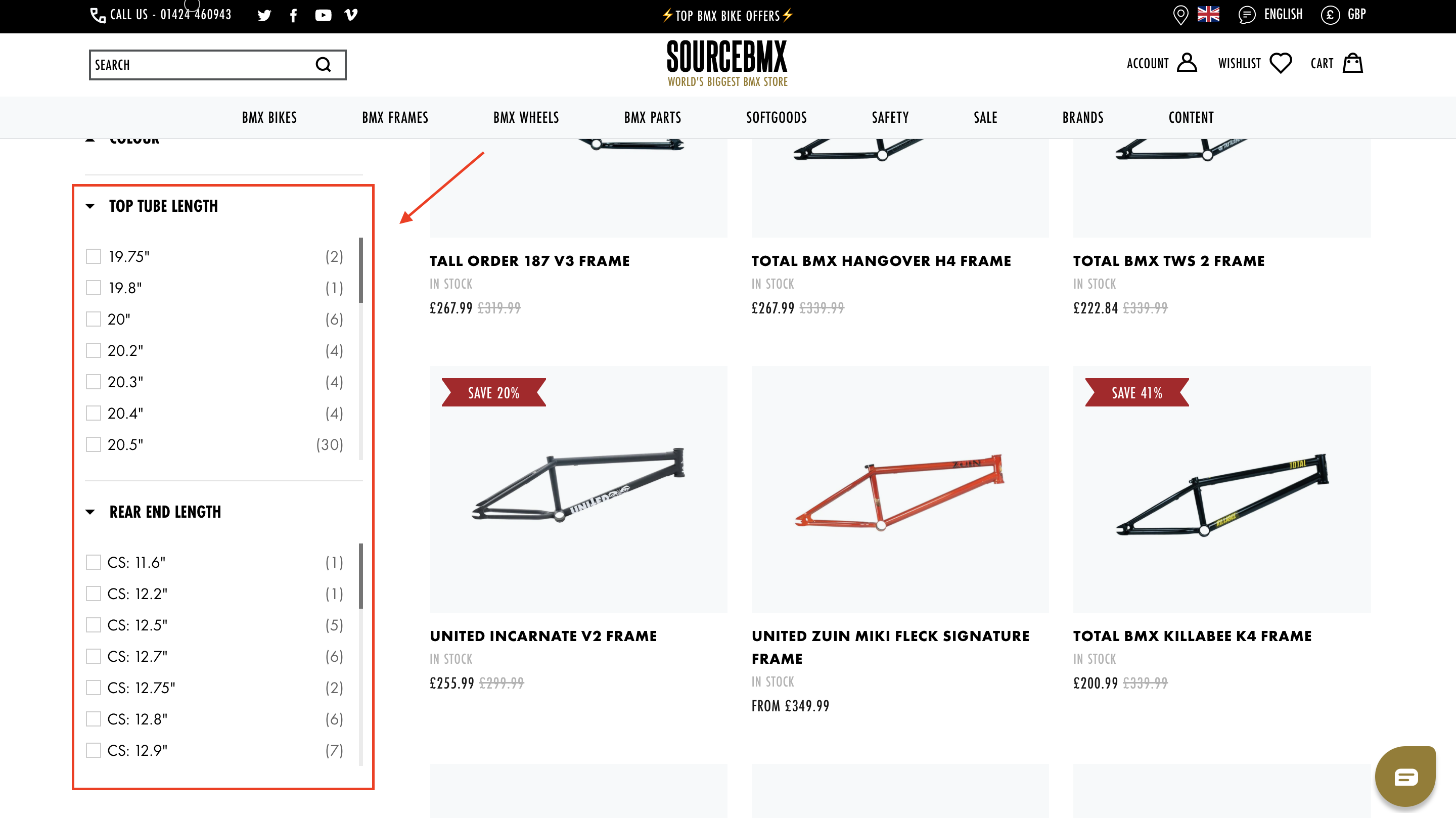 Use Smart Product Filters to Beat Your Competition
What do you think about the above-mentioned tips? Are you currently implementing any of these on your eCommerce site?
Although deploying all of these methods may seem daunting at first, the result is highly promising. A minor change can lead to a big result. In case you are not sure where to start, give Boost Product Filter & Search a try now! This advanced product filtering app will help you leverage your online business as the top brands have done. A 14-day free trial is available with 5-star customer support.
Author Bio
CiCi Nguyen is a Content Specialist at Boost Commerce. She loves doing research and writing to share helpful information with readers. Outside of work, she is a food lover and passionate about cooking and reading comics.
You might want to read: