According to Coresight Research, as many as 25,000 stores might collapse this year in reaction to the COVID-19 epidemic. While most companies' in-store retail traffic has decreased, internet transactions are on the rise.
In reality, the amount of money spent online by customers with US merchants increased by more than 30% in the first half of 2020. Moreover, internet purchasing accounted for approximately 19% of overall retail sales during this time period.
Stores that are geared up to sell online clearly have an edge right now. And, due to Facebook Shops, small companies can now create an online store more easily than ever before.
By setting up a free Facebook Shop, sellers can easily create an online store that lives on Facebook and Instagram and enables shoppers to browse and buy within two of the most popular social media apps. Let's take a look at what a Facebook Shop is and what it can do for your business, as well as how to start your own.
What is a Facebook Shop?
Interactive material is preferred by users over traditional content types. It's true! Facebook Carousel Ads are an interactive and engaging type of advertising that allows you to display up to 10 pictures and videos at the same time. You may also add call-to-action links to them.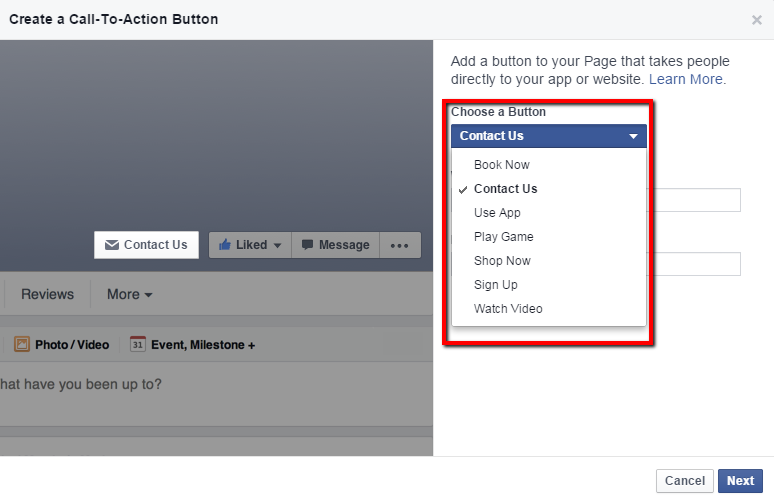 Furthermore, you may include information about your product or service inside the photos, videos, or tales of your ad. It is, without a doubt, an excellent method of reaching out to potential consumers and converting them into leads.
A Facebook Shop is a mobile-first purchasing experience that can be found within both the Facebook and Instagram apps. Almost a million firms have already begun selling on it.
The Facebook Shop experience feels native to both social networks and works on any platform, but it is particularly intended for mobile use. Because of this mobile focus, Facebook has made it possible for merchants to connect with consumers through conversations in Facebook Messenger, Instagram Direct, and WhatsApp. Shoppers will soon be able to make purchases within these conversations.
What is the cost of Facebook Shop charges?
Shops might be found on a company's Facebook Page or Instagram page. They may also be found through advertisements and Instagram Stories. Sellers may also change the layouts and colors of their businesses to give them a more branded appearance.
Any Facebook or Instagram business may create a Facebook Shop, and if you currently sell on a major eCommerce platform, the process is much simpler. Facebook has collaborated with a variety of selling systems, including Shopify, WooCommerce, BigCommerce, Channel Advisor, and others, to make the integration process as simple as possible.
It's free to create a Facebook Shop, and it's free to use Commerce Manager right now, but Facebook will start charging fees for each purchase made through Commerce Manager in 2021. However, Facebook claims that advertising will be the primary source of revenue for Facebook Shops.
When a sale is made through your Facebook Shop, a selling charge is immediately taken from your payment. For shipments of $8.00 or less, the selling charge is a fixed cost of 40 cents or 5% of each shipment.
How do you create a Facebook Shop?
You can get the Facebook Shop up and running within the same day by following only a few steps.
1. Add the products.
You must first have a catalog of items to work with before you can open your Facebook Shop.
You may manually add products, conduct a bulk upload, or use the Catalog Batch API to add items. You're already set up and ready to go if you've previously posted items to Facebook or are utilizing product tags on Instagram. Alternatively, if you sell on an eCommerce platform such as WooCommerce or Shopify, you may be able to directly import your items to Facebook.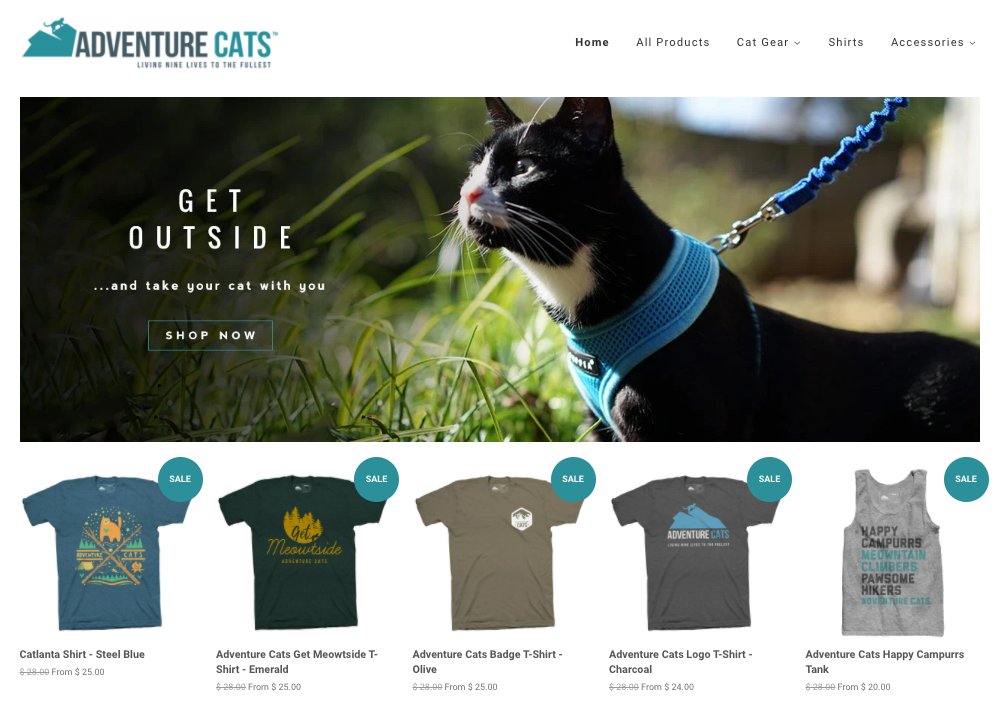 Adventure Cats, for example, has a Shopify-based business and was already selling on Facebook. To get started with Facebook Shops, the company simply installed Shopify's Facebook channel and transferred the store's current information to the new channel, as seen above.
2. Create collections.
Collections are groupings of 6-30 well-selected goods that may be grouped in any way you want: by product category, seasonal events, sales, trends, and so on. And they're the first thing customers notice when they walk into your shop.
After you've submitted your items, you may build a collection by going to Commerce Manager, which is a suite of tools that allows you to manage your shop on both Facebook and Instagram. Commerce Manager is presently only accessible on desktop computers.
Select "Shops" and then "Collections" from the left-hand menu, as shown below.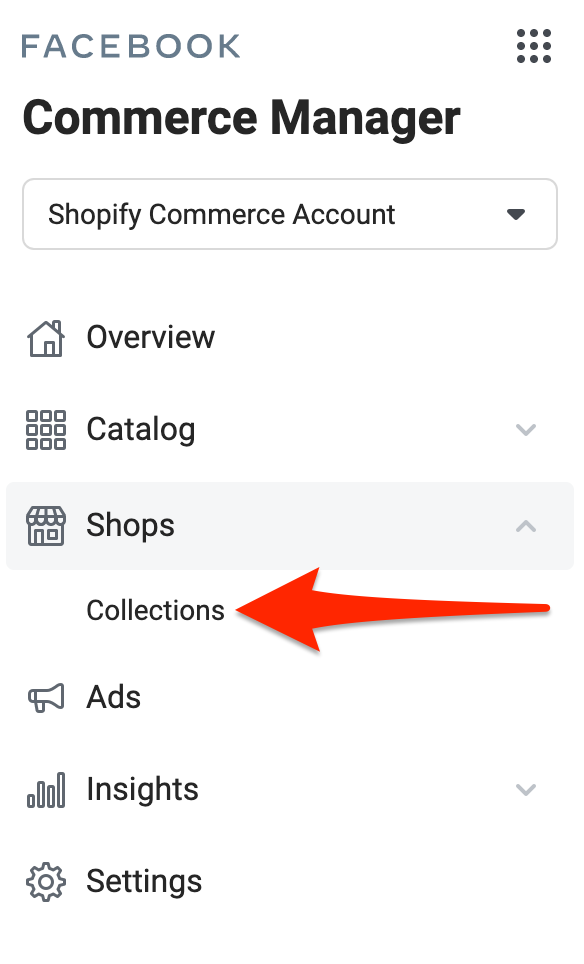 Then, click "Create Collection."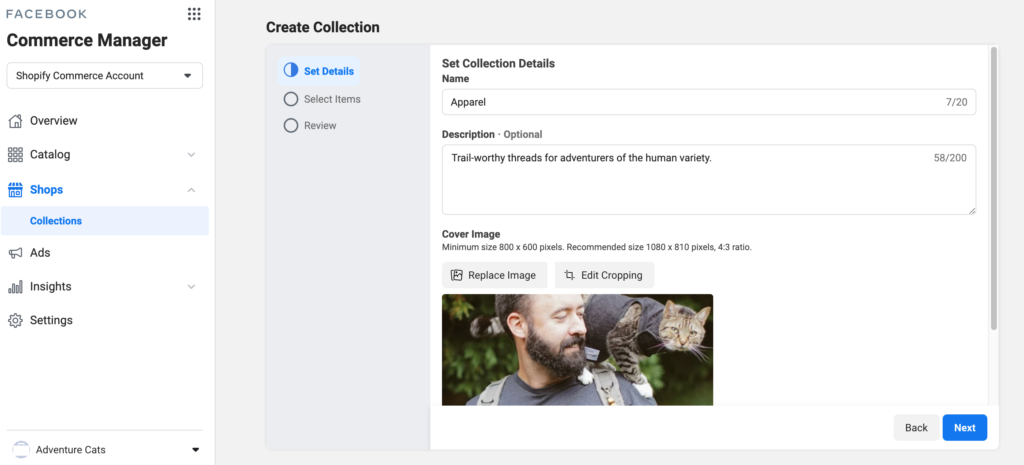 Next, give your collection a name and choose a cover picture that is at least 800 x 600 pixels in size. The recommended resolution is 1080 x 810. You may also include a brief description of the goods in this collection.
Once you've filled out this information, click "Next" to start adding goods to your collection. The minimum amount of goods required is six, but you can add up to thirty.
A single item can be added to several collections. For example, if your Facebook Shop had a "Shirts" category and a "Best Sellers" collection, you might put the same best-selling T-shirt in both.
Click "Next" once you've finished adding products to your collection. You'll be asked to review the specifics of your collection and confirm that you're happy with them.
Facebook will examine your collection now that it has been submitted to ensure that it complies with the social network's commerce standards. Once your collection has been approved, you can personalize your Facebook Shop by selecting which collections to display at the top.
3. Customize your Shop.
Within Commerce Manager, sellers may change the layout and appearance of their Facebook Shop. On both Facebook and Instagram, the business will have the same look.
To modify the appearance of your storefront, go to the left-hand menu and select "Shops," then click the blue "Edit" icon next to your business.

You may add or delete highlighted collections from your shop by clicking on "Layout" from here. You can also drag and drop them into the desired order by clicking on the six dots to the right of a collection and dragging it to the desired location.
The right-hand display will change to show you how your store appears on Facebook and Instagram.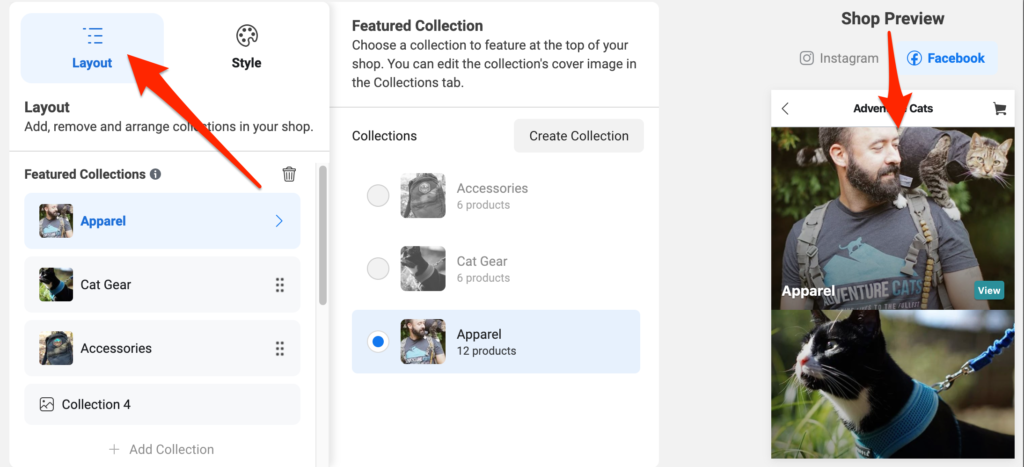 You can also modify your store's text and buttons by selecting "Style" from the right-hand menu.
You can change the text size and color of your shop's buttons here. Select one of the suggested colors, or input a custom HEX code to match the exact color of your brand as
5 ways to make your Facebook Store successful
Create an optimum shopping experience to keep customers exploring for longer and convince them to add more products to their cart.
1. Craft enticing copy.
Create an optimum shopping experience to keep customers exploring for longer and convince them to add more products to their cart.
This applies not just to the text in your retail collections, but also to the text in your social accounts.
Make sure your collections have descriptive titles or are easy to comprehend so customers know what they're looking at. A collection title such as "On Sale," "T-shirts," or "Fall Favorites," for example, indicates a theme, whereas "New Collection" is less obvious.
Keep your descriptions brief so that they are simple to skim on mobile. Use your brand's voice, and mention whether the collection is a one-time deal.
The text in your Facebook and Instagram bios should also describe what your store has to offer in a concise manner and motivate people to take action.
2. Select images that are eye-catching.
Lifestyle shots and product images are equally crucial in attracting potential buyers, especially when it comes to collections.
The hero image is the major photograph that appears as the collection's main photo. It should not only include the collection's items, but it should also be consistent with your brand.
Consider how your chosen hero picture will seem on mobile devices, and always test it on one. Avoid utilizing generic pictures and look for unique methods to tease your collections.
3. Explore the creative aspects.
Experiment with different images and calls to action to find what works best.
For example, you could discover that user-generated content receives more interaction than product pictures you create yourself. Alternatively, you may notice that asking customers to "Check out the latest autumn styles" encourages them to click on a collection more than simply recommending they "Shop now."
4. Make use of Facebook Shop Insights to keep track of key metrics.
There are statistics for your Facebook Shop, just as there are insights to assist measure the performance of Instagram Stories and Facebook posts. This information may be accessed by selecting "Insights" from the Commerce Manager's left-hand menu.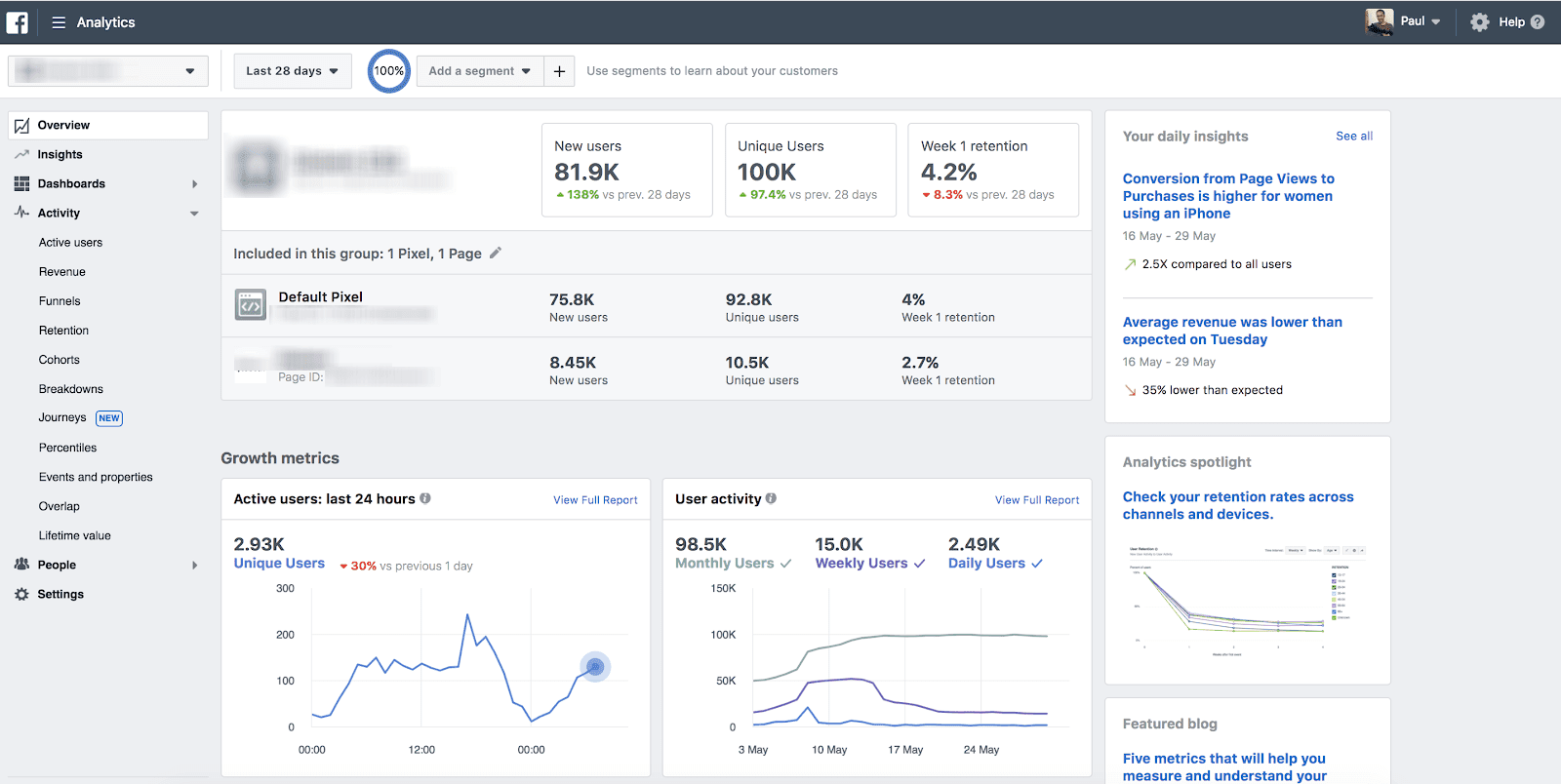 The data displayed here demonstrates to merchants how users engage with the Facebook Shop.
The Overview dashboard allows merchants to evaluate how their store is functioning and identifies patterns. The Products dashboard displays information about each product that you have for sale.
Sellers may also go deeper into analytics by looking at certain time frames, product listings, and other factors.
5. Advertise your shop.
Because your current Facebook and Instagram followers have already opted in to see your posts, it is simpler for them to find your Facebook Shop, but if you want to attract new consumers, you must promote.
Ads may be created in Commerce Manager by selecting "Ads" from the left-hand menu. You must then decide whether to run a traffic ad or a dynamic ad.
Directing people to your website, app, or even a Messenger chat is one of the biggest benefits of traffic advertisements. You might, for example, create a traffic ad that directs potential consumers to message you about finding their perfect fit from your clothing business. You must have at least four goods in your catalog to run this sort of ad.
Dynamic advertising, on the other hand, employs machine learning to provide relevant offers to consumers based on their interests and behaviors. To make your customer experience better, you can integrate different automation techniques by using the power of AI. When you provide your AI model with data, make sure to have done proper image segmentation, prepare the right data to make the process more precise.
Instead of generating a separate ad for each product in your catalog, you can create a single campaign that promotes all of your products depending on what each client is most likely to buy. When a person expresses interest in a product, Facebook will generate an ad for that person and deliver it automatically on mobile, tablet, and desktop.
Create your Facebook Shop now
Your eCommerce business may already be advertising on Facebook and utilizing product tags on Instagram, but clients will be unable to explore and purchase from your store until you set up your shop in Commerce Manager.
Fortunately, if you're currently selling on Facebook or Instagram, you already have a product inventory, so creating collections and customizing your shop won't take long. In fact, you may be up and running and selling in minutes.
LitCommerce Facebook Shops integration– the multi-channel solution – can assist you in selling more efficiently and successfully. Furthermore, connections with Etsy, eBay, or Google provide bulk product uploads, real-time notifications, simple order administration, inventory synchronization, and a variety of other capabilities.
For additional information, please contact our 24/ 7 support team for more info. Also, join our community for more exciting eCommerce news and tips