Amazon buyers are flooded with product options. A quick search on Amazon will give you thousands of options for kitchen tools, including plastic and colorful spatulas. Hence, as an Amazon seller, you need to find a way for your products to stand out in a sea of merchandise. Amazon PPC is a great way to highlight your products.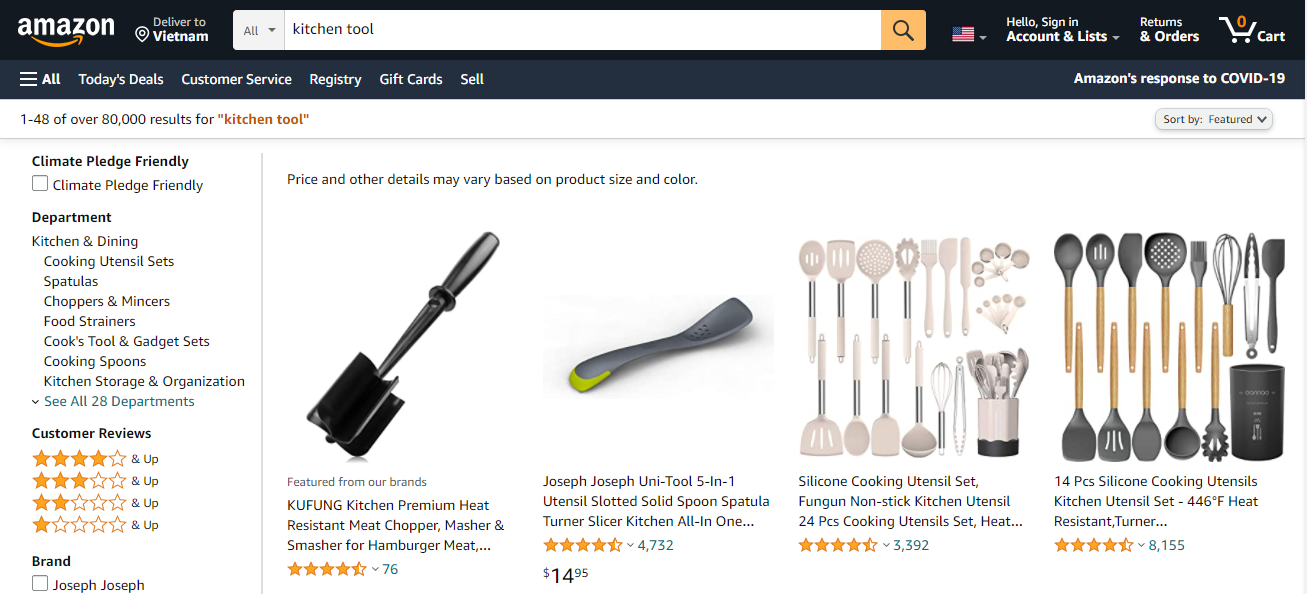 Amazon's pay-per-click advertising (PPC), allows sellers to advertise their products directly on the market. In recent years, the program has become a popular way to increase product awareness. Globally, Amazon PPC sales doubled in 2016, and PPC clicks grew by more than 15%.
In this guide, we will bring you the easy and most efficient way to help with your question: How to Set Up Amazon PPC?  Let's get started!
---
Amazon PPC: A Quick Introduction
Amazon PPC was launched in 2012. It has made it easier to increase product exposure, and as well as boost sales. That's why all professional Amazon sellers use it to promote their products on the marketplace.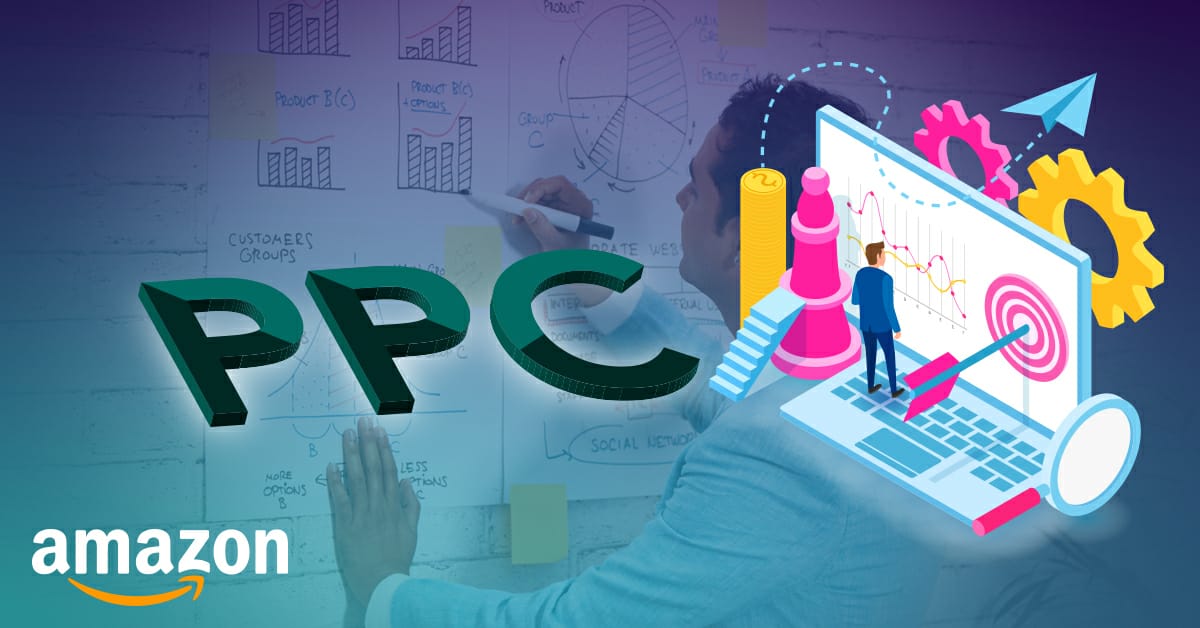 Amazon PPC (pay-per-click) is an arrangement in which sellers pay Amazon a fee when someone clicks on their ad. Sponsored product is the most popular Amazon PPC ad. This allows you to bid on keywords that you would like your product to rank for. The first search result will be the seller with the highest bid, and the second-highest in the second.
There are three options available to sellers when it comes to choosing the Amazon PPC advertising type that makes the most sense for them.
Amazon Sponsored Products Ads: A keyword- and ASIN-based ad that helps products rank high in Amazon's search results for search terms (similarly to Google Adwords). Just like Google Ads, these ads appear in search results and at top of product detail pages.

Amazon Sponsored Brands Ads: These ads are designed to increase brand visibility and awareness. They allow brands to place an ad at the top of Amazon's search results page with a custom headline and logo. Also, you can choose up to three products for your brand Ads. Amazon will let your Sponsored brand ads appear in higher-value positions on the search result page.
Amazon Sponsored Display Ads: The newest Amazon PPC ad option directs shoppers to product detail pages of the owner store. It can also appear on external sites, as well as Amazon, based on browsing behavior/history. Depending on the targeting of the ads, ad placements may be below the "add-to-cart" button on product detail pages or on external sites.
Amazon PPC ads are effective because they place your products in the most populated areas. According to recent data, nearly half of Amazon shoppers don't look beyond the second result page. All buyers will be able to purchase your products if your items are on the first search result page or on highly-ranked product pages.
Are you ready to increase your Amazon business through PPC? Let us walk you through setting up your first campaign.
---
How to set up Amazon PPC for your store?
Step 1: Choose your Amazon PPC to spend
Manage your spending is super important, without knowing how much you will bid on your ads, you can't create a campaign. This is crucial to your overall Amazon PPC strategy. You risk losing the profitability of your Amazon PPC ads if you don't manage your budget well.
Three metrics are required to calculate your "default offer".
Target ACoS (Advertising Cost Of Sale)
The price of your product
The conversion rate of your product
It shouldn't be difficult to identify your product price. Your Seller Central account can easily show you your conversion rate. Your target ACoS is a less well-known metric.

1. Calculating your target advertising cost of sale (Acos).
Your ACoS is a measure of the performance of Amazon PPC campaigns. It is a ratio of ad spend to sales. For example, you spend $3,000 on advertising and make $10,000 in product sales. Your ACoS is 30.
This ACoS metric can be found in Seller Central's Campaign Manager section.

ACoS is important to measure as it directly affects your profits. Ecommerce sellers all want to make a profit. Therefore, your ACoS must be less than your profit margin. You'll incur a loss if your Amazon advertising spends exceeds your revenue.
You can keep your Amazon PPC advertising spend profitable by setting a target ACoS. As an example, let's say that you want a 10% final profit margin with all ad spend. To secure these profits, you would set a target ACoS at 25%.
Also, you can calculate your default bidding amount by setting a target ACoS.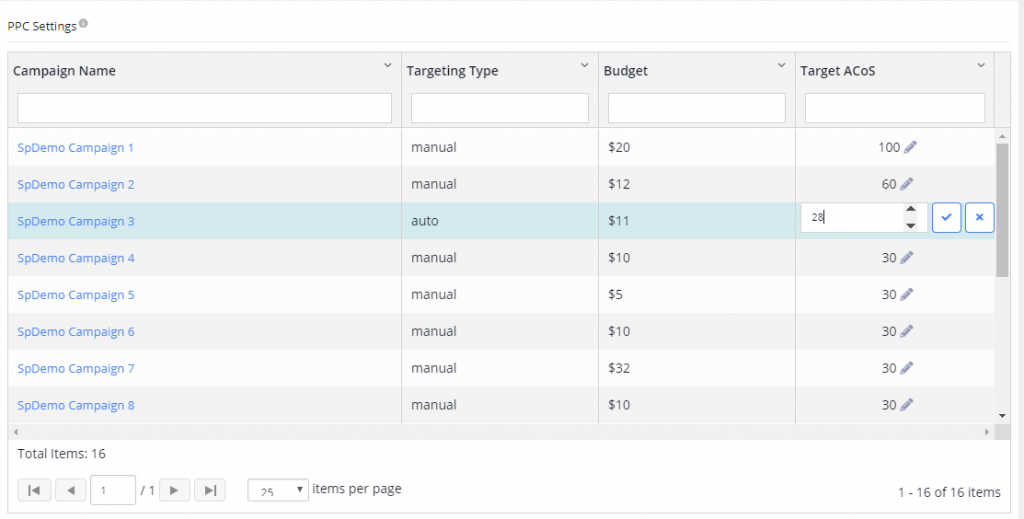 2. Calculating your default Amazon advertising bid
You will place a bid on keywords that you wish your ads to rank high for in every Amazon PPC Ad. This is a cost-per-click bid. Users will pay this amount each time they click on your ad.
You want to bid high enough to win, but low enough that your profit margin is not affected. We've created the following formula to calculate your default bid for Amazon PPC ads.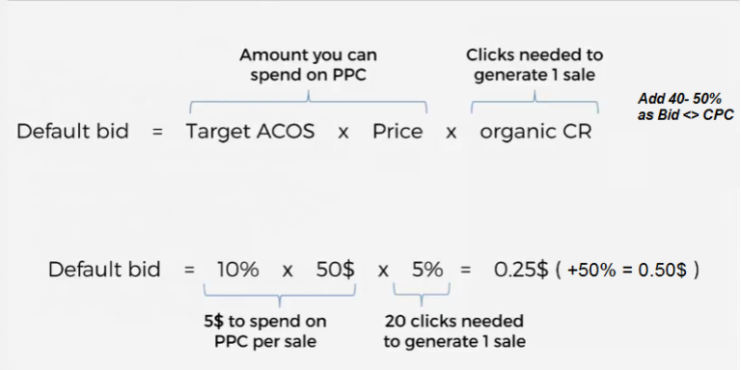 The formula increases your chance of winning by adding 50% to your default bidding calculation. Based on our research, the winning CPC bid was 40-50% less than the winner's default offer. You don't have to pay the same amount as your bid so it is better to be aggressive and increase your chances of winning.
3. Calculate your daily advertising budget
Amazon asks you to set a daily budget per ad campaign. This figure can be calculated by determining a monthly Amazon advertising budget that is appropriate for your business.
This budget will allow you to calculate how much you can spend each day on Amazon PPC campaigns.

This formula assumes you are prioritizing all ad campaigns equally. You can adjust the formula to suit your needs. Let's say you want to dedicate 60% of your monthly budget to one campaign. Simply multiply your Amazon daily budget by this percentage.

You can now set up your first campaign using our default bid formulas and daily budget formulas. This will allow you to win but still, make a profit.
Step 2: Before you start with Amazon PPC, optimize your Amazon product listings
Double-check your product listings conform to Amazon SEO standards before you start your first Amazon PPC campaign. Amazon uses an algorithm called A9 to filter products according to text match relevancy. Having the right keywords in the right places will give you a head start before you begin your actual campaign.
These are some areas you can modify to maximize the effectiveness of your Amazon product pages.
Do keyword research and apply keyword targeting techniques throughout product detail pages. 
Use target keywords and adhere to character counts to maximize product titles and descriptions.
Choose the product category most appropriate to your audience and products.
To increase click-through rates, use eye-catching product photos.
These optimizations will increase the clickability of your listings. These tips should be applied to your Amazon product listings before launching an Amazon PPC campaign. Poor image quality and confusing titles in product listings will make it less likely that people will visit them.
Step 3: Start a campaign
You now know how much Amazon PPC you will spend and have optimized your product listings. It's time to start. Log in to Seller Central, click "Campaign Manager", under the Advertising subsection.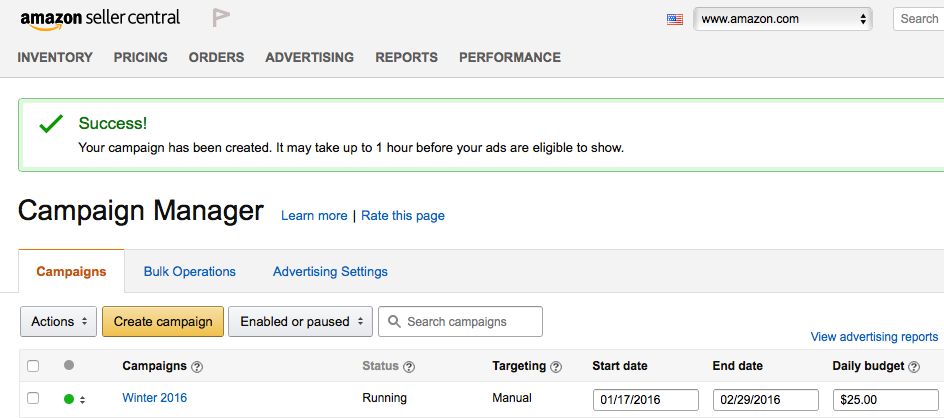 You'll then be taken to the Campaign Settings Page, where you can set your:
Ad campaign title
Daily budget (See Step 1 for calculation)
Campaign Timeframe
Targeting type automatic, or Manual

Campaign settings
Your campaign setup will depend on the type of targeting you choose, manual or automated. Each type has its own benefits.
Automatic saves time: Amazon targets ads based upon your product information without you having to enter keywords.
Manual allows you to have more control: You can enter keywords that you would like your ad to match with.
There are no better types than others — the choice between manual and automatic targeting depends on your marketing strategy and available resources. We will show you how to set each type up so that you can use them both.
Step 4: Setting-up a manual Amazon advertising campaign
Although a manual PPC campaign takes more effort and time than an automated one, the tradeoff is significant. You can achieve greater precision in ad targeting by selecting the keywords that you would like your ad displayed.
1. Choose your ad name, products, and bid
Click "Continue to the next step" and select Manual targeting on the Campaign Settings page.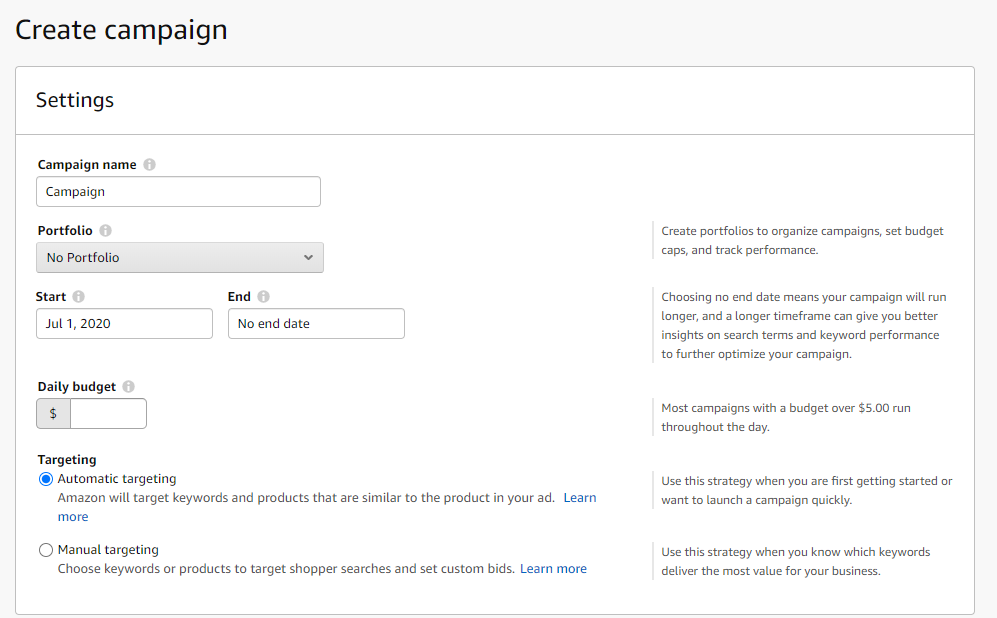 You'll be asked to enter your name to this campaign and choose the products you wish to advertise.
After choosing your ad group name, products, and default bidding option, you can choose your default price.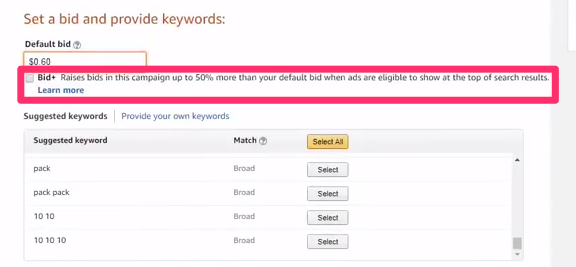 To calculate your default bid amount, use the formula from Step 1. You don't have to choose Amazon's Bid+ option to use our formula, as it adds 50% to your default bid.
2. Choose keywords
You have two options when it comes to Amazon keywords: Amazon offers suggestions or you can create your own keywords. You must choose a match type when adding keywords to your website.
Broad match Your ad may appear when a buyer searches for your keyword in any order, along with similar variants.
Phrase Your ad may appear when a buyer searches your keyword with other keywords after it.
Your ad will only appear if a buyer searches for your keyword exactly without using any other words.
We recommend using Broad and Exact match types. Our internal research has shown that search terms found in the Phrase Ad Group will be most likely to be found in the Broad Ad Group.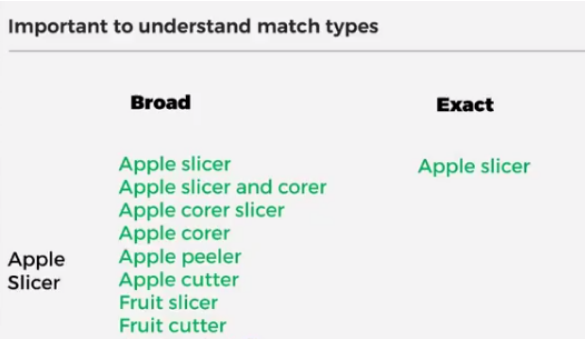 3. Setting up a specific keyword group
Exact keywords will not rank your ad if it matches exactly the keyword without additional words. This is why you should choose your keywords carefully. Only bid on keywords that are relevant to your product and can reliably convert.
Do not reduce your default bid. Do not be outbid for keywords in your Exact Ad Group – these keywords are highly converting keywords for your product. Use the formula from Step 1 to bid aggressively using the default bid amount.
4. Set up a large keyword group
Amazon will match your advertisement with the Broad keyword group and your chosen keyword in any order.
Broad keywords can be powerful for connecting your ad with less obvious searches that Exact may not have picked up on. Broad can also be risky as you may bid on less relevant phrases, which will result in fewer conversions.
These pros and cons can be balanced by these tips:
Broad keywords are worth bidding slightly lower. Broad keywords should be bid at a lower level. We suggest reducing the default bid calculation from Step 1 by 20% to 30%. This small decrease will still give you a chance to win Broad keyword auctions. However, it won't hurt your chances of winning if you bid on less successful keywords.
Be aware of overlapping keywords. To increase product exposure, some sellers prefer to use Exact and Broad groups. Be aware that you may be bidding on the exact keywords in your Broad campaign. The Exact keywords should be added to your Broad group. However, they must not match the general, inexact keywords. You're already bidding for the exact keyword in the Exact group.
You can avoid bidding on the exact same keywords by changing your Broad Ad Group to include your Exact keywords as 'Negative Exact'. Click on your Campaign to open the Negative Keywords Section. It's located under your campaign title.
This simple trick will keep your campaign cost-effective and prevent you from having to pay twice for the same keywords.
These keyword strategies will help you quickly set up a manual PPC program. You can quickly create and launch an advertisement that is highly targeted with your chosen keywords in as little as 15-30 minutes.
Step 5: Setting-up an automated PPC campaign
A campaign that is automated can be run in less time than a manual campaign and requires no keyword research. Instead of entering keywords that you want Amazon to search for, Amazon pulls information from your product details to match your ad.
Click "Continue to the next step" and select Automatic as the targeting option from the Campaign Settings page.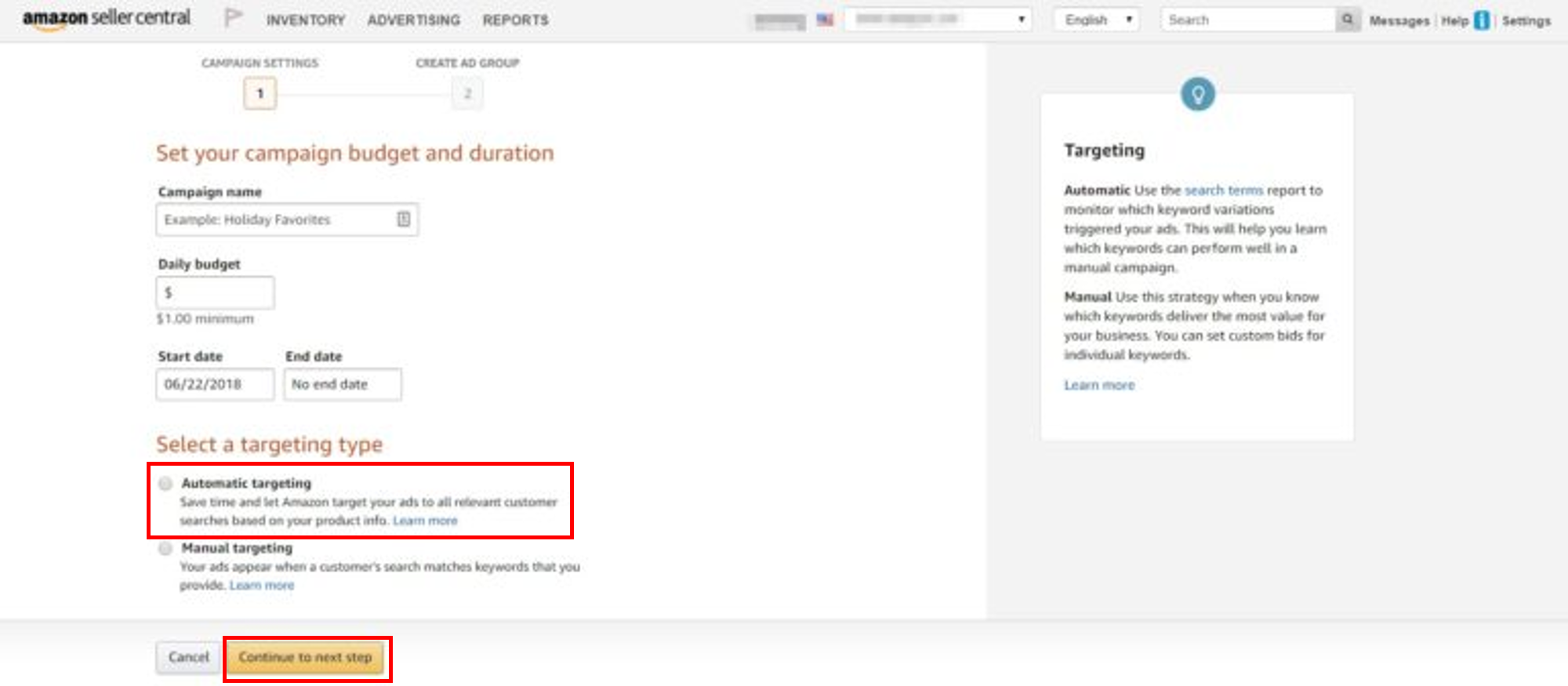 The rest of the process is straightforward. Simply name your ad group and select the products that you wish to advertise. Finally, enter a bid amount.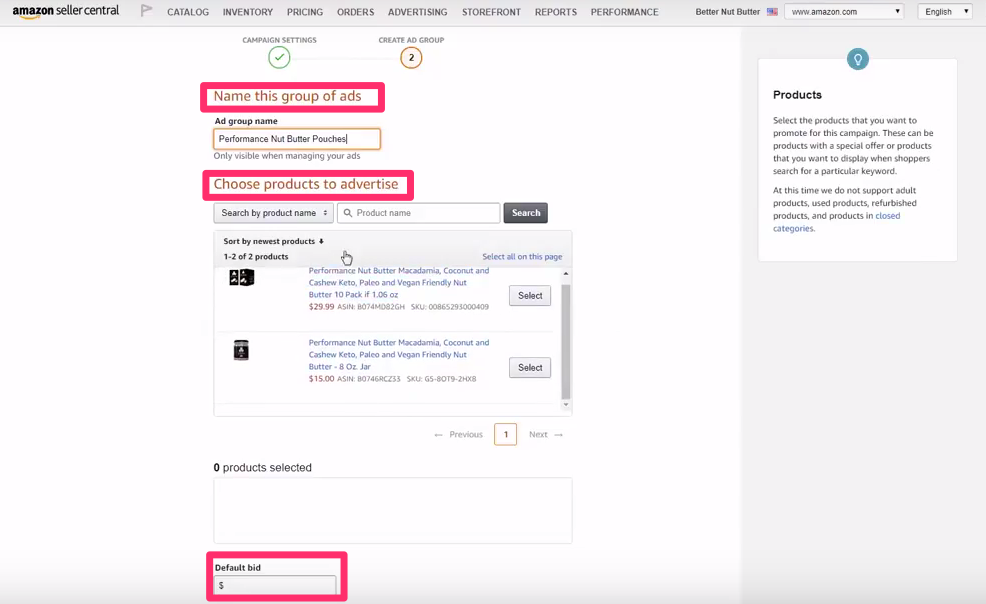 It's best to lower your default bid for the Automatic campaign if you also run a Manual campaign for this product. Although they are a time-saver, Automatic campaigns don't offer the same value as Manual campaigns. This is because their targeting is more precise. If you are also using Manual, we recommend that your Automatic default bid be reduced by between 30-40%.
After you have set your default bid, ad group, and products, click "Save and finish" and you are done!
Automated campaigns can save you tons of time and are great for those who don't have the time or patience to create an ad or do keyword research.
Step 6: Track your Amazon PPC ads
The first step in setting up an Amazon PPC campaign, either manual or automatic, is the most important. You'll need to monitor the performance of your campaigns in order to ensure you are making the most out of your advertising budget.
Visit the "All Sponsored Product Campaigns" page of Seller Central to monitor your PPC ads. You can then track the cost-effectiveness of your ads using the Spend, Sales and ACoS metrics. After your campaigns have been launched, you can adjust the budget, start and end dates, as well as daily limits, for each campaign.

To determine which keywords convert the most sales and get the most clicks, you'll need to evaluate their performance. The "All Sponsored Products Campaigns" page allows you to check the keyword performance metrics. Select a campaign and an ad group. Finally, view the Keywords subsection.
You can monitor the performance of your keywords and ads to gain control over your ad spending. This provides you with the information you need to make sure your campaigns lead to increased product exposure and sales.
---
How to set up Amazon PPC – Final words
It's not enough just to have a great product on Amazon. There's too much competition for you to rely solely on the quality of your product's sales. To attract buyers to your product in this highly competitive marketplace, you need to find a way that makes it easily visible. You will make more sales if your products are easier to find.
Amazon PPC advertising is key to product exposure. You can control whether your product will rank highly in search results by bidding on keywords. Although PPC can add to your budget, it will help you keep your advertising costs low and increase sales by creating and managing campaigns using this guide.
If you're looking for an affordable tool for better management with your multichannel store, we highly recommend LitCommerce – the easiest solution for SMB. Leave us a message for more information.
Also, join our community for more exciting eCommerce news and tips, good luck!