According to BuiltWith, Amazon is the most popular marketplace, with more than 16.730 active users. Due to technological advances, the E-marketplace has come to include distinct features that assist in converting visitors into paying consumers. With Amazon A+ content, companies can make appealing product names, descriptions, and pictures for any of your products.
Amazon usage statistics
If you look at the FAQs by Amazon, it will be apparent that customers like to interact with products sporting the aforementioned features. Hence, the Amazon A+ content is a great tool for any Amazon merchant to level up their content. Together with Amazon SEO, you can bring your product much closer to potential customers around the world.
Let's explore more!
Amazon A+ Content
Amazon A+ content is an Amazon tool that allows brand owners and sellers to express their brand voice, product features, and other details through magnified images and videos. A+ content also includes:
Clear and concise images of ProductYi, including close-ups and views from various angles.
Get clear information on the product
Description of specifications and benefits in bullet point or table format
A section called "What's inside the box", where customers can see what they're buying
These are just a few examples of products that have A+ content:
Premium A+ (or A++) Content:
Amazon A+ Content or Amazon A++ Content – The updated version of Amazon A+ content allows the user to access videos, testimonials, and comparative charts as well interactive FAQs.
Premium A+ content allows brands to communicate with users via HD images, videos, or tutorials on how they can use the product. It includes:
High-quality video (720P).
Captivating images & videos including 7 modules
Interactive FAQs provide a richer experience for customers
A section called "What's Inside the Box" introduces the customer to the contents of the product to ensure that they understand what they are purchasing.
These are just a few examples of products that have premium A+ content.
How to create Amazon A+ content
Follow these steps to create A+ content which converts.
Step 1: Log into your seller central accounts.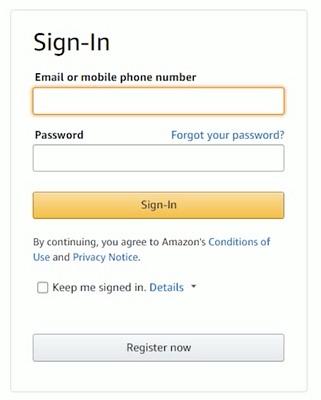 Step 2: Continue to the create content page Advertising Tab A+ Content Manager

Step 3: The content manager page will take you to a few lists. In the upper left corner, click the Start Creating A+ Content button.

Step 4: Fill out the content details field. Be descriptive and easy to recall. Once you are done filling out, click the add module button.

Step 5: There are several types of modules: standard, comparatives, etc.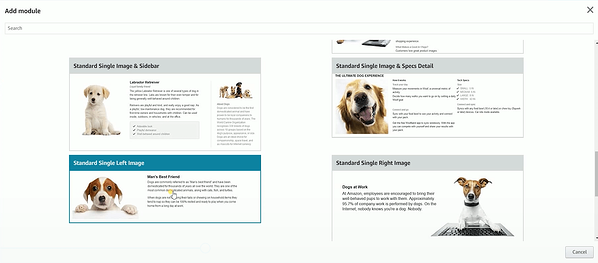 Step 6: After choosing the type of module you want for your product, upload the image in the right size. Add relevant keywords to the image and click the "Add button" then fill in the required information.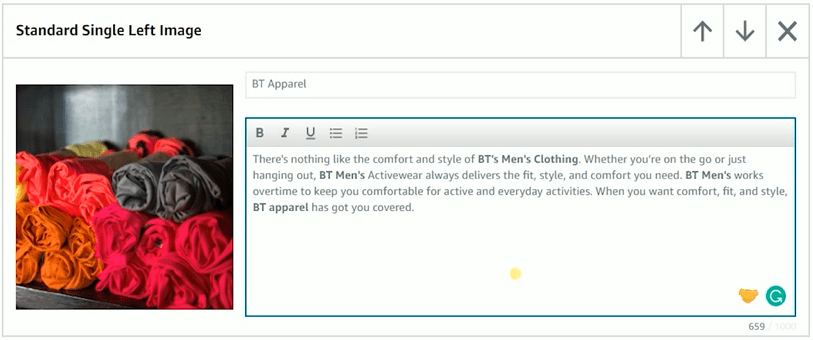 Step 7: Create or search the ASIN you want. ASIN-Amazon Standard Identification Number is a 10-digit alphanumeric code that is used to identify a specific product. ASIN is unique because every new product added to Amazon's catalog is assigned with a different ASIN.
8. Click "Apply Content", once you've made all the changes, click the "Next" once you have created ASINs for your products.
Step 9: Finally, review the file to make sure that all images are correctly uploaded and within the specified size. Once you're done, click the Submit for Approval button.
Note: Amazon will then review the content. This may take 7 to 10 business days. If the content is not approved, Amazon will inform you why it was not approved and recommend changes.
How much does Amazon A+ Content run?
Amazon EBC, the prior name for A+ content, is free of cost for sellers and vendors. They can opt for the premium A+ content version available as an invite-only through the vendor manager.
Additionally, there is no additional cost to the process. The only thing that takes too much time and effort are the visuals, creativity, and copy.
How can Amazon SEO benefit from A+ content?
Everyone knows the importance of SEO on and off-page for websites. It enhances user experience and helps increase sales and conversion rates. A+ content is a great addition to Amazon SEO. This increases the value of Amazon SEO and leads to greater sales.
Let's examine how A+ content can improve Amazon SEO.
Increased Conversions

Without customers buying the product, ranking high is not an option. A+ content also includes enhanced images and comparative information that allows users to make better decisions.

Qualitative Reviews

A+ content enhances the customer experience and makes your products easier to purchase. Feedback and reviews are key metrics to improve your customer experience and engage with new customers.

Low Returns

If you give customers accurate and thorough information about the product, complaints, returns, exchanges, and other negative experiences will decrease dramatically. A+ content provides customers with deep insights into product features that will increase your rating and ratings.

Economical Ads

This is good news for sellers who prefer PPC (Pay per Click) or ad marketing. If more people find your products, they will click on your ads. This improves SEO and lowers the cost of service. It also gives you a better ROI.
Amazon A+ Content: Best Practices, Advantages, and Things to Avoid
You can provide a better customer experience for your prospects, which will increase your sales. Let's examine them all.
There are many advantages
Trustworthy Brands

Your brand's most important link is trust. Customers trust brands that are trustworthy and provide a delightful experience.

Marketing with High Quality

Amazon A+ content can be used to increase the effectiveness of vendors' marketing efforts through visuals and guides. Customers can also benefit from discounts, offers, and a better overall experience.

Boost Sales:

Amazon is one of the most popular eCommerce platforms, allowing you to have access to billions of customers. Amazon A+ content is a great way to reach a wide consumer base and increase sales.

A thorough analysis:

Understanding and achieving the various metrics that affect sales is possible. The demographics, operational structure, indirect and organic traffic, detailed sales, and many other factors. Likewise, Amazon SEO will also benefit greatly from measuring, analyzing, and improving.

Strong First Impression

A+ content, with its attractive visuals and information in form of solutions, can grab a lot of attention. This will create a lasting impression and provide a complete digital shopping experience.
The Best Practices
Your content should be clear, concise, and descriptive.
Merge images and text
Be aware of image resolutions and size
Each time you submit content, make sure to proofread it first
Your unique selling point (USP) should be highlighted
Use visuals and video more than text to convey your message.
Consistent designs and layouts are best
Strategically place banners
You can take advantage of product reviews and improve your products consistently
Things to Avoid Rejection
By constantly checking the number of pixels, you can reduce the use of blurry and low-quality images.
Do not mention guarantee clauses just for attraction
Do not accept plagiarized content or vague content
Avoid the use of personal assertions such as #No. 1 brand, #Best Selling Product, etc.
Use elements such as trademarks, links from other websites, and information from other sellers.
For product promotion, it is important not to quote customer reviews.
Conclusion
Amazon A+ content is a great way to increase Amazon SEO. This content optimizes the product content with high-quality visuals and images. Amazon A+ content templates will guide you through the process and provide several modules that include relevant, informative content that highlights your product.
If you're looking for a selling tool for better management of your multichannel store, check out LitCommerce– the easiest and affordable solution for multichannel selling. With LitCommerce, you can effectively monitor everything just on the central dashboard with no technical skill required. Leave us a message for more info.
Also, join our community for more exciting eCommerce news and tips!
You might also be interested in reading: