eCommerce customer service has emerged as a primary focus for most companies, due to the growth of online shopping over the last 10 years.
Every customer who shops online has the ability to publish reviews on various social media sites. They may instantly reach thousands of people with just a single blog post, tweet, or status update on their social media accounts.
Your company's reputation might be irreparably damaged by just one critical comment made by an unhappy client or customer. Keeping this in mind, you must deliver the highest possible level of service to your customers.
Because happy customers are a direct result of offering superior service, this facet of your eCommerce company's operations should centralize your strategic planning. To help you enhance your eCommerce customer service, here are the 6 most effective ways to do it.
Let's get the ball rolling with LitCommerce!
---
Ecommerce Customer Service – 6 Ways to Improve it
#1. Have a multichannel helpdesk
You can offer help to customers via more than two different channels by utilizing multichannel functionalities. Providing the ability for clients to contact support agents in the medium with which they are most familiar is the key. No matter if it's through a social networking platform, an email, live chat, a business phone line, or even just text messaging.
The provision of help across many channels is not only advantageous for customers but also for businesses. Businesses have the opportunity to expand their brand exposure by offering help across a variety of channels.
Studies estimate that having a live chat on your website may drive 3 to 5 times as many conversions as not having a live chat. Live chat helps to enhance sales.
Instant messaging software allows clients to receive a response immediately, rather than waiting up to 24 hours or more for someone to react to an email inquiry. Increasing response times helps enhance customer happiness, which helps increase customer loyalty.
As a result of the ability of customer care agents to manage many conversations at once, the process is not only more practical but also less expensive than phone assistance.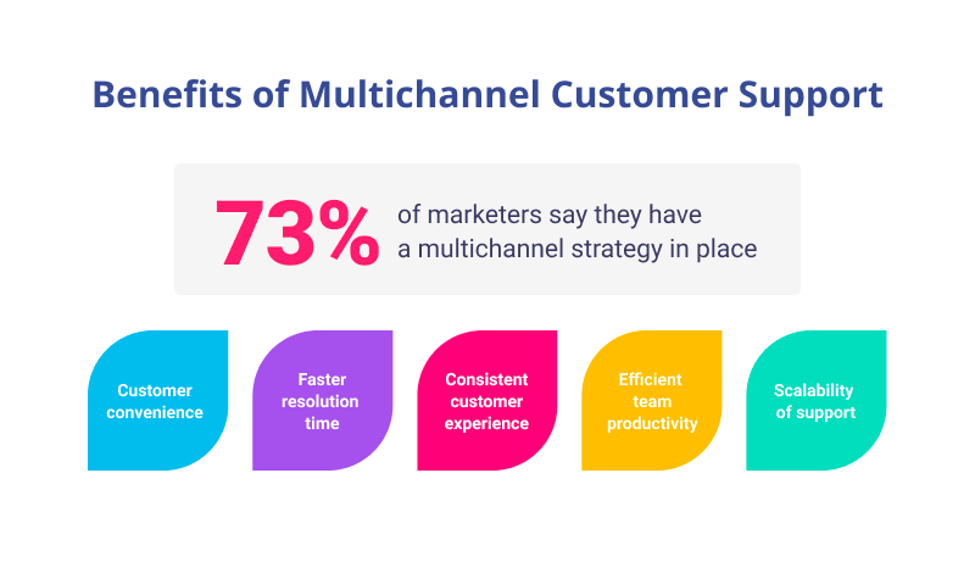 When it comes to creating your online presence, making sure that your contact information is readily available is one of the most crucial considerations you should provide.
Buying things on the internet is not only practical but also quite simple. Simply clicking a button will allow you to do product research and comparisons. On the other hand, there is the potential for a significant increase in time commitment.
There will be several days before the item you bought can be delivered to your home. Now, try to picture how much easier life would be if the most inconvenient thing you had to do were wait a few hours until your favorite products were delivered to your doorstep.
#2. Regularly update your FAQs
Maintaining an up-to-date section of frequently asked questions (FAQs) is especially important if you've recently seen an increase in consumers. This page is necessary for the majority of internet businesses for them to connect with their community and consumers.
People can find solutions and answers to their questions right on your site rather than sending a long process ticket (which takes minutes to compose). That is typically resolved in just a few seconds, which is why a FAQs section can significantly reduce the number of support tickets filling up your support inbox day after day.
Maintaining up-to-date FAQs is important because, when done correctly, they may make it much simpler for customers to find solutions to their issues. As a result, reduce the number of times they need to contact customer support.
After three months, review the questions and comments that customers have submitted and note any patterns that emerge on the questions asked most frequently.
#3. Consistently gather feedback
Customer feedback is the key to unlocking the secret to establishing a more satisfying experience for customers. Consider the implications if you want to optimize customer engagement.
Product managers need to collect feedback, and one way they fulfill this obligation is by maintaining consistent communication with their clients to pose questions to them directly. It might be difficult to ask delicate questions.
Still, the payoff is often worth it: consumers report feeling valued and cared for rather than dissatisfied or ignored due to the interaction.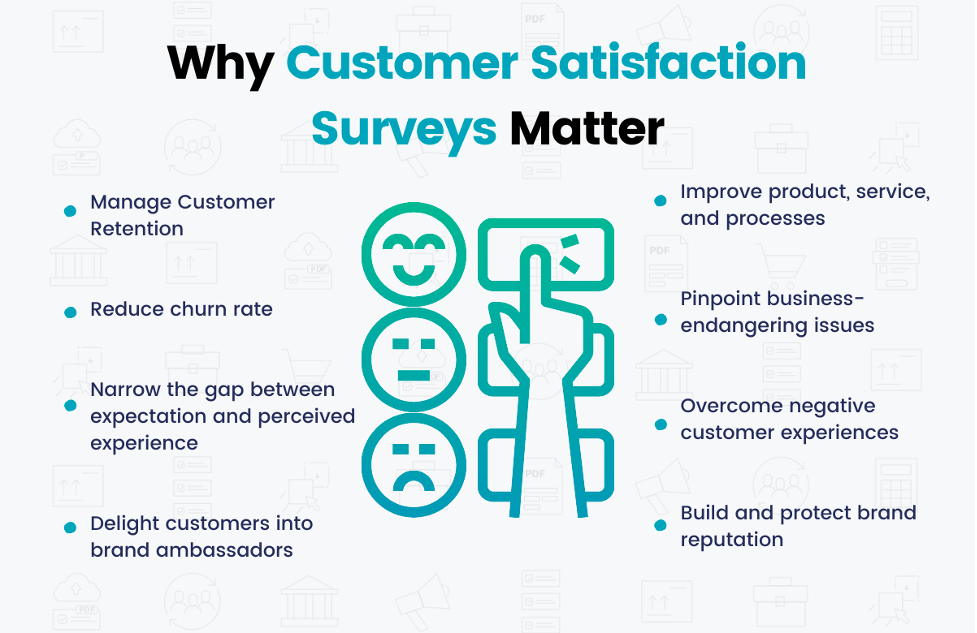 It is always to your advantage to solicit feedback from your clients consistently. It is highly advised that you evaluate your online reviews at least once every month and note any issues that you may work to address the following month.
Here are some tips:
Long form-based surveys
Short in-app surveys
Customer satisfaction score surveys
Website feedback widgets
Customer interviews
Transactional emails
Post a link to a survey on social media.
Use Instagram Stories to collect feedback.
Monitor social media channels.
Create an online community.
Request feedback when a cart is abandoned.
Offer a reward in return for feedback.
#4. Improve your average response time
It is of the utmost importance to cut down on your customer care response time. When done correctly, it can help you make your consumers happy and improve the reputation of your business. Still, it also can increase the efficiency of your whole company.
However, considering that the typical response time is greater than 12 hours, it is abundantly evident that many businesses might be doing more to cut down on this statistic.
If you want to enhance customer service, keep in mind these five strategies that are simple to put into action and will help your firm stand out from the competition as an enterprise that places a high value on its clients:
Installing software that caters to customer support will make your mailbox easier to handle.
Maintaining communication with your consumers and keeping their expectations in check may be accomplished with the help of email autoresponders.
Make use of time-based notifications to ensure that no emails are lost or delayed by using this method.
Reduce the time spent writing each email by using pre-written templates and keyboard shortcuts.
It is important to prioritize how you reply to the various customer support emails received.
#5. Focus on personalization
A company's interaction with its customers is light years ahead of where it was ten years ago. The advent of new technology has provided businesses with many fresh opportunities to enhance and individualize the consumer experience. Nevertheless, more than 74% of marketing leaders are still having trouble scaling their customization initiatives.
Customers want to feel that their business is respected. Customers nowadays have come to anticipate that their buying experience will be natural, uncomplicated, and one of a kind.
Start by recognizing the value and interests of each customer, and then design a personalized shopping experience. It will give your customers the impression that you understand their requirements and personifies your brand. Doing so will help improve the customer service eCommerce practices of businesses and brands.
Here are some tips on how to do it: 
Use data to enhance experiences.
Send emails with a customized touch.
Make sure your opt-in forms and thank you pages say something important.
Sales personalization,
Transform anonymous site visitors into qualified prospects.
Communicate in real-time with potential customers.
Personalized follow-ups and communications.
Give help that is dependent on the circumstance.
Utilize a knowledge base to focus on satisfying the demands of your customers.
Respond quickly and effectively to concerns from customers.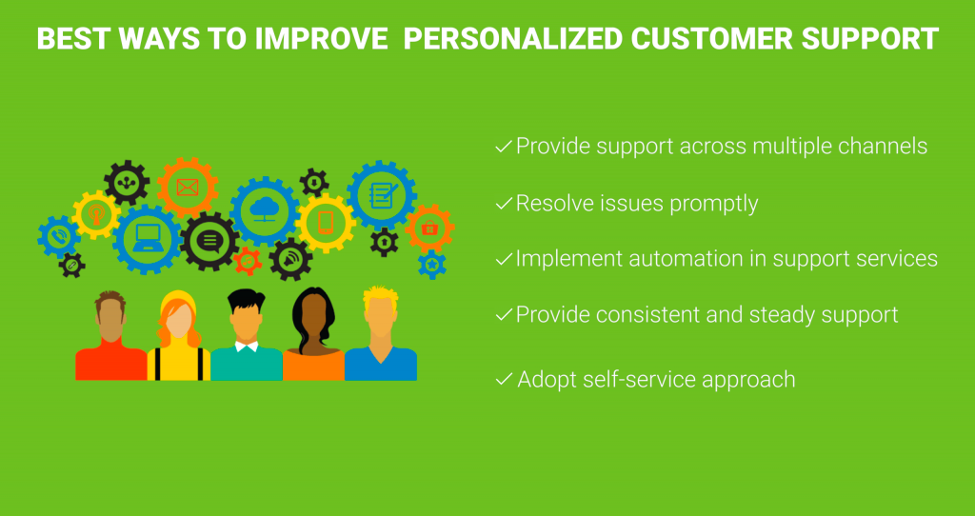 When carried out well, personalization may result in a 15% increase in income, a reduction of up to 50% in expenses associated with customer acquisition, and an improvement of up to 30% in the effectiveness of marketing expenditures. The personalization process is not overly complicated and does not need an expenditure of hundreds of dollars.
The successful implementation begins on a modest scale. Still, the outcomes have an exponential impact that continues to speed as promotion, sales, and customer service play their part. As you build new strategies to customize your company, you will find interesting new methods to provide your valued clients with even greater experiences as you discover these new tactics.
#6. Continue to measure, optimize & redo
It is important to remember that you will need to rethink your strategy occasionally. This is particularly prevalent in customer service; if you continually monitor how your methods are sought by and handled by clients, you can effectively alter them to carry out a more suitable method that improves the eventual outcome for the client.
This is especially prevalent in the area of customer service. The information that can be gleaned from an effective review will help your business as a whole and improve the quality of services provided on an individual basis. If you know where clients are coming from, what questions they ask the most, and what channels they utilize the most, you can put together an approach geared specifically toward those customers.
---
Conclusion
It's no secret that the customer is always right, so providing stellar customer service in eCommerce is a must in today's digital landscape. While your customers may have already moved on to the next item in their online shopping cart, your company must stay in touch with its shoppers. With that in mind, we've assembled a list of 6 ways you can make your eCommerce customer service even better.
You might also want to read: