Did you know that
53% of online consumers
say they've given up on one online retailer because of a bad experience or another retailer provided a better experience for them?
The end-user experience (UX) in eCommerce is poorly understood, and this is the root of the problem.
To ensure that customers know about you and return to your shop, you need to improve the end-user experience to help your store. Here are 5 tips to improve end user experience of your online store:
Let's scroll down to read more details!
---
What is End User Experience (UX)?
End-User experience (UX) is the ease and pleasure with which a digital application can be used.
To get a better understanding, have a look at the case of Apple, for example. Navigating the Apple UI is one of the reasons Apple has grown to such a huge size. This is true whether it's your first time using an Apple device or your hundredth. Apple recognized that making navigation easy for customers was the key to enhancing the user experience. According to
fastcompany.com,
your team will also get a return of $2 to $100 for every dollar invested in user experience.
Because you're investing in your consumers' well-being, you're pretty much assured of a good return on investment by using professional
UI UX design services
. User interface redesign at McAfee allowed the company to reduce support calls by 90%. Due to UX, Airbnb moved from being a near-failure to becoming a $10 million company. ESPN saw a 35% boost in revenue after redesigning its site.
---
Why Should We Improve End User Experience?
The end-to-end user experience should be improved on your websites because of two main reasons:
UX enhances brand awareness and customers impressions:
When the user experience on your online store satisfies the needs of your audience, they will be more impressed with your brand and your services/products.
This also means that your brand will become one of their options to consider paying or returning to your store after referring to other options.
UX increases conversion rate:
The ultimate goal of UX designer is to increase the end-to-end user conversion rate.
To understand it simply, all your optimizations (including UX) on the online store are aimed at generating sales and profit. Therefore, when UX responds to customer demand, they will proceed to purchase at your stores. Digital company owners must improve the user experience and conversion rates. Let's see the 6 suggestions for a better user experience improvement strategy in the next section.
---
How to Improve End User Experience Design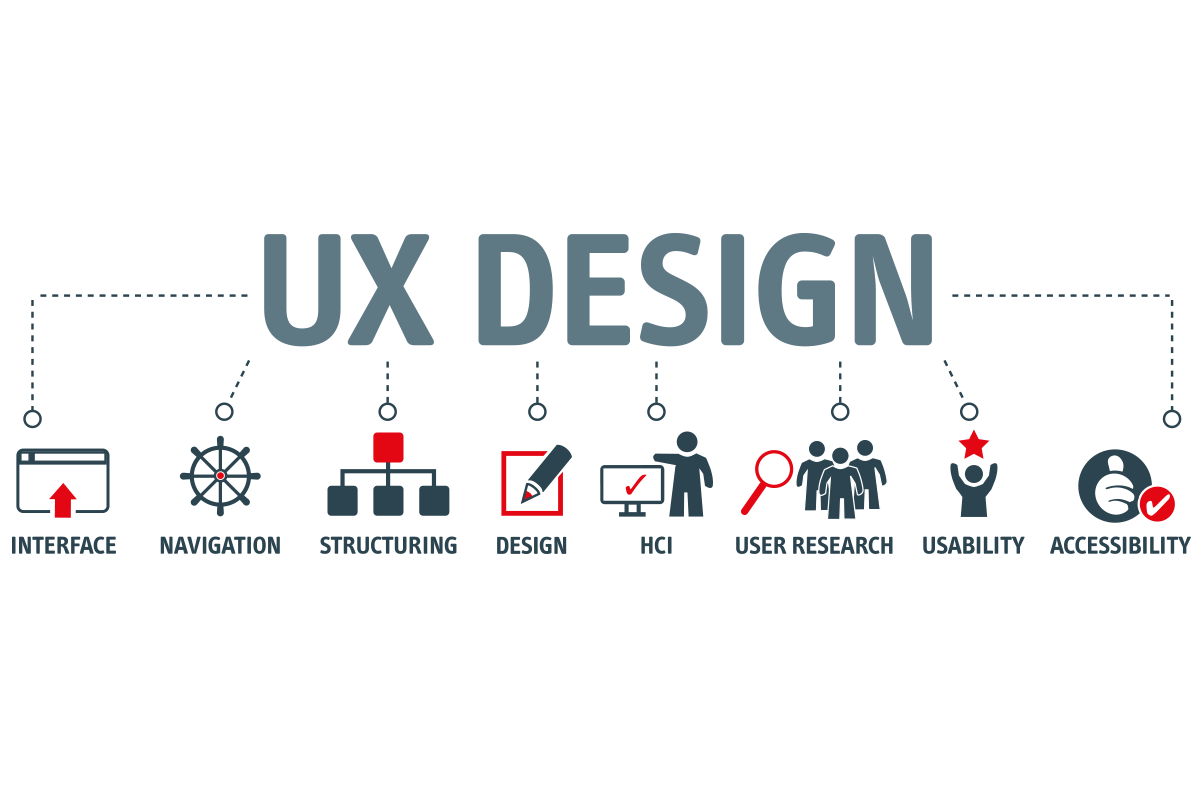 #1. Optimize a website performance
At a time when quick information is demanded, there is no patience when it comes to page performance. Users will quit a website if it takes more than three seconds to load. That's why you should always ensure to optimize your site loading time – small changes yet major impact:
 Speed up the loading time of your website by optimizing the pictures and files on it. Depending on the images on your site, submit the proper picture formats. Take note that PNG files compress more efficiently than other types of data. If you need a lighter pic, you can use an SVG file. Your photos should be resized to the highest quality possible while taking up the least possible amount of space.
Lower the performance of your website by optimizing your code. As a result, you should remove all useless CSS, HTML, and JavaScript code from your site and create separate files for each instead of maintaining everything in the same file.
Use a content distribution network can also help to minimize page load time. CDNs consist of a network of physical proxy servers that are located in data centres across the world. Your website is hosted on these servers, which results in a faster page load time since the physical distance between a user's computer and your site information has been minimized.
#2. Take care of your imagery
While it's important to decrease the size of your pictures and optimize them to maintain your website's performance high, it's also important to use imagery wisely to improve end user experience.
Since the brain processes visual data 60,000 times quicker than text, you want your website's graphic components to represent the written information. Check to see if the graphics on your site complements the message you're trying to convey to your audience and doesn't distract from the content itself.
Consider the following points:
It is best to choose images and graphics with a clear point of focus that you believe will enhance the concepts you convey. If you want to draw attention to a certain region in your photos, you should use a blurred background as an example. Consider using contrast colors to help grab the attention of the viewer on crucial details.
Imagery may be utilized for a variety of purposes. Instead of filling your website with generic images, hire your own photographer to get real photos of your products or services. Illustrator and vector drawings may provide a personal touch to your company's design and creative operations. You can use typography to emphasize a point or to assist diversity in your visuals.
Take into account the fact that images aren't required on every page of your website and that you don't necessarily need a visual aid for every point you wish to make. Using too many graphics may sometimes be a problem since it might distract your users. But be careful to use graphic components that enhance rather than detract from your message.
#3. Choose a responsive design
The Internet is available on hundreds of different devices, from smartphones to tablets, and occasionally even on the screen of refrigerators. Users are presented with content that has been scaled to fit the screen on which they are viewing it.
A poor mobile experience, according to Google, will make consumers less inclined to engage with a brand, which is why it is one of the most critical ways for improving end-user experience characteristics. Given that more than
70% of all web traffic
 is generated by mobile devices, adaptable designs are a must. Make sure to
test the usability of your website
on mobile as well as the desktop to ensure a good user experience on all devices. Listed below are a few tools to assist you in your research: Your mobile site will also run well if you use 
Google's Accelerated Mobile Pages (AMP)
. For WordPress site owners, this plugin will help strip down your website to its most basic form so users on mobile devices can enjoy your content without all the extra formatting and delayed page loading.
#4. Make the best use of call-to-action (CTA)
Every page should include appealing call-to-action (CTA) buttons since they assist visitors in progress through the sales funnel.
Because they help convert leads into paying customers, tweaking your CTAs is the way to go if you want to enhance UX design and boost conversions. Clear and attractive.
Be sure to keep the following in mind when you design your own:
As your team begins to modify your call-to-action, it's important to keep in mind their size. If you want visitors to be able to see the CTA on screen, you need to make it visible but not so huge that it distracts from the surrounding information. The Apple and Microsoft guidelines propose that CTAs be 44 pixels by 44 pixels or 34 pixels by 26 inches (px) in size.
When creating CTAs, it's also crucial to consider color. You can take advantage of the eye-catching CTA to captivate your potential customers at first sight. In addition to considering your company's color palette and logo, consider the emotions that colors elicit. You don't need to take a degree in color psychology, but it's worth knowing that various hues elicit specific emotions. If you'd want to learn more about colors and their psychological impacts, Coschedule or Black Bear Design can help you.
#5. Keep branding consistent
Consistency is a crucial aspect of UX design since it leads to user learnability and usability.
With the consistent design, users can predict the location of content and are better able to navigate your website.
Consistent branding also helps to establish authenticity and user confidence. Consider your company's content to be like a dish at a restaurant: each dish is a statement about the chef; each piece of content (picture, article, social post, etc.) is a statement about your brand. Maintaining consistency in your branding throughout your website, social accounts, and emails will demonstrate to your users that you understand who you are, what you do, and even what you stan.
In this digital era, where Instagram influencers and YouTubers set the tone, a brand's aesthetic is one of the most, if not the most, significant differentiating elements.

While the brand aesthetic is the buzzword of the decade, keeping the same logo, color palette, and design techniques regularly is what will convert your tiny startup company into a recognizable symbol. Consider the golden arches of McDonald's or the aesthetic design of Apple or Starbucks. Even without the logo, these businesses have distinguishing characteristics that allow every user to know what brand they're looking at and interacting with.

Maintaining a consistent voice and tone throughout your website is also crucial for UX, as your website's written material impacts your visitors.

There is a significant contrast in the text on the websites of companies such as Nike and Adidas vs Supreme and HUF. All are considered streetwear companies, yet their copy's voice and tone are regarded quite differently. Nike and Adidas' copies have a more broad appeal, but Supreme and HUF are known for their uniqueness.

Because social media postings and interactions are an extension of your brand, they improve your UX.

Create a social media policy for what you should and should not publish to keep your branding consistent. Do you want your company to have political opinions, or should it keep out of those debates? Will you publish provocative imagery or keep your photos PG? Consider what will draw your target audience's attention and how you can develop native content for each social network of your choosing.
---
Improve End User Experience: FAQs
Why end user experience improvement is a key to scale revenue growth?

The ultimate purpose of investing and developing a store is to get more and more revenue and profit, UX is no exception to this. Satisfaction in user experience will be a profound imprint that makes users stay in your store longer and turn into both customers and end users.

What are the benefits of end user experience?

It is obvious that a good end-user experience monitoring benefits businesses. According to Forrester's research, companies who engage in UX will reduce customer acquisition costs and support costs but increase customer retention rates and market shares.

What is difference between an end user and a customer?

A consumer can buy a product and resell it, meanwhile, an end user makes the final purchase of that product. A person is both the customer and the end-user if they buy the product and use it.
---
Key Takeaways
The goal of improving end-user experience is to provide your consumers with the greatest digital experience possible.
UX design assists you in successfully communicating your messaging and increasing conversions. Investing tactics to improve end-user experience is definitely a win-win situation.
Here are today's important takeaways for you:
Simply defined, UX refers to how pleasurable your site is to use and how simple it is to navigate.
Optimize your website's graphics and files to reduce page load time.
Make good use of visuals to supplement your textual information.
A responsive design allows you to reach customers on a variety of digitally linked devices.
Make use of CTAs on every page to convert your leads into paying clients.
Maintain consistency in your branding to better establish your brand.
To provide a fantastic user experience, use artificially intelligent solutions.
Those are the top 5 tips to improve end-user experiences, from optimizing the image, and page performance to utilizing call-to-action and keeping your brand message consistent. If you have a multichannel store and looking for a selling tool to manage everything in just one place, check out
LitCommerce 
– the easiest solution for store owners to list and sell their products on the world's largest online marketplaces such as Amazon, Etsy, eBay,…
Contact the support team
for more info, we are always ready to help! You can also join 
our community
to get more exciting eCommerce news and tips. Good luck!
You also might want to read how to use LitCommerce multichannel selling tool: