Introduction
Are you aware that 95% of product listings are improperly placed? This suggests that 300 million consumers are listing products but without optimizing them, resulting in a loss of opportunity to rank in the top searches. One of the key causes could be that they haven't yet recognized the significance of various listings points. There are several steps that require optimization, with the 'Product title' being one of the most important.
People consider the product title to be only the title, not the entire thing. This is where they go wrong; because the title is the first thing a buyer sees, it should be the first thing to change.
Why Product Title is Important?
What's all the fuss over the product name? Is it only a matter of labels? Yes, these are the distinguishing labels that offer your customers a notion of what your product is about. People look for products based on their names rather than visuals or descriptions.

No one will read the description or photographs if the product title is incomplete or sloppy, no matter how beautiful or high quality your images are! Because the products will not appeal to customers, it will have a lower probability of ranking high.
As a result, an optimized, full, and convincing product title is the most important aspect in getting prospects to engage, capture, and convert into devoted customers.
Amazon Product Title's Concept
The product title is the most important aspect of the product listing on Amazon, yet it is usually ignored. When you type a word or a phrase into Amazon, it generates a list of products in that category. The headlines at the top of each product listing represent the product title for that particular item.
The product title will determine whether or not a client will click on it. The the product title must be appealing and persuasive enough to entice the customer to click on that specific product. You may make a convincing title by include some terms. However, it's critical to optimize your title for SEO (search engine optimization).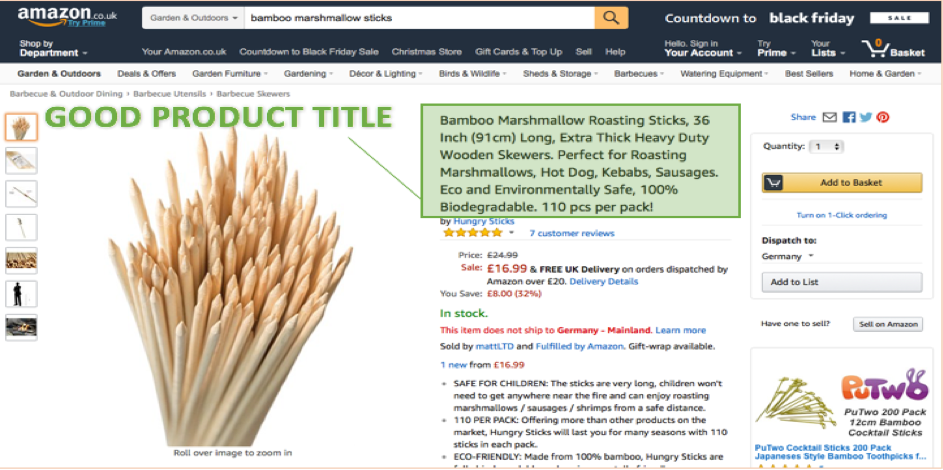 You should optimize the product title for SEO to get a better probability of being indexed and ranking in the top searches.
The Importance of SEO-friendly Product Titles
You might be wondering why we can't just add some catchy phrases to our product titles and upload them on Amazon. To address your question, all eCommerce websites, particularly Amazon, focus on SEO. This means that if your SEO is strong, you'll have a better chance of ranking and, hence, more visibility and visitors. The importance of an SEO-optimized product title for Amazon is critical. Because it contains characteristics that can help you rank your product higher than others. Isn't it incredible that you can outperform your competitors by simply optimizing your product title?
Let's have a look at the things that assist you in moving from page 10 to page 1:
1. Showcase Your Product:
Play ahead of the game by keeping an eye on what your customers want to see and then optimizing accordingly. Make sure your title captures the essence of your product by describing its features and benefits. Assist your customers in gaining valuable product information, which will eventually lead to a purchase decision.
2. Hit the top search:
Why are so many people rushing to optimize their websites? The answer is to increase visibility and rank on the first page of Google searches. When it comes to SEO, keywords are crucial because they are the ones that will help you rank. In your product title, include focus or primary keywords and strive to make it clear, exact, and instructive. Customers will see your product title at the top of the page if it is relevantly optimized, and you will appear in the top searches.
3. Increase Conversions:
Everyone's ultimate goal is to convert prospects into loyal customers. And it's for this reason that everyone is chasing after optimization. Not only will providing clients with a descriptive and optimized product title bring you visitors, but it will also please the search engines. Additionally, higher search engine rankings will result in more conversions. As a result, your conversion rate will improve.
Amazon Product Title's Critical Key Factors
Framing and displaying the product title for your customers is a major effort that requires careful consideration of a few essential criteria. No matter what product you sell, these crucial aspects should always be considered.
Let's take a look at some of the key elements that make up a product title before you start curating it.
Brand name: The name of the brand under that you should include when release a product.
Quantity: Customers must know the quantity they will receive after placing an order.
Color: Customers interest in colorful options because everyone has a different color preference.
Material/Key Features: The product's material is an important detail to include. Do not include all of the features; instead, keep the buyer informed about the most important aspect that will generate sales.
These five factors will help your customers understand what you have to offer. As a result, consumers can match their requirements to your goods and make an informed buying decision.
Position the Supreme Keywords
Keywords are search terms or phrases that people use to find what they're looking for. There are a number of aspects that influence a product's search engine ranking, the most essential of which is the use of keywords. Basically, perform your keyword research and placement, but don't stuff them. Remember not to duplicate the focus keywords in your titles only to rank on the first page of Google.
Empathize with the purchasers and conduct a search for the things you're selling, paying attention to the most common search terms or phrases. To begin, look into and study additional comparable terms while keeping the search volume and SD in mind (Seo Difficulty). Second, the search volume should be high, while the SD should be low. Finally, choose the most popular and include them in your product titles.
There are a variety of tools that can help you with keyword research. For thorough keyword research, you can utilize Google Ads, SEMrush, or the UberSuggest extension.
Product Title Guidelines
Amazon has a set of rules for how product titles should be constructed and presented. Let's get this party started.
Structural Requirements:
The following sections detail the various requirements for the design and format of product titles.
You should capitalize each word's first letter. ('and' is an exception, as it can be written in lowercase)
Unless it is part of the product's brand, write it as 'and' rather than an ampersand ('&').
You should represent numbers as figures rather than words.
The measuring units should be specified rather than shortened. As an example- (kilograms instead of kg, Fluid Ounce instead of fl oz)
To be intriguing, the title should not contain any distinctive characters. Avoid using special characters such as !_#> and others.

Avoid utilizing promotional or subjective terms.

Don't include prices, seller details, promotional symbols, and guarantee words.
Requirements for Character:
Characters in a product title are used to identify it, and there are various character limits in place. Let's have a look at what they are:
The character limit for the product tile should be 150-200 characters.
Amazon recommends an upper limit of 80 characters to ensure that it is completely optimized for mobile users.
Tips for Amazon Title Optimization
Optimization has never been simple, since it necessitates a significant amount of work and research, depending on the product. There are various tips and methods you may employ to maximize your performance:
Keep it short and sweet: Write your product title in such a way that it's relevant to the product. This will increase the worth of your goods and add value to your customers.
Generate easy-to-read content: Customers buy your product by scanning the product title. By discussing its qualities in layman English, make sure you use straightforward and easy-to-understand language.
Format it: The design and layout draw attention w

hen it's well-formatted

. Keep the formatting guidelines in mind and make sure you follow them.
Include Keywords: Including primary and relevant keywords in an SEO-optimized product title is a must. People frequently disregard this approach and end up on the final pages.
Focus on User Intent: Investigate and analyze your users' search intent and what they really desire. By conducting thorough keyword analysis, you can properly frame your product titles.
Avoid using fluff in product titles: Avoid using fluff terms in your product titles. Terms like "most authentic", "Trending 2021 items", and "Sale up to 50% off" are fluff words that should be avoided at all costs. Customers find these words ambiguous, obstructive, and uninteresting.
Check for grammatical and spelling errors: People frequently make grammatical and spelling errors, which they later regret. As a result, it's a good idea to double-check the language, punctuation, spelling, and sentence structure before submitting it to Amazon. You can use Grammarly, which is one of the best tools available. If you are student you can get some discount on Annual plan by submitting your Student ID card, If you don't have one you can opt for 30 days trial access.
Research on competitors: It's always a good idea to look into and analyze the keywords that your competitors are using. Instead of copying concepts, conduct study to improve your titles and keyword usage.
Final Words
With millions of customers selling on this top-rated platform, Amazon offers numerous options for you to expand your business. Optimizing your product listings is one of the recommended tips for growing your business. The most significant among the product listings is maximizing your product title. In terms of Amazon title optimization, there are no secrets.
The key to greater conversions is to create a believable product title, and you should spend time researching and creating it. The product title best practices can assist you in running your business quickly by optimizing and so driving more sales.
Finally, LitCommerce Amazon Integration can help you streamline your preparations and make sure that you are ready to win the product search on Amazon . Leave us a message for more information.
Join our Facebook group for more eCommerce news and tips, good luck!