Introduction
If you want your eCommerce site's product pages to rank, your product description provides web crawlers with all of the information they require to index your page.
But, at the end of the day, the product description isn't doing its job if it doesn't assist buyers in making purchasing decisions.
When it comes to writing a product description, these seven steps can help you check both boxes. Soon enough, you'll be writing high-impact, SEO-friendly product descriptions that rank well in search and attract visitors to your site.
In this article, we will guide you through 7 steps to make your product description stand out from the others:
Write with your buyer perspective
Speak in your customer's own language
Focus on your target audience's needs
Optimize for search engines
Understand user intent when choosing keywords
Embrace your brand voice
Don't forget about readability
A product description page contains all of the information a customer would want to know about a certain product. For example, size and color, pricing and manufacturing location. Amazon, one of the world's largest eCommerce websites, contains some excellent examples of product descriptions as shown below:
1. Consider your buyer personas when writing
Firstly, you can use buyer personas to inform every part of your eCommerce marketing strategy, including how you write product descriptions.
A buyer persona is simply a profile of your ideal consumer, compiled from data on the people who buy from you. It should include the following:
Information on your ideal customer's demographics.
Motivating elements that influence your buyer's decision to browse for products and make a purchase.
The emotional transformation before and after they buy your products.
Objections or misunderstandings they may have concerning your product or brand in general.
The marketing messages and sales approaches that do and do not resonate with your target consumers.
You can carefully develop a product description that will resonate with your ideal buyer once you understand what makes them tick.
Assume you're in the business of selling planners to small business owners. When they can't keep track of their weekly tasks at a glance, you know they're anxious, chaotic, and frustrated.
You can highlight how your planners will help them acquire the calm, confident, and organized state they need to be successful by tapping into their motivations and desired emotional transformation.
2. Speak to your customer in his or her native language
With buyer personas, you'll be able to see which marketing messages work and which ones don't. But let's take a closer look at this concept and discuss the language you use to build such messages.
While writing a product description, utilize the same terms and phrases that your customers use when discussing your products. If you don't, you'll be exposed to the following threats:
Your brand appears irrelevant and uncool to buyers looking for certain trends.
When site users utilize their preferred search terms, relevant products aren't found.
Because you're employing the wrong vocabulary, you're missing out on a lot of sales possibilities.
To put it another way, if your target market is looking for "to-may-toes," but you're marketing them as "to-mah-toes," you'll never gain their business.
For example, what one shopper would describe as a "sundress," another might call a "casual summer dress." The way you describe your products and services may be influenced by generational and regional jargon.
3. Concentrate on the requirements of your target audience
Isn't it true that a product description should describe a product in the most technical terms possible? Wrong!
A lengthy list of the item's physical features and factual details won't pique the interest of your potential purchasers unless they're actively comparing product specs.
Rather than focusing on product characteristics, write about the benefits your product provides. This can be accomplished by mapping differentiating features to the needs of your customers. Even if your product isn't particularly functional or meets a certain need, it can undoubtedly satisfy a customer's needs.
For instance, if you're offering a purely Halloween decorative autumnal wreath, the proportions of the plastic leaves and pumpkins won't inspire your customer. However, after reading about how the design may welcome guests and encourage the warmth and bounty of the season into their home, which is exactly what they want to do in the first place, they'll be excited to buy.
4. Make your site search engine friendly
You must incorporate the correct keywords into your product descriptions if you want your products to rank well in search.
For your eCommerce site, a keyword research tool can help you find target keywords with the right search volume and keyword difficulty.
You can find related terms and long-tail keywords with a little extra research. These examples demonstrate what information to put in your description to make it as clear and thorough as possible. Additionally, they ensure that your SEO-friendly description appears for people searching for your specific service.
A wide keyword like "bug repellant," for example, will be much more competitive. The first page will be dominated by leading brands. However, something more particular, such as "natural bug repellent for kids," will target the correct customers and help you rank better.
5. Consider user purpose when selecting keywords
When it comes to keywords, make sure you're focusing on those that show the correct user intent. There are various forms of user intent, but the following are the most important to consider when selecting keywords for online product descriptions:
Informational intent: Keywords like "how to create zucchini noodles" and "what are zoodles" indicate that a user is looking for information.
Commercial intent: Keywords like "best zoodle maker" or "spiralizer for zucchini" indicate that a person is seeking for things to purchase.
Transactional intent: Keywords like "spiralizer coupon" or "best price for zoodle maker" indicate that a user is looking to buy something.
Navigational intent: Keywords such as "Padermo zucchini noodle maker" indicate that the users already know what they want.
The conversion rate for keywords with informational intent is low. Consumers searching for these terms are looking for information, not products.
Instead, focus on commercial, transactional, and navigational intent keywords, which have a considerably greater conversion rate.
Although informational intent keywords have a larger search volume, this does not imply that you should utilize them in your product description. These customers aren't quite ready to make a purchase. If you want to attract them, try a different sort of content production and produce a blog post to answer their question while also raising brand recognition.
6. Develop your brand's tone of speech
Your product descriptions should be original and specific to your company. Even if you carry the same exact items as another eCommerce company, how you define the benefits of that item and the story you tell about it is what makes a lasting impression on potential customers.
Whether your brand voice is friendly, formal, conversational, professional, make sure the tone is consistent throughout all customer touch points. This includes social media captions and email marketing, as well as your blog. This aids in the creation of a brand personality that is readily recognizable. People want to buy when they see your products on Instagram or on your eCommerce site because they are familiar with them.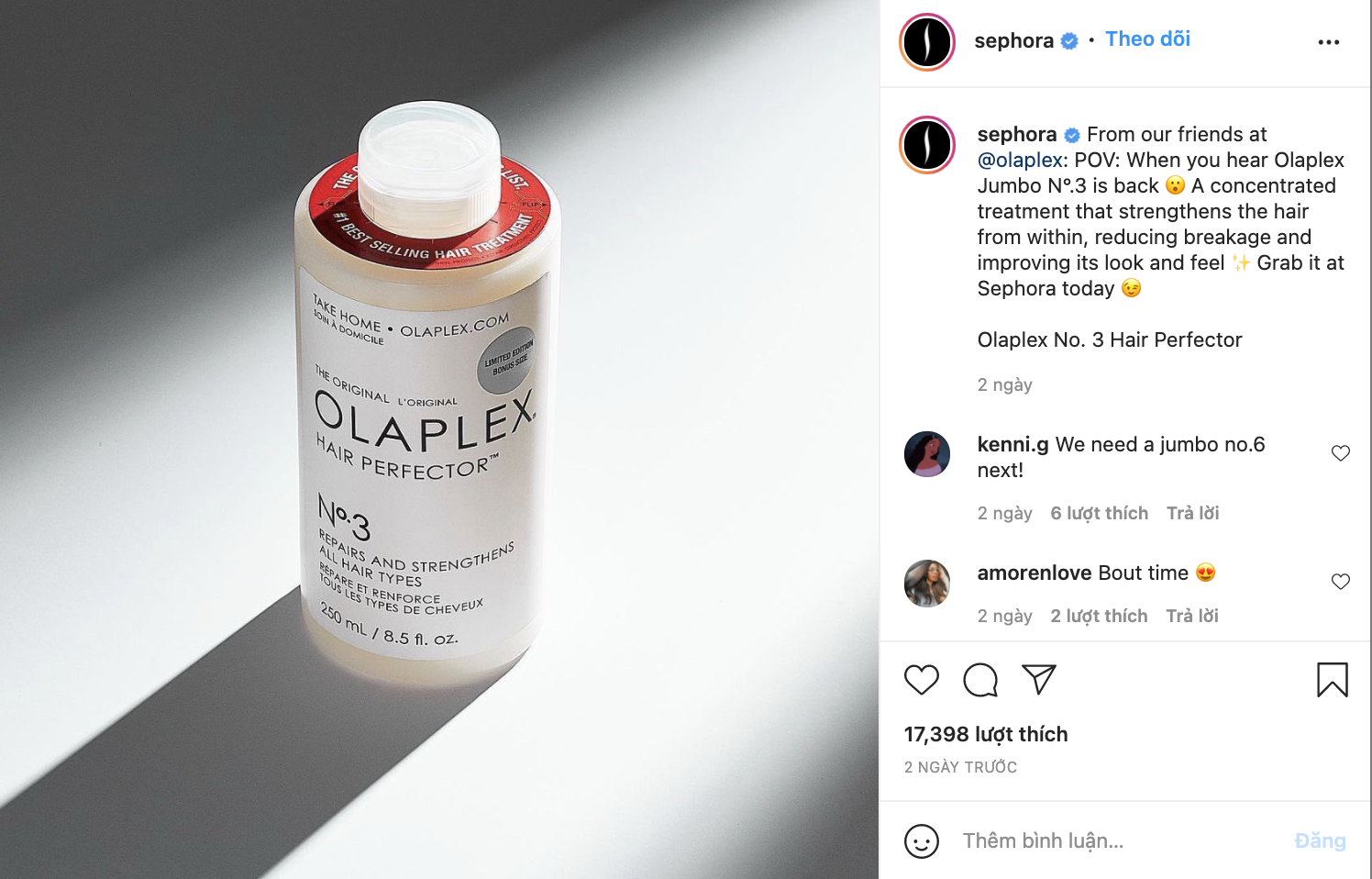 Sephora is a great illustration of this. They talk to their followers on Instagram in the same laid-back, happy tone that they use to explain their products on their eCommerce site.
7. Don't overlook readability
Last but not least, make your product descriptions as simple and skimmable as possible. According to Portent, the readability score of a website influences roughly 13% of the conversion rate of B2C clients.
You may have a lot to say about your product, but these writing methods will make it easier for potential customers to digest that information:
Break up the material into skimmable chunks with headers and white space.
Use brief bullet points when listing product details.
Avoid flowery language and long, complicated sentences.
Use concise narrative to emphasize the benefits of your product.
Make sure your product descriptions are compatible with mobile devices.
Consider adding expanding sections or tabs that customers may click on to learn more, like IKEA does, for individuals who need more convincing or details.
Conclusion: Still having trouble deciphering product descriptions?
Product descriptions can be spotted by search crawlers, rank well, and eventually win over shoppers if done correctly.
Furthermore, you can totally build a multichannel store and look for more opportunities to expand your business. If you need a user-friendly and affordable selling tool to help you with the management job, we highly recommend LitCommerce – the perfect multi-channel selling tool for SME businesses.
Leave us a message if you need more information. Also, join our community for more exciting eCommerce news and tips.
Good luck!