Etsy is an amazing option for merchants who want to sell handmade, vintage items or craft supplies. The E-marketplace has a large and dynamic customer base which brings store owners so many opportunities to drive more sales for their store.
That's why many merchants choose to integrate their WooCommerce store with Etsy by using a WordPress Etsy plugin. This not only helps them to solve most of Etsy's disadvantages but also opens new doors for countless opportunities with a whole different customer base.
If it's what you want, keep reading to get
What is a WordPress Etsy plugin?
Main benefits of WordPress Etsy plugin
Instruction to integrate WordPress with your Etsy store
---
What's so good about Etsy and WordPress?
If you're a store owner, you've probably heard of WordPress and WooCommerce before. The power of them lies in the ability to let you customize everything of your store just how you want – from appearance, sales features to payment gateways. Another plus point is that both of them is completely free to set up and use – you just need to pay for hosting and a domain name to start a standalone web store to sell your goods.
Unlike WordPress, Etsy is an online marketplace where sellers and buyers come to buy and sell goods. From accessories, arts, paintings to digital items, photos, templates, you can easily find or sell artistic or handicraft products on Etsy with just some clicks. The special thing about Etsy is most of the products are handmade or personalized so they could fit buyers' sense of style.
When selling on Etsy, you take the advantage of having millions of buyers actively searching for your products. On the other hand, one of the biggest downsides is that they will remember Etsy as their source of purchase rather than your store.
---
Why do you need a WordPress Etsy plugin?
Apparently, the system of Etsy is fundamentally different from WordPress. Yet, the two provide basically everything online merchants need for their businesses – from the beautiful store appearance, useful built-in functionality to great shipping and payment services. Hence, it'll be a great opportunity to level up your store if you can combine WordPress and Etsy.
What is a WordPress Etsy plugin?
A WordPress Etsy plugin is a central platform bridge that allows you to integrate your WordPress site (a WooCommerce store specifically) with your Etsy seller store by creating a data stream between both selling channels. The tool acts as a management hub and helps you to manage both Etsy and WordPress stores in just one place.
The WordPress Etsy plugin will make it easier and more efficient to manage both your Etsy and WooCommerce business. Instead of taking new orders, new customers, or maintaining inventory on Etsy, you'll have your own management portal with exclusive features like bulk listing, automated sync, and quick notification.
Main benefits of WordPress Etsy plugin
Let's look at three major advantages of using an Etsy listing tool.
1. Save more time publishing and editing listings
A WordPress Etsy plugin helps you cut off tons of repetitive work and have more time to focus on selling.
When selling on two channels at the same time, it will be a real pain if you always need to make one listing but 2 times for each channel. A WordPress Etsy plugin can help cut off more than half of that.
The way it works is really simple. The plugin not only connects but also synchronizes data from selling channels. For instance, you only need to upload a thumbnail for 1 listing. When you hit publish, both Etsy and WordPress will automatically update your listing as you want. Also, you can bulk edit items by creating a custom template for price, title, shipping, etc., and applying it to multiple listings.
2. Efficient management system.
Most merchants who choose to go multichannel selling need a better management system. A WordPress Etsy plugin lets you control everything from just one dashboard—from orders, customers, inventory to shipping, tax and so much more.
Synchronization is a super important feature of a WordPress Etsy plugin. This helps to improve the consistency across channels by updating stock quantity, price, etc. on all other channels whenever there are any changes on one channel. This way, you can stop worrying about overselling or underselling, or missing information.
You'll also have a fully functional analytics dashboard where you can see what's going on with your income, how many new customers, order status… If you like to export data and do some analytics on your own, the plugin can help to export that data into XML or Doc files as well.
---
How to integrate Etsy store into your WordPress website?
There are many ways that you can integrate your WordPress store with Etsy and sync the two platforms. For the best performance, you can use LitCommerce – The Most Simple and Affordable Multi-channel Selling Tool.
Using API technology, the LitCommerce app will connect with Etsy and WordPress to create a data flow among your channels. The tool helps you list your WooCommerce products easily on Etsy and sync all listings so that you only need to manage sales from all channels from one place.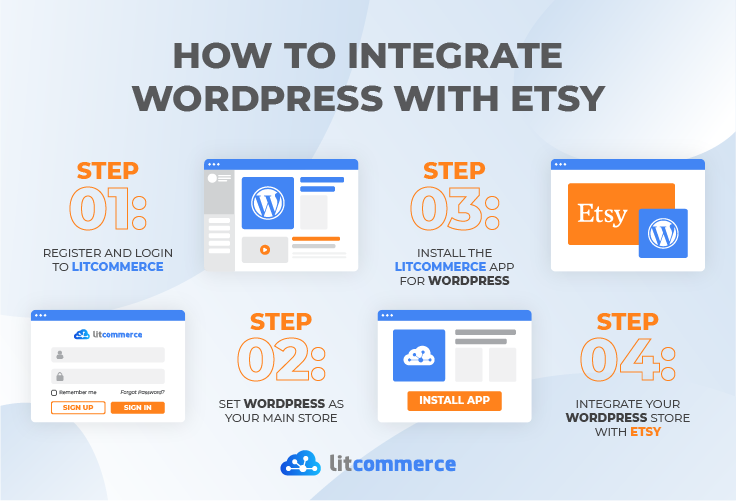 Step 1: Set WordPress as your main store.
After your successful login to LitCommerce, you'll be taken to the initial setup process. The tool will provide you with detailed instructions to connect to the WordPress store.
On the Source Store Setup Page, choose WooCommerce as your main store. Simply click on the Connect button at the WooCommerce section to proceed with your WordPress store as the Main store.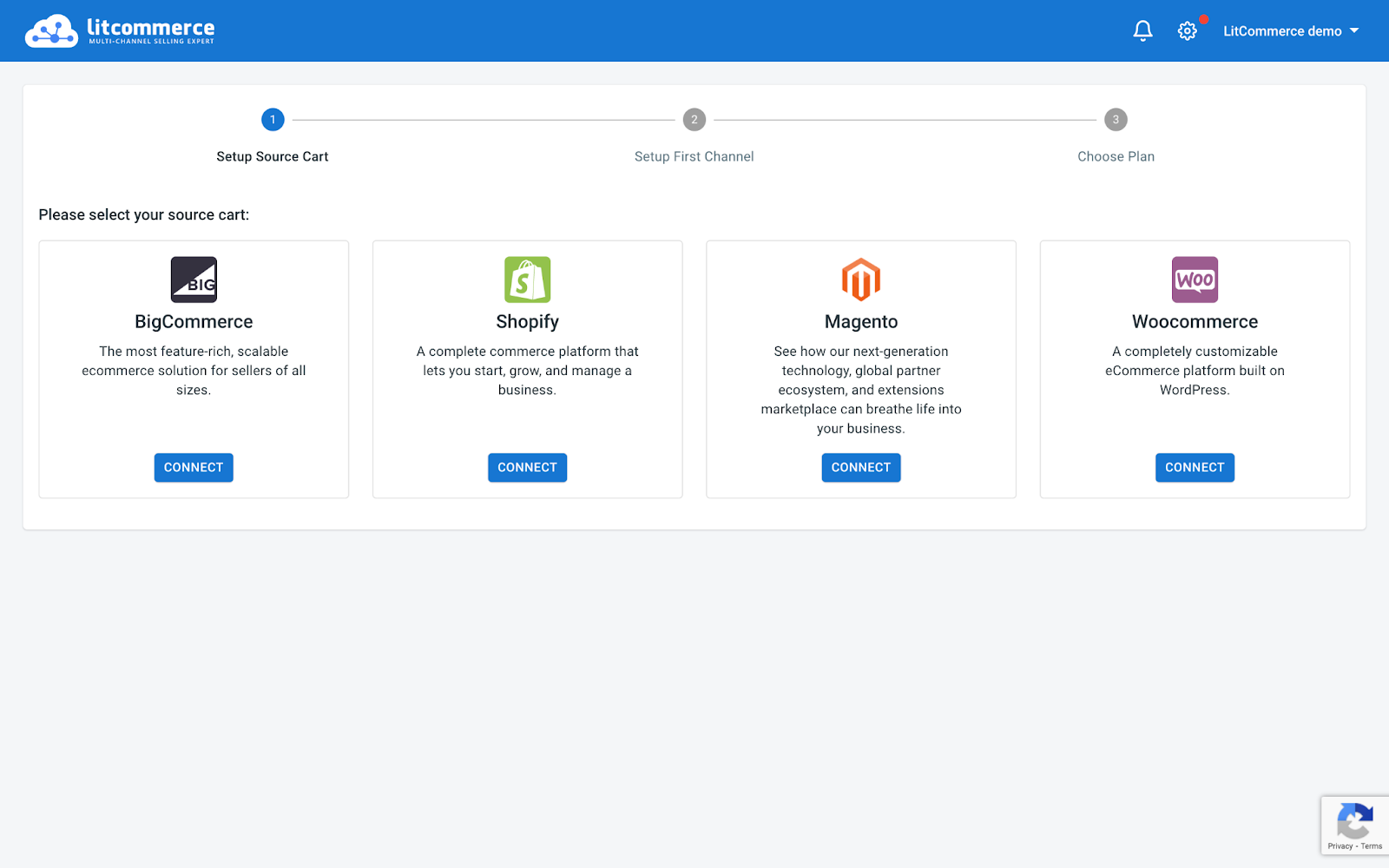 Next, you need to connect with your WooCommerce store by using the LitCommerce plugin from your WooCommerce store. To do so, log in to WordPress and download the LitCommerce plugin.

If you need details on how to install the LitCommerce app for WooCommerce, check out this video How to Connect to WooCommerce.

From your main dashboard, navigate to Plugin > Add New and type in LitCommerce
Hit install then activates the plugin.
After that, go to the LitCommerce app at your sidebar, click Connect and wait till the process is completed.
Go back to app.litcommerce.com and you will see your WooCommerce store set up as your main store
Step 2: Integrate your WordPress store with Etsy.
After having WordPress set up as your main store, it's time to integrate with Etsy so you can go ahead and start selling on both platforms.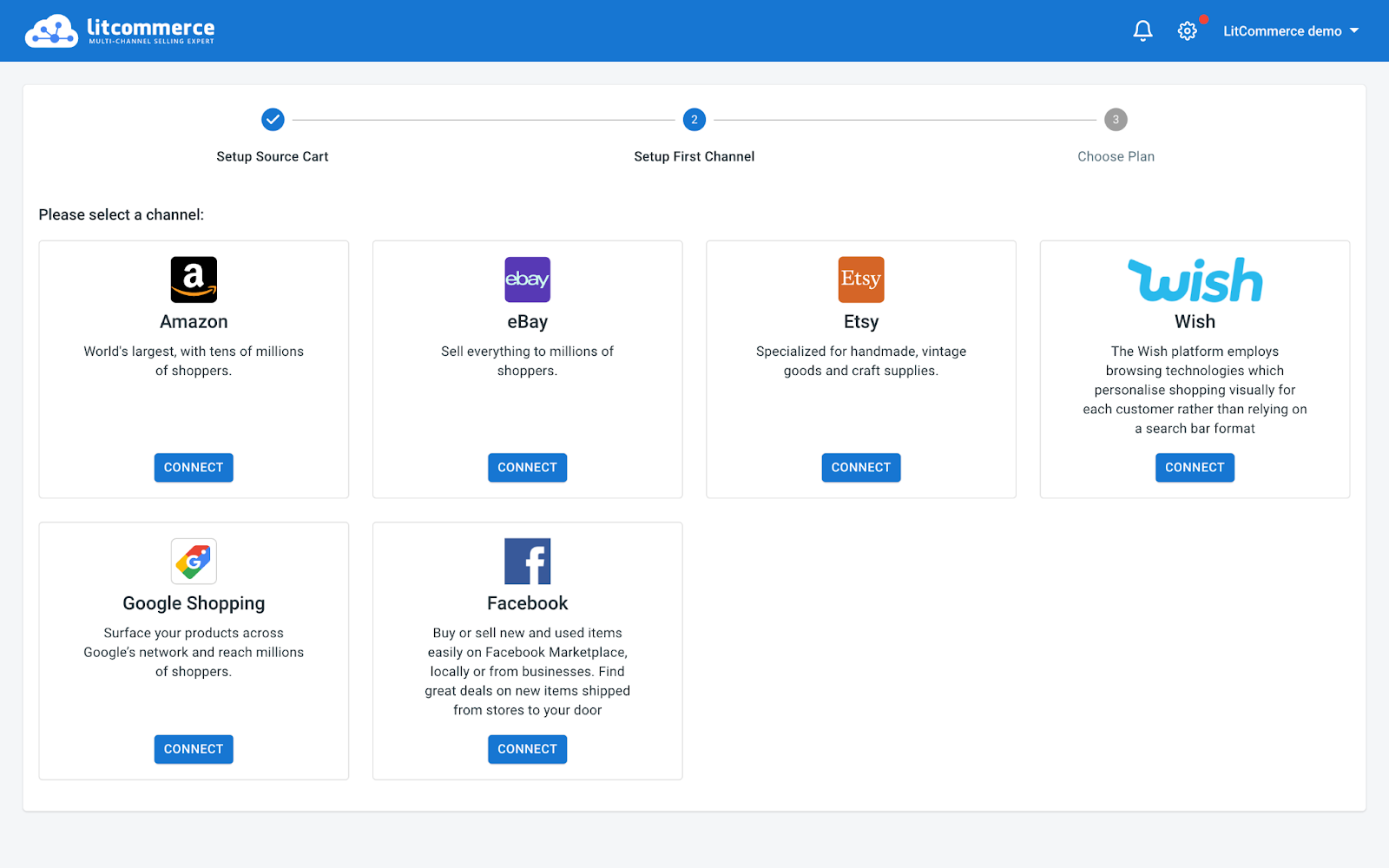 Currently, the app lets you easily connect to 5 marketplaces including Amazon, eBay, Etsy, Google Shopping, and Facebook. Keep in mind that you need an active account on your target marketplace in order to integrate it with LitCommerce. For Etsy, you can register for a new account with some simple clicks.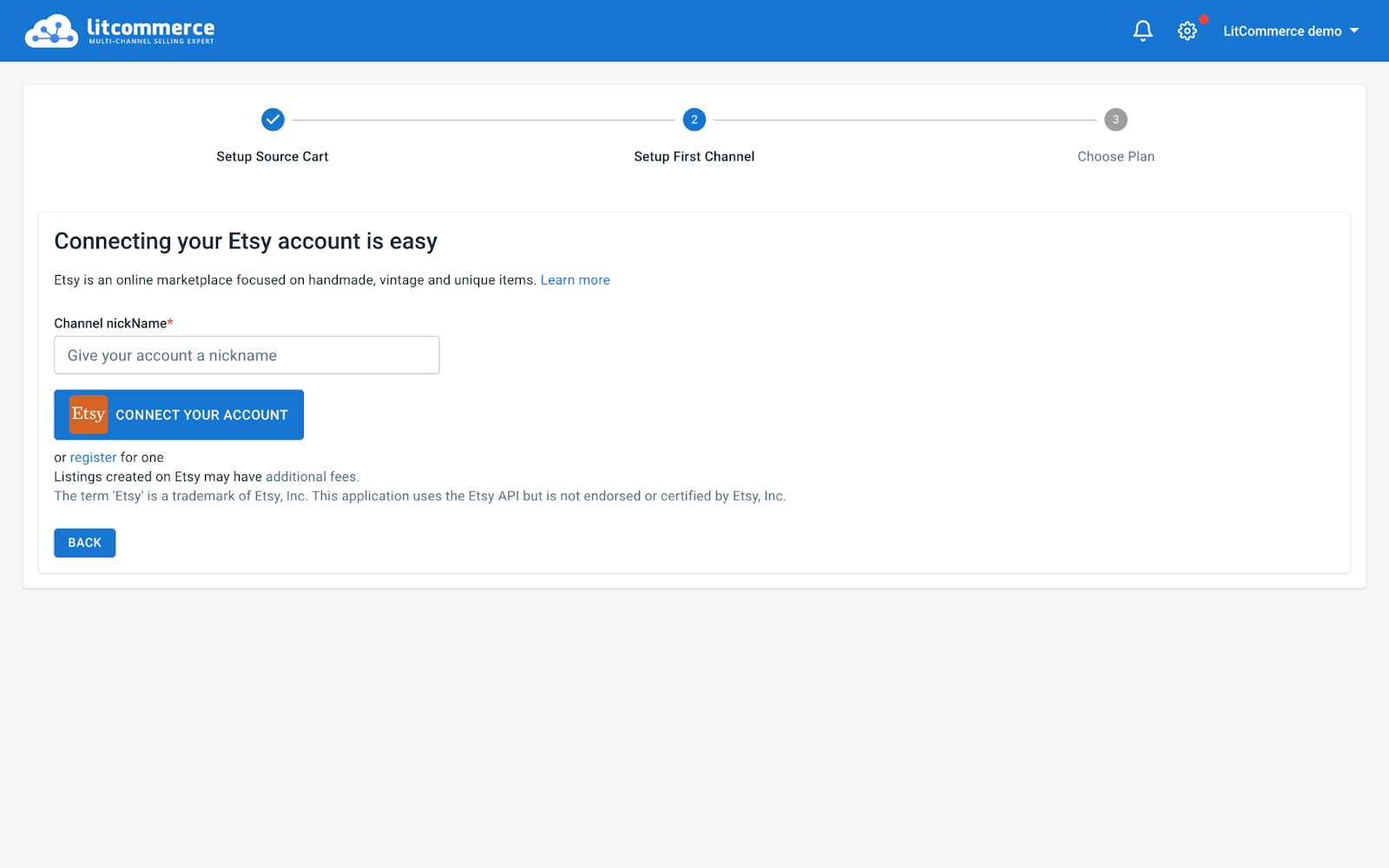 Choose Connect at the Etsy tab to continue. Here you only need to provide a nickname for your Etsy channel. You can fill in your Shop name on Etsy or anything you want, just make it easy to recognize. After that, click on Connect your account and log in to your Etsy shop.
After that, allow LitCommerce to access your Etsy account and hit Confirm and you're good to go.
---
The Most Simple and Affordable Multi-channel Selling Tool
If you're looking for an inexpensive and super easy-to-use solution to grow your multi-channel business, give LitComerce a try! With LitCommerce, you can integrate your eCommerce web store with the biggest marketplaces and sell effortlessly on multiple channels.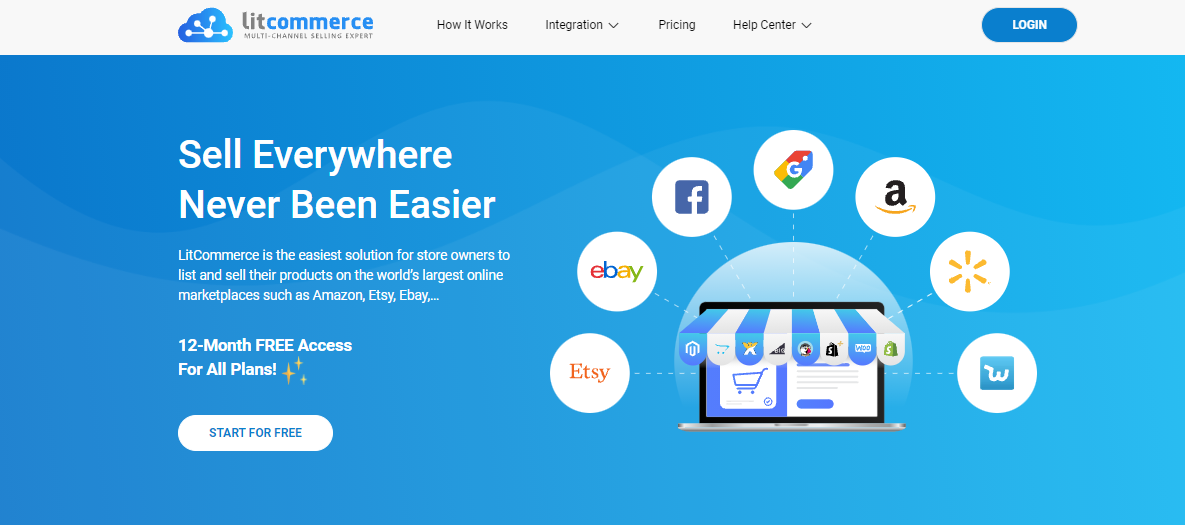 LitCommerce allows you to import existing products and listings from your web store or marketplace channels, and publish them in bulk on any other channels you want. Also, all data including stock quantity, price, description, etc. from all your E-channels will be automatically synced. This helps to simplify the management process and cut off tons of repetitive work.
Additionally, if any change is made from one channel such as a new order, shipping status, or out-of-stock products, LitCommerce will automatically update it to other channels. New orders, customers, will be instantly consolidated to one central store so that you won't miss anything!
---
Final Words
That's everything you need to know about WordPress Etsy plugin, from what it is to what it can do for your business and the process of installing and setting up your WordPress and Etsy integration. In general, the installation is quite straightforward and easy to follow, but if you need more instructions on how to effectively manage LitCommerce, please refer to our Usage Docs or simply leave us a message.
Also, you can join our community for more exciting eCommerce tips and news!