You can save Amazon listing attributes as templates and apply it to other listings in bulk to save time and effort. Templates can be created for Title, Description, Price, Category, etc. For more information on how to apply templates, please see Templates and Recipes.
How to create Amazon templates & recipes #
To create a new template, from your dashboard, navigate to Listing template and recipe > Listing Templates.
Choose your Amazon channel from the left panel to create and edit templates for Amazon listings.


1. Offer templates #
Starting by giving your template a nickname, you can choose it as your Amazon default as well.
This template is extremely useful when it comes to offering a deal for your customer. Just like an autofill section, LitCommerce designs the template with critical information and conditions which is suitable with the customer needs including Condition, Max Order Quantity, Handling time, and much more. 
Instead of manually writing every single line for customers, simply choose the template and all the needed information for shoppers in just a single click.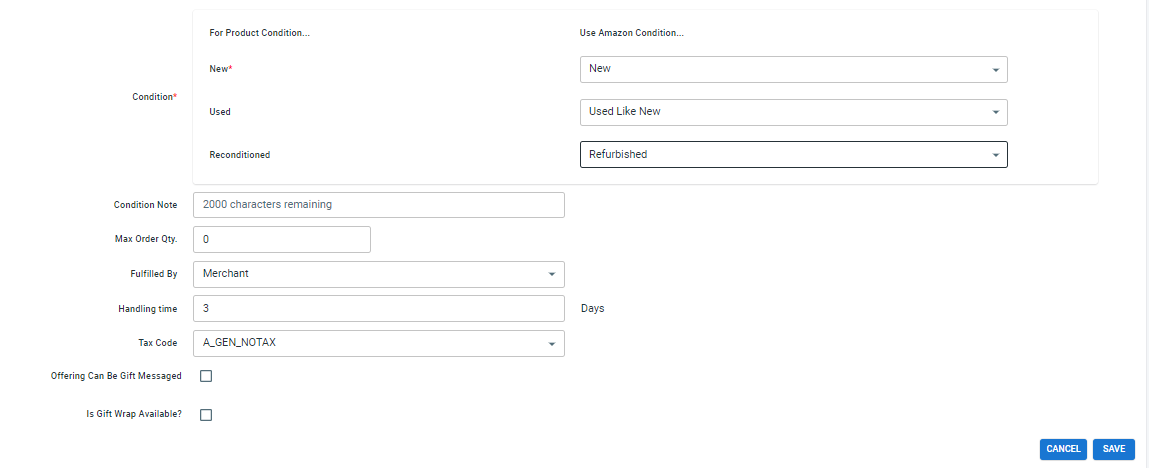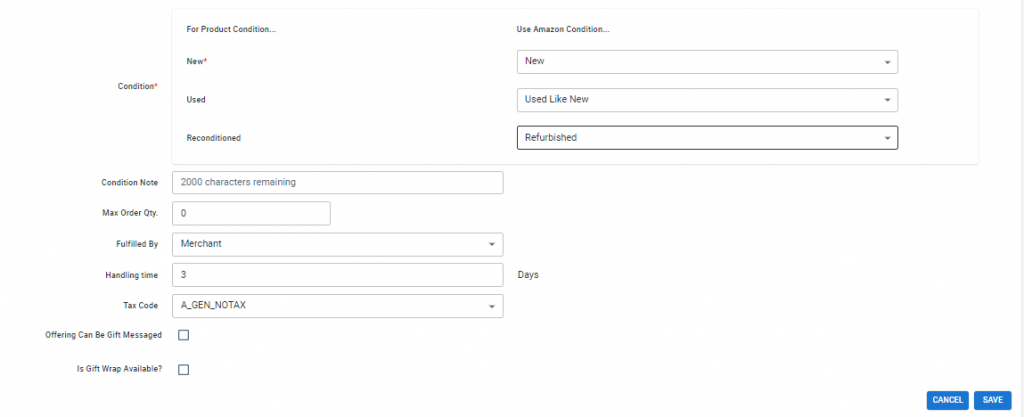 Click Save to complete the process.
2. Pricing templates #
Pricing Templates enable you to customize the pricing for all of your listings.
With the Amazon pricing template, it will be much easier to make big adjustments to all of the goods in your listing. Furthermore, the rule may be applied to only one specific listing that you require.

You can choose to increase or decrease the price by percent or a specific amount. Also, you can go with the override option to replace the current product's price with a fixed one.
Note: You can use the Price Rules feature for currency conversion if you're selling overseas. To convert the currency, go to Google.com and search for the current exchange rate from your Main store currency to the currency of your sales channel.
If the rate is greater than 1, then substract 1 from the rate and multiply the result by 100. Choose Increase in the first box.
If the rate is smaller than 1, then substract the rate from 1 and multiply the result by 100. Choose Decrease in the first box.
Enter the result in the Price Adjustment section and set the unit to Percent (%).
Moreover, you can even extend the functionality of the Amazon pricing template by choosing the Advanced option. This way, you can adjust the sale price, MSRP, and MAP price.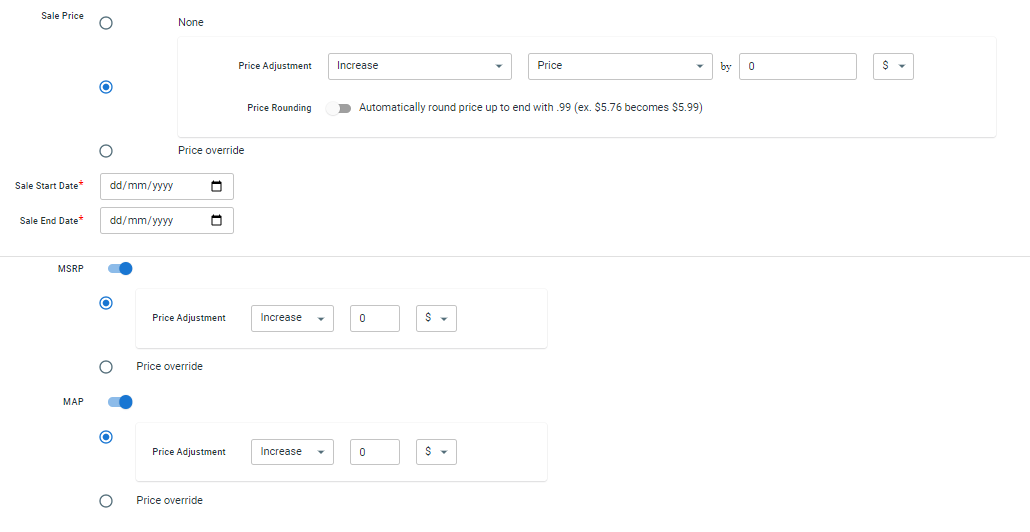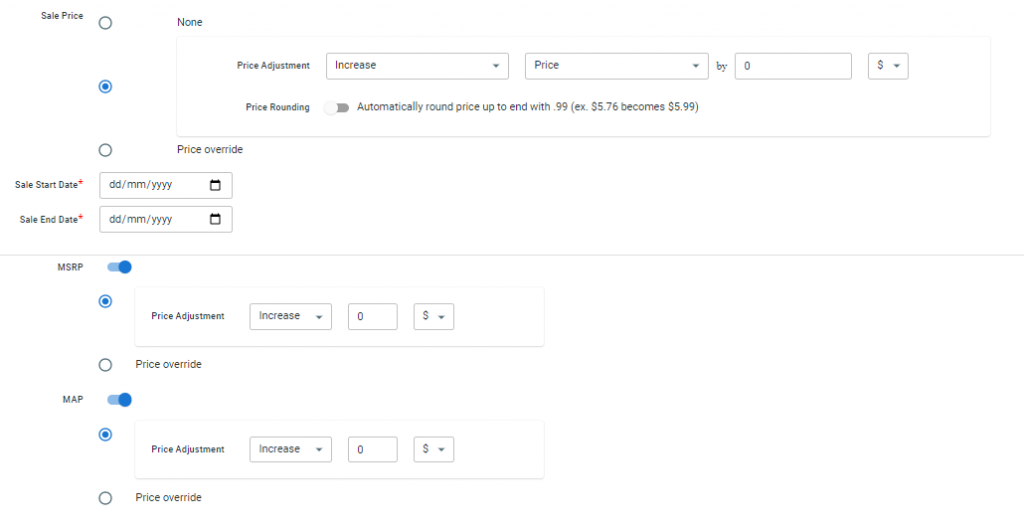 Save to finish the price template and activate it from your central catalog.
Create Amazon recipe #
A recipe is simply a compilation of various templates that you've had. To make a new one, go to your channel's dashboard, choose Listing Recipe, and then Add a new recipe template.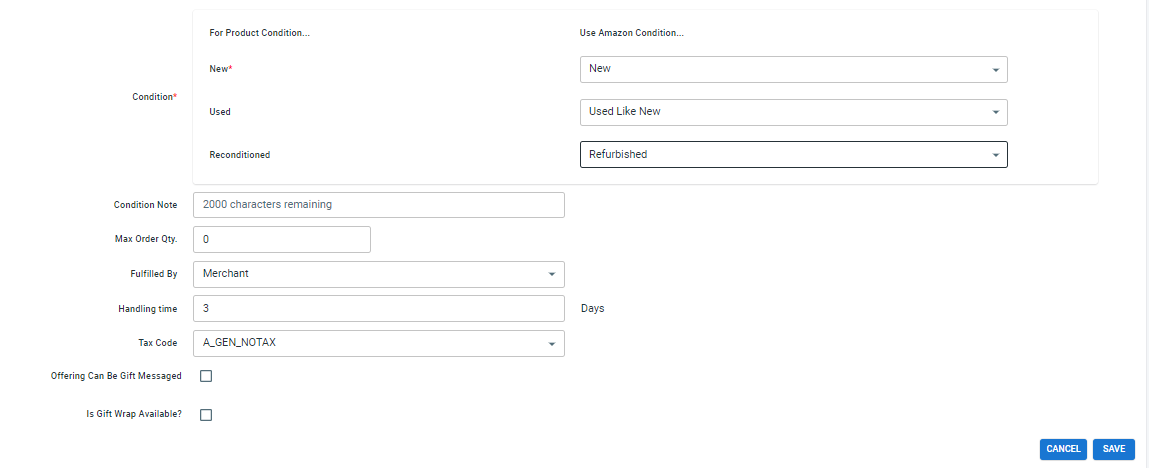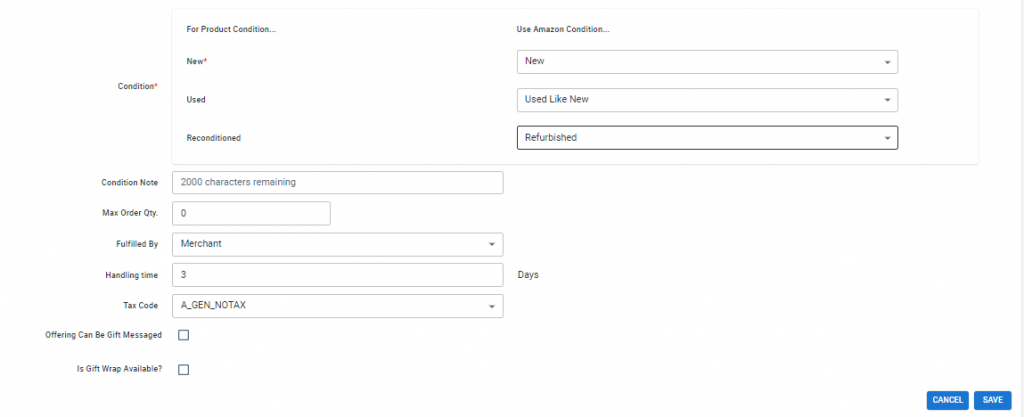 Next, give it a name, select a template from the selection list, and click Save to finish. After that, you may freely apply the entire recipe to your listing from the primary menu.