Import products from Main Store to LitCommerce #
You can import all products available in your main store's inventory to LitCommerce. From the second time you import, LitCommerce will scan and find the differences, namely new products or updates to your product attributes, and will only import those changes to your central catalog on the LitCommerce backend.
Note: If you want to make changes or add new products, please make the change in your Main store's catalog and then run product import again.
How to import products into your LitCommerce central catalog:
From the main dashboard, click on All products on the left sidebar menu. This is where your products will be after you import them from your main store.
At the top right corner, click on Import from Shopify/ Magento/ BigCommerce/ etc., depending on which platform you're using as your main store.
Carefully read the options and click Begin Import. You can navigate away from this page because the process is carried out on our server. If you want to monitor the progress, navigate to Activities from the left sidebar menu.
Import listings from Marketplace channels to LitCommerce #
In order for the sync function to work, all listings on marketplaces must be present in the LitCommerce database. If you have listings on marketplace channels that are not created using LitCommerce, you will need to import them to your LitCommerce channel first. Once all listings on the channel have been imported, only new listings will be imported next time you perform the action.
To import existing listings from your channel, go to the channel from the left sidebar menu, under the Listing section.

On the top right corner, click on Import from Etsy/ Amazon/ etc. or any sales channels you chose to import from.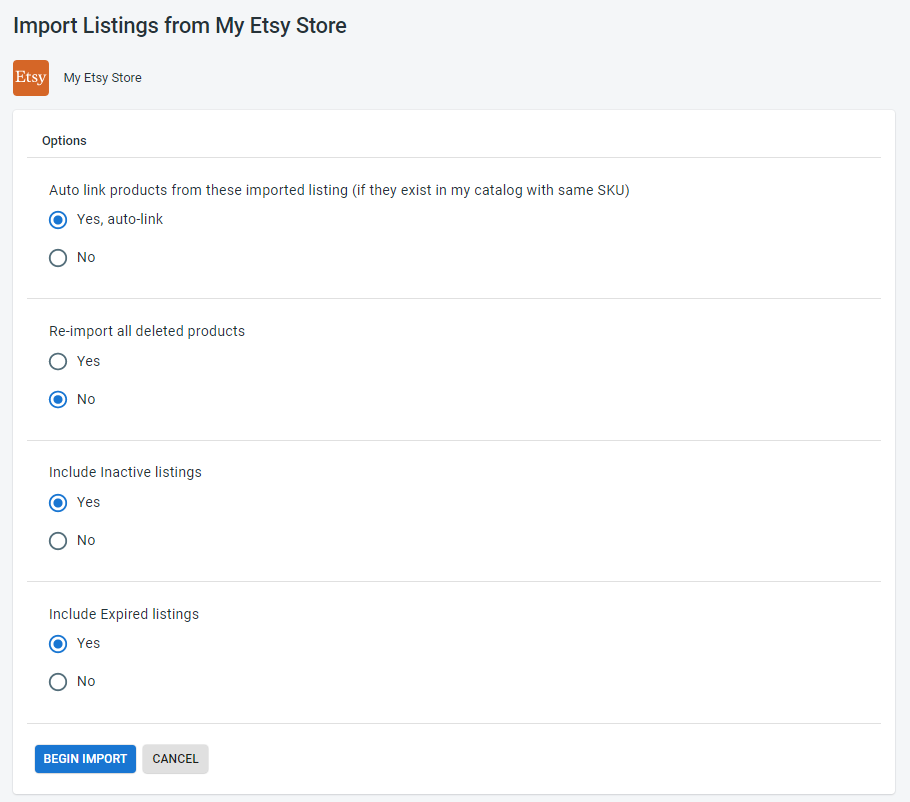 Make sure to carefully read the options before you import.
After that, click Begin Import to kick start the process.
Your listing will then be automatically imported. You can navigate away from this page and receive a notification from the system when the process is complete.
After you have imported your listings to LitCommerce, they will be displayed under the Active tab in your marketplace channel page. If the system does not find any matching product SKU, the system will not link the listing to any products in your catalog and there will be a red dot next to the chain icon, indicating the link status. In order for the inventory quantity and price of the listing to be synced, you will need to link the listing to a specific product in your central catalog.
To link your listing, simply hover over the chain icon and click on Link to a product. LitCommerce will automatically search by SKU to suggest a matching product. If there is no product in your central catalog that matches with the listing, you can create product on main store manually by clicking Create on Shopify/ WooCommerce/ etc. For more information, check out Link Listings to Products & Create on Main Store.