eBay Integration Guideline
If you are involved in online product sales, it may be beneficial to consider integrating with eBay using LitCommerce. This multichannel selling tool simplifies selling on eBay and facilitates eBay sync, which includes managing inventory, orders, and customer data across multiple channels.
Whether you are a small business looking to expand sales or a larger enterprise seeking operational optimization, integrating with eBay through LitCommerce involves 4 primary steps:
1. Connect with eBay
2. List products on eBay
3. Enable eBay sync
4. Manage orders
For a detailed guide on integrating with eBay, please refer to our comprehensive guide on eBay integration with LitCommerce:
#Step 1: Connect with eBay
To get started, establish a connection between your chosen eCommerce platform and LitCommerce. After logging in to your account, you will be directed to the Source Store setup page. Choose your current platform from the supported eCommerce platforms list, such as Shopify/Shopify Plus, WooCommerce, BigCommerce, Squarespace, or Wix.
Now, provide the necessary platform-specific information as per your platform's requirements.
Once you have successfully connected your online store, proceed to connect with eBay. On the First Channel Setup page, select eBay as the desired selling channel for integration. Currently, LitCommerce supports connecting to 15+ marketplaces, including eBay, Amazon, Etsy, Walmart, Wish, Google Shopping, and Facebook.
After creating an eBay account and assigning a nickname, select 'Connect Your Account' on eBay. Note that there may be additional costs associated with eBay listings.
#Step 2: List products on eBay
To list products on eBay, start by creating a new draft listing. Navigate to 'All products' in the left sidebar menu, select the products you want to list on eBay, and click 'List products on a channel'. Choose eBay from the list.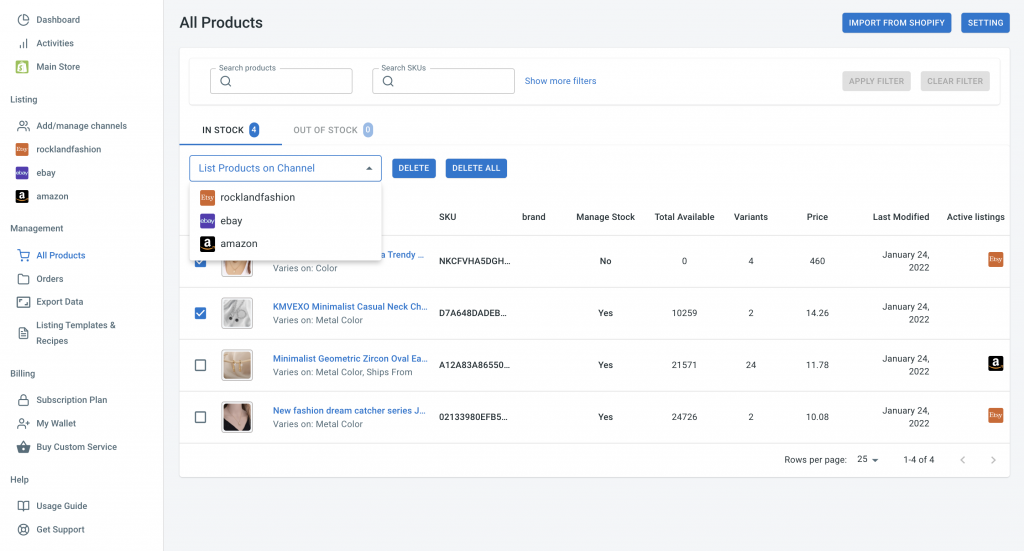 You will be directed to the new draft listings page, accompanied by a notification confirming the successful creation of draft listings. Customize your listings as desired before making them live.
Once you have finished editing the listings, select 'Active listing' from the 'Select Action' list to publish them on eBay. The listings will be transferred from the Draft tab to the Active tab accordingly.
#Step 3: Enable eBay sync
LitCommerce enables the synchronization of inventory, pricing, and orders between your online store and eBay. By enabling eBay sync, any price adjustments made in your online store will be automatically reflected on eBay. Additionally, the inventory sync feature ensures accurate quantity adjustments across all channels when an order is placed.


To initiate syncing, go to the main dashboard and select eBay. Click on 'Channel Settings' at the top right corner. You will find three sections: Pricing, Inventory, and Order. Toggle the switches next to the Sync options and confirm to activate these features.
#Step 4: Manage orders
For efficient order management, access your sales channel from the left sidebar menu under the Listing section. Click on 'Channel Settings' at the top right corner and scroll down to the bottom. Click on the button next to 'Import Orders to the eCommerce platform'.
Incoming orders from eBay will be imported into your online store's dashboard. You can review the orders before the fulfillment process or have LitCommerce import them directly into your existing order flow for centralized multichannel fulfillment.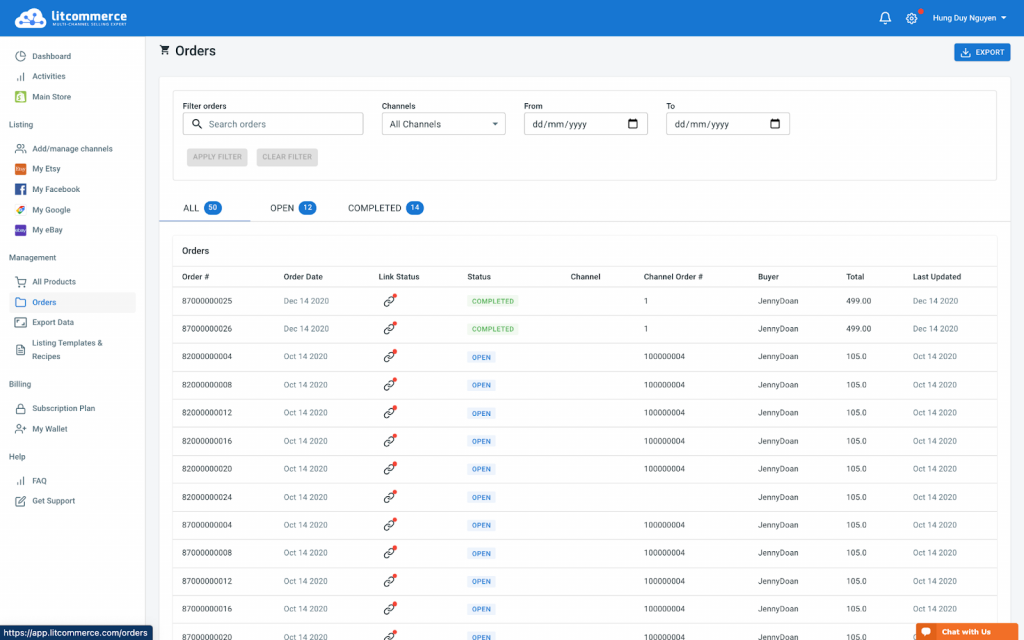 The order page consists of five primary tabs: All, Open, Completed, Ready to Ship, and Unlinked. These tabs help track the order status and fulfillment process, providing clarity even with a large number of orders. For example, the 'Ready to Ship' tab indicates that the customer's order is fully packed and ready for shipping.
By following the four crucial steps of eBay integration with LitCommerce, you can tap into eBay's extensive customer base and maximize your selling potential. Our team is dedicated to supporting you throughout the integration process and ensuring its success.
Our most-used integrations:
So why wait? Start integrating with eBay using LitCommerce today and witness the growth of your business!