From your Central catalog, you can select products to create listings on any sales channel you have integrated with LitCommerce system. When you create a listing, it will be saved as a draft so you can modify and apply templates before publishing on the channel.
Create a new listing
To create a new draft listing, firstly, go to All products from the left sidebar menu.
From here, choose the items you want to list on your channels. After that, click List products on channel, then choose the sales channel you want.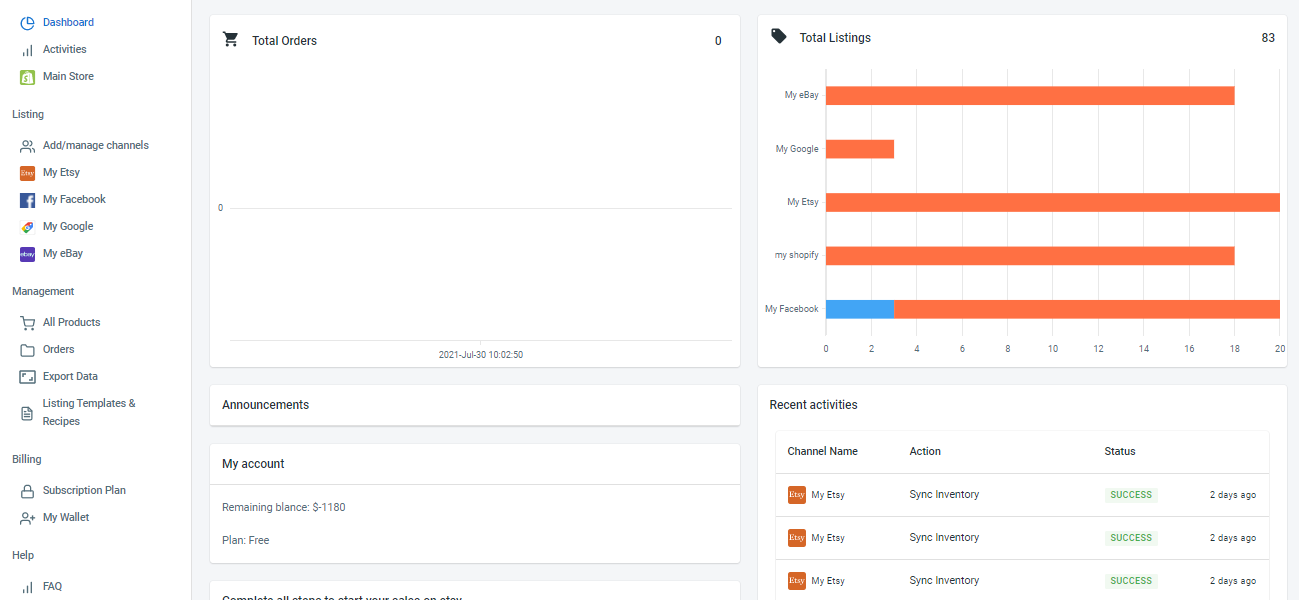 The system will then create draft listings on your channel page and redirect you to it. Along with that, you will see a notification Draft listings successfully created. Now you can freely customize your listings before going live.
Apply a template for your listing
A template is a set of options related to one of your listing attributes, and can be applied to multiple listings.
You can create templates for Shipping, Category, Price and Title. Simply apply one of the templates to your listings to save time manually configuring them before publishing live on your channels. Learn more at Template & Recipes.
After creating a template, you can apply it to your listings by checking the boxes next to the listings you want to apply and then click on Apply a template.
Edit Listings
To edit your listings in detail, simply click on the title of the listing you want to edit.
On the editing page, you can see 5 tabs in total including Vital info, Images, Pricing, Category and Shipping.
After making all necessary changes to your listing, click Save or Save & Publish. If you choose to publish, your listing will immediately go live on the channel.
Publish or delete your listing
After you have configured your draft listings, you can publish them on your channel by selecting Publish to Etsy or any other channel you want. Also, you can delete the listing by selecting Delete listing from Etsy/Amazon/eBay… instead.
When the listings are published on your channel, they will be removed from the Drafts tab and switched to Active tab.