The central catalog contains every product in your system. You can access the central catalog by clicking on All products from the left menu. Here you can manage all your products before listing them on your sales channels.
Import products from your main store
You can import all products that are available in your main store's inventory to LitCommerce. 
From the second time you import, LitCommerce will scan and find the differences, namely new products or updates to your product attributes, and will only import those data to your central catalog on the LitCommerce backend.
Note: If you want to make changes or add new products, please make the change in your Main store's catalog and then import products again.
How to import products into your LitCommerce central catalog:
From the main dashboard, navigate to the side bar, click All products.
At the top right corner, click Import from Shopify. If you use another platform as the Main store, your platform should appear right there.
Choose whether to import hidden items or not by clicking Yes or No.

Click Begin Import to kick start the process.
You can monitor the progress in the Activities section. When the process is completed, you will receive a notification on the header menu bar.
Manage your inventory
Here in the All products section, you can monitor all attributes of your products, including name, SKU, Available quantity, number of variants, and more. The column on the left shows which channels the products are currently listed on.
Use the Search box to quickly find your products. You can type in the name or the SKU of the product, and press Enter. To show your products within a range of price or quantity, click on Show more filters. You can filter your products by setting the minimum and maximum price or quantity available.

You can also sort products by their attributes. To do so, simply click on the attribute you want and an arrow will appear next to it, indicating that products have been sorted by Name, SKU, etc.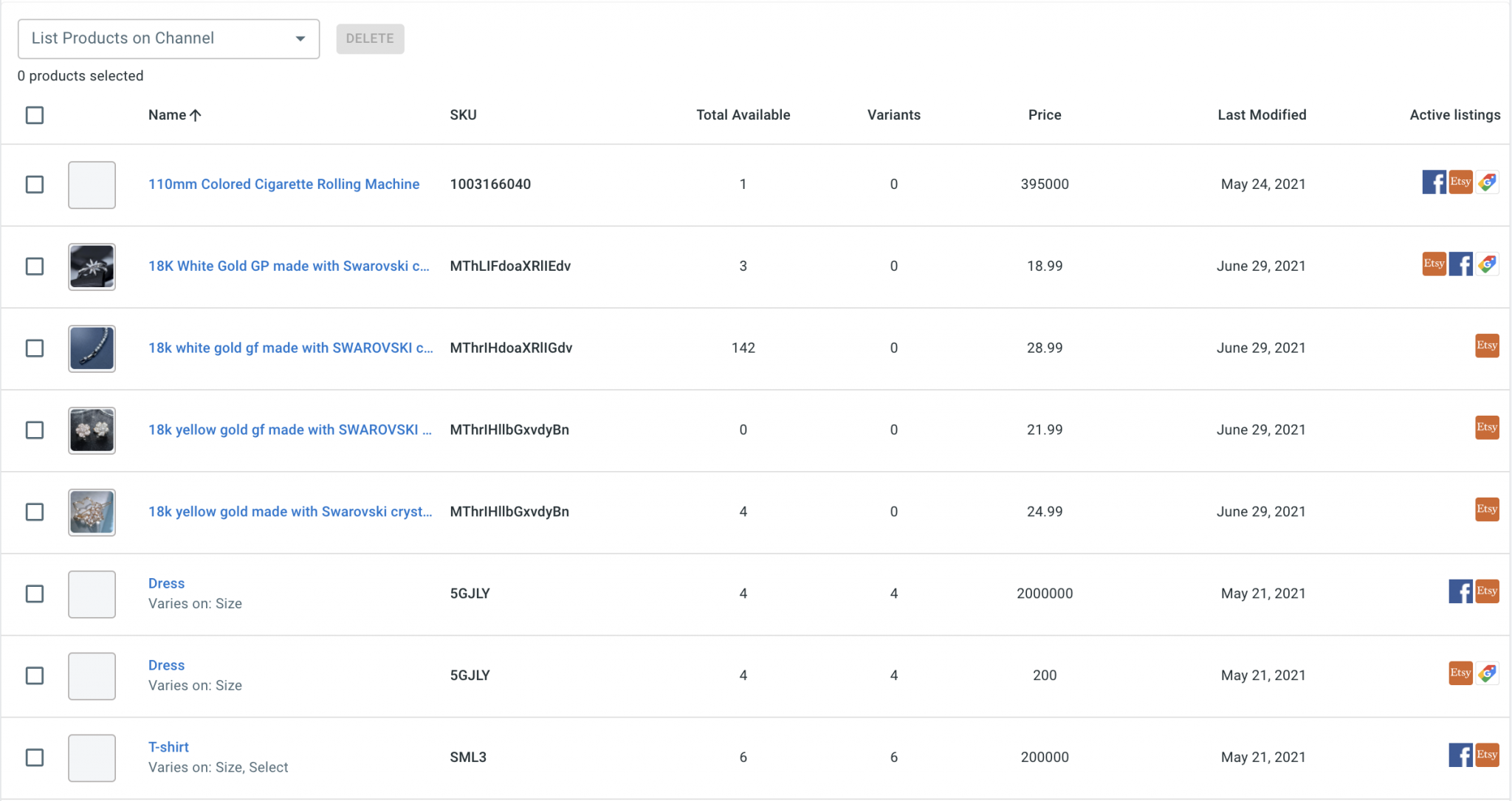 To view the attributes of a product, simply click on its name. There will be 4 tabs showing the corresponding attributes, including product information, images, variations, and custom attributes.
To delete a product, simply mark the item and click DELETE. This action will erase the product from your inventory. You can import it again any time you want by clicking the Import button.


Here you can also choose products and list them on a sales channel. For more information, please see Listing products on sales channels.