This section will show you the complete guide to import, customize and publish your Facebook Shops Listing from LitCommerce.
Step 1: Set up Facebook default setting template
First, let's get started with the facebook default template, from the main dashboard, navigate to Listing > Facebook then choose Channel Settings.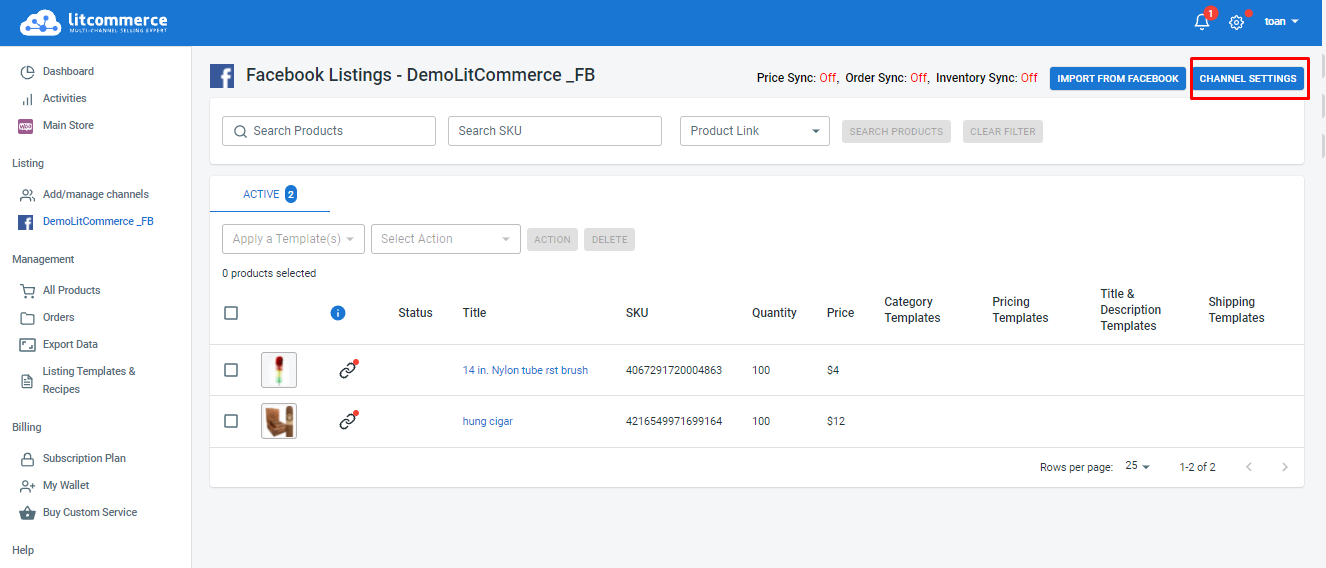 From here, you can create your custom templates for Pricing, Inventory, and Order to apply for listings later then. This helps to increase the efficiency of publishing your listings to Facebook. With this function, you don't need to re-enter this information over and over again.


(*) Note: Make sure to check our quantity twice so it's the correct number. This will allow LitCommerce to update your inventory in every sale channel. 
Also, turn on the Order Sync if you want to automatically import and sync orders to your main store.

(*) Note: By default, this template will be activated when adding new listings.
Step 2: List your products on Facebook.
To import listings to your Facebook store from LitCommerce, you can choose data from your Facebook store or from other available selling channels.
Import new listings from Facebook
The LitCommerce system allows you to keep track, customize and also, publish it to other channels with just a few clicks . To do so, follow these steps:
From Dashboard, navigate to

Listing

and choose your

Facebook channel.

Select

Import Existing Listing

and then you will have two options to import including automatically building products from these imported listings, Re-import all deleted products, and inactive listings.

Then choose

Begin Import.
After that, LitCommerce will automatically import your available listings from your Facebook store. Also, a notification will appear when Facebook listing import completed.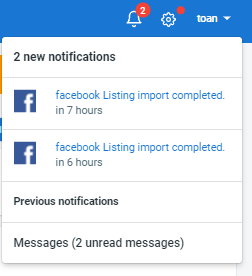 Import new listings from your central catalog
Make use of the central catalog to import listings from your main shopping cart and other selling channels such as Etsy, Google Shopping, Amazon...into Facebook.
Import Listings from your Main Store to Facebook
From the dashboard, go to All Product,  just simply tick the product you need to import and click on the bulk action to list products on Facebook. After that, a draft listing will be ready.
Now, you can easily customize the listing with Templates and Recipes or publish it on any of your channels.
Import Listings from other channels to Facebook
LitCommerce lets you import listings from other channels to Facebook with just some simple steps.
First of all, create a new linking between the listing and a product in your Central Catalog. From your main dashboard, navigate to the channel and find the listing you want to link.
Hover on the link icon, and choose to link with the central catalog, for example. create on BigCommerce.

After that, LitCommerce will automatically create the product in the central catalog and you can easily import it to Facebook. To do so, simply go to All Products, tick on the box next to the product then choose to list on Facebook.

Step 3: Link Listings to LitCommerce Products
Let's learn about listing links with LitCommerce. Linking is essential to the structure of your data flow so you can enable useful functions for your store.
Linking enables data to flow from LitCommerce to your Listings and more, ensuring that your channels are continually filled with the most recent statistics and other vital information
Also, LitCommerce allows you to make a connection for many listings across various sales channels.

For example, you sold an item from your listing which is published on eBay, Etsy an Amazon and Facebook. After the system updates your change, it'll also be automatically updated on other channels as well. 
Furthermore, by linking Listings to their source Products, LitCommerce is able to determine which channel the product is currently available for sale. This allows you to keep track of where all of your products are selling or not selling, ensuring that you don't lose out on any prospective clients.
NOTE: Make sure to link your listing to inventory so the Inventory Sync function can work properly.