This section will show you the complete guide to import, customize and publish your Amazon Listing from LitCommerce.
Step 1: Set up Amazon default setting template
First, let's get started with the Amazon default template, you can find it by navigating to Listing > Amazon then choosing Channel Settings.

Here, you can create rules for Pricing, Inventory, and Order that help to increase the efficiency of listing to Amazon. With this function, you don't need to re-enter this information over and over again when listing to Amazon.


Note:  Make sure to verify that the quantity is accurate before allowing LitCommerce to update your inventory quantities in your sales channel. This will help you with better inventory management within all channels.
Also, turn on the Order Sync if you want to automatically import and sync orders to your main store.

Note: This template will then be automatically activated to all new Amazon listings you create by default.
Step 2: List your products on Amazon
There are 2 main ways to get new listings for your Amazon store on LitCommerce, you can choose to import from your Amazon store or use the available listings on other channels.
Import new listings from Amazon
Having all available Amazon listings on LitCommerce allows you to keep track, customize and also, publish it to other channels with ease. To do so, follow these steps:
From Dashboard, navigate to Listing and choose Amazon

Click on Import Existing Listing to get started, you will have two options including automatically building products from these imported listings and include inactive listings. After choosing, go ahead and select Begin Import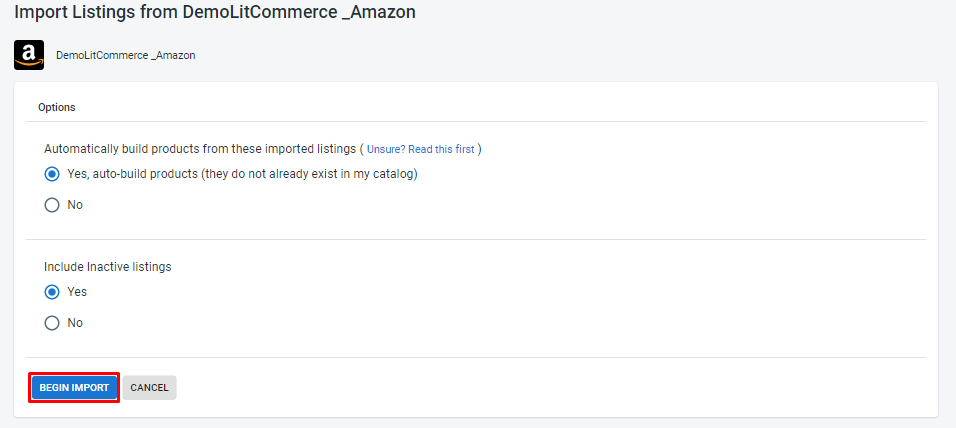 After that, LitCommerce will automatically import your available listings from your Amazon store. Also, a notification Amazon listing import completed.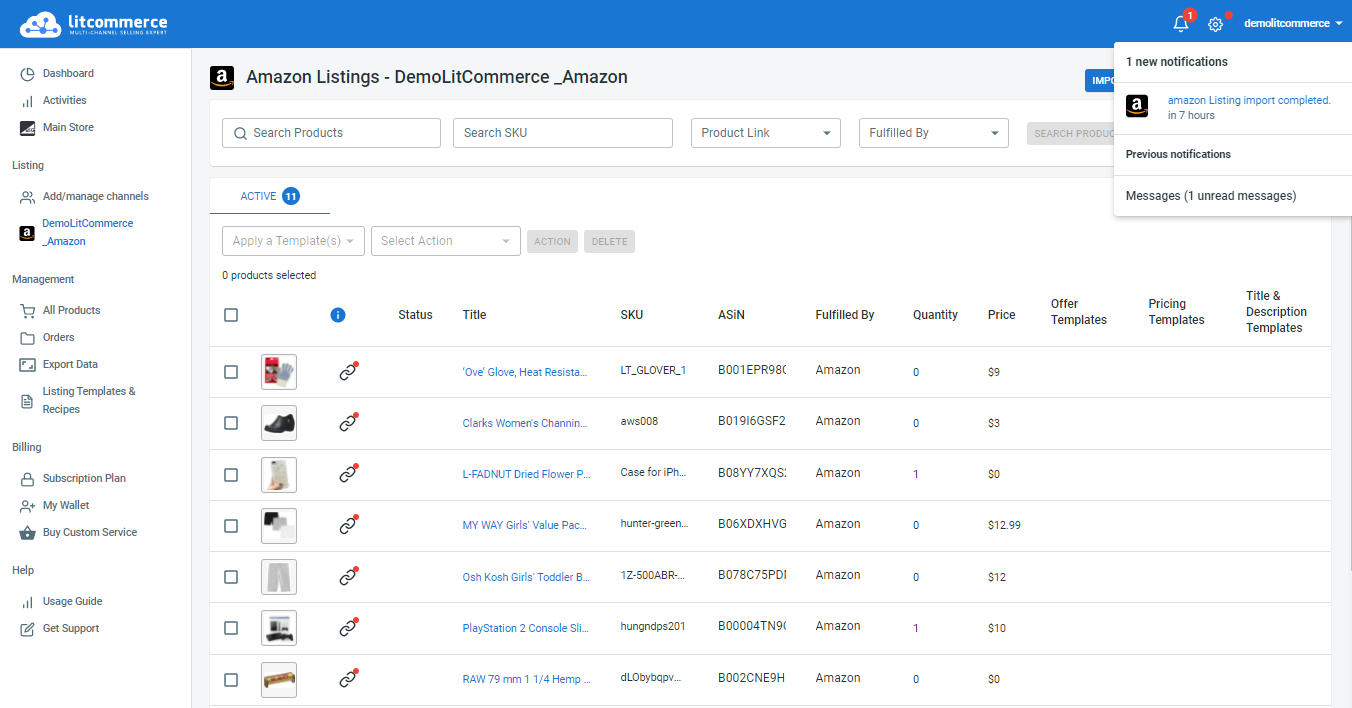 Import new listings from your central catalog
Make use of the central catalog to import listings from your main shopping cart and other selling channels such as Etsy, Google Shopping, Facebook Shops… into Amazon.

1. Import Listings from your Main Store to Amazon
After importing your product from the Main Store to the central catalog, you'll have a list of all available products from the Main Store.
Simply tick the product you need to import and choose bulk action to list products on Amazon. Then draft listings will be ready.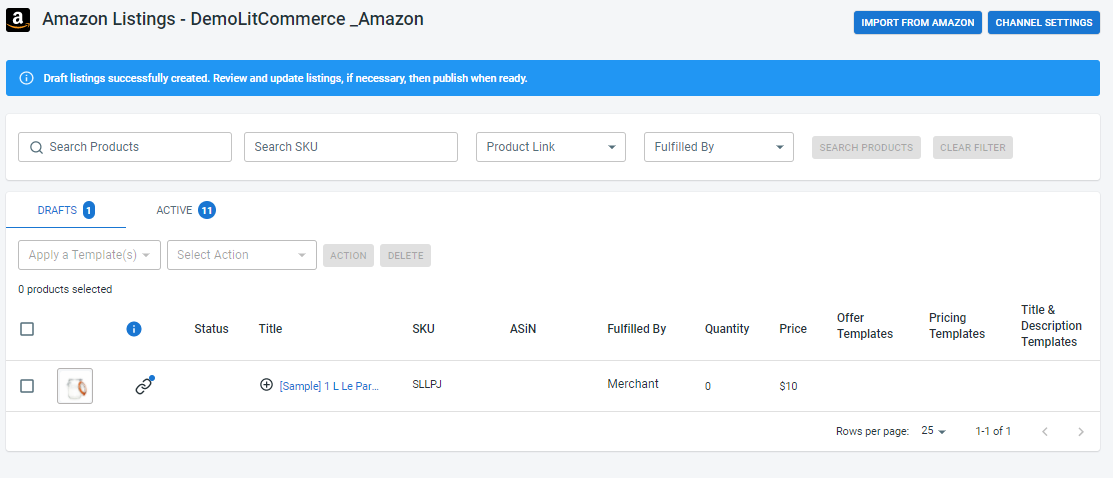 Now, you can easily customize the listing with Templates and Recipes as well as publish on Amazon or delete your listings.
2. Import Listings from other channels to Amazon
It's possible to import listings from another channel to Amazon. This will help you save time when you need to update a listing to multiple channels.
First of all, create a new linking between the listing and a product in your Central Catalog. From your main dashboard, navigate to the channel and find the listing you want to link.
Next, click on the linking icon and choose to create a version of this listing on the central catalog.

After that, LitCommerce will automatically create the product in the central catalog and you can easily import it to Amazon. To do so, simply go to All Products, tick on the box next to the product then chooses to list on Amazon.

Step 3: Match your product with Amazon
The last step to list products to Amazon requires you to find and match your Amazon draft listings to products in the Amazon catalog (ASINs).
If your items include a product identification like a UPC, LitCommerce will automatically identify a matching Amazon product (ASIN) for your listings; otherwise, you may use the Amazon Product Lookup Tool to get the right ASIN for your listings.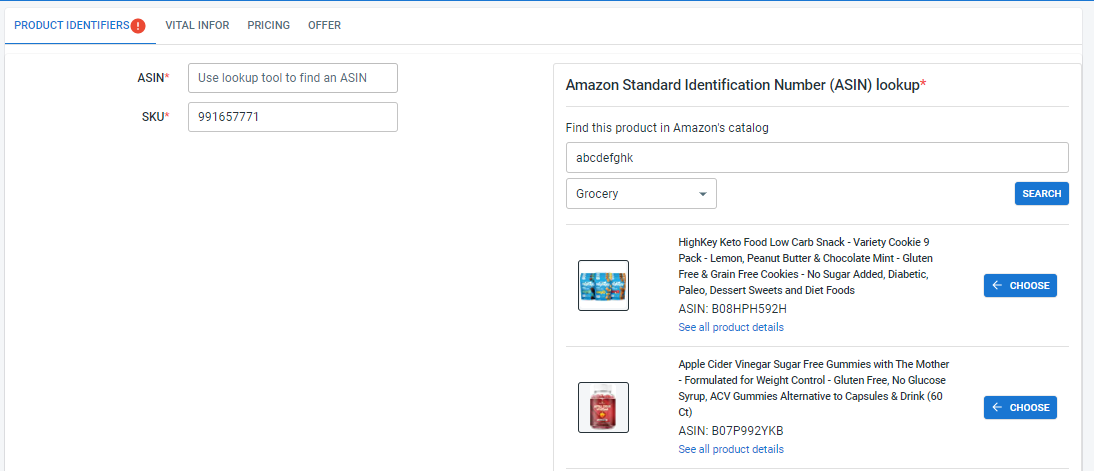 Once you finish setting up ASIN for your listings, simply publish your listings.
Step 4: Link Listings to LitCommerce Products
Let's learn about listing links with LitCommerce. They help to create the structure for the data flow and also activate some useful functions for your store.
Linking enables data to flow from LitCommerce to your Listings and more, ensuring that your channels are always filled with the most up-to-date data and other critical information.
You can create a link for multiple listings across multiple sales channels with LitCommerce.

For instance, your Product with SKU "5GJLY" is linked to living listings on Amazon, eBay, and BigCommerce. If one of these products sells on BigCommerce, LitCommerce will update the inventory quantities on Amazon and eBay.
Moreover, linking Listings to their source Products allows LitCommerce to know which channel that the product is currently listed on. This helps keep track of where all your Products are selling, or not selling, so you don't miss out on any potential customers.

NOTE: Make sure to link your listing to inventory so the Inventory Sync function can work properly.