When it comes to growing online business, any seller should know ways to broaden their reach to the customers. In this case, learning how to integrate Shopify with eBay sets a clear example. Apparently, linking Shopify to eBay and selling your products on both channels can help develop an effective multi-channel strategy, which benefits you in multiple ways.
That's why in this article, LitCommerce will walk you through 4 steps to integrate Shopify with eBay:
Without further delay, let's get started!
Seamlessly List & Manage Products with LitCommerce

Are you looking to expand your reach to both Shopify and eBay customers? Look no further because LitCommerce is your ultimate multichannel selling tool!


---
4-Step Shopify eBay Integration Using LitCommerce
With LitCommerce, you can integrate multiple selling channels, including Shopify and eBay, any minute now. You will also be able to manage everything, from importing products from eBay to Shopify to fulfilling orders, from a central system accurately and constantly.
Shall we start?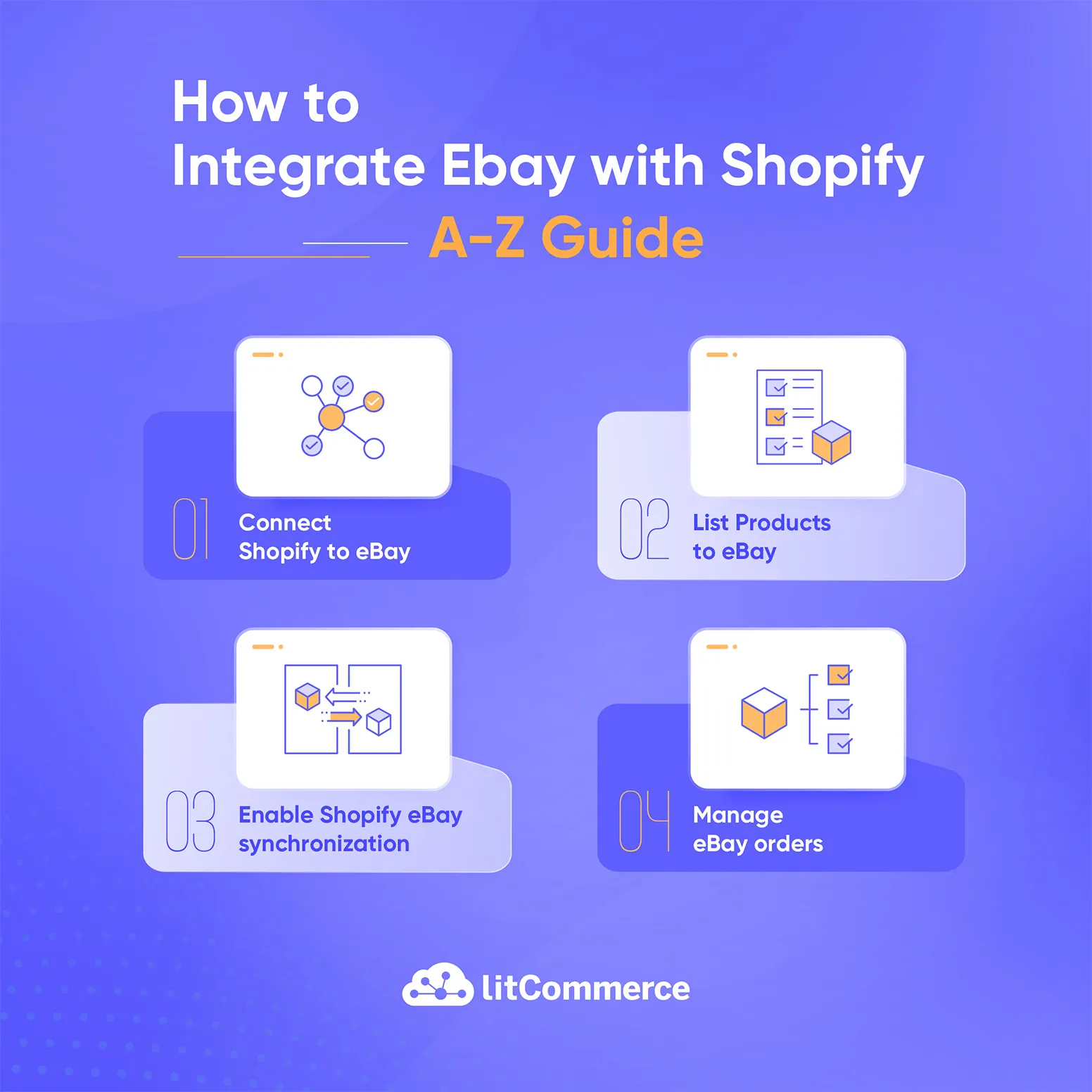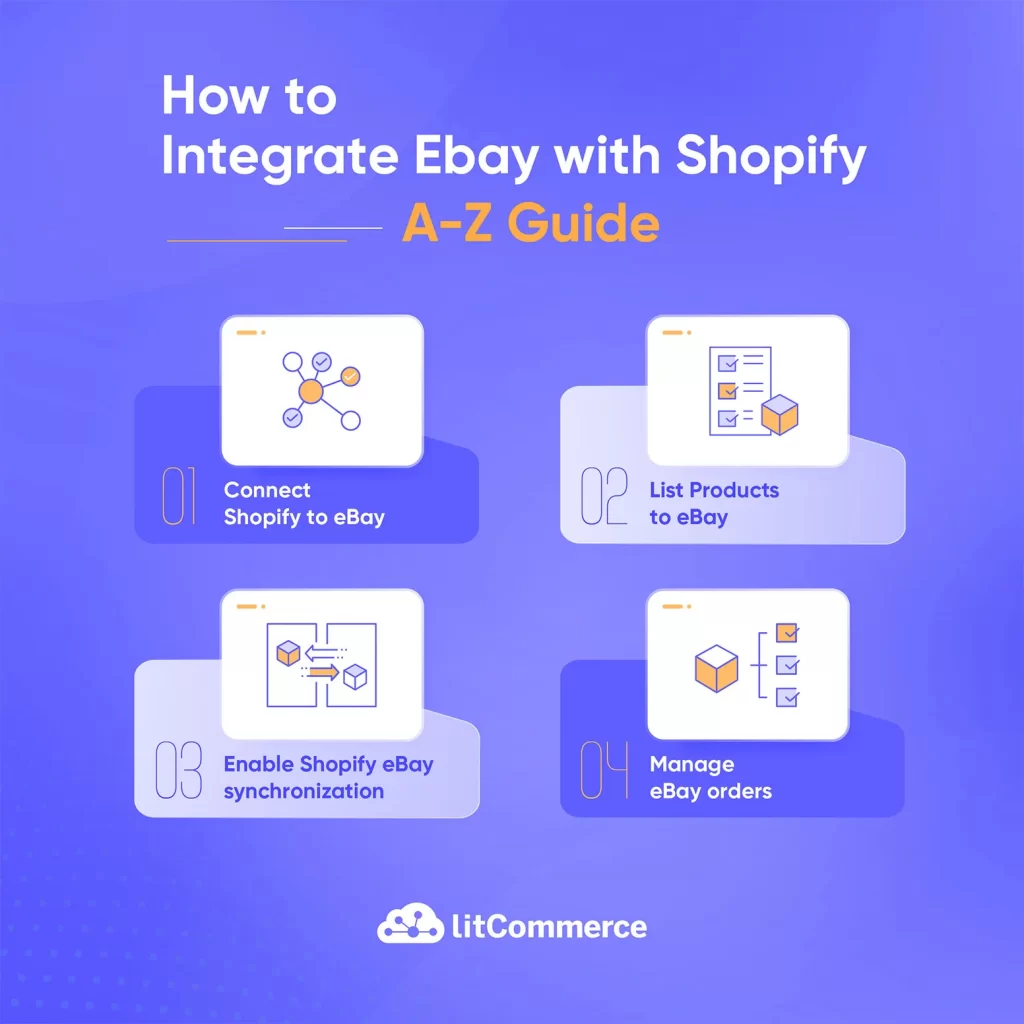 Step 1: Connect Shopify with eBay using API
Before we start, you can skip these walls of text by taking a look at the below video. Or else our detailed guidelines to integrate Shopify with eBay are right below.
First, go to litcommerce.com/login to create a new LitCommerce account, or you can log in using your Facebook or Google account.
Next, choose Shopify as the Main Store. It is worth noting that you must have your Shopify store created before starting to integrate with eBay.
Now, at the Setup First Channel section, click on the Connect button under Shopify. It's time to fill in the URL and API Password. In case you have yet to know how to get Shopify API, click and watch our intuitive instructions on how to get Shopify API keys.
After that, to integrate Shopify with eBay, select eBay as your additional sales channel in the Setup First Channel section.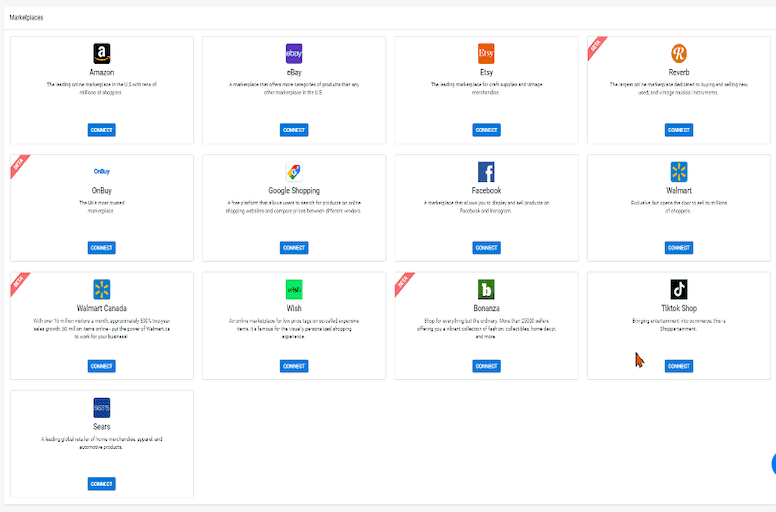 You have to choose a nickname for your Channel and enter it in the field, then continue by selecting the region where you want to locate your store.
Afterward, to integrate Shopify with eBay using LitCommerce, hit on Connect Your Account.
Step 2: List Shopify products on eBay or vice versa
After successfully connecting Shopify with eBay, all your Shopify products will be automatically imported to the LitCommerce dashboard, which saves tons of time and effort.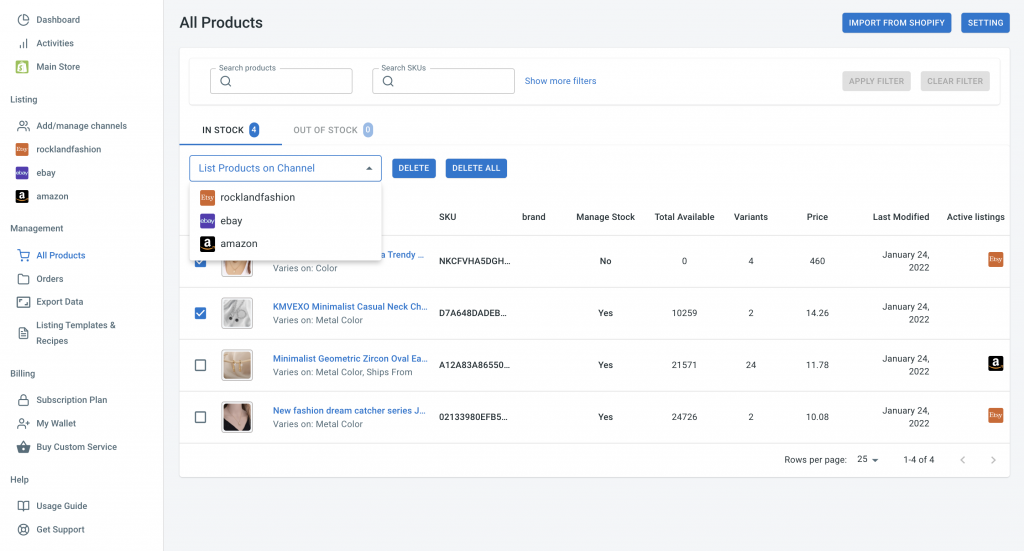 Once it's done, choose eBay from the List products on the channel dropdown menu, and now you can select the products you wish to list on eBay.
The system will create and redirect you to draft listings on your channel page, then send you a notification saying Draft listings were successfully created. Now you can edit draft listings or make any changes before they go live.
Particularly, when it comes to listing editions, LitCommerce users can either choose Single or Multi-edit mode.
Notes: You can either list Shopify products on eBay or import eBay listings to Shopify with LitCommerce integration app. 
Single mode: This helps you edit listing individually. When using the Single edit mode as you integrate Shopify with eBay, you need to fill in product details, including specifications, images, titles, shipment, etc.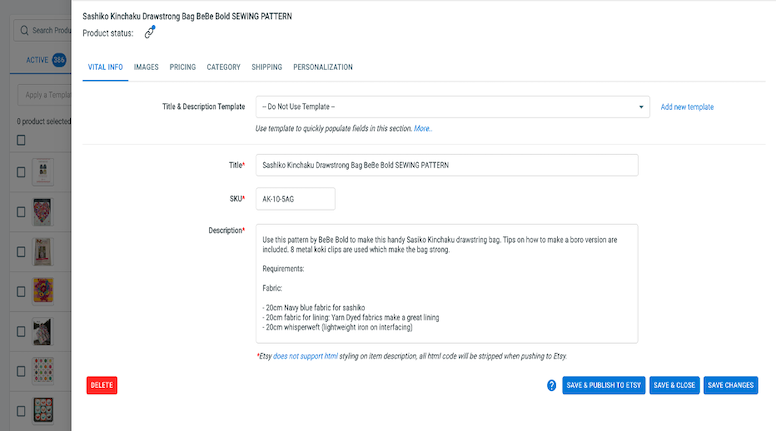 Multi-edit mode: On the second hand, Multi-edit mode is a smart and effortless way to adjust your listings before you publish them on Shopify and eBay. While using Multi-edit mode, you will be directed to a spreadsheet interface that lets you monitor and adjust all listings.

Step 3: Enable Shopify eBay sync
LitCommerce allows you to sync Shopify eBay inventory, pricing, and order so that any changes in these sections will be matched on all channels.
Continuing to integrate Shopify with eBay, choose eBay from the main dashboard and click Channel Settings at the top right corner.

Inventory sync
To turn on Inventory sync, simply enable the switch button, then click Save. Now you are ready to list and sell products on Shopify and eBay at the same time. By switching on Inventory sync during your eBay to Shopify integration, you can alter and control product quantities on each channel, with you being the rule maker.


Pricing sync
To customize how your prices are displayed on your eBay store, you can create price rules in the Pricing sync. You can then change the price of all eBay listings by a fixed amount or by a percentage. The rules will be applied to all listings once you've set them.

In the case of selling overseas, you can use the Price Rules feature for currency conversion. Go to Google.com and search for the current exchange rate from your Main store currency to the currency of your sales channel:
If the rate is greater than 1, then subtract 1 from the rate and multiply the result by 100. Choose Increase in the first box.
If the rate is smaller than 1, then subtract the rate from 1 and multiply the result by 100. Choose Decrease in the first box.
Enter the result in the Price Adjustment section and set the unit to Percent (%).
Order sync

Scroll down to the bottom and click on the button next to Import Orders to Main Store. Through using the Order sync function of the LitCommerce Shopify eBay integration app, you can now supervise and fulfill your order flow from both channels in just one place. However, it is worth noting that you can only make use of Order sync after turning on Inventory and Pricing sync.
Note: If you want to enable Import Orders to Main Store, please enable Inventory sync first. If Inventory sync is turned on, LitCommerce will "pull" orders from marketplace channels to the app. Only then can the orders be imported to your Main store.
Step 4: Manage Shopify eBay orders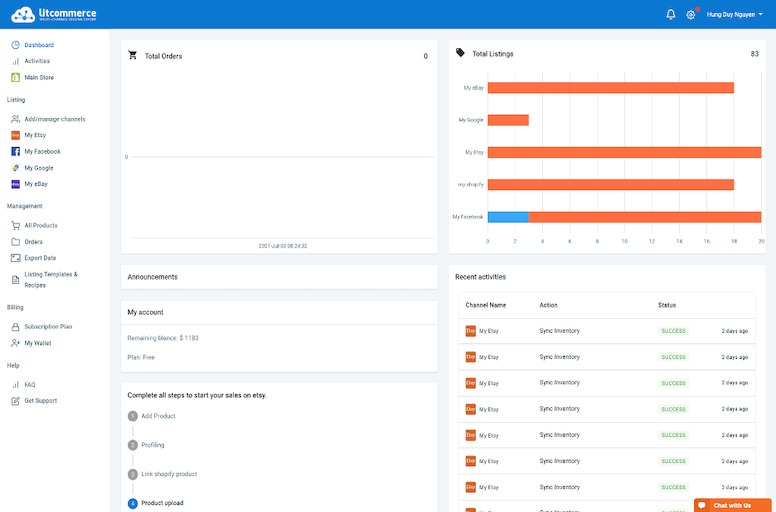 Congratulations, you've successfully integrated Shopify with eBay! From now on, instead of switching between two tabs and manually processing each and every order, you will fulfill orders from a single channel only. All order details will be automatically updated on your Shopify dashboard through LitCommerce, so you to monitor them easily.
In addition to streamlining your order fulfillment process, why not take it further and create your own payment system? By developing one, you can offer your customers a seamless and customized checkout experience.
Have you got through the Shopify eBay integration process? Should there be anything concerning you, feel free to contact us anytime!
Choose LitCommerce for Shopify eBay Integration

Don't miss out on the incredible opportunities that come with expanding your business. Try LitCommerce Shopify eBay Integration and elevate your experience now!


---
Can You Manually Integrate Shopify With eBay?
You can manually integrate Shopify with eBay, however, all the coding work can be triggering if you don't have technical expertise. On top of that, keep in mind that there are a number of issues that can arise when you integrate Shopify with eBay without a system:
Overwhelming process due to the complicated and technical knowledge;
A lot of time and effort is required to export and import eBay to Shopify or vice versa manually;
Risk of missing or overselling products since you can't update frequently between channels.
Once you choose the manual method to list Shopify products on eBay, you should be prepared to deal with these risks.
What's more, from January 2023 onwards, the eBay Shopify app has been discontinued, which means that you will no longer be able to manage your eBay listings through Shopify.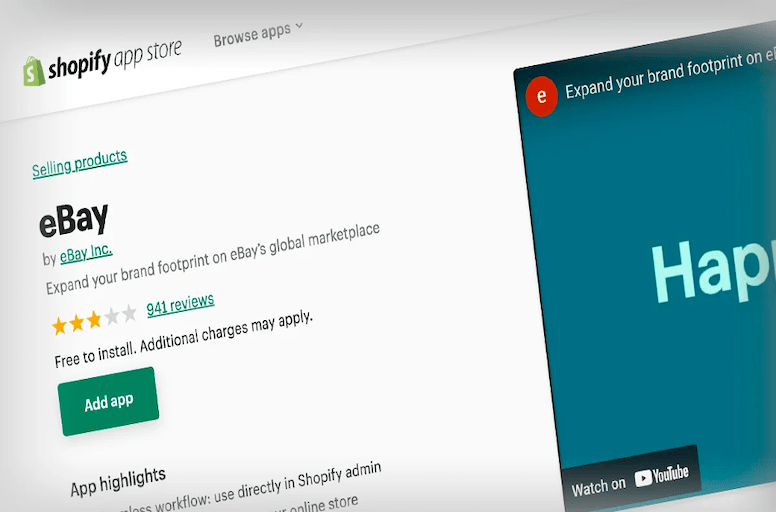 In this scenario, you will likely need the help of a local software developer to actually do the coding and data-integrating tasks. Hence, if you are not a tech-savvy or have an in-house coding team, conducting manual eBay integration with Shopify is going to put you through ups and downs.
Discussing the matter further, Shopify itself also recommends sellers integrate with other sales channels using a third-party app. From their diverse app marketplace, it is not hard to find a suitable Shopify eBay integration app for you, especially, since you have already got one helpful assistant at hand – LitCommerce!
If you are still hesitant to use our Multichannel Sync solution to integrate Shopify with eBay, let's take a look at our 4 outstanding features and see if we could convince you!
---
Why Choose LitCommerce for Shopify to eBay Integration?
With LitCommerce, integrating Shopify with eBay will be much easier and also well-managed within a single dashboard. Here are some notable features that multi-channel sellers are looking for.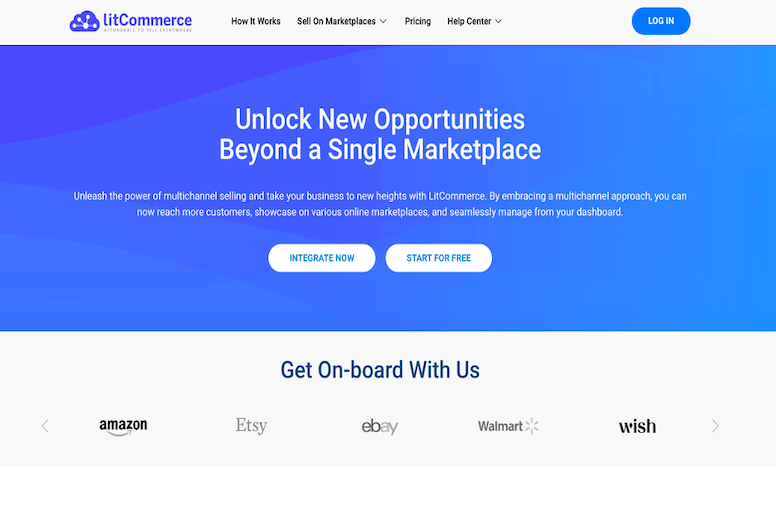 LitCommerce 4 main features
Multichannel Connect: Effortlessly connect with multiple sales channels and manage inventory, prices, and orders within a single dashboard. There is no requirement for technical expertise when you integrate eBay with Shopify using our solution.
LitCommerce QuickGrid: A spreadsheet-style interface that lets you view, edit, and manage all listings on a single screen. You can edit products individually or in filtered groups and create rules to bulk-update products with Templates and Recipes.
LitCommerce LiveSync: Establishes a near-instant sync of product listing, orders, pricing, and inventory between your store and your sale channels when you integrate Shopify with eBay. Also, don't forget you are the rule maker.
Integrated Order Flow: Our Integrated Order Flow helps you monitor and process orders effectively in one place. For LitCommerce, we are responsible for pulling all orders into your Main store, keeping you updated on the latest changes, and tracking data in real-time.
Effortlessly Integrate Shopify and eBay with LitCommerce

With LitCommerce, selling on both platforms has never been easier! Say goodbye to the hassle of managing listings separately, but hello to seamless centralized management!


Customer reviews
The LitCommerce team always listens to customer feedback in order to improve our app and service, and every case is a valuable lesson to us. You may check one of our client reviews who tried LitCommerce to integrate Shopify with eBay.
I really Love the Service

I was tried hard and tested many other inventory management platforms but failed. Finally, now I have found one of the best app and everything is working perfectly.

I really like the way they provide support for customer needs.

Thank you so much, LitCommerce team, and best of luck.
Check out Trustpilot to see more reviews and feedback from our customers who have the most enjoyable experience with LitCommerce.
---
FAQ – Shopify eBay Integration
1. Does Shopify Integrate with eBay?

Yes, it does. There are 2 kinds of Shopify eBay integrations:

If you already have an online store based on the Shopify platform, you can choose to use an eBay Shopify integration to easily manage and keep track of the inventory and orders between 2 channels.
On the other hand, an automated tool like LitCommerce can also help you integrate Shopify with eBay.

You can easily list and sell eBay products on Shopify, or even more online marketplaces like Amazon, Etsy, Facebook Shops, or Google Shopping. Also,

LitCommerce will automatically sync and update every data from each marketplace on the dashboard for better monitoring.

2. How do I get my eBay products on Shopify?

To get your eBay products on Shopify, go to LitCommerce Dashboard, check the dropdown menu for Import from eBay. Once you have clicked the button, LitCommerce will automatically import all your listings from your sales channel (eBay) to Main store (Shopify).  

3. Which is better: Shopify vs eBay?

Shopify is a hosted eCommerce platform that allows you to create your own store from scratch, but it also means you have to take care of everything including shipping or marketing yourself. On the other hand, eBay is more of an online marketplace, it's like having a stall in a shopping center that specializes in unique and second-hand items.

You should consider Shopify if you want to set up an online store while having full control over the store, however, eBay will be your better option if you are having a small to medium-size store and trying out the eCommerce world.

However, if you want to use both Shopify and eBay at the same time we recommend you connect Shopify with eBay by using LitCommerce.

4. How do I sync my Shopify inventory with eBay?

You can definitely sync your Shopify inventory with eBay using the LitCommerce app. From here, LitCommerce will pul your stock from Shopify and eBay into the dashboard, and you can easily manage and keep track of the inventory, in order to avoid overselling.

5. How to integrate Shopify with more e-Marketplaces?

You absolutely can integrate Shopify with more e-marketplaces like Amazon, Etsy, Google Shopping, or Facebook by using the corresponding apps. However, you can save yourself some trouble with multiple apps and use LitCommerce Shopify integration for quick and easy integrations.

6. What are the benefits of Shopify eBay integration?

Three key pros to integrate Shopify with eBay:

Exposure to a larger customer base:

Unlike selling on Shopify, you don't need to work as hard to get traffic to your store.

eBay provides its sellers with a ready-made customer base

, so all you need to do is focus on optimizing listings to outrank competitors. 

Promote your store branding:

With an eBay Shopify integration, merchants, in general, can significantly boost their brand awareness.

Instead of being remembered as a "store on eBay," by driving traffic to your website, customers will remember your brand better.
Save resources with central store management: With Shopify to eBay integration, you can list products, control inventory, and manage orders conveniently in one centralized location without missing out on any important communication

.
---
Shopify for eBay Integration – Final Words
After you integrate Shopify with eBay and start selling on both platforms, you will not only broaden your customer reach but also make even more profits. To our belief, you can expect to witness positive changes in your business once you have connected eBay to Shopify and made the most out of these platforms.
If you are considering a prominent multichannel selling solution to empower your eCommerce journey on multiple platforms, give LitCommerce a try. We offer a forever FREE plan for any seller to test out the functions, and we are always willing to consult with you for any further queries.
Last but not least, follow our Retailer Blog and join our Facebook community today for more insightful eCommerce news and tips!