Shopify is one of the most popular cloud-based eCommerce platforms that help you start, grow, and manage a business. On the other hand, eBay is an online marketplace that is known for its auctions and consumer-to-consumer sales. When it comes to growing online business, any seller should know ways to broaden their reach to the customers or integrate Shopify with eBay in particular.
Of course, using both e-marketplaces and standalone web stores to sell your products can help develop an effective multi-channel strategy and benefit you in multiple ways. In this article, LitCommerce will guide you through 2 possible ways to sell on eBay with Shopify:
How to integrate Shopify with eBay store manually
How to sell on eBay with Shopify using LitCommerce
Benefits of Shopify eBay integration
---
How to Integrate Shopify With EBay Store Manually
As an SMB seller, there are some problems you might encounter when you integrate Shopify with eBay manually:
Overwhelming process due to the complicated and technical knowledge.
A lot of time and efforts required to export and import data manually between channels.
Risk of missing or over selling products since you can't update frequently.
#Step 1: Add the eBay app to your Shopify store
First off, you will need to install the eBay app from the Shopify App Store
Go to shopify.com/eBay and click on Add app.
Log in with your Shopify store information.
Click Add Channel.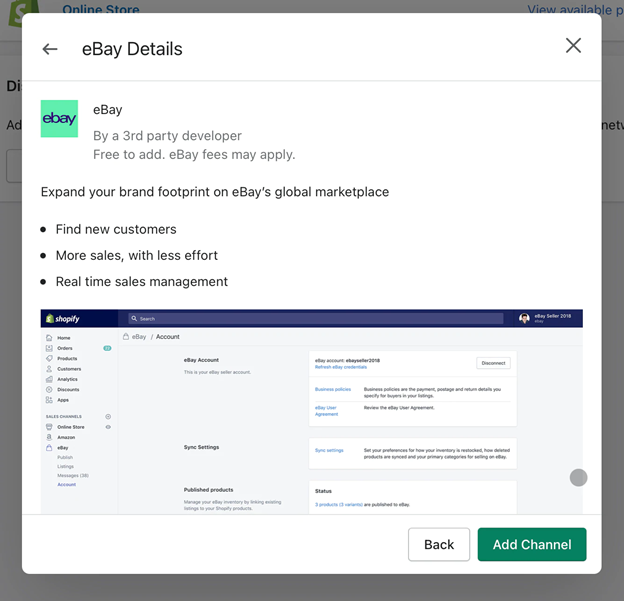 Once you've done connecting eBay to Shopify, you'll need to set up an eBay channel on the Shopify dashboard.
#Step 2: Set up eBay channel & sync settings
1. Set up eBay channel
After activating your eBay sale channel on Shopify, you need to configure the app's settings.
From the Shopify dashboard or on the left-side menu bar, click eBay, then select Account, and choose Business Policies.
Select Force Sync from eBay to import existing policies. Or you can click Create Policy to create shipping, payment, and return policies instead.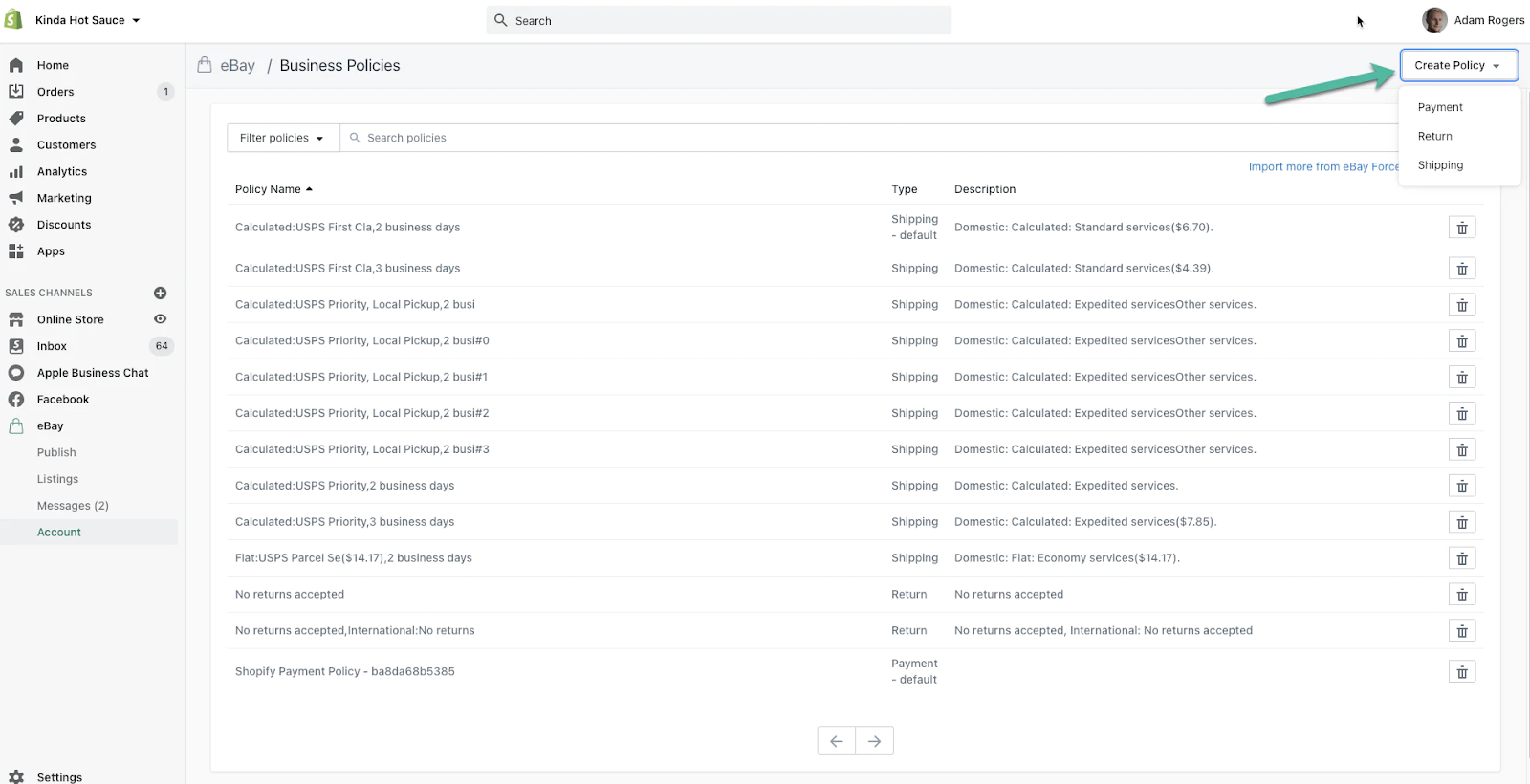 On a side note, eBay now no longer uses PayPal as a payment method. Therefore, eBay will send the payments directly to your bank account through its own payment system.
2. Enable Shopify eBay synchronization
Next, to enable Shopify eBay sync, under the eBay Sales Channel menu, click Sync Settings, then, you will need to set your preference for how your inventory is restocked, how deleted products are synced, and your primary categories for selling on eBay.
Click Save settings to complete setting up your eBay account on Shopify.
#Step 3: List your items
Now that you have connected your eBay account to your Shopify account, the next thing you need to do is to publish some of your Shopify products. Notably, products that you publish on eBay are known as  "listings", you will need to use eBay multiple listing to create a single fixed-price listing that includes all the item variations.
After making adjustments to your listings, you can choose to publish all of your Shopify products on eBay at once by clicking Review and publish all products. Or, if you want to publish some of your Shopify products, click Choose individual products instead.
Remember to configure the following settings for your eBay listings:
Product info, such as title and description;
Category and details;
Quantity, pricing, weight, and other options;
Package settings.
#Step 4: Customize and publish products
Next, Shopify will show you a table that lists all the products you have chosen to publish. You can click on any particular cells in this list to make changes to each listing. After that, you can click Save and publish all products to create your eBay listings.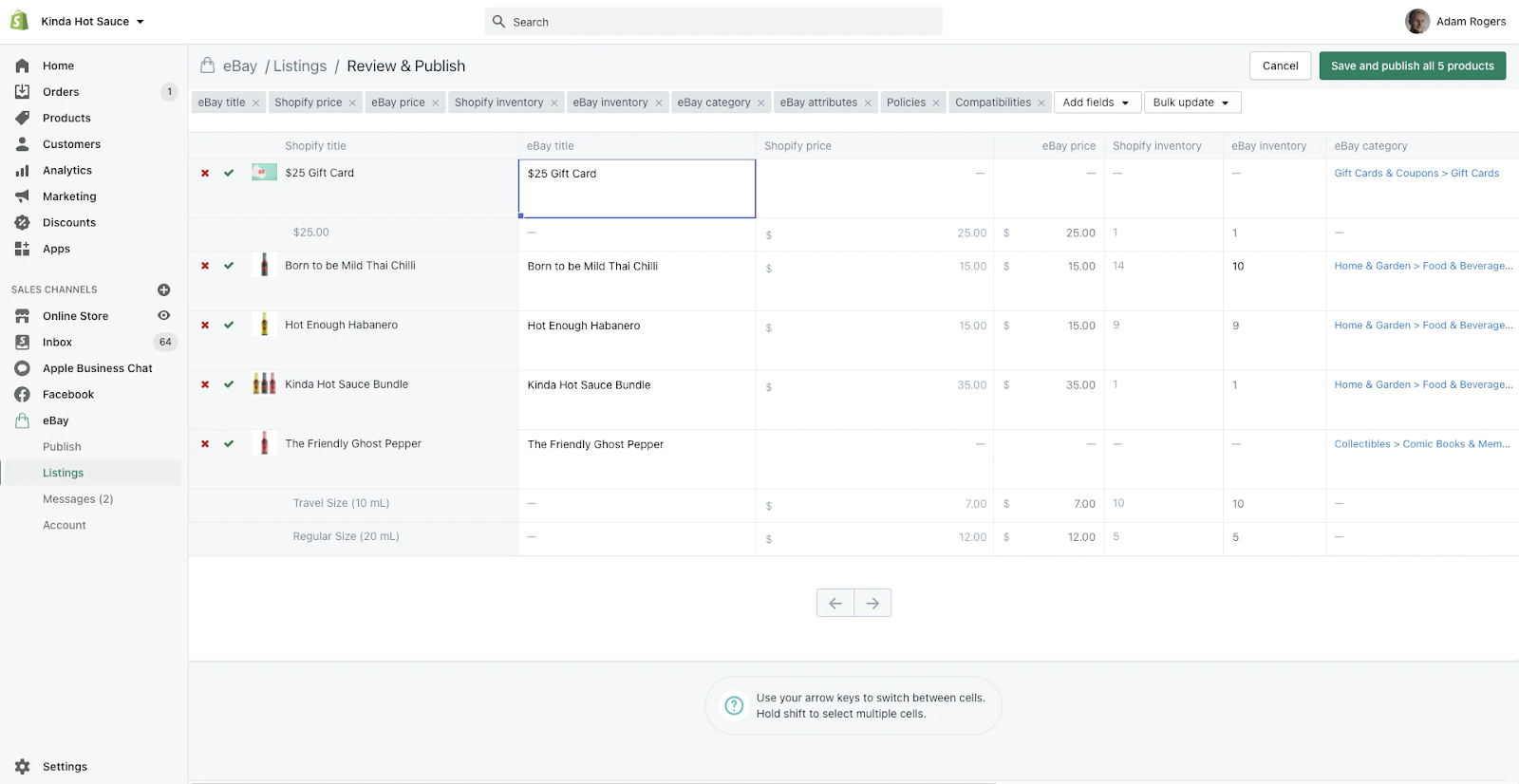 Now you might want to make adjustments to your eBay price since eBay charges you differently which can affect you financially. You should also optimize your SEO title to make the most out of today's competitive market.
---
How to Sell On EBay With Shopify Using LitCommerce
By using LitCommerce, you can integrate multiple selling channels and manage all from a single dashboard, from importing products to fulfilling orders from a central system.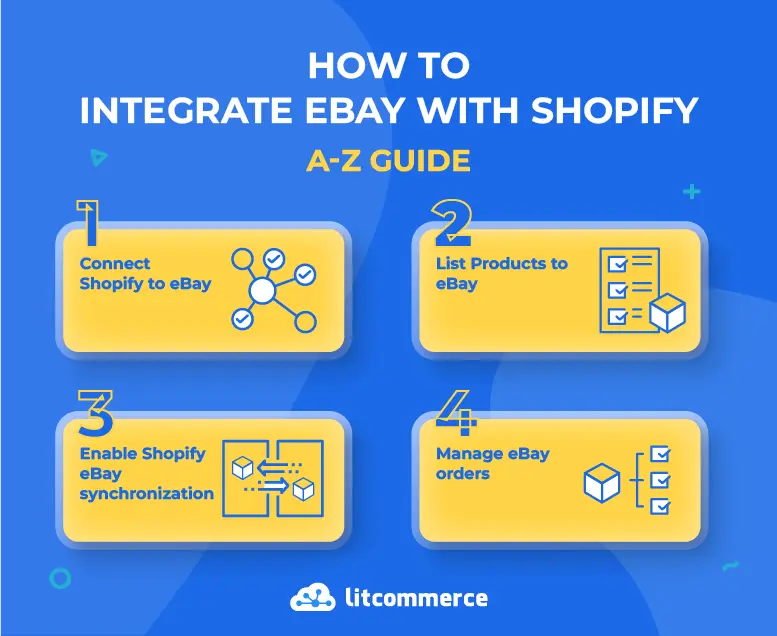 #Step 1: Integrate Shopify with eBay using API
First, go to litcommerce.com/login to create a new account, or you can log in with Facebook or Google.
Next, to choose Shopify as a source of data to import products, at the Setup First Channel section click on the Connect button under Shopify.
Then you will need to fill in the URL and API Password, you can check out this video for a detailed guide on how to get Shopify API.
After that, to integrate Shopify with eBay, at the Setup First Channel section, select eBay as your additional sales channel. You need to choose a nickname for your Channel and enter it in the field. Then continue by selecting the region where you want to locate your store, afterward, to integrate Shopify with eBay using LitCommerce, click Connect Your Account.
#Step 2: Import eBay products to Shopify
First, to import products from eBay to Shopify, at the main sidebar of LitCommerce dashboard, go to All products and click the button Import from Shopify to import all existing products and listings from Shopify and eBay to LitCommerce app.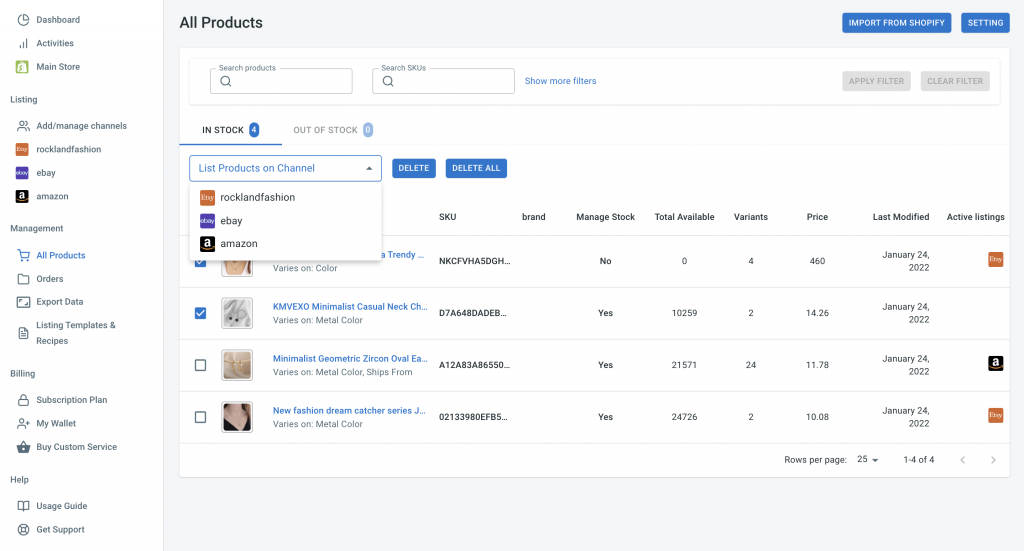 Remember to read the options carefully before importing:
Auto link products from these imported listings: Enable this option if you want LitCommerce to link imported listings to existing products in your LitCommerce catalog which have the same SKU.
After that, click Begin Import to start the process. Once it's done, you can select the products you wish to list on your channels, choose eBay from the List products on channel dropdown menu.
The system will create and redirect you to draft listings on your channel page, then send you a notification saying Draft listings were successfully created. Now you can edit draft listings or make any changes before they go live.
#Step 3: Enable Shopify eBay synchronization
LitCommerce allows you to sync your inventory and prices so that any changes in prices and inventory will be matched on all channels.
Choose eBay from the main dashboard and click Channel Settings  at the top right corner.

Inventory sync: To turn on Inventory sync, simply turn on the switch button, then click Save. Now you are ready to list and sell products on Shopify and eBay at the same time.

Pricing sync: To customize how your prices are displayed on your eBay store, you can create price rules in the Pricing sync. You can then change the price of all eBay listings by a fixed amount or by percentage. The rules will be applied to all listings once you've set them.

Note: In case of selling overseas, you can use the Price Rules feature for currency conversion. Go to Google.com and search for the current exchange rate from your Main store currency to the currency of your sales channel:
If the rate is greater than 1, then subtract 1 from the rate and multiply the result by 100. Choose Increase in the first box.
If the rate is smaller than 1, then subtract the rate from 1 and multiply the result by 100. Choose Decrease in the first box.
Enter the result in the Price Adjustment section and set the unit to Percent (%).
#Step 4: Manage eBay orders
You will still need to use Shopify to fulfill orders after you integrate Shopify with eBay. From now on all your order details will be automatically updated to LitCommerce for you to easily monitor.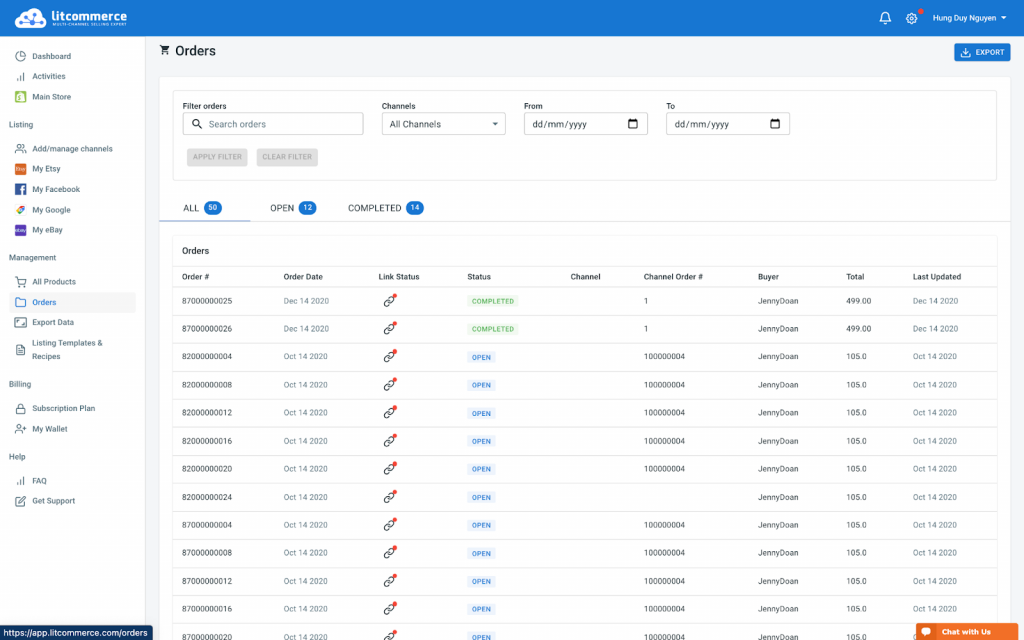 ---
Why choose LitCommerce for Shopify EBay Integration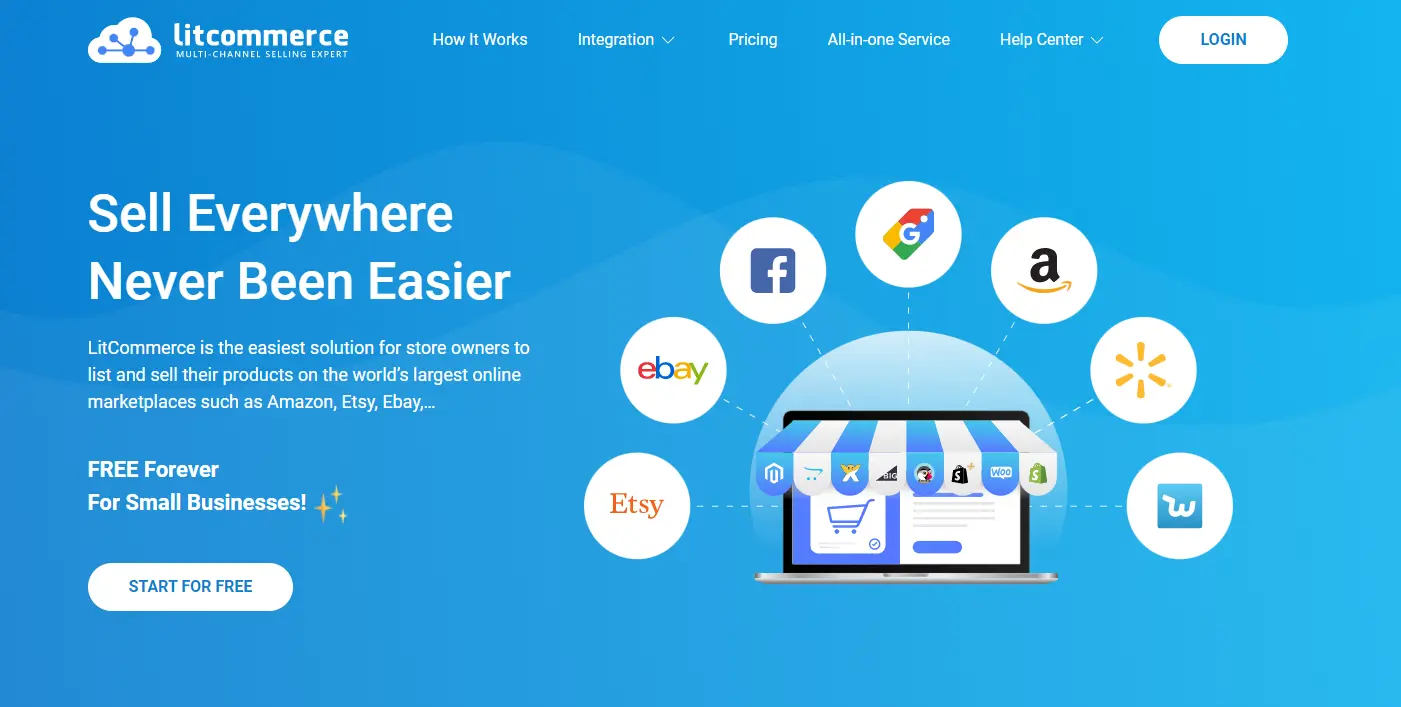 With LitCommerce, Shopify eBay integration will be much easier and also well-managed within a single dashboard. Here are some memorable LitCommerce features for multi-channel sellers to look for:
Bulk listing: create and publish listings easily on Amazon with products from your central catalog.
Real-time synchronization: any changes to your product attribute in your Shopify store will be instantly updated on your Amazon store (name, price, inventory, photos, etc.) to reduce repetitive tasks to minimum.
Advanced customization: bulk edit your listing info such as price, quantity, product title, description, etc.
LitCommerce Pricing
For the Shopify eBay integration fees, we offer 5 major plans, suitable for all business sizes:
Free: starts with 20 listings for anyone who wants to try LitCommerce.
Basic Plan: $29/month, covers 500 listings, perfect for starting businesses.
Standard Plan: $49/month, includes 2000 listings, ideal for medium-sized online retailers.
Advance Plan: $69/month, 10.000 listings included, also free to list and sell on numerous selling channels, perfect for larger-scale companies.
Enterprise Plan: If you operate an enterprise-level store and wish to use LitCommerce with specific requirements, please contact us and our staff will create a plan that is well-customized for you.
Customer Reviews
The LitCommerce team always listens to customer feedback in order to improve our app and service, and every case is a valuable lesson to us.
I really Love the Service

I was tried hard and tested many other inventory management platforms but failed. Finally, now I have found one of the best app and everything is working perfectly.

I really like the way they provide support for customer needs.

Thank you so much, LitCommerce team, and best of luck.
Check out Trustpilot to see more reviews and feedback from our customers who have the most enjoyable experience with LitCommerce.
---
Benefits of Shopify EBay Integration
For further understanding, here is a list of the advantages that come from Shopify eBay integration:
Exposure to a larger customer base
Unlike Shopify, you don't need to work as hard to get traffic to your store, you can focus on optimizing listings to outrank competitors instead
Promote your store branding
Selling on both channels can help eBay merchants boost their brand awareness. Instead of being remembered as a "store on eBay", by driving traffic to your website, customers will remember your brand better, therefore boosting overall brand recognition.
With Shopify eBay integration, you have the ability to list products, control inventory, and manage orders conveniently in one centralized location, smoothly without missing out on any important communication.
---
FAQ – Shopify EBay Integration
1. Does Shopify Integrate with EBay?
Yes it does. There are 2 kinds of Shopify eBay integrations:
If you already have an online store based on Shopify platform, you can choose to use an eBay Shopify integration to easily manage and keep track of the inventory and orders between 2 channels
On the other hand, an automated tool like LitCommerce can also help you with Shopify eBay integration. You can easily list and sell Amazon products on Shopify, or even more online marketplaces like eBay, Etsy, Facebook Shops, or Google Shopping, and also LitCommerce will automatically sync and update every data from each marketplace on the dashboard for a better monitoring.
2. How do I fulfill my Shopify orders on eBay?
Once you successfully integrate Shopify with eBay, all orders from eBay will automatically be updated on the Shopify management dashboard. From there you can manage, track and ship from both Shopify and eBay without having to switch tabs on Shopify or eBay.
3. Which is better: Shopify or eBay?
Shopify is a hosted eCommerce platform that allows you to create your own store from scratch, but it also means you have to take care of everything including shipping or marketing yourself. On the other hand, eBay is more of an online marketplace, it's like having a stall in a shopping center that specializes in unique and second-hand items.
You should consider Shopify if you want to grow and expand your store while having full control over the store, however, eBay will be your better option if you are having a small to medium-size store and trying out the eCommerce world.
However, if you want to use both Shopify and eBay at the same time we recommend you integrate Shopify with eBay, either manually or automatically by using LitCommerce.
4. How do I sync my Shopify inventory with eBay?
You can definitely sync your Shopify inventory with eBay using the LitCommerce app. From here, LitCommerce will pul your stock from Shopify and eBay into the dashboard, and you can easily manage and keep track of the inventory, in order to avoid overselling.

5. How to integrate Shopify with more e-Marketplaces?
You absolutely can integrate Shopify with more e-Marketplaces like Amazon, Etsy, Google Shopping, or Facebook by using the corresponding apps. However, you can save yourself some trouble with multiple apps and use LitCommerce Shopify integration for quick and easy integrations.
---
Conclusion
After you integrate Shopify and eBay and start selling on both platforms, you will not only broaden your customer reach but also make even more profits. You are undoubtedly going to see positive changes to your business after making the most out of these platforms.
Remember that LitCommerce is the number one choice when it comes to multichannel selling tools. Also, don't hesitate to leave us a message if you have any questions.
Join our Facebook community today for more insightful eCommerce news and tips!
You also might want to read: