With the ever-increasing needs of global customers and the limited choices in pricing, delivery time, and product selection, single-channel retailing is falling behind the competition. Online retailers, therefore, have to find more efficient ways to grow their businesses, and many turn to multichannel selling as an optimal option.
But how could retailers use this method to maximize their stores' potential and boost their sales? In this multichannel selling guide, we'll answer this nerve-wracking question by going through the critical aspects of multichannel retail:
Let's scroll down until the end!
Sell Multichannel Smarter with LitCommerce!

With Litcommerce, you can seamlessly manage all your sales channels in ONE place. Say goodbye to the hassle of manual updates and inaccurate data across channels.


---
The Basics of Multichannel Selling
Before delving into the world of multichannel selling, let us first examine its fundamentals. These include the definition of this eCommerce trend, its essential components, and the distinction between multichannel and omnichannel.
What is multichannel selling?
In short, multichannel eCommerce, or multi-channel selling, is the process of listing and selling your products on multiple sales channels, mainly in a business-to-consumer (B2C) environment. This model includes a combination of your own website, eCommerce marketplaces, mobile apps, and/or brick-and-mortar stores.
Multichannel eCommerce not only provides customers with more diverse shopping options. By clearly understanding what multi-channel eCommerce is, retailers can also take advantage of all selling opportunities that can happen outside their main channel.
New to multichannel selling and struggling to find the best-selling platforms for your business? Click on this thorough guide for more information.
Fundamental platforms for multichannel selling
To sell on multiple platforms means you have to fully understand how these channels work and what exactly the benefits they can bring. This will undoubtedly get your products to show up to the right customers, at the right place, and at the right time.
Here are the essential multichannel selling platforms that you should have in mind.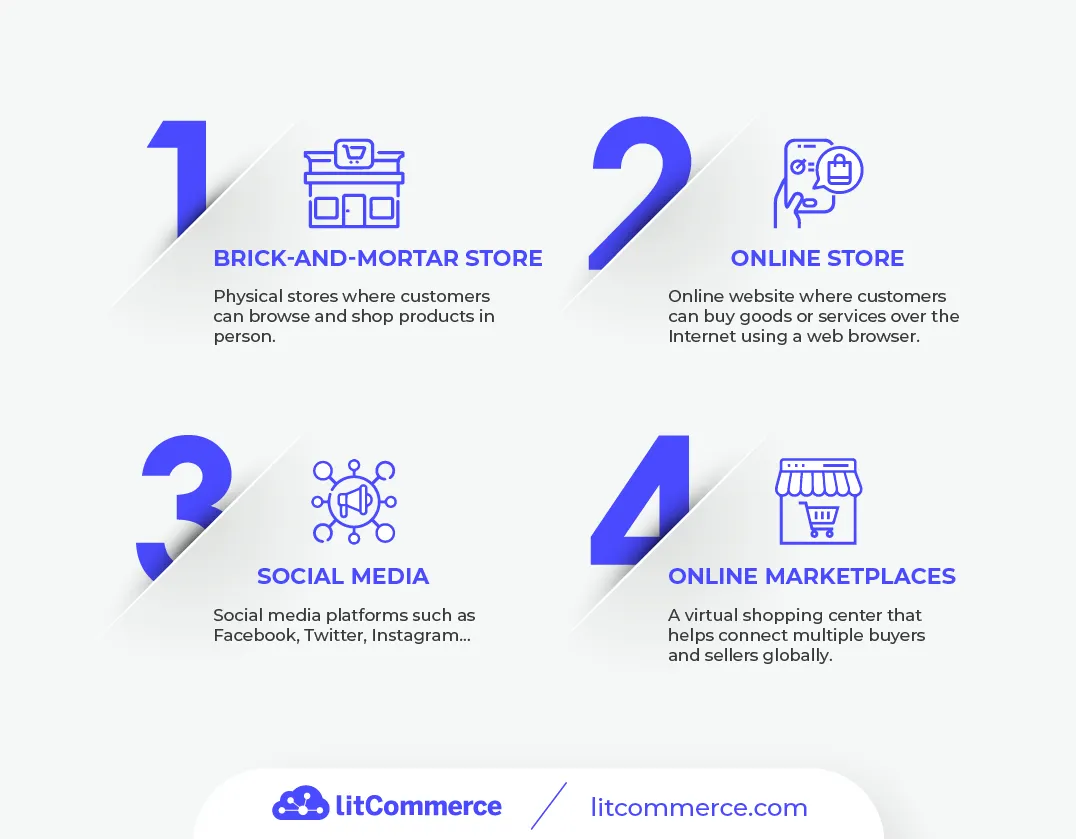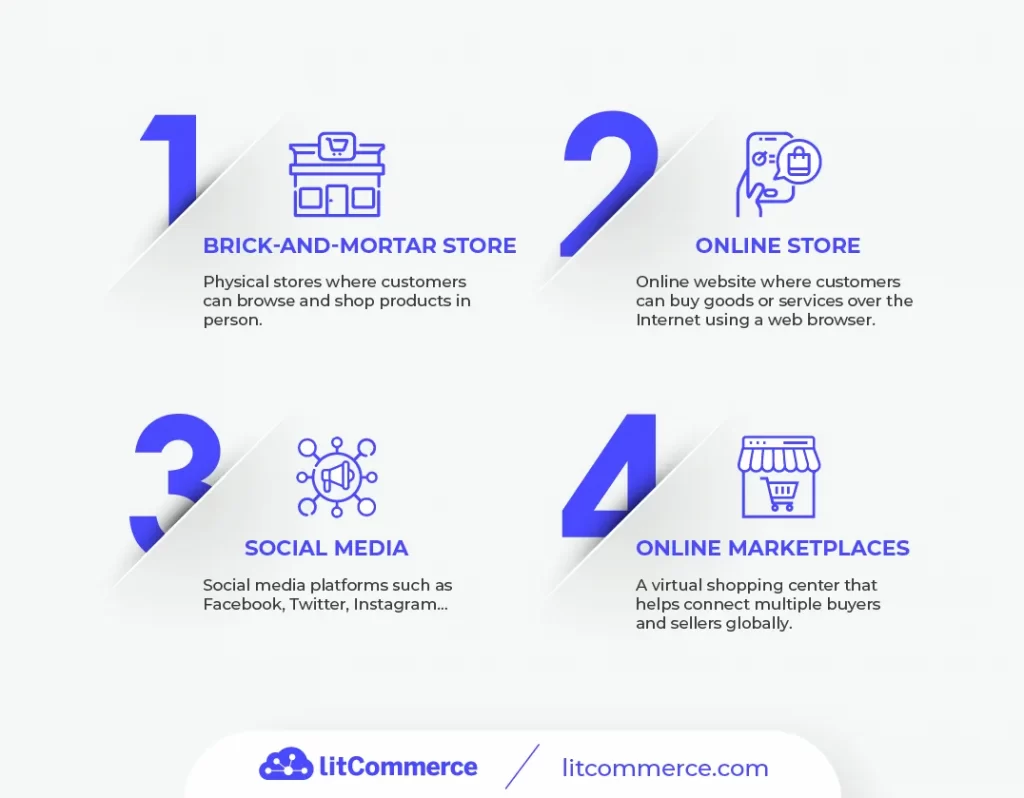 1. Brick-and-mortar store
The term 'brick-and-mortar' refers to the material from which physical stores are usually constructed. Therefore, a brick-and-mortar store indicates a place where customers can browse and shop for your products in person. This is perhaps the most traditional and popular form of doing business.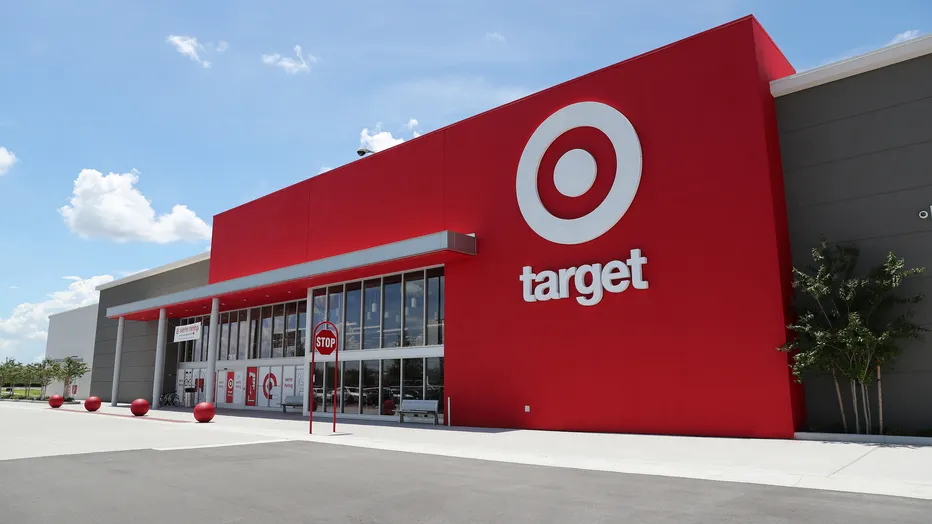 Many people still prefer this method of shopping, as it allows them to test the merchandise or consult directly with store employees. Some consumers are also wary of online payment so that a physical presence can be associated with legitimacy and better trust.
However, there can be a lot of costs associated, so most small business owners will choose not to have a brick-and-mortar store. Currently, retailers are gradually combining their brick-and-mortar stores with online stores. Having a website can help them reach a larger customer group and provide those customers with a better experience.
2. Online store (or e-store)
Without a doubt, the number of online stores has been growing at an incredible pace. Having a virtual version of your business can possibly transform your whole retail strategy and may unlock new possibilities for growth.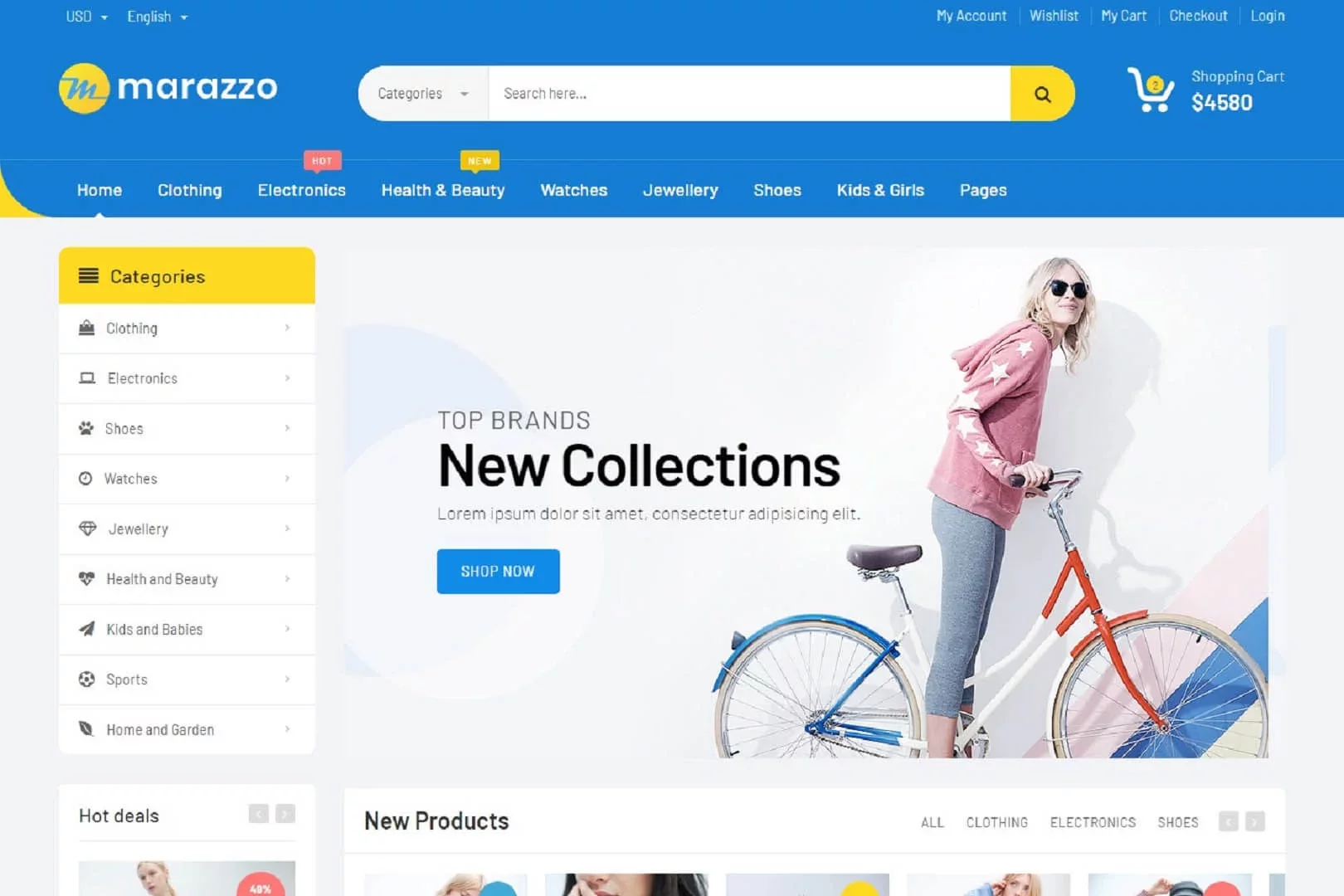 The most significant advantage online stores bring is that customers can easily take a look at all the products available. Shopping becomes a relaxing and convenient experience, as goods can be delivered right to their door with just a click of a button.
On top of that, store owners will also have full control of their customer journey and customization of the experience. Since the COVID-19 pandemic hit, consumers have been relying on virtual shopping more than ever.
Thus, it has become generally expected for brands to have an online platform to meet this need. There are various reliable eCommerce platforms for retailers to choose from to easily create, customize, and manage their online stores. E-stores can also be efficiently integrated with other channels in order to optimize your business potential even further.
With a sea of options for eCommerce platforms on the market, you might be overwhelmed just by running through the names. Don't freak out yet, we've listed out the top eCommerce platforms for your reference!
3. Online marketplaces
By definition, an online marketplace specifies a business model that helps connect multiple buyers and sellers globally. The way a marketplace differs from an eCommerce website is that the marketplace operator owns no inventory. Instead, a marketplace enables transactions between store owners and their consumers. Merchants can entrust operational tasks to the marketplace and focus more on promoting their online branding.
Many retailers choose to sell on online marketplaces because of their enormous traffic potential. Moreover, setting up a new store on this platform or connecting it to other available sales channels is fairly quick. Integrating with a marketplace is a great first step if you are interested in starting multichannel distribution.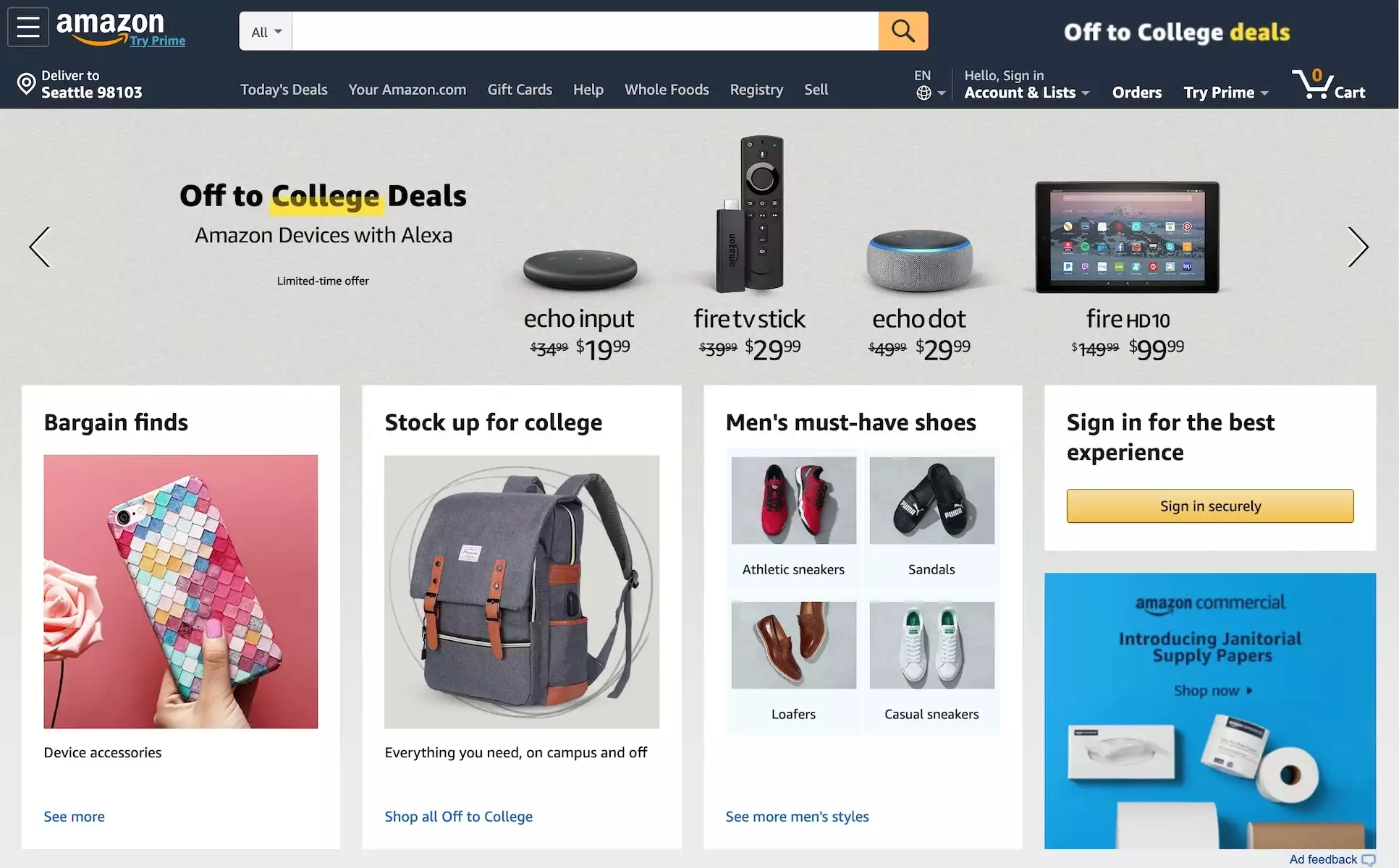 However, high traffic would also mean high competition – your brand can get lost among hundreds and thousands of rivals. You would also need to comply with the marketplace's policy and have little control over customizing your store.
Have you ever wondered which marketplace would be the wonderland for your business? This detailed analysis on top online marketplaces will give you a ultimate answer!
4. Social media
Social media is definitely the trump card in getting your brand's message across to customers. Not only will it drive more traffic to your store, but you can also engage with customers in a more genuine way. By connecting with them directly and providing frequent information, you can easily build trust with your targeted audience. Businesses have recognized this potential and begun utilizing their social channels to convert their followers into sales.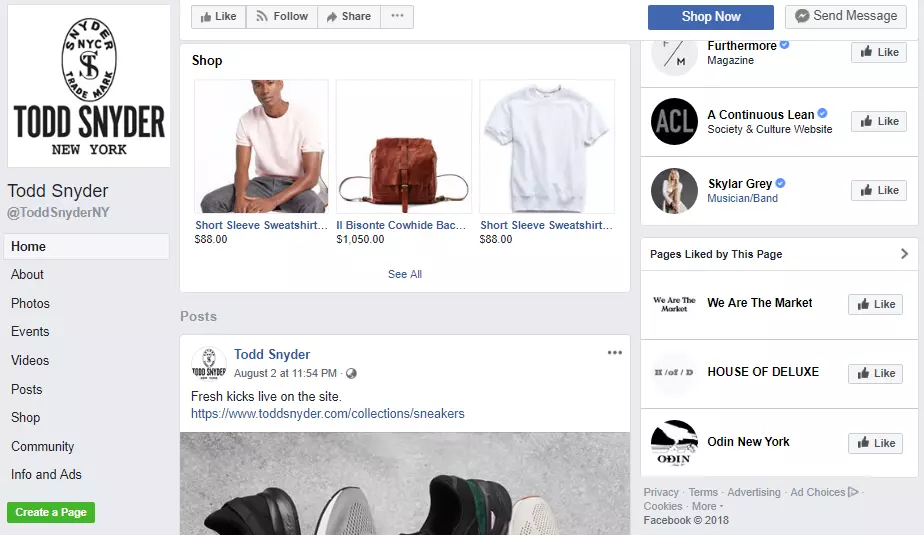 Many social media platforms now cater to this specific demand. Customers on Facebook or Instagram can make direct purchases from a store they follow without having to leave the site. Similar to an eCommerce store, you can also include these platforms in your store's network and create a multi-channel selling system.
5. Other online spaces
With the fast growth of technology, there are more online spaces to diversify multichannel shopping needs. Mobile marketplaces and comparison websites are the most famous of all.
Mobile marketplaces: With roughly 80% of the world population owning smartphones, it's no surprise that mobile eCommerce platforms witnessed a surge widening in recent years. As of Mar 2023, robust mobile-native platforms offering attractive prices, such as Wish and Joom, account for 40% of eCommerce sales. In spite of the low-profit margins, sellers still benefit from the relevant user data, which can be used for remarketing purposes.
Comparison websites: Instead of going straight to a marketplace, many customers find products they need at comparison portals like Google Shopping or Rakuten. With that, they can browse similar products from various retailers across multiple sales channels and click through to what interests them the most.
Multichannel vs Omnichannel: What is the difference?
A popular term that can be mistaken for multichannel selling is Omnichannel selling. These selling methods both involve communicating with customers on multiple platforms.
Multichannel retailing involves listing your products on different selling channels. Each of these channels can run independently and has its own commercial capability. Customers make purchases on any channel they prefer without having to visit your main store. Thus, this method focuses mostly on getting the products to the customers.
On the other hand, omnichannel selling focuses on the needs of the customers and the consistency among different channels. Brands that practice omnichannel retailing want a unified experience across their platforms' networks. Their strategy is to make each purchase feel more personal than multichannel retail.
Therefore, whether to choose Omnichannel or Multichannel selling for your store will depend on your specific selling strategy.
Start Your Multichannel Selling Chapter Now!

Why limit selling to one single channel, kicking off your multichannel selling journey. Check out the LitCommerce Multichannel Selling solution and start integrating now!


---
Benefits and Challenges of Multichannel Selling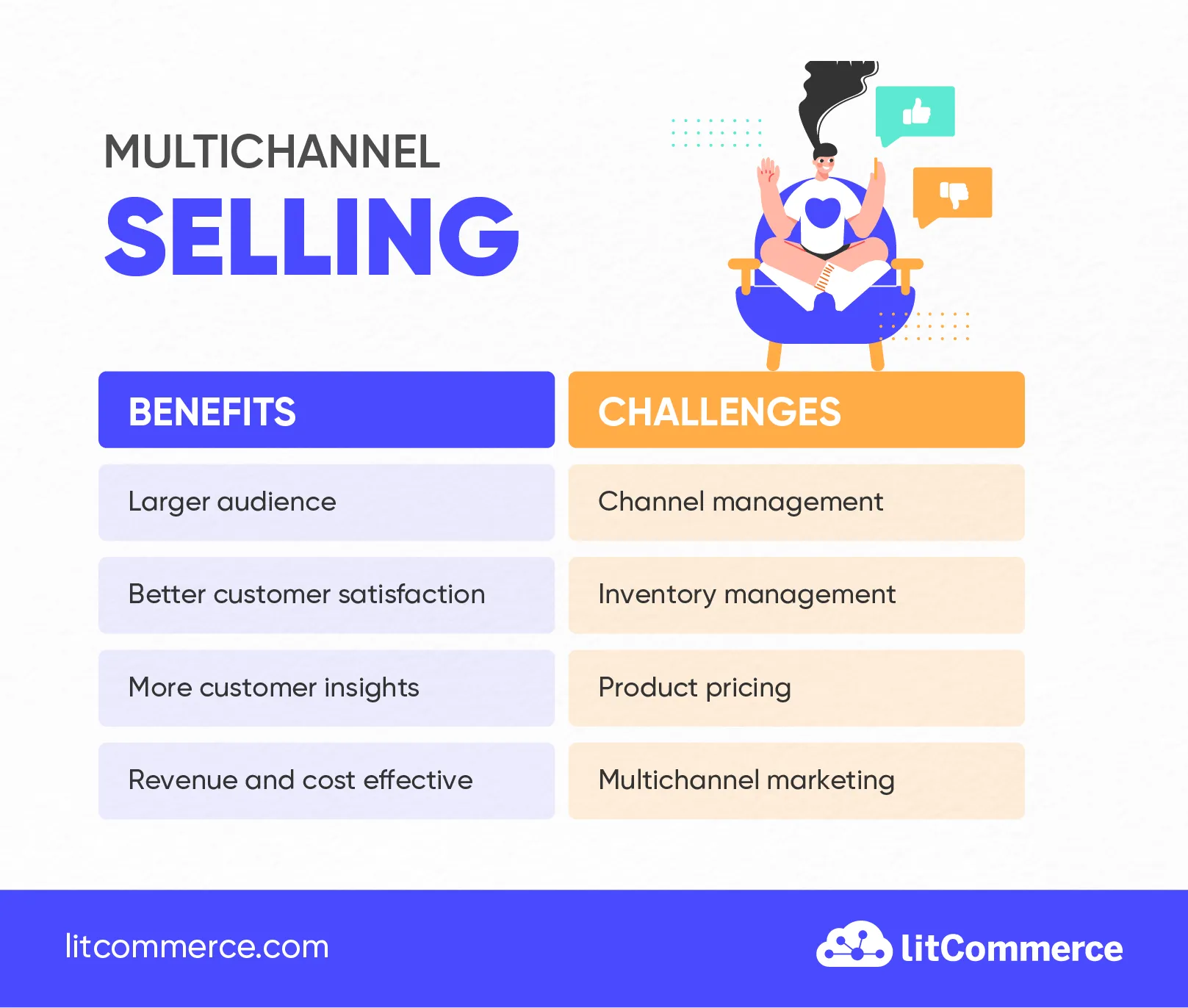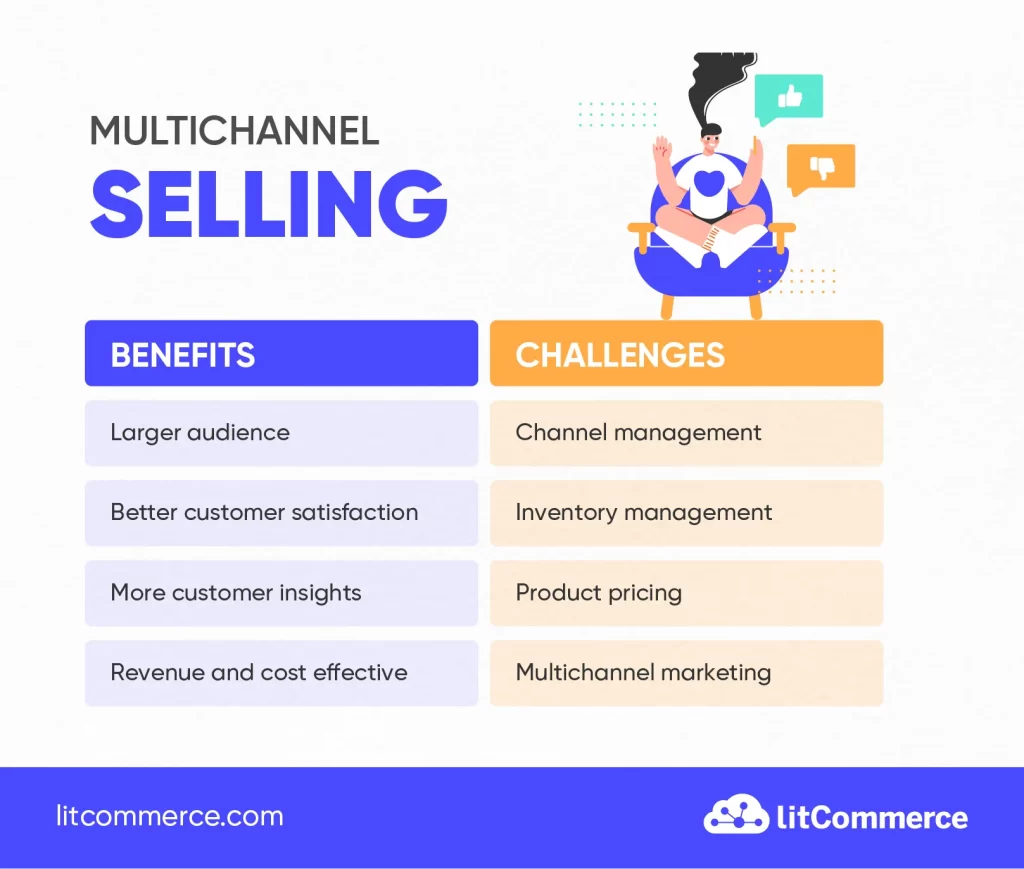 Benefits of Multichannel Selling
Distributing on multiple channels can sound intimidating at first, but there are many benefits of multi channel retailing that you should not miss out on.
Multichannel selling is the practice of selling products or services through multiple channels, such as online, in-store, and through direct mail. There are many benefits to multichannel selling, including:
Increased sales: By selling through multiple channels, businesses can reach a wider audience and increase their sales.
Improved customer service: By providing customers with multiple ways to purchase products or services, businesses can improve their customer service.
Increased brand awareness: By selling through multiple channels, businesses can increase their brand awareness and reach a wider audience.
Reduced risk: By diversifying their sales channels, businesses can reduce their risk if one channel fails.
Increased customer loyalty: By providing customers with a positive and convenient shopping experience, businesses can increase customer loyalty.
These are some of the main reasons more, and more retailers are adopting multichannel selling.
#1. Larger audience group
Even if you have already decided to sell your business online, you should be aware of who your key target audience is. Only then making sales consistently and effectively will be easier for you.
If your products only show up in one place, there is a high chance that you won't be able to reach your full audience potential. Even if you have a beautiful, UX-optimized online store, most buyers will be those who have already heard about your brand.
Think about millions of other promising leads that can happen on other platforms. When you integrate your store with multiple marketplaces and sell on various eCommerce platforms, you are getting your brand to show up wherever your customers might be. You'll have the chance to interact with them across various touch points and raise your brand awareness even higher.
#2. Customer satisfaction and trust
Selling on multichannel means that you are giving customers more freedom to choose which place to buy from. They might already have a preferred shopping channel, which makes it harder to convince them to buy elsewhere. By having your product on that same channel, customers will have a better multichannel shopping experience and find it effortless to make a purchase.
Another great idea is to use referral marketing software to boost customer satisfaction. At the same time, the more places you are in, the more likely your audience will associate trust with your brand. Constant recognition and brand awareness can implement a sense of familiarity in your customers. It's important to pay attention to customer support on all channels, including your b2b referral program, to ensure a seamless experience and to foster loyalty among shoppers.
#3. More insights and data on customer behavior
With a more diverse audience across multiple platforms, it's no doubt store owners can gather a better range of buyer insights. Multichannel selling gives you more data on your customer's behavior, demographics, interests, and general buying intents.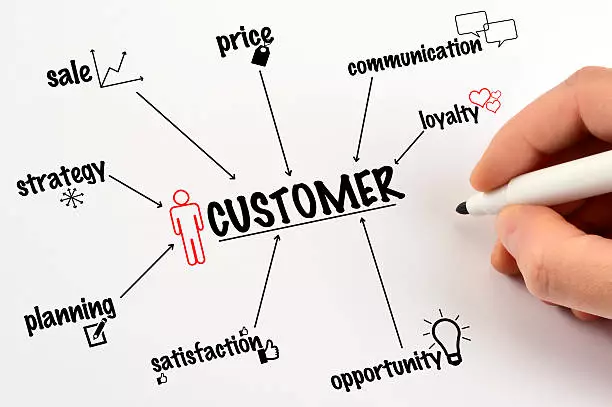 This helps you build a comprehensive customer journey and gives your shoppers what they want in the future. With this analysis, you can also customize the shopping experience for each channel you own. For example, you decide to sell your DIY goods and crafted items on both Etsy and eBay. After a while, you may realize that your Etsy store is doing much better because customers tend to shop for items of the same category there. This will ultimately lead you to promote more effectively on Etsy and reconsider selling on eBay.
#4. Increase in revenue and reduction in costs
Getting your product to show up more on customers' feeds means you have a higher chance to make more sales. Moreover, you can take advantage of the upselling features from each channel and convince customers to make larger purchases. It may sound contradictory to hear that multichannel selling will reduce your cost.
Clearly, more channels will result in more platform fees and marketing expenses. It's not to mention the cost of customizing each channel. However, as you naturally take in more inventory to distribute across the channels, these costs will be deduced per product sold.
Challenges of Multichannel Selling
Along with the mentioned benefits, these are undeniably the challenges you might have to face when you start multichannel retail.
#1. Channel management
For any platform you sell on, you obviously have to create listings, manage orders and take care of your customers. This might be simple at first, but with each channel you add to your network, these tasks will multiply accordingly.
At the same time, listing info is entered and stored differently in each system so that it can be a huge deal moving your products from one channel to another. Time-consuming and error-prone is undoubtedly the disadvantage of this process.
#2. Inventory management
When you expand to other channels, you'll have products constantly coming in and out on various platforms. Proper management of all sales and returns that can happen on these channels is no easy work.
You can run into inventory issues such as overselling, out-of-stock items, or inadequate quality checks. Other than directly affecting your sales, letting this problem go out of hand may hurt your customers' trust. Or worse, bad reviews can be inevitable.
#3. Product pricing
Multi-channel pricing strategy is one of the factors to consider when handling more than one store. Adding other channels also means more costs for operation, but expenses are also not the same for every platform.
One example is that the cost of operating a new brick-and-mortar store will surely differ from an online one. Your price will definitely need to be altered to cater to these changes. If this goes on every time you add a new channel, it will leave customers unhappy.
#4. Multichannel marketing
Marketing for multichannel selling is not as simple as you might think. It's a common mistake to assume that you can replicate your marketing approach across all channels. However, each sales channel will cater to a distinctive set of customers of different demographics and buying intent. Your marketing strategy may work on one channel but not the other.
---
Best Practices on Multichannel Retailing Strategy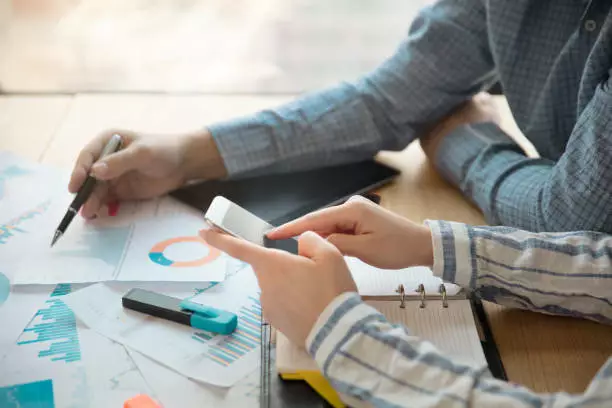 To make the most out of this unique business model, you should adopt a suitable multichannel eCommerce strategy for your business.
One channel at a time:
Begin by adding one channel at a time in order not to be overwhelmed by the new information and system. You can always start with the eCommerce sales channels you believe will add the most value to your brand.
Research each channel before integrating:
That said, how do you know which channel will create the most value for your business? Where do your potential customers usually shop? Every channel will have its strengths and weaknesses. Thus, you might want to analyze them in detail before deciding what's most suitable for your current situation.
Understand your customer:
Different customers want different things. Thus, tailor your approach to match the targeted audience on each channel by customizing your marketing strategy accordingly. Moreover, leverage data analytics to gain insights into customer behavior and preferences across different channels. Data-driven decision-making forms a vital part of an effective multichannel selling strategy, enabling you to adapt and improve customer engagement.
Always check for restrictions:
If you run your own physical store or website, you can freely brand them to your liking. However, should you plan on multi-channel integration (into a marketplace, for instance), there are certain restrictions you need to follow. There may be products you can/cannot sell or certain effects on your store UI/UX, so it's best to check what restrictions there might be on each channel.
Care for your customers whenever they are:
Integrate customer support and communication channels to provide a seamless experience. Offer consistent support across various channels, including email, live chat, social media, and phone. Promptly address customer inquiries and concerns, fostering trust and loyalty as part of your multichannel retailing strategy.
Revise and optimize constantly:
Continuously optimize and refine your multichannel selling strategy based on channel performance analysis. Assess the performance of each channel in terms of sales, customer engagement, and ROI. Allocate resources accordingly and prioritize channels that generate the highest returns, ensuring an efficient and profitable multichannel selling approach.
---
Selling on Multiple Platforms: FAQs
What is multichannel selling? 

In the simplest term, multichannel selling is the process of selling your products on more than one channel. This includes a combination of multiple different platforms, such as your eCommerce website, physical store, or online marketplace. Each of these channels has certain benefits to help you grow your brand. Multichannel selling is currently one of the most popular ways to boost your sales.

What is an example of multichannel retailing?

One of the prime examples of multichannel selling is from Apple. This strategy has helped turn Apple into one of the current largest, most successful retailers in the world.

In the beginning, they already operated both physical and online stores as the main sales channels. The performance of their brick-and-mortar stores is highly regarded, yet the company wants to expand its market online even more. Apple's physical stores are even designed to promote their eCommerce channel. Thus, they can fulfill both the rising demand for online shopping and customer satisfaction while shopping at their physical stores.

Moreover, Apple recently partnered with Amazon to sell on their marketplace. Customers can now purchase directly from authorized sellers using one of the most familiar platforms globally. This multichannel selling approach is bringing them even more brand awareness and letting them target new markets.

What is multichannel listing software?

Multichannel listing software is a tech-enabled solution to help you practice multichannel selling more efficiently. This software will automate the listing process on all your sales platforms. You can set up your data in just one place before uploading them to all of your desired channels.

Compared to the traditional method of creating manual product listings for each channel, eCommerce merchants can now save both their time and effort. Some of the current best multichannel listing software include:

LitCommerce;
SellBrite;
Selro;
CedCommerce;
Inkfrog.

Is my business suitable for multichannel selling?

Multichannel selling has certainly helped many sellers grow their customer profiles, boost sales, and increase brand awareness. However, it still depends on the specific strategy you've set up for your business. Take into account your long-term goals, your current resources, and your ability to manage cross-channel. At the same time, think about whether you've utilized your current sales channel to its full capacity or not. Can you still grow your audience without adding another channel?

With the help of multichannel listing software and managing solutions, it's easier for sellers to administer with fewer human resources. They can definitely make the addition of another channel to your sales network more simple. Thus, you can always experiment with multichannel selling before actual implementation to see if it's the right choice for you.

What are some multichannel selling strategies?

Some effective multichannel selling strategies include:

Consistent Branding: Maintain a cohesive brand identity across all channels to build trust and recognition among customers.
Inventory Management: Implement systems to synchronize stock levels across channels, preventing overselling or stockouts.
Data Analytics: Utilize customer data to gain insights and optimize marketing efforts, personalizing customer experiences.
Integrated Customer Support: Offer consistent support across various channels, addressing inquiries promptly to foster trust and loyalty.
Channel Performance Analysis: Continuously assess the performance of each channel, allocating resources to those that generate the highest returns.
Centralized Management: Utilize technology solutions that enable centralized management of multiple channels, streamlining operations.
Targeted Marketing Campaigns: Develop tailored marketing campaigns for each channel based on customer characteristics and preferences.
Logistics and Fulfillment Optimization: Invest in robust logistics and fulfillment capabilities to meet customer expectations.
Stay Updated on Emerging Channels: Explore new marketplaces, social media platforms, and technologies to diversify your presence.
Partnerships and Collaborations: Foster strategic alliances with complementary businesses to expand your reach and customer base.

By implementing these multichannel selling strategies, businesses can effectively engage customers across various channels and maximize their sales potential.

Should I implement multichannel selling plan?

Implementing a multichannel selling plan can offer several benefits for your business. It allows you to reach a wider audience, diversify your sales channels, and potentially increase revenue. By selling on multiple platforms or channels, you can tap into different customer segments and leverage the strengths of each channel.

It's important to consider factors such as your target audience, resources, and operational capabilities before implementing a multichannel selling plan. Conducting thorough research, analyzing market trends, and creating a well-thought-out strategy can help you make an informed decision.

Additionally, evaluating the potential costs, benefits, and challenges associated with managing multiple channels is crucial in determining whether multichannel selling aligns with your business goals and objectives.

What are some notices when selling on multiple channels?

When selling on multiple channels, it's essential to consider the following points:

Channel Selection: Choose channels that align with your target audience and product offerings. Research the demographics, user base, and policies of each channel to ensure they align with your business goals.
Brand Consistency: Maintain a consistent brand image and messaging across all channels to build trust and recognition among customers. This includes consistent visuals, tone of voice, and customer experience.
Inventory Management: Implement systems or software to track and synchronize inventory levels across channels in real time. This helps prevent overselling or stockouts and ensures accurate product availability information.
Product Listing Optimization: Tailor product listings and descriptions for each channel, considering their specific requirements and optimizing them for search visibility and conversions.
Order Fulfillment and Logistics: Establish efficient processes for order fulfillment, shipping, and returns management across all channels. Ensure smooth coordination and timely delivery to meet customer expectations.
Customer Support: Provide consistent and responsive customer support across all channels. Monitor inquiries, respond promptly, and resolve issues to maintain customer satisfaction.
Data and Analytics: Utilize data analytics to track and analyze performance metrics for each channel. This helps identify trends, measure effectiveness, and make informed decisions to optimize your multichannel selling strategy.
Marketing and Promotion: Develop channel-specific marketing campaigns to target and engage customers on each platform. Tailor messaging, promotions, and advertising strategies to maximize reach and conversions.
Resources and Scalability: Assess your resources, capabilities, and scalability when expanding to multiple channels. Ensure you have the capacity to manage increased operations, inventory, and customer demands.
Monitoring and Optimization: Continuously monitor and evaluate the performance of each channel. Analyze metrics, identify areas for improvement, and adjust your strategies to optimize sales and customer satisfaction.

By paying attention to these considerations, you can effectively navigate the complexities of selling on multiple channels and maximize the benefits of a multichannel selling approach.
---
Multichannel Selling Will be the Game-changer for Your Business!
In the current eCommerce industry, where competition is constantly rising, it's important to have the right approach to your customers. Among the current retail strategy, multichannel selling is widely applied by merchants globally. Believe it or not, this trend won't be fading any time soon.
With the assistance of multichannel selling solutions, catching up with this eCommerce trend won't take much effort. Find out how we can help you grow your business to its full potential by checking our multichannel selling tool and trying our forever FREE plan right away!
Want more business tips as well? Follow our Retailer's Blog and join our supportive and dynamic eCommerce community!