Introduction
Connecting WooCommerce to Amazon is ideal as they are the two best choices for merchants that intend to sell on multiple online channels. You can have endless customization possibilities of WooCommerce to create a store as you please, and also attract a wealth of potential buyers and work with an amazing shipping and fulfillment system on Amazon's part.
Your profitability always lies at your heart when you go multichannel selling with these two powerful eCommerce giants. For that reason, let us guide you on WooCommerce Amazon integration with the following ideas in this article:
How to Integrate WooCommerce with Amazon using LitCommerce
Benefits of WooCommerce Amazon integration
Wait no further! Let's dive right into the detailed instructions below to process WooCommerce Amazon Integration smoothly.
Multi-selling Turned Effortless
Looking to sell on multiple channels with minimal effort needed? Don't miss out LitCommerce – The Multichannel Selling Tool!LitCommerce allows listing products and integrating WooCommerce stores with other selling channels.
---
Currently, WooCommerce has one official integration plugin with Fulfillment by Amazon (FBA) available. If you can afford an Amazon Pro Seller plan and use FBA simultaneously, check this article out for detailed guidelines on how to connect WooCommerce with FBA.
In most situations, LitCommerce is an excellent choice to integrate Amazon into your WooCommerce store. Using the API technology, the multichannel tool sync WooCommerce and Amazon for you in just 4 simple steps.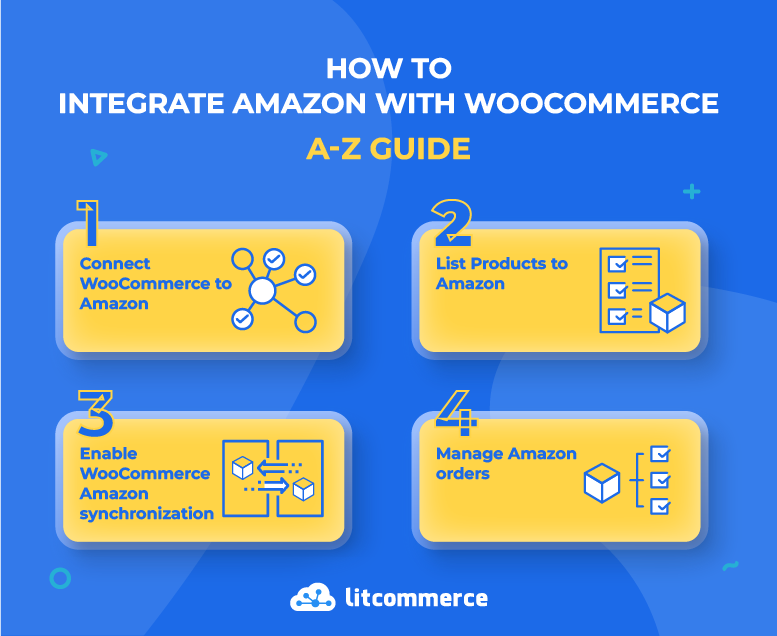 1. Sync WooCommerce with Amazon
The first step is to create a LitCommerce account here. You can sign up for a new account or just use either your Google or Facebook account to log in.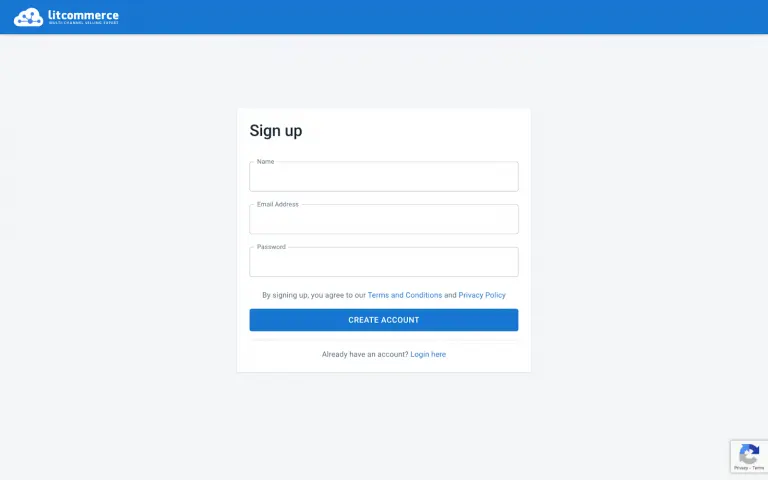 To connect LitCommerce to your WooCommerce store, go to your WooCommerce dashboard, on the left side menu bar, navigate to Plugin and click Add new.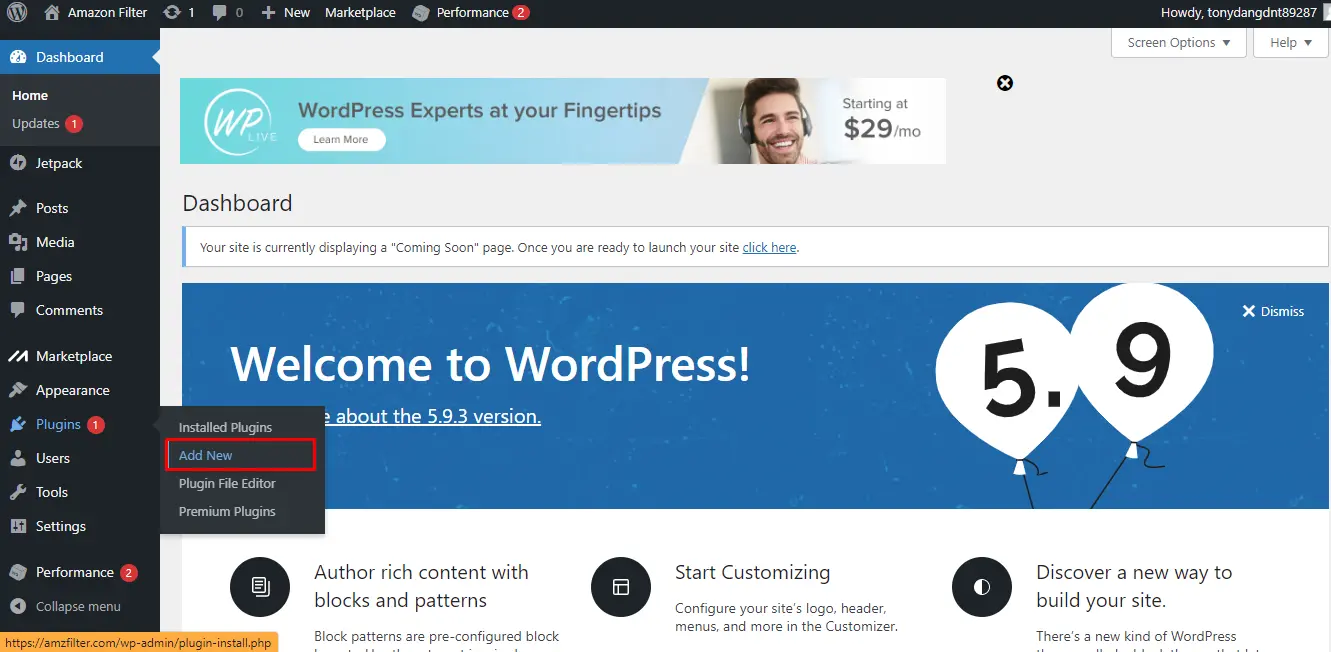 Next, install the LitCommerce app by typing in LitCommerce, clicking Install Now, and then activating it.
Go back to your main dashboard to find the LitCommerce app from the left navigation bar.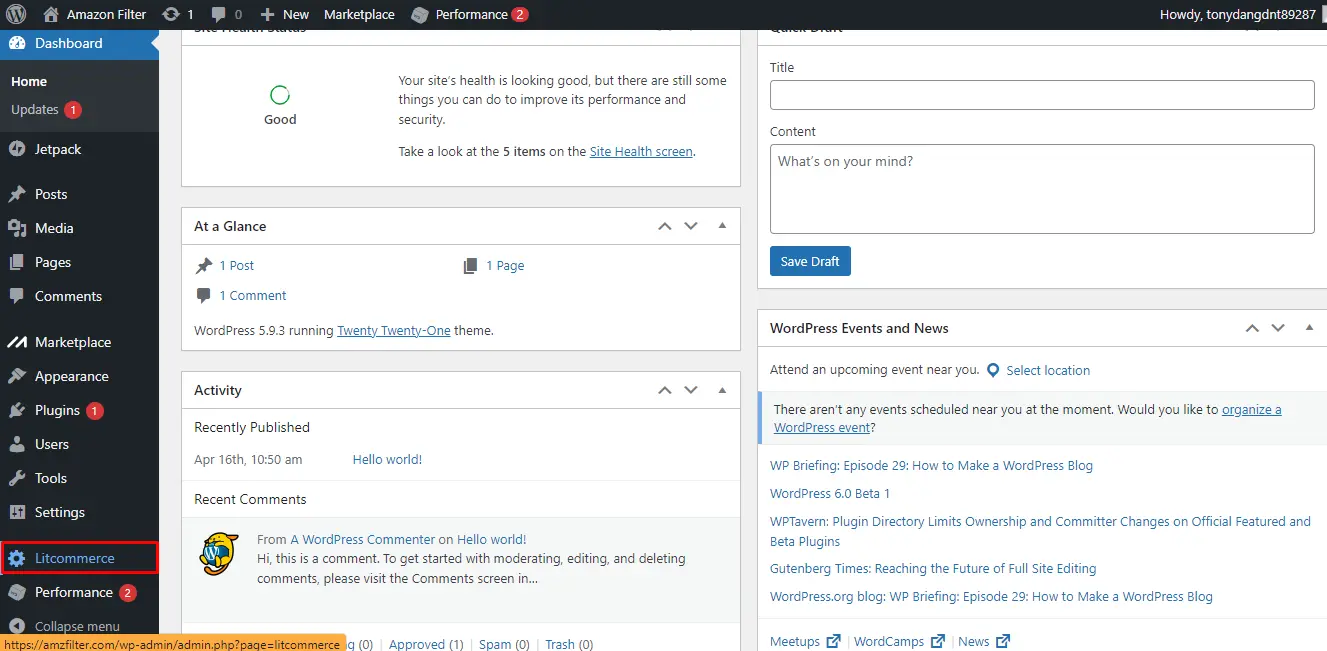 Click on the Connect to LitCommerce. After that, the system will automatically perform the whole WooCommerce Amazon integration process.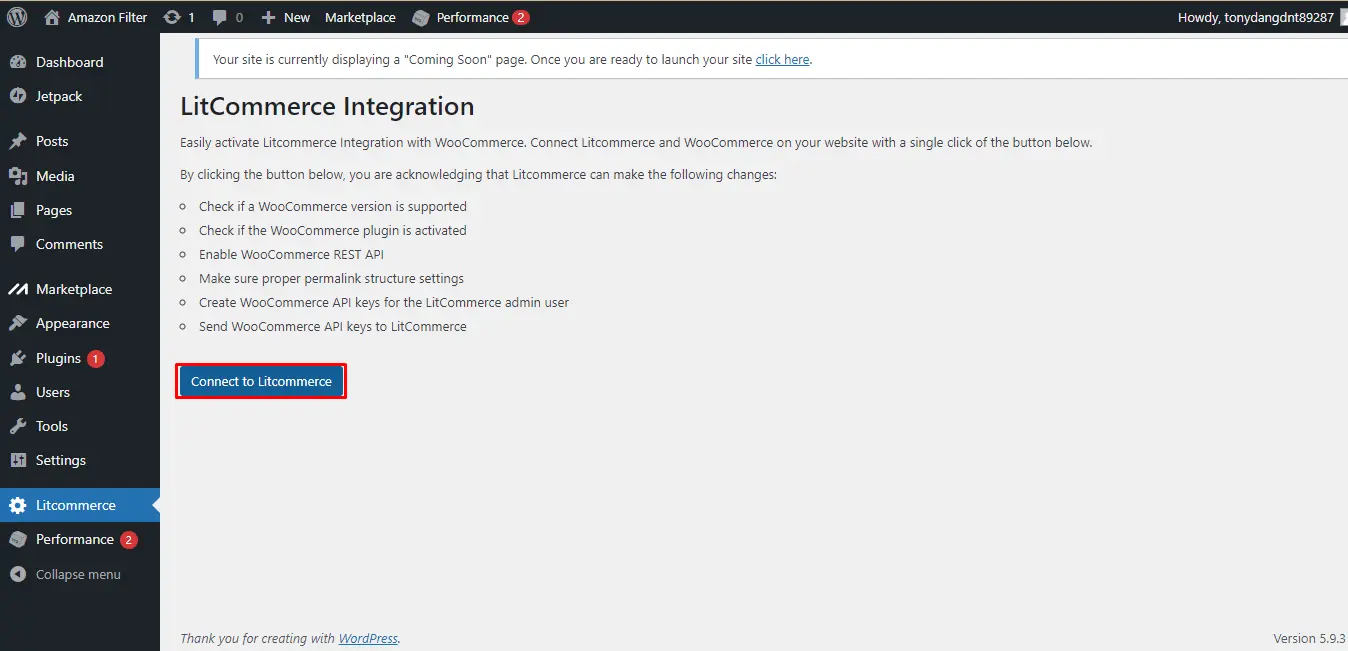 When the process is completed, click on the provided Connect URL and you'll be redirected to the LitCommerce App to continue the setup process.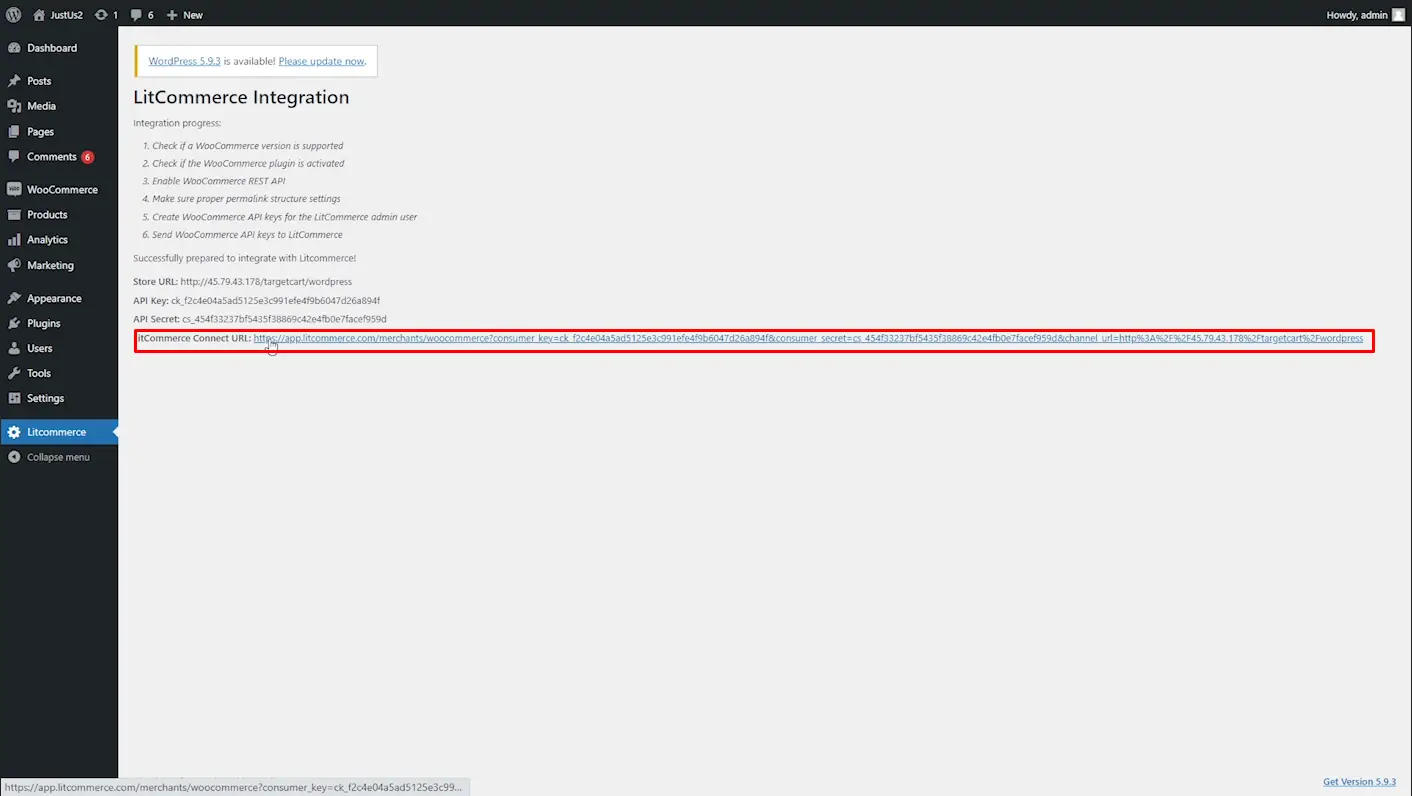 Now you have successfully connected your main store on WooCommerce with LitCommerce.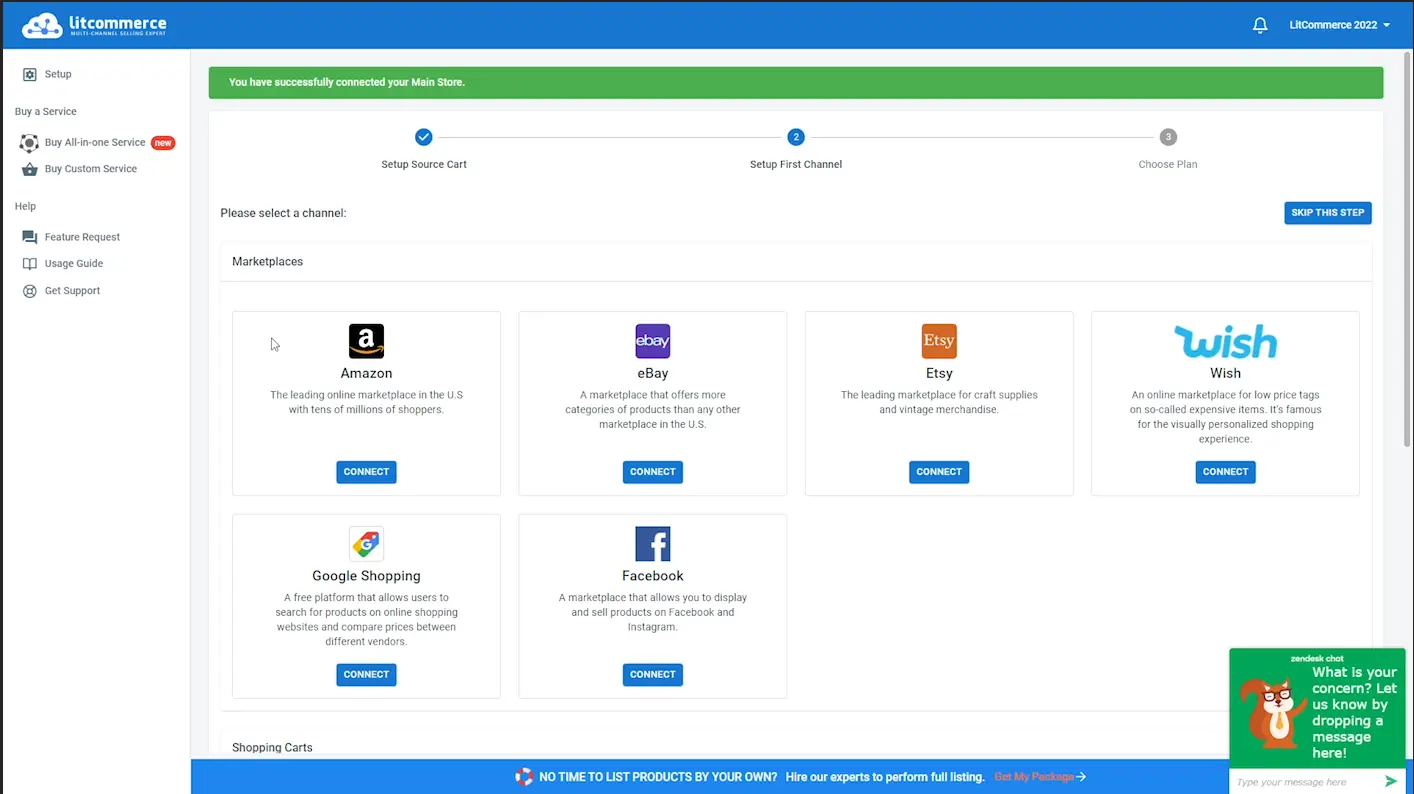 Check this video if you still need more details:
After setting up WooCommerce as your main store, it's time to integrate with Amazon. Select Amazon at the Setup First Channel stage and click on the Connect button. After that, you need to log in to your Amazon account and allow access for LitCommerce to integrate with your Amazon store. You will then be redirected to the LitCommerce main dashboard.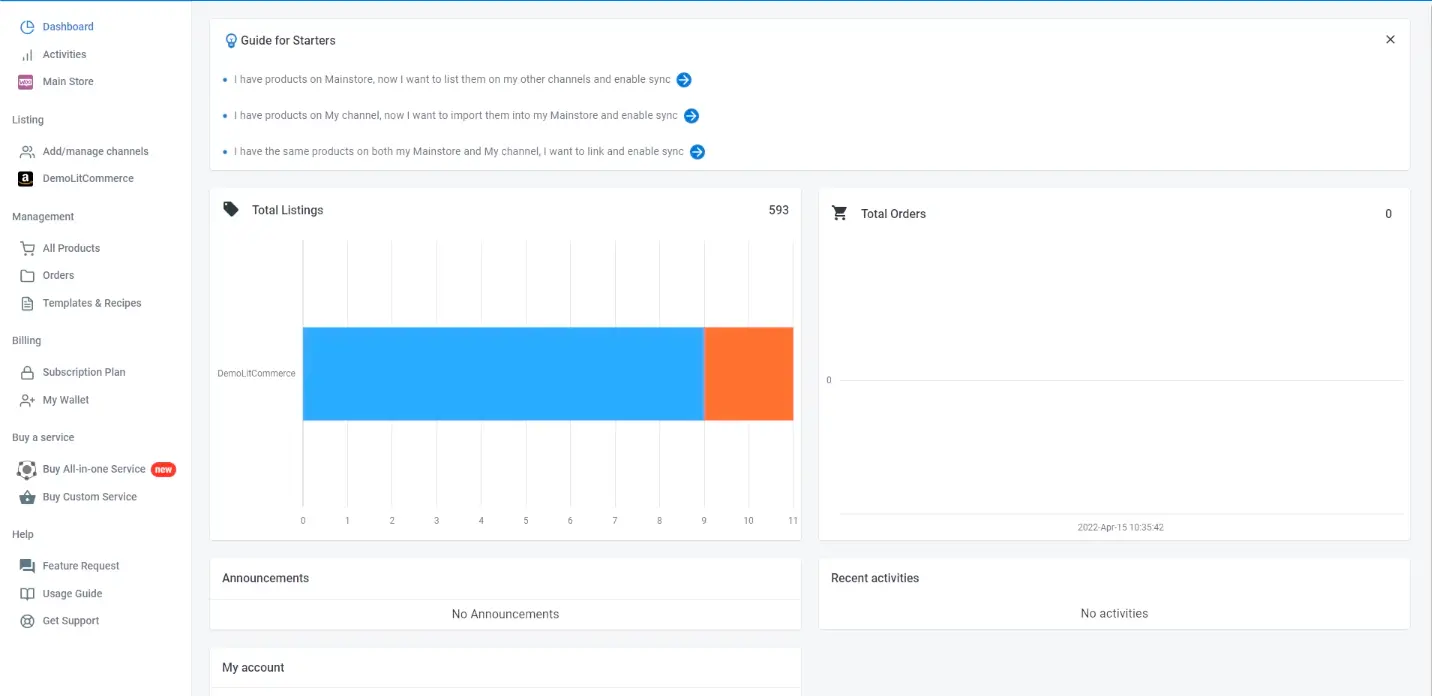 2. Link WooCommerce to Amazon Products
LitCommerce allows you to import products and listings in bulk from Amazon or WooCommerce to LitCommerce. Find All Products on the sidebar menu on the left of your LitCommerce dashboard, and click on Import from WooCommerce to push all existing WooCommerce products to LitCommerce.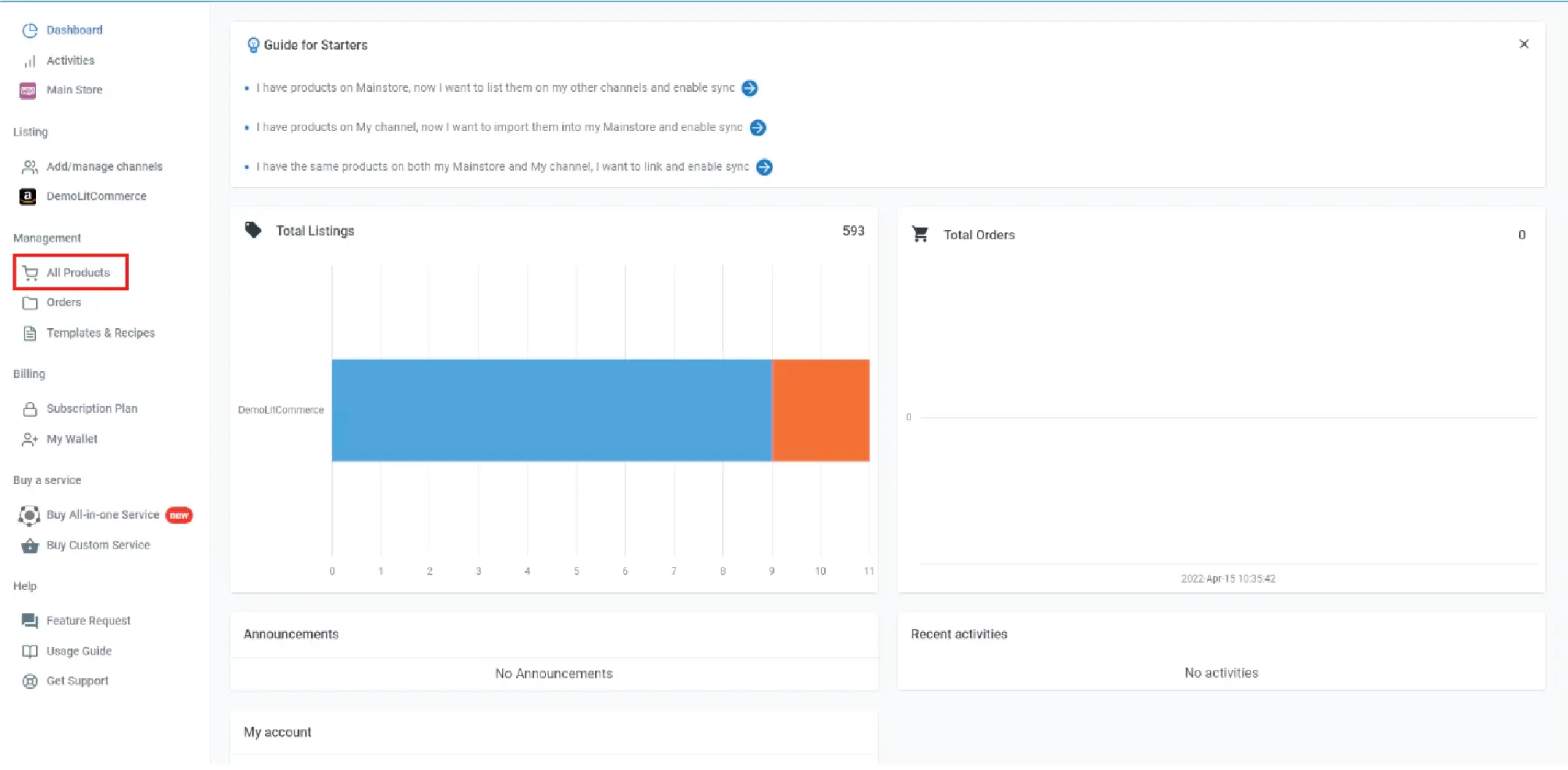 It is also necessary to link existing products from the imported listings so they will have the same SKU in the central catalog.
Upon the completion of product import, you can choose either all products or particular ones to list on Amazon. Then from the List Products on Channel dropdown menu, select your Amazon store.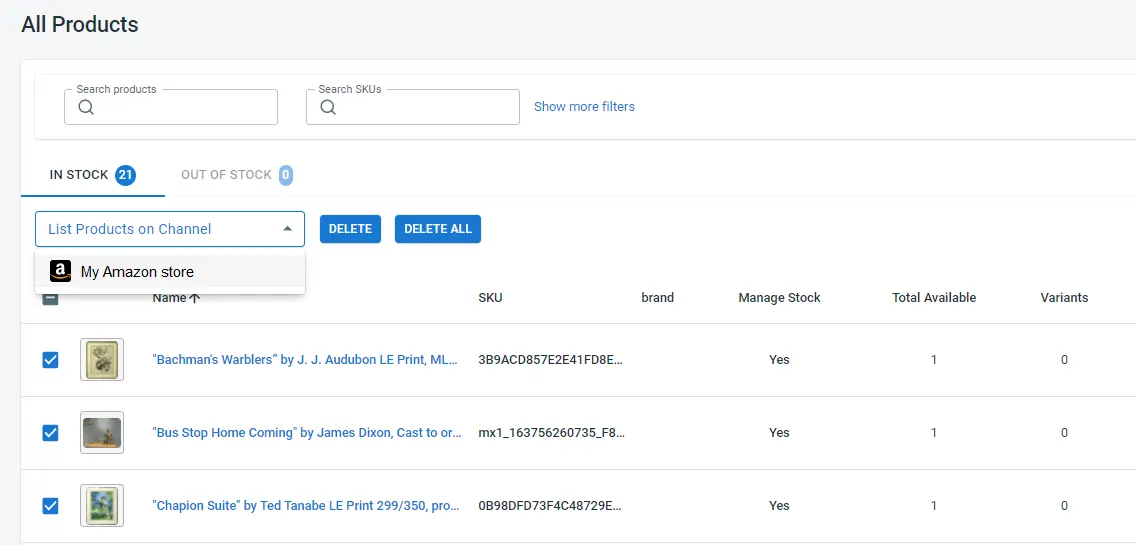 After that, a draft listing will be available for editing before you publish it on Amazon and start selling. When you deem the products acceptable to publish, go to the Select Action dropdown menu, select Publish to Amazon, and click Action. You will find the published listings in the Active tab.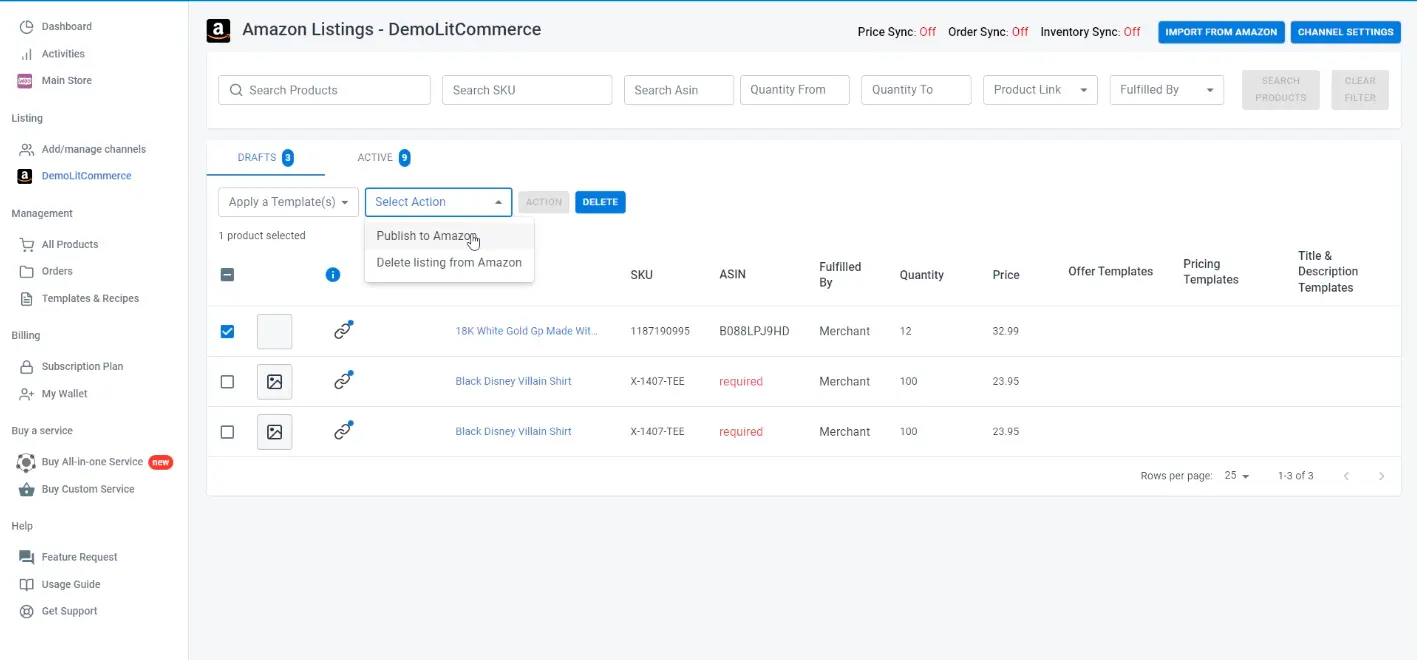 You can choose to build products on WooCommerce from Amazon listings, or you can use Amazon listings to create products on WooCommerce.
3. Turn on WooCommerce Amazon Integration
Connecting WooCommerce with Amazon with LitCommerce also involves synchronizing prices and inventory quantities between them. Go to WooCommerce on your main dashboard and choose Channel Settings at the top right corner. There you will find 3 sections: Pricing, Inventory, and Order. Click on the switches besides all the options, confirm to enable these features and you are good to go!
Once you are finished with any changes you have just made, click on Save Setting at the bottom of the page to save them all.
All pricing updates from your WooCommerce store will be displayed on Amazon. More importantly, your selling operations on Amazon can even be more effective as we enable you to create your own rules. This way, you can decide how much your prices can be shown on your Amazon store. You are free to increase or decrease all Amazon listing prices by a fixed amount or by a percentage. When you save the rule, it will automatically apply to all Amazon listings.

Inventory synchronization
LitCommerce also makes it possible for you to set inventory rules so you can establish the quantities displayed on Amazon relative to those on WooCommerce. You can even choose to show the minimum and maximum amounts on your Amazon store.

If you have already enabled this feature for WooCommerce Amazon inventory sync, LitCommerce will promptly update changes made in your central catalog to correspond with your WooCommerce listings. Subsequently, it will adjust the inventory quantity on Amazon so it can stay consistent with that on your LitCommerce account.
Nonetheless, this feature is only workable if you make quantity changes on WooCommerce rather than on Amazon.
We provide another feature to help you prevent overselling by displaying the respective correct product quantity on each channel. When an order is placed on a channel, the numbers will decrease by the same amount for all channels to match.

LitCommerce will proceed to collect and import new Amazon orders into WooCommerce for you to fulfill from your WooCommerce dashboard.
You can deactivate this feature if you wish to handle and manage orders on separate channels.
4. Manage Amazon orders
When you enable the Order Sync feature after integrating WooCommerce with Amazon, you will use WooCommerce to fulfill all orders from both WooCommerce and Amazon. Your LitCommerce dashboard will instantly receive all order details for your convenient management.
On the left sidebar menu of your LitCommerce dashboard, choose Orders.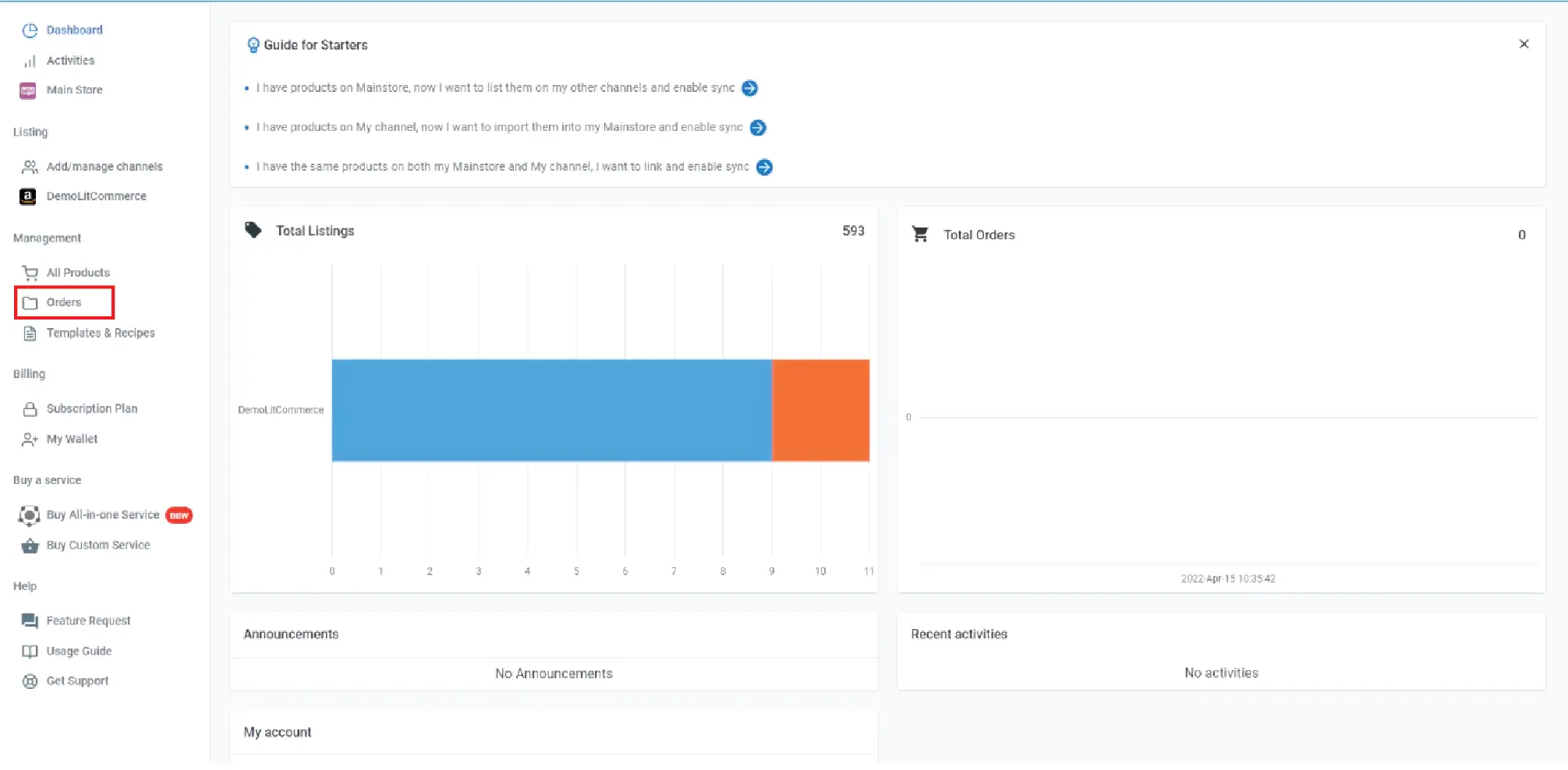 There you can view buyers' names, order statuses, channels' order numbers, and other important information. This will be your order management center to monitor and keep track of all orders placed on your channels.
---
Why Choose LitCommerce
LitCommerce Pricing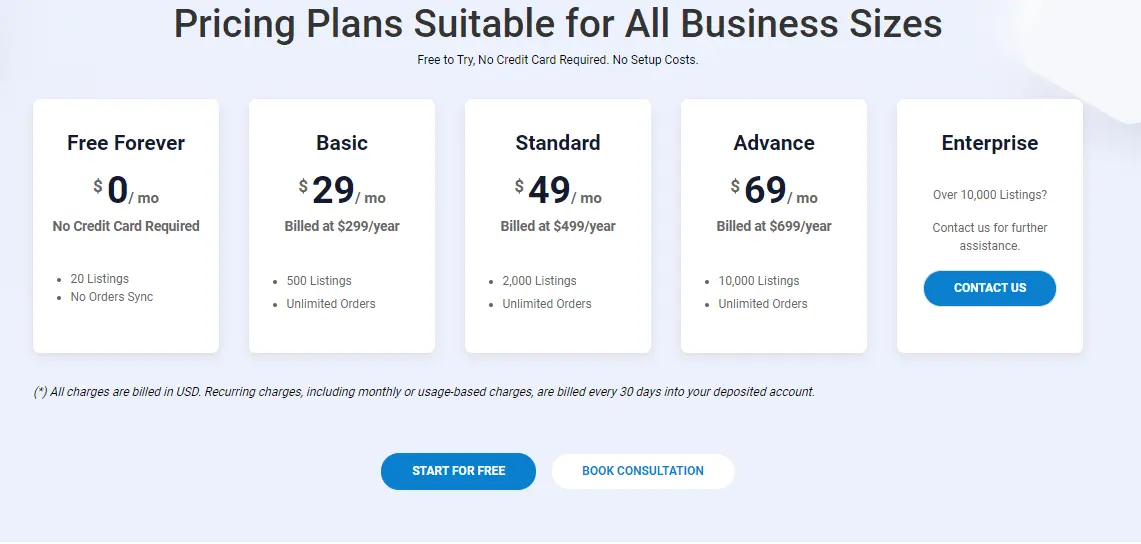 With the availability and affordability of our integration services high on our list of priorities, we offer our customers a diverse tiered pricing structure. Our pricing plans vary with the scale your business is on as follows:
Free plan: LitCommerce will be free forever for SMBs with up to 20 listings. However, you are unable to sync orders under this plan.
Basic plan: At just $29 a month, the basic plan is suitable for new businesses with 500 Listings and unlimited Orders.
Standard plan: It is perfect for medium online stores with 2000 listings available at only $49 for a month.
Advance plan: You can freely list and sell on multiple selling channels. The advance plan costs $69/month.
Enterprise plan: If you own a large-scale store receiving over 10000 listings, please contact us for a custom plan that best suits your needs.
Note:
You must neither have a credit card nor pay extra fees for any pricing plans. You will also receive recurring invoices, be it monthly or usage-based sent to your registered account every 30 days.
It is also a must to pay in USD under LitCommerce's paid plans. The moment you choose a subscription plan and complete your payment details, the first billing will take place.
Customer Reviews
Delivering satisfying customer experiences takes the most prominence in LitCommerce's journey. Given this, such a positive review as this is always rewarding and encouraging to us:
Great app for managing stores across multiple channels

I found the app by accident but am glad I did as it helps me manage my e-commerce sites across my channels. I had an issue initially connecting but the team helped me until it was working properly.

– From Jackie Leavitt, Store owner –
For a sound decision before officially Amazon WooCommerce Integration, you can refer to more feedback on our services at Trustpilot.
---
Benefits of WooCommerce Amazon Integration
If you are interested to sell on more than one platform, it will do you good to learn about the benefits of WooCommerce Amazon integration.
​​1. Save time with the bulk listing tool
Manually uploading and managing products on WooCommerce and Amazon back and forth can be a real pain. Connecting WooCommerce with Amazon with the help of integration tools can help you list products on WooCommerce or Amazon in bulk, update price and product attributes in bulk, etc. This way, multi-channel store owners can cut off loads of repetitive work, as well as save time and effort for more important tasks.
Integrating Amazon with WooCommerce not only connects but also synchronizes data from the two channels. This works really simply. Price and inventory quantities will be updated frequently to match all sales channels. Also, you can bulk edit items in terms of price, title & description, shipping options, and the like.
2. Manage everything in just one place
The central platform plays a crucial role in the course of WooCommerce Amazon integration. It not only creates the connection between Amazon and WooCommerce but also works as your management center where you can monitor everything in just one place.
You can either import products from your main store on WooCommerce and then publish them on Amazon or create new products on WooCommerce from the Amazon listings. Moreover, you can even list products from Amazon to other selling channels such as Etsy, eBay, Google Shopping, and much more.
---
FAQs – WooCommerce Amazon Integration
1. Which is better: WooCommerce or Amazon?
Both Amazon and WooCommerce have powerful and effective features in store for your online selling business. As a WordPress plug-in, WooCommerce adds eCommerce functions to your website, allowing you to create an online store with endless customization possibilities. You can also conveniently add more functionalities from over 1,000 plugins as you think fit.
On the other hand, Amazon is known as the most popular online marketplace in the world. Receiving approximately 2 billion visits per month, you can easily reach more potential shoppers globally. Additionally, Amazon is famous for excellent shipping and logistics services – Amazon FBA which gains trust among the most effective and reliable fulfillment services.
2. How to integrate WooCommerce with Amazon?
Amazon WooCommerce Integration has never been easier with the help of LitCommerce when you follow these 4 steps:
Syncing WooCommerce to Amazon
Import and link WooCommerce with Amazon products
Turn on WooCommerce Amazon sync
Manage Amazon orders
In case you need help with customizations regarding your WooCommerce Amazon Integration project, please do not hesitate to contact LitCommerce's support team.
3. How do I sync my WooCommerce inventory with Amazon?
Inventory synchronization is among LitCommerce's most important features, and WooCommerce Amazon inventory sync is no exception. Navigate to WooCommerce on the left sidebar menu on your LitCommerce dashboard, go to Channel Settings and you will see the function in the middle. Turn it on, set the rule until you see fit and LitCommerce will sync your WooCommerce inventory with Amazon for you.
4. How can I bulk list my WooCommerce products to my Amazon store?
Using LitCommerce, you can easily import WooCommerce products into Amazon in large quantities with just some simple clicks. Go to All Products > Import from WooCommerce. Then, choose the products you want to list or them all, then click on your Amazon store from the List Products on Channel dropdown menu.
Once you consider the products ready to publish, go to the Select Action dropdown menu in the Draft tab > Publish to Amazon > Action.
---
Conclusion
Going multichannel means you need to handle a larger amount of work, and the management tasks are going to be much more complicated. However, connecting WooCommerce to Amazon can really help to boost your productivity, reduce repetitive work and save you tons of time and effort.
LitCommerce can be a good choice if you're looking for a multichannel tool that is simple to use at an affordable price. You can easily connect to multiple selling channels such as Amazon, WooCommerce, eBay, Shopify, Etsy, and much more. If you need more info, leave us a message, our support team will be pleased to help.
Also, join our community for more exciting eCommerce news and tips!
The following articles might also be of interest to you: