12.7Without a doubt, the Etsy seller fees will be one of the first things you should look for when thinking about starting selling on Etsy. In this article, we will gather and analyze all kinds of fees that you need to pay to help answer the two questions: How much does it cost to start an Etsy shop? How much does Etsy take per sale? Keep reading to get:
All kinds of Etsy seller fees.
Total cost to start selling on Etsy.
---
Why sell on Etsy?
Firstly, one of the biggest reasons shoppers all around the world choose to sell on Etsy is its distinctive products. If you want to target the Sydney property market, you have the chance to sell items for home and interior. Most successful products from Etsy are special, reflect their sense of style, or represent a meaningful occasion. Indeed, according to The Motley Fool, 88% of Etsy shoppers claimed that the site had items they can not find somewhere else.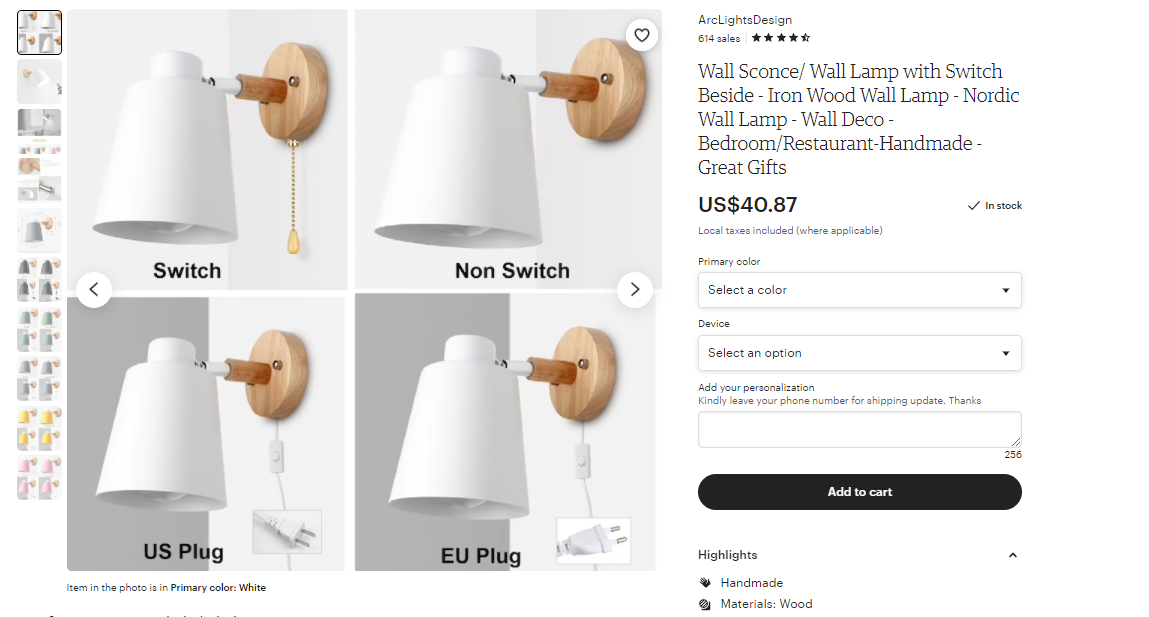 "$10.28 billion in sales were conducted on Etsy in 2020, up 106.7% from $4.97 billion in 2019." – According to Wallstreetzen.
Selling on Etsy – one of the top marketplaces – is not an easy job, but if you know how to do it, you can save a lot of time and effort. If you'd like to dig deeper into selling on Etsy, check out these helpful articles:
Etsy fees & payments policy's updates 4/2022
Before breaking down the Etsy fees 2022, you should notice some changes in the new updates from Etsy which will take effect on April 11, 2022:
TRANSACTION FEES ARE GOING UP! FROM 5% TO 6.5%.
From these changes, Etsy will make improvements in 3 key areas:
Bringing more Etsy buyers. Etsy will spend more on marketing including TV commercials, influencers and tastemakers, billboards, podcast advertising, and email marketing.
Improving support service. Etsy will grow their support team by more than 20% this year, so that sellers can get help more quickly and easily, including faster email responses, expanded access to live chat, and prioritization of your most urgent requests.
Keeping Etsy unique. Etsy will invest more in the team and technology that make this marketplace safe and secure for handmade, vintage, and special items. In 2022, Etsy will remove listings that don't meet their policies and help real sellers resolve issues with buyers.
For more information about these changes, please visit Etsy official announcement.
---
Etsy Seller Fees – How Much Does it Cost to Start an Etsy Shop?
There are 5 types of Etsy seller fees you might need to pay for your Etsy store:
Subscription fee: Free or $10/month if you want more features.
Listing fee: 20 cents per listing plus 20 cents per sale (renewal fee).
Transaction fee: 5% will be change to 6.5% total cost of each transaction.
Payment processing fee (only when using Etsy payment): 3% + $0.25 (for US).
Advertising fee: 12% or 15% depending on annual revenue.
The good news is that selling on Etsy is not so expensive. That's why with just a low investment, you can get more revenue from your online store. Let's go into the details!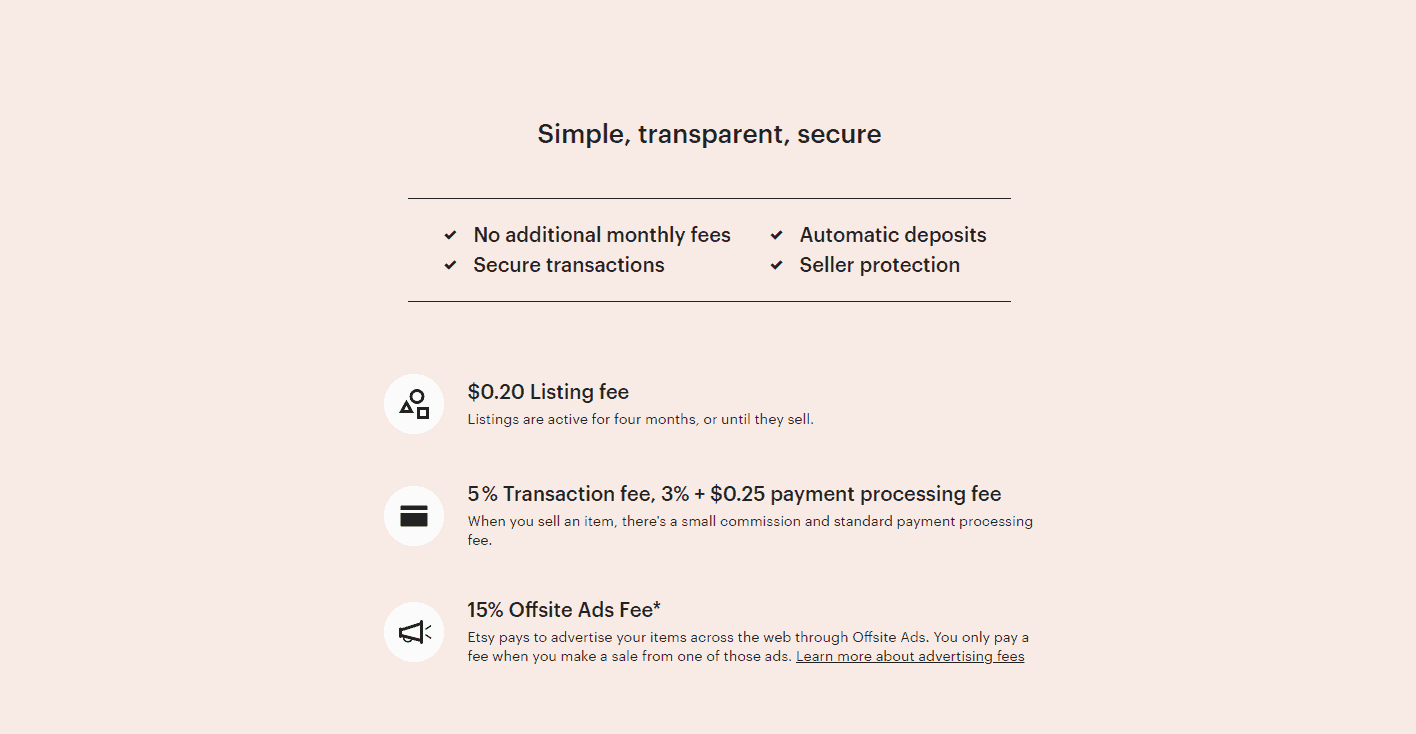 #1. Etsy listing fee
To get a clear answer to the question of how much it costs to start an Etsy shop, let's dig deeper into the Etsy fees 2022. Each time you add a new set of products or create a new listing, Etsy will charge you 20 cents as a listing fee.
There are 2 kinds of listing fees:
This is a renewal fee for your listing when your product is sold out. It means each time an item is purchased from your store, Etsy will automatically send you a request to repost your listing. If you set up the auto-renew for your listing status, you can save time manually reposting products. It will cost 20 cents for each new listing.
Multi-quantity listing fee
If a customer buys an additional item from a single listing that consists of multiple item variations, you will still be charged the standard .20 for each item bought. You can learn more about multi-quantity listing fees in Etsy's help center.
How does Etsy make a cut with the listing fee?
Take a look at some FAQs to make it clear:
1. Can you just sell one thing on Etsy?
Yes, you can. You'll be charged $0.20 USD when listing. Listings will be activated for 4 months. Later, if you choose to renew the listing, Etsy will charge you 20 cents.
2. What if you list more than one item?
Besides 20 cents for creating your listing, if none of your products are sold and the listing expired, you can renew with 20 cents.
3. What if I list a quantity of three items and I only sell one before the listing expires?
You'll be charged $0.20 USD for the listing. When the item sells, the listing will automatically renew because you've still got two left. You'll be charged an additional $0.20 USD auto-renewal fee so that the listing remains for sale in your shop.
4. What if I sell all 10 of them?
You will be charged 20 cents for listing and another $2 for 10 items you sold (each costs 20 cents).
If you renew the listing with the same quantity of 10, you'll be charged another $0.20 USD.
Note: 
There is no fee for editing your listing.
It is advisable to list the true quantity of your stock when creating a listing. If you sell hand-made items, make sure to list the number of products you can make during the production time.
You can sell to a particular buyer with a private sale. The fee will also be 20 cents each time.
#2. Etsy transaction fee

Another fee that you will see a lot when getting Etsy daily bills – Etsy transaction fee. This fee is charged whenever you make a transaction.
Transaction fee basics:
Etsy is going to take 6.5% of the total cost for each product in your designated listing currency. (from Apr 11, 2022)
The fee amount is posted automatically to your payment account.
Note: Sometimes you might need to charge buyers a separate shipping fee, Etsy collects 5% of the total shipping charges.
#3. Etsy payment processing fee
Etsy payment processing fee typically cost 3% + $0.25 and lets you accept payment from your buyers by the following payment options:
Credit cards
Debit/bank cards
PayPal
Etsy Gift Cards and Etsy Credits
Apple Pay
Google Play
iDEAL (the Netherlands)
Sofort (Austria and Germany)
Klarna Invoice payments (Germany)
Payment processing fees will be different depending on your country. The fees are taken from the item's total sale price, including its shipping fees, and any applicable sales tax.
| | |
| --- | --- |
| Location of Bank Account | Fees for Etsy Payments (% of total sale price + flat fee per order) |
| Australia (domestic orders) | 3% + 0.25 AUD |
| Australia (international orders) | 4% + 0.25 AUD |
| Austria | 4% + 0.30 EUR |
| Belgium | 4% + 0.30 EUR |
| Bulgaria | 4% + 0.30 EUR |
| Canada (domestic orders or orders from the US) | 3% + 0.25 CAD |
| Canada (international orders) | 4% + 0.25 CAD |
| Croatia | 4% + 0.30 EUR |
| Cyprus | 4% + 0.30 EUR |
| Czech Republic | 4% + 0.30 EUR |
| Denmark | 4% + 2.50 DKK |
| Estonia | 4% + 0.30 EUR |
| Finland | 4% + 0.30 EUR |
| France | 4% + 0.30 EUR |
| Germany | 4% + 0.30 EUR |
| Greece | 4% + 0.30 EUR |
| Hong Kong | 4.4% + 2.00 HKD |
| Hungary | 4% + 0.30 EUR |
| Ireland | 4% + 0.30 EUR |
| Italy | 4% + 0.30 EUR |
| Latvia | 4% + 0.30 EUR |
| Lithuania | 4% + 0.30 EUR |
| Luxembourg | 4% + 0.30 EUR |
| Malta | 4% + 0.30 EUR |
| Netherlands | 4% + 0.30 EUR |
| New Zealand (domestic orders) | 3% + 0.30 NZD |
| New Zealand (international orders) | 4% + 0.30 NZD |
| Norway | 4% + 2.50 NOK |
| Poland | 4% + 0.30 EUR |
| Portugal | 4% + 0.30 EUR |
| Romania | 4% + 0.30 EUR |
| Singapore | 4.4% + 0.35 SGD |
| Slovakia | 4% + 0.30 EUR |
| Slovenia | 4% + 0.30 EUR |
| Spain | 4% + 0.30 EUR |
| Sweden | 4% + 3.00 SEK |
| Switzerland | 4% + 0.50 CHF |
| United Kingdom | 4% + 0.20 GBP |
| United States | 3% + 0.25 USD |
For example, if your bank account is in the USA, you will be charged: 3% + $0.25 USD.
These fees will be applied if you choose Etsy payment as your payment method. These processing fees appear in your payment account as a deposit for payment processing. They are in addition to Etsy's transaction fees.
#4. Additional cost
Advertising and promotional fees
Etsy offers multiple services to help you advertise your listings and promote your shop, including Etsy Ads and Offsite Ads. You only need to pay Offsite Ads fees when your item results in a sale. There is no fee for Etsy Ads.
With a threshold of 10.000 USD annual revenue (365 days), there will be two types of rate
| | |
| --- | --- |
| Threshold | Ads fee rate |
| Below 10.000 USD annual revenue | 15% |
| From 10.000 USD annual revenue | 12% |
Subscription fees
You can choose between two packages: 
Etsy Standard: This is the default plan which is free for everyone.
Etsy Plus: USD $10/month.
However, one thing to take note is that your payment account will be added the subscription fees on the same day every month in your domestic currency. This is called as Auto- renew feature on Etsy.
For example, if you sign up on March 3rd, you will need to pay a subscription fees automatically on April 3rd, May 3rd, and so on.
Currency conversion fee
If it is not your bank account's currency, you need to pay a 2.5% extra fee associated with the currency conversion for depositing that money.
Nonetheless, Etsy payments users in Bulgaria, Czech Republic, Hungary, Croatia, Romania and Poland will have all fees deducted from their payment account in their designated payment account currency, the Euro.
---
Etsy Seller Fees – Total Cost for Selling on Etsy

Here is an example of the total cost for selling on Etsy:
For instance, you're selling a hand-made teacup for the price of $10.
Listing Fee: To list this cup, the listing will cost you 20 cents. It depends on whether the customer bought more than one item or not. Let's say they just bought 10 cups, then it'll be $2.2 ($0.2 + $0.2*10).
Shipping Fee (pay by customer): There is no free shipping and when the customer buys the cup, there'll be a shipping fee as well. So, 5% of $10*10 equals $5.
Transaction Fee: The transaction fee is 6.5% of the total cost of the item for the customer. So, 5% of $10*10 is $5
Payment Processing Fee: (only if you use Etsy Payment): If you live in the US, then the fee will be 3% of total sale plus $0.25*10 will be $5.5.
The total you need to pay Etsy: $2.2 +$6.5+$5.5 equals $12.7
At the end of the day, you sell 10 cups for $100, and Etsy's share is $12.7. If you want to calculate your Etsy fees quickly, look out for the Etsy fee calculators available online. Some calculators even have the functionality to estimate your profits.
---
Etsy Seller Fees – How to Save Money on Etsy?
1. Apply flat rate shipping on your shop
Flat rate shipping is a method to standardize shipping prices and eliminate the vast ranges due to possible factors like weight, shipment distance, and seasonal spikes. Thus, flat rate delivery is an excellent option for online merchants who want to streamline their delivery processes and attract customers.
2. Offer free shipping for your customer
It's a small hack for Etsy sellers yet brings tremendous effect – increase your sales and cut off the shipping transaction fee. Why? Because Etsy charges the shipping transaction fee based on the amount of shipping expense on that particular item. That's one of the biggest reasons making so many Etsy merchants go with the free shipping option.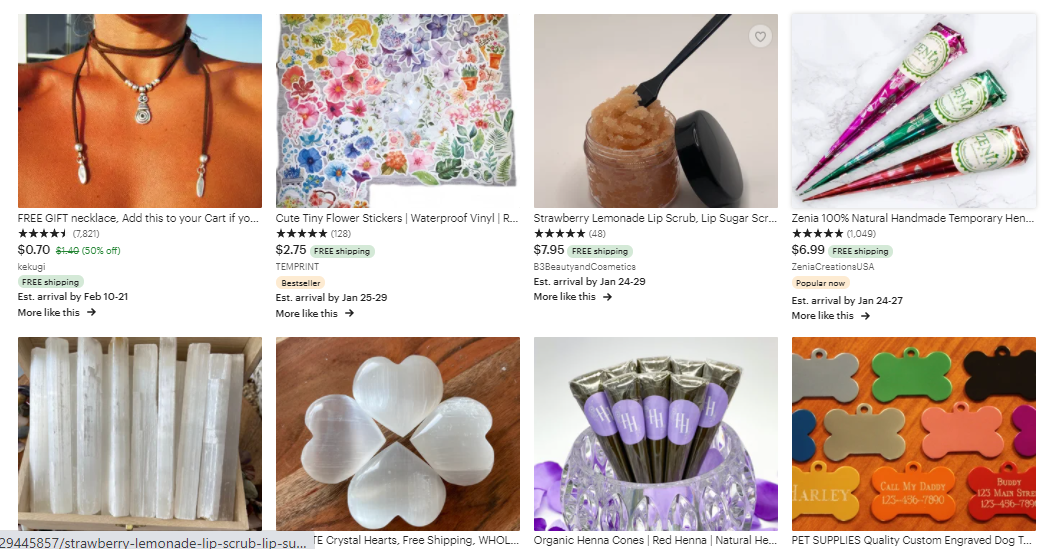 Free shipping is also an amazing way to reach more customers and bring your product to Etsy's top page. Everyone loves free shipping and Etsy prioritizes shops that offer free and discounted shipping cause it brings benefits for Etsy's customers. On the flip side, you're going to be the one who pays for the shipping yet you can balance it by increasing your product items. In the end, it's a small investment but brings quite a large benefit for your customer service.
3. Bundle your items when listing on Etsy
If you have items that sell in multiple quantities such as party cups, colorful boxes, clothes… Instead of listing them individually, try to group them together and list them as a bundle product. This way, you only need to pay the listing fee (20 cents) for one bundle product while selling the same quantity as an individual listing. It's super easy to do and helps to cut off the listing expense.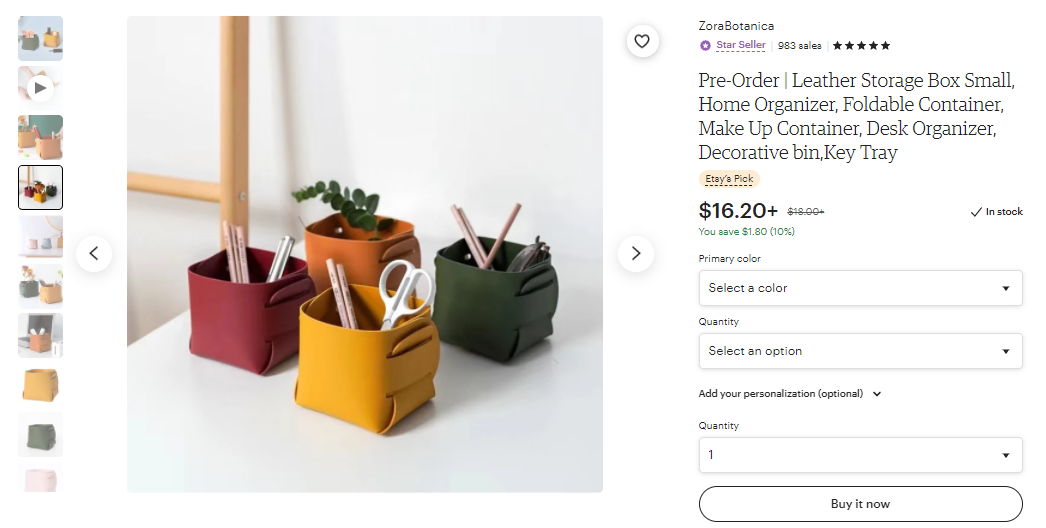 4. Offer private listings when it is possible
One more tip to save money with the Etsy listing fee is offering your customers private listing. For the private listing, Etsy only charges $0.20 only if the item sells. If it doesn't sell, you don't get charged. Hence, when customers contact you for placing orders, consider using the private listing for them. This way, you could save a $0.20 listing fee per item.
---
Etsy Seller Fees – How to Pay Etsy Fees
Here is how to pay your Etsy fees 2022:
1. From Dashboard, choose Finance then go to Payment account on your Etsy Shop manager.
2. Select Pay now under Amount due.
3: Select the amount you'd like to pay and choose the payment method.
4. Select Submit Payment.
---
Etsy Seller Fees – FAQs
Is Etsy cheaper than Shopify?
Yes. Most sellers go with Etsy for an affordable price. If you're on a tight budget or only want to sell a few items, Etsy will definitely be cheaper than Shopify. However, Etsy charges 5% for each transaction so it might be a bit expensive in the long run compared to Shopify.
On the other hand, with Shopify, you need to pay more up-front in order to get a decent store. There is no doubt that a Shopify store will cost you more than Etsy: from subscription fee ($29-$229 per month), theme cost to extension for your store.
How does Etsy different from Amazon?
Etsy vs Amazon are the two leading E-marketplace in the market right now. You should consider your product types, business scale, and customer portfolio before choosing the suitable option.
Merchants should choose Etsy if they intend to sell goods with high-level creativity at an affordable price. Additionally, it's much easier to list products on Etsy and start selling than on Amazon.
Amazon is more suitable for medium to large-scale E-store. Amazon is quite a competitive market and requires a long-time investment as well as an effective branding strategy. Also, the process of opening a new store is quite complicated.
How to integrate Etsy with Shopify?
It's possible to integrate Etsy with your eCommerce store and sell as a multichannel merchant. You can easily connect Etsy and Shopify to a central platform such as LitCommerce in just a few simple clicks. LitCommerce will help you effectively manage everything in just one dashboard. From the bulk listing, inventory, order management to automated sync to an instant notification.
Learn more the differences between Shopify vs Etsy.
---
Final Words
That's everything you need to know about the Etsy seller fees, from Listing fee, transaction fee to subscription and ads fee. In a nutshell, Etsy pricing is quite competitive, and it's quite cheap to maintain a store. The only thing that is not so affordable is shipping transaction fees. High shipping costs can be a big turn-off for customers. However, you can improve it with Etsy smart pricing tool for the best pricing strategy.
Going multichannel is also a really great way to increase your revenue. Not only on Etsy, but you can also sell in other marketplaces such as Amazon, eBay, or Facebook. Multichannel selling will be a wonderful way to reach more customers and level up your business.
In case you need a multichannel selling tool to manage different channels more effectively, take a look at LitCommerce – we provide a solution to simplify daily management tasks and you can control your store in just one place.
Leave us a message if you need more info. Also, you can join our community for more exciting eCommerce tips and news.
Good luck!
You might also want to read: