Introduction
"Is Selling on Etsy Worth It?"
Since Etsy has been undergoing a lot of changes and gaining a lot of momentum from both sellers and buyers, this question may have arisen in your thoughts. If you sell on Etsy, you should be one of those creative people that curates the most significant and artistic pieces of art, and you undoubtedly want to be recognized and sell well.
You must have read a lot of blogs and articles to get a sense of what's going on, and there's a decent chance you've heard about numerous store owners leaving Etsy. After reading the tornado of diametrically opposed viewpoints published on Etsy, there's a good possibility you've been asking yourself this question. You may have begun to doubt your decision on how to get more sales on Etsy at this time.
We'll guide you out of the tumult and answer all of your questions about the new stuff going on. This blog will cover the answer to "Is Selling on Etsy Worth It in 2022?", as well as the factors that influence whether or not you want to become an Etsy seller.
Let's scroll down until the end!
---
Is Selling on Etsy Worth It: 5 Factors to Evaluate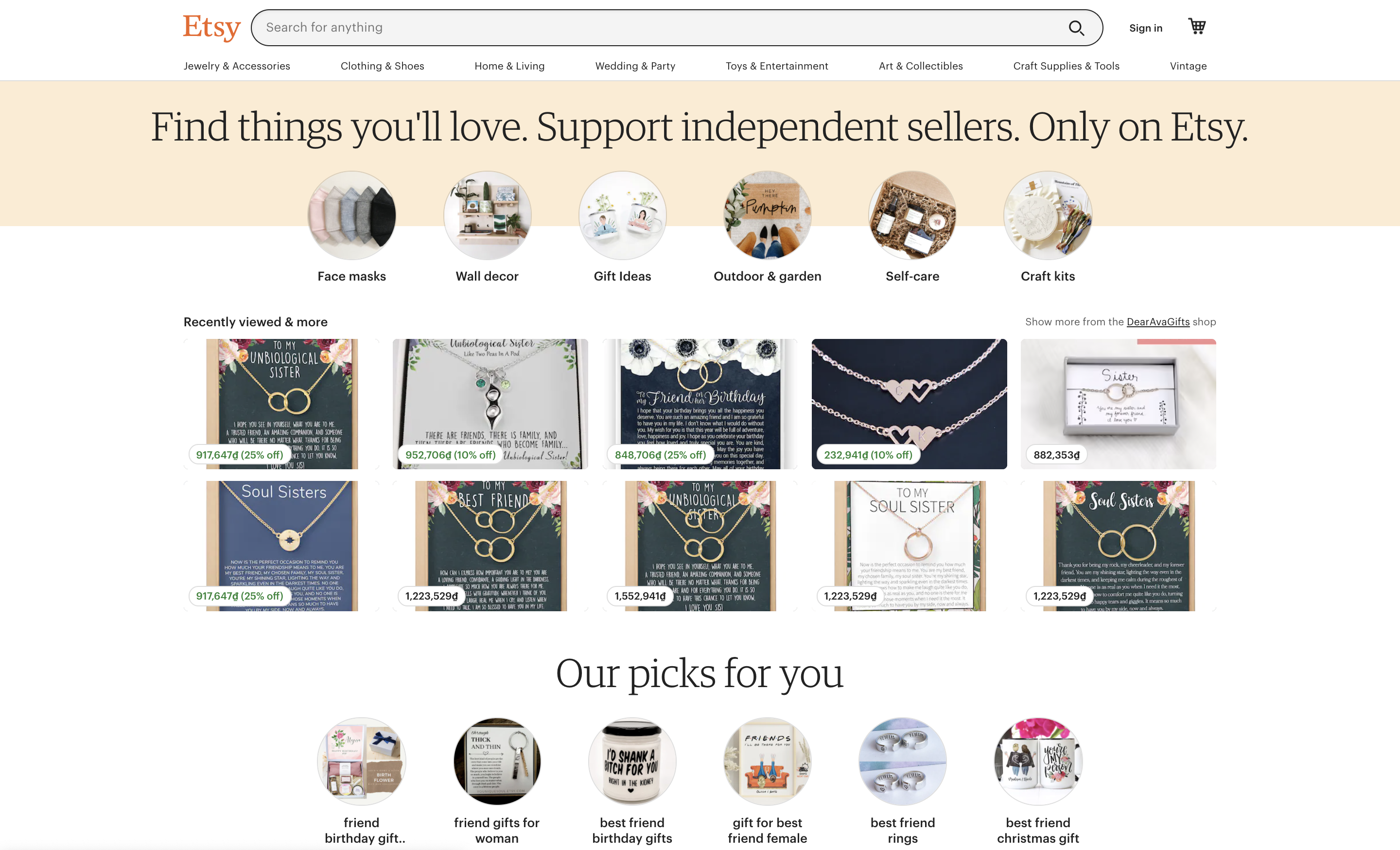 You're familiar with Etsy – the world's most creative and imaginative marketplace. However, it's critical to determine whether selling on Etsy is still the greatest fit for you.
The following factors are what Etsy sellers frequently review:
Etsy Listing/Renewal Fees
Free Shipping Guarantee
Paid Etsy Advertising
Brand Building (Personalised Storefront)
Etsy SEO
#1. Etsy listing/Renewal fees
Pros:
In terms of Etsy listing fees, Etsy is one of many businesses' favorite marketplaces because it only charges $0.20 for each listing for 4 months. This charge is little if you are a novice on Etsy.
You can keep your Etsy listings for 4 months before having to pay the renewal charge of 20 cents/listing again.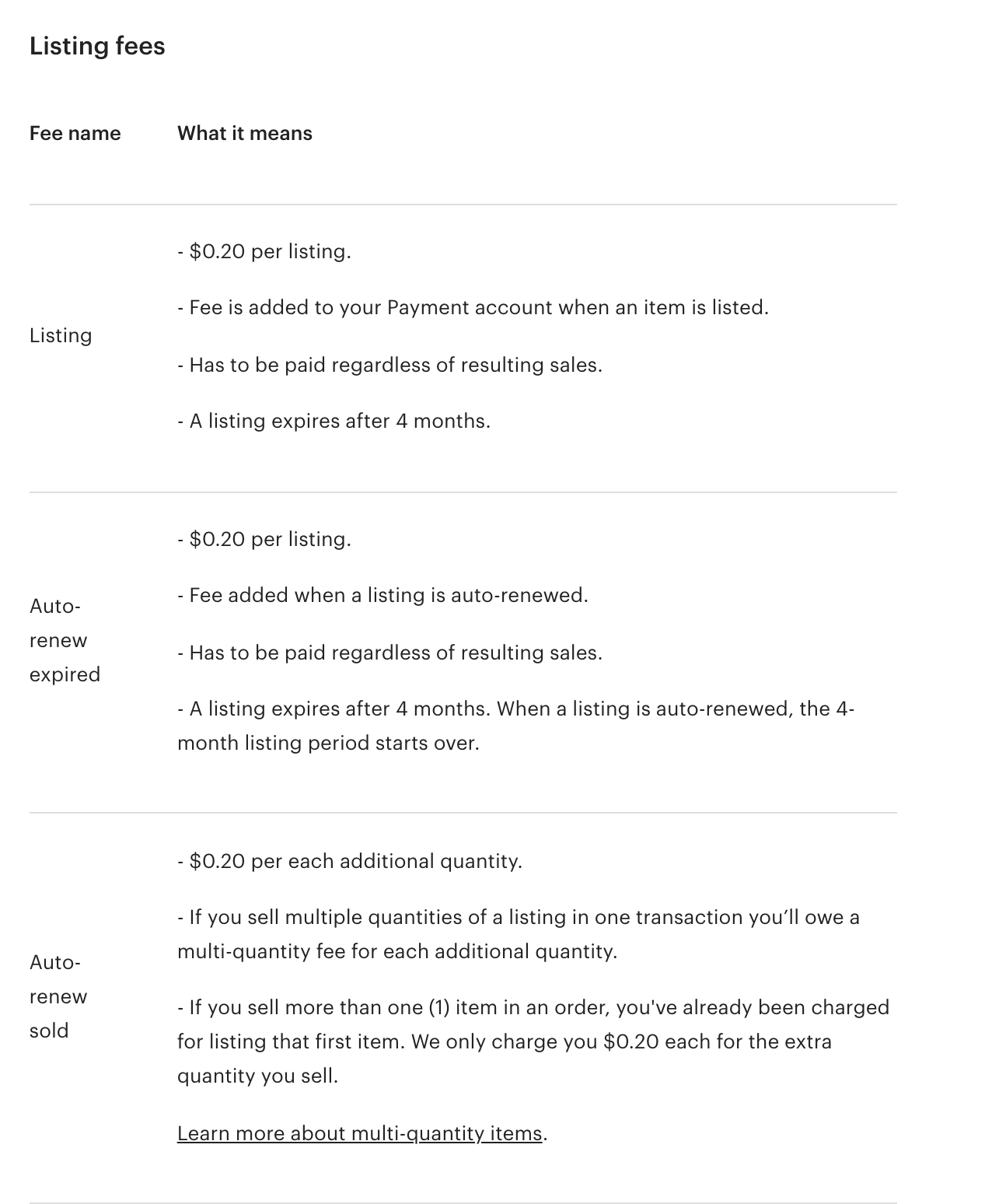 Cons:
You'll also have to pay recurrent listing fees, which is a huge drawback. Etsy is a marketplace where creators may sell a lot of handcrafted items. When it comes to paying the charge every 4 months on individual listings, artisans and artists find it difficult to keep up with these Etsy costs.
Takeaways:
If you're a new Etsy seller, you might find that you're getting overcharged. Although this is true, the benefits are that your listings will reach a very specific demographic and specialty. If you make unique and gorgeous products that sugar-coat the eyes of buyers, you will undoubtedly be recognized among the 160 million buyers.
#2. Free shipping guarantee
What's new: You've probably heard about Etsy's ruckus following the 30th of July 2019. If you are already an Etsy seller, you should have received a letter from Etsy CEO Josh Silverman, which stated that "Shops who offer free shipping on purchases $35 or more to US buyers will be preferred in US searches. To assist US customers in discovering extra products that are delivered for free inside the US."
There are some changes in the shipping process on Etsy as of August 2021, according to the new update. Etsy will first require you to input important information into your listings in order to determine the anticipated delivery date to buyers. The details include shipping carrier, mail class, original zip code, and processing time.
You can add shipping details to the shipping profile if you choose to use them instead of editing each listing. The shipping information in listings is automatically renewed every 4 months. Another change that will take effect on August 11th, 2021 is the addition of a tracking number to any order for $10 or more that is shipped to a US buyer.

Pros:
According to Etsy's initial testing in May 2019, customers on your Etsy store are 20% more likely to finish their order when the item is tagged as free delivery. If your products are remarkable and you want to make more money, raise the price of all your items to $35 or more and label them as "available for free shipping."
According to recent updates, adding shipping required information to your listings and shipping profiles saves a lot of time when these changes to renewals go into effect. The tracking number allows you to track the status of your order and identify it as complete when it is ready for delivery.
Etsy will start prioritizing these items in its email marketing, social media, and television commercials in the United States.
Cons:
Since the changes to the shipping prices and the process went into effect, sellers like you have been muttering about "Is Selling on Etsy Worth it?". When an Etsy order is marked as complete, Etsy notifies the buyer through email that their order is on its way. Customers may be confused if they receive a notification that their item has been delivered while it is still in your studio. The tracking-number rule has four exceptions:
Digital items, including custom digital items
Customized order additions linked to another order
Local pickup and delivery options
Oversized and heavy items
Survey says:
EcommerceByte conducted a study of Etsy merchants in response to Etsy's recent push to have free shipping marked on their products, and the results were accurate. According to the research, over 75% of businesses do not want to participate in the Free Shipping Guarantee program. According to E-commerce Bytes, waiting until the shipment is in the hands of shipping companies to require the upload of the tracking number is a nightmare.
Impact: 
Professionally, it is the best idea ever for listings under $35 if you want to earn more. However, if you are selling locally in the United States, the purchasers will pay more because the transportation cost would have been lower. The latest update regarding delivery tracking numbers and details, on the other hand, has caused both ease and confusion among Etsy merchants.
There is no such thing as "FREE" shipping, and I don't believe it is ethical to deceive my customers — an Etsy seller said.
When you first start selling on Etsy, the "Seller Handbook" is incredibly detailed and descriptive, which can help you along the way. You can use the 'Smart Pricing' function right from your dashboard. This tool assists you in determining and calculating your price. For your Etsy store, try the Free Shipping Guarantee.
#3. Etsy Ads
What's New:
Etsy is currently promoting listings all over the internet, including search engine results, social networking sites, Etsy publishing partner sites, and Google display network sites. You don't have to do anything to be eligible for Etsy offsite ads.
Etsy will pull product details from the site's advertising algorithm and match them to the users' search or profile information in your listing ads. For each user profile and search query, offsite advertisements make sure to show the most prominent item.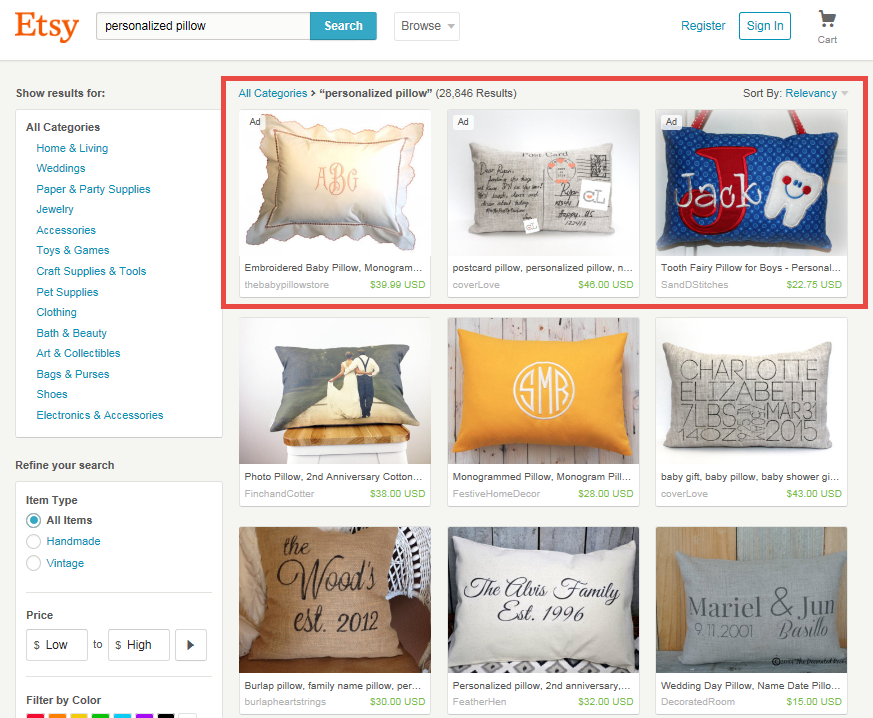 The fees for offsite ads are charged after the purchase; the fees are based on the requirements that must be met, with sales over the previous 365 days taken into account.
If you have made sales of less than $10,000, you will be charged 15% fees for an order attributed to an Offsite Ad.
Whereas, if you have made sales for at least $10,000, you will be charged 12% only.
Pros:
You used to be the master of your Etsy Store's daily bidding wars over Promoted Listings and Google Shopping Ads. The latest upgrade alters the concept of optimizing listings to increase their visibility across platforms. All of your correctly listed items are advertised; nevertheless, you must increase the quality of your listings because off-site advertising picks up your listings and uses product specifications. The best part is that you only have to pay if a buyer makes a purchase after clicking on the ad.
What's the Catch?
Previously, your budget was limited and controlled solely by you, but now your predicted budget is optimized based on reach and purchase. Offsite ads were formerly optional for you, based on how much money you had produced in the previous 365 days. Etsy now uses all inventory information from listings, including product descriptions, images, titles, and more. Etsy advertisements are optional for sellers who have generated less than $10,000 in a year.
#4. Personalized storefront (Brand building)
What's new: You must be creative when manufacturing or placing products on Etsy. Etsy allows you to be creative and innovative when it comes to maintaining your store. You can keep the store's unique name, product name, or design your store.
Pros:
It's possible to become an Etsy seller while also building your brand. It is possible to be creative in the manufacture of your product as well as listing on Etsy.
You will get more traffic and conversions if you provide more information about your shop, including your purpose, uniqueness, and talent. Etsy allows you to create a unique storefront. It is so easy to set up a store on Etsy.
It doesn't matter if it's handmade, vintage, custom, or unique. Explore what you can sell on Etsy to become a brand.
Cons:
Although you will enjoy setting up your store it can be tedious. It can become more complicated if you have an independent store. You may also be selling on other marketplaces like Amazon, eBay, and Walmart.
Etsy's listings are often more detailed. It asks you to complete every aspect of each product. You will spend a lot of time if you manage all your shops and build a brand on Etsy.
What's the Catch?
Etsy is the only marketplace where artists can grow and develop their businesses. Above is a bestseller under the Jewelry Category Mignon and Mignon. You can see the patience she put into arranging her store and policies.
Because all Etsy products are Art, Handcrafted, and Vintage, you will be able to reach the target customer base. You can try integrating your Etsy store with your independent store; this will help you manage the cumbersome task of selling.
#5. Search algorithm for Etsy SEO
Pros:
Etsy uses a powerful SEO to manage the listings. It also compares your listings with other listings in your product category based on specific factors. The best listing is chosen to appear on the first page for the buyer's query. The good news is that you can follow some practices to perform excellently at Etsy SEO. Get all your Etsy listings correct with the best keywords and relevancy to get you in the top spot.
Etsy processes every buyer's search based on two factors: Query Matching, and Ranking.
Cons:
If your listings are not properly optimized, they may suffer more. Many sellers who have quit Etsy say they are unhappy with Etsy's frequent updates to their SEO algorithm.
Keyword optimization is not necessary for listing components such as Title, Description, and Shop About. Your listings won't show up in search results.
What's the Catch?
Is selling on Etsy worth it when it comes to SEO? The answer to this question relies on how effectively you nurture your Etsy shop. You can do well and acquire a lot of traffic to your listings if you keep up with Shop Improvement and Etsy SEO, the quality of your big competitors' listings, and your consumer preferences.
If you want to establish your brand, you'll include your website and other social media channels as places where people can find you and see your creations that are not available on Etsy.
---
Is Selling on Etsy Worth It: FAQs
Is it profitable to sell on Etsy?
YES, ABSOLUTELY. If selling on Etsy wasn't profitable, there wouldn't be 7.5 million active sellers on Etsy.
But when it comes to selling on Etsy, it won't be very profitable if you're lazy. You need to learn how to make money on Etsy by reading and understanding Etsy's policies, participating in Etsy forums, and courses to get experiences from other sellers, and regularly researching new updates on Etsy,…
What products make the most money on Etsy?
Craft & Supplies is the most profitable product line on Etsy because it is also the main orientation of Etsy's owners. In which, stickers are the first trending product.
How to control many stores at the same time?
If you are running online stores on Shopify or Amazon,… and you wonder if you should open a more Etsy store to expand your business, LitCommerce will help you do it. LitCommerce offers a multichannel selling tool that helps you manage multiple online stores by a dashboard, especially managing inventory and listing bulk items.
---
Are You Ready to Make Your Decision?
Is selling on Etsy worth it in 2022?

– YES, definitely. It's worth it to sell on Etsy in 2022.
It's one of the fastest and easiest ways for handmade products to go Etsy shopping online, and it also has a shopping cart function. While you might not see immediate results from Etsy's shoppers right away, existing customers will be able to shop with you immediately.
I sympathize with all sellers who have quit Etsy due to the reasons above. Etsy is always evolving to make it better for sellers and buyers. If you have something to offer and want to create a brand. Etsy is well worth the effort and time.
If you're looking for an affordable and user-friendly way to manage your store on both the eCommerce platform and Etsy as well as other selling channels, give LitCommerce a try. We will be an eager beaver helping you connect Shopify or Wix or PrestaShop or any other shopping carts with Etsy with one single click.
We offer the easiest solution for store owners to list and sell their products on the world's largest online marketplaces such as Amazon, Etsy, and eBay. To get more information, reach out to the support team now!
Don't forget to join our social community to explore more useful tips and tricks.
Good luck!
You might also want to read more: