Online selling platforms are undeniably one of the most effective digital marketing channels for merchants. With top online marketplaces such as Etsy, eBay, or Walmart at their disposal, online sellers can reach millions of potential buyers and take their businesses to the next level.
But with so many options out there, it can be a daunting task to pick a suitable online marketplace for your business. Fear not, we've got you covered! In today's article, we will review the following top online selling marketplaces based on experts' points of view and provide you with an optimal answer:
Without further ado, let's dive right in!
Discover LitCommerce for Expanding Your Online Business!

Don't miss out on the incredible potential of selling on multiple online marketplaces. Join the LitCommerce revolution and unlock unparalleled growth for your business.
---
Online Marketplaces: At A Quick Glance
What is an online marketplace?
An online marketplace (or electronic marketplace) is an eCommerce site that connects sellers with buyers regardless of geographical limitations. Multiple third-party sellers provide product and service information across the platform, allowing buyers to pick out what interests them the most and purchase without leaving the site.
Fulfillment and delivery services are handled by the participating sellers, and all consumer transactions are processed by the marketplace operator. While buyers are able to register an account for free, sellers will be charged a "post-selling" fee once a transaction is made.
In general, there are three types of online marketplaces:
Global marketplaces, such as Amazon or eBay, sell almost anything from electronic goods to everyday kinds of stuff;
Vertical marketplaces only specialize in one kind of product. TrueFacet.com, for example, sells only jewelry and related items;
Horizontal marketplaces offer a range of products sharing the same characteristic. Dote.com is an online retail marketplace where women always come to update their wardrobes.
Possible pros & cons of an online marketplace
The potential advantages of participating in international marketplaces may vary between industries and businesses and between buyers and sellers (indeed!). With a reputed eCommerce marketplace, merchants can distribute goods without the need to set up their own online stores. Upfront costs are also relatively low, while ready-made customer bases are available for sellers to take advantage of.
Online buyers, at the same time, will be able to access a wide range of products and pick out the most suitable options for their needs by comparing prices and features from a single source. They will have more confidence in buying a product thanks to the trust of established marketplaces and impartial reviews of past clients.
That said, there are potential drawbacks of online marketplaces that may need to be considered. Although there is little to no upfront cost required, online selling sites will charge specific fees for every sale made, which may vary depending on where your business is located or what products you offer. You also may not brand your online presence as you wish due to marketplace limitations, and there are certainly restrictive terms and conditions you must follow (in terms of communicating with customers or return/refund policies).
Here is a list of possible advantages and disadvantages when selling on online marketplaces.
● Vast numbers of potential customers
● Ready-made trust with platforms buyers
● Fast launch time & little upfront costs
● Protection against unpaid bills, fraud, or disputes
● Built-in eCommerce tools
● Possibility to utilize platforms' storage and delivery services
● Opportunities to sell globally
● Great testing grounds for new products.

● High commission/transaction fees. Sellers' fee structures might also be complicated
● Limitation on branding options
● Strict rules to follow
● High competition
● Risks of getting suspended or banned from the platform.
---
The 7 Top Online Marketplaces and Utmost Features
Selecting the most suitable option from a wide list of online marketplaces is essential for any seller who wants to build up an online presence and generate sales. Each marketplace comes with its own set of selling features, common fees, and best-selling items, so it's best to evaluate those features carefully before making an informed decision.
First and foremost, let's start by looking at the top online marketplaces.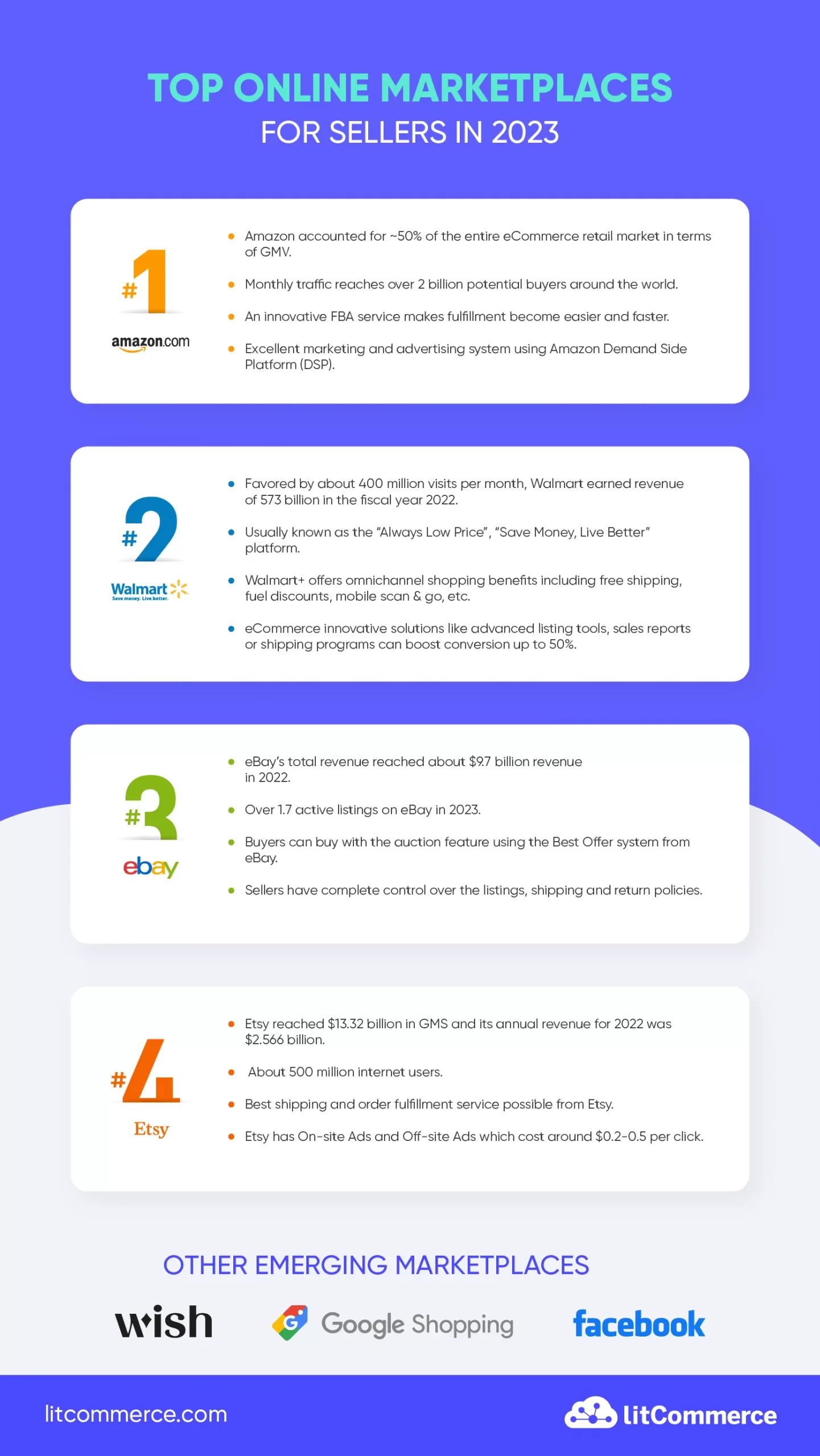 Top Online Marketplaces for retailers in 2023
Furthermore, these 4 best online marketplaces are not a whole story; here comes the top 7 top selling channels for sellers to consider:
#7. Facebook Marketplace & Facebook Shops
Let's head to the detailed analysis!
#1. Amazon
Amazon is well-known for being one of the largest eCommerce marketplaces in the world. According to Statista, the multinational corporation accounted for about 50% of the total gross merchandise value (GMV) of the eCommerce retail market. With nearly 2 billion potential buyers visiting this online selling marketplace every month, Amazon is the wonderland for every online merchant.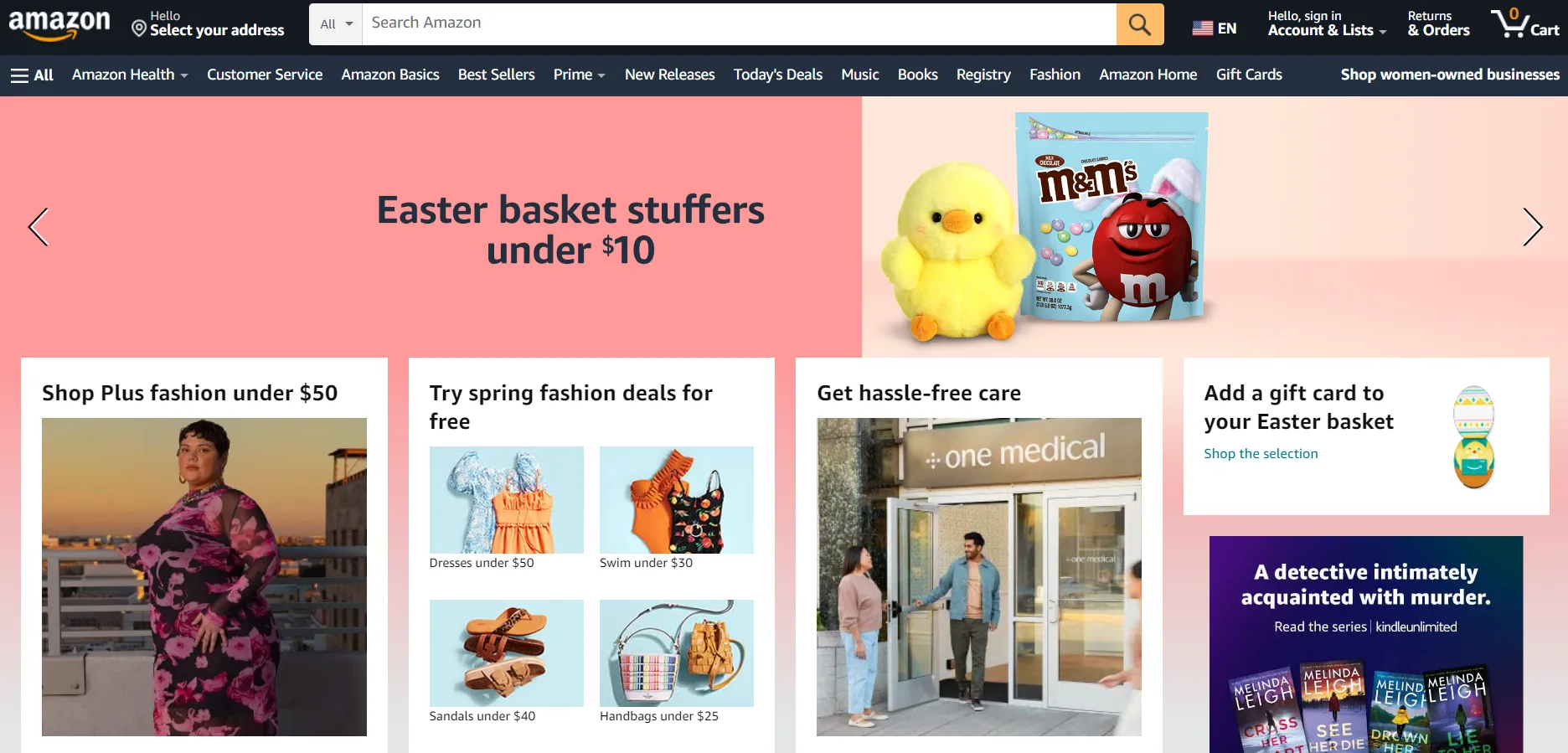 Despite the fact that Amazon provides services across several industries, this online retail marketplace continues to increase its dominance in the eCommerce market. According to Statista, Amazon earned total sales of 514 billion US dollars in 2022, about 10% up from 2021.
Amazon selling features
When selling on Amazon, merchants can look for product information by title, scan barcodes, and upload information in bulk. It's also straightforward to optimize listings and compete for the top rankings, thanks to the A9 algorithm of the platform.
Amazon FBA, Amazon shipping, and order fulfillment service are key points that make this online seller platform one of the top online marketplaces in the world. They will handle everything from inventory to shipping to customer service, giving merchants more time to concentrate on other important tasks, such as marketing and selling.
Adding to that, sellers can also use the Amazon administration center to keep track of shipping, inventory, orders, and customers. It's also possible to get a general overview of the store's performance, and all data is clear and easy to analyze.
Amazon also offers fantastic advertising and marketing services. Rather than using Google Ads, Amazon provides merchants with the Amazon Demand Side Platform (DSP), which allows users to construct campaigns and direct traffic to Amazon listings easily.
On top of that, this online selling marketplace features Amazon Marketplace, an eCommerce platform tightly integrated with the main site but concentrates on third-party sellers. When selling on Amazon Marketplace, third-party sellers are able to sell new or used products on a fixed-price online marketplace alongside Amazon's regular offerings.
Amazon best selling items
On Amazon, there are tons of product categories that you can consider starting selling:
Face masks;
Crossbody Bag;
Wine FREEZE Cooling Cup;
Kanoodle;
Men's and Women's Classic Clog;
Echo Dot;
Personal Water Filter;
Apple AirPods Pro;
Digital Alarm Clock;
Paperwhite E-Reader (Kindle).
If you feel these are two general, follow the link for the best products to sell on Amazon with detailed descriptions and tips.

#2. Etsy
Etsy is one of the top online marketplaces where you can buy and sell handmade, vintage, and creative items. This eCommerce marketplace is well-known for selling things with a high degree of originality. Over 500 million internet users visit Etsy every month, putting it fourth in the online marketplace list among the major marketplaces in USA.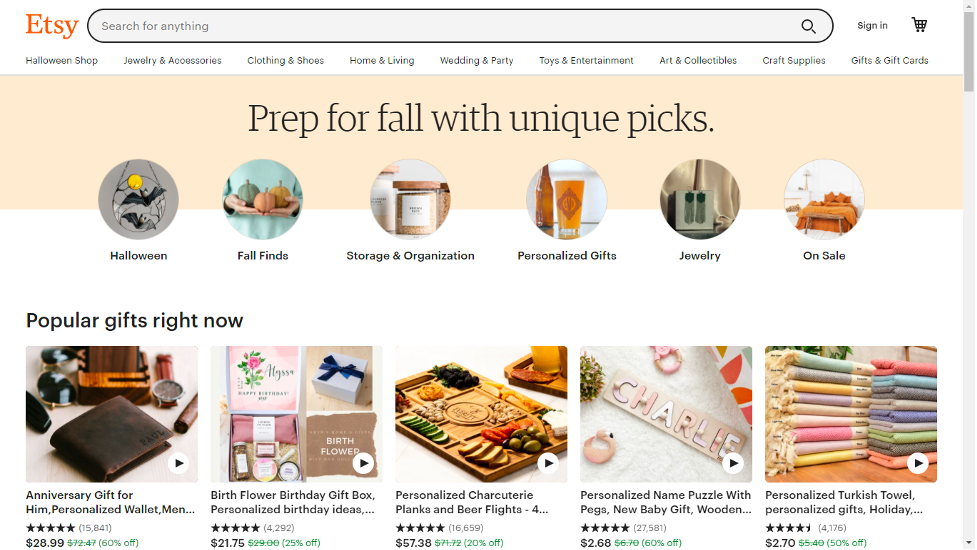 According to its 2022 report, Etsy has hit $13,32 billion in gross merchandise sales (GMS), with annual revenue of $2,566 million, down by 1% from last year.
Etsy selling features
Selling on Etsy is simple and straightforward. Ecommerce sellers can immediately begin listing things on Etsy to start their businesses after registering an account and building a storefront. Although there is no monthly subscription when selling products online on this online retail marketplace, you have to pay Etsy sellers fees. These include, but are not limited to, listing fees, transaction fees, payment processing fees, and advertising fees.
That said, if one wonders, "Is selling on Etsy worth it?", it's still a firm Yes! And here's why.
Etsy offers reasonable shipping and order fulfillment options, including shipping labels, calculated shipping, and shipment tracking. Etsy Shipping Labels allow merchants to send items directly from their Etsy shop using USPS, FedEx, or Canada Post. Furthermore, sellers can print the shipping label directly from their Etsy shops, making the shipping process much easier.
Etsy Ads is another useful tool for promoting listings with very low fees. For advertising employment, Etsy offers both on-site and off-site ads. On-site advertisements cost roughly US$0.2-0.5 per click, and sellers only have to pay for off-site ads if a customer purchases a product after viewing and clicking.
Best selling items on Etsy
If Etsy is your best place to sell online, here are some product ideas on top selling items on Etsy for your reference:
Jewelry;
Stickers;
Craft Supplies;
Wedding Stationery;
Vintage Items;
Accessories;
Personalized Clothing;
Craft Kits;
Home & Livings;
Graphic Designs & Printables.
#3. eBay
Being a widely-known auction platform, eBay obviously tops the list of online marketplaces. According to eBay statistics, this online market place hosted 135 million users worldwide, scattering across 190 markets as of Q3, 2022. There are currently 1.7 billion active listings, which earned roughly 10 billion in revenue in 2022 for this online retail marketplace.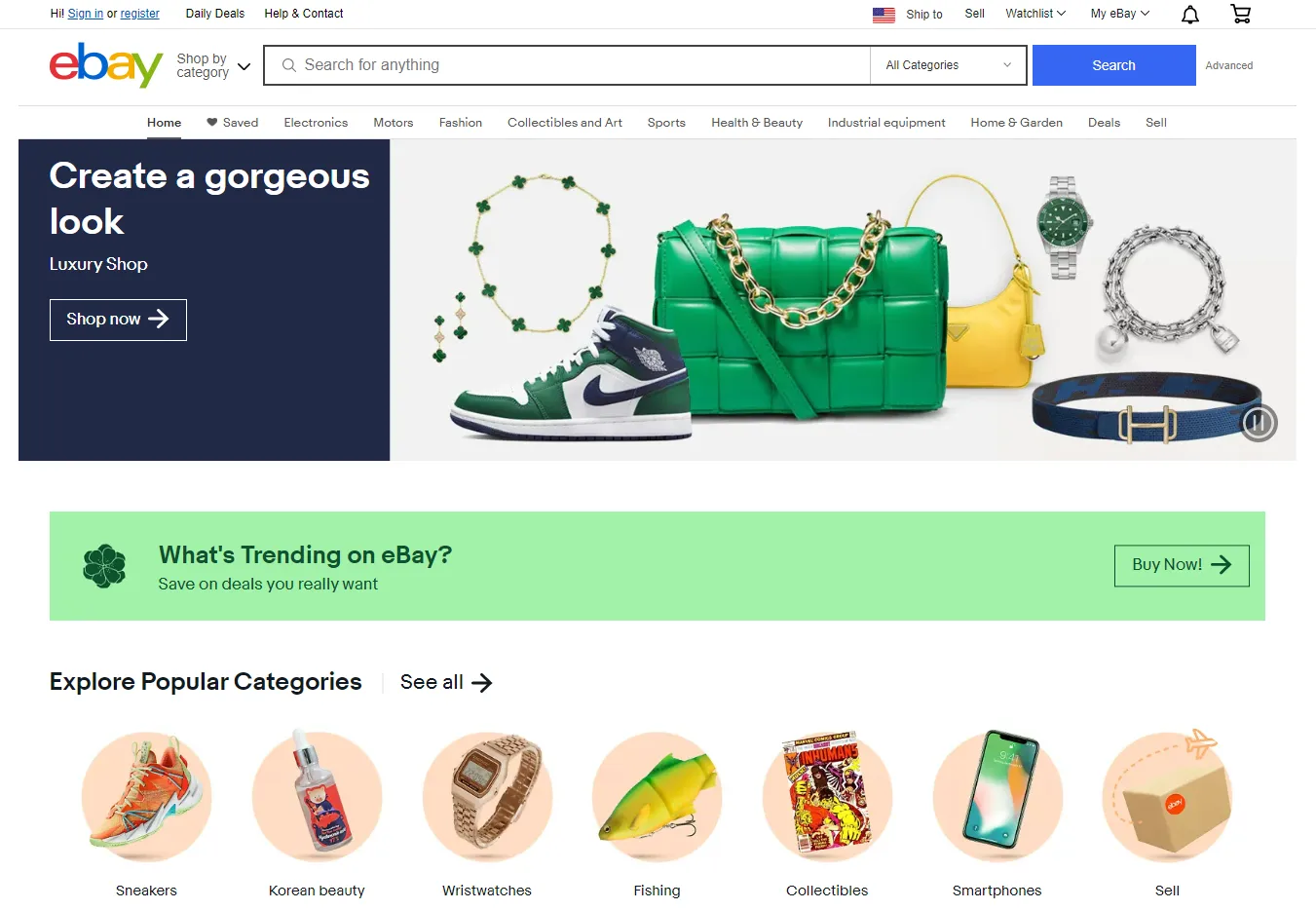 eBay selling features
Unlike other best online selling sites in this list, eBay differentiates itself by offering two divergent selling styles: Auction & Buy It Now (Fixed Prices). Buyers can bid a good deal for the items they love, and eBay online marketplace sellers have enough flexibility to promote their goods when selling on eBay.
It's worth noting that eBay marketplace merchants have more flexibility than sellers on any other online marketplace. Product listings, shipping rates, and return procedures will be completely controlled by sellers. That's not enough about the benefits of an eBay store. With special coupons on eBay-branded shipping supplies that offer quick handling times and free shipping, you can streamline your shipping process, saving both time and money.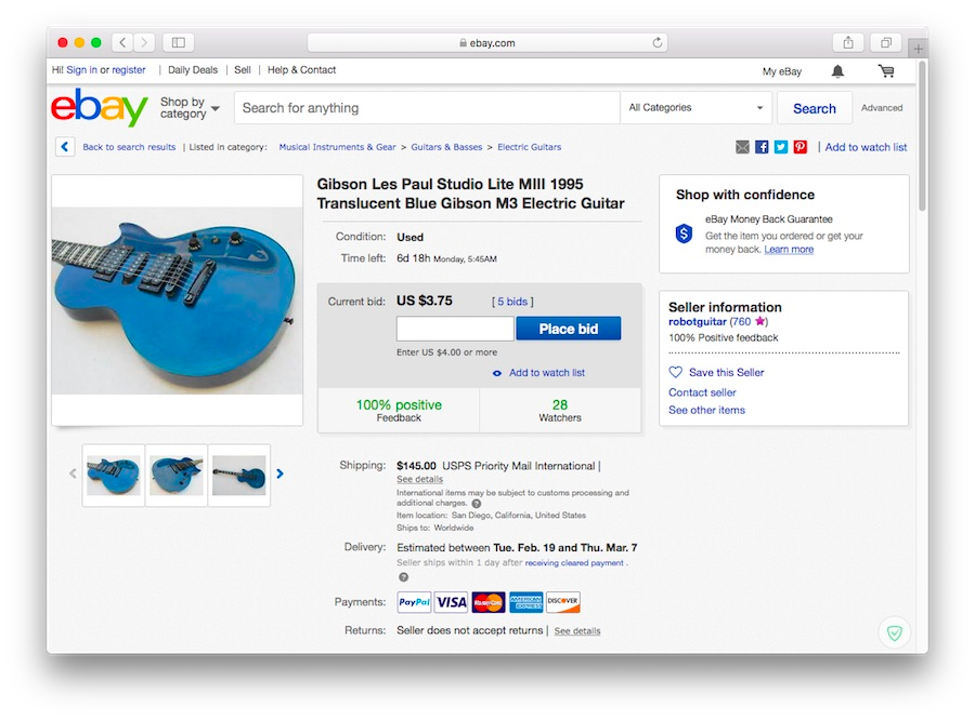 eBay best selling items
If you are about to sell on this best selling platform, here's the list of what sells best on eBay according to recent research:
Electronics & Accessories;
Clothing;
Automotive;
Health & Beauty;
Home & Garden;
Computers & Tablets;
Musical Instruments.
Multichannel Selling Is Just A Click Away!

With ONE click, you can integrate eBay with your eCommerce platform easily and manage all stores from ONE central dashboard
#4. Walmart
With nearly 400 million monthly visits, Walmart has long been one of the best online marketplaces. Walmart Online Marketplace had net sales amounting to $53.4 billion in fiscal 2022, an increase of about 12% compared to fiscal 2021 and 20% to fiscal 2019.9.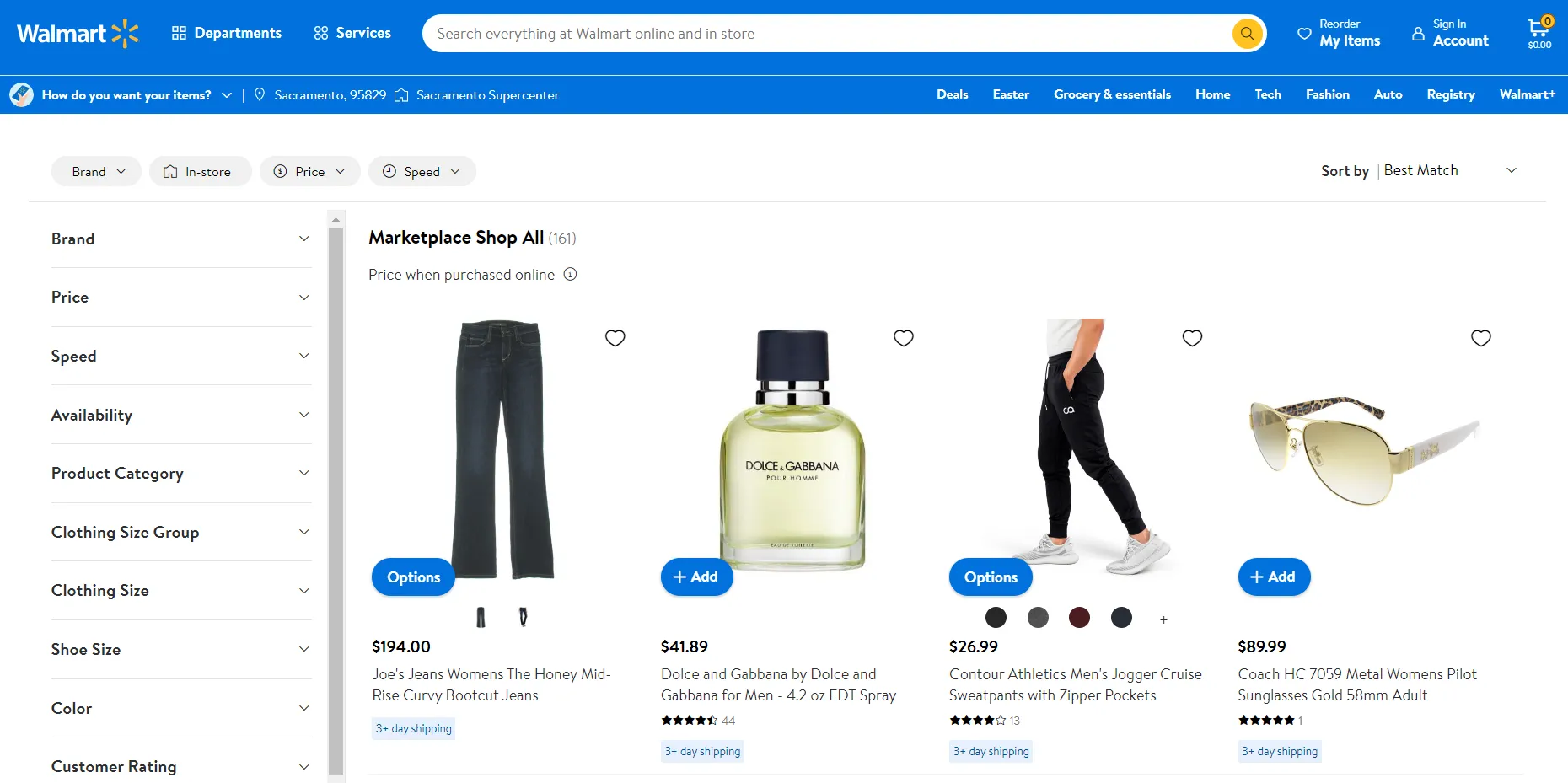 According to Statista, Walmart Marketplace has surpassed 150,000 eCommerce sellers as of May 2022. During the pandemic, this eCommerce marketplace added close to 5,000 new sellers each month. Though we have seen a downward trend recently, it is otherwise a perk for those who have just started to learn how to sell on Walmart. With less competition you have to face up, you will have more chances to reach potential buyers and convert sales.
Walmart selling features
What online sellers love the most about this eCommerce platform is its transparent pricing and reasonable commission rates. Unlike the largest ecommerce marketplaces, such as eBay or Amazon, Walmart Marketplace fees do not include any setup costs, monthly subscriptions, or hidden fees. Instead, eCommerce merchants pay a referral fee for each item they sell. This fee ranges from 6% to 15%, making Walmart an ideal marketplace to sell online if one doesn't want to spend a dime on upfront costs.
Additionally, Walmart launched Walmart+ in 2021, a new membership offering with omnichannel shopping benefits. This service offers unlimited free shipping on eligible items with no minimum order, unlimited delivery from the store, fuel discounts, and mobile scan & go for a streamlined in-store shopping experience. Together with other appeal pricing strategies (such as EDLP – Every Day Low Prices), this online selling marketplace has attracted millions of new buyers to the site.
On top of that, merchants selling products online on this top marketplace may have access to some of the most cutting-edge eCommerce technologies. This includes advanced listing quality tools, promotion alternatives, and expedited shipping programs, which can organically enhance conversion rates by up to 50%. Analytics are also provided upfront to assist sellers in making data-driven decisions.
Walmart best selling items
Now that you're on the way to selling on Walmart, you've likely got some questions about the top-selling items on this best online marketplace. Being widely known for having some of the best deals and savings, Walmart has finally revealed its high-performing items:
Groceries (56.3%);
Health and Fitness (10.4%);
Toys;
Household Utilities.
These are great references if you are short of Walmart product ideas. Conversely, you can learn the details on the best selling items on Walmart with one click to our thorough analysis.
#5. Wish
Wish Marketplace is a global online selling platform that mostly sells things from Chinese manufacturers and merchants at exceptionally low prices.
The nicest part is that eCommerce merchants can locate vast quantities of apparently valuable things at inexpensive prices. Additionally, Wish is one of the top online marketplaces when it comes to mobile commerce. Wish had a total income of $571 million in 2022, and this ideal marketplace to sell online was the top downloaded shopping app in the United States since 2017.
Wish Marketplace has recently made its comeback to the biggest search engines and app stores in France after being delisted a year and a half ago due to dangerous item allegations. This opens a door for Wish merchants and those who just started to learn how to sell on Wish, with the eCommerce market in France projected to reach $91.65 billion in 2023.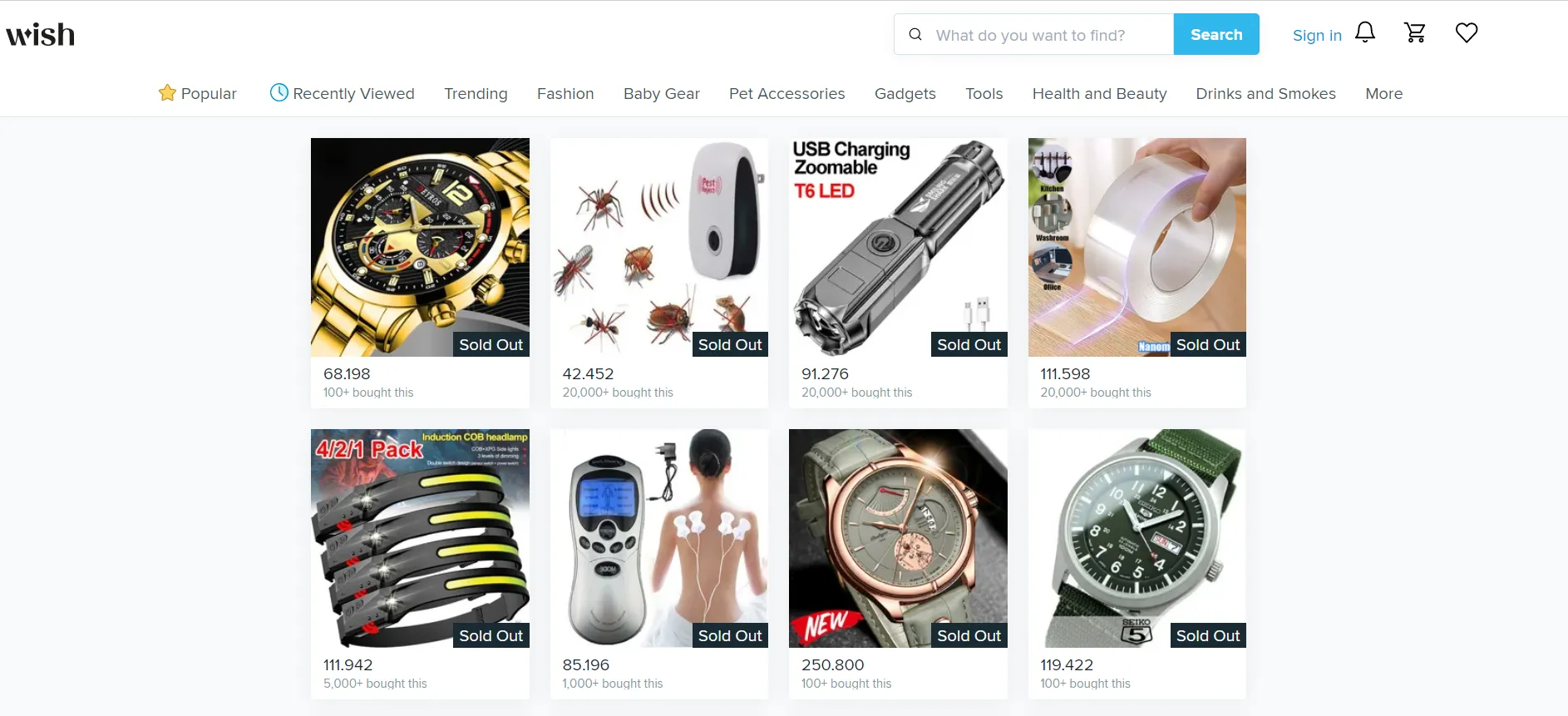 Wish selling features
This marketplace makes it simple for merchants to import or bulk change listings. If you sell a vast number of products, there is no need to upload them one by one manually. Instead, you can use a CSV file to fill in product names, descriptions, tags, and unique product IDs. It's also possible to filter for specific inventory depending on product status and inventory status, and you can use Wish's inventory management to keep track of all available items.
Particularly, Wish expects all orders shipped within five days and provides buyers with two-day shipping. This online marketplace also offers FBW (Fulfillment by Wish), which allows the items to be stored in warehouses and automatically distributed to customers by Wish when they place an order.
The best thing about this eCommerce selling platform is the inexpensive Wish seller's fee structures. When selling on Wish, eCommerce merchants only have to pay a certain percentage for each product they sell. This commission fee includes order and shipping rates and can be up to 15% based on product type. There's no registration or product listing fee, and Wish merchants don't need to pay any monthly or annual subscription fee as well.
Best items on Wish
Setting up a Wish store can be hassle-free, but deciding what to put on your shelves is not the same story. Scroll down for a head start on the hottest and best selling items to offer on Wish.
Gadgets;
Hobby;
Home Decor;
Makeup & Beauty Products;
Automotive;
Phone Upgrades;
Baby & Kids;
Eco-sustainable products;
Personal health care;
Pet supplies.
#6. Google Shopping
Google Shopping has always been a good option for merchants seeking best selling sites for their businesses. It's a smorgasbord of services and destinations, all of which are powered by Google Merchant Center.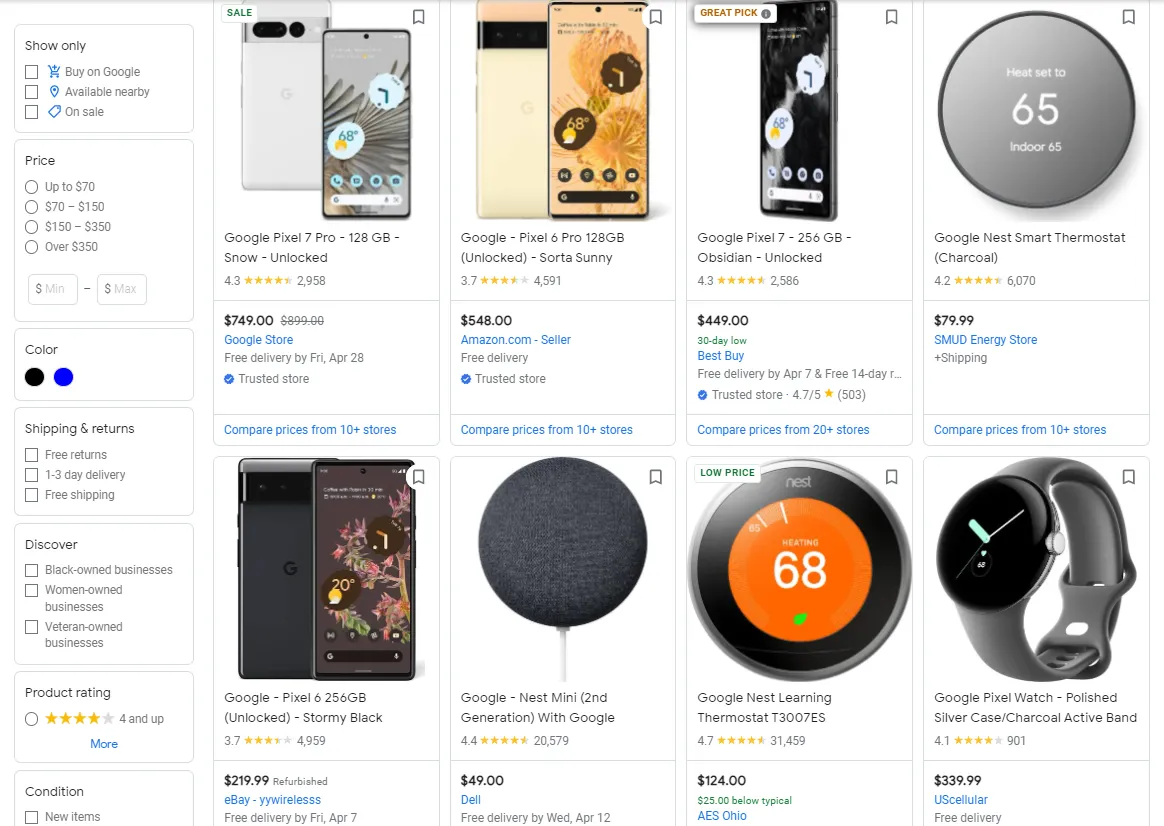 Google Shopping is the second most common destination for online buyers to begin their product searches, just behind Amazon. When considering buying a product, people go to this online selling marketplace to find everything they need, from product descriptions and prices to reviews, images, and comparisons. With about 3.5 billion searches per day, no one wants to miss out on a promising online marketplace to sell products like Google Shopping.
Google Shopping selling features
When selling on Google Shopping, eCommerce merchants can take advantage of 3 impressive services:
Google Shopping App: When a customer searches for a keyword on Google, the related product listings will appear naturally in the search results without any paid advertising.
Google Shopping Ads: Moreover, retailers can promote their listings with the most budget flexibility when selling products online on this platform. There are no fixed limits for bids or daily budgets, and it's even possible to start a campaign at as little as $0.01 per click.
Google Shopping Action: Also known as "Buy on Google" in the US, this shopping program allows online retailers to sell their products across different Google platforms. There's no need for any commission rates, so businesses of all sizes can list their products, attract potential buyers and increase sales.
That said, Google Shopping merchants still need to pay a certain amount when selling their products on this marketplace. Besides the essential costs for subscription, pending charges, and shipping, Google Shipping pricing may also include ad fees if merchants wish to promote their products across Google platforms using Google Ads.
Best selling items on Google Shopping
To have a great start when selling on top online marketplaces, finding the most popular items is a crucial step. Luckily, Google Shopping features Best Things, a function that highlights the top popular 1,000 products.
That's an enormous number to browse from, essentially those who are new to eCommerce. For more convenience, we've narrowed the Google popular products list to the 9 most trending categories:
Pet beds;
Couch covers;
Simple jewelry;
Shapewear;
Backpacks (especially fashion backpacks);
Workout massage guns;
Smartwatches;
Baby carriers;
Athleisure.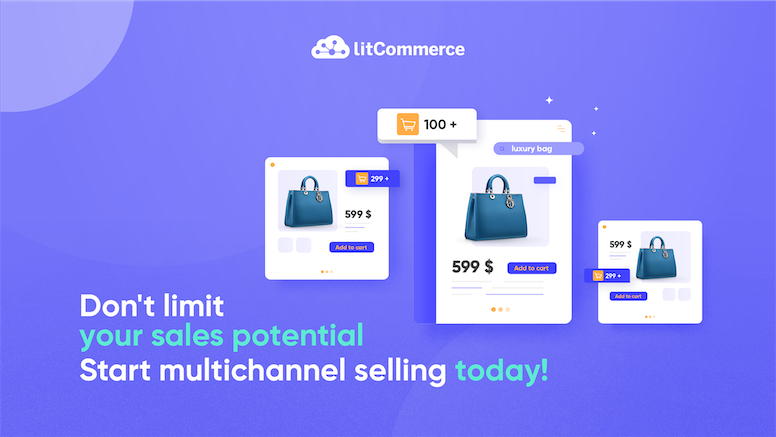 #7. Facebook Marketplace & Facebook Shops
Known as the most-used social media platform with about 3 billion active users, Facebook is one of the top online marketplaces in the world for many online sellers. With the leaps and bounds of eCommerce in recent years, the tech giant surely cannot stay out of the trend. As a consequence, Facebook Marketplace & Facebook Shops were respectively launched in 2016 and 2020.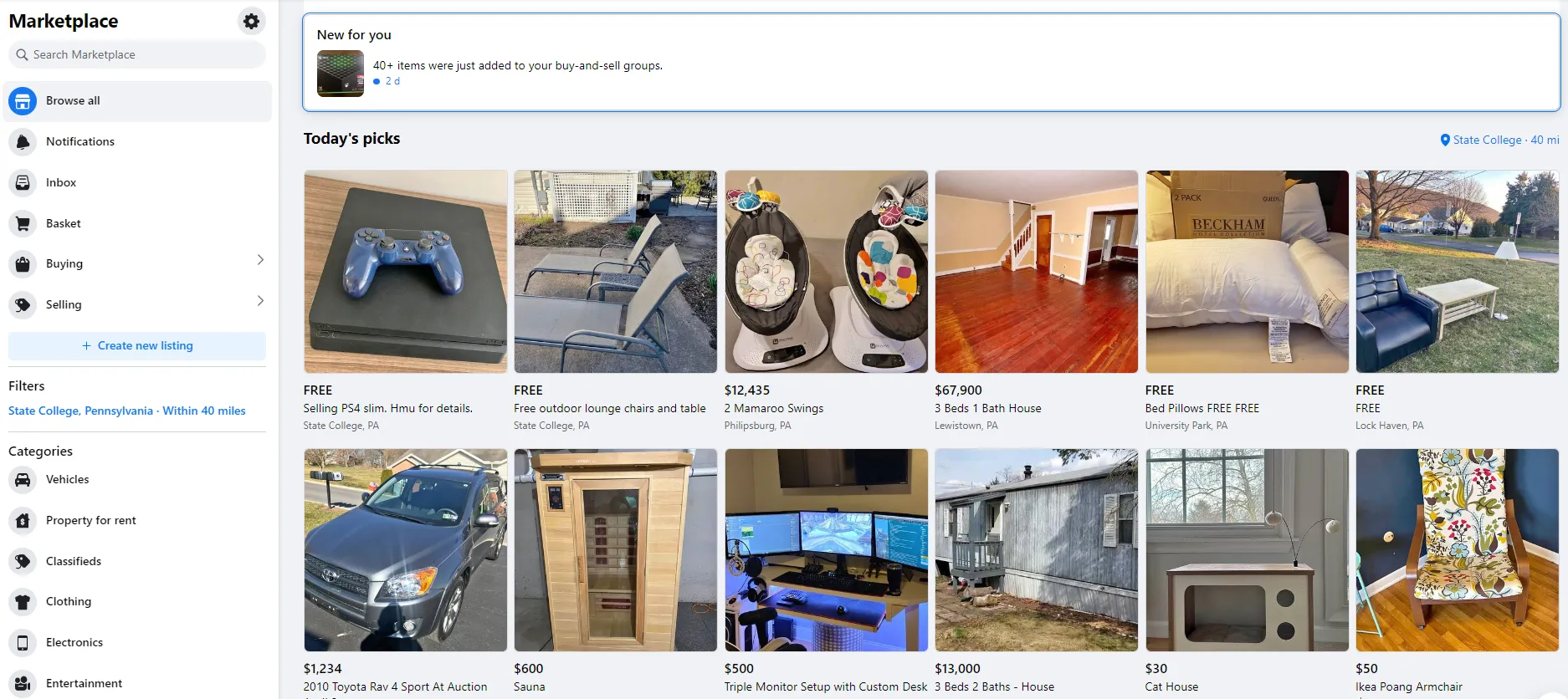 When selling products online on these top online marketplaces, there are various ways for businesses to access a vast number of 1 billion potential eCommerce audience. Additionally, they can create personalized online storefronts without coding, use Stories to market their products and engage with their consumers.
All in all, Facebook Marketplace & Facebook Shops are popular marketplaces to sell online and a great choice for businesses looking to expand their target market.
Selling features
Facebook Shops uses Catalog Manager and Facebook's inventory to allow users to add and manage products. It's also straightforward for online merchants to highlight products and organize items using Facebook collections and categories. On top of that, sellers can access all important information about what they wish to sell at Commerce Manager. Moreover, there are over ten different sorts of ads to promote listings across Facebook and Instagram.
Furthermore, Facebook Shops offers fantastic shipping and fulfillment options. Merchants can generate and purchase a USPS mailing label in Commerce Manager to print and attach to available orders. Adding to that, Facebook Shop owners can use the shipping profiles to set up and bulk change the shipping information for all items, including the order handling time, shipping speed, shipping price, and shipping destination.
Facebook Marketplace, on the other hand, has been developed from a peer-to-peer shopping platform to merchant selling included. Anyone and everyone can list their products by going to the left-hand side of the Facebook feeds and simply clicking on the Facebook Marketplace tab. Then through the help of an intelligent algorithm, this eCommerce marketplace surfaces products relevant to customers' search patterns and helps businesses to find the right customers.
Best selling items on Facebook Marketplace
Selling on Facebook can be a big chance to scale your online business. But with growing competition on the platforms, you can not just pick a random item and put it on your Facebook Shop or Marketplace.
Here's a list of best selling items on Facebook Marketplace to empower you on that challenging journey:
Vintage furniture;
Fashion apparel;
Books;
Sports equipment;
Gardening tools;
Toys;
Technology devices;
Instruments;
Industrial tools;
Collectibles.
---
The Advantages of Selling on Top Online Marketplaces 2023
With the ever-increasing popularity of top eCommerce platforms and online sales, these channels are constantly coming up with new ways to keep customers happy. Choosing one of the top online marketplaces can make your business thrive and even effortlessly double or triple your sales revenue.
This takes shape in 5 main attractive advantages when selling on the top online marketplaces as follows.
#1. Increase sales
#2. Loyal customer base
#3. Fast launching time
#4. Long-term growth
#5. Strategic partnerships
Let's explore more!
1. Increasing sales
The obvious benefit of expanding to top online marketplaces is the potential to make more sales and increase your sales revenue. Each marketplace has its own audience, and with niche marketplaces (for instance, Reverb, a niche online selling platform for music instruments), you can approach the right customers.
Each online selling platform comes with its own fee structure as well. For example, Etsy takes a 6.5% commission fee, while the commission from eBay ranges from 2.35% to 12.9% plus $0.3 per order. Hence, it's essential to compare each marketplace's selling fees and payment systems to find the best fit for your store. In a sales context, understanding eCommerce fraud is also essential. You don't want your bottom line to be hurt by common payment card scams and chargeback issues, so consider the security of any platform you pick for this reason.
2. Loyal customers base
One of the greatest reasons why you should sell on online marketplaces is the establishment of customers they have. Each of them has a different target audience. If you combine them together (Amazon, eBay, and Etsy, for example), you will be looking at billions of active monthly visitors, a huge chunk of online real estate.
Furthermore, each marketplace has a very loyal customer base and active audiences that are genuinely excited to look for new products on those platforms. Etsy, for example, is a wonderland for those looking for unique handmade items and vintage treasures, while people go to Walmart to hunt for bargains.
3. Fast launch times
If you're new to online selling, best selling marketplaces can be an excellent way to generate revenue and build your brand quickly. Instead of creating an entire eCommerce store (with domain, theme, shipping, payment options, etc.), you can register for a third-party seller account on an eCommerce marketplace. After being approved, you can simply upload your product feed and start making money out of the platform.
4. Long-term growth
Believe us: Once you get traction on an online marketplace, your product is good, and you're getting positive reviews, then you can expect long-term growth.
Obviously, selling products on online marketplaces also requires normal customer service and operation efforts to service your customers. And you have to continue to optimize your listings, but you won't need to re-invent your business. This is the epitome of "not putting all your eggs in one basket".
5. Strategic partnerships
Last but not least, there are a ton of opportunities to combine online marketplaces with affiliate marketing. For example, there are a lot of affiliates working with products on Amazon. Starting an online business on Amazon will then open doors to building long-term partnerships with affiliates, coupon sites, large publications, etc.
---
Best Online Marketplaces in 2023: FAQs
1. What is an online marketplace? 

An online marketplace is a website or app that facilitates shopping from many different sources. The operator of the marketplace doesn't own any inventory, their business is to present other people's inventory to a user and facilitate a transaction.

In an online marketplace, sellers take all of the inventory information and upload it to a  third-party site. It can essentially transform a small, local business into one with national or even international reach. Also, the seller's products become available for purchase to all marketplace customers, and in exchange for a larger audience, the third-party sellers need to pay a number of selling fees.

2. How to build an online marketplace? 

In short, here are the steps:

Choose a suitable online marketplace
Create an account and provide some essential information about your store
Upload your product catalog with an SEO-friendly title and description
Manage your products, inventory, and orders

Nonetheless, you can start selling on one or more online marketplaces to drive your business with a multi-channel solution.

3. What is the most popular marketplace?

The top marketplaces for selling products in 2023 are:

Amazon;

Etsy;

eBay;

Walmart;

Wish;

Google Shopping;

Facebook Shops.
---
Best Online Marketplaces in 2023: Wrapping Up
Choosing the best markets to sell your stuff isn't enough. It's best to conduct thorough research on competitors and the product niche to ensure that it isn't overly saturated and that there is still room for competition. Because of the high volume of organic traffic to top online marketplaces, developing a plan to assist products in attracting more visitors is critical.
Embracing integration technologies can make the process of launching and operating a new sales channel easier for merchants who sell on eCommerce stores or marketplaces. Using multichannel selling technologies, which assist in synchronizing data between marketplaces and web stores and simplify the process of publishing new listings and managing orders from different sales channels, you may achieve centralized management. Should you be interested in multichannel selling, give LitCommerce a try then.
Last but not leats, if you are new to online selling and want to learn more about eCommerce strategies, be sure to follow our Retailer Blog and join our elite eCommerce community. There are many online selling tips and tricks from forerunners that you can learn and apply to your business.