Online marketplaces can be one of the best digital marketing channels known for millions of sellers. Since the rise of Amazon, eBay, Etsy, etc., brands have to rush to thrive and compete in this big competition. Finding the top marketplaces is essential for any business strategy for success.
As a seller, there are clearly a variety of advantages to selling products on these online marketplaces. To help you in your search, here are the top online marketplaces list based on experts' points of view that help you decide which one is right for you.
#1. Amazon
#2. eBay
#3. Etsy
#4. Walmart
#5. And far more like Google Shopping, Facebook Shops or Wish
Let's dive in!
Top Marketplaces: 7 Giants and Utmost Features
Selecting the most suitable market from the top marketplaces is essential for any seller who wants to develop an online presence. Each marketplace comes with its own set of selling features, common fees, and the best selling items.
Some shoppers may sometimes use an anonymous VPN to shop with better prices, so, make sure to have your website run via a VPN as well.
Let's start by looking at the top marketplaces as following: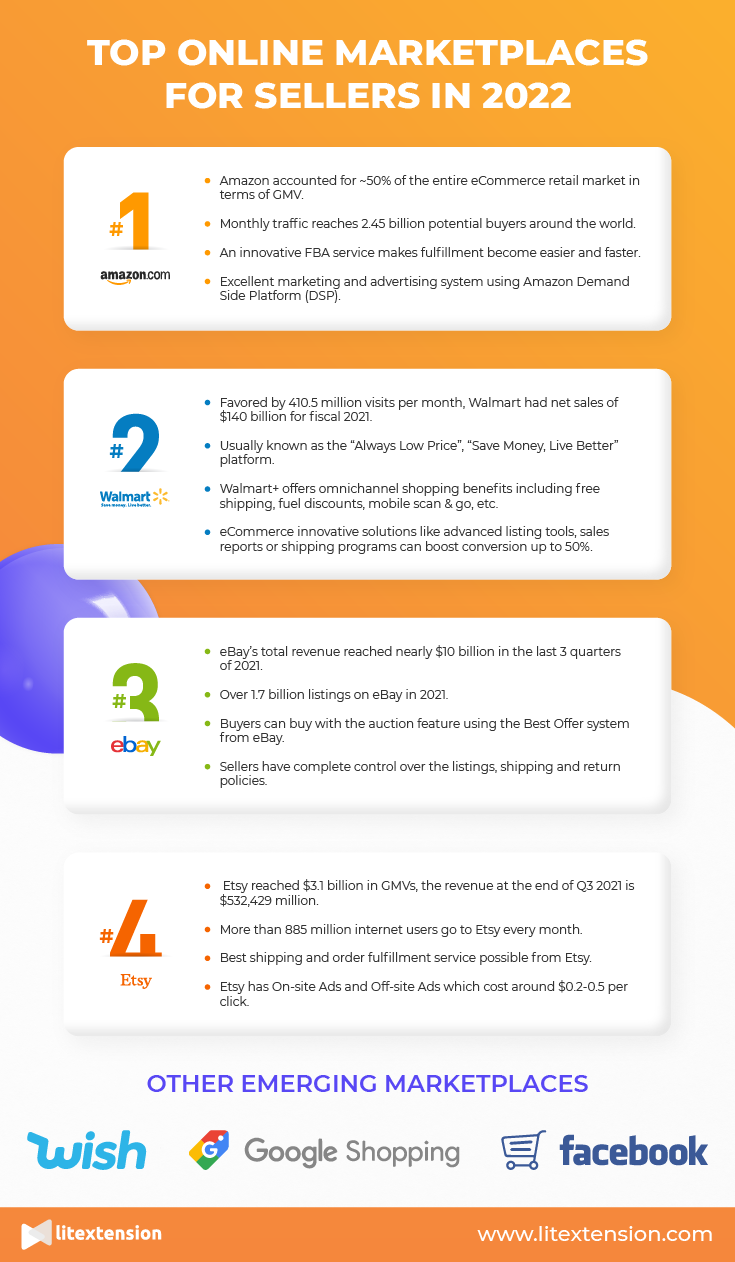 Top marketplaces for retailers in 2022
#1 – Amazon
Amazon is well-known as being one of the top marketplaces, and is the world's largest Internet-based company. According to Statista, the multinational corporation accounted for 50% of the total GMV of the e-commerce retail market. That is why all merchants want to profit from Amazon's massive monthly traffic – 2.45 billion potential buyers from all over the world – while selling on its e-marketplace.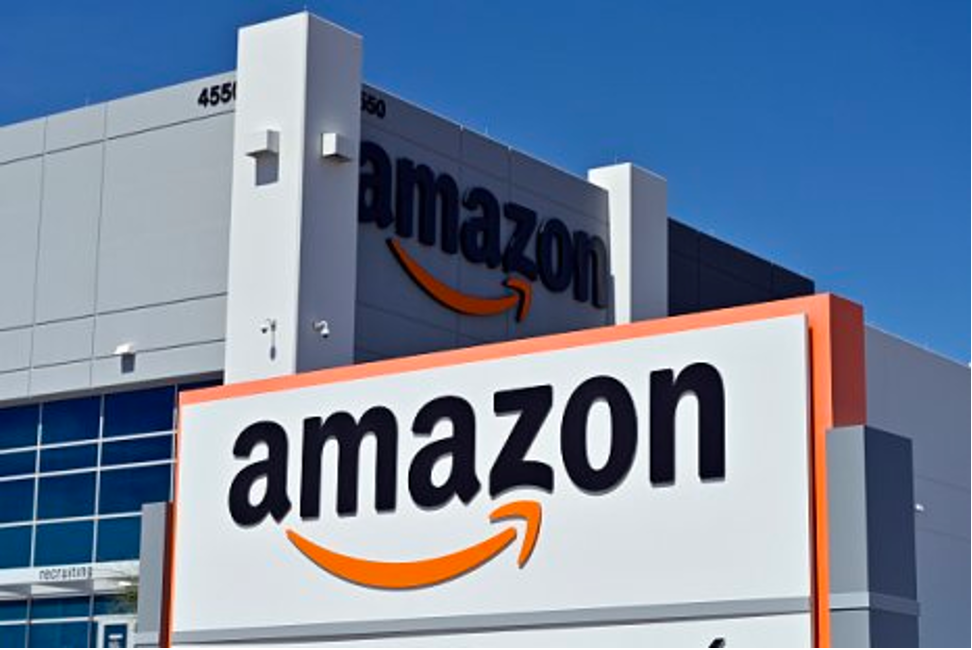 Despite the fact that Amazon provides services across many industries, it continues to increase its dominance in the eCommerce market, with total sales of 110 billion US dollars in the third quarter of 2021, up 15% from the same quarter in 2020.
Amazon selling features
Merchants can use Amazon to look for product information by title, scan barcodes, and upload information in bulk. Thanks to Amazon's A9 algorithm, merchants can learn more about optimizing their listings to compete for the top rankings.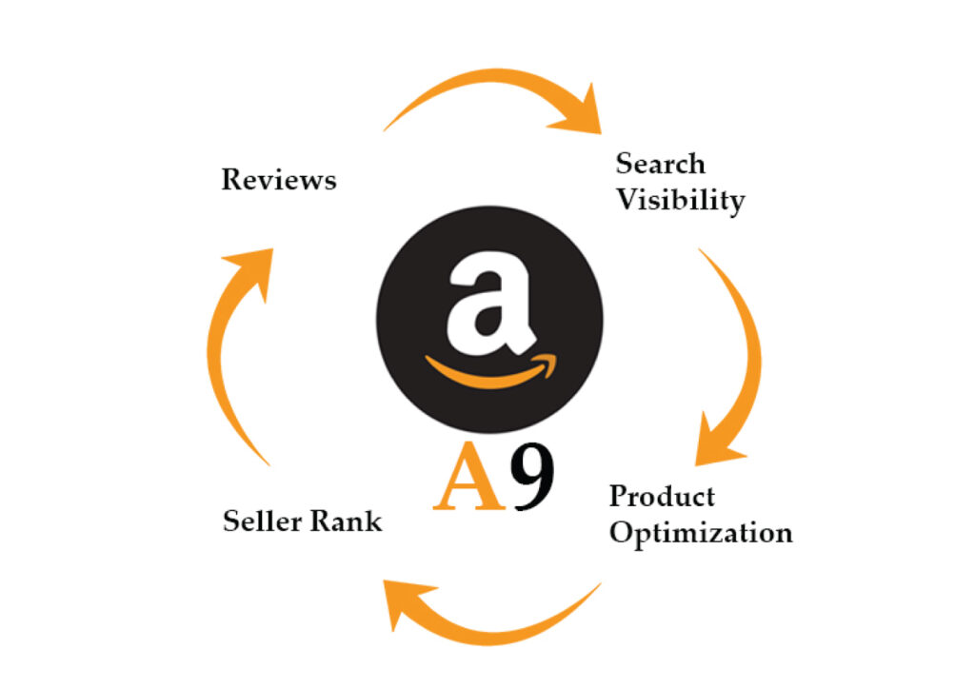 Amazon FBA, Amazon shipping and order fulfillment service, is a key point that makes Amazon become one of the top marketplaces in the world. They will handle everything from inventory to shipping to customer service, giving merchants more time to concentrate on selling. Sellers can also use the Amazon administration center to keep track of shipping, inventory, orders, and customers, as well as to get a general overview of the store's performance. And obviously, every data is clear and easy to analyze.
Amazon also offers fantastic advertising and marketing services. Rather than using Google Ads, Amazon provides merchants with the Amazon Demand Side Platform (DSP), which allows users to easily construct campaigns and direct traffic to Amazon listings. Notably, users only need to pay when potential buyers click on the adverts including Product Display, Sponsored Product, and Headline Search.
Amazon best selling items
On Amazon, there's are tons of product categories, here are some of the best-selling products on Amazon that you can consider to start selling:
Face masks
Crossbody Bag
Wine FREEZE Cooling Cup
Kanoodle
Men's and Women's Classic Clog
Echo Dot
Personal Water Filter
Apple AirPods Pro
Digital Alarm Clock
Paperwhite E-Reader (kindle)
One Report to Win Your eCommerce Game
Are you ready to unveil the future of eCommerce and rocket your sales in 2022?
Get our ultimate eCommerce report and THRIVE now!
#2 – eBay
eBay is obviously in the top online marketplace list since it's a name that almost everyone recognizes as an online auction platform. According to eBay statistics, its revenue figures reflect the fees paid by eBay marketplace sellers, which are roughly 12% to 13%.
eBay selling features
The presence of eBay online marketplace on the list is due to the fact that this online marketplace offers consumers an auction function. With the Best Offer system, shoppers can bid on a price to receive a good deal.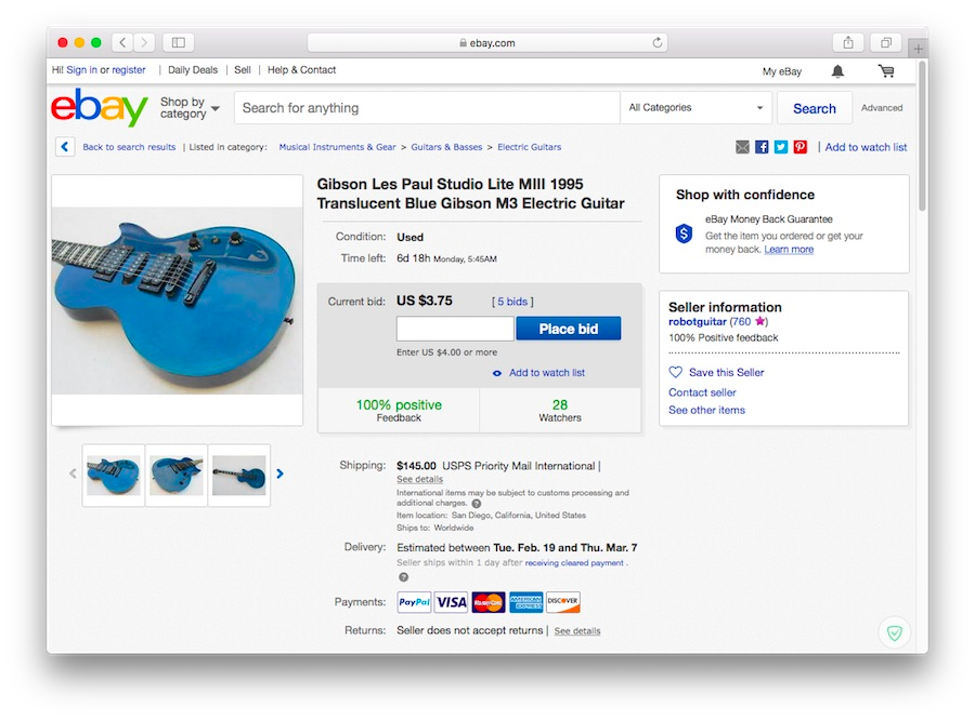 One thing to note is that eBay marketplace merchants have more flexibility than sellers on any other online marketplace. Product listings, shipping rates, and return procedures will all be completely controlled by sellers.
Remarkably, eBay has finally launched Managed Delivery in 2020. This plan makes it easier and faster for eBay online marketplace sellers that sell a lot of merchandise to fulfill orders.
With total listings expected to reach 1.7 billion by 2021, eBay may be the ideal sales platform for any store owner.
Best-selling items on eBay 
The following are the top selling items on eBay, according to recent research: Electronics & accessories (16.4%), clothing (16%), automotive (11%), health & beauty (9%), Home & Garden, Computers & Tablets, Musical Instruments, and much more…
#3 – Etsy
Etsy is one of the top marketplaces where you can buy and sell handmade, vintage, and creative items. It's well-known for selling things with a high degree of originality. Every month, more than 885 million internet users visit Etsy, putting it in fourth place in the online marketplace list among the major E-marketplaces in the United States.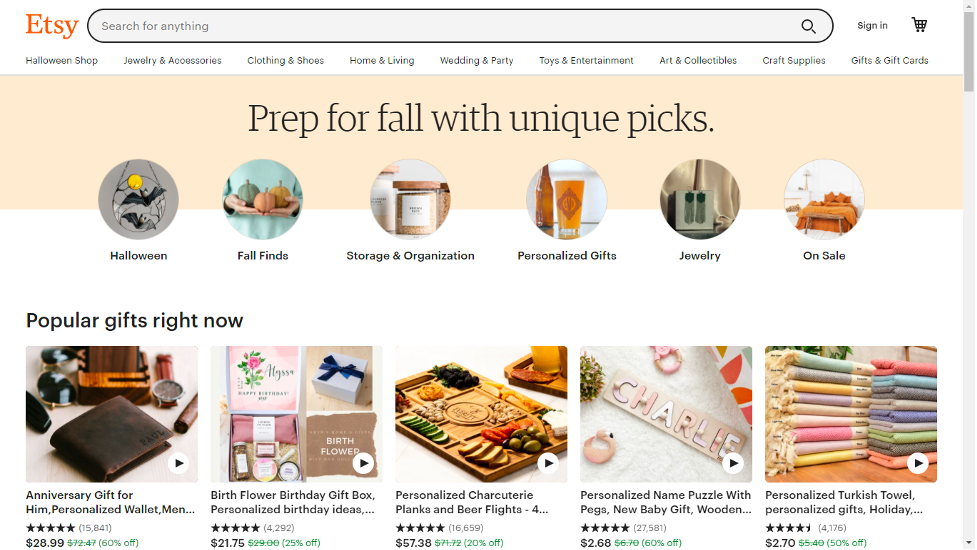 According to its Q3 2021 report, Etsy has hit $3.1 billion in gross merchandise sales, with revenue of $532,429 million at the end of Q3 2021, up 17.9% from the same quarter in 2020.
Etsy selling features
Selling on Etsy is simple and straightforward. Users can immediately begin listing things on Etsy to start their businesses after registering an account and building a storefront.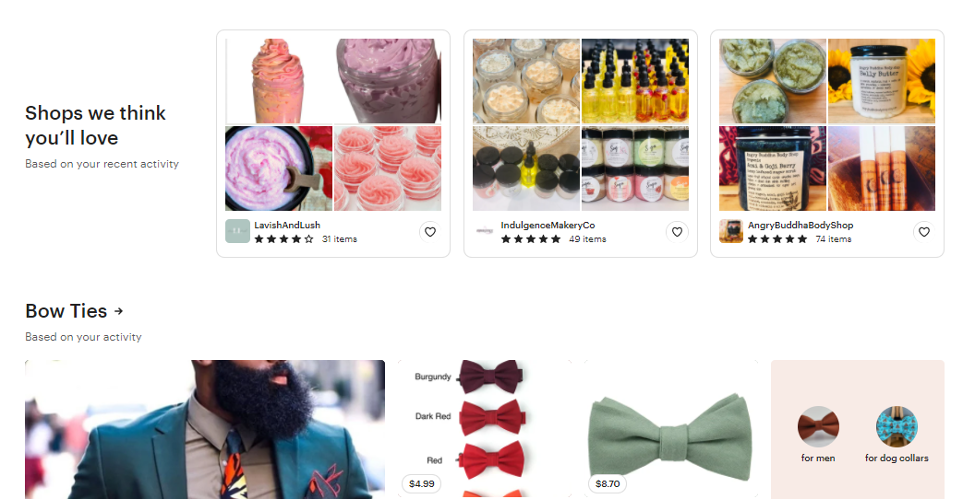 Moreover, Etsy offers reasonable shipping and order fulfillment options, including shipping labels, calculated shipping, and shipment tracking. Etsy Shipping Labels allows merchants to send items directly from their Etsy shop using USPS, FedEx, or Canada Post. Furthermore, sellers can print the shipping label directly from their Etsy shop, making the shipping process much easier.
Etsy Ads is another useful tool for promoting listings with very low fees. For advertising employment, Etsy offers both on-site and off-site ads. On-site advertisements cost roughly US$0.2-0.5 per click, and sellers only have to pay for Off-site ads if a customer purchases a product after viewing and clicking.
Best selling items on Etsy
Choosing the best product category that suits your business by checking the top-selling items on Etsy here:
Sticker
Notebook and journal
Jewelry
Home decor
Digital designs/Graphic designs
Posters
Toys & baby items
Vintage items
Organic cosmetics
Sewing and Crochet Pattern
#4 – Walmart
Walmart, which receives 410.5 million monthly visits, has long been one of the best online marketplaces. Walmart International had net sales of $140 billion in fiscal 2021, accounting for 22% of total fiscal 2021 consolidated revenue, up from net sales of $120.1 billion in fiscal 2020 and $120.8 billion in fiscal 2019.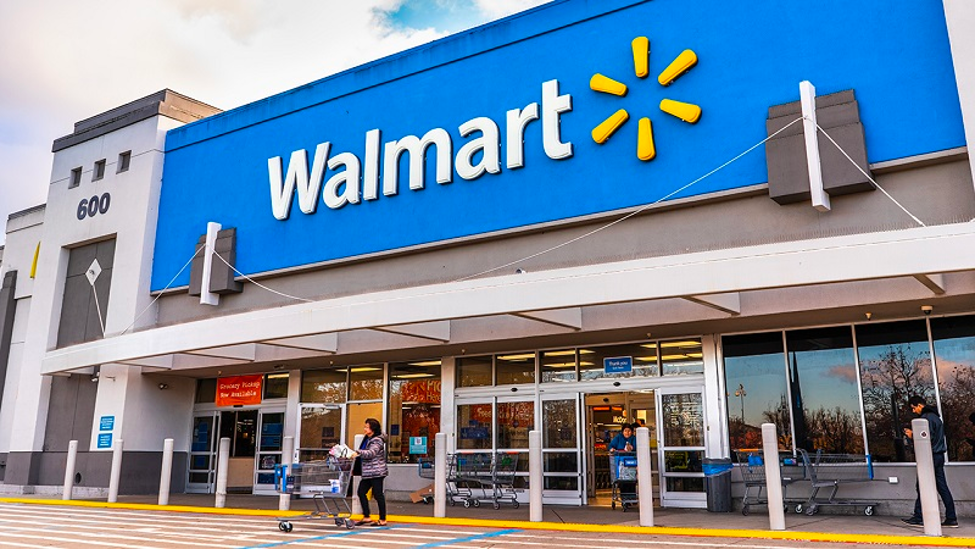 Furthermore, as of now, Walmart Marketplace has 132,026 e-merchants. There have been 3,281 new sellers joining the marketplace so far this year, with 5,005 entering in the last month.
Walmart selling features
Walmart+, a new membership offering with Omnichannel shopping benefits – one of the eCommerce trends, was launched in the United States in 2021. This service offers unlimited free shipping on eligible items with no minimum order, unlimited delivery from store, fuel discounts, and mobile scan & go for a streamlined in-store shopping experience.
Walmart marketplace sellers who sell on this channel may have access to some of the most cutting-edge eCommerce technologies. This includes advanced listing quality tools, promotion alternatives, and expedited shipping programs which can organically enhance conversion rate up to 50%. Analytics are also provided up front to assist sellers in making data-driven decisions.
Best selling items on Walmart
Walmart is known for having some of the best deals and savings, but a trip to the store or shopping on site can be a little overwhelming. That's why this online marketplace has finally revealed the best selling items on Walmart: Groceries (56.3%), Health and fitness (10.4%), toys, household utilities.
#5 – Wish
Wish is a global marketplace that mostly sells things from Chinese sellers at exceptionally low prices.
The nicest part is that retailers can locate vast quantities of apparently valuable things at inexpensive prices. Moreover, Wish is one of the greatest options when it comes to mobile commerce. Wish has a total income of $2.5 billion in 2020, and this e-marketplace is the top downloaded shopping app in the United States in 2017.
Wish selling features
This marketplace makes it simple for merchants to import or bulk change listings by allowing them to use a CSV file to fill in product names, descriptions, tags, and unique product IDs. If you sell a vast number of products, there is no need to manually upload them one by one. Merchants can filter for specific inventory depending on product status and inventory status, using Wish's inventory management to keep track of all available items.
Particularly, Wish expects all orders shipped within 5 days and provides buyers with two-day shipping. It also offers FBW ( Fulfillment by Wish), which means that the items are stored in warehouses and automatically distributed to customers by Wish when they place an order.
The best thing about Wish is the inexpensive fee structure. Wish will pay the selling price of each product to the seller, minus a commission. The sales commission rate depends on the item but can be up to 15% in combination with the order and shipping rate. More than that, there's no need to pay a registration fee, no fees for product listing, and no monthly or annual subscription fee as well.
#6 – Google Shopping
Google Shopping has always been a good option for any company. It's a smorgasbord of services and destinations, all of which are powered by Google Merchant Center.
Google Shopping is the second most common destination for users to begin their product searches behind Amazon. As a result, it's a good way to find out all you need to know about a product, including its description, price, reviews, images, and comparisons.
Google Shopping selling features
Sellers can use Google Shopping to take advantage of 3 impressive services:
Appear in the Google Shopping app. When a customer searches for a similar keyword on Google, the product listings will appear naturally in the search results, without any paid advertising.
Google Shopping Ads allows retailers to advertise their products with the most budget flexibility since there are no fixed limits for bids or daily budgets. Sellers can start a campaign for as little as $0.01 per click. As a result, optimizing the Google Shopping listing will aid in maximizing the effectiveness of Ad campaigns.
Google Shopping Action: In 2020, Google announced that sellers that participate in the "Buy on Google" checkout experience will no longer be required to pay commission on sales. As a result, regardless of their budget or business size, online retailers can sell on Google.
Nobody wants just any traffic as an online seller; they want traffic that leads to sales. Why not lose out on a Google Shopping potential with over 3.5 billion searches each day?
#7 – Facebook Shops
Many retailers prioritize Facebook, which is why Facebook Shops should be considered as one of the top marketplaces. While using this marketplace, businesses can easily sell and advertise their items on Facebook and Instagram.
They can also create personalized online storefronts without coding, use Stories to market their products, and engage with their consumers. It's still a developing market, despite its lack of popularity. According to Statista, Facebook Shops has over 250 million active stores worldwide and an average of one million monthly global users.
Facebook Shops selling features
Facebook Shops uses Catalog Manager, Facebook's inventory to allow users to add and manage products in a catalog. In the Shop tab of the Business Page, merchants can easily add products one by one. Use collections to highlight specific products in the Facebook Page shop, and organize merchandise by category to make it easier for shoppers to find specific items. At the Facebook Commerce Manager, sellers may access all important information about the things they wish to market or sell across Facebook and Instagram.
The majority of merchants use Facebook Shops to sell their goods in order to discover a more efficient approach to run ads on both Facebook and Instagram. There are over ten different sorts of ads to choose from using Facebook Shops. From page AD promotion to post AD boosts, branding AD, and more, there's a lot to do.
Furthermore, Facebook Shops offers fantastic shipping and fulfillment options. Merchants can generate and purchase a USPS mailing label in Commerce Manager to print and attach to available orders. Also, use the shipping profiles to set up and bulk change the shipping information for all items, including the order handling time, shipping speed, shipping price, and shipping destination.
#8 – Seebiz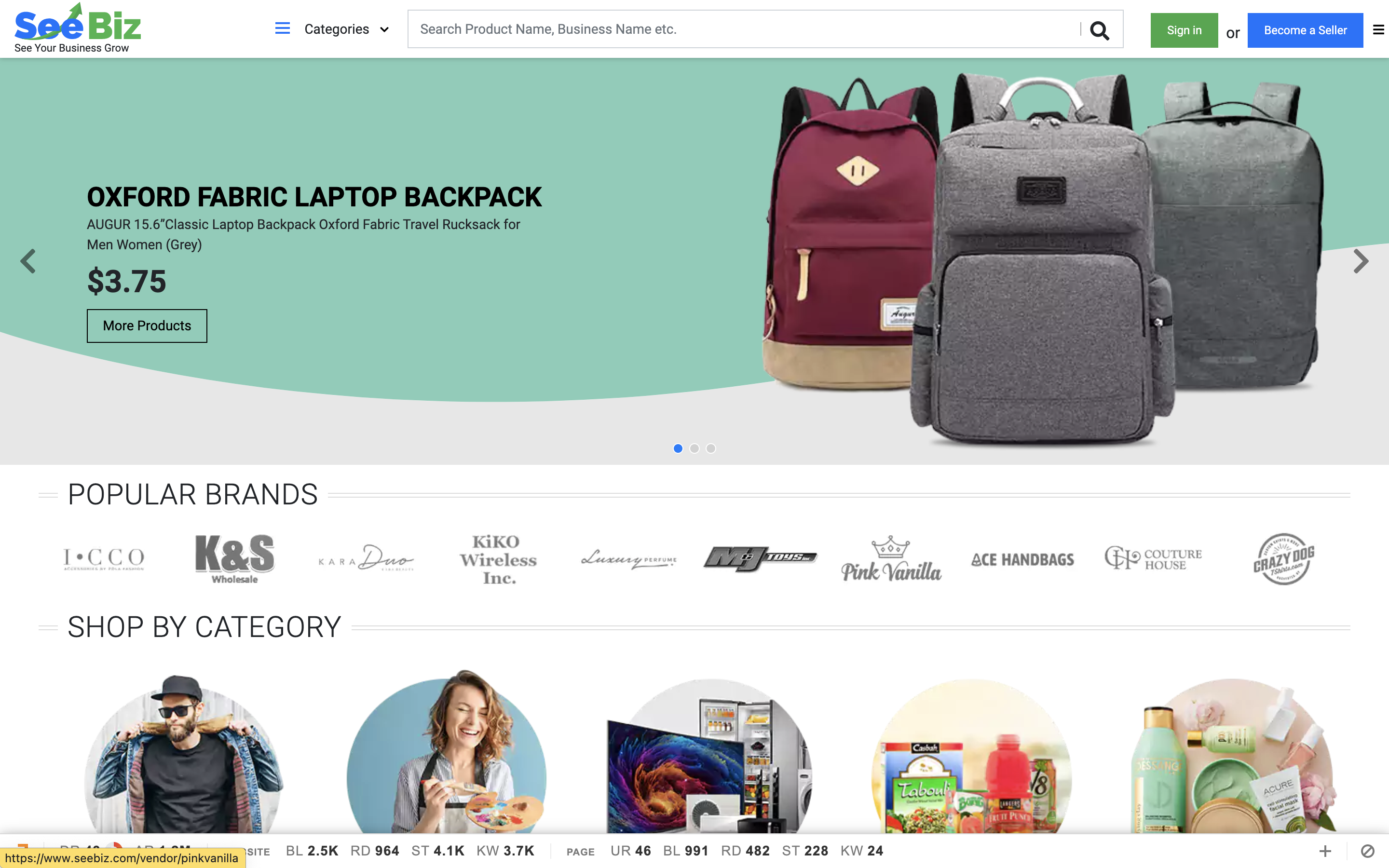 SeeBiz is a free B2B wholesale and networking platform that connects businesses together. It's a wholesale marketplace with over 600,000 products offered by 1000+ verified vendors.
You can join as a vendor and become a part of an expanding network of wholesalers. Or you can join as a buyer and connect with high-profile suppliers to ease your product sourcing woes.
The list of products and vendors is rapidly expanding, making SeeBiz one of the fastest-growing wholesale platforms in the US.
More products mean more options. This makes it easier than ever to source products
SeeBiz is a complete ecosystem for businesses to expand or source their inventories digitally. With the push of a button, you can access a huge list of vendors and contact them directly with no middlemen.
Best-selling product categories on SeeBiz
SeeBiz has some of the best selection of products across the following categories:
Apparel
Food & Beverages
Electronics
Home and Garden
Toys and Games
Sporting Goods
SeeBiz features for sellers
SeeBiz lets you post business updates, interact with other posts and directly message connections.
It has amazing features like Group Pricing and Tier Pricing which allow sellers to apply the perfect pricing strategy to products.
Group Pricing lets sellers automatically show different prices to different groups of connections. Similarly, Tier Pricing motivates buyers to buy in larger quantities.
The main goal here is to increase your business connections tenfold. Why? Because you will have a greater chance of growing your business if you have a lot of connections in the wholesale industry.
SeeBiz also provides a bit of free marketing for your business. From high-quality articles to social media posts, SeeBiz's marketing team will have your brand covered from all angles. And it's all free
---
The Advantages of Selling on Top Online Marketplaces 2022
With the ever-increasing popularity of eCommerce marketplaces and online sales, these channels are constantly coming up with new ways to keep customers happy. Choosing one of the top marketplaces can make your business thrive and even effortlessly double or triple your sales revenue.
This takes shape in 5 main attractive advantages:
1. Increasing sales
The obvious benefit of expanding to top marketplaces is the potential to make more sales and increase your sales revenue. Each marketplace has its own audience and its own fee structure.
For example, Etsy takes 6.5% commission fees while the commission from eBay ranges from 2.35% to 12.9% plus $0.3 per order.  Compare the selling fees and payment systems of each marketplace to find the best fit for your store. There are a lot of opportunities to find the right marketplace for your brand with the right product and audience fit.
2. Strategic partnerships
There are a ton of opportunities to combine online marketplaces with affiliate marketing. Some affiliates will only work if your products are on Amazon, for example. So start selling on Amazon because it can open doors for you to build long-term partnerships with affiliates, coupon sites, large publications, etc.
3. Loyal customers base
One of the greatest reasons why you should sell on online marketplaces is the establishment of customers they have. If you combine Amazon, eBay and Etsy, you are looking at 500M+ active monthly visitors, that's a huge chunk of online real estate.
Furthermore, each marketplaces has a very loyal customer base and active audiences that are genuinely excited to and look for new products on those platforms.
4. Fast launch times
If you're new to selling online, marketplaces can be an excellent way to generate revenue and build your brand as you work to drive traffic to a new eCommerce website. Once approved as a third-party seller, you simply upload your product feed and start selling.
5. Long-term growth
Last but not least, once you get traction on an online marketplace when your product is good and you're getting positive reviews and success stories, then you can expect long-term growth.
The channel will require the normal customer service and operation efforts to ship and service your customers. And you can continue to optimize your listings, but you won't need to re-invent your business. This is the epitome of "not putting all your eggs in one basket".
Frequently Asked Questions (FAQs)
1. What is an online marketplace? 
An online marketplace is a website or app that facilitates shopping from many different sources. The operator of the marketplace doesn't own any inventory, their business is to present other people's inventory to a user and facilitate a transaction.
In an online marketplace, sellers take all of the inventory information and upload it to the third-party site. It can essentially transform a small, local business into one with national or even international reach. Also, seller's products become available for purchase to all marketplace's customers, and in exchange for a larger audience, the third-party sellers need to pay an amount of selling fees.
2. How to build an online marketplace? 
In short, here are the steps in a nutshell:
Choose a suitable online marketplace
Create an account and provide some essential information about your store
Upload your product catalog with SEO-friendly title and description
Manage your products, inventory and orders
Nonetheless, you can start selling on one or more online marketplaces to drive your business with a multi-channel solution.
3. What is the easiest thing to make and sell?
Here are some products you can make at home and sell for extra cash.
Bath bombs
Homemade Scented Candles.
Handmade soaps.
Natural Cosmetics.
Gift Basket, Box, or Subscription Boxes.
Jewelry.
Designing Digital printable products.
Homemade meal service.
Each marketplace has its own best-selling categories for you to consider. Depending on your budget, materials or any factor that matters to your business, you can pick one of top online marketplaces 2021  to start selling.
Wrapping Up: Best Online Marketplaces in 2022
Choosing the best markets to sell your stuff isn't enough. It's best to conduct thorough research on competitors and the product niche to ensure that it isn't overly saturated and that there is still room for competition. Because of the high volume of organic traffic to online marketplaces, developing a plan to assist products appear on the first page of search results in order to attract more visitors is critical.
Embracing integration technologies can make the process of launching and operating a new sales channel easier for merchants who sell on web stores or marketplaces. Using multichannel selling technologies, which assist in synchronizing data between marketplaces and web stores and simplify the process of publishing new listings and managing orders from different sales channels, you may achieve centralized management.
You might also read: