Introduction
The people who have already expressed an interest in your items are one of your most important campaign audiences. Google has an ad type that allows you to specifically target this group.
In fact, creating remarketing campaigns is one way to reach this specific audience. They allow you to target advertisements to people who have already visited your website or downloaded your app. Shoppers will be more likely to purchase from your store if they are reminded of your products and brand.
Continue reading for a thorough beginner's guide to creating remarketing campaigns, creating targeted audience lists, using remarketing tags, and more.
What are remarketing campaigns?
Firstly, remarketing campaigns display and search ads allow you to target a highly lucrative audience that plays an important role in your company's sales cycle. Customers that have visited your website or interacted with your brand in some way online make up this category.
As a result, they are critical in building a long-term consumer base that returns to place repeat orders.
We'll go through the two basic sorts of remarketing audiences or lists that Google offers below:
Customer Match List for Google Ads
Remarketing Audiences on Google
1. Google Ads Customer Match List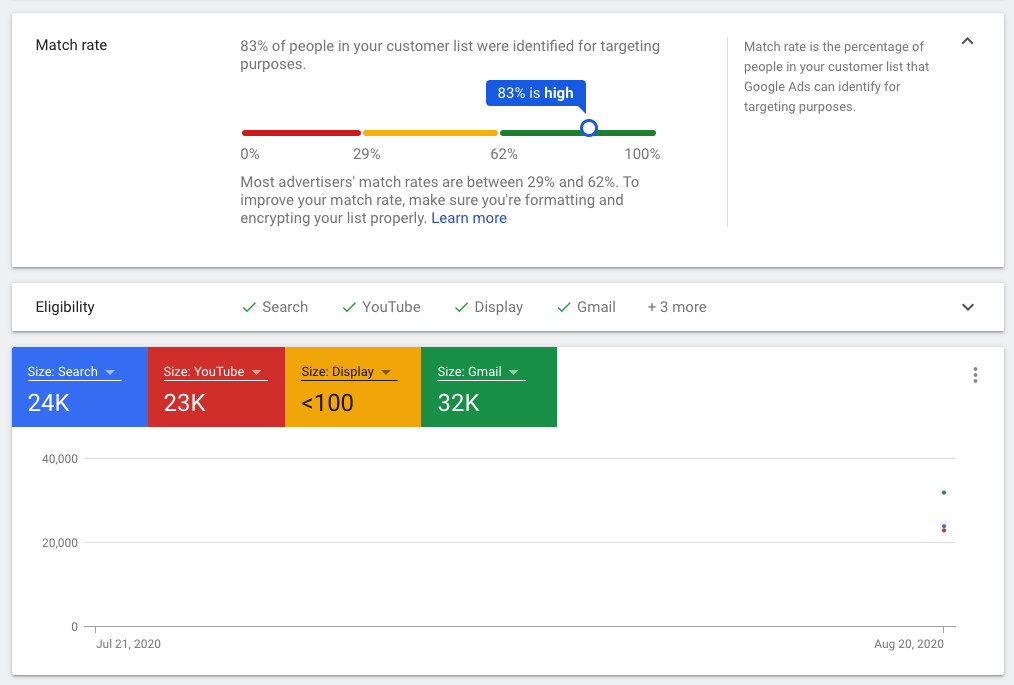 We can use this tool to directly transfer our consumer email address lists into the Google Ads platform.
This solution is available to let retailers reach out to their most loyal consumers directly from the Google Ads platform. These email address lists are then matched to Google Chrome accounts, allowing us to target any of these "signed-in" individuals.
Users can restrict the adverts they view when logged into Google Chrome, for example. 'Customer Match ads' are an example of this.
Customers can opt-out of 'tailored advertisements,' or mute / block individual ads in Google Adverts Settings if they don't want their browser to show your ads.
Customer Match is not available to all advertisers since certain criteria must be completed before using this option. Customer match lists are also not available in all countries; for additional information, see the Account Requirements.
As marketers, we may use these 'Similar Audiences' to reach out to new people. This broadens our entire reach in a highly targeted manner based on customer data.
Collecting customer data
You can only submit customer data when you gather in a first-party context. This is where customers willingly and directly volunteered their information with you. Also, customers who have bought things from your website or physical store can get the marketing messages.
Data Security
Make sure your cold email lists are compatible with your country's data protection laws. Recent General Data Protection Regulation (GDPR) rules in the EU recommend that you should update email lists on a 30-day rolling basis, with any customers who do not respond within this timeframe being erased from marketing communications.
Besides, you must obtain cookie consent from customers before using cookies in marketing or advertising campaigns. You can do this by adding a cookie banner to your website that will inform customers about cookies set by the site and give them options to accept or reject cookies. You can also foolproof this by adding a cookie policy page to your website.
It's also a good idea to make sure you're following any relevant Google rules and regulations, such as self-regulatory or industry guidelines.
You must make sure that your website's privacy policy states that you may share customer information with other third-party organizations for the purpose of executing services on your behalf.
Additional Limitations
You are not able to do the following:
Displaying advertisements that capture personally identifying data;
Uploading information about any client under the age of 13 that was from a website or app aimed for minors under the age of 13;
Creating ad content that necessitates knowing personally identifiable information or sensitive information about your customers (for more information, see below);
Advertising products related to sensitive information, such as pharmaceutical products, in a Customer Match campaign;
Using any advertising that aren't acceptable under Google's ad policies.
Detailed Guide to Set Up Google Ads Customer Match List
At this very first step, when submitting your customer data, make sure you only use Google's approved API.
Firstly, log into your Google Ads account at https://ads.google.com/
Then, choose a name
Select "Upload Emails, Phones, and/or Mailing Addresses"
 Select "Upload plain text data"
Choose a file – please see Google's requirements
Set a membership duration
After that, check the box "This data was collected and is being shared with Google in compliance with Google's policies."
Finally, select 'Upload and save list.' You will be able to view the progress of your file under 'Audiences,' which may take three hours for completion.
Additional Conditions
Also, you can't:
Run any ads which collect personally identifiable information;
Upload information for any customer under the age of 13;
Imply knowledge of any personally identifiable or sensitive information about your customers;
Promote via a Customer Match List any products related to sensitive information.
2. Google Ads Remarketing Audiences
Google Remarketing advertisements allow for more precise targeting of visitors who have previously visited the advertiser's website, app, or specific pages.
The first step is to generate remarketing campaigns lists, which are then in use in various campaign types.
How to Create Remarketing Lists
On the Google Ads advertising platforms, there are two ways to create and use lists:
1. Using the remarketing tag from Google Ads
2. Tracking with Google Analytics
1. Google Ads Remarketing Tag
To start remarketing campaigns in this way, you'll need to add a remarketing tag, which you can receive from Google Ads, to your website. You can now add the global site tag as well as the optional event snippet.
The information about your website visitors and the pages they are reading will subsequently be captured. This information comprises the URL of the page, as well as the title of the page. You should put the tag on all pages of the website, but only once per Google Ads account. Also, you need to create a remarketing tag Google Tag Manager or Google Analytics.
The event snippet is highly valuable for tracking specific actions that your website visitors have made that may be useful for future advertising.
The following are some notable examples:
Purchasers from the past
Abandoned carts
Completed contact forms
Subscribers to the newsletter.
Advertisers have the freedom to be as inventive as they want.
How to set up remarketing tag
1. Go to your Google Ads account and sign in.
2. Go to Tools -> Shared Library -> Audience Manager in the upper right corner.
3. Select Audience Sources from the left-hand menu.
4. In the 'Google Ads Tag' card, click 'SET UP TAG.'
5. Choose between static and dynamic remarketing data.
At this point, you can choose to include 'User ID' as a parameter, allowing you to pass a User ID for each website visitor. Next, you can eventually enable capabilities like cross-device linking.
To include a User ID tag, follow these instructions:
I. Next to 'Google Ads Tag', click the three dots.
II. Select "Edit Source" from the drop-down menu.
III. Select "Advanced Settings" from the drop-down menu.
IV. Check the box labeled "User Id".
Note: If this option is grayed out, the account does not match the criteria for using a Customer Match List.
6. Then, select "Create & Continue" from the drop-down menu.
7. After that, the installation screen will show. This provides you with a number of alternatives for putting the code on the website. You can use Google Tag Manager to copy the code.
8. Managers can either install it themselves or download the tag and send it to your web developer through email.
TIPS: Be sure to paste the code between the <head></head> tags of the website.
9. However, please note that you shouldn't copy and paste the event snippet directly into your website because it contains placeholder data that must be dynamically filled in by your website developer. Or else, instead of being applied to all web pages, you should add this code only to the individual pages where events occur.
10. Finally, press the DONE button. Click DONE once again on the next screen.
How to Create Remarketing Audience Using Remarketing Tag
1. First, log into Google Ads
2. Then, click Tools & Settings in the top-right-hand corner
3. Next, select Shared Library > Audience Manager.
4. After that, click the Blue + button in the top left corner in order to create a new audience using the Google Ads remarketing tag.
5. For example, click on Website Visitors to make a remarketing audience for all those who have visited your domain.
6. Name your audience
7. Create a variety of consumers based on your company's goals and marketing requirements. Please see the following for more options:
A page's visitors (input URL)
Visitors to a page who have also viewed a previously visited page
Viewers who did not go to a previous page after visiting this one (for example cart abandonment audience)
Users to a page on certain dates
8. Later, check that the URL requirements are met by entering certain sections of the URL or specific words into Google Ads. For example, a bed merchant might only want to target people seeking for specific sizes, so they might enter the term "King" into the "URL includes" area.
9. At the next step, choose the pre-fill choices to have Google populate the list with people from the preceding 30 days.
10. Select a Membership Duration, which specifies how long users will be part of the audience before being removed. There is a maximum of 540 days available.
11. Finally, in the Google Ads approval process, click Create Audience, which is the final step in securing the audience. It could take up to 24 hours for this to happen.
2. Google Analytics Remarketing Tag
Alternatively, instead of using the Google Ads tag, you can utilize the Google Analytics tag. Advertisers can still import this data into the Google Ads interface and use it directly.
You'll need to make sure of the following:
On your website, you have the Google Analytics tag installed.
A Google Ads and Google Analytics account that is linked, providing administrative access to the former and edit access to the latter.
Google Analytics has remarketing tools enabled.
It's important to remember that each Google Analytics account has a limit of 2000 Remarketing Audiences.
Creating a New Remarketing Audience in Google Analytics
To build a Google Analytics audience, you sure need to follow these steps:
1. At the first step, go to Google Analytics and log in.
2. Then, go to Admin and select the Property where you want to develop your audience.
3. Next, select Audience Definitions -> Audiences from the property column.
4. Select Add New Audience from the drop-down menu.
5. When choosing which audience you'd like to configure, you have three options:
1. Select a preconfigured audience:
These contains "All users, new users, returning users", and so on.
They also allow us to target users who have visited a specific section of the website, by providing the URL of the page you'd like to track. (This option uses the contain match types, and matches any URL containing the string entered here).
Here, users who have completed a goal conversion can also be found. Select Edit -> Select goal. Please note that only Google Analytics goals are applicable.
Users who have successfully completed a transaction.
2. Select a new audience definition
You can also construct a new audience based on a range of variables and segments that you define to meet your individual marketing objectives. Click Apply once you've finished configuring your individual requirements.
3. Importing a section
You can also use pieces from your current property as the foundation for your defined audience.
After that, select & name your target audience and proceed to the next step.
Use the + Add Destinations menu within the Audience Destination to select which accounts you'd like to use these audiences in. To push the list through to this advertising channel, make sure to pick Google Ads.
After that, click OK and then Publish.
3. How to Make the Most of My Remarketing Audiences
Remarketing audiences can be included into your Google Ads campaigns in two methods. Cookies are used in both classic Display remarketing and RLSA advertising to track people who have visited the advertiser's website before and add them to remarketing campaigns lists.
Google RSLA (Remarketing Lists for Search Ads) Audiences
Google Display Remarketing
1. Search Engine Ads (RLSA)
RLSA advertisements will only appear on the results page if the user has actively searched on Google using a keyword on which the advertiser has bid. Remarketing campaigns lists are added to existing search campaigns via the search network and used in one of two ways:
For those high-value individuals on your remarketing campaigns lists, you can optimize the bids and make independent bid modifications on your existing keywords.For example, if a user has visited your website in the last 15 days, you can increase your offer by 45%.
You can develop campaigns that solely target those who have signed up for your remarketing campaigns lists. As a result, for those high-value customers that you already know have purchased or contacted you in the past, you can generate unique messaging or test new search phrases.The benefit of developing distinct remarketing campaigns is that they may be targeted with a certain budget. It's easier to keep track of spending on the remarketing audience this way than it is with bid adjustment.
What are the Benefits of RSLA Ads for Advertisers?
Advertisers benefit from RSLA ads since they target a specific audience at a certain time when they are looking for related items or services.
Marketers can use these technologies to re-engage those who have previously demonstrated interest in the brand. This boosts overall inquiry and purchase rates while also lowering shopping cart abandonment.
The average documented online shopping cart abandonment rate is 69%. — Baymard Institute's Ecommerce Checkout Usability Study, January 2017.
2. Google Display Remarketing
Advertisers can utilize Google Display Remarketing to reach out to users who have previously visited the website. It thoughtfully reminds you of your products and services via the most appropriate channel, time, and location.
In fact, Google allows us to display our advertising on a range of websites, including the Google Display network and YouTube, using image, video, or text ads. As a result, this attracts the attention of a curious audience when they are surfing the web.
While the Google Search Network is an excellent way to target people who are already looking for specific products, the Google Display Network is an excellent approach to catch a potential client earlier in the purchase cycle.
You may get your adverts in front of a potential customer before they even know they're looking, which is an important part of your overall marketing plan.
What You Need:
Custom Remarketing List
Custom Data Feed
Personalized Code
How to Create a Remarketing Audience in a Display Ad:
1. Develop a dynamic advertising campaign
Select Campaigns from the page menu after logging into your Google Ads account.
Click on the Blue + button to create a new campaign.
Choose the best 'Goals' from the list of suggestions based on your company's main goal.
Select Display Network from the 'Campaign Type' drop-down menu.
Select the criteria that best suit your marketing requirements (campaign name, location, language settings, bidding strategy and budget)
Additional settings include ad scheduling, content exclusions, and device targeting, among other things.
2. Create Data Feed
Select Tools & Settings -> Setup -> Business Data from the drop-down menu.
Click the blue + button to add a feed
Select Dynamic Ad Feed -> Custom
Download the Custom Feed Template
Upload the completed Custom Feed
Tips: If you already have a Google Shopping Campaign set up, you can simply use your Merchant Center Product Feed. However, it's important to remember that the remarketing list's Item ID must match the ID attribute in your feed.
3. Make a list for remarketing.
Select Tools & Settings -> Shared Library -> Audience Manager from the drop-down menu.
From the left-hand menu, choose Audience Source.
Next, select 'Edit Source' from the three dots next to Google Ads Tag.
To deliver targeted adverts, collect data on particular actions individuals took on your website.
Then, choose 'Custom'. (You can also choose to include the User ID tags if they are available).
Continue and Save.
4. Incorporate the Custom Code
At this step, you'll need to reinstall the tag now that you've changed the parameters.
Choose how you want to add the code:
Use Google Tags Manager
Install the Tag Yourself
Email the Tag to Your Developer (Recommended)
5. Create a remarketing list and add it to the campaign.
Find Audiences in the People section and select Remarketing.
You can check the boxes next to each audience you'd like to include from your previously constructed remarketing lists (see above).
Choose Save.
Please keep in mind that when you create a new Display Audience, Google Analytics repopulates the list with up to 30 days of data, allowing you to use the list within 24-48 hours. If you don't have enough data to last 30 days, the data you do have will be used.
Types of Display Ads
Display ads come in a range of shapes and sizes. The following are some examples of image advertisements that can be created:
Responsive Display Ads
This is a semi-automated process. It's a clever method to let Google's algorithm help you figure out which visuals to present throughout the web when you're trying to reach your target demographic.
Simply type in your ad content, add some photos (automatic website scanning is also an option), and add your logo. These advertising appear as 'native' ads, which blend in with the look and feel of the publisher's website.
Uploaded Image Ads
If you have a graphic design team that has designed unique ads to match your brand's theme, image ads are also a possibility. Ads come in a variety of sizes (see below) and can even be displayed in HTML5.
Sizes of Common Display Ads:
Conclusion
Google Ads has made advertising easier. A marketer needs a basic understanding of the audience, awareness of the brand and its niche, digital trends, and proper search ads knowledge.
If you are intending to expand your business into multichannel selling and need an effective tool to manage your store, we recommend LitComemrce – the easiest way to monitor everything of your multichannel store at an affordable price.
Just leave us a message in case you need more information, our support team is always ready to help.
Also, you can join our community for more exciting eCommerce news and tips
Enjoy reading!