Introduction
Your title aids in the identification of the item you're selling. As a result, it is one of the most noticeable aspects of your advertisement. With a correct Google Shopping title, you can have a better chance of getting the right customers to click on your products.
Google evaluates if your listing is relevant to a certain search query based on product titles. The title attribute is not only important for Google's matching algorithm, but it's also one of your ad's most visible elements.
Modifying product titles to more closely match the terms people are searching for will help your products show up in the most relevant searches.
Take a look at these Google Shopping product title optimization strategies to ensure you never lose out on a possible sale. Let's go!
Consider the perspective of your customers
The title is the second most important aspect to Google, just after image. Consumers perceive it as one of 4 criteria on Google's result page. Even if the image conveys a lot, the Google Shopping title must be captivating.
The most important product qualities should be highlighted in the title so that customers can quickly scan through. By that, the customer can decide if the product is worth clicking on.
If you own an online store, you must understand your customers' behaviors. Recognizing the most important elements that influence customers' decision to buy is critical in this process.
There is no such thing as a one-size-fits-all solution. Especially when it comes to product title optimization. Each industry and each customer are unique. Analyze your target audience, as they are the key to figuring out what your searchers are looking for.
The impact of product titles on your shopping campaigns
Product titles are one of the feed attributes that can have an instant influence on the performance of your advertising when they are improved. Despite the fact that dozens of case studies have been conducted on the subject, many e-retailers still discount the value of this quality.
Let's look at a handful of examples:
Search Engine Land published a case study a few years ago that demonstrated the importance of optimizing your titles. There were three sets of products:
a title that is original;
an enriched titles that included category information, further attributes;
a search phrases with enhanced titles that included category information, additional characteristics.
What's the end result?
The CTR on the more keyword-rich product titles increased by 18%, while the CTR on the precise query match to the term that was added to the title increased by 88 percent!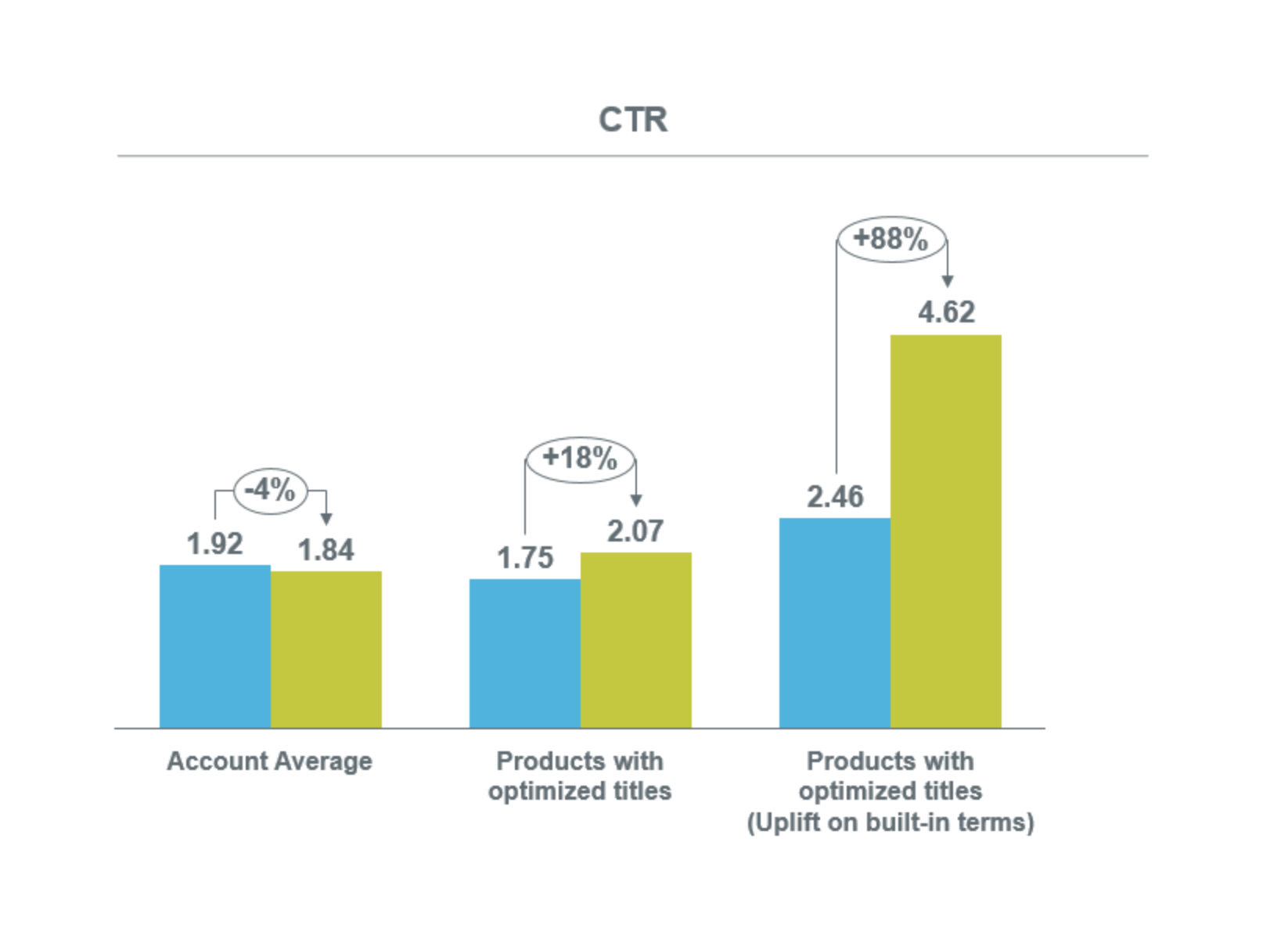 Another great example is Zoobgear, which was able to tweak Google Shopping product descriptions to the point of seeing a 250% boost in clicks.
Conducting keyword research was an important aspect of their plan. That study helped them figure out how their potential customers look for sports equipment and what information was most important to them.
When it comes to enhancing your Google Shopping ads, title optimization is key. By increasing impressions, you may increase your advertising revenue and hence, improve your return on investment (ROI). Giving appropriate details in your Google Shopping title makes them operate well for searches with a high buying intent. It will ensure that the search query and the ad displayed are more closely aligned. As a result, conversion rates increase.
Google's Requirements for Product Titles
Product titles must meet certain criteria set by Google. Let's take a look at a few of the most significant:
Keep in mind the following length restrictions
Pay attention to the lengths of your titles. Make sure they don't go over the maximum character limit of 150. You can only display 70 characters in some instances, such as on a mobile device. If you go over that limit, your Google Shopping title may be cut off.
Google will display as much of your product title as possible, but it will be abbreviated frequently. As a result, make sure the most appealing content is at the top of the titles.
Avoid capitalization
Spam and untrustworthy adverts frequently use capitalized text. Use capitalization only when it's absolutely necessary. This includes abbreviations, phone numbers, and country names.
Include no advertising text
Price, sale price, sale dates, shipping, delivery date, other time-related information, or your company's name should not be included. You should set the data aside for other qualities.
Avoid using words from other languages
Including words from foreign languages in your ads may generate confusion for buyers and have a negative influence on the performance of your commercials unless customers properly understand what you write.
Differentiate between variants
Be specific and include each variant's unique characteristics. Is your product available in a variety of colors or sizes? Include these details in the headline (and don't forget to include your alternative photos!)
How Keywords are Important in the Product Titles
Because Google considers the properties of your titles as a proxy for keywords, optimizing them, as well as other feed data, is critical to the campaign's success. Because shopping algorithms and SEO have a lot in common, including the most important phrases in the product title is critical for the optimization process.
If you are familiar with your industry and have studied your consumers' paths, you will be aware of how they look for your products.
Will people look for products by brand name? Then start with your brand. If your brand isn't well-known or you're selling unbranded things, let's start with descriptive terms.
Will people look for products by category or by UPI (as in the case of electronic devices)? Your knowledge will aid you in detecting your customer's intent and locating relevant keywords to improve the Google Shopping title.
When it comes to choosing the perfect keywords for your titles, reports and data are worth relying on. Don't forget to look over your search query report, first with the queries that convert well and then moving on to the ones that don't.
Use keywords that have a good impact on the health of your product feed. Properly optimizing the titles can quickly increase impressions and clicks for your campaign.
Consider the keyword order. The order is important because Google prioritizes keywords that appear first in the title. Don't forget to test your keywords and their sequence as you choose them. Also, you should examine a variety of title formulas and keywords. That is the most effective technique to adjust your strategies based on results.
Best Practices for each Vertical Product Titles
Vertical Title Structure Recommendation
The order in which relevant key qualities appear in the Google Shopping title varies depending on the product type and industry. Model numbers, for example, are an important quality for electronics but not one to emphasize when it comes to clothing.
Fortunately, Datafeedwatch has given a sneak look of how to arrange your product title, based on Google's Shopping Best Practices.
What Does an Optimized Product Title Look Like?
Important information vs. Structure
The title's structure is equally as significant as the information it contains. They're two complementary elements.
To determine which properties should be added, you must first comprehend how Google's algorithm selects products for presentation to searchers.
When it comes to selecting ads that are relevant to the search query, Google often prioritizes the terms at the start of the product title. Therefore, the order is important.
Here are some suggested title structures that you might use as a starting point:
Brand + Product Type + Color + Material
Brand + Size (length, width, height) + Product Type + Color
Material + Product Type + Color + Brand
Style + Color + Product Type + Brand
Product Type + Size + Color + Feature + Brand
Effectively promoting product variations
If you're selling a product with many variations, you must submit each color, size, material, and pattern as a separate item with its own title.
This is the point at which you must select if you want to promote a "parent" product only or also promote its variants. It's easy to ignore this detail, so pay attention to it.
What are the best ways to include all of the important attributes in titles?
You can combine the most important features in your Google Shopping title after you've conducted a thorough examination of your reports, verticals, and product kinds. With the help of rule-based mapping in DataFeedWatch, this is simple to accomplish.
You can just mix them in your title to contain every important attribute, as shown below:
How to Improve Google Shopping Product Title
1. Comply with Google's product title requirements
The use of capital letters and exclamation marks is tightly controlled by Google. Google will not accept your products if your title has too many capital letters and exclamation points.
Follow Google Shopping's rules to avoid rejection. From there, you'll find the most crucial title requirements.
2. Incorporate data from your search query's performance into your changes
Use the Google Ads search terms report to determine which inquiries are the most effective and which ones result in conversions.
Additional sources of information could include Google Trends and the Search Console (organic results).
3. Include keywords in the titles of your products
Google evaluates your feed and determines which inquiries, or keywords, are most relevant for your shopping advertising. Put the most important keywords at the beginning of your product titles to improve their SEO.
4. Prioritize the most important information.
Google will display as much of your product title as possible, but it will be abbreviated frequently. Make sure you start your Google Shopping titles with the most intriguing information.
5. Add modifiers such as color, size, material, and details.
Keep in mind that these words are frequently in use by customers to narrow their searches. It's important to be as specific and thorough as possible. This strategy will improve your chances of being noticed for relevant queries, resulting in a higher conversion rate.
6. Adhere to your vertical's best practices
Obviously, you need to adjust your attribute strategies according on what you're selling. Consider how your customer would search and then select which elements are important enough to include.
7. Add the product's category and brand to the title
One of the most essential factors in why people buy something is brand loyalty. Many customers are looking for certain brands or categories of merchandise. Make sure to incorporate your brand in your ads if it is already well-known among your target demographic.
8. Make continuous improvements and tests
A well-optimized product title can increase your conversion by doubling or even tripling your click-through rate. However, there is no one-size-fits-all approach to creating product names. Keep in mind that various sorts of customers search in different ways and are at different stages of the buying process. Therefore, you should make changes to your titles based on statistics and performance.
Conclusion
Finally, you can waste valuable ad spend and miss out on innumerable conversion opportunities if your product title isn't optimized. It's well worth the time and effort to go the extra mile and thoroughly optimize your product titles. It may appear to be a difficult undertaking if you have thousands of products in your feed. You can, however, gradually improve your ads' effectiveness by optimizing them bit by bit.
Start with your top 10 best-selling products, or 10% of your total sales. Within a few weeks, you will see the favorable effects of your improvements.
You will always be one step ahead of the competition if you take the time to optimize your Google Shopping product titles.
If you're trying to broaden your store by selling on various eCommerce channels besides Google Shopping such as Amazon, eBay, Etsy, etc. and looking for a tool that can help you simplify the management process, check out LitCommerce – the easiest multichannel selling tool for you. The tool helps you integrate your web store built on eCommerce platforms such as Shopify, WooCommerce to the world's top marketplaces.
If you need more information, contact our support team at any time, we are always ready to help. Also, join our community to explore more useful eCommerce tips and tricks.
Good luck!