Although Google Shopping is not a top online marketplace, it offers features that are comparable to those offered by other online marketplaces. Therefore, all online sellers want to learn how to list products on Google Shopping to help customers know where the store sells when searching for any products.
This article is for online sellers who haven't known how to get products on Google Shopping and the best ways to optimize them yet. You will learn about the following sections:
Now! Let's stay tuned and find out a bit more about how to list products on Google Shopping!
Try LitCommerce – The Multichannel Selling Tool to list products on Google Shopping with little effort.
---
Google Shopping – an online shopping engine that allows users to search, compare, and purchase items from a variety of online shops. This new Google Merchant Center platform enables all of these services and locations.
Vendors can submit a catalog of product data to Google Merchant Center using this tool. In Merchant Center, merchants may expose their items to customers in several methods, including paid ad marketing, organic search discovery, and placement inside a typical marketplace buying experience.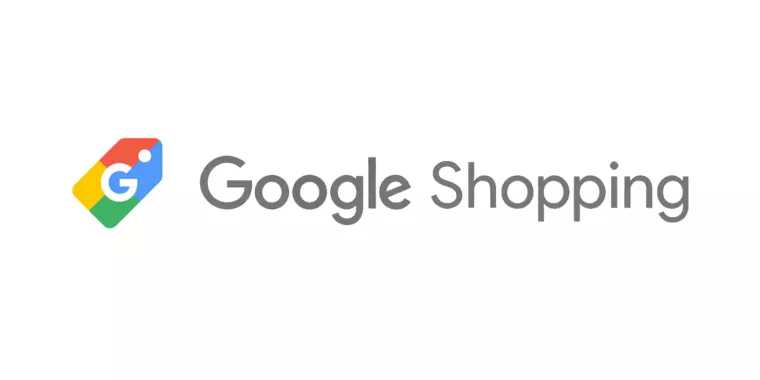 What are Google Shopping destinations?
Sellers may take advantage of Google Shopping in many ways. Simply being discovered in organic search implies that when a customer searches for products on Google, it will show without requirements for paid promotion.
Rather than relying just on the conventional Search Engine Results Page (SERP) of Google's basic interface, Google now provides useful information to buyers in a variety of additional places. With Google's Surfaces, your products will appear in picture search results instead of the conventional text search results. Google Lens (Google's image recognition technology for mobile phones) may also be used to display your goods. In the future, you'll be able to check product outcomes on YouTube videos!
Merchants may build up shopping campaigns in Merchant Center, including setting budgets, monitoring bids, and gaining insight into ads effectiveness. You pay Google to show your products as search results across all of the same consumer touchpoints in Shopping Ads. Creating a Google Ad campaign to attract visitors to a website is quite similar to what you would do for a business.
This is the newest way for customers to connect with Google. Essentially, customers will locate your goods, "add to cart" them using the Google shopping cart, and finish the payment process directly on Google.
Price, brand, and category can be used to narrow down the results for customers. On Google Shopping, buyers can also read reviews of products. To display goods that can be purchased via Shopping Actions, customers may select "Buy on Google" from the left-hand menu.
It's no secret that Google dominates Internet search traffic. Billions of individuals use Google every day. A seller's multi-channel eCommerce strategy cannot complete without making use of Google's variety of destinations.
Before, the Google Shopping tab included paid Google Shopping list via the Shopping Ads service, but now most of the search results are free items revealed via Surfaces by Google!
Google's answer to COVID-19 is that qualified US businesses can start publishing shopping lists on Google and advertising items getting on Google Shopping for FREE, starting April 21, 2020.
Every time a transaction ends, Google Shopping Actions charges a percentage commission (since they are processing the order). Surfaces by Google, on the other hand, is essentially a free advertisement that brings customers back to your website to make a purchasing decision.
In addition to the free services, you may decide if you want to invest additional money in sponsored advertisements via Shopping Ads to further market your items after your product catalog has been entered into Google Merchant Center and hundreds of millions of customers have exposed your products.
---
Why Use Google Shopping?
Here are 3 main reasons why online sellers cannot ignore the power of Google Shopping:
Google is the most visited website on the Internet with more than 3.5 billion searches per day and the majority of them are product searches. This is a good opportunity for online sellers not to miss.
Google Shopping search results will appear before organic search results. Therefore, the click-through rate of your items will also increase significantly if getting on Google Shopping.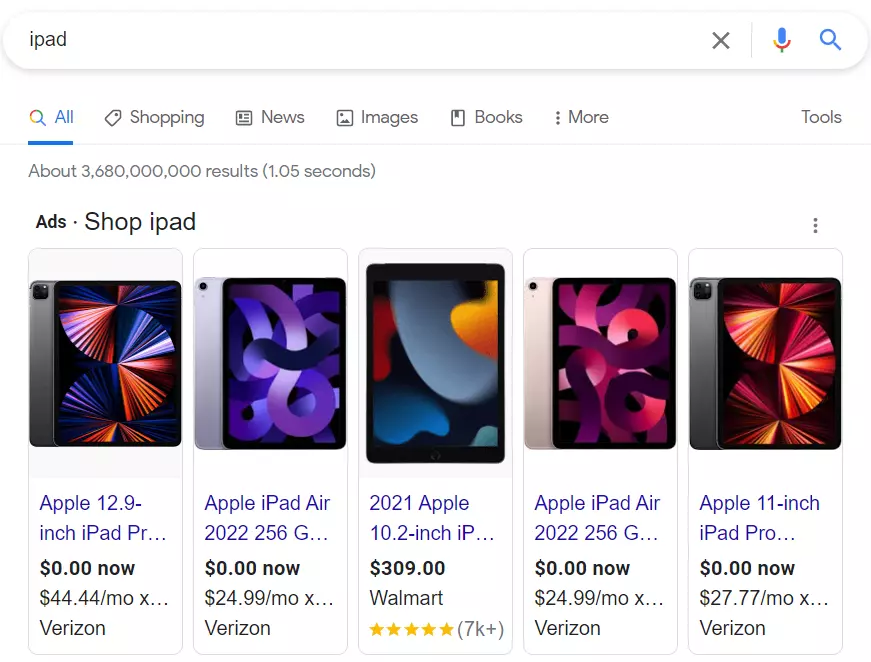 Google Shopping's conversion rate is also proven 30% higher than Ads. So, Google Shopping seems to be the best way to help your items on the 1st top of Google.
---
Prepare to List Products on Google Shopping
What do I need to do before listing on Google Shopping?
Just need a few steps and you'll get on your Google Shopping list on sale.
Creating a Google Merchant Center account is required before you can start adding items.
To use Google Merchant Center, you must first create a Google Merchant Center account.
To continue, you'll need to establish a Google account (as you would for Gmail or YouTube).
How to create a product data feed
Before you can start adding products, you must first create a product data feed. This feed informs Google of all your products and their data, allowing the search engine to get and display the appropriate information.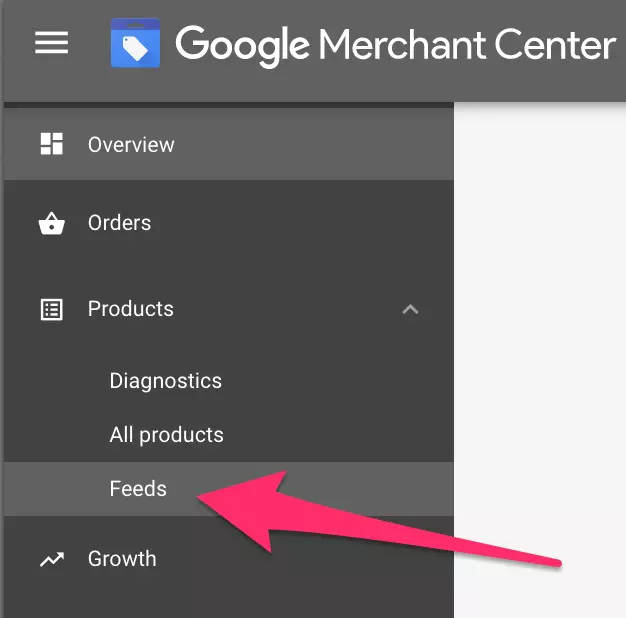 Select "Products" and then "Feeds" in the left-hand menu of your Google Merchant Center account to establish a product data feed.

Afterward, click on the blue + sign symbol.
Enter your nation and language when asked. This is followed by naming your product feed so that it can be readily identified in the future.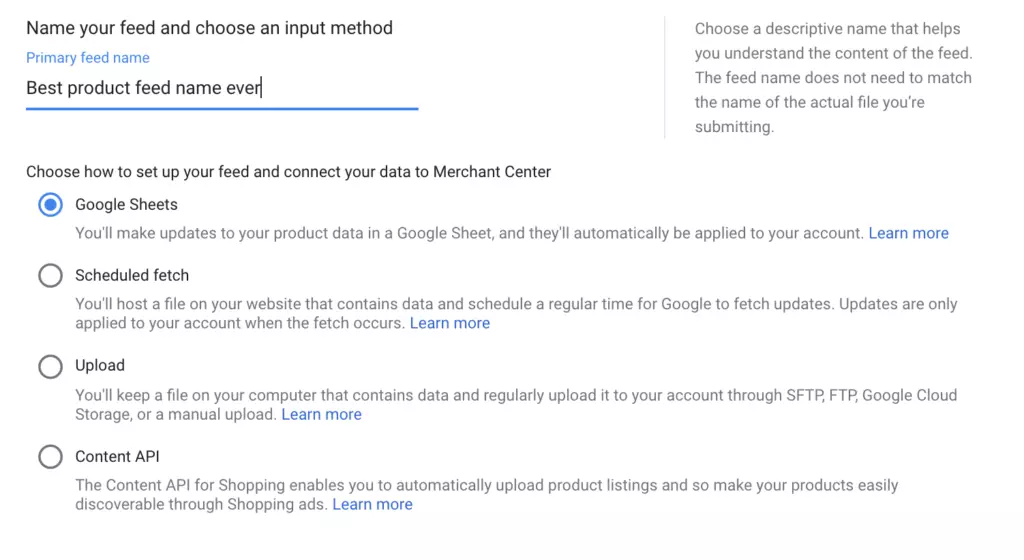 The next step is to choose your input method. Use Google Sheets, scheduled fetch, upload, or content API to construct your product feed. The Google Merchant Center advises utilizing Google Sheets if you're new to it.
Selecting a timetable for uploading will be available once you've made your selection. If your inventory is changing often, this should be reflected. So Google recommends a daily Google Shopping list updated.
It is now possible to establish and name a product feed in Google Merchant Center. Start by selecting the feed that you'd want to populate with the merchandise.

The product feed has been created in Google Sheets and is now being filled out, as shown in the screenshot below.

It's time to submit your items to Google Merchant Center after entering all the necessary information.
---
How to List Products on Google Shopping
Google's search results are populated with submitted product feeds. Check your product info and images before you get them on Google Shopping.
Follow the steps below to learn how to list products on Google Shopping: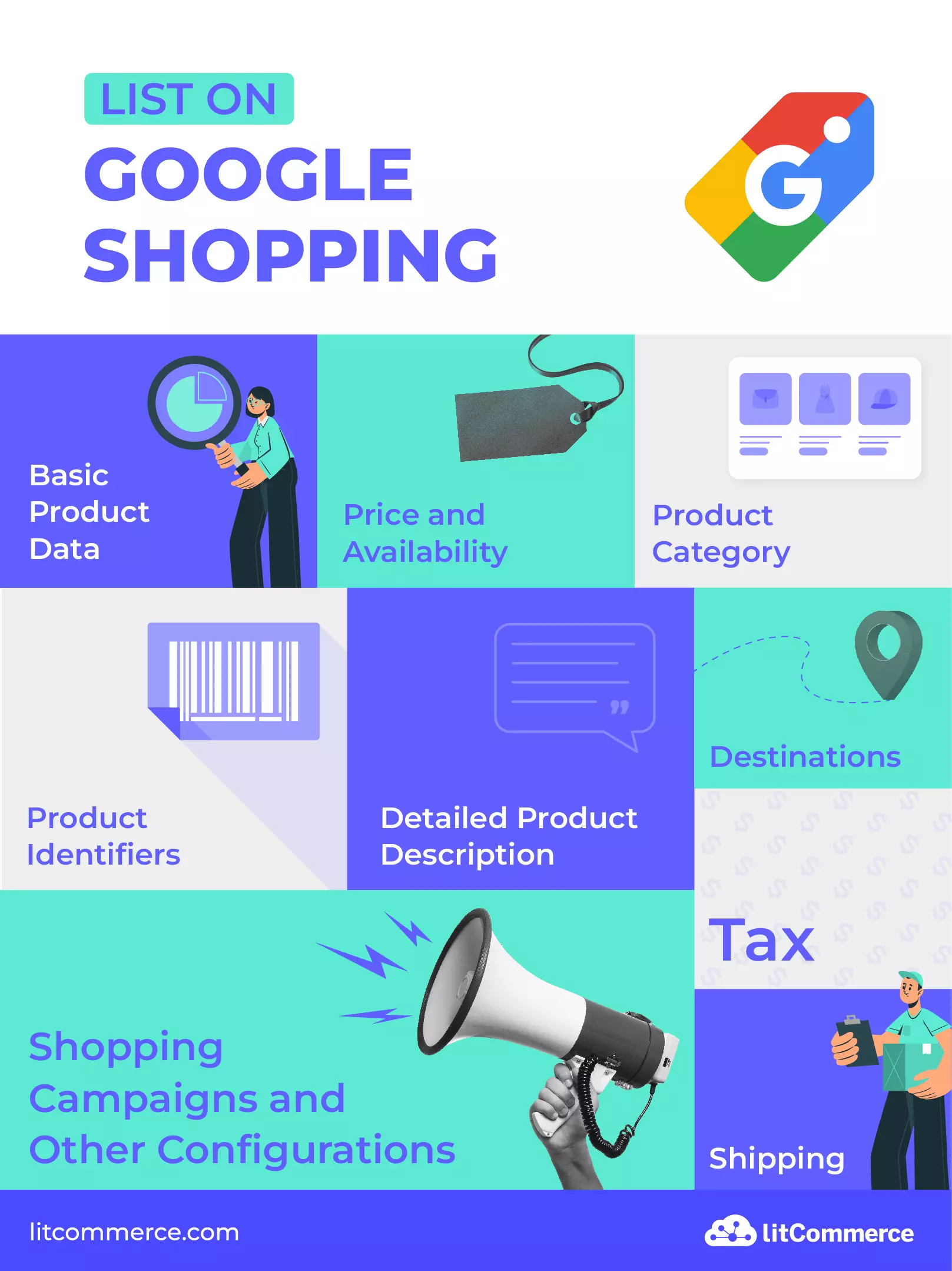 #1. Basic product data
It's crucial that this information that lists on Google Shopping and advertisements is accurate. Everything you provide should be of the quality you want a consumer to view.
ID (required): it is the product's unique identifier, also referred to as an SKU (50 characters max).
Title (required): its title, which should be the same as on the landing page. Variants should have a distinctive attribute such as a color or size (150 characters max).
Description (required): compare and contrast the product's description and landing page copy (5,000 characters max).
Link (required): the item's landing page. The URL should start with HTTP or HTTPS.
Image_link (required): the URL of the product's main image. The image file must be a JPEG, PNG, BMP, TIFF, or nonanimated GIF (At least 100 x 100 pixels for non-apparel products and at least 250 x 250 pixels for apparel products). Moreover, the image must be smaller than 64 megapixels or 16MB.
Additional_image_link (optional): URL for another product image. Must meet the same guidelines outlined above.
Mobile_link (optional): product's mobile-optimized landing page.
#2. Price and Availability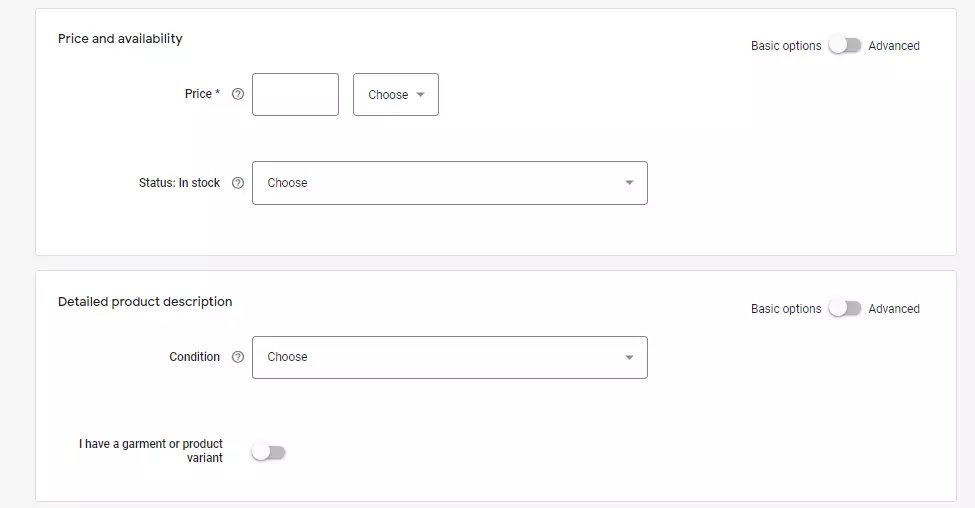 Ads and unpaid Google Shopping listings may also include information about your items' pricing and availability. It's important to keep in mind that Google will need to be alerted if your prices or inventory changes often.
Availability (required): that the item's availability matches what's on the item landing page. Supported values: in stock, out of stock, preorder.
Availability_date (optional): date a preordered item will be available.
Cost_of_goods_sold (optional): all the costs associated with the sale of a single product, including material, labor, freight, or other expenses. Submitting this information will provide you with insights into certain metrics, including gross margin and revenue generated.
Expiration_date (optional): the date you want your product to quit appearing in search results.
Price (required): product's price and currency, which should match what appears on the item landing page. If you're a U.S. or Canadian seller, don't include tax. For all other countries, including value-added tax (VAT) and goods and services tax (GST).
Sale_price (optional): the item's sale price.
Sale_price_effective_date (optional): the date range for which the product's sale price applies.
Unit_pricing_measure (optional unless required by local regulations): measure and dimension the product without packaging.
Unit_pricing_base_measure (optional unless required by local regulations): item's base measure for pricing. Supported units: Weight (oz, lb, mg, g, kg); Volume US imperial (fl oz, pt, qt, gal); Volume metric (ml, cl, l, cbm); Length (in, ft, yd, cm, m); Area (sq ft, sq m); Per unit (ct).
#3. Product Category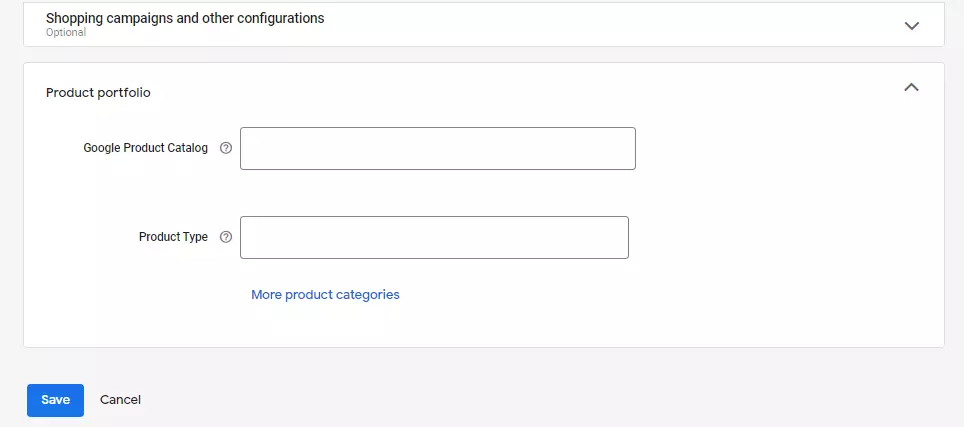 People use Google Shopping feed categories to structure ad campaigns and to overrule Google's automated product classification when necessary, according to the company.
Google_product_category (optional): In Google's official taxonomy, this is how an item is classified by the search engine giant. When Google creates subcategories, it utilizes a breadcrumb-like string that allows it to focus on certain products and index them more effectively.
Example: Apparel & Accessories > Clothing > Outerwear > Coats & Jackets. These categories and subcategories already exist in Google's system, but you can create your own.
Product_type (optional): Sellers can apply their own product attribution phrases in this area. Your product category can fill the gap if you find that Google's taxonomy doesn't include all of the keywords that you develop or utilize for your items (750 characters max).
Example: Home > Women > Dresses > Maxi Dress
#4. Product Identifiers
This information allows you to distinguish between the things you're selling and helps search engines match search queries with your offerings.
The manufacturer assigns unique product IDs to each product, therefore if you offer the same goods as another merchant, the identifiers will be the same. Some popular product identifiers include the Universal Product Code (UPC), Global Trade Item Number (GTIN), Manufacturer Part Numbers (MPN), International Standard Book Numbers (ISBN), and brand names.
Brand (except for movies, novels, and musical recordings): If you produce the goods or sell white-label products, only use your shop name as the brand name (70 characters max).
GTIN: All new items having a GTIN given by the manufacturer are obliged to have one with 50 numeric characters max.
MPN: required if the product doesn't have a manufacturer-assigned GTIN.
Identifier_exists (optional): Use this section to indicate whether unique product identifiers are available for the product (Supported values: yes, no).

#5. Detailed Product Description
These attributes identify particular product characteristics that people commonly search for, such as color and size.
Condition (required for used or refurbished products): the condition of the item at the time of sale (Supported values: new, refurbished, used).
Adult (required): indicates a product that contains sexually suggestive content (Supported values: yes, no).
Multipack (required for multipack products in Australia, Brazil, Czechia, France, Germany, Italy, Japan, Netherlands, Spain, Switzerland, the UK, and the US): submit this attribute if you're selling a set of products as a single unit.
Example: a package that contains 10 stickers
Bundle
is_bundle (required for bundles in Australia, Brazil, Czechia, France, Germany, Italy, Japan, Netherlands, Spain, Switzerland, the UK, and the US): indicates that a product is a merchant-defined custom group of different products featuring one main product (Supported values: yes, no). Submit "yes" if you're selling a custom bundle of different products that you created and the bundle includes the main product.
Example: a snowboard that comes with boots and bindings
Age
age_group (required for all apparel items that target Brazil, France, Germany, Japan, the UK, and the US): demographic for which the product is intended (Supported values: newborn, infant, toddler, kids, adult).
Color
color (required for all products available in different hues) item's color(s). If the item features multiple colors, list the primary color first (100 characters max).
Gender
gender (required for all apparel items in feeds that target Brazil, France, Germany, Japan, the UK, and the US, as well as all gender-specific products): the gender suitable with products (Supported values: male, female, unisex).
Material
material (required if necessary to distinguish product): item's fabric or material
Pattern
pattern (required if necessary to distinguish product): item's pattern or graphic print
Size
size (required for all items listed as Apparel & Accessories > Clothing and Apparel & Accessories > Shoe): item's size.
size_type (optional, for apparel products only): apparel's cut (Supported values: regular, petite, oversize, maternity).
size_system (optional, for apparel products only): country of the size system used by your product (Supported values: US, UK, EU, DE, FR, JP, CN, IT, BR, MEX, AU).
Versions
item_group_id (required for Brazil, France, Germany, Japan, the UK, and the US if the item is a variant): identifying term for a group of products that come in different versions
#6. Shopping campaigns and other configurations

The data in this section is used to control how product information is used in ad campaigns.
ads_redirect (optional): URL used to specify additional parameters for product page (2,000 characters max).
custom_label_0-4 (optional): label the seller assigns to an item to help organize bidding and reporting in Shopping campaigns (100 characters max).
Examples: sale, clearance, holiday, seasonal
promotion_id (optional, but required for promotions in Australia, France, Germany, India, the UK, and the US): an identifier that allows sellers to match products to promotions (50 characters max).
#7. Destinations
Specifying destinations in your product feed allows sellers to control where their products can appear. For example, you could indicate that an item appears in a remarketing campaign but not a Google Ads campaign.
excluded_destination (optional): setting to exclude a product from participating in a specific type of campaign
Supported values: shopping ads, Shopping Actions, display ads, local inventory ads, surfaces across Google, local surfaces across Google
included_destination (optional): setting to include a product in a specific type of campaign
Supported values: shopping ads, Shopping Actions, display ads, local inventory ads, surfaces across Google, local surfaces across Google
#8. Shipping

Consumers consider shipping costs when making purchasing decisions, so it's important to submit accurate information.
shipping (required): item's shipping cost (Supported prices: 0-1,000 USD).
shipping_label (optional): label seller applies internally to the products to help assign correct shipping costs in Merchant Center account settings. This value isn't displayed to shoppers
Examples: same-day, oversize, only FedEx
shipping_weight (optional): item weight (Supported weights: 0-2000 lb for imperial, 0-1,000 kg for metric).
shipping_length, shipping_width, shipping_height (optional): length/width/height of item
transit_time_label (optional): label seller applies internally to product to help assign different transit times in Merchant Center account settings. This value isn't displayed to shoppers
Examples: from Atlanta, heavy package, fragile
max_handling_time, min_handling time (optional): longest/shortest amount of time between order placement and shipment. This value isn't displayed to shoppers. For items that ship the same day, enter 0.
#9. Tax
These attributes are used together with what you've submitted in the Merchant Center to provide accurate sales tax costs.
tax (required): item's sales tax rate in percent
tax_category (optional): the category that classifies products by specific tax rules
---
Use LitCommerce to Manage your Google Shopping List and Everything
LitCommerce's Google Shopping listings software makes getting into a new sales channel faster and easier than ever before. With just a few clicks, you can push your LitCommerce product catalog to Google and be ready to go.
LitCommerce lets you connect all the channels on wish you sell in one simple, intuitive interface, so you can avoid overselling and streamline your fulfillment.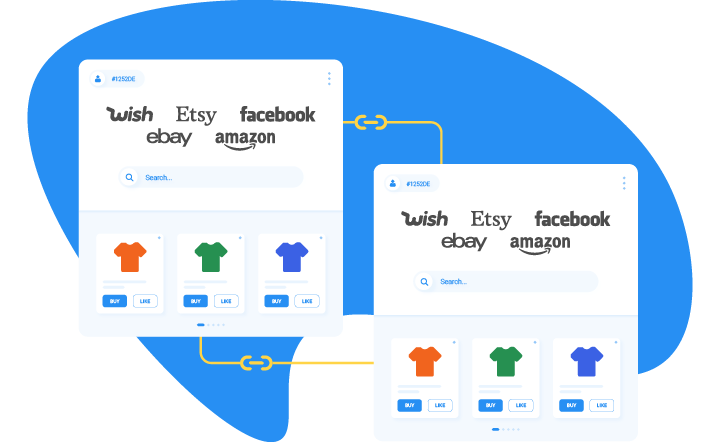 After you select Google Shopping, provide a channel nickname, and pick some Destination options.
Before connecting your account, you will have the option to enable Google Shopping Ads and Google Shopping Actions. Don't worry, this does not mean you've agreed to spend any money on Ads. It just enrolls you in the services, so if you decide in the future to spend money promoting your products, you can do so!
If you choose to disable these options, you can always enable them later in your Google Channel Settings.
Channel setting LitCommerce by default, you will be registered to list your products on surfaces across Google, meaning they will appear for free in search results around the web.
Once you click "Connect Your Account", a popup will appear, asking you to grant LitCommerce access to your account. Click "Allow".
If you have multiple Google accounts, you will first need to select which Google account you are connecting to LitCommerce.

When your account is connected, LitCommerce will begin listing your Google Shopping lists.
That's the easiest way how to list in Google Shopping with LitCommerce! After that, you simply visit the All Products page in your LitCommerce account to do the final prep to publish your Google Shopping list.
Note:
If you have enabled surfaces across Google or Google Ads, you will need to make sure that your Store Product URLs are in your product information before you start building listings. Without these, Google won't know where to direct customers to purchase your products.
You can find the Store Product URL field on the Edit Product page. You can also add Store Product URLs to your products in bulk, using a Product CSV file. LitCommerce will send these URLs to Google automatically whenever they publish listings.
Just like the other best-selling platforms, you sell on Google listings are best built using Templates & Preset. When publishing listings, LitCommerce will send your product information to every Google Destination that you have enabled. You do not need to create separate listings for each Destination.
You will notice a Destination column in your Google Listing Manager, which lets you know which Destinations currently have active listings.
And that's about all there is to it! Not only can you publish listings to Google Shopping quickly and easily with LitCommerce, but any changes you make to your products in LitCommerce will update automatically on Google, as well as on any other marketplaces you have connected to LitCommerce.
Sell on Google Shopping and 20 more channels
Try LitCommerce – The Multichannel Selling Tool to sync products and order from over the 20 most popular platforms like Shopify, Etsy, and eBay.
---
FAQs: How to List Products on Google Shopping
1. Is selling on Google worth it?

The short answer is YES. Google Shopping is a good chance to grow your online store because Google is a website having the highest number of searches in the world per day. Furthermore, Google Shopping search results are often prior to display at the beginning of page search results which leads to a 30% higher conversion rate than organic searches.

2. How much does it cost to sell on Google Shopping?

Worldwide online sellers can list products on Google Shopping FREE. But Google will take commissions when you sell an item through Google Shopping. The commission rates are often 5-15%, with an average of 12%.

3. What is the difference between Google Ads and Google Shopping?

The biggest difference between Google Ads and Google Shopping is the ways to make keywords on the top search. Google Shopping automatically pulls the keywords to the top by product titles and descriptions. Meanwhile, Google Ads requires sellers to fill in the keywords that they want to show up.
---
Final Talk!
Millions of people will see your items, if not billions of prospective buyers now that you know how to list products on Google Shopping.
Using LitCommerce, you can activate all of your goods simultaneously for Surfaces, Shopping Ads, and Shopping Actions across Google, Amazon, and eBay. Start using this new eCommerce channel as soon as feasible, as it appears to be ready to make a significant entrance into the discourse about critical commerce channels in the future years
If you need more information, please don't hesitate to contact the support team. We are always ready to help!
Also, you can join our community or our Retailer Blog for more helpful eCommerce tips and news.