As a seller, you can sell on eBay with nearly everything: from vintage, handmade, craft supplies to secondhand goods and high-ticket products. It's quite competitive when selling on eBay but if you aim at the right spot and go with a suitable strategy, there's a good chance you can create a highly profitable online business with eBay.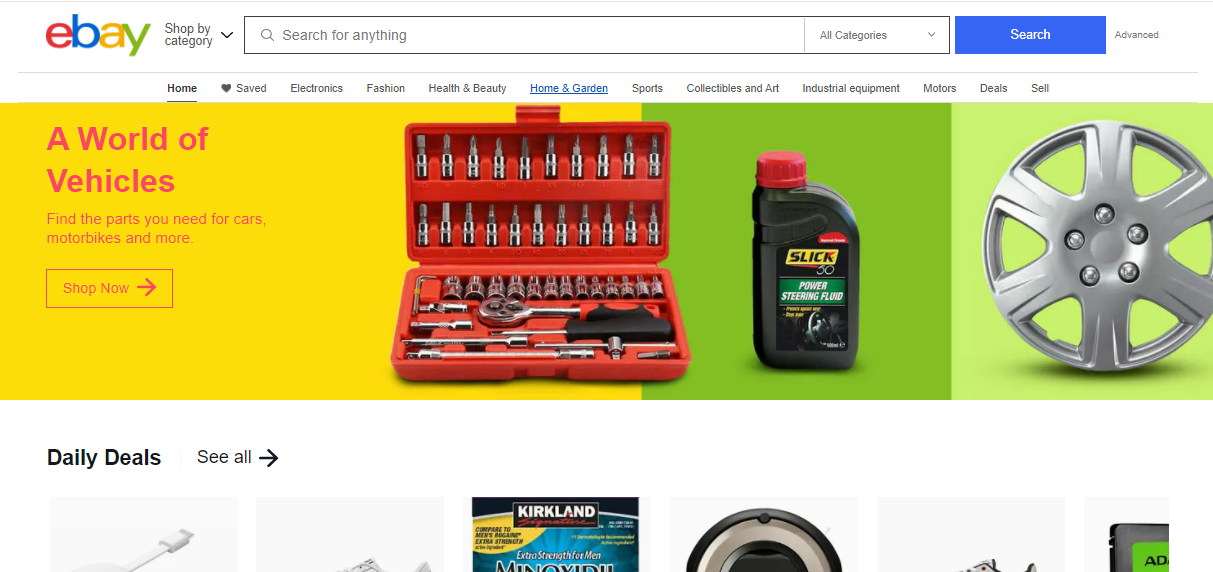 In today article, we will be providing you with:
A brief introduction of eBay, customer base, and its competitors. 
Detailed analysis of eBay in terms of key features and pricing.
A complete step-by-step guide to sell on eBay stores for beginners.
Let's get started!
eBay overview
What is eBay?
Auction platforms and shopping websites are the two main priorities of eBay from the very beginning. Bidding for the item to get to the acceptable price or choosing to "Buy It Now" is becoming a common habit to shop online for more than 150 million buyers on the eBay marketplace globally.
With an enormous customer base, eBay is a wonderful place for global merchants to exploit and meet with their potential shoppers. Currently, there're more than 19 million sellers and 1.5 billion active listings available on eBay. Based on the number of monthly visits, eBay is in the top 2 with 1700 million visitors as of April 2021
Who are they? Customers on eBay are somewhat different. According to webinterpret, 61% of eBay's audience are from 35 to 64-year-olds. Hence, Gen X and Baby Boomers are the two largest demographics on eBay, with 32% of the site's buyers aged 35 to 49 and 29% aged 50 to 64. So if you're selling on eBay, you should be focusing on this type of customer instead of Millennials.
eBay pros and cons.
Pros:
✓ Super easy to open a new eBay store.
✓ Enormous customer base.
✓ Higher price selling with auction-style.
✓ Clear seller protection policy.

✕ High seller fees.
✕ Limited control over your listings.
✕ Highly competitive platform.
✕ Frequently working with bargain shoppers.
---
To get a better understanding of eBay's position in the market, let's take a look at some of eBay's competitors: Etsy, Amazon, Walmart, and Google Shopping. The good news is that you can go multichannel selling by connecting eBay with another selling channel to broaden your reach and boost your sales instantly.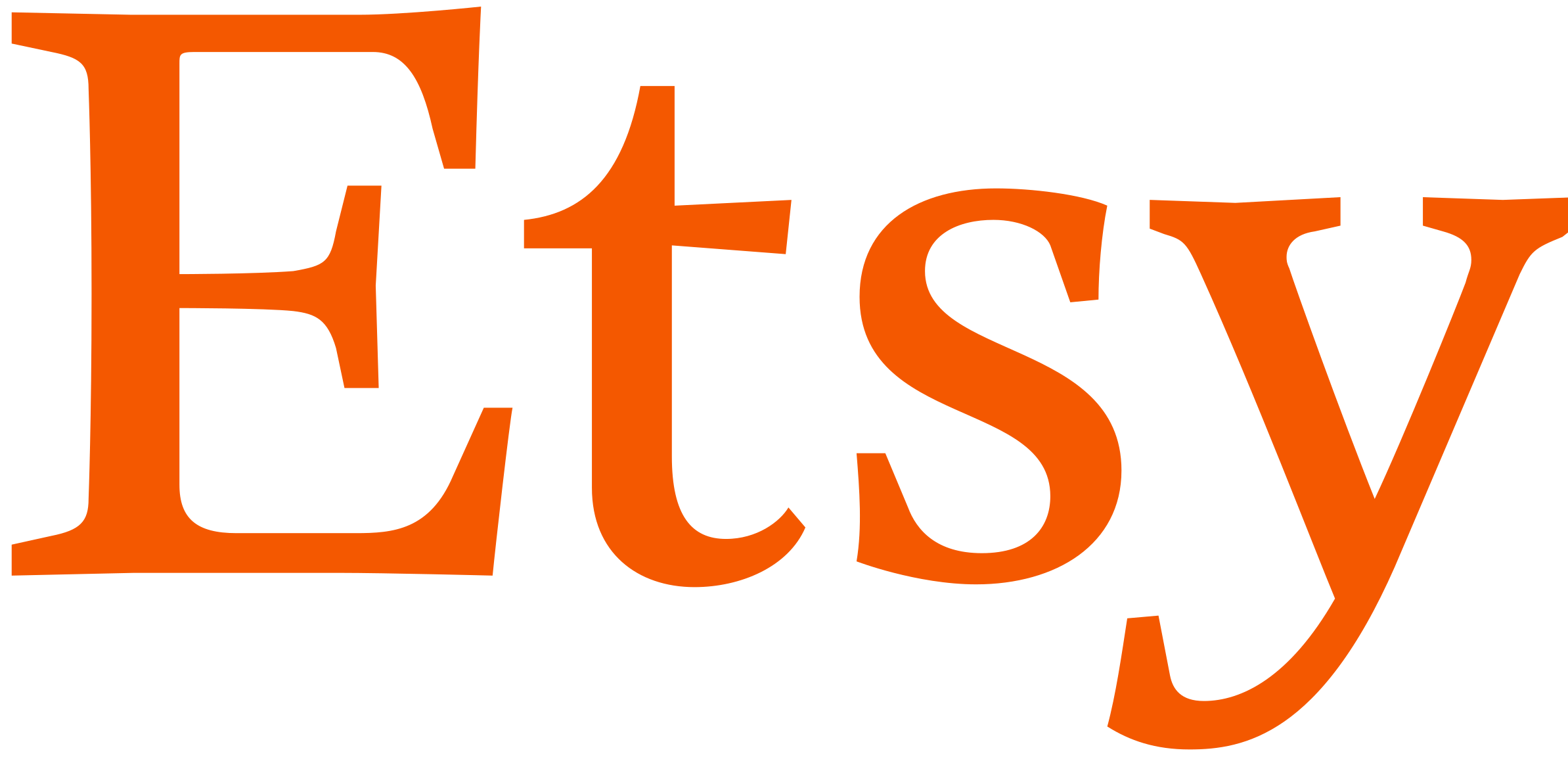 ---
How does eBay work?
Fortunately, it is not so difficult to master the system when selling on eBay. Even though it does take time for you to get used to the process, you will get faster day by day. Let's explore how the eBay system works separately, from selling format, inventory, order, payment method, and a bit about eBay seller protection.
eBay selling format.
Auction-style selling: this selling style has created fame for eBay for a long time. When you list an item for sale in an eBay auction, simply set a starting price so the buyer can place a bid for your product. When the auction ends, you sell to the highest bidder.
Depending on the product type, you can set up the duration for your auction. For time-sensitive items like event tickets or food, you can set up a 1-day auction. Here are some more tips:
Starting at a low bidding price can help attract more customers.
Make sure to add a Buy It Now price to your auction listing (it will be shown until the first bid is placed) The Buy It Now price must be at least 30% higher than the auction starting price
Use a reserve price – the lowest price you're willing to sell an item for to make sure you get your expecting price.
Buy It Now: Set up a fixed-price as the simplest way to price your item on eBay. It'll let your buyers make a purchase right away.
This enables the seller to buy at a fixed price — no bidding necessary. This style of selling is efficient and convenient since the customer does not need to wait to purchase the item. You should note that Buy It Now price will be there by default. By this I mean your item will be relisted on eBay every month (with the Buy It Now price) until it sells or until you end it.
Your Buy It Now price must be 30% higher than the auction price.
In case there are no bids within 12 hours, you can change your fixed price.
Add the Best Offer to your listing so customers know that you're willing to negotiate.
eBay inventory management.
Inventory management is always a huge deal when it comes to selling on the E-marketplace. You can say that it's the heart of your store's management system. Why? Because a bad inventory management job can lead to overselling or underselling. This can cause damage to your business such as a refund, complaint from customers, or even loss of your loyalty shopper.
If you sell an item you don't have in stock then the customer files a claim (legitimate or not) about their transaction with you, eBay will hold the customer's money for the investigation. This means you may not have the cash to pay a supplier for new inventory or to operate other parts of your business. Cash is super important, you don't want to make this mistake!
That's why eBay provides sellers an amazing system so you can easily manage your listing in just some clicks.
Listing filter: You can easily find any of your listings using the filter. eBay lets you sort listings by category, listing format (auction, fixed price, second chance offer…) status, and even listing title.
Listing Summary: Also, you can see your listing overview as well. From the Buy It Now prices, auction price, number of active listings,s or number of listings with offers await your response and question that buyers give you about the listing.
Create new listings: eBay lets you create a new listing from the management center as well. From a single listing, multiple listings to listing from BULQ.
eBay order management.
After customers purchase your product, it's time to take good care of your order so they can arrive on time. Good order management will give your shopper more confidence when buying from you next time. With eBay, you can track items you've sold and cancel the order when you need to.
Order tracking: eBay lets you upload the tracking details that enable you and the buyer to follow its journey, all the way through to delivery. This will be so useful, customers will be less likely to file "Item not received" claims.

Order management
Whether your item was bought by an eBay member or a guest buyer. You can easily edit or delete tracking details in the same place. With each order, you can add up to 6 tracking numbers. Once you manually add a tracking number, the item will be marked as shipped, you can use this status as evident when a customer file "Item not received" claims.
Cancel an order: As an eBay seller, you're obligated to complete a sale with a buyer. However, there will be a time when you're the one who has to cancel the order. In that circumstance, eBay allows you to cancel the order yourself.
When a customer asks to remove the order, you have 3 days to accept or decline the request from the Seller Hub or from the Sold section in My eBay. Once it's canceled, you can start the refund process and eBay will give you fee credits in return.
eBay shipping and payment methods.
Shipping is always one of the most complicated parts of selling online because it's when merchants like you have no control over it and it's all up to your delivery partner. Fortunately, the E-marketplace provides goods options for shipping carriers which are guaranteed by eBay including Domestic Carriers, Export Carriers, Import Carriers, and Domestic Freight Carriers.
Instead of a third-party, using these shipping carriers will protect you against "Item not received" claims filed through eBay Money Back Guarantee which is gonna save you tons of time and effort, and also, make your shipping progress much more smooth.
What Payment methods can you use with eBay? The E-marketplace let you integrate with some of the best services including PayPal, PayPal Credit, Credit card or debit card, Apple Pay, Google Pay, Payment upon pickup
And some additional payment options:
Bank-to-bank transfers (also known as bank wire transfers and bank cash transfers)
Checks
Money orders
Online payment services (for example, Escrow.com, Allpay.net, CertaPay, Fiserv, Nochex.com, XOOM)
eBay seller protection.
Just like other E-marketplaces, eBay has its own policies for sellers like you. Making yourself familiar with this guideline is super important. You might violate one without realizing it and end up losing your listing or face other troubles from eBay.
As a seller, you're expected to:
Resolve consumer complaints quickly.
Ship things on time, within the handling time you specify.
Keep inventory under control and items well-stocked.
Fees for shipping and handling should be affordable.
In the listing, provide delivery charges and processing time.
Keep your return policy in place.
Respond to buyer inquiries as soon as possible.
Throughout a transaction, be helpful, courteous, and professional.
Ensure that the item is delivered to the customer in the manner indicated in the description.
eBay uses this to make sure your store delivers good customer service. eBay will evaluate your store monthly if you have more than 400 transactions in 3 months, otherwise once a year. Once you violate these, your account might be placed under a restriction and it's gonna deeply hurt your business.
---
How much does it cost to sell on eBay?
The eBay pricing structure might be a bit confusing for beginners, but you'll get used to it once you start selling on eBay. They charge two main types of fees: an insertion fee when you create a listing, and a final value fee when your item sells.
Depending on the item's price, the format and category you choose for your listing, any optional listing upgrades you add as well as your seller conduct and performance. The price for you might be different, but they can be divided into 5 types of fees
Let's take a closer look!
eBay store subscription fees
You don't need an eBay store to start selling, and eBay divides the pricing into different plans which suit any kind of seller. From small, medium to enterprise scale. The more you pay for the subscription, the more benefits, and discounts are from eBay. It's worth spending!
Starter: $4.95 per month – It's for occasional sellers
Basic: $21.95 per month – Suitable for growing store
Premium: $59.95 per month – Good for medium to large businesses
Anchor: $59.95 per month – If you have a large scale business
Enterprise: $2999.95 per month – It's for Big brands
eBay Insertion Fee
Another important part of the eBay fee structure is the insertion fee. For eBay stores without subscription (private and business) sellers, eBay offers 50 free listings per month. Sellers can use this to pay for auction sales or Buy It Now products. After this, it will be 35c per listing.
And this is for subscribers:
| | | |
| --- | --- | --- |
| | Auction style listings | Fixed price listings |
| Starter | 100 free and 30c per listing thereafter | |
| Basic | 250 free and 25c thereafter | 250 free and 25c thereafter |
| Premium | 500 free and 15c thereafter | 1,000 free and 10c thereafter |
| Anchor | 1,000 free and 10c thereafter | 10,000 free and 5c thereafter |
| Enterprise | 2,500 free and 10c thereafter | 100,000 free and 5c thereafter |
Each price is applied per listing and per category. By that, I mean only 1 insertion fee – one for each category and you may get charged twice when listing on 2 different categories
When using "Good 'til canceled" listings which renew automatically every month, keep in mind that the listing fee will not be refunded and you need to pay each time you re-list a product.
eBay listing upgrade fee:
eBay lets you upgrade and brings your listings out with more features, such as a subtitle, or bold font. Depending on your item's price and the listing format and duration the price will be different.
For this type of fee, your items are relisted automatically, you'll be charged insertion and optional listing upgrade fees each time your item is relisted.
eBay store final value fee
The final value fee is a commission charged on the sale price of an item, including shipping.  This varies by category for business sellers.
3-15% for sale including postage + 30pent /order.
If your store's performance is below eBay standard, you'll pay an extra 4% fee.
For stores with a volume of 25K transactions, you'll get a 4% discount, if your store is above 200K, it will be 8% off.
eBay payment processing fees
Many sellers used to pay a PayPal payment processing charge in addition to eBay costs. eBay has begun transferring sellers to their managed payment' system because eBay no longer controls PayPal. Instead of paying fees to eBay and PayPal, the payment charge is now incorporated in a higher ultimate value fee. Normally, sellers will need to pay from 2.9-6% + 0.3 cents for each transaction depending on your payment option.
When you set up a seller account, you must include a payment method to cover any eBay selling fees or charges. You have the option of paying by direct debit, credit card, or PayPal.
eBay will include the payment processing fee with your monthly fees and will send you an invoice with a complete fee breakdown.
---
How to sell on eBay?
Before diving into the process of how to start your first eBay store, you need to focus on finding the product to sell on eBay. This step is going to be the backbone of your eBay business. So keep in mind that the more time and effort you spend on carefully doing the market research for your products, the more you will be able to build a solid foundation so you can sell better in the future.
From someone who's looking to start selling on eBay as a multichannel seller, you might be familiar with the selling process, but it's going to be a bit different when finding profitable items on eBay because the customer base of eBay is quite unique.
I will show you the complete process from finding your product to doing market research and choosing a trusted partner from Alibaba – One of the biggest retailers and e-commerce companies in the world. They sell products with mass numbers and super cheap prices.
Step 1: Choose Your Products and find suppliers
The first thing you might think of when selling on eBay is what product you're going to offer your customers? Is it a household item, a brand product, a handmade item, or even high-ticket goods?
Just bear in mind that a good option should include these three criteria:
Low competition: If you're an eBay beginner, you should stay aware of this, the lower competitive niches that you choose, the more benefit you will get from selling that particular item.
Solve the real problem: When you sell for a long time, you will realize in order to reach a good result, not only customers but also you need to like the product. Why? Because it's truly useful and solves customers' problems. That way, shoppers will come back for more and you can help more people as well as create real value.
High level of profit: On average, you're going to lose about 15% for selling it and 3%-5% for eBay so keep in mind that your product should be in the range of $10 to $75 per.
Always sell more than 1 product: This helps to differentiate yourself from competitors and also build more trust with buyers and a bit of branding awareness. And best of all, they help to divide your risk and diversify your investment. This will become so handy for the long-time investment plan.
Market research: After choosing some suitable item to sell, let's move forward and start with the market research, this is how to do it:
Check on eBay: This is a big part of product research, you would want to see what your niches on eBay look like? How are your competitors doing? It's going to be a good niche if your competitors are selling at least 10 items/30 days. Make sure to check the "Buy It Now" price (>$10) – it means that's the item that the customer is coming back to buy more.
Check on Alibaba: After getting the full list of your choosing goods, let's find them on Alibaba.com. There are a bunch of sellers on Alibaba but you need to find a good partner that can give you what you need. We'll discuss how to get a good supplier below
Calculate the expense and profit:  Make sure to do the math right! You need to buy from suppliers with low prices so you can get 2-3 times profits.
Find a supplier: This is super important for eBay sellers because there are too many suppliers on Alibaba and you need to understand a bit about the giant retailer so you can go with the right supplier.
There are three types of suppliers here:
Trading company: Focus on some specialized categories.
Wholesale company: Pretty much sell anything.
Manufacturer: More customized option.
Depending on your products and your needs, for example, if you're a new seller, go with the wholesaler, they can give you a much cheaper price with a small amount. If you need more handmade items with a large number, a manufacturer is the best.
You can check for suppliers credibilities using these three standards:
At least 2-3 years of experience on Alibaba
Should accept trade insurance (with Alibaba being a mutual partner)
Also, you can use the Alibaba RFQ to ask for help from Alibaba.
And finally, choosing a shipping method can be the key to your success cause everybody knows how complicated overseas shipping is.
Use Alibaba shipping: You can use Alibaba Shipping which is from your own supplier. This way the shipping time is normally long (from 3-4 weeks or even more) – which means not good for eBay standards. However, this will be much cheaper and you can increase profit, it's worth a shot sometimes.
Use third-party shipping: This shipping method will surely cost you more because you need to pay for out-sourcing but you can cut off the shipping time and bring a good customer experience. Which is good for long-time investment.
Step 2: Create an eBay account.
Simply click to register and you will be able to create an account. eBay walks you through the steps and requests some basic information. Easy! Google accounts, Facebook, and Apple accounts work too.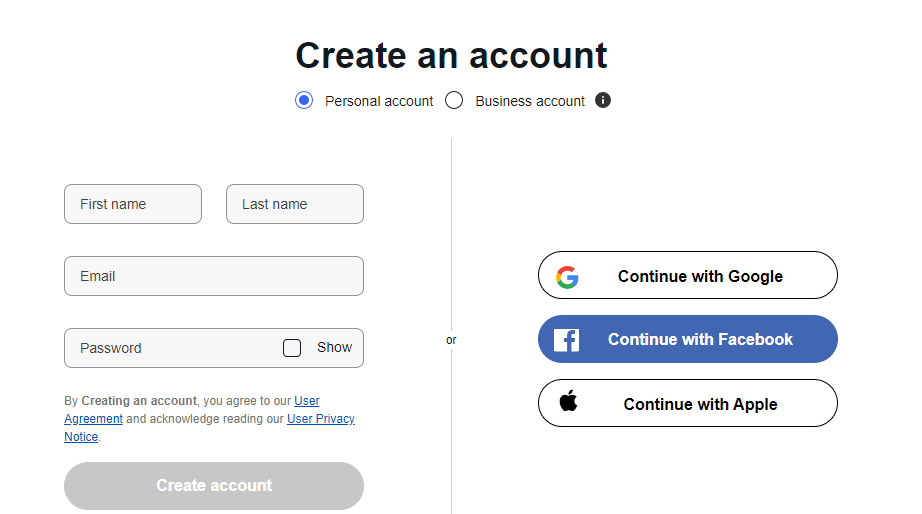 Then you can go ahead and start setting up your account information such as SECRET QUESTIONS.
Step 3: Set up your eBay Store.
Your store appearance represent your branding, so make sure you get a good store profile include your picture, description then click SAVE
Also, dig deep to issue your store policies, cause it will be the requirement you ask customers to follow. It's a good idea to include the Payment options, Return, and Shipping Policy into your store's policy.
Step 4: Create and manage your listings
It's time to list your product online and start selling. Create your first listing by clicking the 'Sell' button which appears in the top-right corner of almost every eBay page.This is also an important step, it's the first impression of customers about your store, so you need to carefully prepare everything. From Product Category, Product photo, Title, Description, and additional info as well.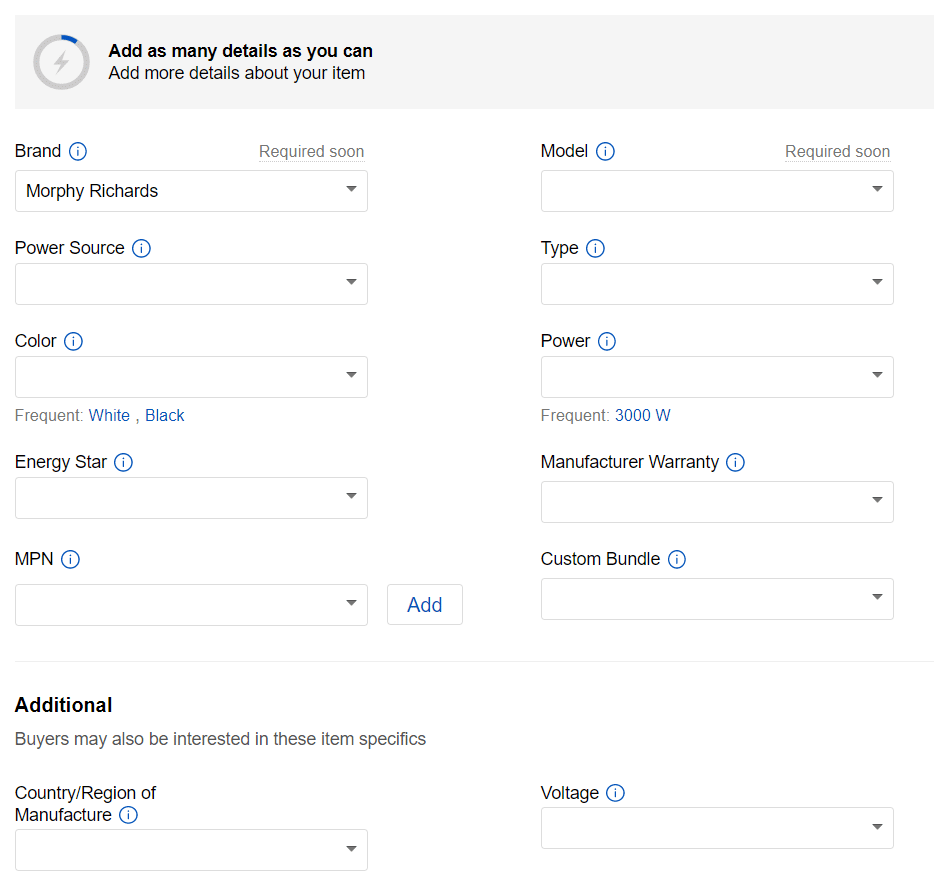 ---
Integrate eBay with your online store.
A common option that multichannel sellers use to simplify their management system is to integrate eBay with other selling channels such as Etsy, Amazon, Google…LitCommerce will be an amazing option If you're looking for a tool for connecting multiple channels with ease of use and affordable price.
If you need more information, leave us a message, our support team will be pleased to help!
Also, let's join our Facebook channel and discover tons of exciting eCommerce news and Tips!
Good luck!
---
Sell on eBay- FAQs
Is it better to sell on eBay or Amazon?
There's no one answer! Each type of E-marketplace has its own strengths and weaknesses and will be suitable with a certain store.  For example, eBay is much better when you're selling handmade stuff. But Amazon will be a trusted brand with an enormous customer base so it'll be better if you have a medium or large or medium store.
Can I accept an offer on eBay if someone has bid?
No, it's not possible. The Best Offer option disappears once someone has placed a bid
What should I not sell on eBay?
eBay has a full list of stuff you should not sell, here are some of them:
Adults only
Drugs and drug paraphernalia
Embargoed goods and prohibited countries
Firearms, weapons, and knives
Government, transit, postal items, and official items policy
Can you sell on eBay for free?
Yes, you can start with literally nothing, just go to eBay.com and start listing products online. But it is kind of limited. If you need a decent store, eBay offers a bunch of other options for you.