Selling variations on eBay might be a simple thing to hear, however, it can be very frustrating if you don't know how to list multiple items on eBay effectively.
In this article, you will learn:
How to list multiple items on eBay in one listing
How to bulk listings on eBay
How to list multiple different items on eBay from other platforms
Let's dig in our detailed guide!
One Report to Win Your eCommerce Game
Are you ready to unveil the future of eCommerce and rocket your sales in 2022?
Get our ultimate eCommerce report and THRIVE now!
---
How to List Multiple Items on eBay in One Listing
What is eBay variation listing?
When selling on eBay, you might have many similar items which have a slight difference in attributes such as color, size, material, style, width, length, etc.. With eBay multiple listing, you can create a single fixed-price listing that includes all the item variations you offer to the customers.
On eBay, each listing can have 5 variation details and up to 60 values for each of those details.
For example, this sweater has different size and color: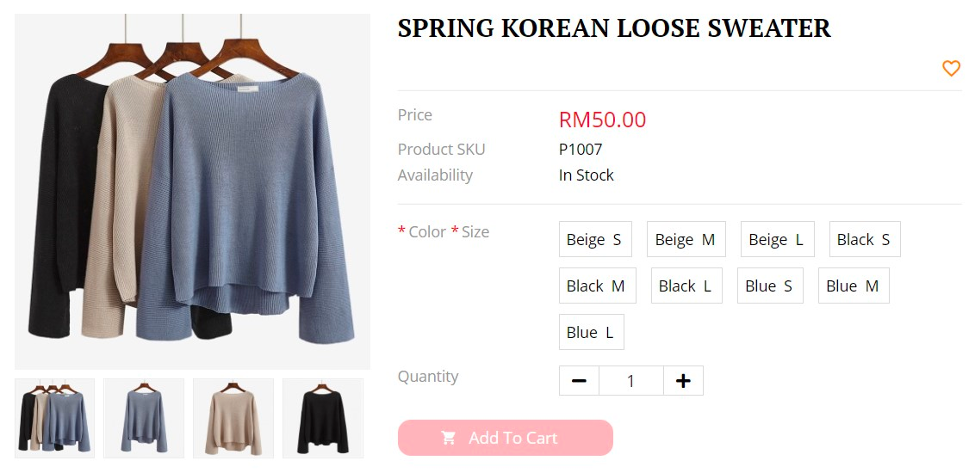 Note:
You can have up to 250 variations in a single listing for no additional fee.
The prices of your items can vary, but your payment methods and shipping costs must be the same.
---
How to Add Variations on eBay Listings?
Most categories are set up for eBay variation listing. You can create and manage your variations through the advanced listing form or Seller Hub.
Each way will walk you through the following steps:
# Step 1 – Begin a new item listing
Sign in to your eBay account and begin a new item listing.
Then, click Sell at the upper left bar, and enter the title of your item.
After that, click Continue without selecting a product.
# Step 2 – Select variation option
Just below the Category tab, you will find the variations tab. Click the Create variations button.
You can only use variations in fixed price listings, not in auctions.
# Step 3 – Click one of the variations for your category
Then, create the attributes of your item (Size, color etc.). Once you create the attributes, add options to each one.
For example, for the color attribute, add the different colors of your T-shirts, such as "dark green", "marine blue" etc. When buyers click the tab color in the T-shirt listing, they will see all available colors of these T-shirts. These are the options for this variation.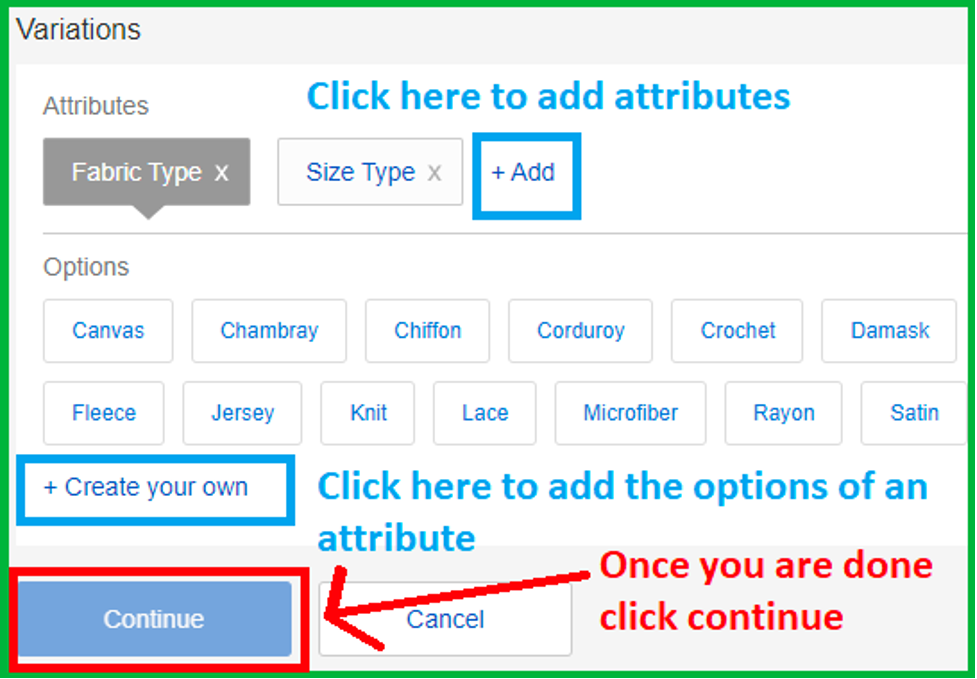 It's highly recommended to create your own variations and not to choose from the ones that are available on the page of variations. Once you are done creating these variations, click Continue.
# Step 4 – Insert remaining details
Insert details that apply to all the items in the appropriate fields, and then click Continue. eBay generates a table showing every variation of the item you have for sale.
You can remove variations that don't apply by clicking the Remove link next to any variation. For example, if you're selling shirts in 3 sizes and 3 colors, eBay will display 9 possible size and color combinations. And you can remove any item from the list that you don't have, like "small red shirt".
Click Continue when done.
# Step 5 – Add photos to the listing
Next up, you're gonna add the display photo of the listing. Think of it as the "showcase" of your listing. Click the Add Photos button to add the initial photo of the listing.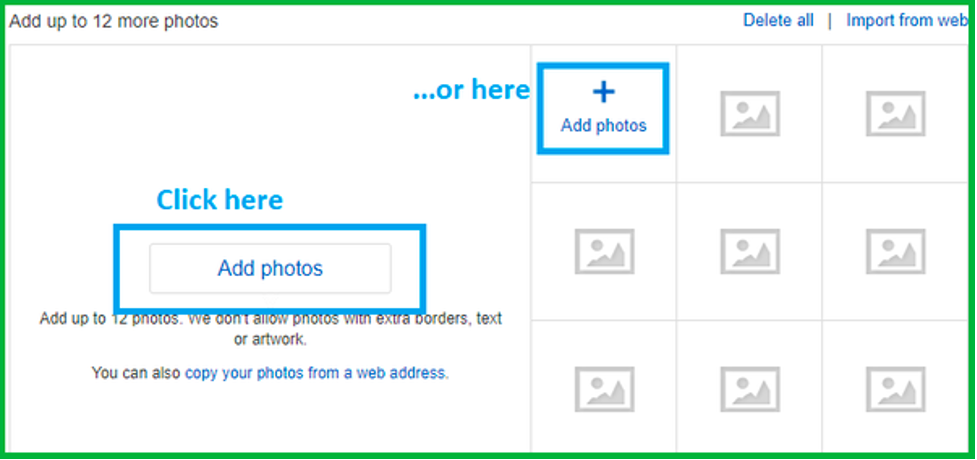 Once you are done with this, you must add the info of all the items that you sell. First off, choose which attribute you will base the photos. For example, you might want to add photos of all the different colors of T-shirts that you have available.

Go to this tab here and choose on which attribute you will base the pictures of your items on. If you want to add photos of all the different colors of the T-shirts you have in your store, click the Color attribute. Then, start adding photos of all the T-shirts of different colors that you have. New fields will appear and you will be able to add pictures of your products. These are the following: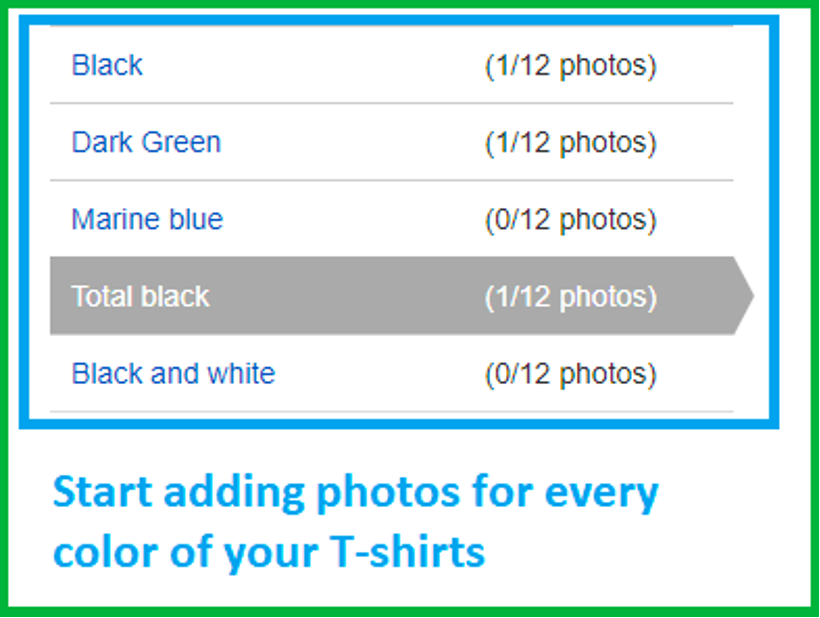 And this new photo field is where you can upload the photos of each color. Don't confuse it with the first picture field where you just include the showcase picture.
Once you are done with this, then you can proceed to write the information of each variation (Item) and you are all set!
# Step 6 – Enter Price and Quantity
Add quantities and price, which can be different for each variation of your item
Complete the rest of the listing as you would normally.
---
eBay Bulk Listing – Step-by-step Guide
If you have multiples of the same item for sale, use eBay bulk listings to make all of your inventory available at once.
Simply choose the Fixed Price format and enter the number of items you have for sale in Quantity when making your listing to list in bulk.
Fixed-price listings are Good 'Til Canceled, which means they will remain active until the specified amount of products are sold or the listing is ended.
#1. Create bulk listings with the automated tool 
Choose Fixed price as your listing format and enter your Buy It Now price.
Enter the quantity.
Complete the rest of your listing and select Submit.
Here's a tip: If you're using the quick listing tool, make sure to turn on more options so you can see the bulk listing option. Simply go to the top of the page and select Change listing preference, then check the Enable more options box and Save. You can then enter your amount by selecting More options.
Update your listing quantity
You can adjust the number of items on your listing at any moment. Select Edit, then Update Quantity in the My eBay or Seller Hub system to find the listing.
There are 2 significant reasons to maintain the quantity of things on your listing up to date:
One of the factors that determines a listing's rank in Best Match search results is its sales history. If you get more stock, rather than making a new listing, you should add it to the old one.
You don't want to oversell your items. And buyers don't want you to cancel their order because it's out of stock; doing so can harm your reputation as a supplier.
To avoid this, you should use the out-of-stock function, which will conceal your listing if you run out of stock.
#2. Others: How to list multiple different items on eBay from other platforms
In case you have another store built on Shopify, WooCommerce, Magento and so on, you can still list multiple items on eBay in bulk using LitCommerce – a fast and easy multichannel selling tool.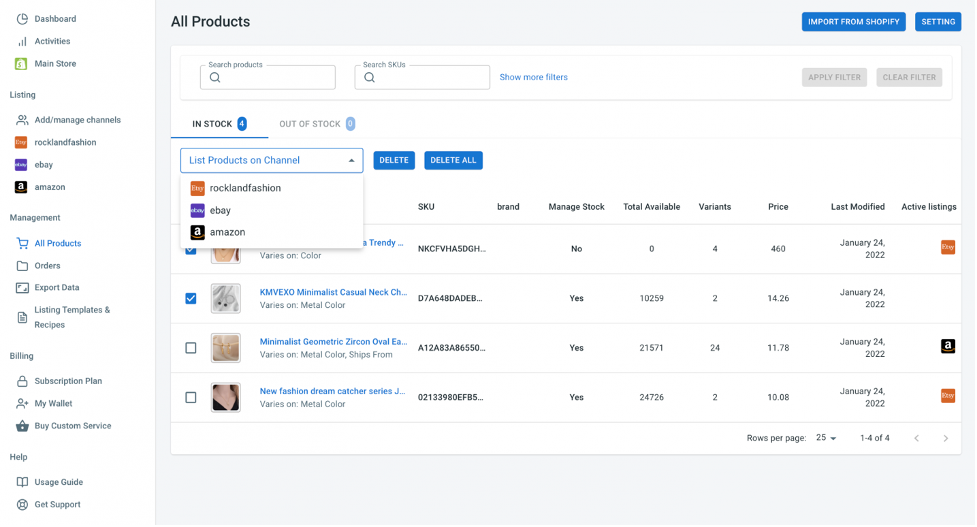 To do this, all you need to do is register an account on LitCommerce, then connect your online store to eBay with just a button. By doing this way, all your product listings will automatically sync and update based on your store and eBay marketplace activities. So far, this tool is a convenient way to manage and avoid over-selling.
Not only can you bulk listings on eBay but you can also connect to other top marketplaces like Amazon, Etsy, Google Shopping and far more. Contact the LitCommerce support team for more details.
---
FAQs – Ebay Multiple Listings
1. Can I list the same item twice on eBay?
We don't allow the same seller to post more than one fixed price listing of the same item at the same time. This can involve things like listing the same item in several categories or using different usernames for the same item.
2. Do I need a business account to sell on eBay?
You'll need an eBay account before you can start selling. You'll need to create an account if you don't already have one. You have the option of opening a personal or business account. A personal account is the best option if you want to sell stuff you no longer need or want on a casual basis.
3. How do I list more than 10 items on eBay?
Go to the Overview – opens in a new window or tab tab of Seller Hub. Scroll down and find the Monthly limits section to view your current limit.
---
Wrapping Up: eBay multiple listing
With over 150 million customers bidding, selling, and purchasing every day, eBay is one of the biggest online marketplaces out there. For good measure, you can sell on eBay and other marketplaces to drive your business towards prosperity and expansion.
Don't hesitate to give LitCommerce a try since there's a FREE plan to start a multi-channel strategy. We also have the pleasure of supporting you whenever you have any concerns with the app.
Don't forget to join our Facebook Community to get updated about eCommerce news and tips.