Google Shopping is one of the top global marketplace that can assist you in remaining competitive in the market. Listing products on Google Shopping helps boost your visibility and reach more customers. Besides, you can also take advantages of using other free Google tools for your business. However, this sales channel allows businesses from all around the world to sell on Google Shopping for free, so you'll be up against some more competition.
In this article, we will tell you reasons why you should sell on Google Shopping as well as offer further trips and tricks for effective business strategies on this sales channel.
---
What is Google Shopping?
Google Shopping is an online shopping engine that allows customers to search for, compare, and buy products from a variety of shops. It's a collection of diverse services and destinations, all driven by a new platform – Google Merchant Center.
With Google Shopping, sellers can make use of 3 primary destinations or services:
---
Is Google Marketplace Shopping Worth it?
After Amazon, Google Shopping is the second most popular platform for customers to start their product searches. This makes it a likely route for customers to know about your product, and one that you should take use of if you haven't previously. Here are some reasons why: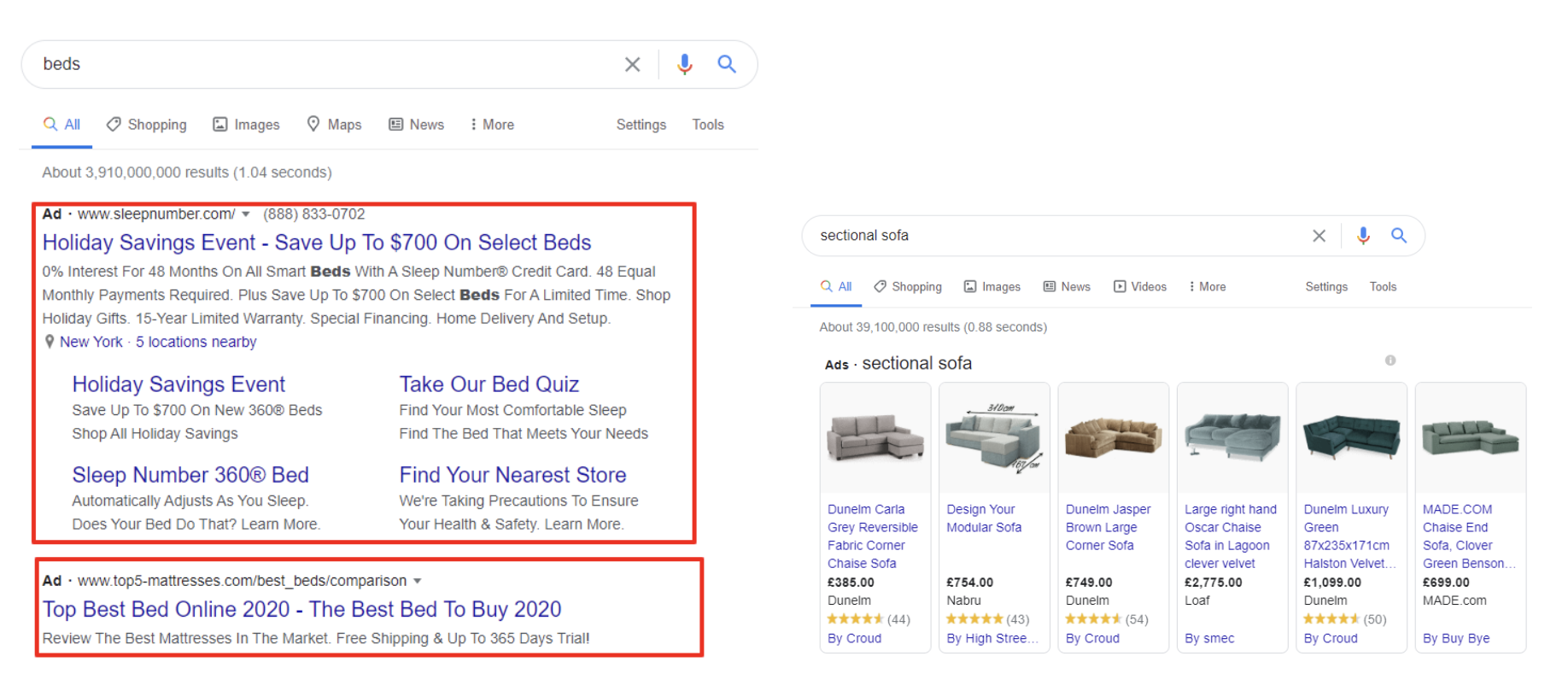 ---
How to sell on Google Shopping
Step 1: The very first step you need to do when selling on Google Shopping is sign up a Google Merchant Center.
This place is where you can manage your listings and post your products manually.
From the dashboard, you need to fill in some information like store URL, store name, your country of your business. After that, Google will ask you to upload a file to your server to validate your site ownership.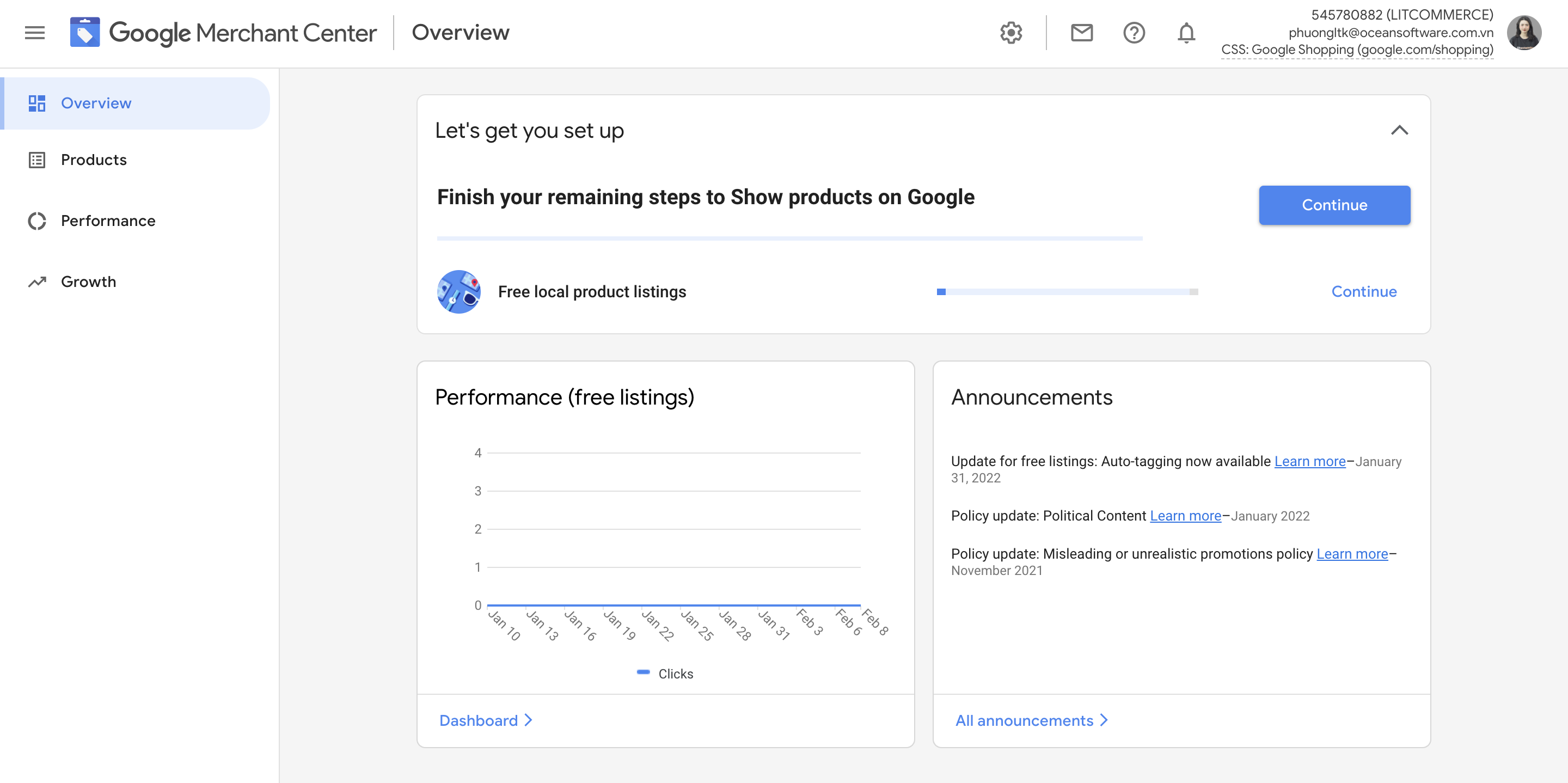 After signing up the Google Merchant account, you can manage all the business' activities like product listings, orders, tax or shipping details.
Step 2: You need to upload your products to sell on Google Shopping.
Listings in Google Merchant Center will be grouped under "Feeds". An online store might have multiple product feeds. For example, you can create a feed for regular products, another for seasonal products, and other for best-selling items, and so on.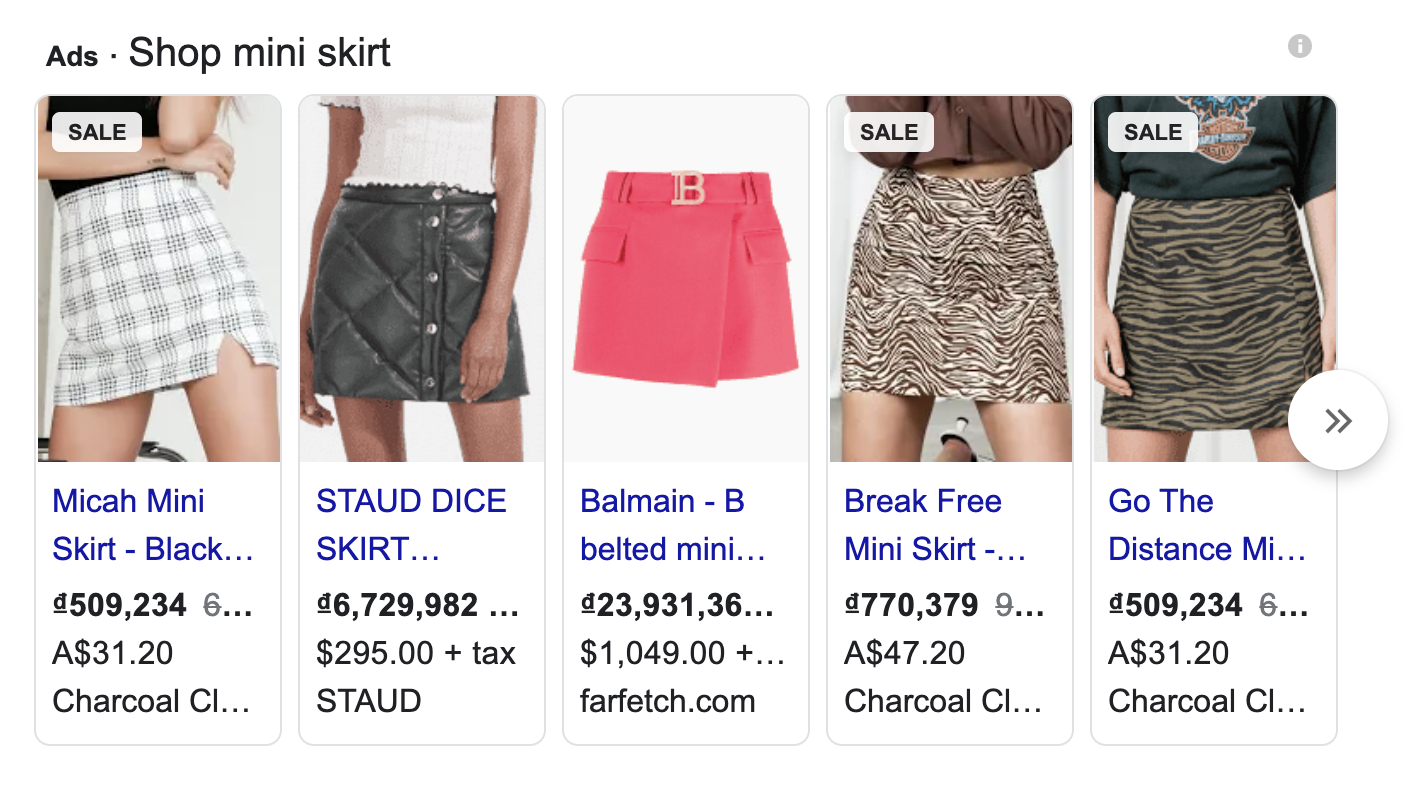 To add a product feed, on the Google Merchant Center, let's go to Products > Upload multiple products. You can name your feed and select the country for specific products. However, you need to note that your products need identity such as Brand, GITN, and MPN.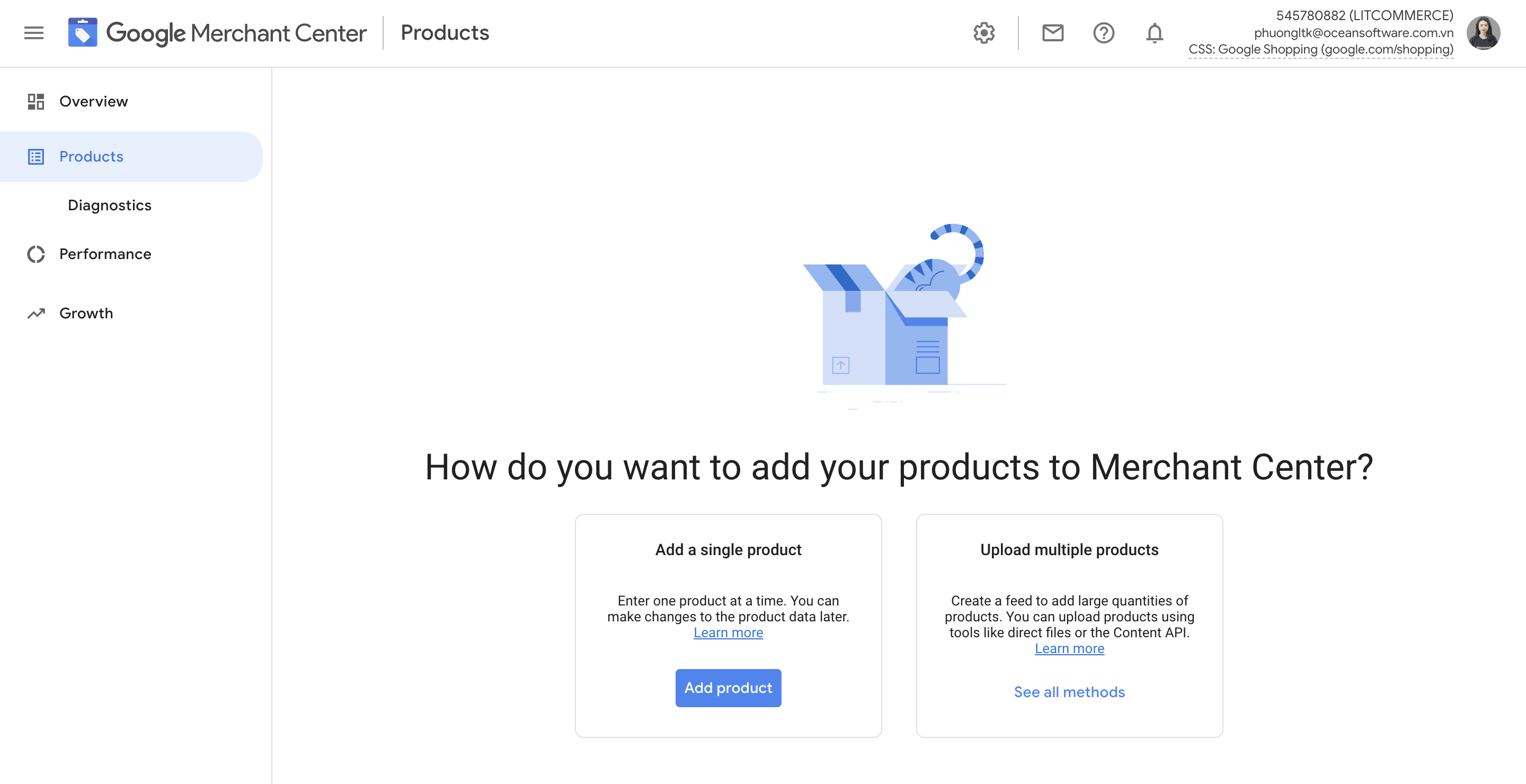 Once you've done these step, all your selected listings will appear in the Merchant Center and you're ready to sell on Google Shopping.
Step 3: To reach wider audiences, you sure need to buy shopping ads. 
The concept is pretty clear: if you want your listings to show up on Google search results, you will have to pay for it. For Google Shopping, you need to set up an AdWords account.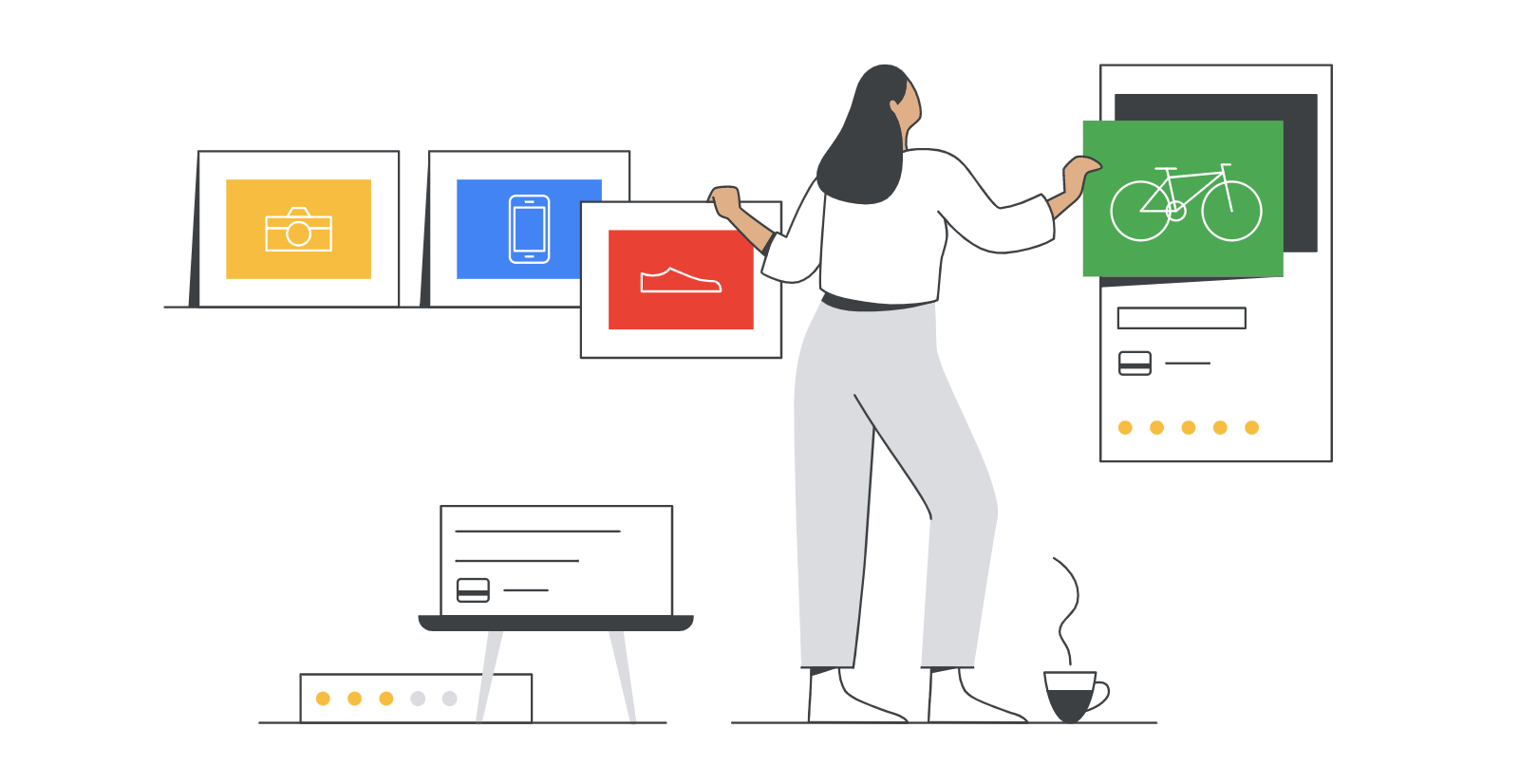 Creating an account is just a breeze when you go to AdWords. After that, log in to your dashboard and navigate to Create your first campaign. From here, you can name your ad campaign and pick Shopping under ad type on the next screen.
AdWords has a very clear and clean dashboard, so you can easily set up your own campaign using digital ad marketing knowledge.
Before using AdWords to promote your listings, you have to connect your Merchant Center account first. When binding 2 accounts, you can choose your placements, optimize your bidding, and start selling on Google Shopping. Furthermore, you need to prepare reports to comprehend the statistics. Hence, to reduce the amount of time spent on reports, you can automate AdWords reporting.
Product image, product title, and price are the three most crucial elements of a Google Shopping listing. These are the first things that the customer sees, and they must be completely accurate.
---
6 Best Practices for Selling on Google Shopping
When selling on Google Shopping, there are a lot of factors to consider, which can make the process seem intimidating. However, there are some best practices that can assist you in getting a head start with selling or improving the existing state of your Google Shopping listings.
#1 – Make sure your product feed is up-to-date
Before getting started, you need to make sure that you are understand the process of how to sell on Google Shopping, one of those is the product feed. You can prevent customers from bouncing by regularly updating your listings. Customers may abandon your store totally if they see and adore your product but it is sold out or not available in the proper size or color.
According to Duane Brown – CEO of Take Some Risk, he says:
We do a lot of work on eCommerce & DTC brands with shopping campaigns in APAC, North America, and Europe. The shopping feed is the most important aspect in your success. You won't get very far if your shopping stream isn't up-to-date, no matter how good your campaign structure, settings, and organization are. There aren't enough brands that focus on their shopping feed.
Google Shopping is a conversion-optimized marketing channel. The closer a consumer comes to making a purchase, the more precise their search becomes. So someone searching for "Best Balenciaga shoes 2021" is less likely to buy than someone searching for "Balenciaga Triple S Black Neon woman's size 10."

Here's everything you need to include in your feed. As changes to your inventory, marketing plan, or general business occur, this approach makes it easier to update your product stream.
#2 – Make your product titles as visible as possible
Optimizing your title is an excellent method to attract more customers and encourage them to learn more about your product. When Google searches for relevant results, it looks at the title first – and also your customer as well. These titles need to be descriptive in order to provide enough information about your product to your customers before they click on the listing.
A Google search for "heeled boots" represents the current SERP: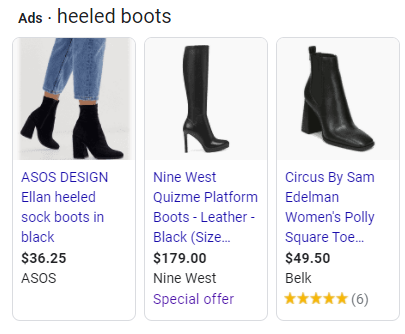 Aligning with research, there is a definite trend for brand names to appear first in the product titles.
According to USC studies, product names are carefully considered before being chosen. Normally, consumers prefer pricey product names to generic ones. To put it another way. "they make value judgments based on their perception of satisfaction".
When it comes to product title optimization, there's no need to reinvent the wheel. People are more likely to choose a business they trust, and trust is closely linked to recognition.
Finally, unless you're selling generic items, make sure you mention your brand name in the product title as early as possible. This will increase the chances of your product page being discovered organically.
Keep in mind that your product titles should be original while still being informative, useful and error-free.
#3 – Don't cram all of your products into one category
Because Google allows you to be very exact with how you label your products, make sure to go over each one and properly label it. If you offer baby items, for example, you can specify whether the product is socks or a onesie.

Jordan Levy – founder of LevyX says:
Exposure to the right audience should be the only goal in Google Shopping. The number one way of maximizing exposure and reaching the right people is by enriching your product feed. Use as many data points as possible, from the Google Product Category all the way through condition, color, size, etc. You'll see an enormous improvement in performance as long as the product is good.
It's also worth noting that Google automatically categorizes your products, which saves your time. For US sellers, however, this can lead to accuracy concerns, and possibly tax miscalculations. Even if you use Google's feature, you can still go into your product feed and apply the relevant categories to each product.
This can not only help you avoid tax problems, but it can also help your customers find the right search faster. You can learn more about how to optimize Google product categories to increase conversion and ensure your customers get relevant results.
#4 – Give your consumers a quick overview of all product information
You can help your customers make a decision faster by giving essential product details immediately when selling on Google Shopping. If the product is on sale, you should mention it. Or, if a product's price changes on your landing page, make sure it's reflected in the information you prove right away, starting from the search results.
You can speed up the consumers' decision and prevent them from looking at competing sites if you give enough information. You can create a promotional feed that highlights your promotions with "sale" text, and strikethrough of the original price. Or, for example, if you're offering a sales event, you should add some texts like free shipping, sale up to, buy 1 get 1 free or something special. These kinds of strategies can aid with conversions as well as attracting attention and clicks.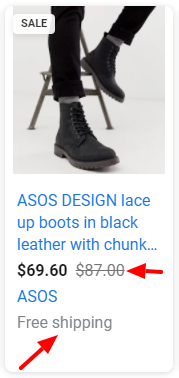 Apart from upgrading your Google Shopping product description, your own eCommerce website should feature all of this information and urge customers to buy. To boost conversion, you must improve your data feed quality, keyword targeting, campaign setup, website design, product landing page information, and checkout designs. To conclude, all of these are the key factors in boosting conversion rates.
#5 – Use high-quality images for your products
Your product photos must be outstanding. There's certainly a lot more to this process than merely snapping pictures. The general consensus is that your photos should be displayed on a white background. That's a solid start, but depending on your product, you can play around with it.
For example, furniture must be displayed in a room, and plates in a kitchen or in use. Although taking high-quality photos of your products can cost you quite lots of money, it is ultimately worthwhile because it allows customers to see what your product looks like and imagine it in their lives.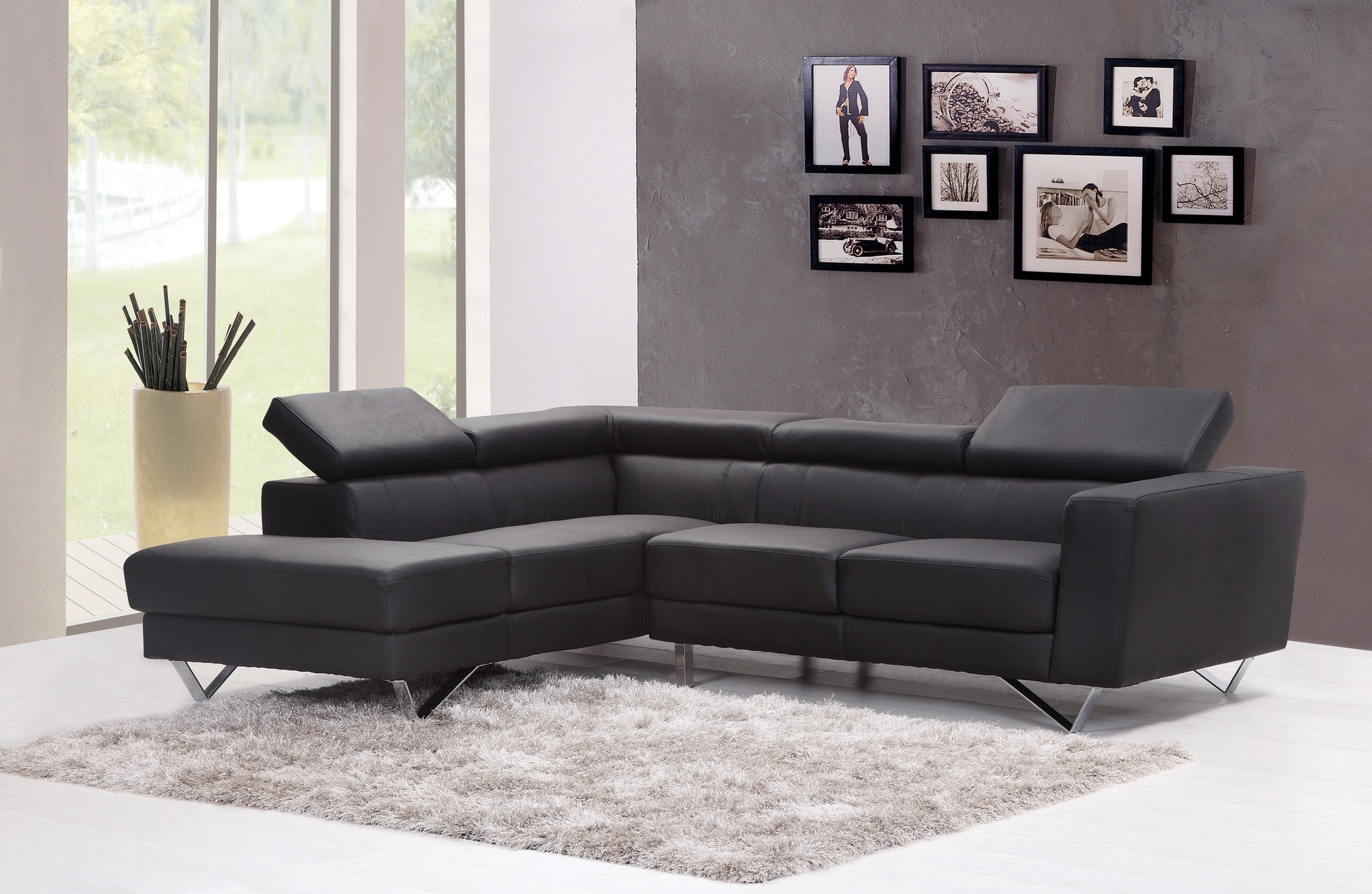 You can follow Google's guidelines to streamline the image approval process.
#6 – Focus on customer reviews
According to a customer survey conducted by Bizrate Insights, 92% of people read at least one review before purchasing a product. Furthermore, according to a survey conducted by Womply, 75% of businesses do not react to any of their reviews, but those who do generate 35% more money than the average firm.
This data clearly demonstrates that reviews are incredibly significant for your business. Google Product Rating refers to the star ratings that display beneath product listings in Google Shopping. The ratings can be seen in the highlighted areas of the image below.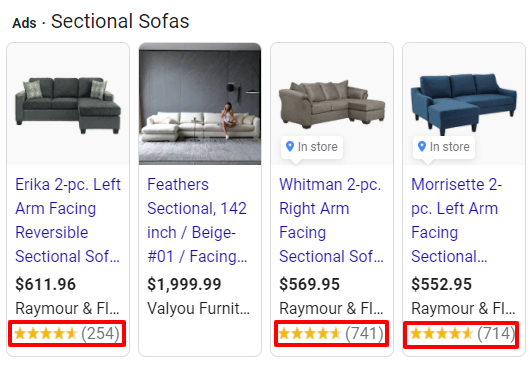 When you click on the product rating, you'll go to a page with more thorough reviews, including answers to frequently asked questions and detailed comments from customers about their experiences with the product and the company in general. As an example, this search for the keyword "sectional sofa" led to this product page.

It's crucial to understand that Google's Product Ratings and Seller Ratings are not the same thing. Product ratings are for specific products and, refer to global product IDs, may be seen anyplace that sells that product, whereas Seller ratings are for businesses.
Ratings and reviews for products can also help with SEO and customer conversion. Seller ratings and reviews aid in the development of credibility and trust, as well as helping you stand out from the crowd. Both are equally valuable.

Although businesses with ratings of 4 to 4.5 stars earn 28% more in annual revenue than businesses with lower ratings. Consumers don't just hunt for positive reviews, they also pay attention to how companies respond to bad ratings.
Prioritize and establish a standard for responding to customer feedback within your company. Consumer behavior and purchasing decisions can be influenced by reviews, which represent social proof. You can refer to how to reply to Google customer reviews.
---
FAQs – Google Marketplace Shopping
1. How much does it cost to sell on Google Shopping?
Luckily, through the "Buy on Google" checkout experience, retailers of all sizes can sell their products directly on Google with NO GOOGLE COMMISSION FEES for purchases made through Shopping Actions. However, retailers must pay for their own third-party suppliers, such as PayPal for payment processing and other services.
2. How Google Shopping makes money?
Google will not conduct revenue from the free listings but they will make money by charging for advertisements and featuring promoted products, as it does on other services.
3. Is Google still valuable in 2022?
Yes, to put it succinctly. Shopping gives businesses a whole new way to market their products, and it's a major opportunity for eCommerce growth. Furthermore, PLAs now account for 65% of all Google ad clicks and up to 85% of all retail ad clicks in Shopping.
---
Final Words: Consider Google Shopping to be an Extension of Your Business
Your Google Shopping product feed is an extension of your business and, more crucially, your brand. Some of your clients may find you first through Google Shopping, rather than through social media or any other marketing route. Always consider to sell on Google Shopping to provide your customers with the finest possible brand experience.
Setting up and managing an eCommerce website takes a lot of time and effort. Adding all of the essential external platforms to attract customers and grow your business might be challenging. You can enable your items for Google Surfaces, Shopping Ads, and Shopping Actions all at once with LitCommerce.
Check out LitCommerce if you are planning to expand your business with multichannel selling strategy. LitCommerce is the easiest way for store owners to list and sell their products on the top global online marketplaces not only Google Shopping but also Amazon, Etsy, eBay, and so on.
For more information, please contact the support team; we are always happy to assist!
You can also become a member of our community to receive more relevant eCommerce news and tips.
You may also interested in reading: