Introduction
While Wix is an eCommerce platform, Amazon is strictly a marketplace. To be specific, Wix offers you tools to build your own websites to your liking, while Amazon lets you sell on its designed marketplace beside other sellers. And one thing crucial to growing any business is to broaden your reach to different customers and channels, and the most effective way to do so is Wix Amazon Integration.
In this article, we will include:
How to integrate Wix with Amazon Manually

How to integrate Wix with Amazon with LitCommerce

Why you should use LitCommerce for Wix Amazon integration

Advantages of Wix Amazon integration
Let's dive in!
---
How to Integrate Wix With Amazon Store Manually
Being an SMB seller, you might encounter some of the following problems when you integrate Wix and Amazon manually:
Overwhelming process due to the complicated and technical knowledge

A lot of time and effort required to export and import data manually between channels

Risks of missing or overselling products since you can't update frequently
Despite the potential obstacles, we provide you with this detailed guide so that you can still integrate Wix and Amazon manually with as little trouble as possible.
Step 1: Connect your Wix store to Amazon.com
First of all, you need to create an Amazon seller account unless you already have one. Next, to connect your Wix store to Amazon:
Go to the Amazon tab in your site's dashboard.
Click Start Now
Sign in to your Amazon sellers account then hit Confirm when you are done
Step 2: List Wix store's products for sale on Amazon
In order to sell on Amazon with Wix, first you have to find and match the products in your Wix store to the matching products in Amazon's catalog of existing products. In case the products have variants, you can match each variant to the corresponding Amazon variant – as long as they exist in the Amazon product catalog.
Click Unpublished to view only products that aren't on Amazon yet
Select a product and click Manage Products
Next click Find Products, type in either the products' name or id and click Select
You can select Customize for Amazon to customize your products if needed
Then click Publish and Accept &Publish
Amazon will take about 15 minutes to approve your listings, in the meanwhile, you can continue to list your other Wix products for sale on Amazon.
Step 3: Link Amazon products to Wix store
If you have been selling on Amazon, you can use Wix integration with Amazon and sell from Amazon instead. Here are the steps to link Wix to Amazon:
At the Amazon tap, click on Unlinked to Wix
Select a product.
Select Choose Product.
Choose the Wix product you want to link to.
Click Save & Update
After you integrate Wix with Amazon, make sure you should double-check all your product settings and details thoroughly. This process will be relatively time-consuming, but it's extremely important if you want to minimize the possible troubles to come.
Step 4: Manage Amazon orders from Wix dashboard
In your Wix dashboard, go to Store Orders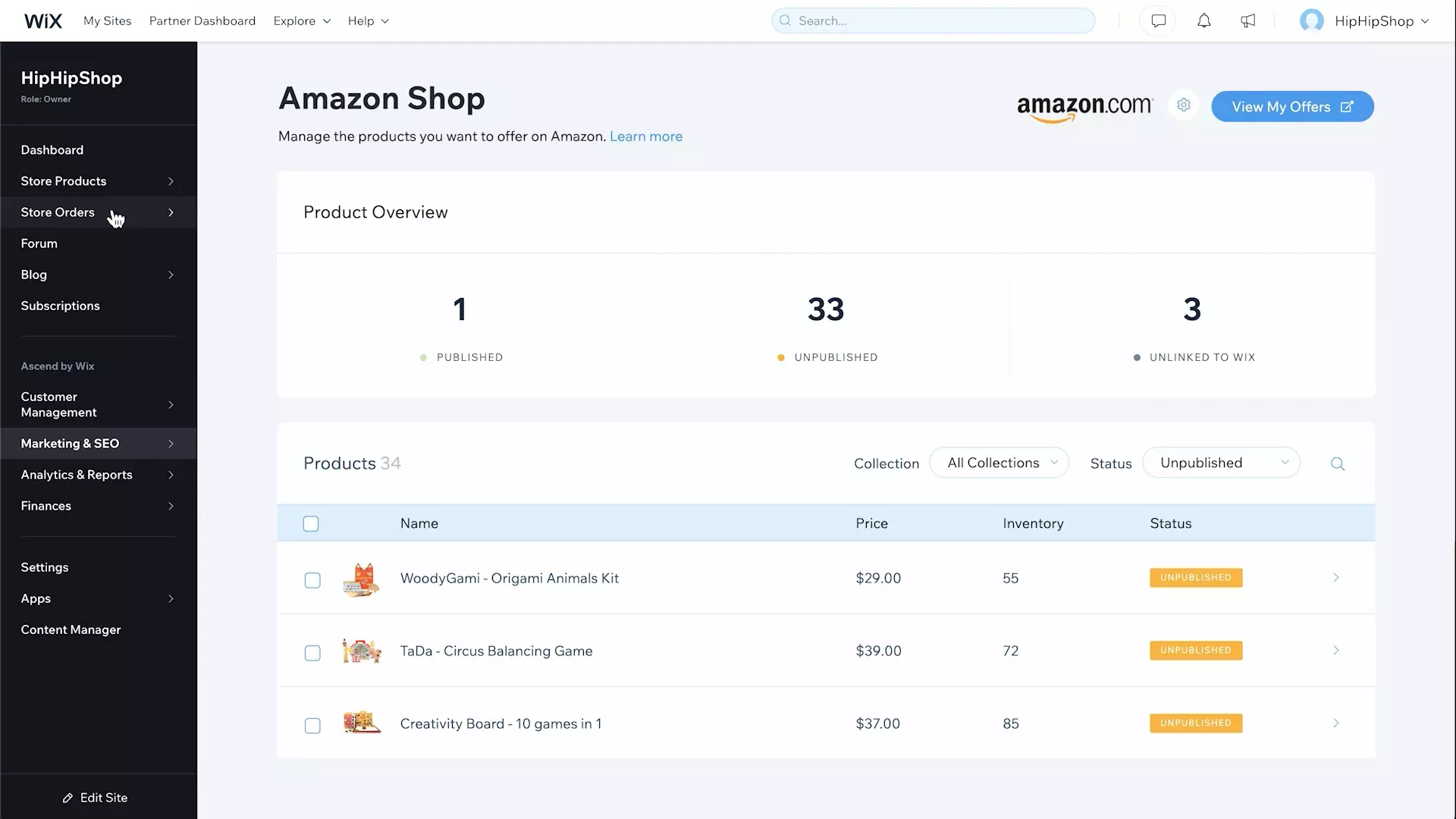 To view Amazon orders, click More Filter, then Sales Channels and choose Amazon.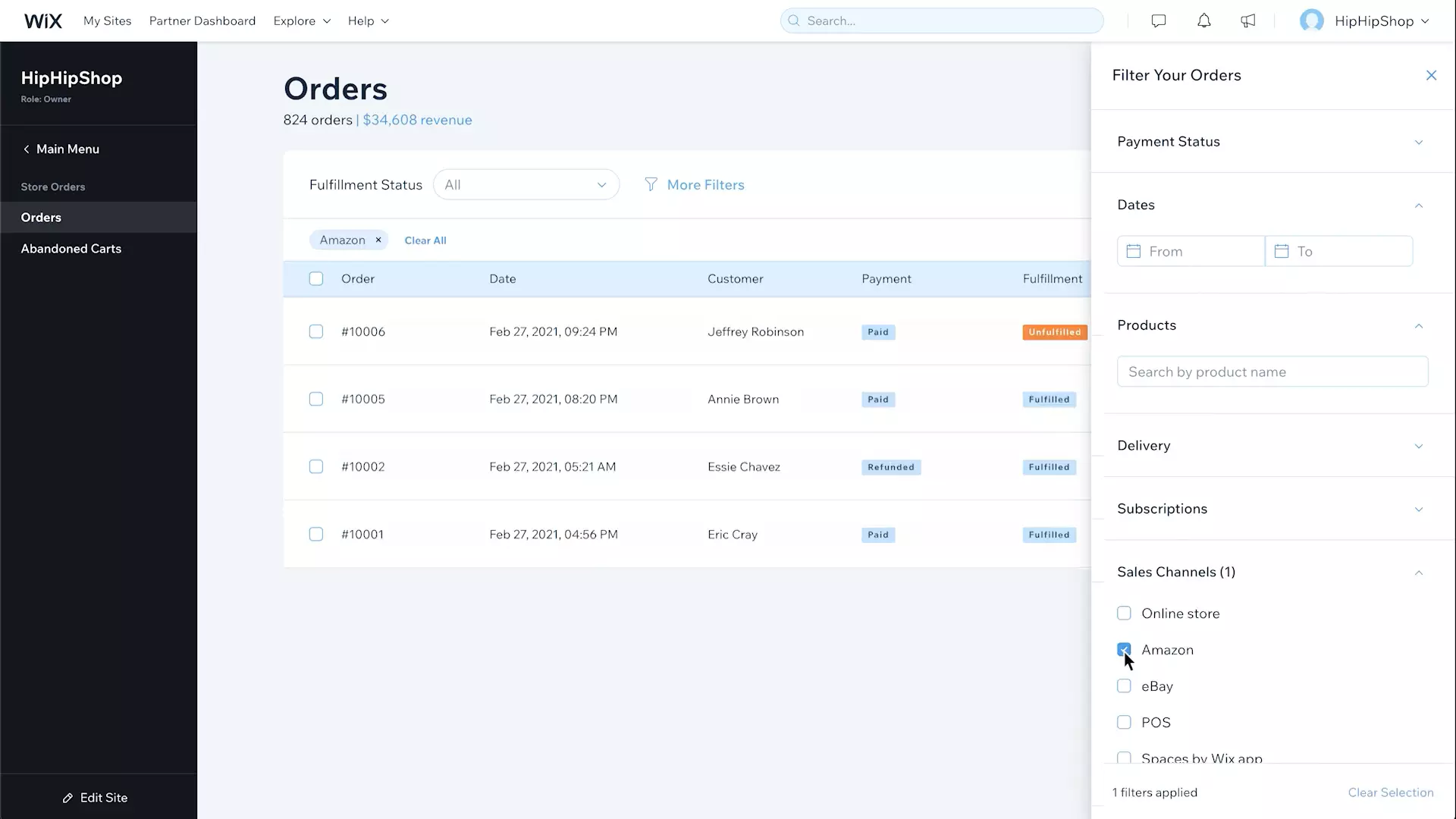 Now you can select any order and view all order details, take any needed action. Or if you want to view the order on Amazon, click on the icon next to Amazon logo.
---
Wix Amazon Integration with LitCommerce
If manual Wix Amazon integration is too much for you, then LitCommerce is your solution. With LitCommerce, you can integrate multiple selling channels and manage all from a single dashboard, from importing products to fulfilling orders from a central system.
Step 1: Integrate Wix with Amazon
From Wix's dashboard, find and download LitCommerce app.
Follow the instructions and connect Wix with LitCommerce
After that, you will be redirected to the LitCommerce website to integrate with Amazon. At the Setup First Channel, select Amazon and click on the Connect button. 
Step 2: Import and link Amazon products
Import Amazon Products
By using LitCommerce, you can import products and listings in bulk from both Wix and Amazon to one single dashboard. Then go to All Products on the sidebar menu on the left of the LitCommerce dashboard, and click on Import from Wix to push all existing Wix products to the LitCommerce app.
To list products on LitCommerce, select all or select some specific products, then click on the dropdown menu, click on Amazon, and List Products. The imported products will be saved as drafts, sellers can make final edits before publishing them live on Amazon
Link Amazon Products
It is mandatory to link existing products from the imported listings so they will have the same SKU in the central catalog. At the last steps of the importation, you can either choose to import all products or particular ones of your liking, to link Wix products to Amazon. 
From the List Products on Channel dropdown menu, select your Amazon store.
You will see a draft listing available for editing before you publish it on Amazon and start selling. LitCommerce also lets you effortlessly view, edit and manage all listings on one single screen. You can make any changes to your listing information without switching back and forth.When the products are ready to be published, go to the Select Action dropdown menu, select Publish to Amazon, and click Action. You will then find the published listings in the Active tab.
Build products on Wix from Amazon listings
Remember, you can choose to build products on Wix from Amazon listings. From the left sidebar menu, go to your channel page under the Listing section. Choose the product you want to create on the main store, and hover the mouse over the chain icon. When the options pop up, click on Create on Amazon/Wix. 
After that, the product will automatically be created on your main store and immediately imported to the LitCommerce product catalog. You can also create products in bulk by selecting multiple listings, click on Select Action > Create on Amazon/Wix. Note that if you select multiple listings, only products that don't exist in your main store will be created so as to avoid duplicates.
Keep in mind that if you select multiple listings, only products that don't exist in your main store will be created so as to avoid duplicates. The listings would have been linked to products in your main store once the link icon changes to blue.
Step 3: Turn on Wix Amazon synchronization
To fully finish Wix Amazon Integration with LitCommerce, you need to turn on prices and inventory synchronization. Select Wix from your main dashboard and choose Channel Settings at the top right corner. To enable the Synchronization, click on the switches beside the 3 sections: Pricing, Inventory, and Order, then click on the Save Setting at the bottom of the page to save all changes.
With Pricing synchronization, all pricing updates you make from your Wix store will be updated and displayed automatically on Amazon. On top of that, you can now create your own rules with the prices, making it more effective. You can increase or decrease the listing prices by either a percentage or a fixed amount, and once you hit the Save button, it will be automatically updated to all Amazon listings.
Inventory synchronization
You can also set new rules for your listing inventory, displaying the quantities of the products on both Wix and Amazon. Notably, this feature can only be viable if you make the changes through LitCommerce's dashboard.
A special feature of LitCommerce is that LitCommerce can help you with the risk of overselling by displaying the respective correct product quantity on each channel. The moment an order is placed on any channel, the quantity of those products on all other channels will be decreased by the same amount to match. In case you want to monitor orders on separate channels, this feature can be disabled at any time.
Step 4: Manage Amazon orders
After enabling the Order Sync feature for Wix Amazon Integration, you can use Wix to fulfill orders from both Wix and Amazon, all order details will also be listed on your LitCommerce dashboard for convenient management 
On the sidebar menu at the left of your LitCommerce dashboard, click on Orders. This will serve as your order management center to regulate and keep track of all orders placed on your channels, as well as all the information on buyers, order statuses, channels' order numbers, and other significant information.
---
Why Choose LitCommerce For Wix Amazon Integration?
With LitCommerce, Wix Amazon integration will be so much easier to monitor through a single dashboard. Here are some significant LitCommerce features for multi-channel sellers to look for:
Bulk listing

: create and publish listings easily on Amazon with products from your central catalog.

Smart Bulk Editor

: LitCommerce lets you effortlessly view, edit and manage all listings on one single screen. You can make any changes to your listing information without switching back and forth. 

Real-time synchronization

: automatically update any changes made to your product attribute in your Wix store to your Amazon store (name, price, inventory, photos, etc. ), reduce repetitive tasks to a minimum

Advanced customization

: bulk edit your listing info such as price, quantity, product title, description, etc.
LitCommerce Pricing:
For the Wix Amazon integration fees, we offer 5 prime plans, suitable for all business sizes:
Free Plan: starts with 20 listings for anyone who wants to try LitCommerce
Basic Plan: $29/month, covers 500 listings, perfect for starting businesses
Standard Plan: $49/month, includes 2000 listings, ideal for medium-sized online retailers
Advance Plan: $69/month, 10.000 listings included, also free to list and sell on numerous selling channels, perfect for larger-scale companies
Enterprise Plan: If you operate an enterprise-level store and wish to use LitCommerce with specific requirements, please contact us and our staff will create a plan that is well-customized for you.
Customer Reviews
The LitCommerce team always listens to customer feedback in order to improve our app and service, and every case is a valuable lesson to us.
Great customer service!

I had an issue when first setting up the app and Ember contacted me and walked me through the whole thing and we were able to get over 200 products listed on multiple channels! I'm very pleased with the service and help that I received! Thank you!!
Benefits of Wix Amazon Integration
To know more about selling on multi-channels, here is a list of the advantages that come from Wix Amazon integration:
Exposure to a larger customer base
Instead of solely focusing on getting traffic to your Wix store, you can now focus on optimizing listings to outrank competitors on Amazon instead.
Promote your store branding
Selling on both channels can help Amazon merchants boost their brand awareness. Thanks to having a website on Wix, you can drive traffic to your own website instead, boosting your store branding instead of striking customers as just another store on Amazon.
With Wix Amazon integration, now you can list products, control inventory, and manage orders in one centralized location, smoothly and efficiently.
---
FAQ – Wix Amazon Integration
What does Wix integrate with?
For marketing tools, Wix offers many integration options such as Google Analytics, Facebook Pixels, and Google Tag Manager,… For Wix Stores, you can integrate Wix with Amazon, eBay, Shopify, Etsy, and many more.
Which is better: Wix vs Amazon?
Wix is a hosted eCommerce platform that can help you create your own store from scratch. Meanwhile, Amazon is an eCommerce marketplace, on which you can have a store like having a stall in a mall. Depending on your need, Wix can be a better choice if you want to have full control over your store, and Amazon will be best if you want to sell in a popular marketplace instead.
How do I link Wix to Amazon?
To link Wix to Amazon, especially link Wix products to Amazon, you can either integrate Wix with Amazon manually or you can use the automated integration tool by LitCommerce, you can create, edit and publish products in bulks, sync your settings automatically or bulk customize your listing information. 
The process only took 4 simple steps: 
Integrate Wix with Amazon

Import and Link Amazon products 

Turn on Wix Amazon synchronization 

Manage Orders
How to integrate Wix with more e-Marketplaces?
You can look for more e-Marketplaces apps in the app store, or you can use LitCommerce to integrate Wix with multiple e-Marketplaces at once and manage all from a single dashboard.
---
Conclusion
Selling on multiple channels means more work for you to handle, but it also means more profits and growth. After the Wix Amazon integration, you will without a doubt be more productive, making the most out of multiple different channels.
Remember that LitCommerce is the number one choice when it comes to multichannel selling tools. Also, don't hesitate to leave us a message if you have any questions.
Join our Facebook community today for more insightful eCommerce news and tips!
You might also want to read: