A Quick Look at Etsy
Etsy has never been busier with more than 7.5 million active sellers as of Apr, 2022. You'll quite likely be competing with dozens of other active merchants offering identical products, no matter what category you're in. Sellers must stand out to be a viable business option on Etsy. And one way is to look for several Etsy tips and tricks from other store owners out there.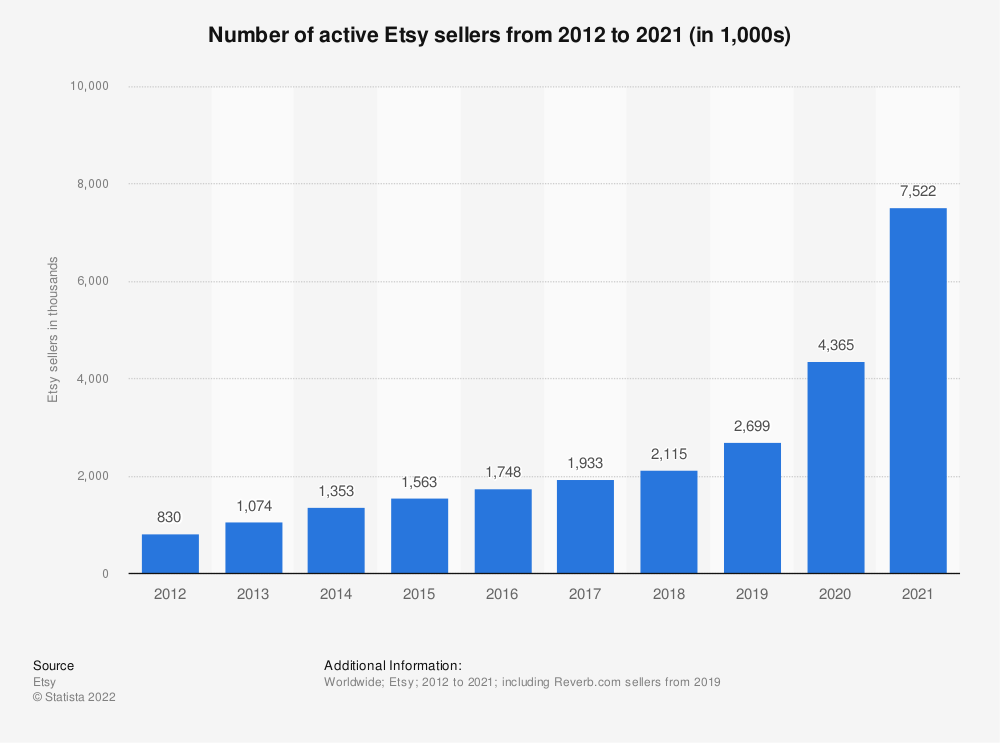 Even in the absence of enormous competition for shoppers' attention, you may improve your listings and appeal to more customers without changing your inventory or completely reworking your seller approach. To stand out, you must do everything correctly, and these 10 Etsy tips will help you avoid typical blunders that can boost your listings from excellent to fantastic — and your sales from good to great as well.
---
10 Etsy Tips 2022 to Stand Out from Other Sellers and Products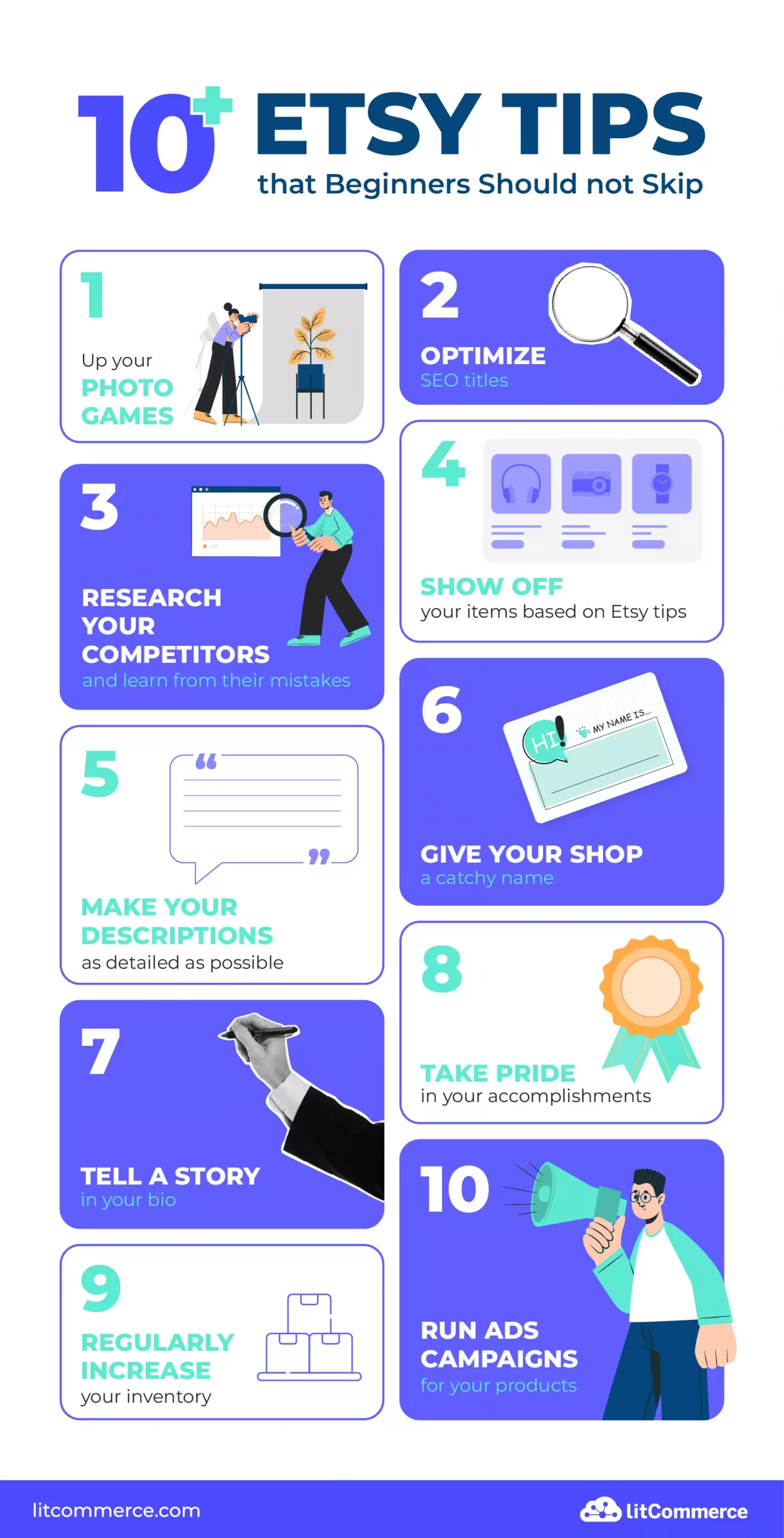 #1. Up your photo games – 1st important Etsy tips
In a cluttered marketplace like Etsy, your products will not inspire visitors to click without professional-quality photos. Taking excellent images is one of the biggest tips for selling on Etsy that certainly necessitate the purchase, borrowing, or renting of professional-grade camera equipment.
No matter how high-resolution your camera is, lighting is crucial to a stunning photo. Consult a manual on how to light and photograph products. There are several print photography manuals available, as well as a wealth of free online courses, that can help you improve your product photography.
Photographers nowadays are earning a huge potential, thanks to their status as a business. Every business benefits from creative thinking, so look for some eye-catching photography business names too.
Don't be scared to edit up your images after you've taken them. Even if you can't buy expensive picture software, there are many excellent free options available online and as applications. Although you should never mislead your products, making sure your colors are accurate or editing images to give a better view of the product can help.
Below is an image of an example for Etsy shop tips, professional-quality images of WalkintheBark's fashionable dog collars are prominently displayed on their website. They demonstrate that superb lighting, a clean background, and great quality are the foundations for making your product stand out.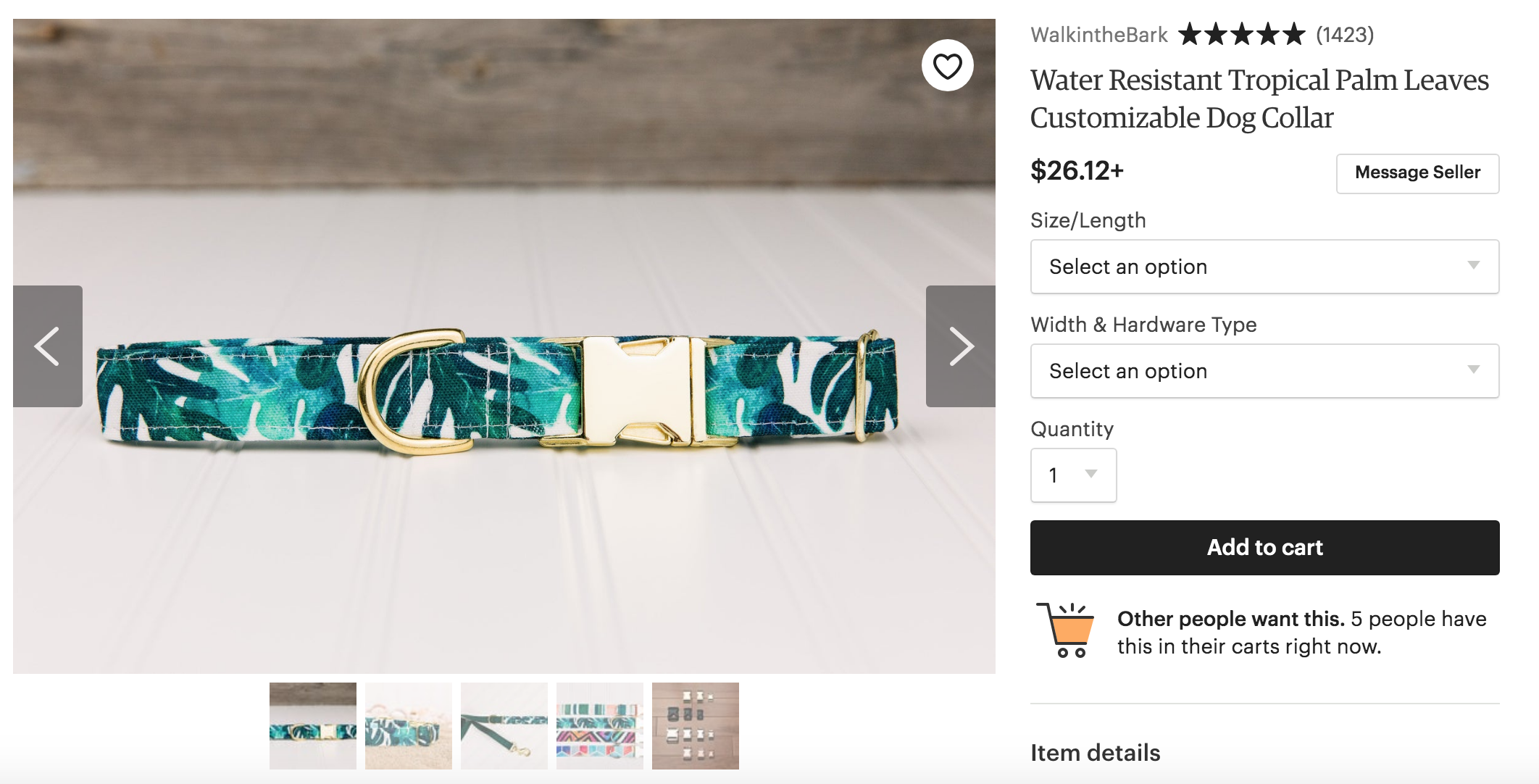 In comparison, have a look at the first product photo from katiesk9kollars. While the images are identical (patterned collars on a plain background), katiesk9kollars' is of lesser quality, doesn't represent the item clearly, and is cropped in an inconvenient location. It seems that the seller did not put much effort into it, and it does not present the product in an appealing manner.

#2. Apply Etsy tips to optimize SEO titles
SEO should be on top of your must-do list when it comes to getting products seen by customers. Getting your title properly can help your items appear earlier in search results – so, make sure your titles follow SEO best practices. Here are some Etsy SEO tips on how to make your product titles more optimized:
Be as specific as possible: You should include names of fabrics or other materials, sizes, or other identifying features of your items that will come up when someone is looking for what you're offering.
Use different terms to describe the same products: For instance, if you offer keychains, you should title your embossed leather keychain as "Personalized key fob leather key ring leather embossed key holder."
Remember the selling on Etsy tips here are that your item's title isn't the only thing that draws people in. The major purpose of the title is getting your products to appear in the search results. People will buy from you if you have good images, product descriptions, and other aspects.
Let's take a look at the wedding invitation from Sunnyprint as an example of how to make your Etsy shop stand out: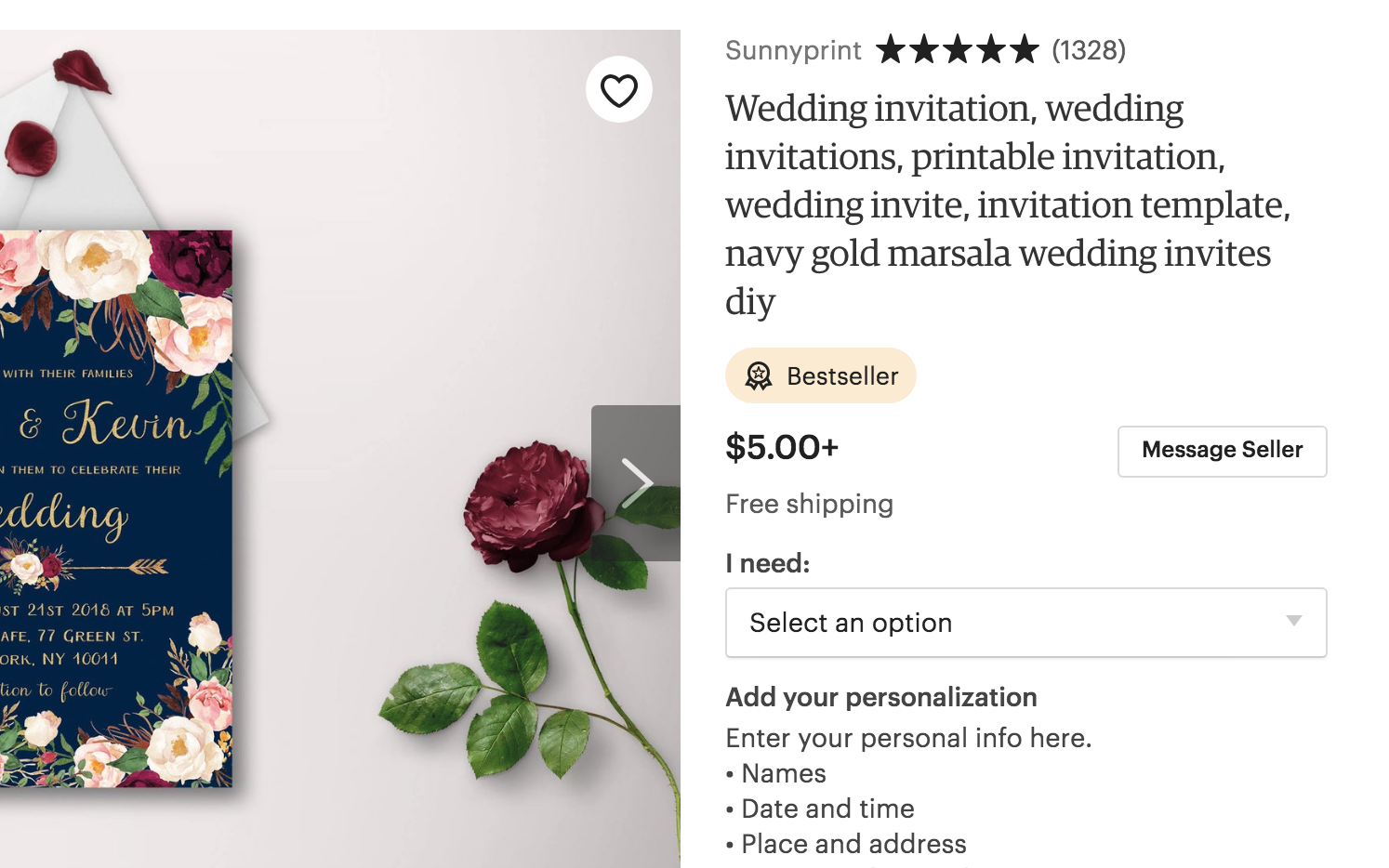 It's a bit repetitious, but it works because this helps their invitations show up at the top of the search results. Whether they enter in "wedding invite" or "printable wedding invitations", shoppers will be able to find the stationery.
#3. Research your competitors and learn from their mistakes
Consider browsing Etsy as if you were a customer. One of the helpful Etsy tips is to examine the niches you want to dominate, as well as your competitors. Determine:
Things you like about the items you're drawn to or the best-selling items in your niche.
Points you don't like about this seller's photos and descriptions.
Comments about the seller's shop/service/items in the review section.
Obstacles make you hesitant to buy from a seller.
Things make this seller's photographs and descriptions irritate you.
Don't copy what other sellers are doing – most important Etsy sellers tips, but be aware of what's effective in your area and alter your own products accordingly; no one has a monopoly on knowing what's trendy in their market. Examine what your competitors are doing every 6 months or so; on platforms like Etsy, trends, and popularity can shift quickly.
#4. Show off your items based on Etsy tips
Yes, professional-looking photos are vital, but putting everything on a plain background isn't the only option, and it's certainly not the greatest approach to stand out.
One of the Etsy tricks we want to share is to show off any worn items you have, such as shoes, bags, jewelry, belts, or other accessories. Show your item in action, not only in a "studio" setting but if it's for a specific purpose. Show a photo of a portable campfire or tent in use outside, or a snapshot of someone walking their dog while wearing the leash you're selling.
The key to a product photo is to appeal to the shopper's imagination as well as to illustrate exactly what your products look like. Can they picture themselves wearing your items? Is the lifestyle you're presenting luring them in? They should be!
Using proper props, as RootsWingsHandmade does, is an easy way to spice things up. To make their products stand out among a sea of rug photos in search, they play off their doormat by including wine and wine glasses.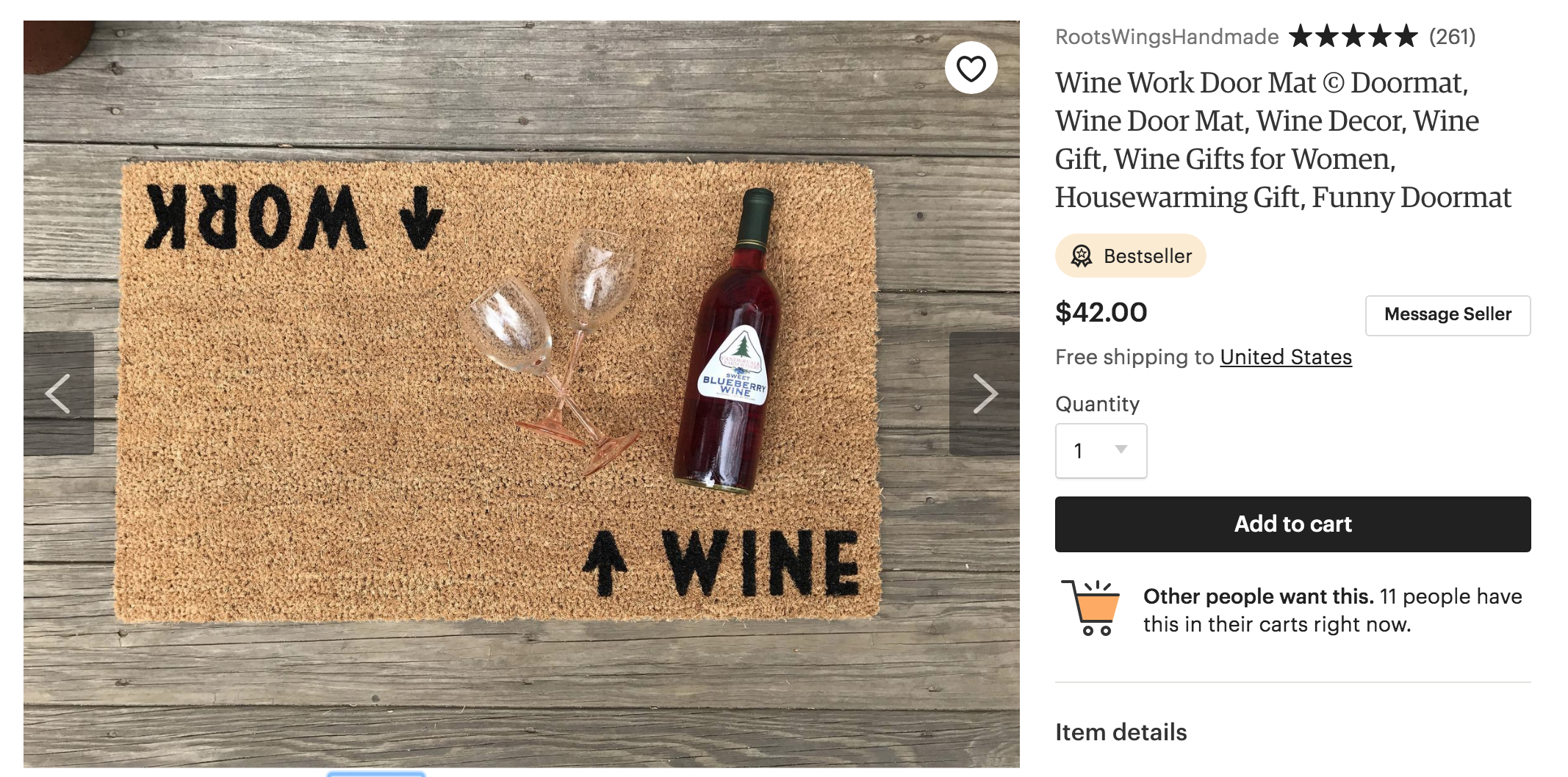 #5. Make your descriptions as detailed as possible
For shoppers' Etsy tips, your item descriptions are a huge sales pitch. People who are reading your product descriptions have found your items, clicked on them, and are looking for information to help them decide whether or not to buy. You're halfway to sale, and what you say about your products will determine if you make them or not.
Shoppers want the specific at this point in their journey, so tell them everything they need to know before they make a purchase. Your customers would love to buy things that all of the information is included such as dimensions, shipping times, size info, material info, and any other facts about the product.
You also need to make your products sound as good as possible besides the info above. Is your pottery made by hand? Dip-dyed rugs in small batches? One-of-a-kind designs? What makes your offerings unique should stay in front prominently. Consider posting a customer quote about how fantastic your products are as social proof to emphasize your true value.
FreshPottery has mastered the art of ceramic item descriptions. Let's take a look at how useful and appealing they are: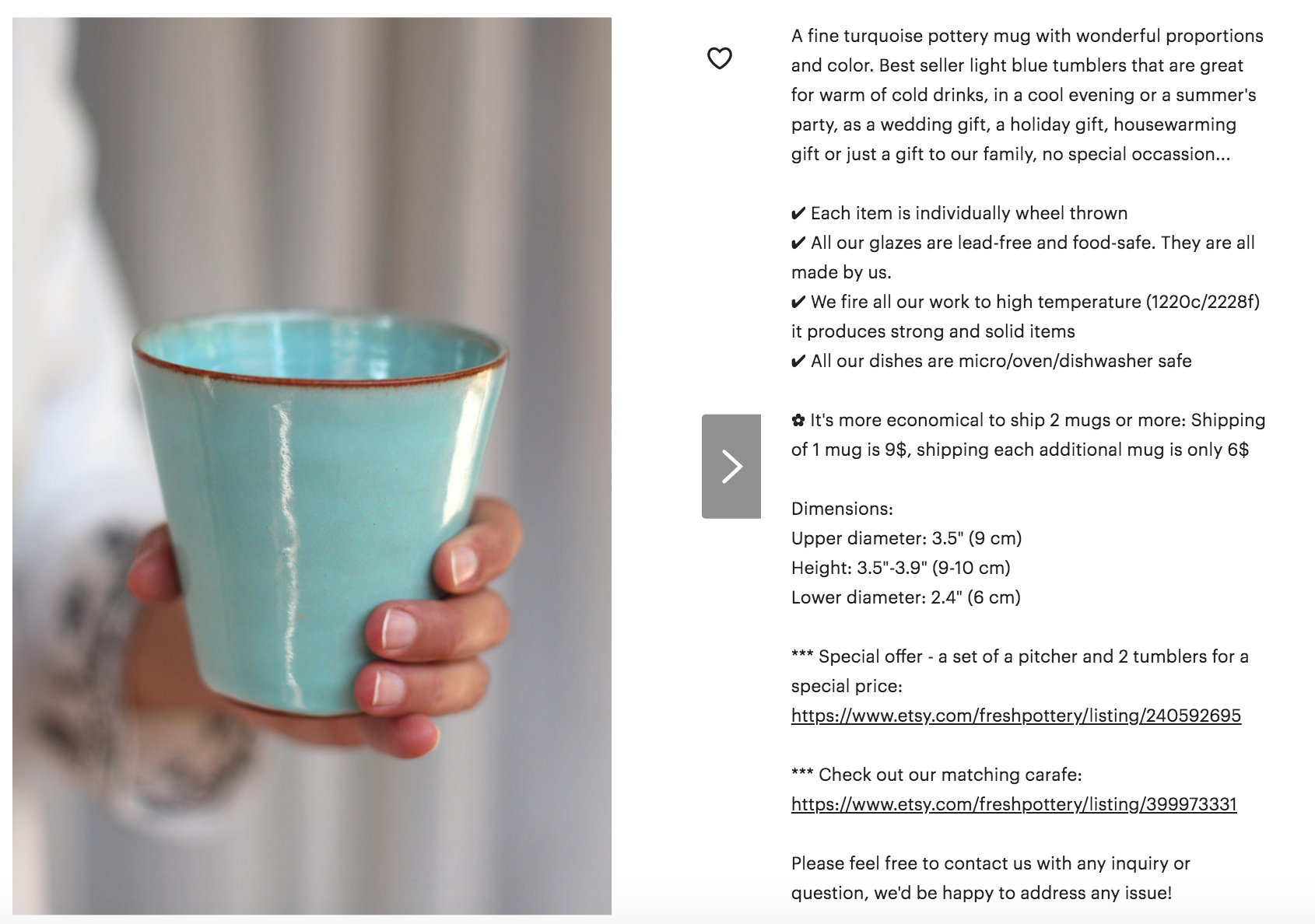 Notice that FreshPottery highlights the benefits of their mugs such as individually thrown, food-safe, solid, dishwasher safe, as well as a detailed list of dimensions. They do, however, present a beautiful atmospheric introduction, talking about using their crips for "a cold evening or a summer party, or just as a gift to family". You can almost imagine yourself using one, which may mean the difference between a sale and a no-sale.
#6. Give your shop a catchy name
Even minor details can make a difference in a crowded marketplace like Etsy. One of these Etsy selling tips is that you should choose a username that is both memorable and descriptive. Why? Assume you're browsing Etsy for prints. Who do you think you can trust more: a seller named "EastCoastPrintCo" or "teawise"? A username that shows your professionalism signals to users that you are a serious merchant who can complete their orders.
This is also a place where you can sell your products and craftsmanship. If a customer is shipping backpacks and notices that your username is "CanvasWorksVirginia", they may feel interested in visiting your business and looking at the canvas totes and other items. If you went by the moniker "CreateVA", that was not the case.
Let's take blisslinen as an example, they sell lovely linen clothing. Anyone who is looking for a linen dress, sweater, shirt, or jumpsuit would notice right away that this shop specializes in linen clothing. And, if they loved one of the brand's items, they might be enticed to see what else the shop has offered, because they know they'll find more linen.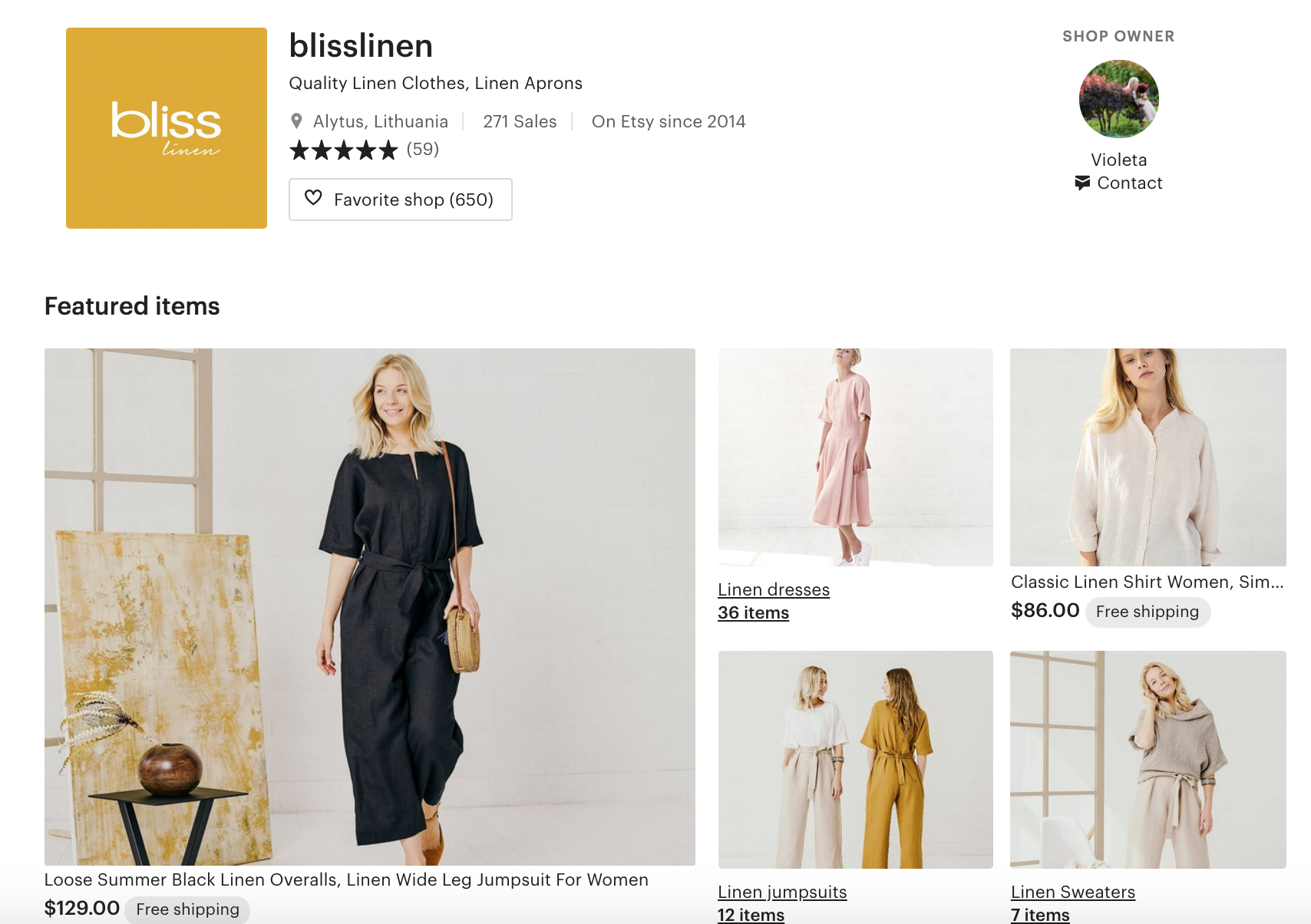 If possible, make your login and shop name memorable so that buyers can easily remember it. If so, there's a high chance that your customers would love to return to your store or recommend your items off the cuff. And increasing sales on Etsy by bringing in more business from existing customers is a terrific approach to do so.
Note: If you cannot choose the best name the first time, don't worry. Etsy allows you to change your official names 5 times more. You can even create a professional username using a username generator.
#7. Tell a story in your bio
What do customers see when they go from your product page to your shop page? One of the greatest places to do that is in your profile according to Etsy tips, which should be a well-curated space that tells a story about who you are and why your business is better than your competitors.
Shoppers who read your profile are interested in knowing more about you and determining whether or not your company is reliable. To put it another way, your profile is a marketing tool. Consider how you present yourself, your company's history, and your goal statement. Take a look at Avolie Glass's description: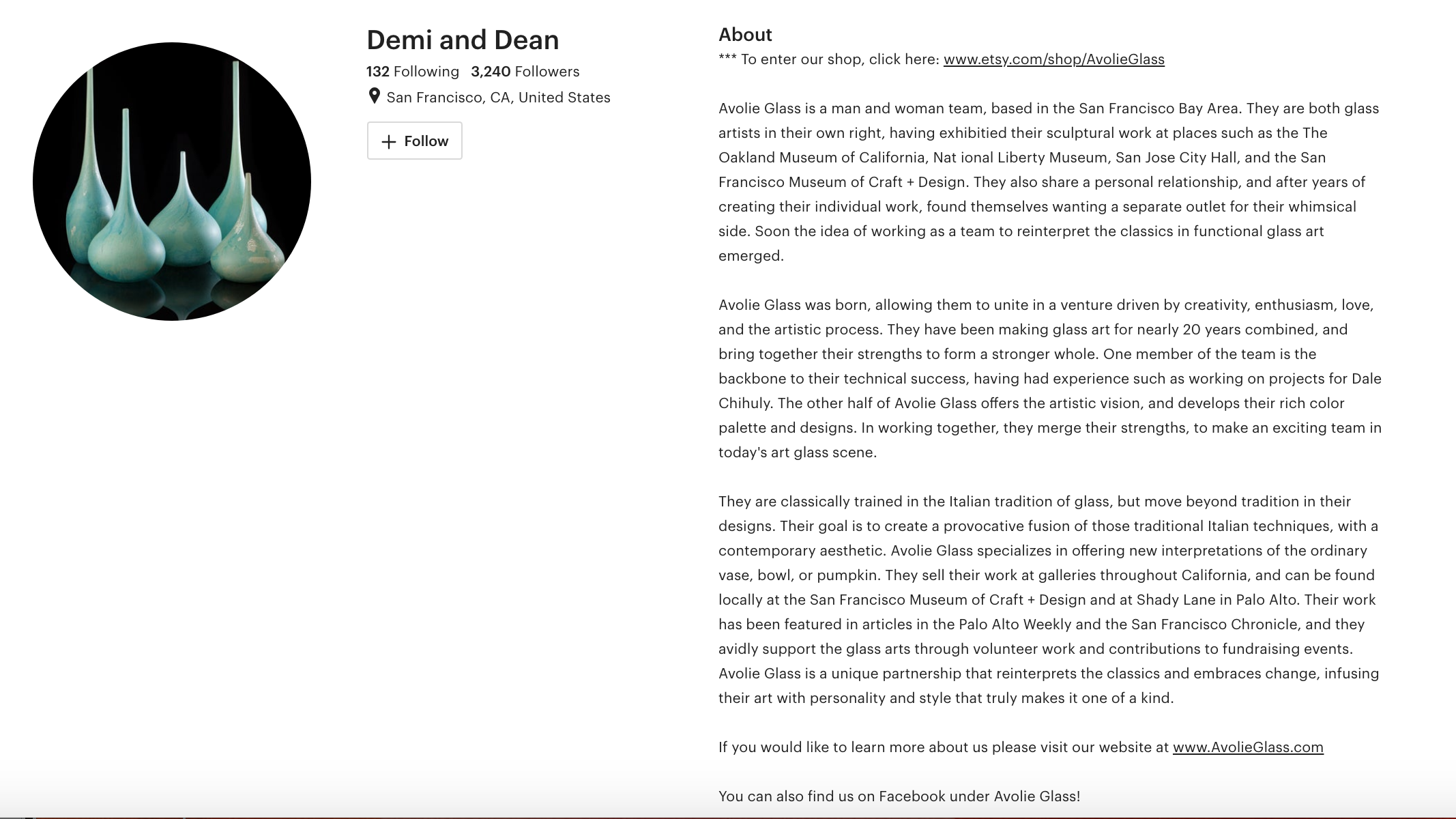 It contains information on the artists' achievements and originality. Anyone who visits their shop and is hesitant about buying will be sure of the high quality and craftsmanship of their products. It doesn't matter if you aren't a skilled glassblower who has shown in a museum; what matters is that their enthusiasm and expertise shine through.
#8. Take pride in your accomplishments
Because eCommerce platforms like Etsy are crowded, you'll need to figure out what sets you apart from other merchants and inform people about it. Do you prioritize excellent customer service, intricate customization, or expedited deliveries? Do you use organic ingredients, source locally, or produce in an eco-friendly environment? The Etsy tips here are to make whatever it is about your company that you are proud of front and center.
Even if they aren't directly relevant to the item, don't be hesitant to include them in your descriptions. Shoppers are making decisions based on the information on your product pages, not just about the item in question, but also about you as a seller. Don't make them go on a quest to discover what your company thrives in – most people don't even bother.
WhitesIndustrial isn't afraid to make bold statements, such as how long its flowerpot would survive. That is made abundantly evident in their short product description: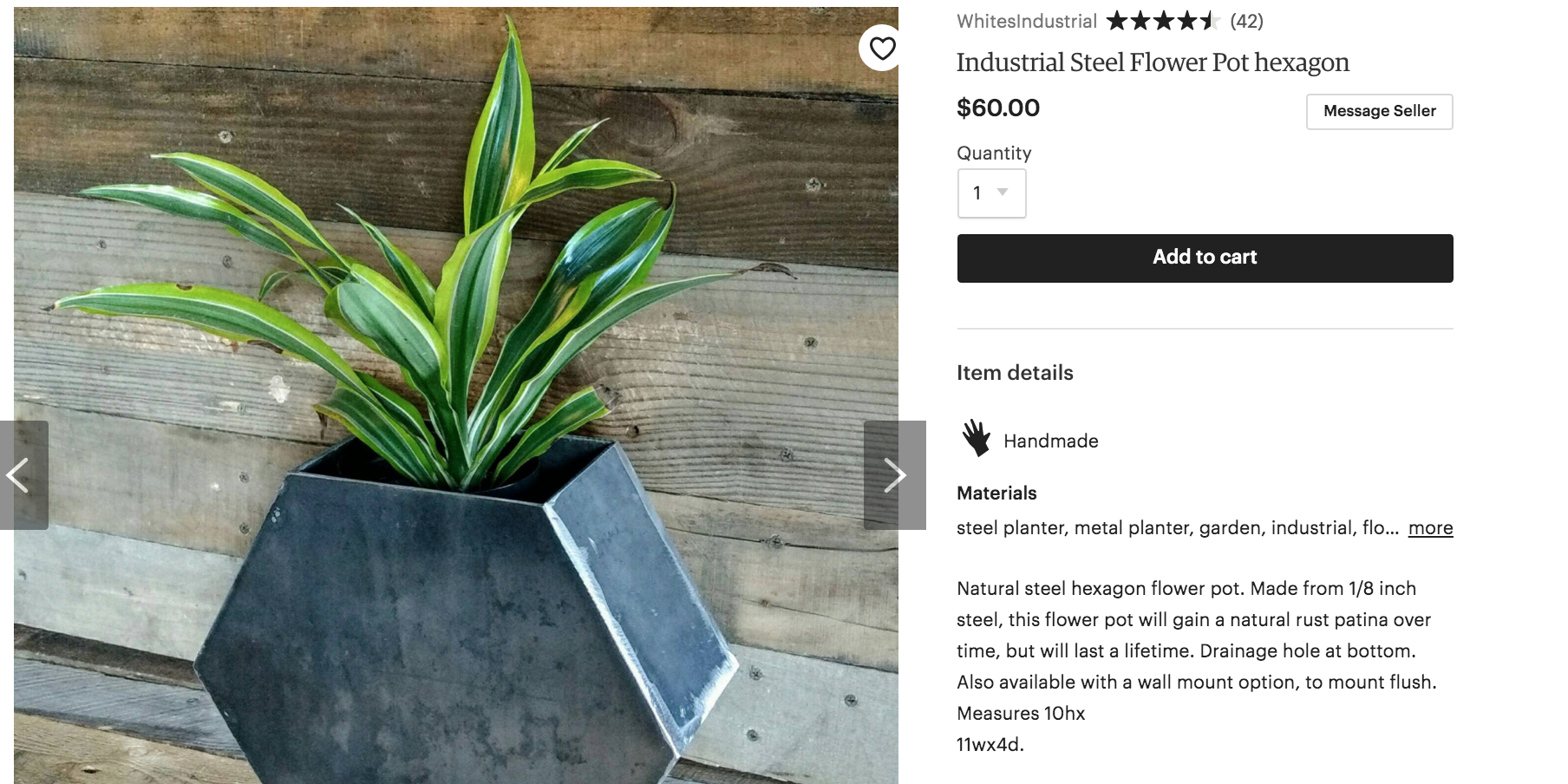 If you're looking for planters and this steel number catches your attention, that should be enough to convince you to go with their design. It also contributes to the $60 price tag's justification.
#9. Regularly increase your inventory
Constantly expanding your inventory is a smart Etsy tip and strategy for any Etsy shop. This will benefit you in 3 ways:
The more products you sell, the more likely it is that customers will locate your store. Adding products on a regular basis allows Etsy to show more of your ware to shoppers.
You can look for a new niche that takes off for you if you keep being creative and thinking about your products. You can miss out on the next big thing if you stick to the same 10 products and never go outside your comfort zone. Expanding your offers, especially if sales have fallen off a cliff, will push you forward and increase sales.
People will want to visit your store again to check what you've added. Gaining new customers isn't the only way to make money; selling to current customers can also help you increase your profit. People who are already interested in your shop and keep up with what you're doing if your shop is a dynamic place with new products or new product versions coming in.
Remember that adding new items is more effective than merely stocking what you already have. It is very crucial if you want to build a thriving Etsy business.
#10. Run Ads campaigns for your products
When it comes to Etsy tips, don't overlook the impact of advertising your things on networks like Etsy when planning your ad budget. Getting your products to the first or second page of search results can help you increase sales and increase your shop's profile. Etsy advertising is relatively subtle, appearing alongside ordinary listings: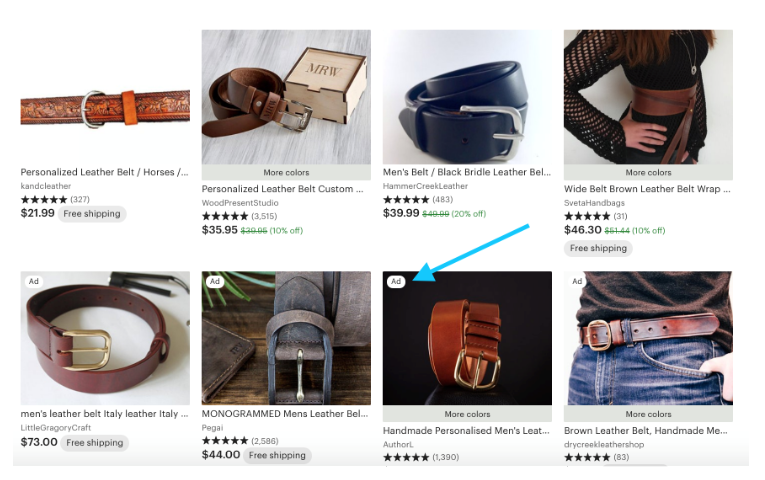 Consider putting away a portion of your sales profit to market certain items each month or during your peak season. Putting money back into Etsy as a platform on a regular basis creates a self-sustaining cycle for your Etsy ads that is separate from your larger ad spend.
If you decide to invest in Etsy-promoted items, keep track of how many new orders come in as a result of your advertisements.  This helps discover what is attracting people's attention and is a good use of your ad budget. You may discover that some items sell better than others and that sales are higher at certain times of the month or year for your particular firm.
Etsy Tips: Notes Before Optimizing Your Etsy Shops
Before boosting an Etsy shop, you need to determine that selling on Etsy will be very competitive because the number of active sellers is too high now. But it's not true that Etsy doesn't have any slots for newbies left. What you need to do is to have a more strategic business, which requires dedication and trying hard.
#1. Determine categories that can be sold on Etsy
Etsy mainly accepts unique items, and handcrafts, which requires sellers to catch up with trends quickly. Items also need to be unique and creative based on customers' tendencies. Among categories, Craft Supplies is the best-selling one, which includes stickers, jewelry, hooks, and beads… Meanwhile, they are also the most competitive items. Furthermore, there are many other products such as personalized clothing, graphic designs, printables, and wedding stationery,…
#2. Research competitors
To learn from previous reviews, and understand market settings, you should study your competitors, and determine what they have, what they do well, and what they don't. From there, you can determine your best advantages and differences, and find a more effective and correct orientation.
"He who sees through life and death will meet most success." – Vietnamese idioms
#3. Determine your brand goals
Before selling on Etsy, the tip here is to determine what you want to do and what you want to gain with this store. Whether you just want to do business for fun or make a lot of money with Etsy, determine the orientation and goals for your store. It will be a "master guideline" to help you choose the right products to sell, the right audiences you want to target, and earn a lot of profit.
Ask yourself:
When do you want to sell your products? (year-round/on big holidays/seasonally)
What kind of products do you want to sell? (universal or luxury goods)
What are the price ranges? (from how much to how much)
What is the difference between your store and other stores (cheapest price/best service/limited goods…)
Etsy Tips: FAQs for Beginners
1. Is selling on Etsy worth it in 2022?
Yes, definitely. Etsy is considered one of the most worthy marketplaces to start running a business in 2022. Since the Covid-19 pandemic, the number of online shoppers has constantly increased. Now, this trend become a daily routine of shopaholics. As a result, active buyers on Etsy also increase significantly, which creates many opportunities and profits for Etsy store owners.
Furthermore, Etsy is one of the few popular marketplaces that sell unique and creative handmade items. So there is no reason to prevent Etsy from becoming "a big boss" in this industry.
2. Is selling on Etsy hard?
Selling on Etsy is not hard, but not easy, especially for beginners. It requires your time, dedication, hard work, and also, flexibility.
When you open an online store on Etsy, you will have detailed Etsy instructions. But to run well on Etsy, besides those basic guidelines, you need to invest time and money to learn and optimize your store, care for your customers, and handle complaints effectively.
In addition, trends on Etsy change very quickly, you need to catch up with and change timely to match customers and the new policies of this marketplace.
3. What should you avoid selling on Etsy?
To prevent your Etsy store from making basic mistakes that affect your revenue, here are a few things you should avoid:
Do not study Etsy Policies: In Etsy's documentation system, Etsy's policies are quite strict and specific. Sellers should read carefully to not do anything that Etsy doesn't allow to do to avoid unnecessary losses.
Do not research Etsy SEO: Etsy SEO is one of the most important factors determining success or failure on Etsy. Focus on researching and optimizing titles and descriptions carefully, they will help you get much more sales on Etsy.
Not seriously build your brand: Investment in sales and customer care is the biggest impression on a brand's customers. The brand builds trust! Therefore, only when customers have confidence in your brand, they will come back to buy again.
---
Final talk: 10 Etsy Tips for Beginners and Seniors
Etsy tips for beginners are feasible to make money on Etsy, but it will not change quickly. You can't just sit back and wait for the dough to roll in after uploading some product photos. There are just too many sellers on the site for you to expect your targeted customers to locate you. You must take the initiative in how you set yourself up.
Optimize your titles and promote your products at the correct times to ensure that your listings are prioritized in Etsy's search by reading more Etsy listing tips. Gain customers' trust by using high-quality photographs and descriptions that highlight your company's strengths. Also, don't be scared to show off your distinctiveness and go creative in order to help customers remember you and come back.
If you're currently having these kinds of items and selling on your website, it's the best time to expand your business by integrating your store to Etsy. LitCommerce is the multichannel selling expert that can help you sell on the top global marketplaces without knowing a line of coding.
You can contact the 24/7 customer support team for further information or join the Facebook Community for more eCommerce tips and news.
Good luck!