Introduce Google Trends 2022
Google Trends 2022 is one of many of Google's free products. In fact, many online retailers and purchasers are using Google Trends thanks to its functional utility and categorization.
Google shopping engagement is not a novel concept as a merchant funnel for breakthrough performance. Since its inception as Froogle in 2002, Google Shopping has aided many retailers in their sales efforts. The technique for selling on Google is fairly straightforward. As a result, new shops in the market can quickly modify it.
In this article, we will talk about Google Trends in 2022 and its Benefits for Retailers!
---
Google Trends in the Asia Pacific
Google Trends 2022 recently discussed its journey through the Asia Pacific, which began two decades ago. This commemoration of the twentieth anniversary focuses on the best aspects of the past two decades. Whether it's a 'video game' creation or a requirement for any online business, Google has opened several possibilities for retailers and shoppers in the Asia Pacific.
Google Shopping is one such door!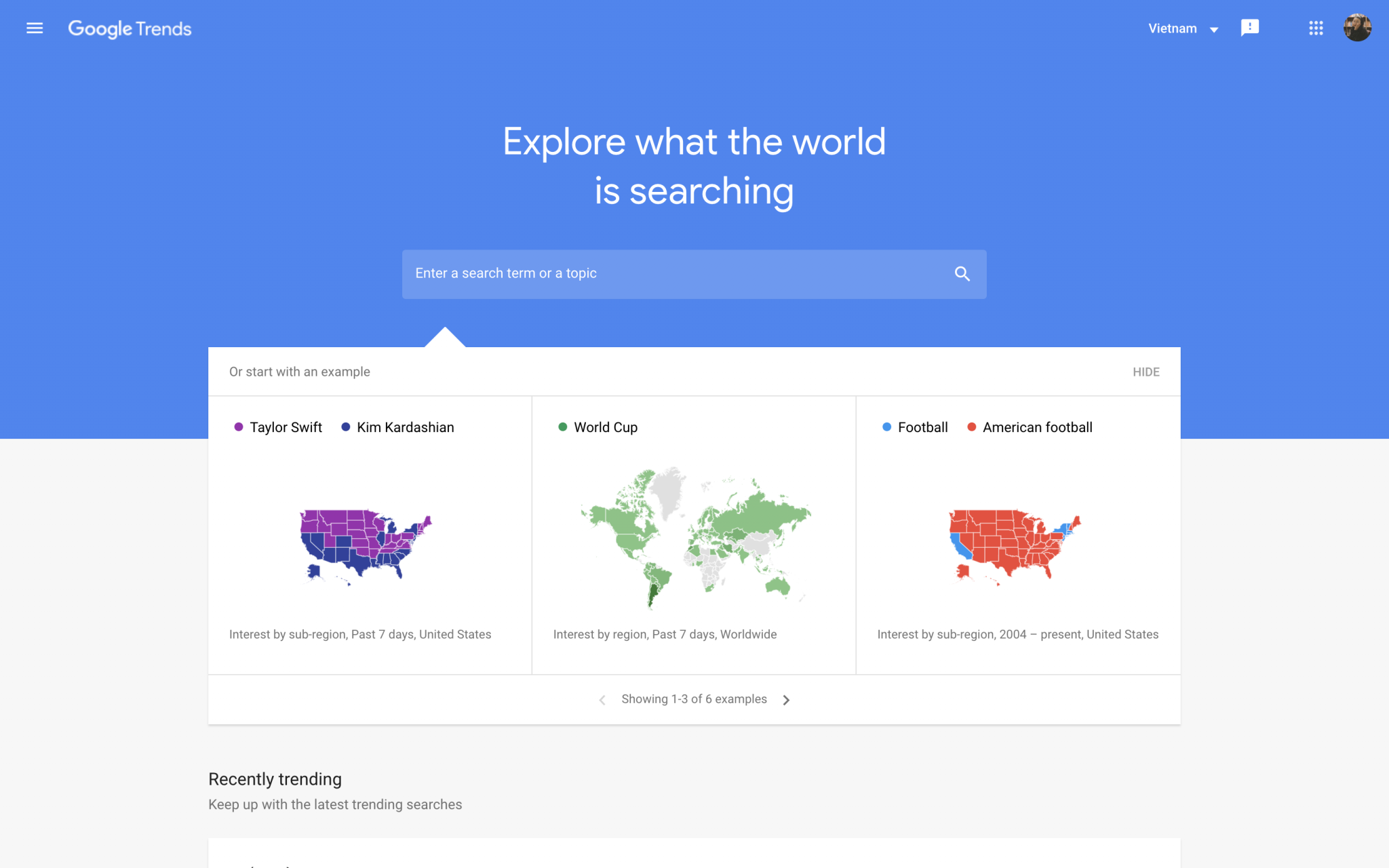 According to a study, more than 78% of people want to learn more about a product if it has a legitimate internet presence!
An online store or online selling medium should be available to a company. Following the outbreak of the Covid-19 epidemic, eCommerce is shifting its focus to digitalization and virtual user experiences.
---
Benefits of Google Trends 2022 for Retailers
Let's take a look at some of the basic Google Trends Benefits and how to use them as retail tools. You can see a special mention of Google Shopping as follows:
#1. Global exploration
Google Trends displays results on a local and global scale, allowing users to enter a search query and select their region of interest for results. Hence, if this is your first time selling online or through Google Shopping, you've made an excellent choice!
Because it takes a global perspective, Google Shopping can assist enhance visibility. This means that your stuff can be viewed by people from all around the world.
According to studies, more than 2 billion individuals will be actively using digital purchasing by 2022! Google Shopping follows a real-time search trend, which means that shoppers will be shown similar results based on their query.
You can still 'trade' using Buy on Google even if you don't have an online website! Showcase your products and offer customer service without having to leave the previous website.
#2. Increases the number of sales
Google Trends 2022 will undoubtedly display the most popular themes. This could aid retailers in determining their target market by carefully selecting and visualizing products. It is 'backed' by the majority of items on Google Shopping.
This will result in more clicks as well as more (converted) leads.
Product results from entrepreneurs and small enterprises may appear in Google Trends. A Google guarantee on products sold by local/small businesses boosts customer confidence.
This also bridges the 'uncertainty' gap between the quality of a product and its buyer. As a result, if a customer comes across such products through Google trends, they may be more motivated to choose the item with the "Google guarantee" over the one without it.
#3. Innovation potential
A competitive market is a way merchants boost innovation and growth. Luckily, Google Trends 2022 can assist you in this endeavor!
By comparing patterns, retailer confidence can rise significantly. To boost sales and improve product quality. All of these variables are changed on a daily basis. One of the few strategies to outrun your competitors may be a flexible adaptation.
Trends allow you to compare yourself to more than three opponents.
For example, most people make resolutions around New Year's. A healthy diet is very popular! People all over the world are looking for information on keto, plant-based diets, and intermittent fasting. Those are the times when such tendencies are at their peak.
As a result, it's an excellent time for businesses to organize their holiday sales strategy ahead of time or after the fact.
#4. Proactive seasonal and festive moves
The objective of Google Trends is obvious by its name. Google picks up on the events and subjects that are 'trendy' over time. Those results are then sent to various regions' search results.
This Google trends function can help retailers. Holiday discounts and offers, a celebratory countdown clock on your website for such promotions, or a simple festive promotion!
As retailers, you can remain on top of the regulated "trends" and stay competitive.
#5. Holistic development
With the above-mentioned "simple comparison", Google Trends 2022 will also assist you in locating competition and comparing regionally. You can divide your sales into local and foreign segments.
Google updated its policies to make product listing free and available across all Google platforms. This is a once-in-a-lifetime opportunity for all new retailers. It also serves as a reminder to elderly retailers to keep their products and services up to date.
As a result, Google shopping could help your business grow. It may also result in a higher conversion rate.
---
Google Trends 2022: FAQs
What are benefits of Google Trends?
Google Trends brings many advantages if you know how to use this tool effectively. Google Trends help explore global trends and innovate the potential of Google Search, Google News, Google Images, Google Shopping, and Youtube. This results in understanding customers' insight and boosting sales.
How Do I Use Google Trends?
Here are the top 8 factors you can benefit from using Google Trends:
#1. Recognize Keyword Search Volume.
#2. Determine Seasonal Trends.
#3. Avoid Temporarily Popular Keywords.
#4. Discover Trending Relevant Topics.
#5. Use Trend Predictions.
#6. Search for Related Queries to Beat the Competition.
#7. Optimize Your Local SEO Strategy.
#8. Optimize Your Video SEO Strategy.
Is Google Trends free to use?
Yes, of course. Google Trends is a free tool. You only need a Google account to log in and experience Google Trends.
---
Conclusion
Now you know what Google Trends can do for you and how easy it is to sell with Google Shopping!
Last but not least, LitCommerce can help you streamline the process of selling on Google Shopping. Moreover, selling on Google might function at a faster rate for your business if you focus on Google trends.
Leave us a message if you need more info. Or you can join our community for more exciting eCommerce tips and news.