Among thousands of best-selling platforms, WooCommerce vs Etsy stands out of the crowd with its power systems along with amazing eCommerce features. In this article, we will focus on analyzing some of the key differences between WooCommerce and Etsy so you can easily decide which one you should go for. Let's compare these aspects:
Let's get started!
Kick Off The Global Game Via Multichannel Selling!
Considering WooCommerce vs Etsy, why not use both? Check out LitCommerce, your Inventory, Prices, and Orders will be synced in real-time, all in one dashboard.
---
WooCommerce vs Etsy: Which One Suits You The Most?
Etsy is one of the top marketplaces where independent crafters, artists, and collectors can sell vintage, handmade, or custom-made jewelry, clothing, home décor, art, toys, and more.
This is the best place for selling creative and one-of-a-kind goods which reflect the buyer's sense of style. Merchants can easily attract a large number of potential buyers by putting their creativity into the product to make it special, trendy, and also suitable for the target customers.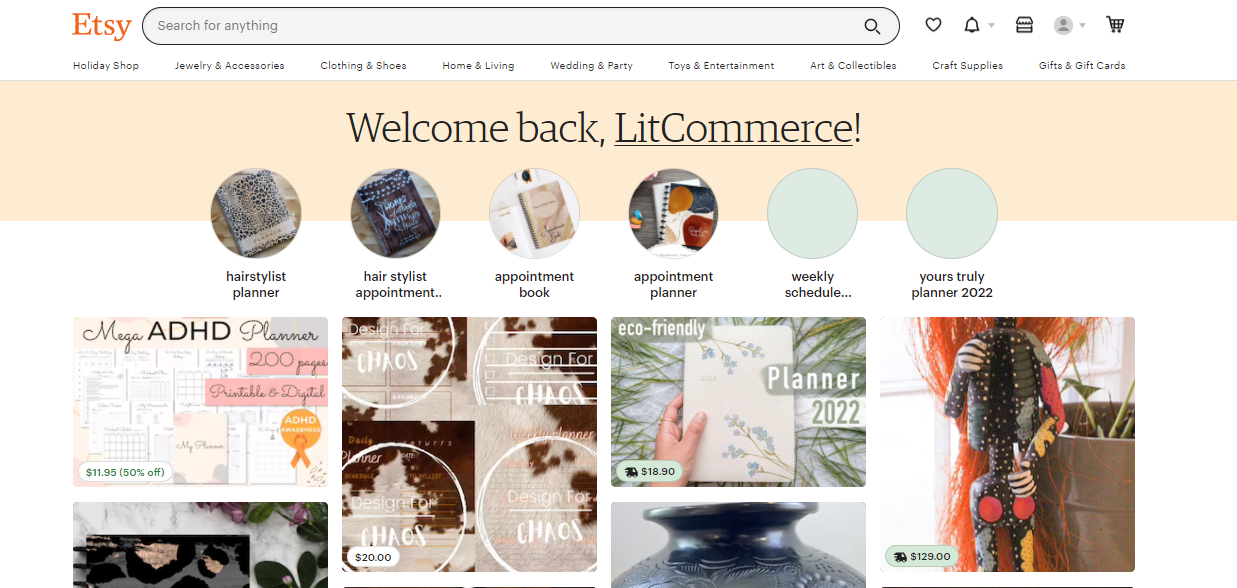 Etsy pros
Easy to start and use
Huge customer base
Less expensive
Better customer support
Etsy cons:
Restricted customization
Limited features
Less brand recognition
WooCommerce Overview – Pros and Cons
WooCommerce is a powerful and probably the most popular eCommerce platform of WordPress – an open-source software system that allows you to create an amazing website with endless customization possibilities easily.
With the impressive built-in features as well as the amazing customizability of WordPress, there's no doubt that WooCommerce will be a good choice for online businesses from small to medium scales.
Also, the enormous App Store of WooCommerce can help merchants to incorporate unique functionalities such as shipping or delivery that help to boost the store's performance.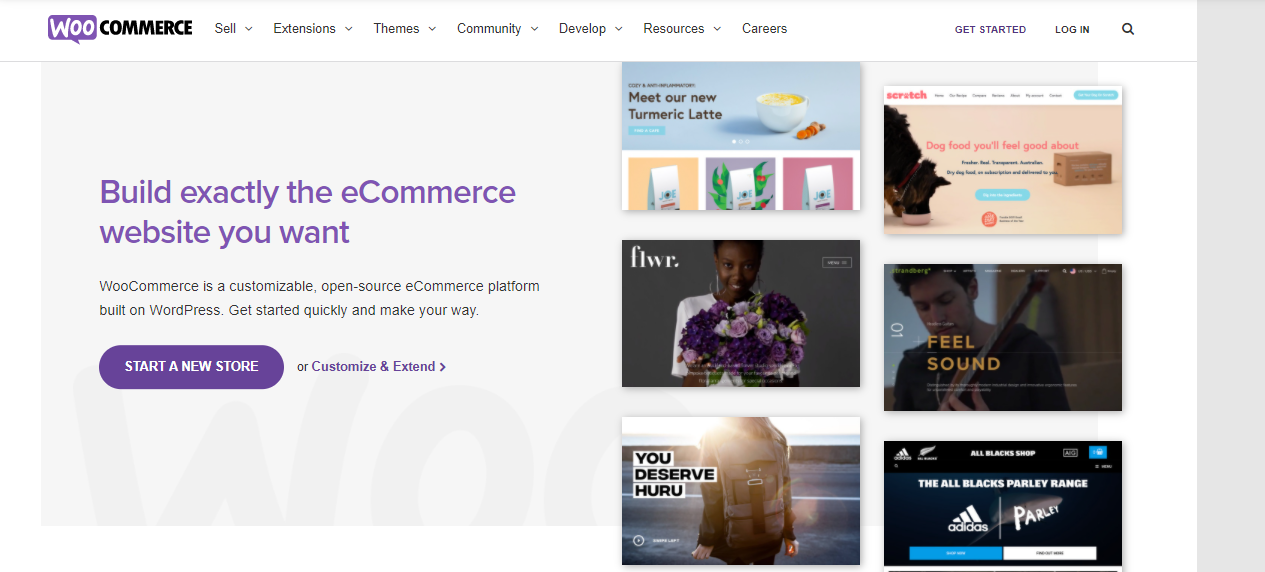 WooCommerce pros
Limitless customizability
Extended themes and plug-ins
More brand recognition
Built upon WordPress
WooCommerce cons
Steep learning curve
Fees may add up over time
Maintenance and security issues
Now that you've grabbed the big picture, let's get into the nitty-gritty of which is the best place to start your online business!
WooCommerce vs Etsy: User-friendliness
Everybody likes a simple-to-use yet effective system, especially when it comes to choosing a platform for your online store. No matter, if you're tech-savvy or a newbie with little to no technical skill, a user-friendly platform, can help to dramatically improve your productivity by cutting off tons of time spent on certain tasks.
But what exactly is the ease of use? Let's take a look at some criteria below:
Simple installation process;
Even non-technical users can learn how to use it with a breeze;
The user interface is straightforward, modern, and intuitive;
Many complicated parts are automated and help to reduce repetitive tasks;
Doesn't have a steep learning curve, and is easy to get from the basics to the advance;
Clear and detailed instructions.
So between WooCommerce and Etsy, which one will be a better option in terms of ease of use? Let's go into detail.
WooCommerce – Ease of use
As an Open-Source eCommerce platform, the installation process of WooCommerce might be a bit overwhelming for new beginners. Basically, it includes some steps:
#Step 1: Get hosting and a domain for your website.
#Step 2: Install WordPress and WooCommerce.
#Step 3: Find a new theme and start setting up your store.
It's quite straightforward but for someone who doesn't have much experience, it could be a bit challenging. However, WooCommerce has tons of detailed guidelines and instructions for you to follow. Furthermore, some hosting providers like GoDaddy even make it super easy with the 1-click WooCommerce and WordPress installation which saves you time and effort.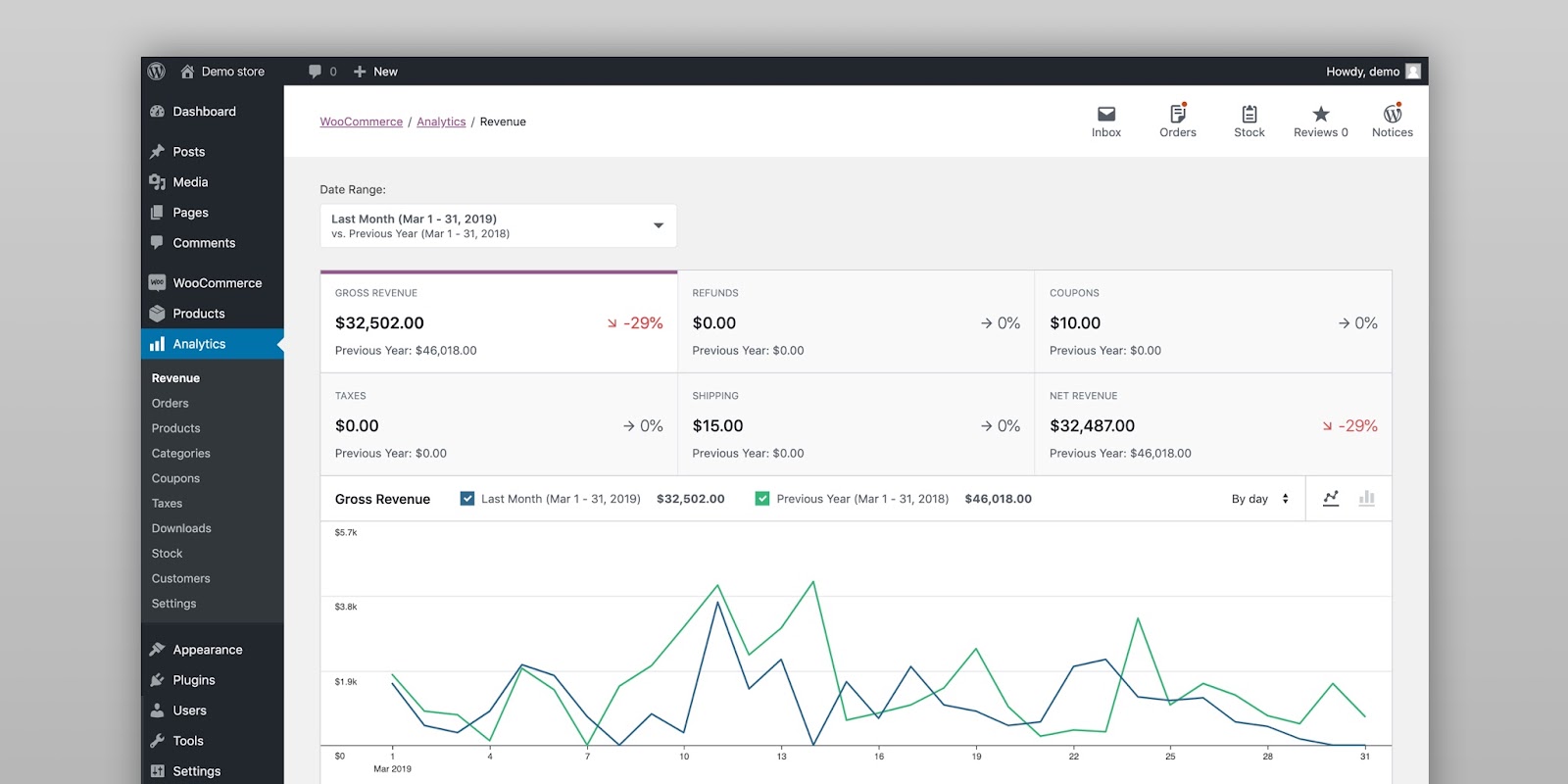 Let's take a look at the main dashboard of WooCommerce after successfully setting it up. As you can see, everything you need is on the sidebar, from adding a new post/page or customizing your theme, to managing inventory as well as customers. You can easily navigate through the system and find what you need in just some simple clicks.
Compared to Etsy, WooCommerce is not easy to use. It does take time for you to master WooCommerce and take full advantage of these massive and rich features systems. But once you know what you are doing, the possibilities to level up your store are limitless.
Let's hear WooCommerce customer review
It's not perfect, but nothing comes close to the versatility and ease of use. We rely on WooCommerce for several of our web stores. Updating all of the plugins can be a bit of a hassle, but they are improving that with every new release.

– Sašo Kastelic (Slovenia)
Etsy – Ease of use
Unlike WooCommerce, Etsy is an online marketplace that allows merchants to create a new store in just some simple steps.
#Step 1: Register for an Etsy account
#Step 2: Create a new shop
#Step 3: Set your shop preferences and choose a name
With Etsy, you can have your store up and running in just a few minutes. The process does not take long because it's all there. Indeed, Etsy provides merchants with everything they need from hosting, domain, themes, and much more. Even more than that, they also create an amazing streamlined process from start to finish so you can easily navigate and bring your store online.
That being said, online merchants should take special care of these steps from the very beginning because they are super important. Setting up the preferences and choosing your shop name play vital roles when it comes to getting new customers for your store. Check out this article in case you need a detailed guide on how to sell on Etsy.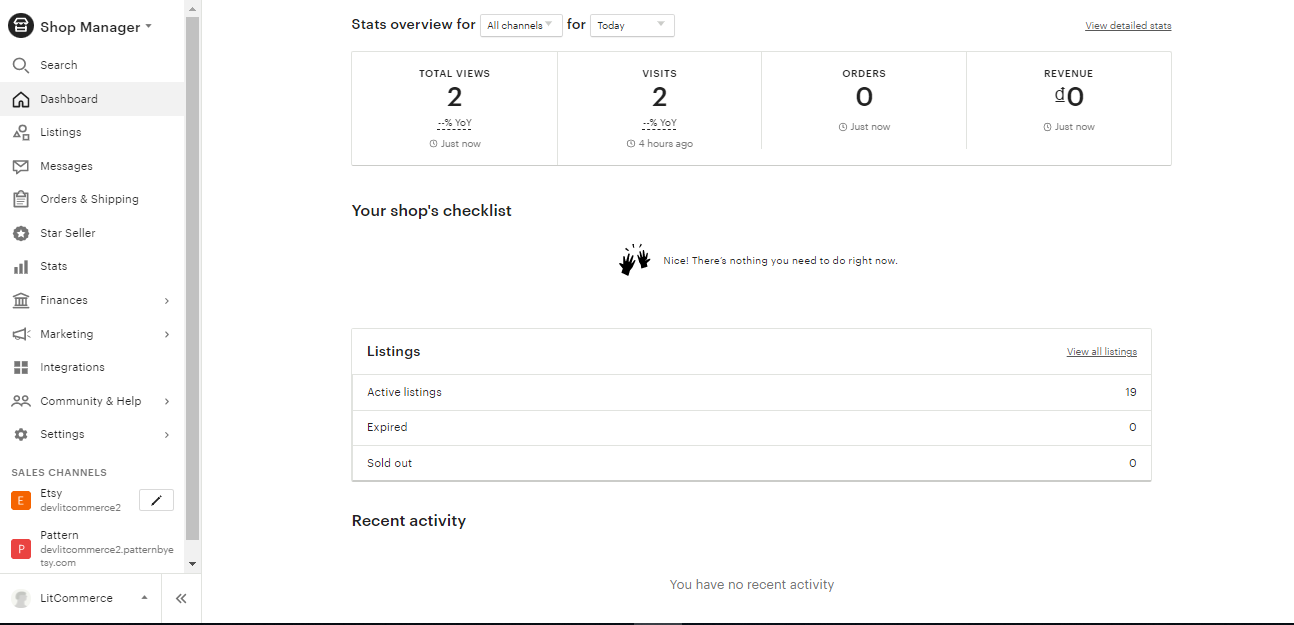 Just like the WooCommerce dashboard, you can find all the needed functionality of your store from the left sidebar of the dashboard. Also, you can get an overview of your store from the center such as total view, visits, orders, and revenue…
Let's hear Etsy customer review
Great company and fantastic service. Ease of listing, handling finances and postage makes them my 1st choice as a selling platform. With the implementation of optional free US delivery my market virtually got doubled in the span of a couple of weeks. I admit their new star seller program still has some niggles and flaws but sure in the long term these will be sorted out. Great company!

– Forshelovedwool (United Kingdom)
The verdict: Etsy is definitely the winner in terms of ease to use since you don't need any technical experience to master this platform.
WooCommerce vs Etsy: Pricing
Let's continue by exploring the answer to your burning question: How much does it cost for a new Etsy store or a WooCommerce store? We will walk you through some of the most important expenses you need to spend so you can get your new online business up and running yet still minimize the cost.
Etsy is quite famous for being an affordable platform. Its pricing structure is quite easy to get, there are four main parts including listing fee, transaction fee, payment processing fee, and advertising cost.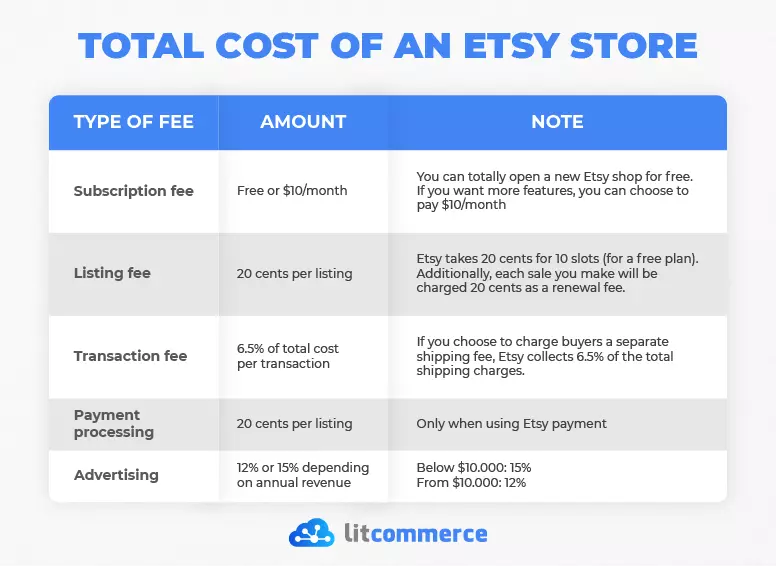 Listing fee: this is the cost you will need to pay every time you add a new set of products or create a new listing.
– Auto-renew sold fees: 20 cents for each new listing.
– Multi-quantity listing fee: Each time an item on your listing is purchased, you will still be charged the standard 20 cents.
Etsy transaction fee: Etsy takes 5% of the total cost for each product in your designated listing currency.
– The fee will be automatically posted to your current payment account.
– In case you charge buyers a separate shipping fee, you also need to pay 5% of the total shipping charges.
Etsy payment processing fee: Depending on your country, the typical fee is 3% + $0.25
Advertising cost: Etsy provides two types of Advertising services for merchants, namely Etsy Ads and Offsite Ads. However, merchants only need to pay Offsite Ads fees when the item results in a sale. With a threshold of $10.000, the fee will be 15% if your revenue for 365 days is more than $10k. Otherwise, you only need to pay 12%.
How much does WooCommerce cost?
As a self-hosted eCommerce platform, the cost of opening a new store on WooCommerce is quite reasonable and suitable, especially for new beginners. If you're about to open a new WooCommerce store, there are three main costs including hosting and domain fee, theme cost, shipping, and payment gateway fee. Let's go through each of them.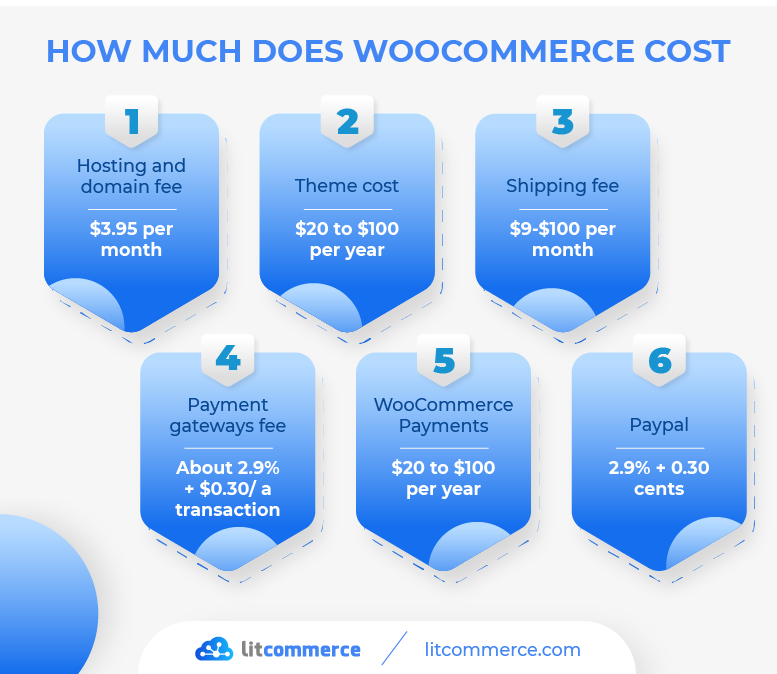 Hosting and domain fee: To get a new website up and running, you need a server to store your data. Hosting fees can be as little as $3.95 per month and as high as $5,000. You can make it cheaper by purchasing for 1-2 years.
Theme cost: WooCommerce has tons of free and paid themes for you to choose from. For a paid template, you might need to spend somewhere from $20 to $100 per year.
Shipping fee: For shipping, you can use an extension to connect with your favorite service. Depending on the quality of your provider, the price can vary from $9-$100 per month.
Payment gateways fee: Payment gateways allow you to accept payments online with a high level of security. Here are a few popular options for you:
– WooCommerce Payments: Free to set up and no monthly fee. Nevertheless, You pay 2.9% + $0.30 for each transaction made with U.S.-issued credit or debit cards.
– Paypal: There's no monthly fee if you've already had a basic Paypal account. Also, each time you have a sale, you need to pay 2.9% + 0.30 cents.
The verdict: Etsy is much cheaper than WooCommerce since this E-marketplace doesn't require any initial expense to set up and also, the listing fee is super cheap.
WooCommerce vs Etsy: Customization possibilities
How strong is WooCommerce in terms of customization?
WooCommerce is one of the best options among all shopping cart solutions if you're looking for a powerful tool to get your website running just like you want. As an open-source platform, WooCommerce allows you to freely tweak its source code to change the appearance and the core functionality. You can use HTML, CSS, and Javascript… to change the color of a section, add a button, adjust the content, and much more. Moreover, you can also go the extra mile and integrate your store with third-party apps or adds-on to get a special function that helps to level up your store.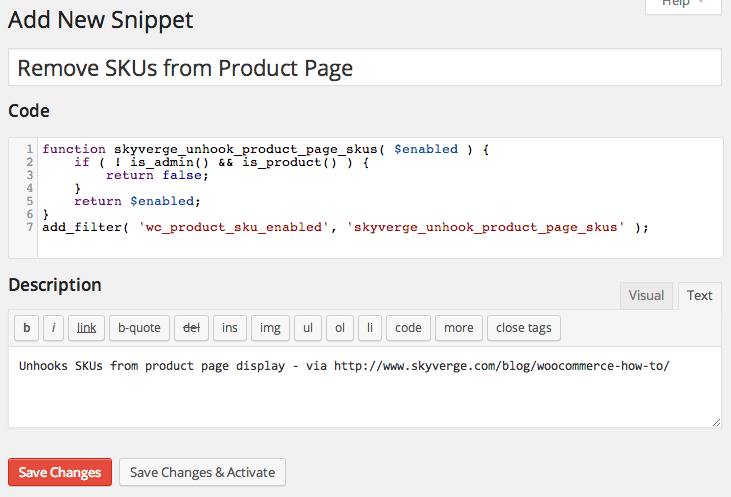 How strong is Etsy in terms of customization?
As mentioned above, Etsy provides mostly everything an online store owner needs such as theme, store layout, and product page… so even a newbie can easily master its system. However, Etsy doesn't allow you to modify the source code to put your own style into your store. It's possible to change the colors, fonts, and photo styles in your store nevertheless. But in general, Etsy doesn't bring merchants lots of flexibility.
That being said, there're still some aspects that you can gain more self-control over with Etsy if you register for Etsy Plus:
Banner customizations: For Etsy Plus, users can have the Carousel Banner which allows them to add up to 4 different images for shoppers to scroll through. Additionally, users can also add a banner image that links to a specific listing or a shop section.
Layout customizations: They also feature a mixed grid option for sellers that have Etsy Plus subscriptions. There are 5 listings or store divisions in the mixed grid. The layout consists of one main listing or shop section on the left and four smaller items or shop sections on the right.
The verdict: In terms of customization, WooCommerce is definitely the winner compared to Etsy.
WooCommerce vs Etsy: Inventory management
WooCommerce inventory management
WooCommerce offers merchants an amazing inventory management center with tons of useful features that helps to effectively monitor all products in just one place. Some of the notable functionalities include bulk editing, creating inventory reports, product attribute modification, and much more. Also, you could find an extension to expand the power of your management center. The WooCommerce app store gives you thousands of options to choose from.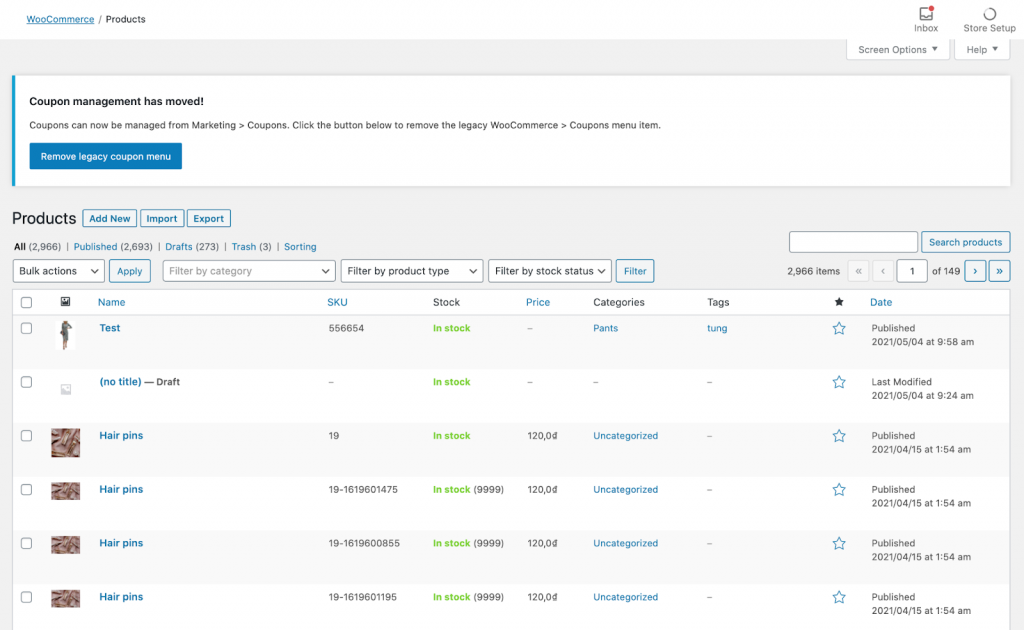 Etsy inventory management
You can see all of your listings by going to Listings right from the dashboard. Etsy allows you to filter listings by expiration date, status, or channel.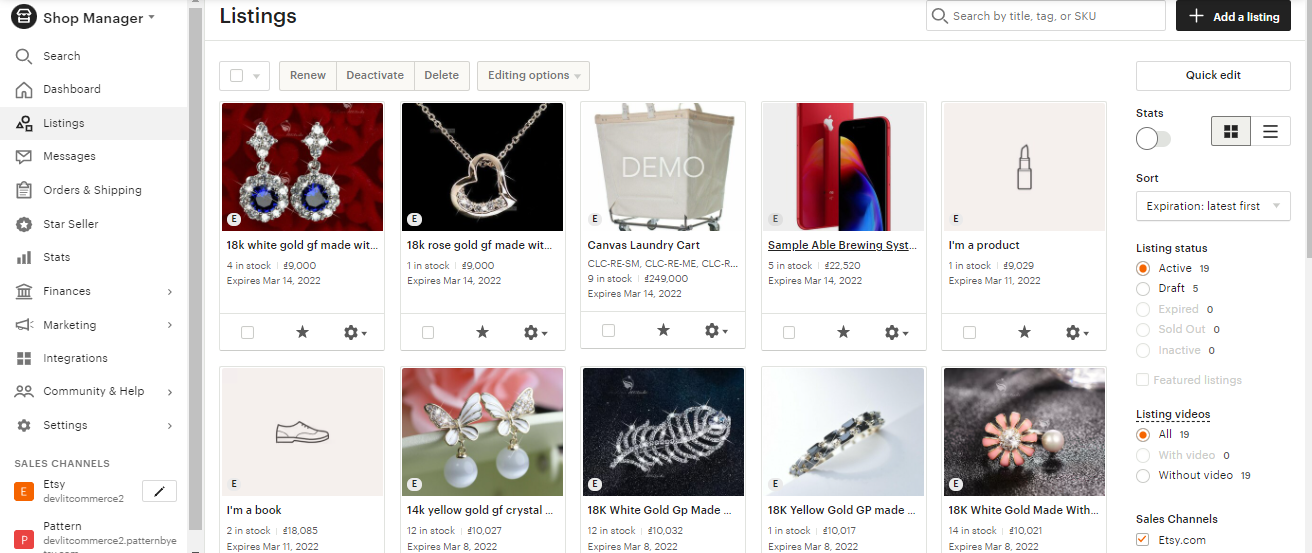 Furthermore, you can even edit your listings right here with the Quick Edit mode. Although it's not the primary mode, you can still modify some of the most important aspects of the listing, from quantity, price, SKUs, and section to shipping and tag as well. With just some simple clicks, you can easily customize your listings just like you want.
The verdict: It's a tie. Both platforms bring great inventory management systems that could help merchants easily keep track of and effectively manage their stores.
Also, you can easily connect Etsy and WooCommerce to LitCommerce and sell on both platforms. This way, it will be so simple and effective for you to manage both stores by synchronizing products from the two sources.

WooCommerce vs Etsy: Template and design
What will make your customer pay attention to your online store for the very first time? There's no doubt that the store's appearance is one of the key elements to gaining the trust of your customers at first sight. With that in mind, let's move on to find out which one between WooCommerce and Etsy will be the best choice when it comes to template and design.
How good are WooCommerce's designs?
You can easily find an amazing theme for your WooCommerce web pages at the WooCommerce theme store. Application development services provides users with a huge number of options (1000+) in many categories such as food and drink, toys and games, beauty, fashion… Moreover, if you need something more special and personalized for your store, you can visit another independent theme store such as Theme Forest. With more than 1300 WooCommerce themes, you can freely find a stunning look for your store.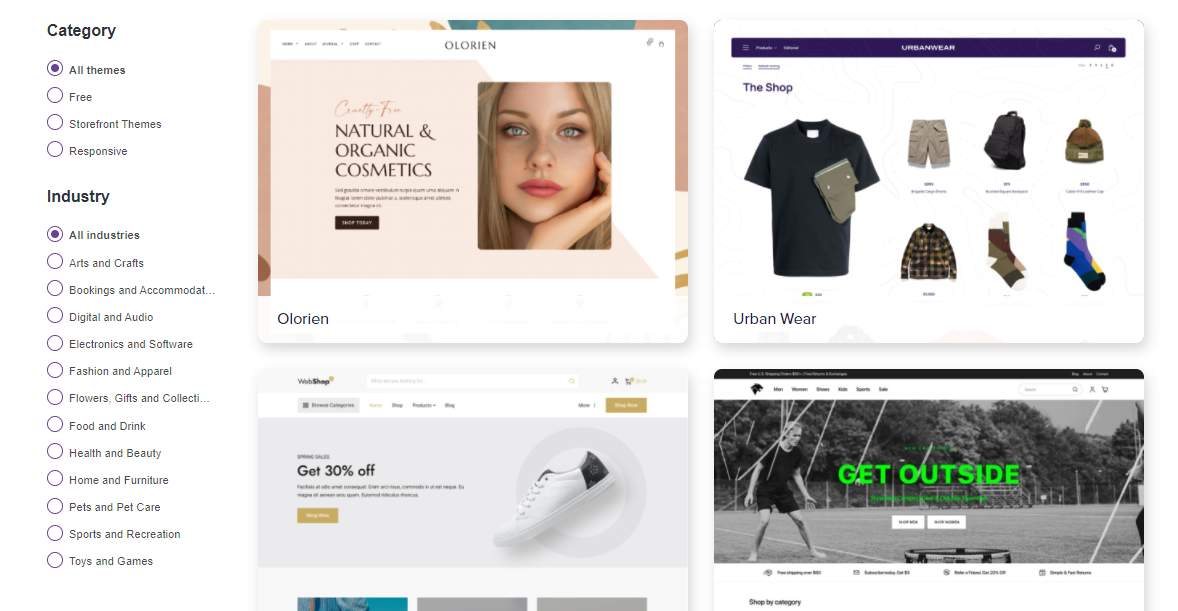 With prices ranging from $20 to $100 (from WooCommerce's theme store) per year, a paid WooCommerce theme is sure to make your store look appealing and stand out from the crowd.
Additionally, the power of customization is the main reason that merchants around the world prefer WooCommerce themes. From changing the layout, and sections to modifying or creating a new core function for the theme, you can easily create an amazing store that fits your own sense of style with a few technical skills required.
How good are Etsy's designs?
Unlike WooCommerce, Etsy is not a website builder platform but an online marketplace with a rich customer base. Plus, Etsy is focusing more on simplicity and optimization for selling as well as marketing features. That's why with Etsy, you only have the default theme that every Etsy store owner uses.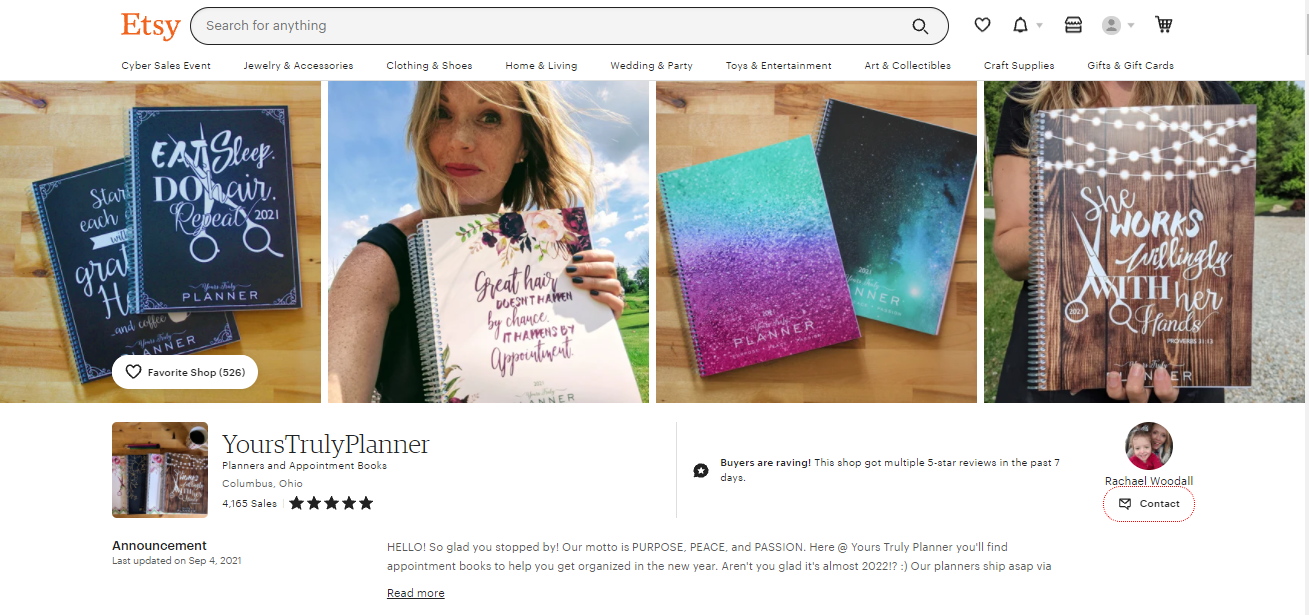 As you can see, Etsy is quite restricted in terms of store appearance. Your store's banner will be the biggest highlight when a customer gets into your shop. Hence, take special care of your Etsy store's banner so you can set yourself apart from the competition.
The verdict: WooCommerce is the winner when it comes to template and design. With a huge amount of free and paid themes available, you will have so many options to make your store look stunning.
WooCommerce vs Etsy: Shipping
Both WooCommerce and Etsy bring merchants great service for shipping products.
WooCommerce shipping is quite a powerful system. If you offer free shipping, local pickup, or flat-rate shipping, this self-hosted solution has built-in features for you. Shipping configuration can be accessed by navigating from your main dashboard: WooCommerce → Settings → Shipping.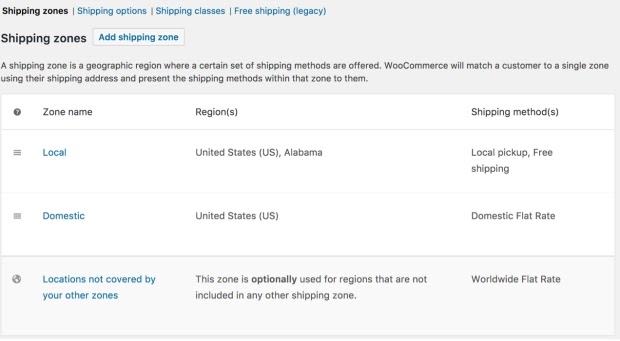 Here, you can set up your shipping zone by giving your location as well as the zip codes. Also, you can set up the shipping methods to shipping zones by choosing to Add Shipping Method. You can choose between Flat Rate, Free Shipping, or Local Pickup, and select the options and pricing you'd like for each one.
For E-marketplace merchants, shipping is one of the most important aspects. Therefore, the Etsy team brings store owners many efficient ways to handle shipping. They allow you to create your own shipping profile and then apply it to your orders. You can set up the location, processing time, and price… which helps your products safely and quickly come to your customers.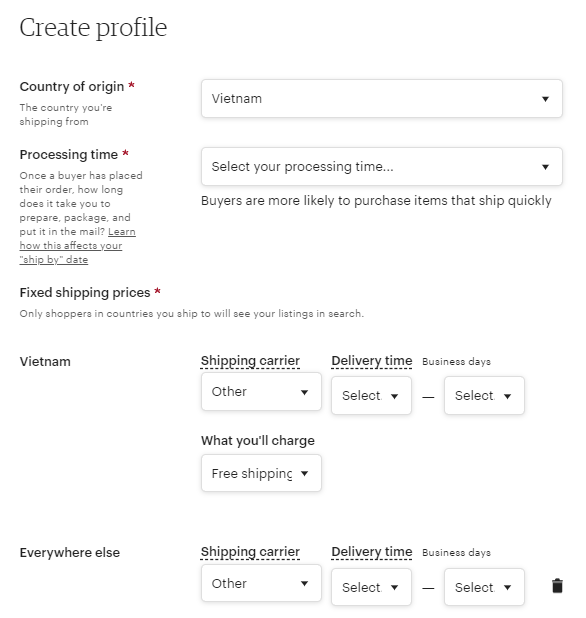 Furthermore, you can follow your shipping status with Etsy shipping. Hence, you can always stay up to date with your process.
The verdict: Etsy is slightly better than WooCommerce since you can easily use the built-in features of Etsy and keep track of your order all the time.
WooCommerce vs Etsy: Customer support
Which support service will you get from WooCommerce?
Due to the platform's open-source nature, the WooCommerce team doesn't offer much for merchants to keep in touch with them by email or live chat. Instead, the self-host solution provides store owners with an enormous WooCommerce Documentation that covers all the important parts of WooCommerce.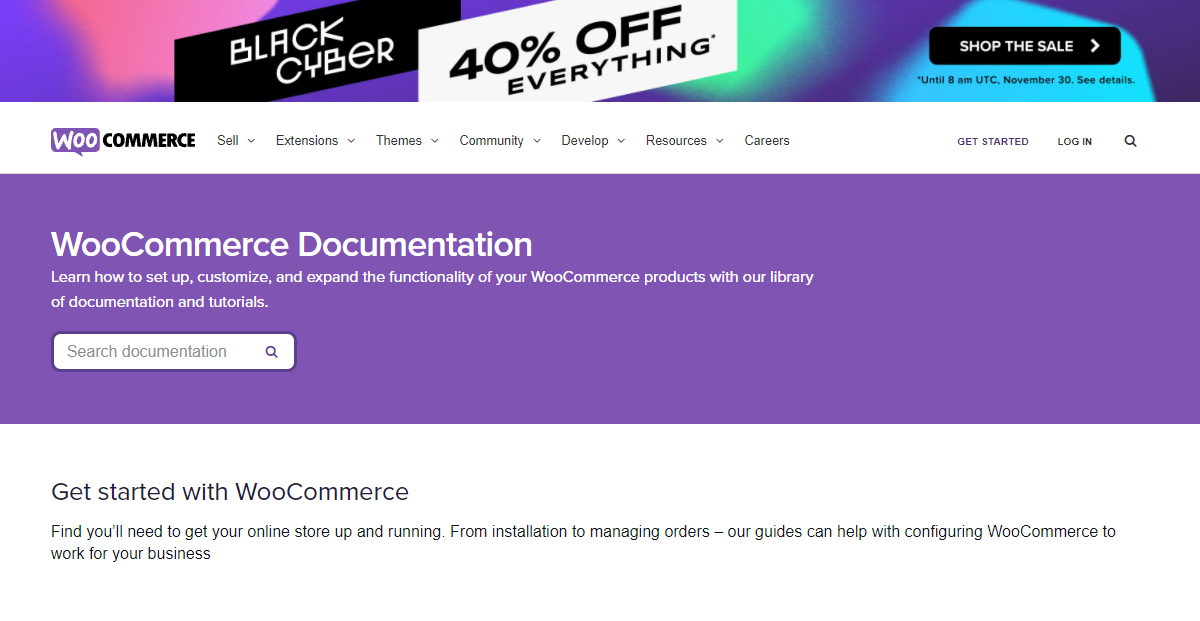 Another way to get help is by connecting with millions of other sellers just like you with the community forum. You can freely ask questions, and interact with other merchants to get the best solution to your problem.
It has never been easier to sell on Etsy and WooCommerce
With LitCommerce you can sync your Inventory, Prices, and Orders in real time, all can be tracked in one central dashboard
Which support service will you get from Etsy?
Etsy provides all kinds of support services for its users. You can reach out to the Etsy support team and they will help connect you with the type of support that's the best fit for your specific question: chat, phone, or email.
Just like WooCommerce, you can also find answers to your common questions at the Etsy help center or get into the Etsy community to find sellers with the same problems as yours.

The verdict: Etsy's customer support is better than WooCommerce. They offer a wide range of customer services, from email, live chat, and phone to forums and community–everything you need to solve your problem.
---
WooCommerce vs Etsy: FAQs
1. Can you link WooCommerce to Etsy?

Yes, you can sell on both WooCommerce and Etsy and link the two platforms together using multichannel selling tools. The tool will help you synchronize your products, and listings including price and stock quantity between both selling channels. You can also list your products in bulk from WooCommerce to Etsy and manage all orders from one place.

2. Is WooCommerce the best eCommerce platform?

WooCommerce is the most popular eCommerce platform in the world, but it doesn't necessarily mean that it's the best. If you are looking for a platform to build your standalone eCommerce store, there are several options that may suit your needs including Shopify, BigCommerce, Magento, and more.
---
Etsy vs WooCommerce – Which One is Right for You?
WooCommerce is a super impressive system for someone who is looking to build a business website with high capability and endless possibilities to customize their shop just like they want. On the other hand, you should go with Etsy if you're trying to find an E-marketplace with a wide customer base and amazing marketing and selling features.
One of the best options for WooCommerce and Etsy integrations is LitCommerce – the most simple and affordable multi-channel selling tool. Leave us a message if you need more information.
Also, join our community or our Retailer Blog for more exciting eCommerce news and tips. Good luck!