Marketplace vs Platform: Getting Started
Ecommerce platforms and online marketplaces are globally the two most popular options for merchants to start their online businesses. Each solution leads you to a different group of customers and provides distinguished selling tools to serve your demands. So, comparing marketplace vs platform, which one would suit your online business more?
Before you make your last call on eCommerce and marketplace, it is essential to put them through a set of criteria, including:
In the following article, LitCommerce will cover the mentioned 7 aspects and guide you through this marketplace platform comparison. Let's jump right into it!
---
Marketplace vs Platform: The Very Basic
Just in case you are new to the eCommerce realm, here are short explanations of marketplace vs platform rounded up by LitCommerce. Shall we check them out?
1. What is an online marketplace?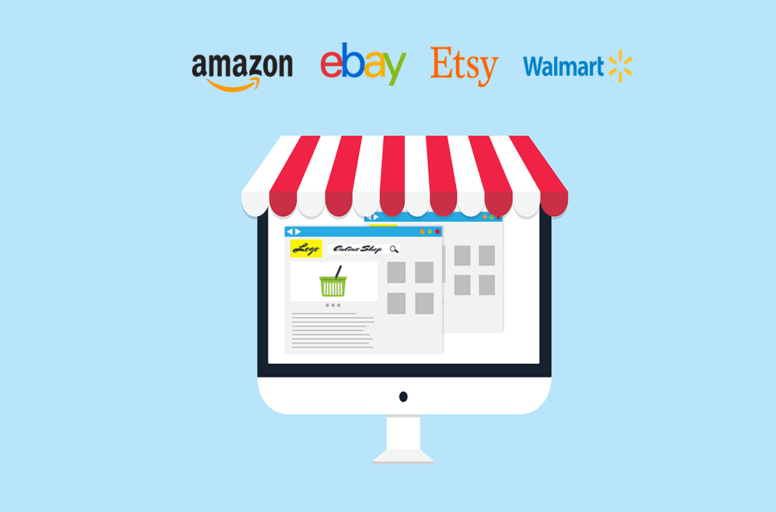 First on the marketplace vs platform comparison, let's talk about online marketplaces. An online marketplace is an eCommerce site or app that facilitates shopping from many different sources. The marketplace's operator does not own any inventory. Instead, their job is to show other people's products to customers and enable transactions.
Nowadays, there are countless online marketplaces from sites like Amazon, eBay, Etsy, Walmart, and far more. Depending on each marketplace's features, you might benefit from their provided selling toolsets. Yet, the general pros and cons of selling on marketplaces still have much in common, presented to you below.
Online marketplace: Pros & cons
Pros:
Have more traffic and customer engagement.
Less financial risks.
No need to spend time running inventory.
Quick to set up.
Have low or no setup cost.
Cons:
Compete among many competitors.
Lack of brand awareness.
Can not build a customer list for marketing campaigns.
Quick marketplace comparison
Among thousands of e-marketplaces in the market, we have sorted out the top 5 including Amazon, eBay, Walmart, Etsy, and Google Shopping. Let's check them out!
Marketplace Comparison and Highlights

This is the world's largest online marketplace, offering a vast array of products and services to a global customer base.

Being one of the direct rivals to Amazon, eBay is famous for its online auction and shopping website.

Etsy is rising as a go-to option for anyone seeking or selling unique and creative items.

Walmart operates a worldwide network of retail stores as well as an online marketplace. The company is renowned for its "everyday low prices" strategy and a wide range of products.

Google Shopping is an online shopping engine that helps sellers increase their product visibility.
2. What is an eCommerce platform?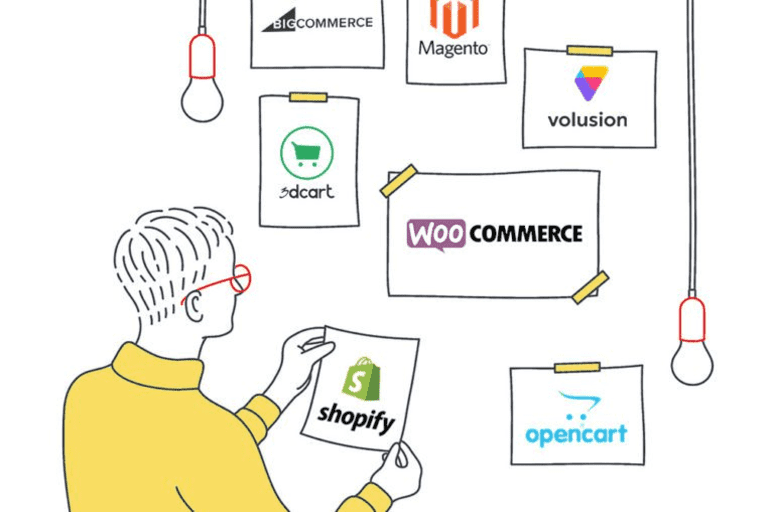 Next on our comparison of marketplace vs platform, we would like to give you some basics of eCommerce platforms. Simply put, eCommerce is purchasing and selling activities happening over the Internet. And, an eCommerce platform is an end-to-end software application where both parties, sellers, and consumers come and play their roles.
In particular, an eCommerce platform will help you with website builders, accounting, inventory management, as well as customer service infrastructure. When speaking of eCommerce platforms, they must allow a consumer to discover products, shop around using a cart, and then check out.
For now, let's check out some pros and cons of building stores on eCommerce platforms as well as our brief eCommerce platform comparison right below.
eCommerce platform: Pros & cons
Pros:
Easily collect customer data for your future marketing campaigns.
Complete control over the site's functionality, design, and navigation.
No on-site competition.
Build your own brand awareness.
Enjoy fewer restrictions and rules.
Cons:
Take the hard effort to bring traffic & customer engagement.
Take more time and money to build and maintain your website.
More financial risks in scalability.
Quick eCommerce platform comparison
Let's take a quick tour through the best eCommerce platforms for your online business: Shopify, WooCommerce, Squarespace, Wix, and BigCommerce.
Platform Comparison and Highlights

Regardless of marketplace vs platform, Shopify is still a top choice for its simple navigation, affordability, impressive eCommerce features, and countless extensions.

WooCommerce is famous for its powerful customization ability, amazing eCommerce features, 1000+ themes, and templates in its theme store.

Etsy is rising as a go-to option for anyone seeking or selling unique and creative items.

Walmart operates a worldwide network of retail stores as well as an online marketplace. The company is renowned for its "everyday low prices" strategy and a wide range of products.

Squarespace is a fully hosted eCommerce platform for creating online shops and attractive blogs or photography websites with free transaction costs and scalable solutions.

---
Marketplace vs Platform: 7 Key Differences
The final goals of any seller when comparing eCommerce websites vs marketplace gets down to selling products to customers and opting for the more suitable sales channel in the long run. Apart from the pros and cons of marketplace vs platform, you probably need a closer glance at 7 key differences to define this platform-marketplace battle.
The 7 differences between eCommerce platforms and marketplaces are:
Ownership and control
Traffic and audience engagement
Marketing and brand recognition
Time and money
Inventory management
Profit margin
Scalability
For now, let's delve into each aspect of this marketplace vs platform comparison!
| | | |
| --- | --- | --- |
| | | |
| | | |
| Traffic and audience engagement | | |
| Marketing and brand recognition | | |
| | | |
| | | |
| | | |
| | | |
#1. Ownership and control
One remarkable difference between eCommerce and marketplace is ownership and control. In this first section, let's discuss how different a marketplace and eCommerce platform are, regarding their ownership and control.
Online marketplace
Online marketplaces are owned and operated by a certain organization or company. This means the marketplace operator will be responsible for operating, maintaining, and facilitating any onsite activity. All of these tasks serve their goal of providing a trading platform for third-party sellers and buyers.
The ownership also indicates the sense of control you have over the marketplace or eCommerce platform. Briefly, selling on marketplace means you will follow a set of regulations written in the rule book. The regulations usually cover product restrictions, performance requirements, and more based on the marketplace itself.
Adding to that, you have a certain sense of control over your storefronts on any marketplace. However, since sellers are third-party contributors, they cannot interfere with the customer journey, experience, selling metrics, and many other aspects.
Ecommerce platform
Comparing marketplace vs platform, eCommerce platforms offer complete ownership and control over your storefronts. Although eCommerce platforms are owned by a company or organization as well, they own and facilitate the underlying technology and infrastructure. It means eCommerce platforms approach your business as a service or application and help you build your own store.
On top of that, eCommerce website operators will not interfere with any of your maneuverings on your web-based store. Since you actually own your store and are responsible for all activities occurring onsite, you'll get complete control. It indicates that you will come to your role and control anything from customer journey, experience, and selling standards, to store functionality. Nonetheless, the ultimate control can be a lot of hard work, especially for eCommerce newbies.
Verdict: As we raise the comparison of marketplace vs eCommerce platform, it is arguable that newbies or individual sellers should head to marketplaces. They offer simple initial setup and affordable seller charges in most cases. Meanwhile, SML businesses can sell on both, provided that they can handle well the massive workload from complete ownership and control on platforms.
#2. Traffic and audience engagement
Whether you sell on the best selling platforms, an eCommerce site, or an online marketplace, your audience matters. That's why we have landed at the second criterion of comparing marketplace vs platform – traffic and audience engagement.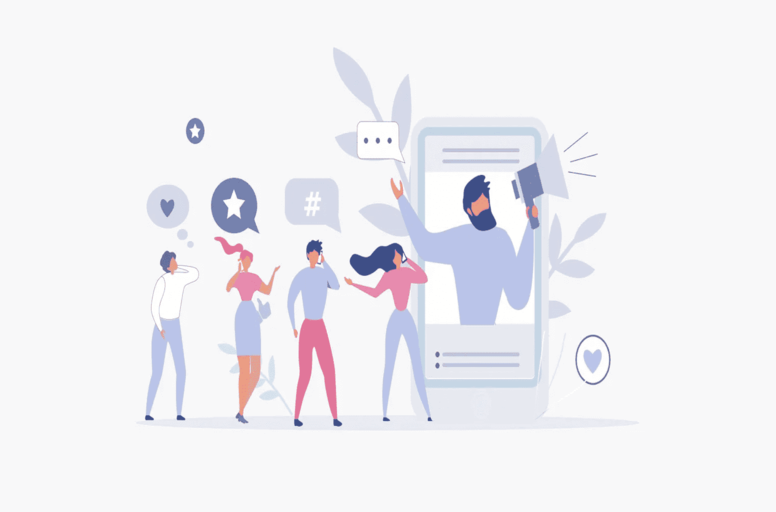 Online marketplace
Marketplaces have always been transactional-oriented, with the objective of bringing buyers and sellers together. Thanks to the marketplace nature, the target audience is bigger as it offers a huge choice of product categories, and thus, more traffic to the site. Not to mention, well-reputed marketplaces such as Amazon can reach billions of traffic monthly. Also, some niche marketplaces have done excellently in attracting shoppers and maintaining their dynamic audience.
Basically, online marketplaces are frequently focused solely on encouraging customers to make purchases, while urging store owners to add more products or services to their listings. Therefore, online marketplaces bring more opportunities in engaging customers to buy the products. Indeed, marketplaces benefit from network effects: more buyers attract more sellers, and vice versa.
eCommerce platform
In terms of platform vs marketplace, drawing traffic to your website and engaging the audience is more challenging. It takes a long time and costs a lot of money to attract traffic to the website. As it gets down to drawing organic traffic to your website, ensure you have leveraged the basic aspects, including quality content, correct target audience, SEO practices, and advertising campaigns.
Depending on your niche, there can be more challenges to overcome so that you can attract website visitors. Not to mention the outer factors, which can influence your website performance. Therefore, it is evident that even if you have a lot of experience, traffic and audience engagement can still go against your expectations.
Considering this obstacle, we suggest you implement a multichannel approaching method to draw more traffic and increase the chances to engage with your potential customers. This can refer to a social media platform like Facebook or Instagram can considerably aid in audience engagement. To measure the performance of your Facebook posts you can use Facebook analytics tools available in the market.
Apart from utilizing social media, try to take advantage of other shopping search engines and advertisement campaigns to maximize your potential traffic. Mentioning this, you might want to consider establishing an online presence on dynamic marketplaces such as Amazon, eBay, or Walmart. If you still hesitate due to the lack of coding skills or complications of order processing, let LitCommerce help you. We offer a solution to integrate 5 eCommerce platforms with 15+ top online marketplaces. Should the idea interests you, give us a visit anytime!
Verdict: Comparing marketplace vs platform, the marketplace is much easier to gain an enormous amount of traffic thanks it the already-existing audience onsite. However, the case is the opposite for the eCommerce platform. To draw traffic and engage with customers, you'll have to put in pretty much time and effort.
#3. Marketing and brand recognition
It is a big perk for businesses to have a clear concept about the marketing approach and targeting in the comparison of marketplace vs platform.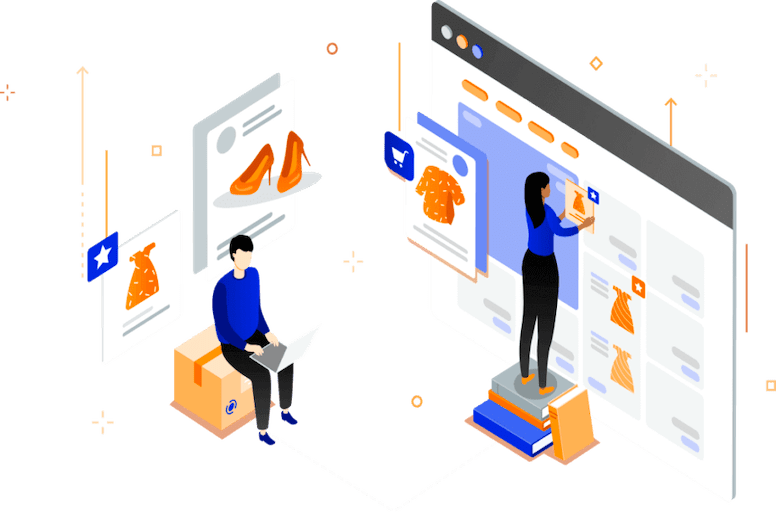 Online marketplace
Unfortunately, sellers on marketplaces have limited to no access to their customers. Accordingly, it's tough to sell your items or generate brand awareness and loyalty. If you can't get in touch with your prior customers to let them know about product restocks or new product releases, you will have to rely on fresh sales instead of leveraging the strength of previous purchases.
Also, a key disadvantage of online marketplace vs eCommerce platform is the lack of direct access to customer analytics and communications. When it comes to brand competition, even if your products are unique, there are a lot of identical products out there vying for the attention of your potential customers. As a result, your product may or may not stand out in a competitive marketplace.
Additionally, many consumers who purchase on marketplaces assume they are buying from that marketplace, even though they are purchasing your products. Therefore, the buyers tend to remember the marketplace rather than the brand the next time they come back.
In most marketplaces, the focus is not on the sellers, but rather on the products. This makes it extremely difficult to develop brand awareness and recognition and ultimately differentiate your business.
eCommerce platform
On the contrary with online marketplaces, eCommerce websites have complete access to all customer analytics and can reach out directly to customers to inform them about sales promotions, and new releases.
Beyond that, direct access to your customers allows you to deliver better customer service, and obtain more detailed information and input on product development. You can analyze customer behaviors for a better understanding and optimize your website's user experience. Moreover, one of the greatest advantages of managing your own eCommerce website is that you can target people who visit your site with ads, market to those who have already purchased from you, and stay connected in the future.
Email list building helps you build awareness, bring in steady revenue, and run promotions to get rid of inventory. Luckily, your website will exclusively sell your products, and you'll never have to pay for advertising to get your listings to show the above identical items offered by your competitors or to rank higher on your own site.
Verdict: In the battle of marketing efforts and brand recognition for eCommerce vs marketplace, the eCommerce platform has got a winning point. Evidently, eCommerce websites help you implement more insightful marketing strategies, stay more connected with customers, and sell products with less competition.
#4. Time and money
Continuing our topic of marketplace vs platform comparison, it would be a miss to skip the consideration of time and money. For now, let's check how eCommerce platforms and marketplaces differentiate from one another, regarding time and money.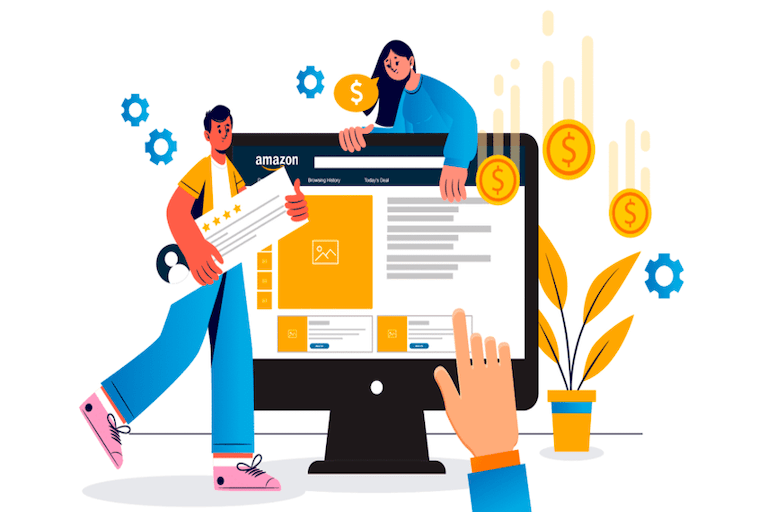 Online marketplace
As it gets down to eCommerce vs online marketplace, building an online store on the marketplace can save more time and money initially. For example, creating a seller profile and retailer shop on marketplace platforms like Amazon or Etsy will take a very little amount of time and technical skill.
On top of that, you can easily start selling and reach out to potential customers who already shopped on the online marketplace. Saving time on building your store allows you to focus on product development and sales which can quickly increase sales and profits.
Speaking more of this matter, even if you decide to give your store an excessive amount of customization, the time or money you might have to invest is still quite efficient and affordable, compared to that of an eCommerce platform.
eCommerce platform
Developing an eCommerce website, on the other hand, will almost certainly be more expensive upfront. To build and maintain your website, you'll need to build on your own or hire a web developer. Apparently, when it comes to custom designs, functions to integrations, and selling features, the fees will be added up and exceed your current budget. That's exactly why you need to consider marketplace vs platform – which makes the perfect selling option.
Nonetheless, not all eCommerce platform requires excessive coding skills. With the help of ready-to-use eCommerce platforms like Shopify, Wix, or WooCommerce, store owners can easily establish and set up their online store up and running quickly.
The list of website building charges goes on the domain name, HTTPS certificate, payment gateways, and so on. Remember that the more complex your website is, the more money you have to spend on it. Based on these grounds, eCommerce platforms are not quite the best choice for those with low budgets.
Verdict: Speaking of fees to launch a store on an eCommerce platform vs marketplace, it seems that the marketplace offers a much more friendly pricing tier, even for those requiring subscriptions. Although there are pricing-friendly and easy-to-use eCommerce platforms, building a store with them is still more expensive.
#5. Inventory management
Keep in mind that the larger the inventory is, the more likely buyers will find what they're looking for in your online store. Even if your visitors are interested in eCommerce or online marketplace, a large inventory sometimes means extra effort for marketing, which can grab the customer's attention.
Now, why don't we take our investigation into inventory management of marketplace vs platform a bit further?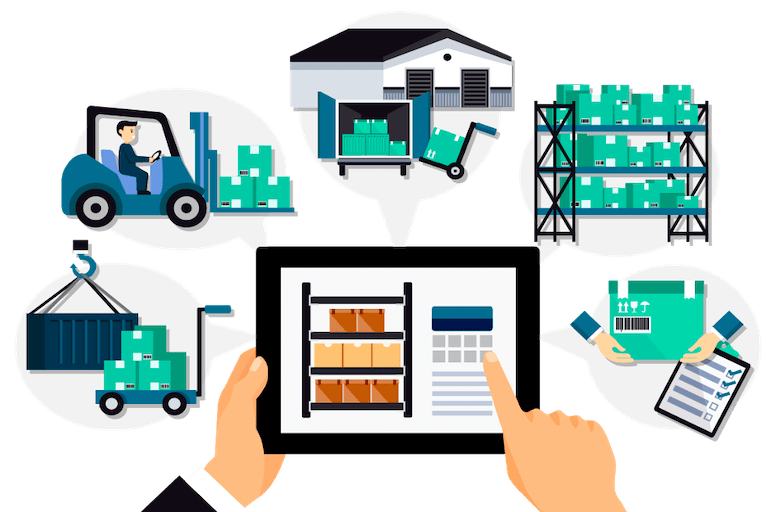 Online marketplace
Because online marketplaces are essentially a space for e-merchants to display their products and connect with buyers, they have no inventory or take no responsibility for investment management.
Fortunately, there's no risk if products don't sell either. It's actually the seller's obligation when a product receives no traffic. Still, you do not have to suffer the financial burden of holding onto a product that is not selling and taking up storage space.
eCommerce platform
The cases of inventory management of marketplace vs platform don't resemble one another. If you use an eCommerce website, you may face problems when keeping inventory unless using drop shipping to meet customer demand or selling digital products. Or else, you need to necessitate the acquisition or upgrade the warehouse space without affecting the profit margins. This way, you can keep products that are not selling.
Besides, there is more financial risk when you purchase and hold the inventory which can bring damages and loss to your inventory. All of these scenarios could have a negative impact on the business's profit margins.
Verdict: Managing your inventory on an eCommerce platform vs marketplace is highly distinguished. Marketplace may have much lower risk and is unlikely to affect your final profitability. Meanwhile, inventory management on the eCommerce platform can impact your expenses if the products cannot sell.
#6. Profit margin
The ultimate of selling products online is to gain the maximal profit from them. The case still applies for selling on platform vs marketplace, and right below is our analysis of this matter.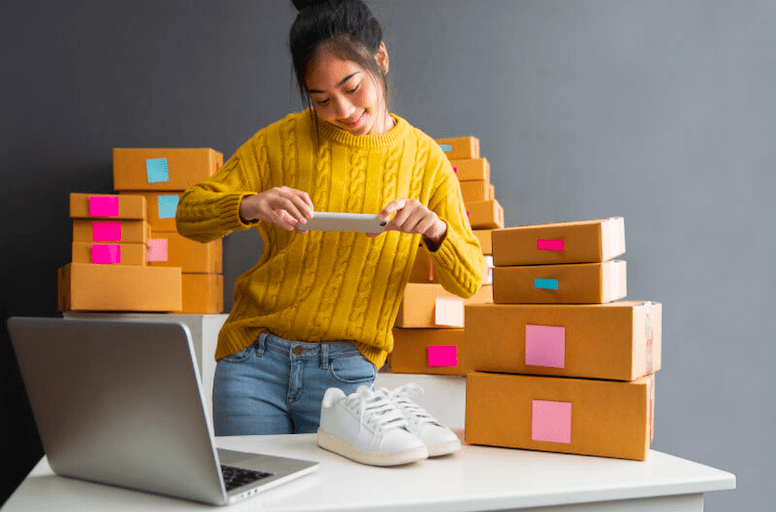 Online marketplace
The most basic fees on marketplaces are often store subscriptions, listing fees, category referral commissions, and payment process fees. However, based on the marketplace you choose, you may pay for additional charges such as listing upgrades or renewals, shipping label printings, currency exchange, and regional fees for international sellers.
At first sight, these fees may not affect much to your final profit margin. However, take it into the long run, these charges will add up to an excessive amount and decrease your final profit margin.
In fact, online marketplaces have lower profit margins than eCommerce websites. All the mentioned fees, especially listing and commissions are how marketplaces make money. These businesses require a huge amount of listings and transactions on their website in order to remain profitable.
eCommerce platform
On the other hand, eCommerce platforms have a higher profit margin on each individual sale. Even though some eCommerce solutions have extremely high initial setup fees, they don't cost you listing, renewals, or commissions like marketplaces do. The eCommerce platform owners have already made a profit from their charges on the services provided.
Therefore, you won't have to worry as much about profit margin as you do about quality sales and overall quantity. For instance, if your company sells high-priced items, one or two sales a month could generate a significant profit margin. Plus, commission fees on expensive products will undoubtedly bring in more money than on cheaper ones.
Verdict: As it comes to marketplace vs platform for profit margin, we believe that the eCommerce platform has another winning point. Based on the operation mechanism of both sides, platforms seem to give you the freedom to sell highly-priced items without worrying about commissions.
#7. Scalability
Coming up last on our marketplace eCommerce platform comparison is scalability. Are you ready to figure out the last factor and make your last call? Let's scroll through!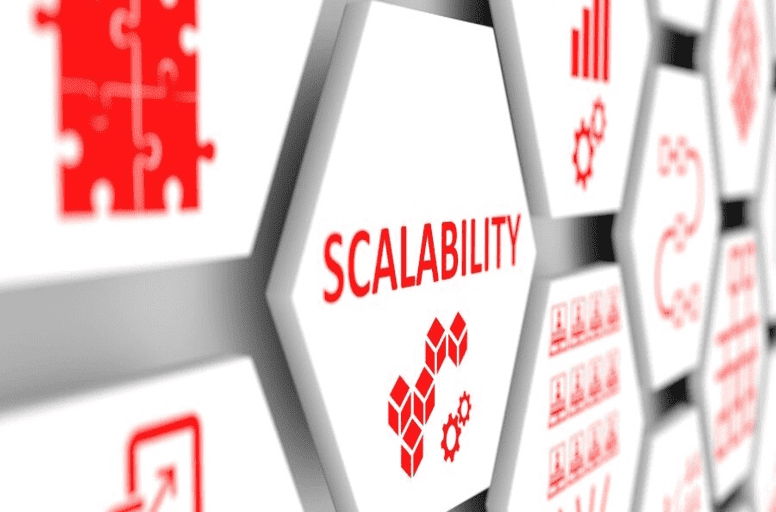 Online marketplace
Do you know that owners of marketplaces take less financial risk than eCommerce website owners? When selling on marketplaces, store owners don't buy or sell anything which greatly increases the business' scalability. As a result, marketplaces gain economies of scale more easily; and it allows them to expand faster than eCommerce websites.
When traffic even grows very fast, it may be necessary to seek new vendors to meet the demand, but you won't need to worry about spending large sums of money on new inventory or storage facilities.
eCommerce platform
The case of scalability for marketplace vs platform is on the opposite side for platform users. If an eCommerce website wants to scale up, it takes more time to do so. As a matter of fact, sellers have to get more product stock and find more storage space. Therefore, hiring more staff to manage, classify, store, and ship all of the products is necessary which can unexpectedly foot over your bill.
Accordingly, eCommerce websites should invest more time and resources into the website and app development to improve the user experience, instead of spending time and money on employees. That will be your prevention for the worst scenario of unsuccessful scaling up and budget exceeding.
Verdict: Scalability happens in a simpler and more natural way for marketplace vs eCommerce platform. Also, it is less risky to scale up your business on marketplaces because your business enhances as the macro environment shifts.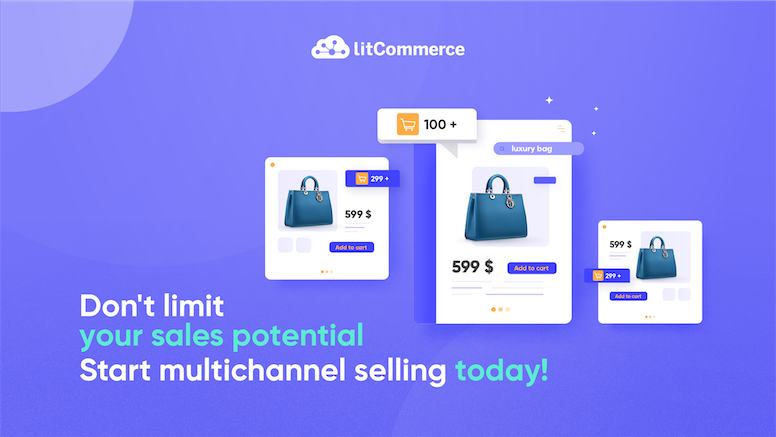 ---
Marketplace vs Platform: FAQs
1. Is a marketplace an eCommerce platform?

eCommerce and marketplace are two different types of platforms. An eCommerce store is an independent website built with the help of eCommerce solutions such as Shopify, WooCommerce, or Magento.

On the other hand, a marketplace is a platform where customers find sellers, connect, and purchase goods. For that reason,  a marketplace usually has its own customer base and also have many restrictions on its user.

2. What is the difference between marketplace and eCommerce platform?

The main difference between a marketplace and an eCommerce platform lies in their business models and how they facilitate online transactions. While marketplaces facilitate third-party sellers and buyers for all shopping activities, eCommerce platforms approach as a service that helps businesses build their own web-based stores. 

Moreover, the difference between the marketplace and eCommerce platform also comes in 7 factors, including:

Traffic and audience engagement 

Marketing and brand recognition

3. Is Amazon a marketplace or eCommerce?

Amazon is a famous marketplace, not eCommerce. Currently, it's one of the best E-marketplaces in the world.

4. What is marketplace-based eCommerce?

Marketplace-based eCommerce is when you connect your E-marketplace with the eCommerce store and sell on both channels. This way, you can increase your customer base and get more opportunities to reach out to potential customers.

5. How can I integrate my eCommerce store with my E-marketplace?
---
Marketplace vs Platform: Final Thoughts
That's everything we've got for marketplace eCommerce comparison. Depending on the product niches, needs, and goals, the winning side of marketplace vs platform differs from retailer to retailer. Online marketplaces are an excellent place to start for eCommerce beginners since they allow you to cut down on the costs, risks, and time to set up a business upfront.
Or else, if you're already a well-known brand and don't want to share your profits with a marketplace, or if you need a custom-made solution, setting up your own eCommerce website can be the way to go. eCommerce or an online marketplace is a great place for selling, but it's not the only option when you can use both to make your business thrive.
If you're interested in multichannel selling, check out LitCommerce to prepare for your first step! The tool allows you to import products from your eCommerce website, then list and sell products on the world's largest online marketplaces, including Amazon, Etsy, eBay, and 17+ more. With LitCommerce, joining the era of multichannel selling and managing your business will get more efficient and simple than ever before. Should you need further information, please leave us a message.
Last but certainly not least, join our community or our Retailer blogs for more eCommerce tips and news. Happy selling!