Etsy empire – one of the most successful marketplaces for crafts and supplies – is now a marketplace for more than 96 million active users. Without a doubt, businesses are likely to go "beyond and above" to attract customers due to the tough competition. As the case goes, should e-sellers search for Etsy competitors? 
In spite of being the leading online marketplace for craft business owners, Etsy's high listing fees, an overcrowded market, and low conversion rates have resulted in the site becoming less promising than other Etsy competitors. Many sellers are now looking for alternatives to Etsy to distribute their products.
Is it worth selling on Etsy as it used to be? In this article, we'll be sending you a list of 7+ Etsy competitors where you have higher chances of growing your business. Let's have a more detailed analysis of each platform's pros, and cons and why it should be your choice in the list below. 
Let's get the ball rolling!
---
Why Should We Need Etsy Alternatives?
As mentioned, harsh competition is among the motives to discover Etsy competitors and alternatives. Its extreme competitive level is not detrimental, considering business simulation. Despite this fact, the situation may get worse, with evidence of a downward price spiral.
Besides, Etsy's constant-changing policies get the marketplace to come under fire. One of its latest updated house rules refers to pricing. Earlier in 2022, Etsy's CEO announced a 30% raise in transaction fees. The rulebook seems to get more stringent, encouraging sellers to find other selling platforms like Etsy.
More reasons why sellers should look for art sites like Etsy refer to the lack of brand awareness and audience control. This marketplace restricts potential but sets unreachable marketing expectations. As a result, it contributes to the Etsy competitors' flourishing these recent years.
Don't wait any further, keep scrolling down for our recommended Etsy alternatives to help you choose the one that suits your business needs!
---
Etsy competitors: Best online marketplaces
Acknowledgments of Etsy competitors analysis group into two sections: online marketplaces and eCommerce platforms. The first section emphasizes online marketplaces, including Amazon Handmade, eBay, Bonanza, and ArtFire.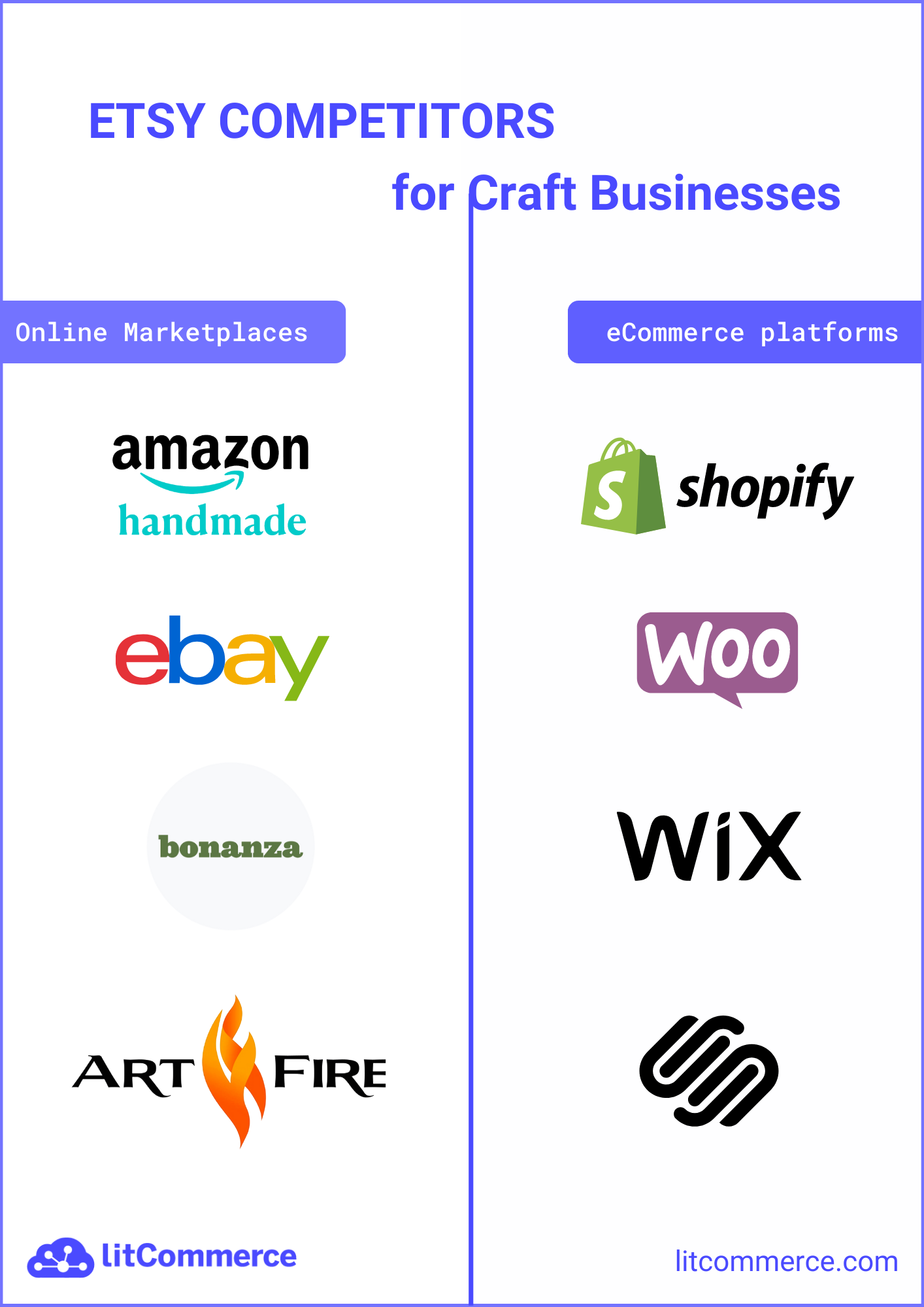 #1. Amazon Handmade
Amazon selling fees:
No listing fees, no subscription fees
15% of the sale price per listing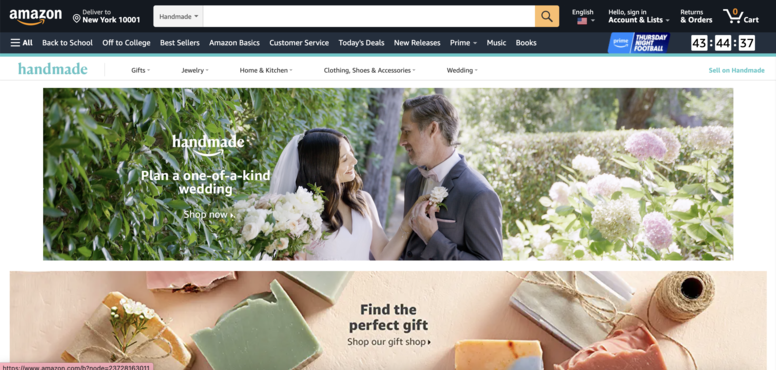 Why should you choose Amazon Handmade as an Etsy competitor? Amazon Handmade payment procedures and methods are much more flexible than that of Etsy. Additionally, they are more secure because of the strict sign-up process and requirements.
Not to mention, craft sellers on Amazon Handmade can get access to a massive reach with 148.6 million active users worldwide. Statistics also reported in July 2022 that Amazon gets 200 million unique visitors each month
Lastly, what fills Amazon Handmade in the list of Etsy competitors is the Fulfillment by Amazon. FBA means that logistic processes and services are on the house. This is not available on Etsy. Sellers would find further details in our topic on Amazon Handmade vs Etsy to determine the ultimate option.
Maximizing your profit via multiple marketplaces
Doing one channel may limit your business potential and customer reach. Why plead this case when you can go multichannel? LitCommerce offers the latest eCommerce solution for multi-marketplaces management. Check it now!
#2. eBay
eBay selling fees:
250 free listings each month, then $0.35 per listing
Final value fees: 1.5-12.20% per complete transaction
Payment processing fees: 2.9%
Other fees: Listing upgrade fees, promoted listing fees, and more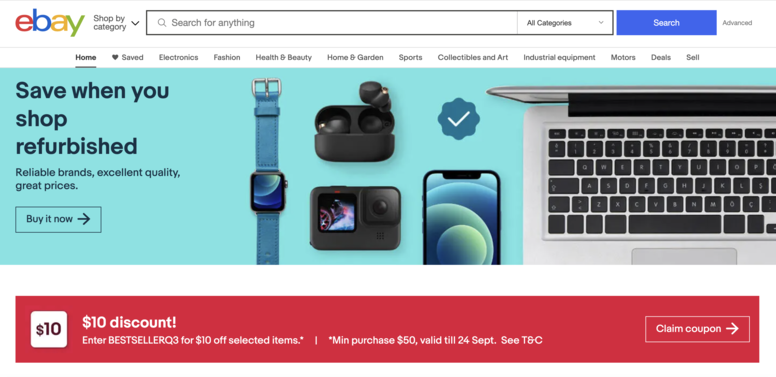 The second best place to sell handmade items is eBay. eBay's biggest pros sellers may gain as they sell artisans on this marketplace is its large audience (159 million worldwide) with an extensive reach.
Along with that, reputing as one of the biggest Etsy competitors, eBay allows users to set the best deal thanks to its auction-style model. Since you can sell anything on eBay, making it a perfect place to make money for anyone.
It also allows sellers to update more products than any other marketplace. The sign-up procedures for stores are simpler than those of Etsy. However, the difference between seller and buyer accounts is significant. There are only 19 million sellers present now. But this doesn't indicate the marketplace is non-challenging.
Check out our detailed comparison between Etsy vs eBay to find out which one makes more money for your business.
#3. Bonanza
Bonanza selling fees:
Free listings
Transaction fees: $0.25 per item on sale.
Final value fee: from $1.5 – $3.5
Advertising fee: 5.5% if using Google Shopping ads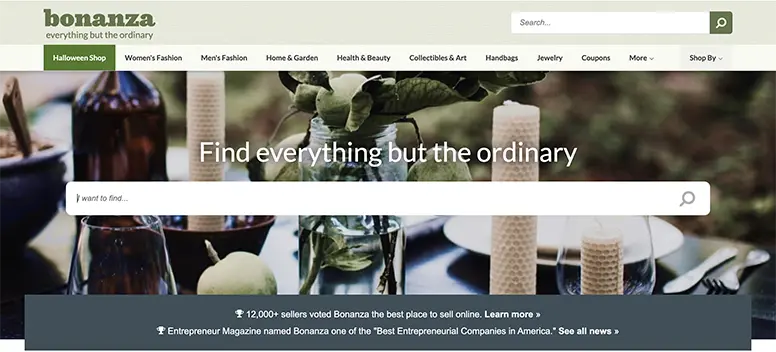 The third Etsy similar marketplace is Bonanza. It becomes well-reputed for its fine seller-protective policies, which Amazon Handmade and eBay cannot catch up on at the moment. As craft businesses go on Bonanza, they are beneficial from the free listing and commitment Bonanza offers to sellers.
Being one of the leading Etsy competitors, Bonanza provides a user-friendly interface, enabling both sellers and buyers to maneuver easily any action on the marketplace. Over and above that, Bonanza makes an ideal place for craft and artisan markets because it provokes creativity.
Bonanza fits garment virtue stores too. The listing and categories for clothing are specific and adaptive to every garment demand out there. This feature has partly turned Bonanza into one of the sites like Etsy for clothing.
On the other hand, the downsides of Bonanza are modest traffic and a less remarkable audience when in comparison with Etsy (around 5 million users vs 96.4 million users). Overall, Bonanza still makes a good channel for sellers, but the Etsy crafts and supplies section would be more weighty.
#4. ArtFire
The final name on the list of Esty competitors is ArtFire. What turns ArtFire into an Etsy alternative is its competitive pricing.
Standard Shop: $9.99 monthly, $0.23 per listing, 14.75% of total selling values
Popular Shop: $29.99 monthly, free listing (1000 active items), 12.75% of total selling values

 

Featured Shop: $49.99 monthly, free listing (2500 active items), 12.75% of total selling values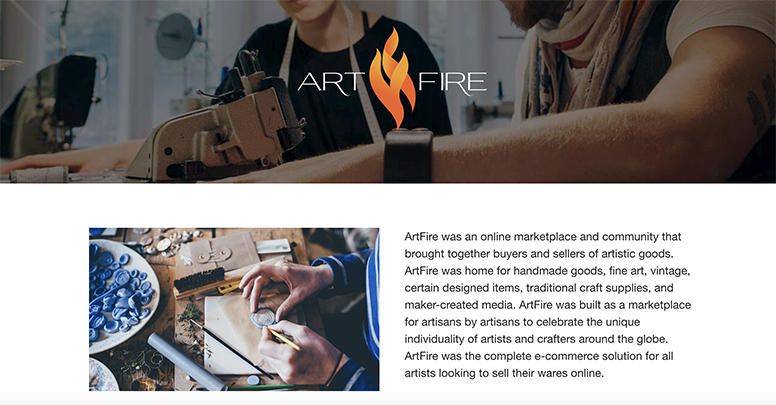 Secondly, when it comes to commitment and support to sellers, ArtFire is on the upper level. This particularly applies to small and independent sellers. ArtFire creates a sense of community, which barely exists elsewhere. The marketplace sets up the interface for shoppers who wish to support small businesses. 
For customer support, ArtFire establishes fast processes that do not include registration. If you wish to purchase an item on ArtFire, credit card input and shipping information are the only details required. 
But there are cons as users join ArtFire. Sellers on ArtFire cannot get as much traffic as on Etsy. They tend to make less profit with fewer customers. Lower traffic also triggers brand awareness for small businesses.
Etsy competitors:  Best eCommerce platforms
The discussion over Esty competitors and alternatives to sell artisan continues with eCommerce platforms, including Shopify, WIX, WooCommerce, and Squarespace. These platforms help e-sellers sell handmade and unique items on their own website, making it easier to build their brand awareness.
#1. Shopify
 Shopify pricing structures
Basic: $29 per month
Shopify: $79 per month
Advanced: $299 per month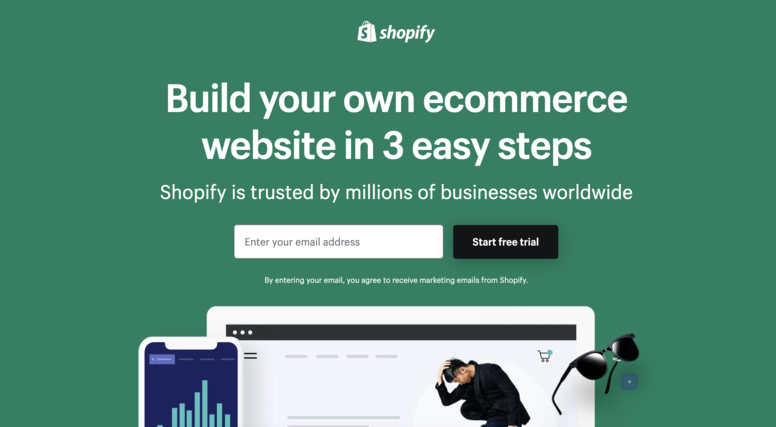 Shopify, in experts' opinion, is more optimized for medium to large-scale retailers, rather than small ones. For new sellers to retail, Shopify may not be a friendly business site like Etsy. Start slow with Etsy first, then advance your online business with Shopify.
As one of the top Etsy competitors, Shopify offers sellers eCommerce selling tools needed to promote products and increase their sales performance. Moreover, sellers can have access to a variety of Shopify themes and templates to create a dazzling design that can improve the user experience for creating eCommerce conversions
Not to mention, Shopify has 24/7 customer service along with a supportive community to support sellers and shoppers using the platform. If you want to sell on both Shopify and Etsy, check out our detailed integration guide here!
#2. WIX
WIX is pretty price-competitive as one of Etsy competitors. For business and eCommerce plans, WIX offers three options:
VIP: $35/month
Unlimited: $25/month
Basic: $17/month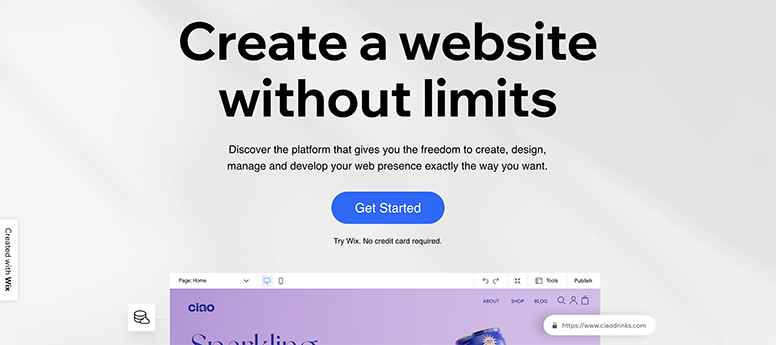 Considering the benefits, WIX is a more user-supportive eCommerce platform than Shopify, for newbies. WIX allows users to create platforms and sell their products in all sections. The process to create a website on WIX consists of 6 steps. These steps are fully instructed on the official websites and translated into numerous languages.
Additionally, incredible themes and templates are available on WIX. Businesses can easily set up a drag-and-drop interface while building websites. There are also basic selling tools provided as you go on WIX, making this a perfect choice for sites like Etsy.
When sellers first use WIX to build their eCommerce platform, they have an unlimited free trial until their businesses are ready to make a profit. This is where WIX charges fees from users. The supportive policy has encouraged more businesses and individuals to join WIX, making the site one of the top Etsy competitors.
Among Etsy alternatives, WIX primarily targets digital products, creating a less prioritized order for crafts and art supplies. But WIX helps craft sellers create more optimized websites serving their businesses. That's a reason to integrate WIX and Etsy for maximum effectiveness.
#3. WooCommerce
When sellers go on WooCommerce, they may get charged 8 different fee types. But there are compulsory and optional fees.
Compulsory fees:
Hosting: $95 to $12.95 per month (Basic to Advanced)
Domain name: $15 per year
Themes: Basic and Mid-range websites are free, $35 – $129 for professional themes
Extension: Depends on sales volume
Security: $10 to $450 per year (Basic to Advanced)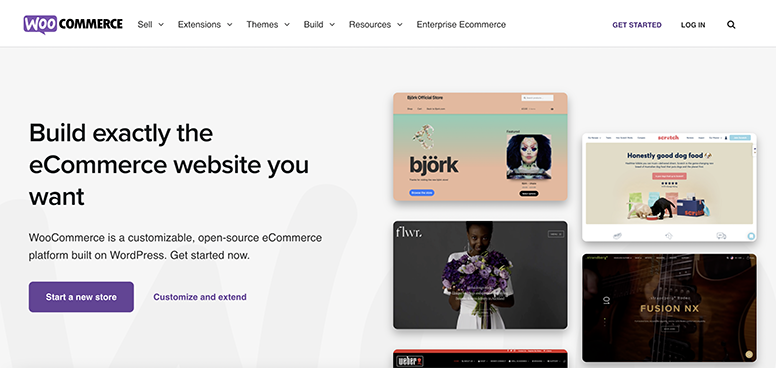 Most sellers favor WooCommerce for its ultimate customization. Retailers are free to make adjustments when they are on WooCommerce. Besides its allowance for users to maneuver customization, WooCommerce offers incredible themes for business to build their websites with ease. Different concepts would certainly satisfy users from new to experienced.
The platform stands out from Etsy competitors for third-party apps. These apps support users whenever they need a selling tool or face a myth. WooCommerce can be pricey, compared to Etsy. However, if your store is growing, you may need to set it on WooCommerce at the same time as Etsy to gain sales increase rather than doing one-channel business.
Get to know more about how to integrate WooCommerce with Etsy
#4. Squarespace
Squarespace selling plans:
Personal plan: $12/month
Business plan: $18/month
Basic plan: $26/month
Advanced plan: $40/month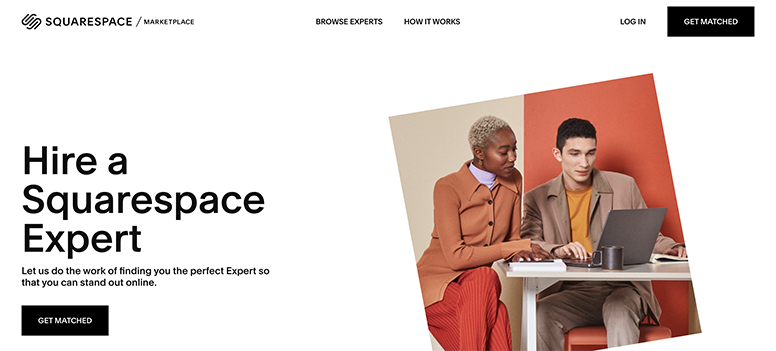 Approaching as one of Etsy alternatives, Squarespace gains favor thanks to its customer support, built-in marketing tools, along with strong sense of customization.
Customer service of Squarespace is a 24/7 system, working via email and Twitter. This devoted customer support is one huge plus point, regarding eCommerce platforms, and also numerous online marketplaces.
As sellers implement their businesses on Squarespace, advertising crafty products get easier with Squarespace's built-in marketing tools and supportive communities. On top of this, you would get asked in advance about your goals. Based on the provided information, Squarespace would guide you directly to the tools you need.
Adding to it, Squarespace has excellent customization. Sellers barely face a limit when they are running wild with creativity on Squarespace. There are various templates for users to decide on in case they are new to website building.
Go Multichannel Selling and Grow Your Business With LitCommerce
Have you ever thought of selling on Amazon Handmade, eBay, and Etsy at the same time? The concept of selling in numerous places is Multichannel-selling. In case you are new to this name, multichannel selling refers to the process of listing and selling your products on two or more sales channels.
Multichannel not only enhances profit levels but also prevents sellers from taking high risks of an eCommerce site failure. It is likely to happen during the pandemic with a robust downward trend in the worldwide business situation. Why risk then?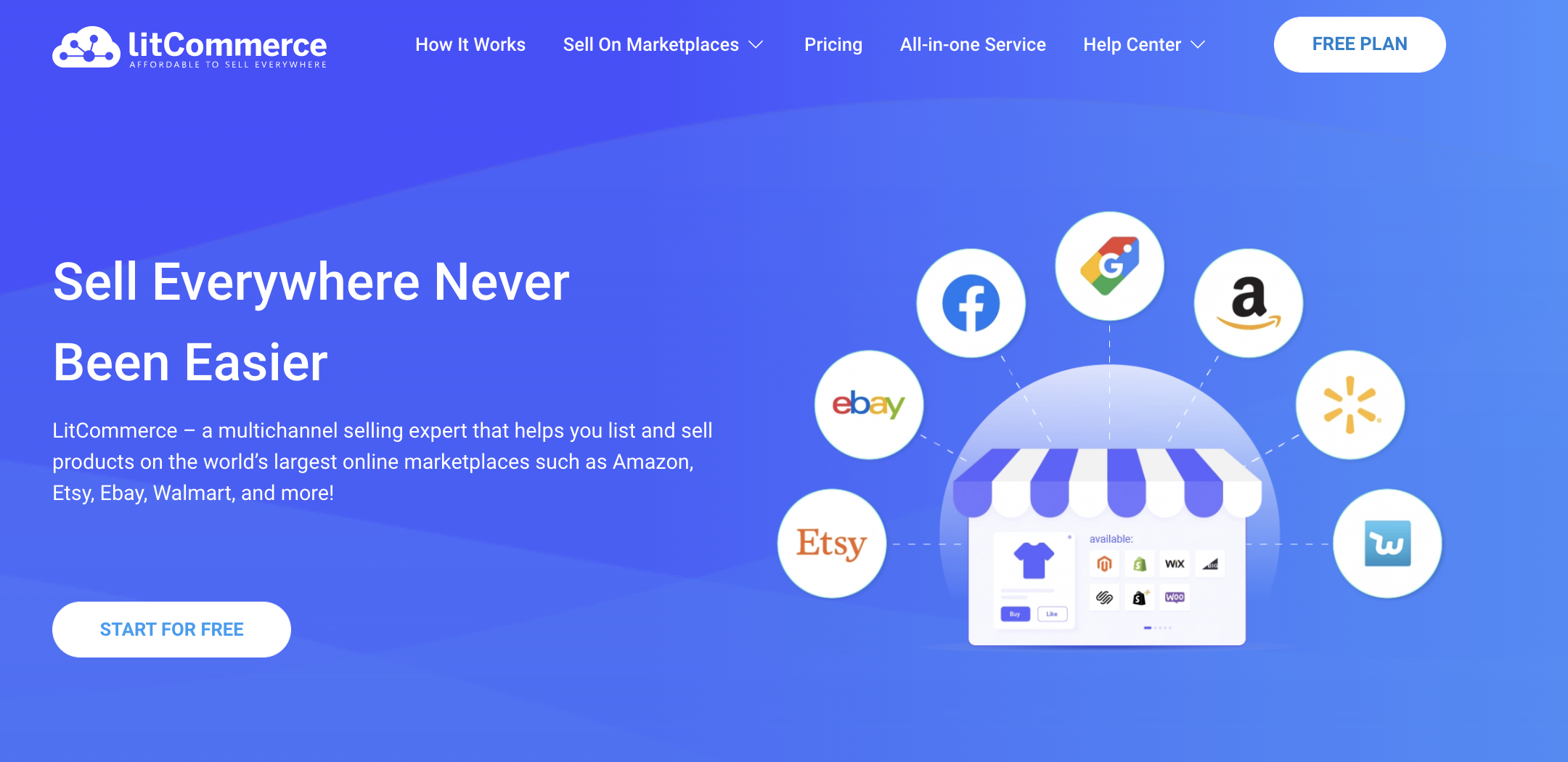 However, to conduct multichannel integration, sellers need tools. Speaking of which, LitCommerce is worth a try. It is a SaaS system enabling e-sellers to list and sell their products on whatever online marketplaces. LitCommerce plan also lets you manage data collected in selling channels in one central point.
Lastly, with LitCommerce, real-time synchronization and product details management should become effortless. The system is designed to simplify every e-seller's experience with multichannel selling. Find out more about our plans on litcommerce.com now!
FAQs about Etsy Competitors
1. Who is Etsy's biggest competitor?
Top Etsy competitors are probably Amazon Handmade and eBay. They possess impressive user numbers with diverse product ranges in crafts and art supplies.
2. Can you make money selling crafts?
You absolutely do. You can even make a fortune out of these items with the right strategy and multichannel selling.
Etsy is very competitive. More sellers are going to Etsy with new online stores launched daily. According to statista.com, there are more than 96.4 active buyers and sellers on Etsy in 2022.
4. How can I sell crafts without Etsy?
If not selling crafts on Etsy, you can still access Amazon Handmade, eBay, Shopify, etc… As mentioned, it is advisable to go multichannel selling to maximize your profit.
Yes, Etsy is reliable for both buyers and users thanks to its secure payment and review system.
It's a Wrap!
In a highly competitive market, the price contest, and conventional one-channel retailing no longer divide you from other runners. Hence, businesses of all sectors are encouraged to spread their brand coverage and increase the chances of purchase via multichannel selling.
But you have to do more than get used to the concept of multichannel. Check out LitCommerce solutions for eCommerce management for the latest updates. Also, join our Facebook community if you want to know more business growth hacks!