You're looking for an online marketplace to sell your crafted items and come across 2 options you can't decide on—Amazon Handmade vs Etsy. Among thousands of marketplaces available on the Internet, Etsy vs Amazon Handmade are the two amazing solutions with endless opportunities to find new customers and boost sales.
If you have a plan for opening an online store on Etsy or Amazon Handmade or both of them, scroll further down, we will get you uncovered with:
Overview, pros and cons, and profitable niches between Etsy vs Amazon Handmade.
The pricing structure of Etsy vs Amazon Handmade.
Main key differences within the Amazon Handmade vs Etsy system.
Which E-marketplace will be suitable for your business?
Let's get the ball rolling with LitCommerce!
---
Amazon Handmade vs Etsy – The Basics
What is Etsy?
Etsy was founded in 2005 with the goal of developing an online marketplace where shoppers could find one-of-a-kind and creative things at a reasonable price. One of the main reasons customers from all over the globe pick Etsy is because of its unique items. Most successful Etsy goods are one-of-a-kind, reflect buyers' sense of style, or celebrate special occasions. Also, it's super easy to get started with Etsy, with just a few clicks, you can get a new Etsy store up and running.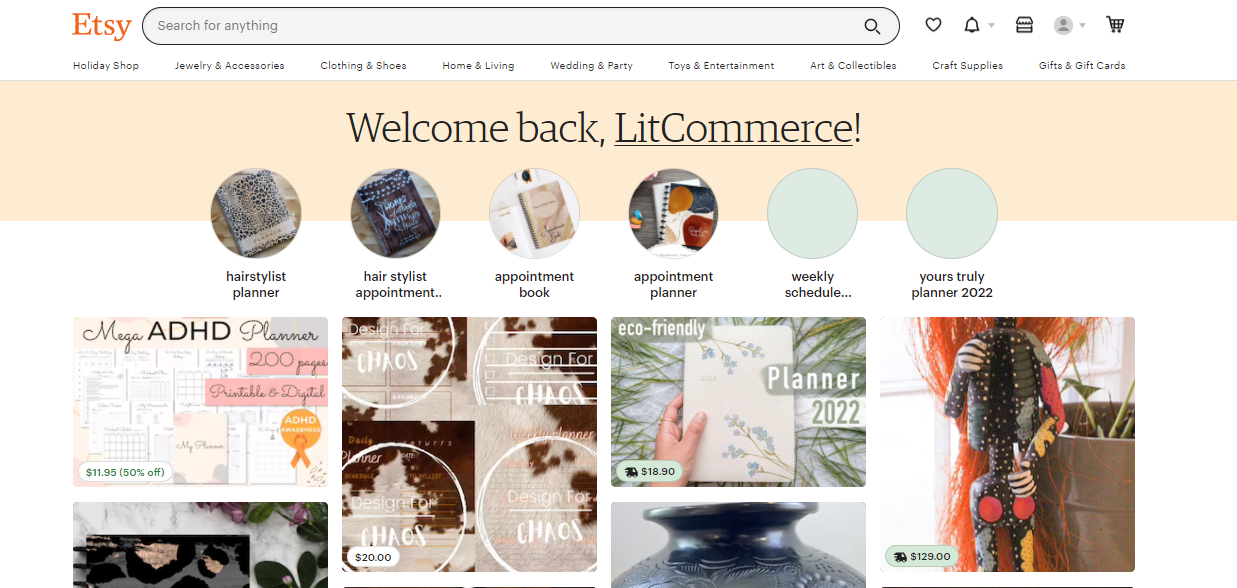 With 2.7 million sellers and nearly 50 million active buyers (according to an Etsy annual report 2020), Etsy shows itself as one of the ultimate places to shop for unique craft products.
Etsy: Pros & cons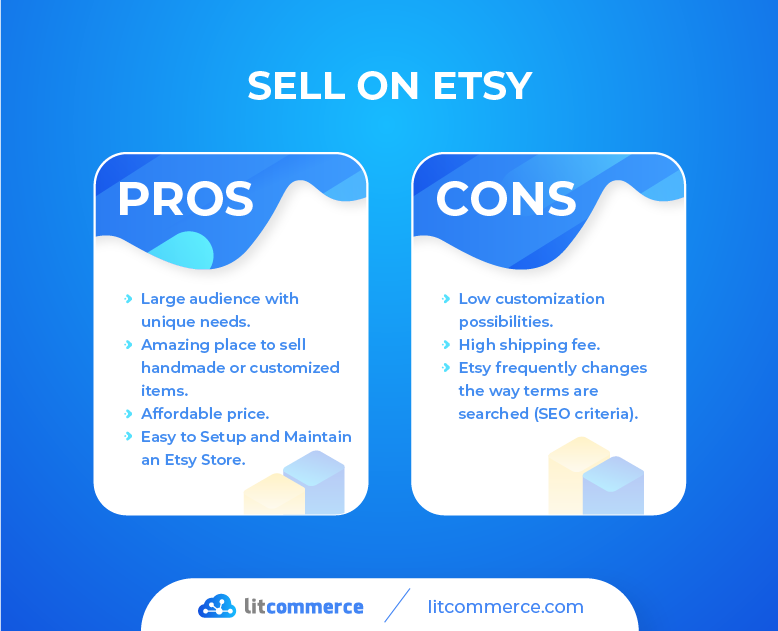 Pros:
Large Audience with unique needs.
Amazing place to sell handmade or customized items.
Affordable price.
Easy to Setup and Maintain an Etsy Store.
Cons: 
Low customization possibilities.
High shipping fee.
Etsy frequently changes the way terms are searched (SEO criteria).
What is Amazon Handmade?
Founded in 2015, Amazon Handmade is a sister microsite of Amazon.com that allows artisans to sell their products online. Inheriting the huge customer base of Amazon.com with over 300 million buyers, and approximately 2 million active sellers all over the world, Amazon Handmade can help your business reduce tons of effort finding new customers online.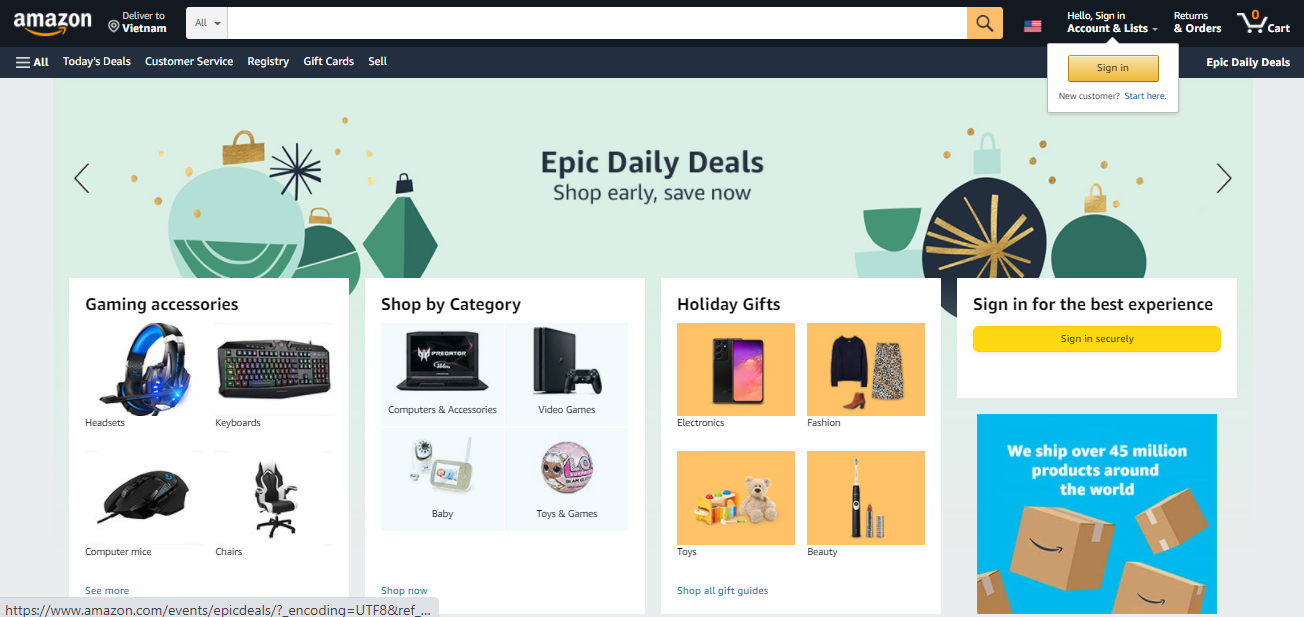 When a customer buys a product on Amazon Handmade, you can use the Amazon system to fulfill, deliver and support your customer as well. This way, Amazon ensures that you will get access to the insane traffic and potential customers of the biggest marketplace globally.
It's important that your item available on Amazon Handmade must be handmade, hand-altered, or hand-assembled. Also, mass production is not allowed. Moreover, in order to get a new store, you need to apply as a new artisan to the Handmade category of Amazon, so the customers are able to buy with confidence.
Amazon Handmade: Pros & cons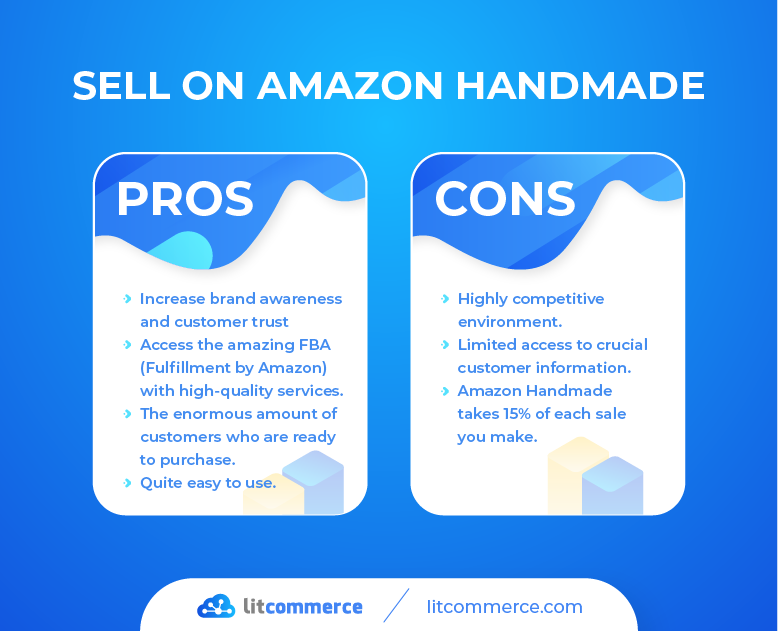 Pros:
Increase brand awareness and customer trust
Access the amazing FBA (Fulfillment by Amazon) with high-quality services.
The enormous amount of customers who are ready to purchase.
Quite easy to use.
Cons: 
Highly competitive environment.
Limited access to crucial customer information.
Amazon Handmade takes 15% from each sale you make.
---
Selling on Amazon Handmade vs Etsy – Key Differences
As you can see, each solution has its own strengths. Customers go to Etsy mostly to find a unique or handmade item for holidays, birthday presents, customized services, and so on. That's why merchants should choose Etsy if they intend to sell goods with high-level creativity at an affordable price. Additionally, it's much easier to list products on Etsy and start selling than on Amazon.
On the other hand, with such an enormous customer base and amazing selling, logistics, and customer care service, Amazon Handmade is really a high-quality market. However, it is quite a competitive market and requires a long-time investment as well as an effective branding strategy. Also, the process of opening a new store is quite complicated.
With that in mind, let's dig deeper into the detailed comparison of Etsy vs Amazon Handmade!
#1 – User base & Market share
According to Statista, Amazon is the number one solution with 2000 million visits monthly in the US, more than Etsy, eBay, Walmart, and Target combined. This is no surprise since Amazon is operating within multiple industries simultaneously while Etsy is all focused on the artisan marketplaces.
Even though Amazon's insane monthly traffic does not reflect targeted buyers looking for handmade items, it is still helpful in illustrating the relative sizes of Amazon. On the other hand, with more than 200 million visitors monthly, Etsy is in the top 4 leading E-marketplace in the US with the vast majority of buyers shopping for unique items and handmade goods.
Main Etsy customer base
In 2020, Etsy had 81.9 million active buyers, that's nearly double the total of the previous year, which amounts to an additional 35.55 million users. (according to the Etsy annual report). These buyers are defined as customers who have made at least 1 transaction in the past 12 months.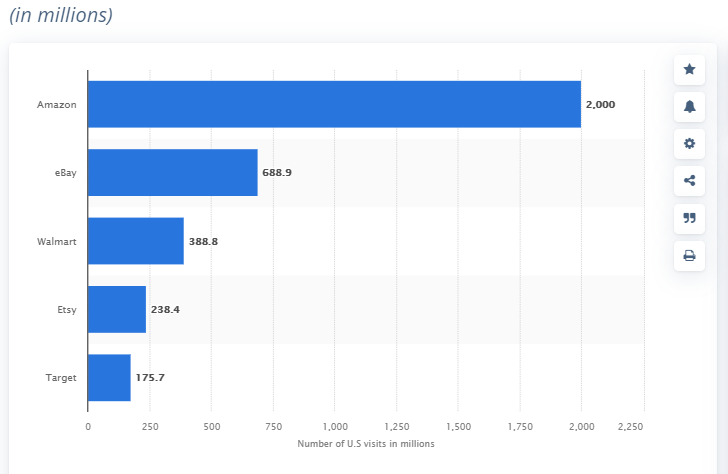 As you can see, 2020 is a big milestone for Etsy since more and more customers choose this marketplace to shop.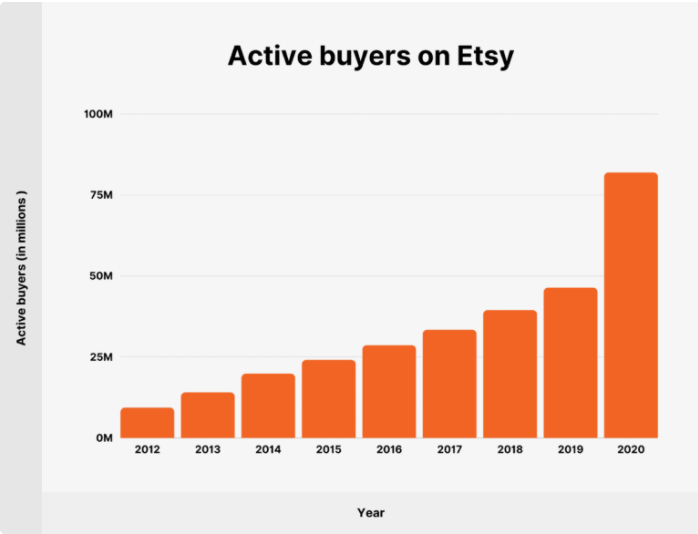 A quick view of Etsy's customer behavior:
According to an Etsy survey of more than 2,500 shoppers, most buyers say they come to Etsy to buy things for themselves, except for when they're shopping for gift-giving occasions like Mother's Day.
Customers are more likely to shop on Etsy during the holiday season, from October to December of 2020, Etsy has 13 million new shoppers – more than 76% compared to the same time in 2019.
Shopping volume on Etsy skyrocketed from October to December. Etsy reports $3.3 billion total spendings these days in 2020, that's a 118% increase compared to the same time in 2019.
The United States is still the number one market for Etsy, but The United Kingdom saw the strongest growth in 2020. This market sales increased 145% compared to the same time last year.
Main Amazon customer base
It is estimated that Amazon has over 300 million active users. In fact, 65% of the entire US population visited Amazon once per month to shop for products in 2020. Many of these people end up becoming customers. In 2019, 172 million people bought something on Amazon in the US.
According to Statista, Amazon was responsible for 50% of US eCommerce spending in 2021.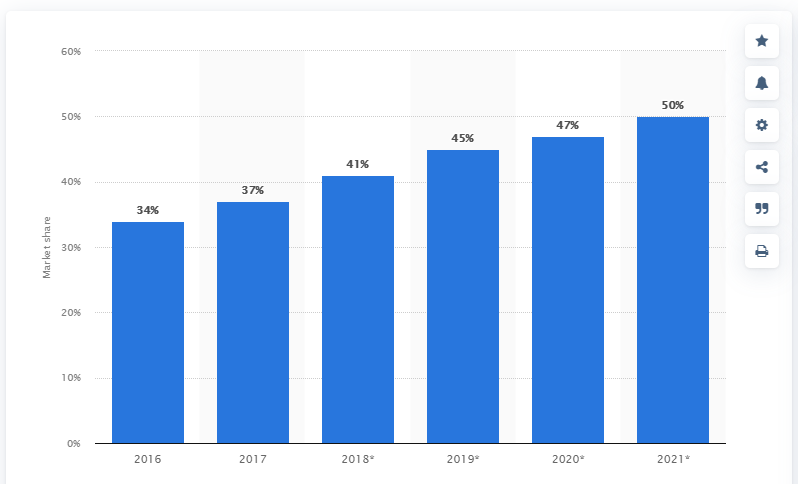 A quick view of Amazon's customer behavior:
Around 26% of Gen Zers are Amazon shoppers. Wealthy and tech-savvy American teenagers are the primary Amazon buyers on mobile devices and also one of the target customers of Amazon.
In the UK, nearly 90% of buyers purchase on Amazon. Along with the US, the UK takes up a big slice of the global market. According to Writersblocklive, almost everyone in the country has purchased an item from Amazon.
9 out of 10 consumers price check a product on Amazon. For buyers who purchased from Amazon before, this E-marketplace is the first place they turn to when searching for and comparing products. If they can find the product they are looking for on Amazon, they are much more likely to make a purchase there than with other online retailers.
Amazon has over 200 million Prime members. These are loyal customers of Amazon who not only shop on Amazon but agree to pay a monthly fee for exclusive benefits and faster shipping.
>>> The verdict: Amazon surely has a bigger market share when it comes to online selling than Etsy due to its massive scale and enormous customer base. However, not all Amazon's buyers aim to buy handmade items while on Etsy—most of the customers tend to look for something special.
#2 – Amazon Handmade fees vs Etsy
Pricing plays an important role when it comes to choosing a suitable marketplace when selling on Amazon Handmade vs Etsy. Indeed, lower seller fees mean you have more chances to price your products more competitively and have a better profit margin.
So how much does it cost to sell on Amazon Handmade vs Etsy? Let's find out!
Etsy fees
Etsy is famous for a low listing fee, only 20 cents per listing – that seems attractive to any seller who wants an E-marketplace with an affordable price.
However, the shipping cost of Etsy is 5% which is considered quite expensive. This will cause trouble if you're trying to sell with free shipping. That's why you need to create a flexible pricing strategy in order to get the best out of Etsy.
For more information, explore our detailed analysis to grab everything you need to know about Etsy seller fees.
The main cost of Etsy
Listing fee: Every time you create a new listing, you need to keep in mind that there will be two types of expenses you need to pay.
+ Auto-renew sold fees: 20 cents/ a new listing.
+ Multi-quantity listing fee: It will cost you 20 cents each time you sell an item on your listing.
Etsy transaction fee: 6.5% of the price of the item in your designated listing currency. Plus shipping and gift wrapping costs.
+ The fee will be automatically updated to your payment account.
+ You still need to pay 5% of the total shipping charges when charging for the separate shipping fee.
Etsy payment processing fee: The typical fee is 3% + $0.25 but it varies depending on your country.
Additional fees
Advertising cost: As an Etsy seller, you'll have Etsy Ads and Offsite Ads. However, Etsy only changes the Offsite Ads fee when the item results in a sale. The fee will be 15% of your revenue if it's more than $10k. Otherwise, you only need to pay 12%. (for 365 days)
Currency conversion: Etsy will take a 2.5% currency conversion fee for merchants who use Etsy Payments and use a different currency than your original payment account currency to list a product.
Pattern by Etsy fees: $15 for one month (30-day free trial available).
Subscription fees: Other than the free plan, you can also use Etsy Plus. This is an optional subscription service costing $10 per month.
Amazon Handmade fees
Unlike Etsy, Amazon Handmade doesn't charge listing fees and there's no expiry. However, it could be a big drawback since this marketplace's commission fee per sale is three times that of Etsy—15%.
Additionally, this fee (15%) can add up with some other fees (like FBA or shipping charges), which could make the overall fees on Amazon higher.
The main cost of Amazon Handmade
Amazon Handmade takes a 15% commission on each sale you made, plus a minimum $1 referral fee.
The additional cost of Amazon Handmade
With Amazon Handmade, the transaction fees are applied to shipping charges.
In order to sell on Amazon Handmade, you need to pay for the Professional selling plan which costs $39.99 per month. But it will be waived for approved applicants after the first month.
>>> The verdict: Etsy is the winner when it comes to pricing. It doesn't cost a penny to open a brand new Etsy store. The listing fee is also super cheap – just 20 cents. With Amazon, you need to invest at least $40 to open a new store and 15% of each sale you make.
---
#3 – Registration process
The very first step to getting ready to sell on the marketplace is opening a new store. Nevertheless, Etsy and Amazon Handmade have different processes when it comes to applying for a new store.
Etsy: Registration process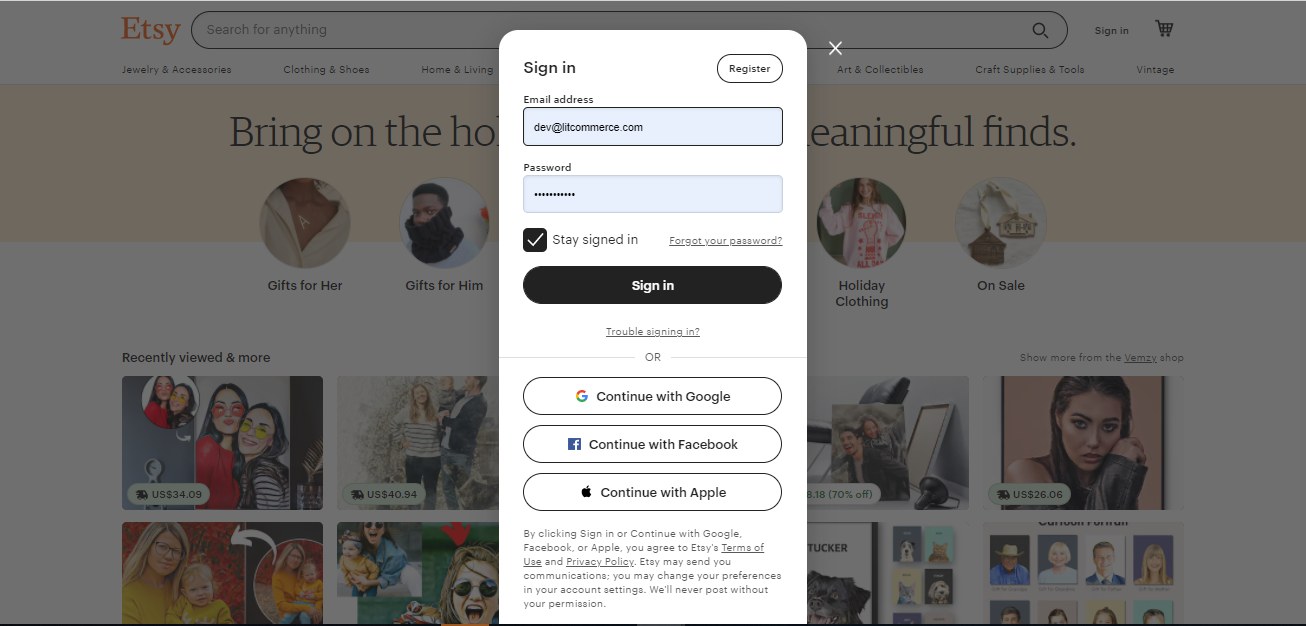 It's super easy to get a new Etsy store up and running. All you have to do is register for a new account on Etsy.com.
You can also use a Facebook or Google account to log in. Once the process is completed, you can go ahead and start creating your online store with a few simple steps:
#Step 1: Set up your Etsy shop's preferences.
#Step 2: Name your Etsy store and get a new banner.
#Step 3: Creating and publishing a new listing.
#Step 4: Set up your payment methods and billing information.
Check out 10 steps to start selling on Etsy for more detailed instructions to set up your Etsy store.
Amazon Handmade: Registration process
Unlike Etsy, Amazon has a whole application process for anyone who wants to open a new store on their platform. These applications must be properly audited and authorized by a person as part of Amazon's high-quality standards. It might take weeks or even months to complete.
Additionally, Amazon only allows selling products within 14 categories and your products must be created by yourself or you have a team of fewer than 20 people working for you.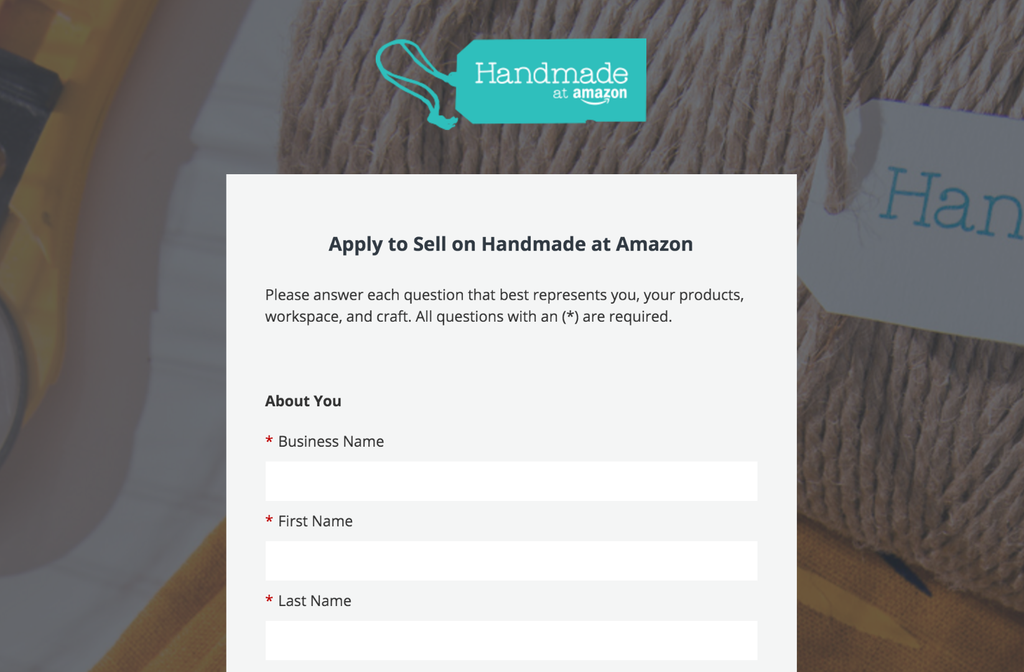 #Step 1: Create a Seller Central account and complete registration.
#Step 2: Apply now to become an Artisan.
#Step 3: Create Your "Artisan Profile".
#Step 4: Setting Up Your Shipping methods.
#Step 5: List your products online and start selling with Amazon Handmade.
>>> The verdict: It's much easier to open a new Etsy store compared to Amazon handmade – the registration process might take weeks or even months
---
#4 – Inventory management
Etsy: Inventory management
Etsy brings you an easy-to-use and feature-rich management system. From the main dashboard, you can navigate throughout your store with just some simple clicks. Accessing the Etsy inventory management or listing management by going to Listings right from the dashboard. Here, you can filter listings by expiration date, status, or channel.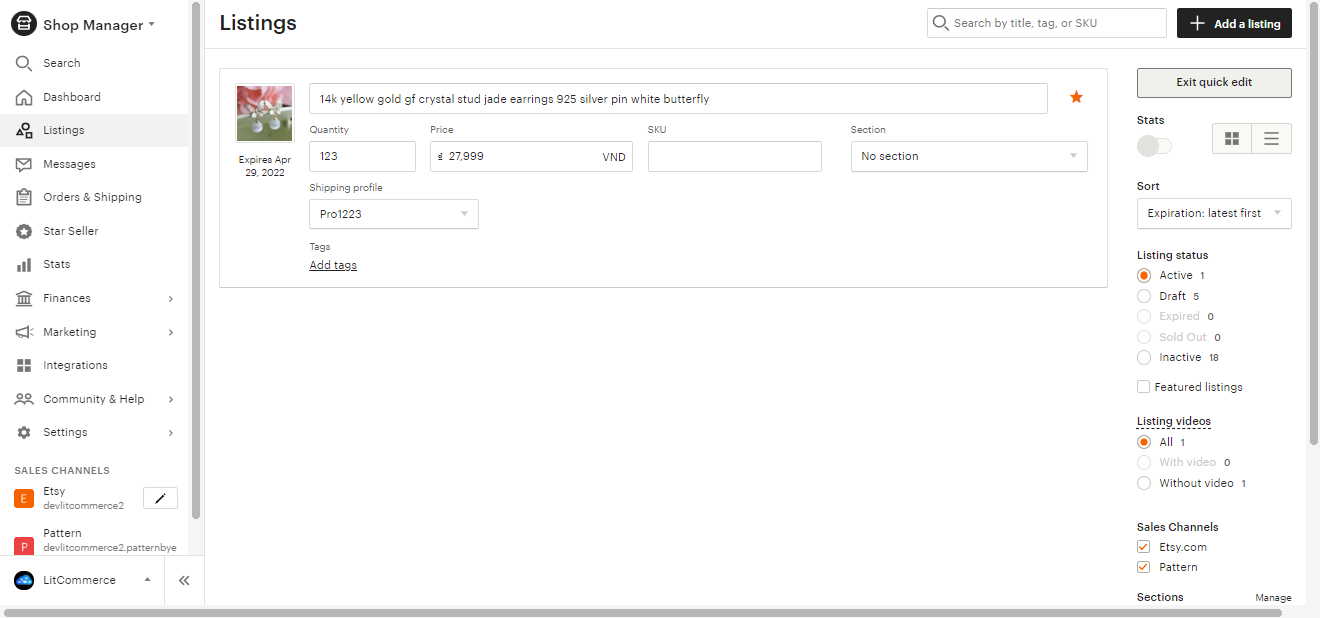 The system also allows you to quickly edit your listings right here using the Quick Edit mode.  From quantity, price, SKUs, section to shipping and tag as well, in case you need further modifications, just click on the listing and start editing.
Moreover, you can add new listings directly from the inventory management center. From adding product photos, listing details, inventory, and pricing to applying templates for the listing. After that, simply click publish and your listing will be live.
Amazon Handmade: Inventory management
Just like other Amazon sellers, you will have your own inventory management system at Seller Central. You can easily create a new product, add a new listing, bulk list and add a template for your store. For a newly registered seller, it might take 90 minutes or more after registering in order to list products for sale on Amazon.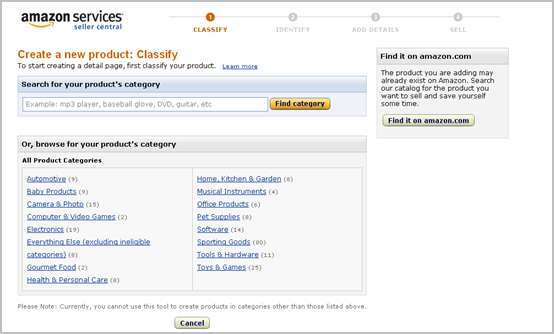 Moreover, you can import/export products to your new listing by using the files in Excel and using them to list and add products. Since each type of product has different detailed information, Amazon will provide a unique template for each product category.
>>> The verdict: Amazon offers a better inventory management system since you can create products, listing, export, and import CSV files into the system. On the other hand, the Etsy inventory management system is simpler and easy to use.
---
#5 – Shipping & Order fulfillment
Both Etsy and Amazon offer amazing features for sellers when it comes to shipping and order fulfillment.
Etsy: Shipping & Order fulfillment
With Etsy, the seller is the one responsible for fulfilling and shipping their order. However, Etsy also brings great support on this. They partner with the United States Postal Service, FedEx, and Canada Post to help speed up the process as well as cut down unnecessary expenses.
When you use Etsy Shipping Labels to design your labels directly on the site, you may save up to 30% on shipping. Etsy will immediately identify your order as delivered after you've purchased your label.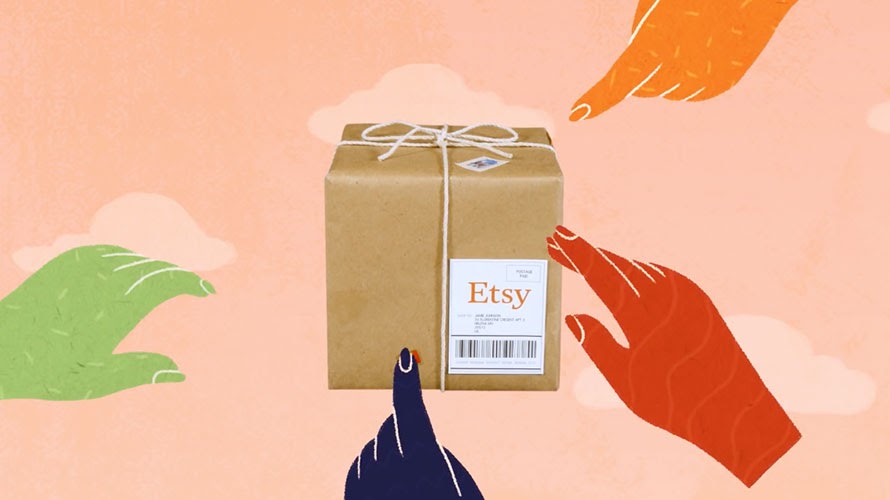 Additionally, you don't need to always stick with this service. Since most sellers do not offer free shipping here unless customers hit a price threshold, you can freely choose a separate fulfillment service that may be more beneficial for you.
Amazon Handmade: Shipping & Order fulfillment
Fulfillment by Amazon is a service offered by Amazon as a means for third-party sellers not only to automate their order fulfillment but also update the shipping services. It's a pretty simple concept: Sellers sell, Amazon ships.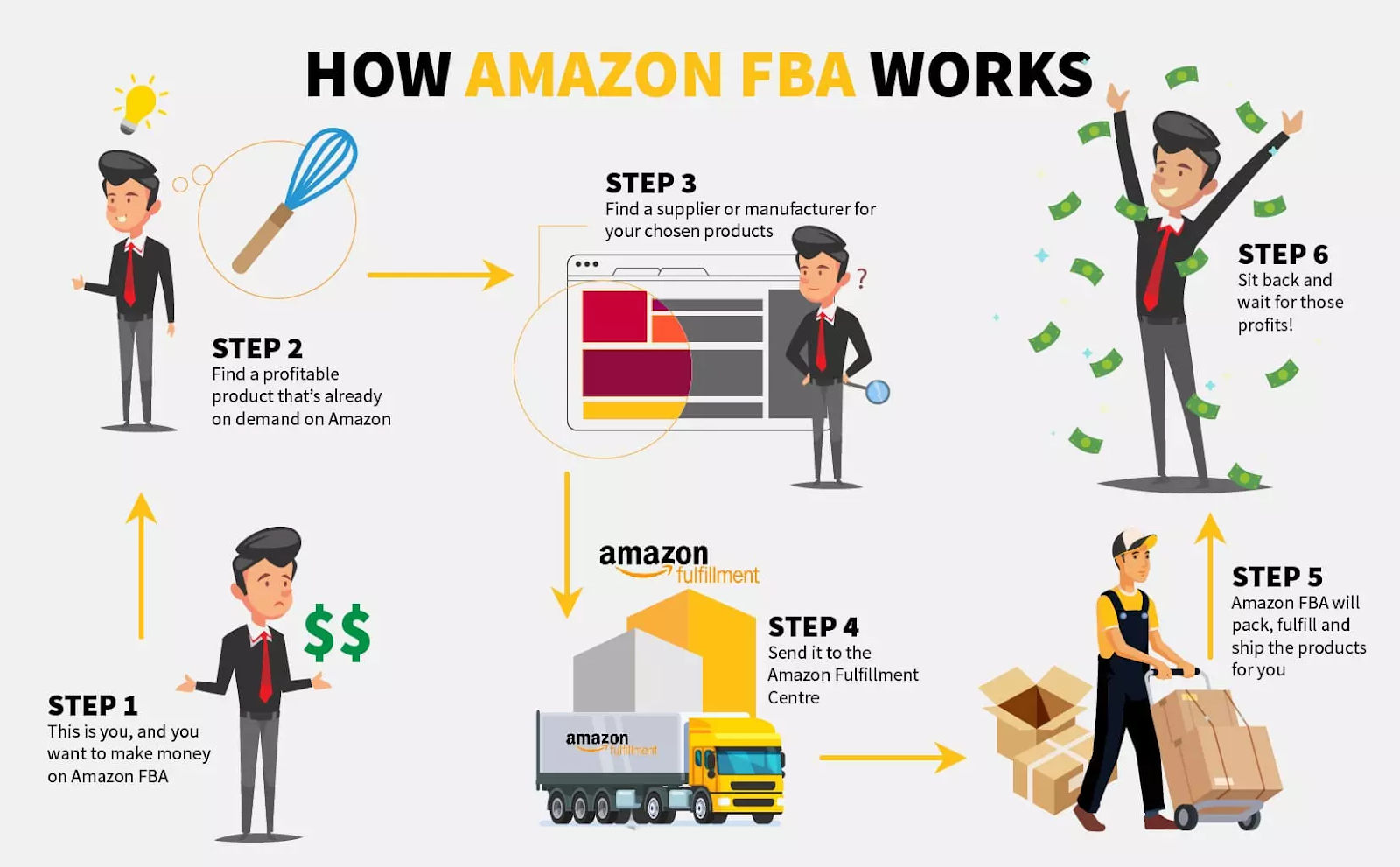 With Amazon Handmade, sellers can also choose to use Amazon FBA for shipping and fulfillment of their orders—from packing, product warehousing in Amazon's warehouses, returns, and refunds to customer care. All you need to do is focus on selling, Amazon FBA can take care of the rest.
However, using Amazon FBA also means you will be less likely to be involved with your customer since Amazon will take care of the customer feedback or resolve difficulties. At the end of the day, you sacrifice a bit of control over your customer conversation in exchange for a better customer experience.
>>> The verdict: With the excellent quality of Amazon FBA, Amazon Handmade surely is the winner. However, Etsy also offers good shipping service too.
---
#6 – Advertising & Marketing
Etsy: Advertising & Marketing
There are two kinds of Ads on Etsy including Onsite and Offsite Ads. With Etsy's Onsite ad, the search result will show up primarily among the organic search results on Etsy.com.
In your Etsy dashboard, you can manage your onsite ads under 'Marketing' and 'Etsy Ads.' There are only a few things you have control over. You can turn it on and off, change your budget, and select which listings to promote. It is optional and can be started and stopped at any moment. You'll pay for an onsite Etsy ad when shoppers click on your Etsy listing ads (Cost per click).
Etsy only changes the Offsite Ads cost when an item sells. In addition, the cost will be 15% of your yearly revenue in excess of $10,000. Otherwise, you simply need to pay 12%.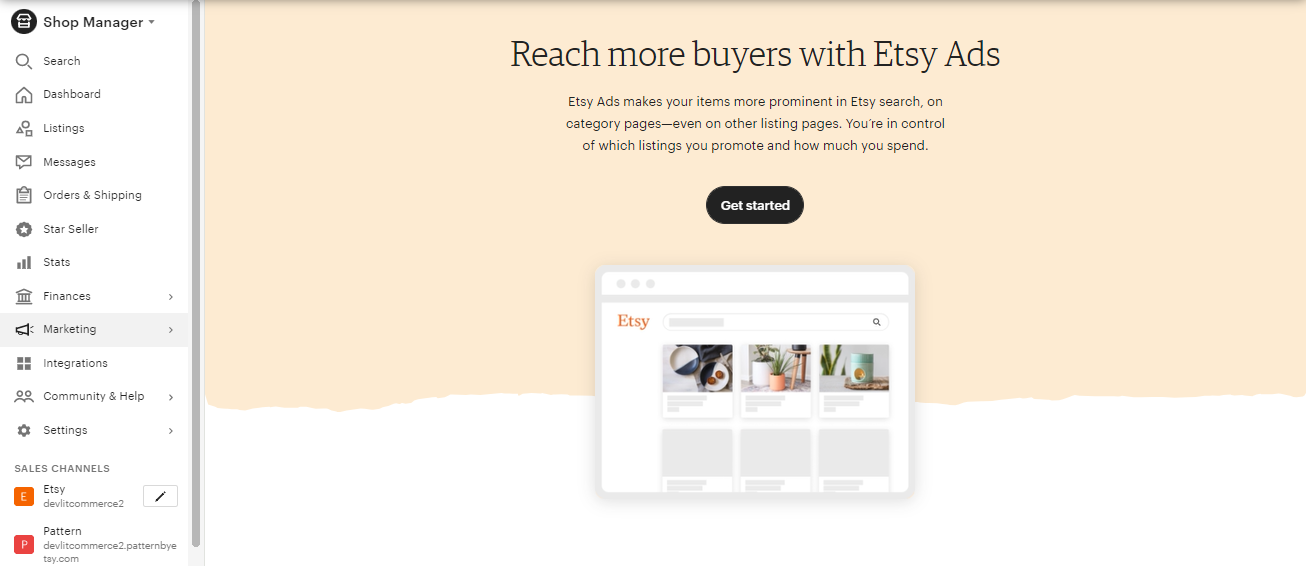 Amazon Handmade: Advertising & Marketing
Simply put, advertising on Amazon is much like Google Ads. When you type in a keyword in the Amazon search box and results appear, some of the top results will be sponsored posts. You may also enable Amazon to display your ads outside of the platform, allowing you to attract visitors from other parts of the internet. You'll only pay when someone clicks on your ad, just as with social media. You may also create your own budget and track indicators that are essential to you.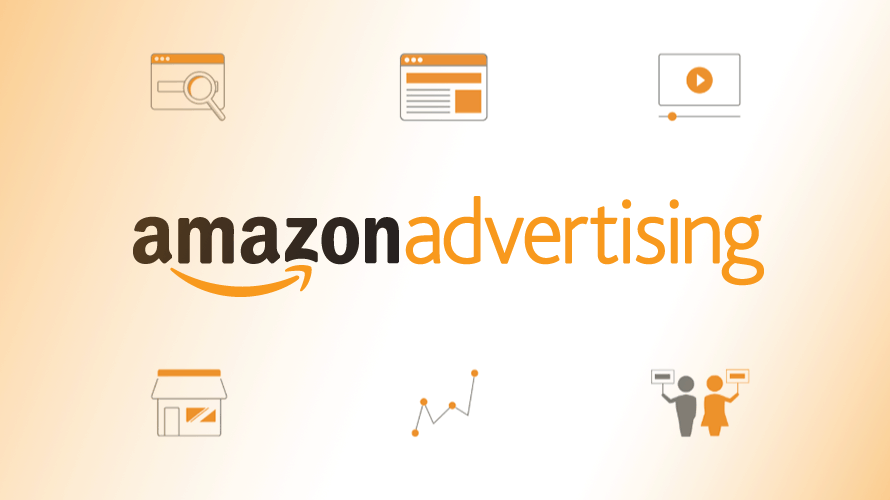 By bidding on specific keywords, which will bring customers more chances to see your product in the Amazon SERPs. Amazon will then be charged when a shopper clicks on their ad. You can essentially see Amazon's advertising platform just like the Amazon version of Google Ads.
Other than Sponsored Ads, you can also run display Ads or video ads as well.
>>> The verdict: It's a tide. Both platforms offer amazing tools for merchants like you to create profitable Ads campaign
---
# 7 – Customer support
Etsy: Customer support
Customer support is one of the main priorities of this E-marketplace. You can reach the support team by email, live chat, or phone and get help instantly.

Also, Etsy provides users with an amazing help center (knowledge base) and a forum where you can find millions of merchants just like you. Find the answers to your common questions at the Etsy help center or get into the Etsy community to find sellers with the same problems as yours.
Amazon Handmade: Customer support
Just like Etsy, you can contact the Amazon support team by phone, email, or live chat. Just go to Amazon.com and click Customer Service on the main menu bar.
Also, the knowledge base with thousands of topics and a forum from Amazon will help you to meet and discuss your difficulties with millions of other sellers just like you.
>>> The verdict: Amazon handmade is a bit better when it comes to customer support since Amazon always takes good care of the customer from the very first moment.
---
Amazon Handmade vs Etsy – FAQs
What products can I sell on Amazon Handmade?
With Amazon Handmade, you have 14 categories including Accessories, Artwork, Baby, Beauty & Personal Care, Clothing, Shoes & Handbags, Home, Outdoor & Home Care, Jewelry & Watches, Kitchen & Dining, Pet Supplies, Sporting Goods, Stationery & Party Supplies and Toys & Games. If you don't see your category listed, this means we do not allow the sale of those items in the Handmade store.
Does it cost more to sell on Etsy or Amazon Handmade?
Etsy is the cheaper option. Although Amazon Handmade offers free item listings with no expiry, its commission fee per sale is three times that of Etsy's.
Is it hard to get approved for Amazon handmade?
In order to get a new Amazon handmade store up and running, you must be approved by the Amazon team. It's quite simple if you meet all the criteria of Amazon. However, the process might take weeks or even months to complete
Can I link my Etsy store to my Amazon Handmade webstore?
Quick answer, Yes. It's possible to connect Etsy and Amazon Handmade to a central platform and sell on both platforms at the same time. Also, you can manage inventory, orders, customers and much more in one dashboard. In case you already have an online store, you can easily integrate with Etsy or Amazon Handmade or both of them with the help of the central platform.
Can I sell handmade jewelry on Amazon?
Yes. Jewelry & Watches are one of the allowed categories on Amazon Handmade. However, you need to be approved to become an Artisan first.
Amazon Handmade vs Etsy – Increase your Sales with Etsy Amazon Integration
Apparently, both Etsy and Amazon have their own strengths and weaknesses. Instead of choosing one of them for your business, you can use both solutions for your store by using a multichannel selling tool like LitCommerce.
Connect both Amazon and Etsy to a central dashboard and manage everything in just one place – That is what LitCommerce can do. You can easily broaden your customer base and boost your sales when connecting the two marketplaces into your store.
If you need more information, just leave us a message, our support team will be happy to help!
Also, join our community for more exciting eCommerce news and tips!
Good luck!