Are you a seller looking for a way to improve your sales revenue and an effective business strategy? Or are you a buyer who is fed up with searching for days to find gift ideas? If any of this sounds like you, the Amazon wish list comes in handy. But, how does Amazon wish list work?
Stay tuned, more Amazon secrets are revealed below! LitCommerce will uncover all of your questions including:
Let's get the ball rolling!
---
What is Amazon Wish List?
First thing first, the idea of the Amazon wish list bounced around in 1999 to help buyers to find an easy way to save a list of things they want to buy later, or they want others to buy.  By using an Amazon wish list, people can eliminate the chance of buying things that the giftee doesn't use at all.
The Amazon wish list today offers shoppers a hassle-free way of building shopping lists that serves 2 main purposes:
When you come across something that you like or want on Amazon, but you don't have any intentions to buy them immediately, you can add them to the Amazon wish list for later purchase.
When you want to send your list to your family members or friends aiming to buy you gifts based on your preference, you can use the gift registry option of the Amazon wish list.
Not only does Amazon wish list bring buyers benefits, but it also gives sellers great insights into what their customers are looking for. As a result, sellers can come up with the proper marketing strategies for their target customers.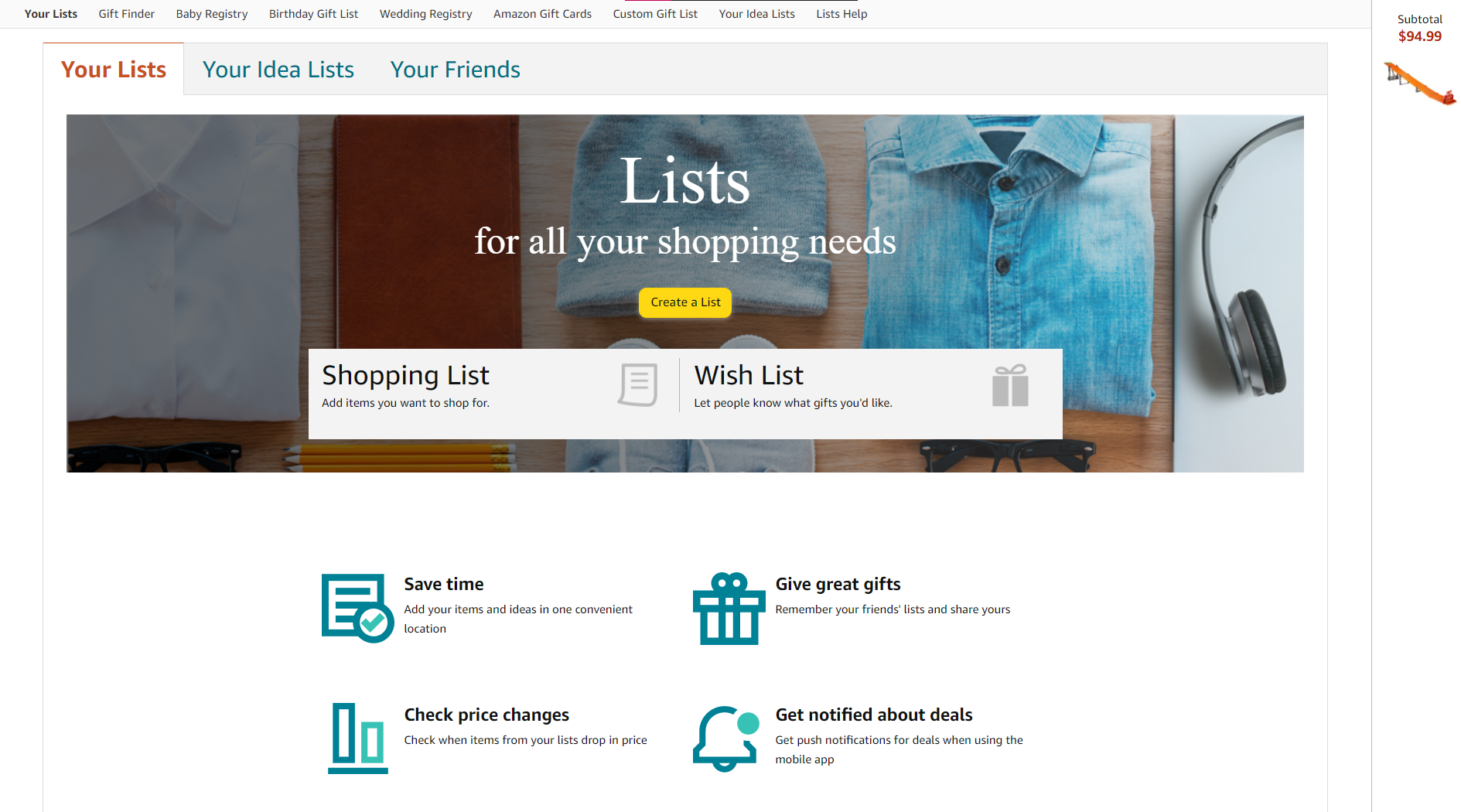 ---
How Does Amazon Wish List Work?
When you are browsing a product on Amazon, it will appear a variety of options with different prices, and some items may catch your eye. In that case, you can click on the Add to list button to move those products to your wish list if you don't want to buy right away.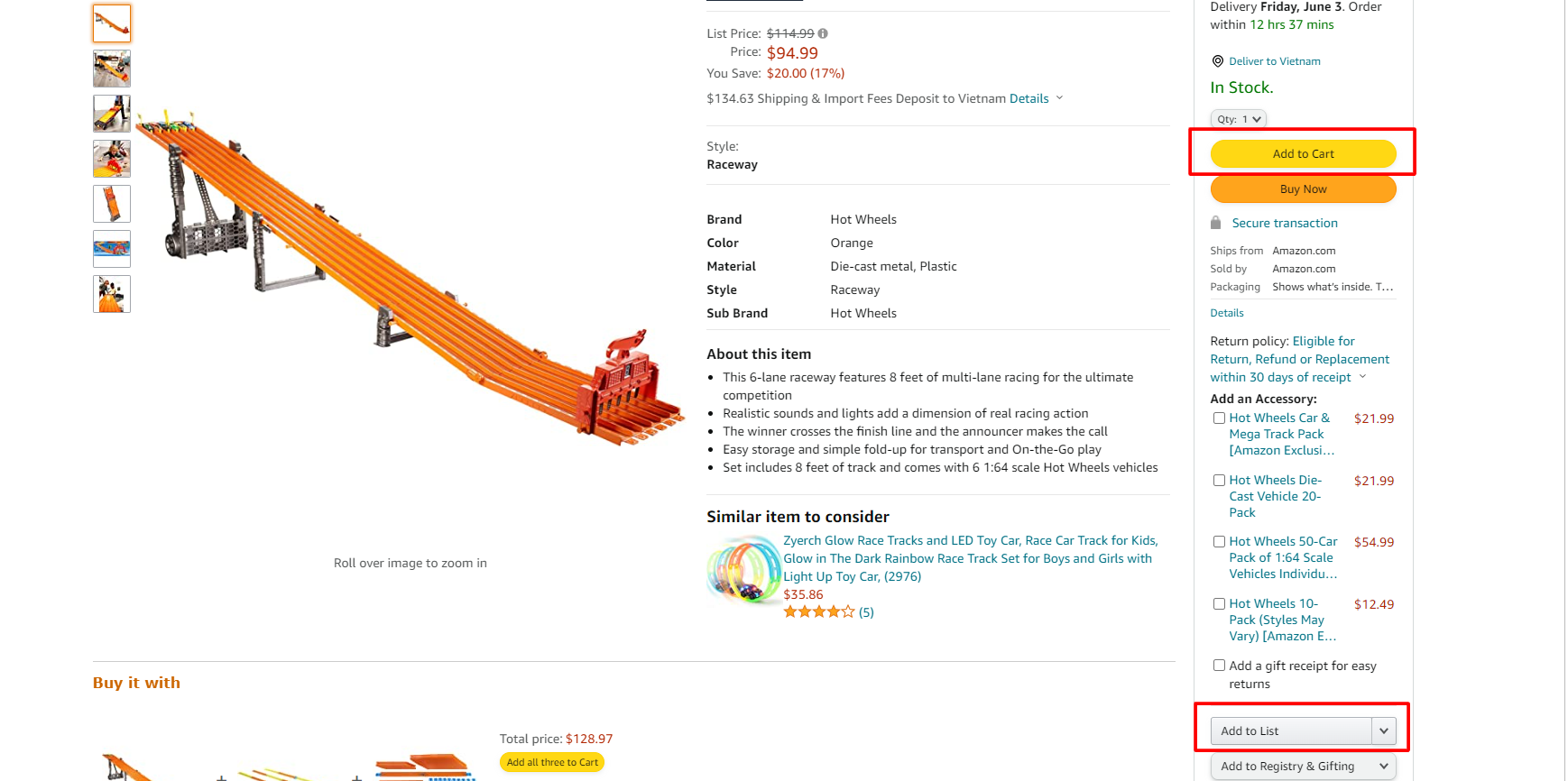 Remember to note that, you can create as many lists as you want and add your items to a suitable list from the drop-down menu.
You can access the Amazon wish list page directly from the Amazon homepage. On the top right corner, click on the Account & Lists, then choose the Wish list at the Your lists section. All your saved items will appear immediately.

By using the Amazon wish list, you can quickly manage your items like moving to a different list or delete the item you don't want anymore.
That's how easy it is to use the Amazon wish list to enjoy your shopping journey. Keep scrolling down, more Amazon wish list secrets are revealed below, let's find out how Amazon wish list benefits both sellers and buyers.
---
How Does the Amazon Wish List Benefit Sellers?
You might wonder how this wish list can help you, Amazon merchants can utilize it as a valuable asset for customer analysis, product research, and much more. Here's how:
#1. Product research 
You can browse Amazon's lists to find niche product ideas by searching the keyword "Amazon Most Wished for". This is a handy tool that helps you find products that are most wanted and being searched for on Amazon.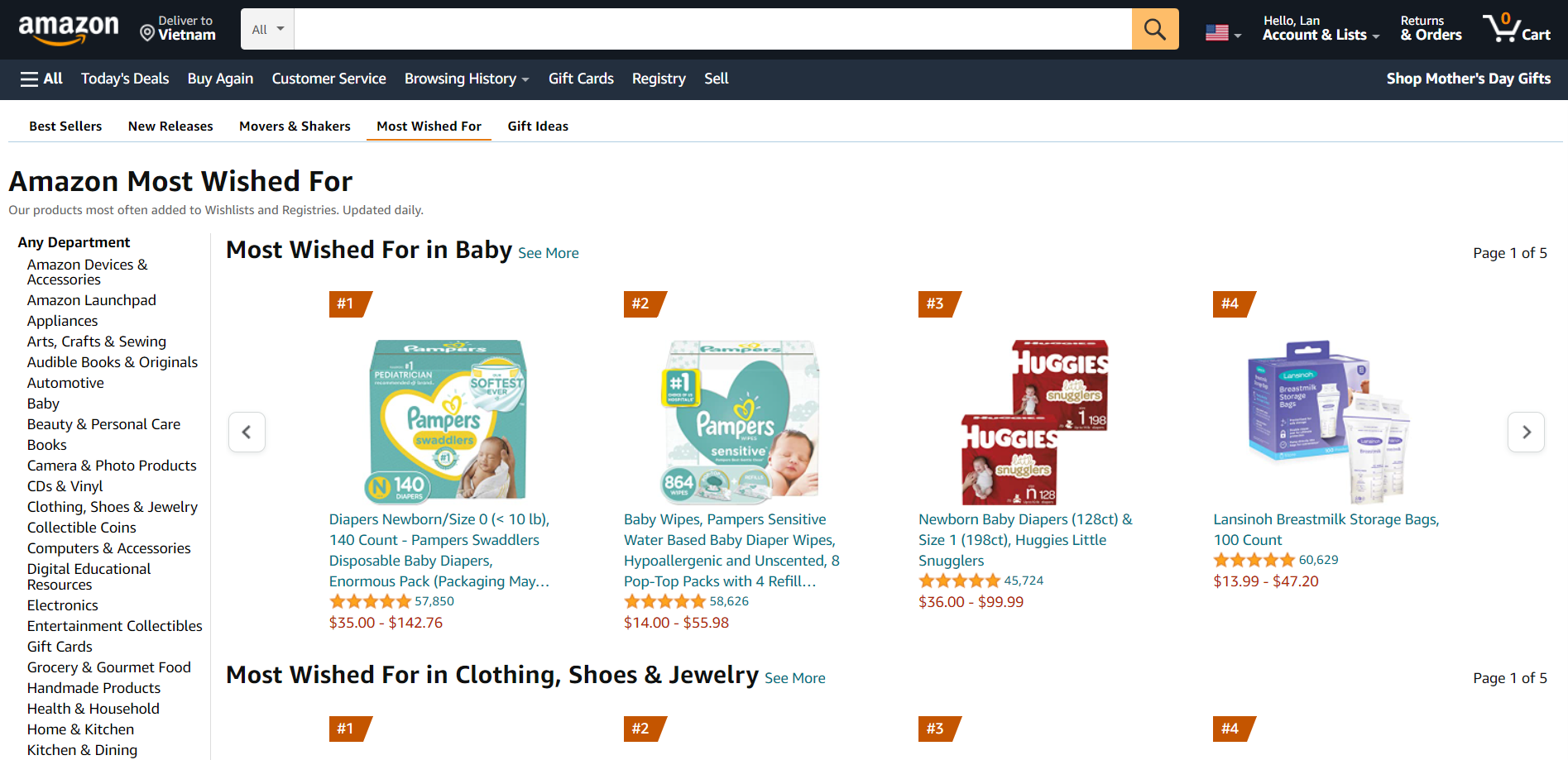 #2. Instant notifications
One of the leading factors influencing a consumer's buying decision is the price. As some customers might be hesitant due to high prices, notifications of price reduction, discounts or holiday coupons might entice them to purchase straight away. The above shopping behavior can be easily explained by the following phenomenon. When your customers are able to save some money, they experience a rise in oxytocin levels, which makes them irresistible to say no to your offers.
#3. Product ideas 
Some sellers take advantage of this Amazon wish list as a useful tool to find things to sell. By clicking on it, sellers can see the top trending products on Amazon. And so forth, you can decide what you should sell by thoroughly analyzing the cost and attributes of these items.
#4. Customer analysis
Apart from Amazon A+ Content and such to level up your store, Amazon wish list can also be used as an effective tool for customer analysis.
You can use several types of online games or some terrific contests on social media to trigger your potential customers to share and participate. Additionally, you can encourage customers to share and discuss by making polls of how people think about your products. In the meantime, don't forget to check for KPIs such as eCPM, conversion, engagement, etc.
This, in turn, is a great way to understand your customers' needs to promote and improve your products quality.
---
How is Amazon Wish List Useful for Buyers?
It goes without saying that Amazon wishlist is time-saving and handy. As long as you make your list public, Amazon can help:
#1. Create a wishlist
You can easily save every Amazon product that you desire to buy in the future as it provides a useful reminder of the items.
#2. Send gifts & save money
Moreover, you can leverage this Amazon list ideas to find the gifts that are actually wanted, instead of wasting money on undesired ones.
#3. Receive updates
If there are any changes in terms of price or product availability status, you can get the most updated news about them. Consequently, it helps to save money on your purchases.
#4. Make money
Lastly, you can totally add affiliate products to your Amazon wish list and promote them on your social channels. When someone searches for a product and click on your saved items, you can earn a piece of the profit from each purchase they make.
---
How to Create an Amazon Wish List?
The procedure is easy as a pie, with only four steps. Let's take a look:
#1: Log in to your personal Amazon account and choose Accounts & Lists at the top of the right corner.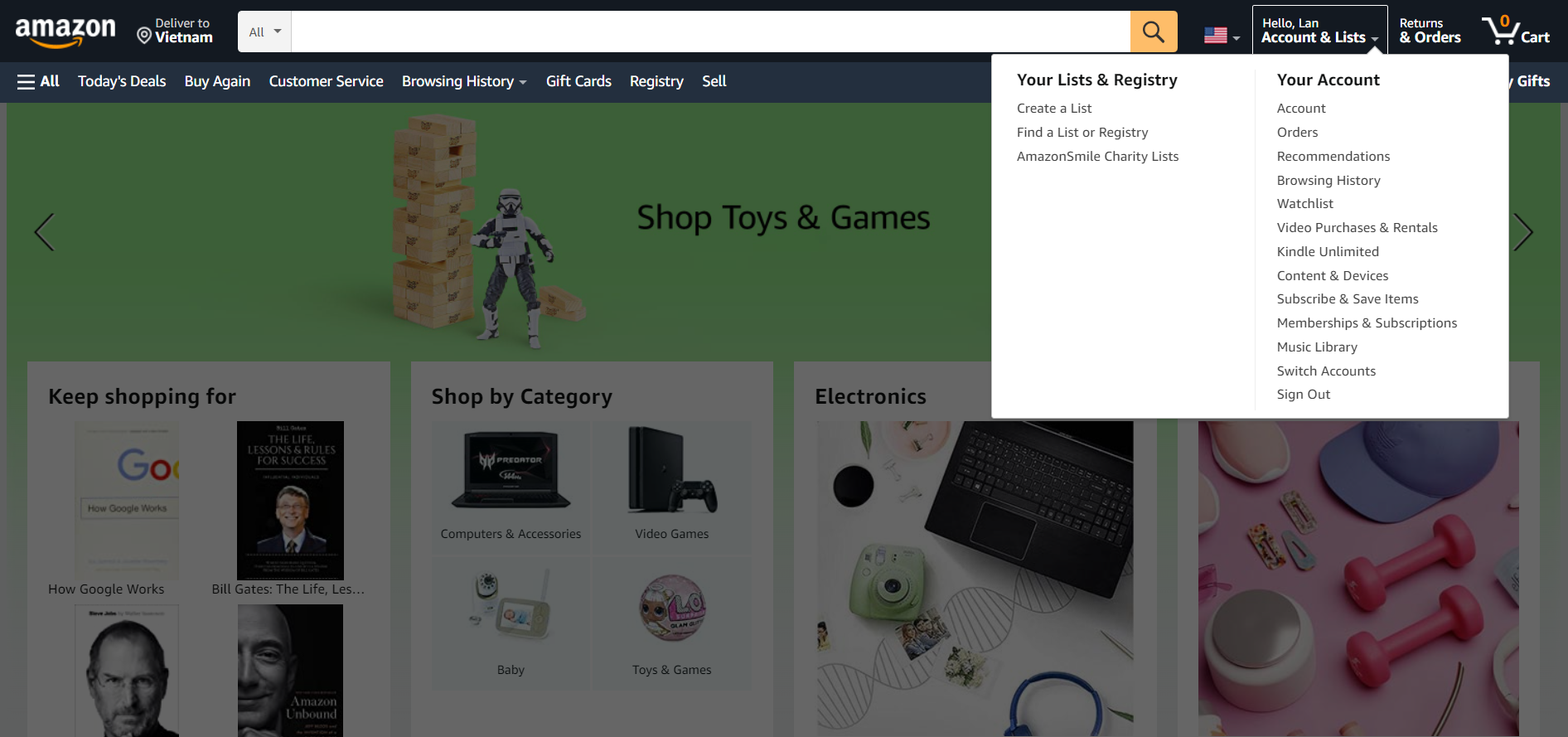 #2: Below Your Lists section, click on Create a List button.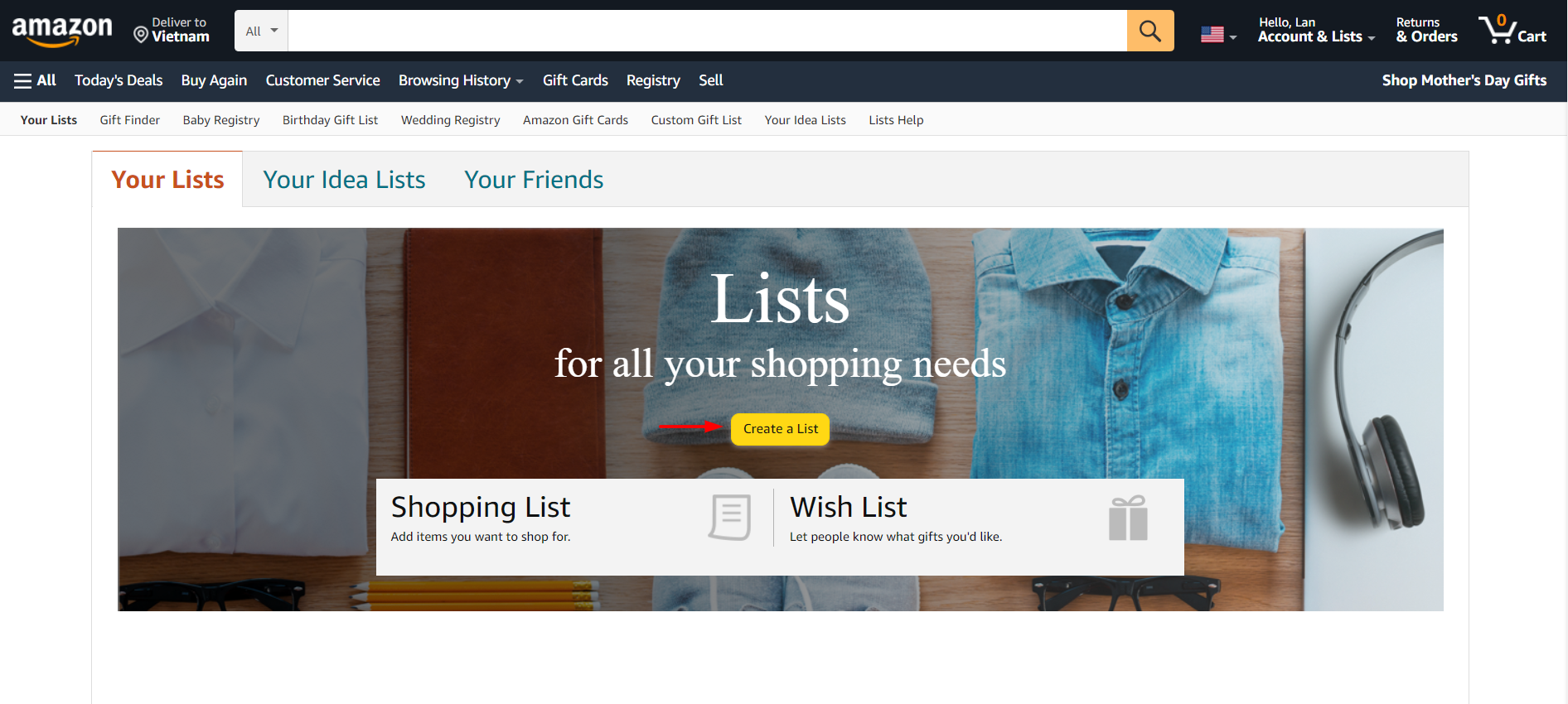 #3: Type in your List Name to create a list.
Note: all lists are private unless you share them with others or set them public.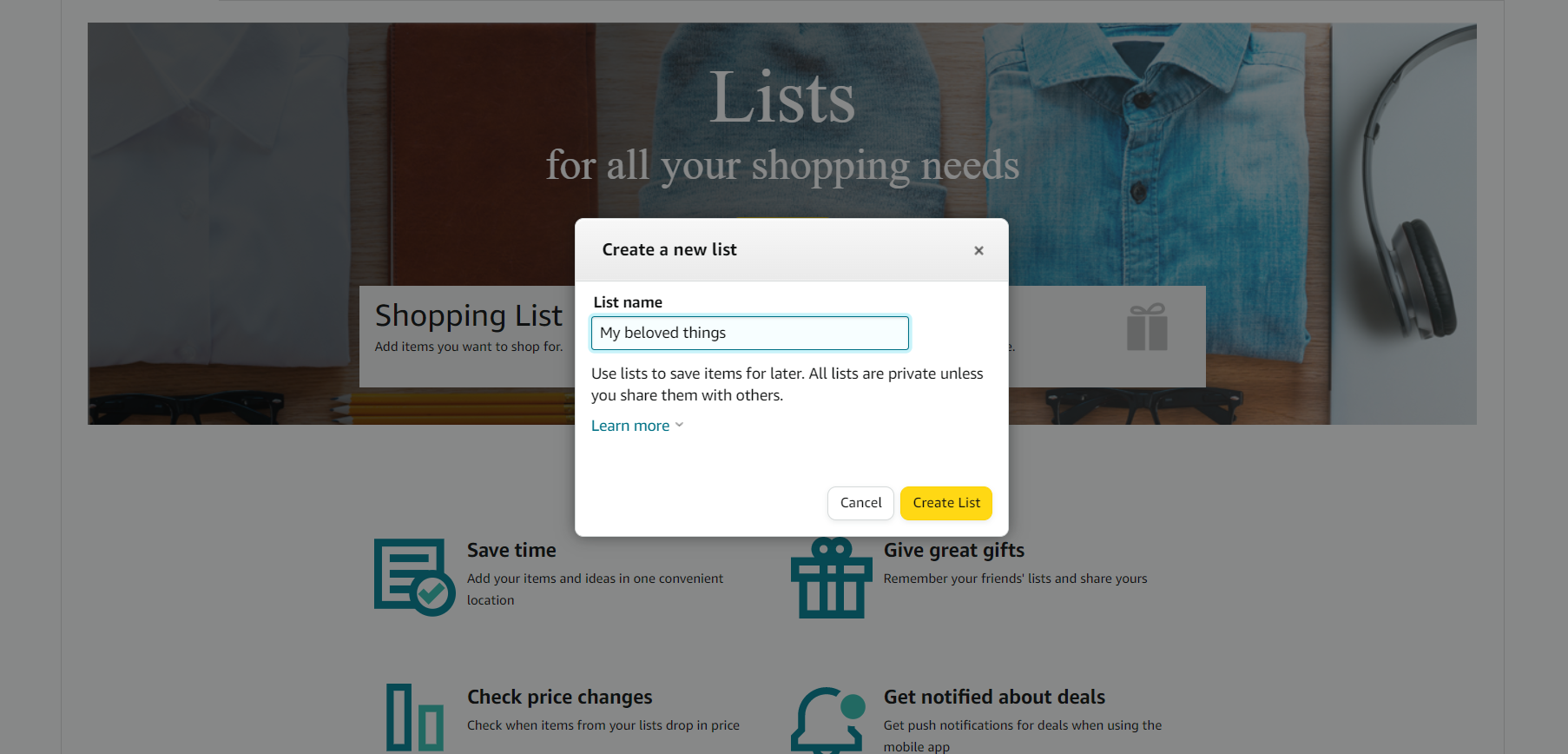 #4: Choose any items that you want to buy when shopping on Amazon. If any item catches your eyes but you still don't want to buy immediately, click on Add to List in the Buy box on the right side of any item's product detail page.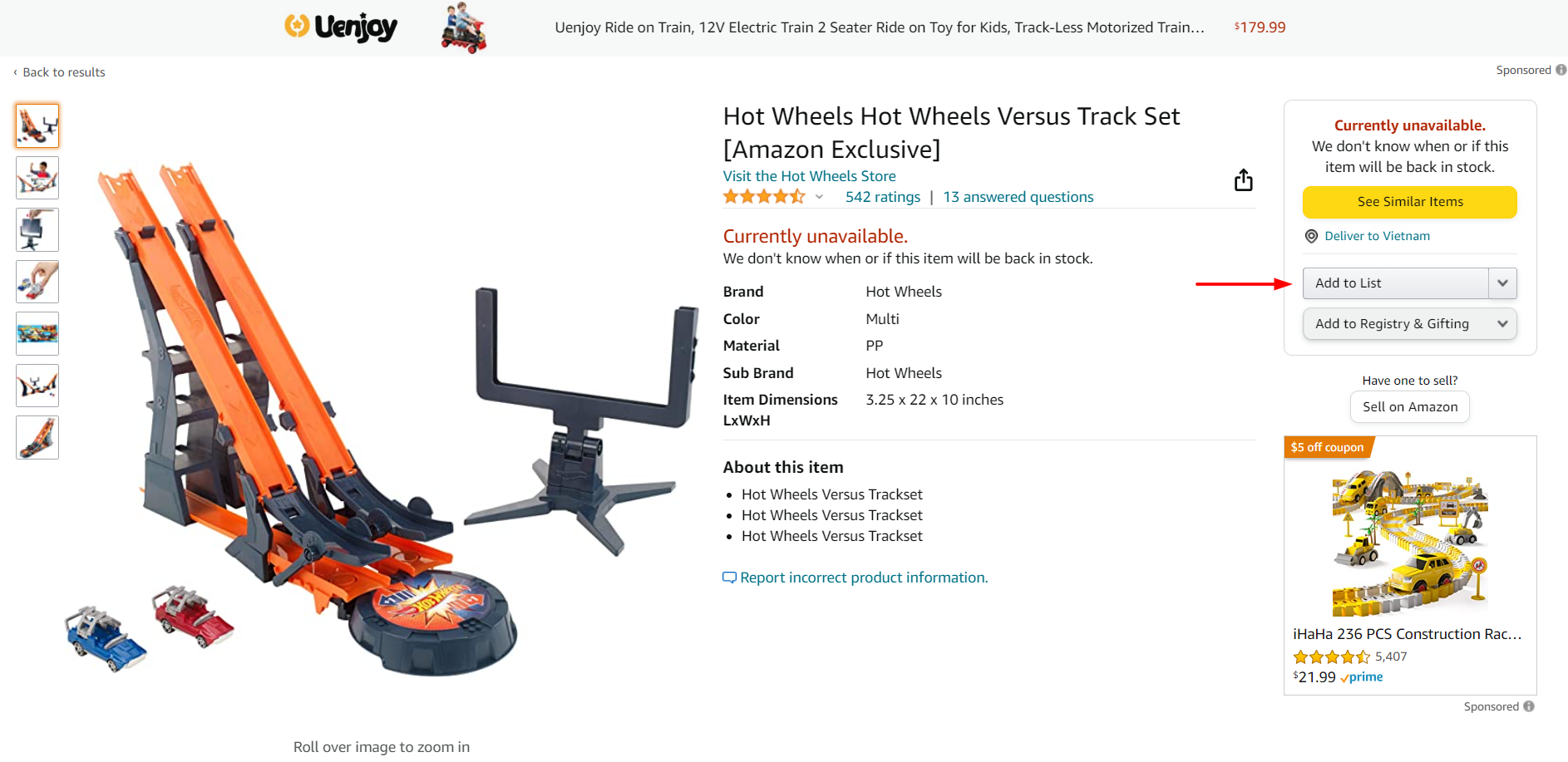 Congrats, you are all ready! Start adding more items to your Amazon Wish List but remember to exclude:
Out-of-stock items
Out-of-print books
Items with no release dates
Items with quantity limitations
Phones with service plans
Notably, you can add products from other sellers to your Amazon wish list. All you need to do is click on See Buying Options. Only list owners can change any information on the list at any time. Gift givers can see the name, city, and state of the list's owner's address.
---
How to Manage an Amazon Wish List?
Be aware of some settings when you apply to your wish lists. Follow these steps to customize your Amazon lists:
#1: Select the list you want to customize.
#2: Click on More on the right side, then choose Manage list. Now, you will have numerous options to select.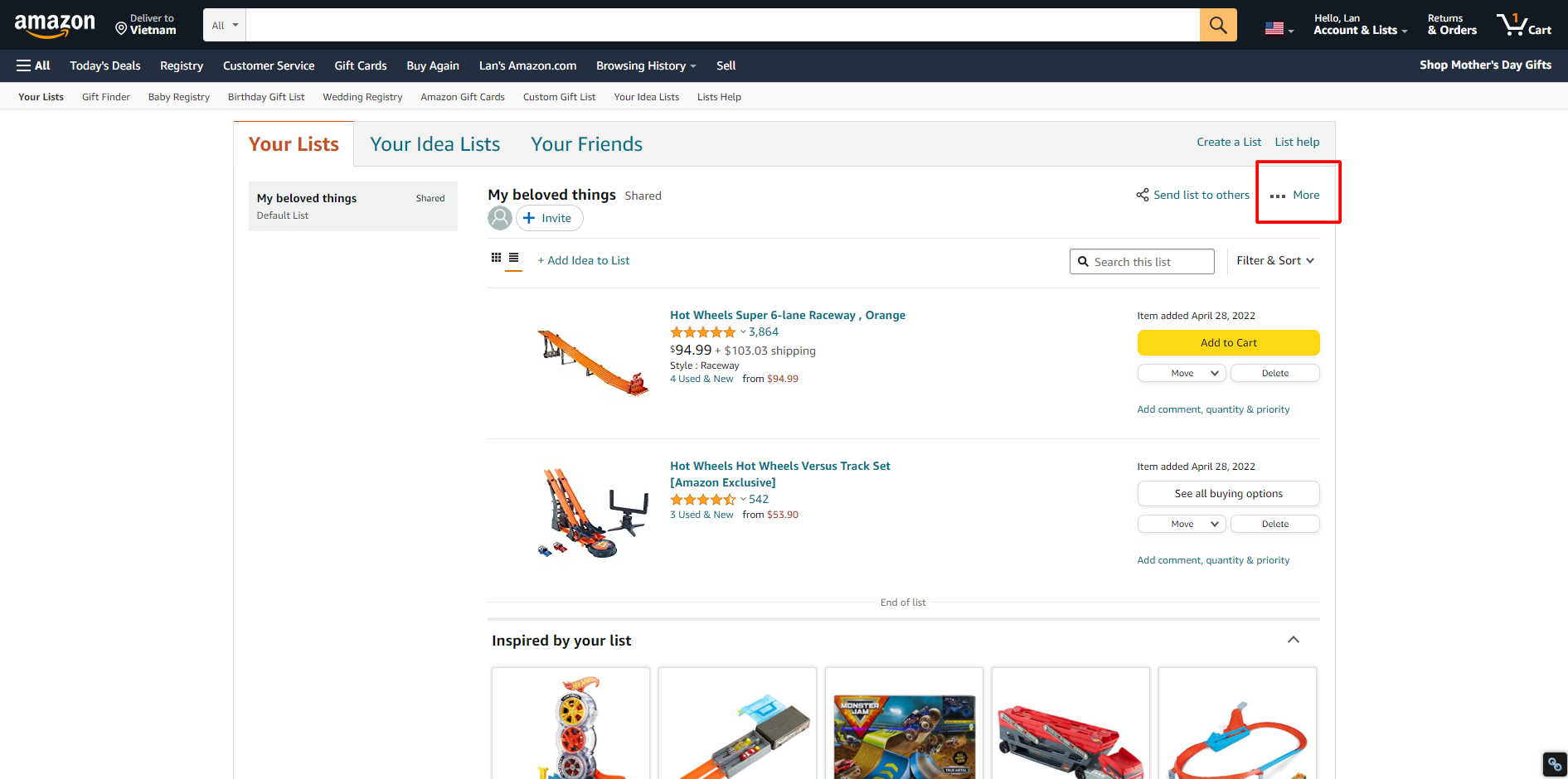 #3: You now are able to change your privacy settings, name, email address, shipping address, birthday, website, and so on. Next, in the description box, type in whatever you want the recipients to see.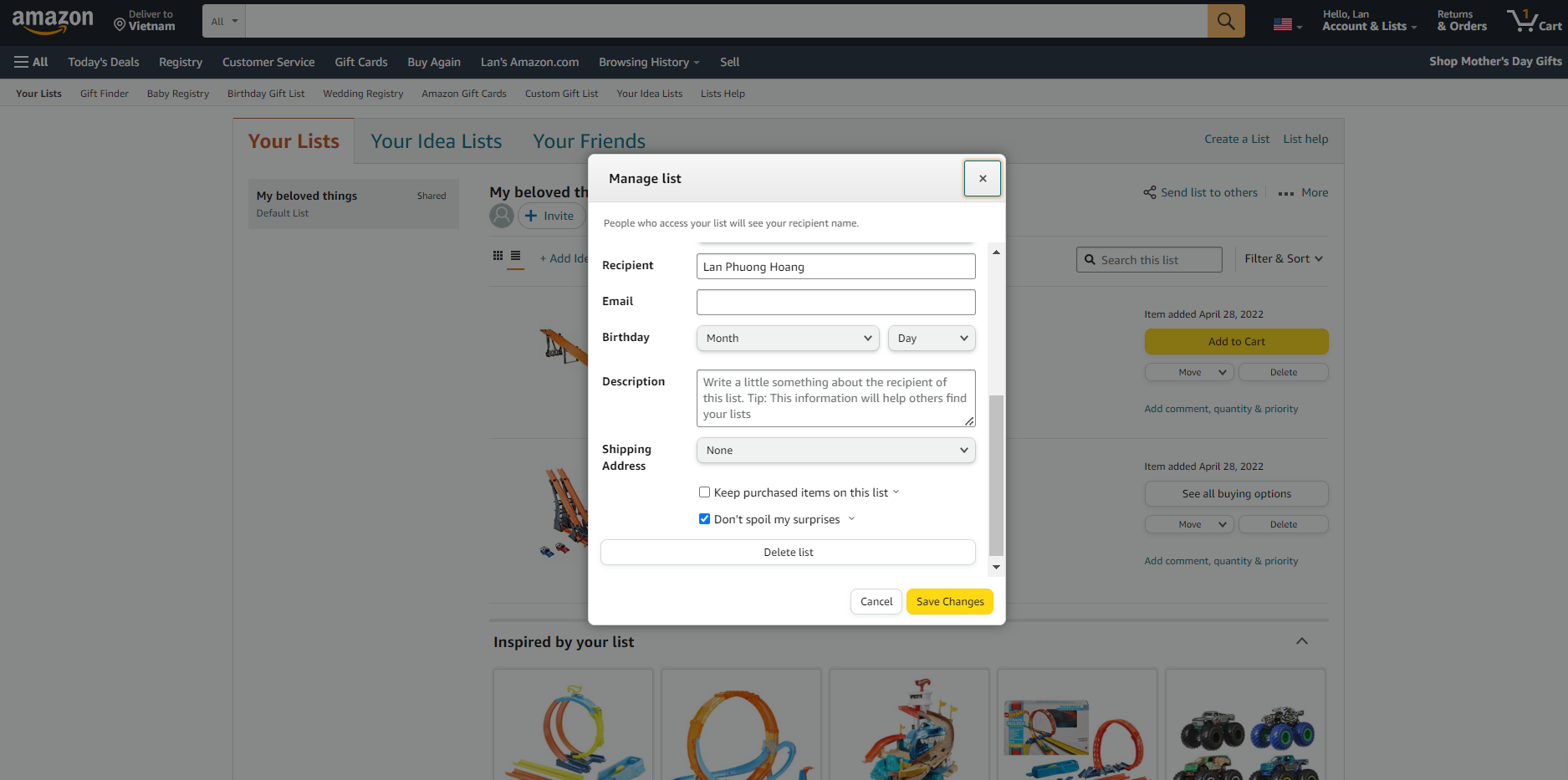 Note: On the shipping address section, you will have two options:
Keep purchased items on this list: Items will be marked even if you or someone already buy them.
Don't spoil my surprises: Your gift purchases will remain a secret for a few weeks. If you buy anything on this list, you will receive a warning to avoid duplication buying.
Once you finish setting all the options you want, click Save changes. In contrast, if you want to delete the list, click on Delete List which is right above Save changes option.
---
Amazon Wish List – FAQs
1. How do I find an Amazon wishlist?
You can only find an Amazon wishlist if it is public, here's how:
#1: Open the Amazon search page, and then click on Find a Registry or List.
#2: Type out the Registrant Name that you are looking for.
#3: Click on Search then choose the person's name from the results list.
Note: If you don't see that name, select Add Friend button
Now, you are accessible to any of that person's public Amazon wish list.
2. How to buy from someone's Amazon wish list?
Once you have the access to that person's public wish list as above mentioned, you can browse and purchase anything on that list. You can sort the Amazon wish list by price, priority, or purchased status via choosing the desired option in the Filter by and Sort by drop-down menu.
3. How to send Amazon wish list to someone?
If you want to share your wish list with others, you can change your privacy setting to Public and send the link to let them find your list.
Or to be more proactive, you can follow these steps:
#1: Set Shared.
#2: Choose the + Invite to invite someone to view your list via sending your Amazon wish list link or invitation by email.
You can also invite people to add or remove items from your list on the View and Edit button.
4. Does Amazon notify me if something is purchased from my wishlists?
No, the wishlist will title the product Unpurchased to prevent spoiling the gift. You will only get notifications when you are buying the item from your own list.
5. How to add items to the Amazon wish list?
Firstly, look at the right side of the product page, and click on Add to List. After adding the product to the wish list, you can access the products you have added at your convenience. In addition, you can even sort out items into different categories like Purchased, Unpurchased, and All Items.
---
That's a Wrap!
We hope you find your answer to the question: "How does Amazon wish list work?", Amazon wish list provides sellers with great insights into customers and products. It also greatly simplifies the gift-giving process for buyers and even decreases waste thanks to giving exactly what receivers want.
If you need a multichannel selling tool to manage different channels more effectively, look into LitCommerce – we offer a solution to simplify daily management tasks and allow you to control your store from a single location.
For more information, feel free to contact us, we're thrilled to help.
Also, you can join our vibrant community to discuss more eCommerce with worldwide experts.
You might also read: