Selling photos on Etsy is not an easy job. However, if you use Etsy tools such as advertising, SEO, or shipping and aim at the right spot with your marketing strategies, there's a high chance you'll make good money with Etsy.
This article will bring you a complete selling photo on Etsy tutorial from the very beginning. Let's go straight in how to sell photos on Etsy step-by-step:
#1: Create an account and set up an Etsy shop
#4: Upload your image and create a new listing
Let's go!
Sell Your Photos on Etsy and More

Do you know you can sell your photos on multiple marketplaces? Try the LitCommerce Multichannel Sync tool to sell photos on Etsy, Amazon, eBay, and many more today!
1. Create an account and set up an Etsy shop
First of all, simply go to Etsy.com. Click Sign In at the top right of the Etsy website. You can easily sign in with your Google, Facebook, or Apple account.
Select Register to create a new account with your email address, name, and password.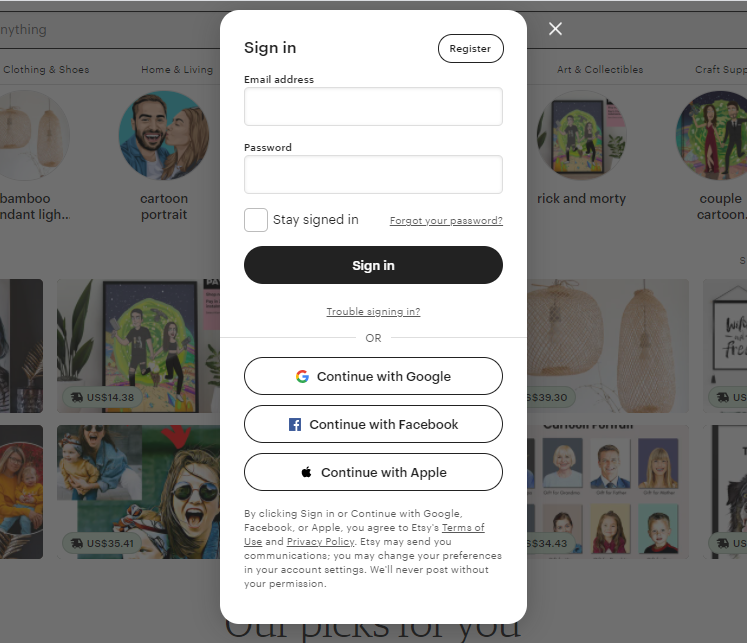 After opening an Etsy account, navigate to "Sell on Etsy" for some initial setups, choose your country, language and currency and find the kind of store you want to create. Etsy also wants to know if you sell full-time or part-time. This information will help your customer to navigate to your site without hurting your sales.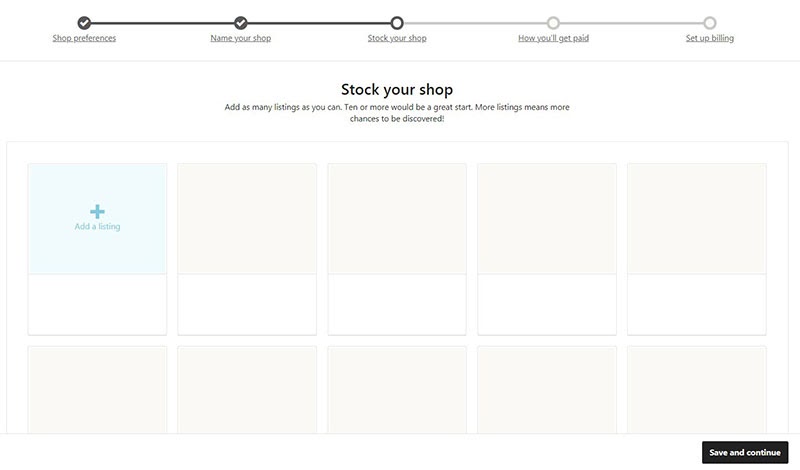 Next, choose a theme for an Etsy shop based on the product you want to sell, your brand, and also how you would like your customer to feel when they visit your online store. You should go ahead and make your Etsy banner at this step.
Your shop banner is super important when it comes to selling on Etsy. It's the first thing customers will see and decide if they would like to purchase from your store. This article will give you a detailed guide on how to create an amazing Etsy banner in just 3 simple steps.
2. Name your Etsy shop
When it comes to selling on Etsy, you need shoppers to remember and recall consistently because most buyers need to view something or be visually stimulated to see the product multiple times before they actually come up and buy your goods.
Your shop name is the soul of the whole store and probably one of the first things that got into your buyer's mind. If you can come up with a great name, you've already leveled up your store from the very first day.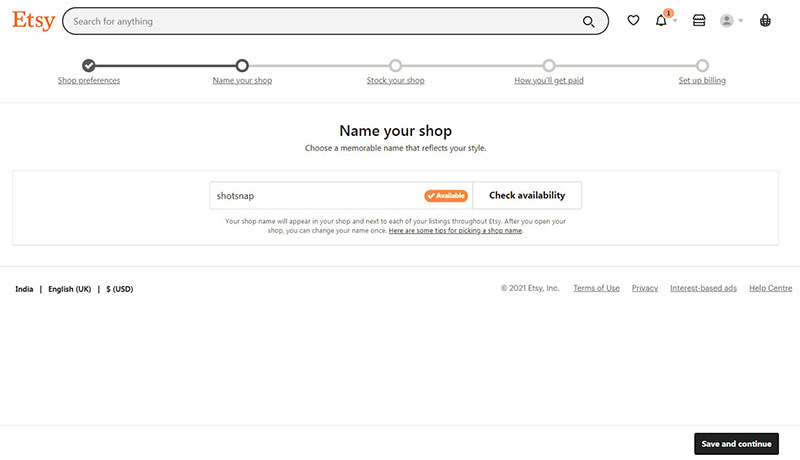 Here are a few suggestions for you to get a good Etsy name:
Not too long and memorable.
Simple to spell.
It shouldn't be collapsed with your competitors.
Make sure it's spelled correctly.
Remember to put in your Etsy shop keywords.
It should inspire you as the store owner.
Is available on external websites.
3. Customize your Etsy shop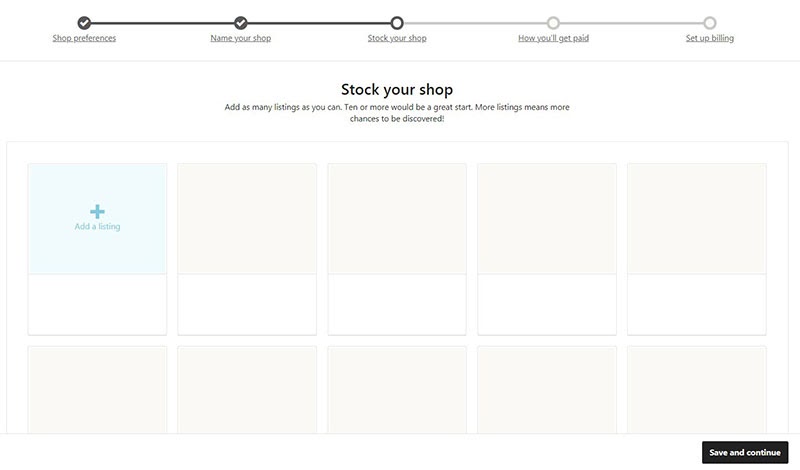 It's time to customize your shop just like you want, put your branding and your persona into your store to make it stand out from the crowd.
Etsy shop icon: These are small icons that you can see at the top left of the homepage. Select and position your shop icon here.
Cover photo: This is not the same as the shop banner. It's an optional feature that enables a large image displayed at the top of the shop's name.
After this, you will have a basic Etsy shop. Let's move on to creating the first listing to sell photos on Etsy.
4. Upload your image and create a new listing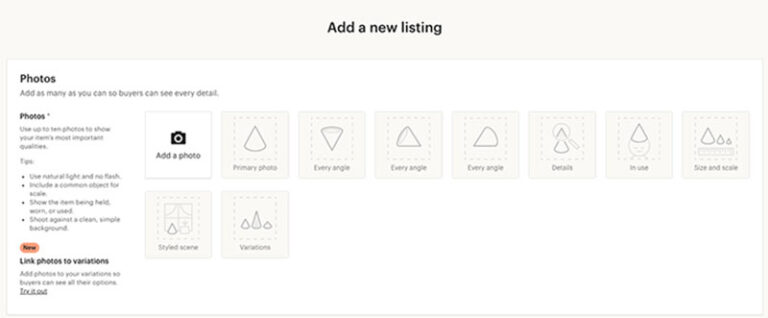 Here is how to complete your first Etsy listing:
First, import new photos or videos -> Choose your thumbnail image
After that, add listing details
Next, Add a description for your listing
Following that, add your inventory and pricing (files for digital items)
The next step is setting up shipping
Now, do some marketing for your templates
Last, publish or save your listing
When uploading a new photo, make sure to take good care of all product photos, this plays a significant role in attracting your customer to buy from you. One thing that you should always keep in mind is bringing a personal touch into your image. After all, it's what about you that makes your store sparkling and memorable. Some suggestions for adding your personal touch:
Bring in the locations where you shoot the pictures.
Use a unique and creative editing style.
Customize the frames with your style.
The description is also super important. Normally, customers can be a bit more skeptical when reading this info, so remember to make it as clear as possible. Also, use keywords in your description to optimize the SEO so customers can find you much more easily.
When writing a description, try to think about what information a buyer might be gathering if she were shopping for your photo at a physical store. Why? Because one of the common behaviors of a customer is imagining they're viewing your item as if they are in a brick-and-mortar store.
Some good examples such as includes specific measurements and other technical information in the description, which will help to gain trust even with the skeptical buyer.
Apparently, Etsy SEO is a must when creating an Etsy listing, if you are interested in this aspect and would like to learn more, check out this Etsy SEO Guide
5. Make use of Etsy review
After viewing your product info, all your pictures, and descriptions, shoppers will move to the review to make their final decision. An Etsy review is where your consumer left a review after purchasing goods from your store.
Therefore, managing your review is critical for the business. Make sure to give the customer your best service:
Sending thank-you notes every time shoppers bought your item.
Asking for a review at the time customer received their packages
In case customers don't have good feedback for your service, try to make up for them.
If you have a bad review and you don't think you deserve it, you still have the option to contact Etsy to delete that review.
Type of Photos to Sell on Etsy
Keep in mind that you're selling on Etsy so that means shoppers will focus on the uniqueness and the creativity in your product that suits their sense of style. That's why the idea and design should be your number one priority, especially on one of the top online marketplaces like Etsy.
You can choose several types of photos to increase the diversity but make sure to put the one with the most level of creativity at the center of your plan. Currently, there are hundreds of types of photos selling on Etsy, but let's just focus on the 3 best choices: Stock photos, Digital photos, and Instagram templates.
1. Selling stock photos on Etsy
Stock is a good option when it comes to selling photos on Etsy. It's affordable, easy to access, and also, you can sell multiple images in the blink of an eye. Simply put, stock photographs are images that the artist has licensed to be purchased and used for commercial purposes.
This benefits you in both ways, it can be a license for you when purchasing Stock from Agencies. Also, it could be for your customer which helps them to legally reproduce the Stock images, create offshoots, or display them anywhere they like.
So one of the important steps when starting to sell Stock photos on Etsy is to get a decent license. Currently, there are two main types of photography licenses: A rights-managed license and a Royalty-free license.
Rights-managed license: This type of license gives more say to the owner. Photographers can decide the restriction for users. Also, every time the buyer wants to use the image, they'll have to pay a base.
Royalty-free license: This is easier to use at a better price. You will pay a flat fee to use the image one time. It does not give the buyer any rights to resell the photo or claim any ownership.
Apparently, each type has its own functions and goes with different situations. Yet, Royalty-free seems more simple and more suitable for your Etsy store.
There are two main ways for you to get a Stock photo for your store. You can either buy it from another source and customize it your way or you can make it yourself. Let's take a look at the example below.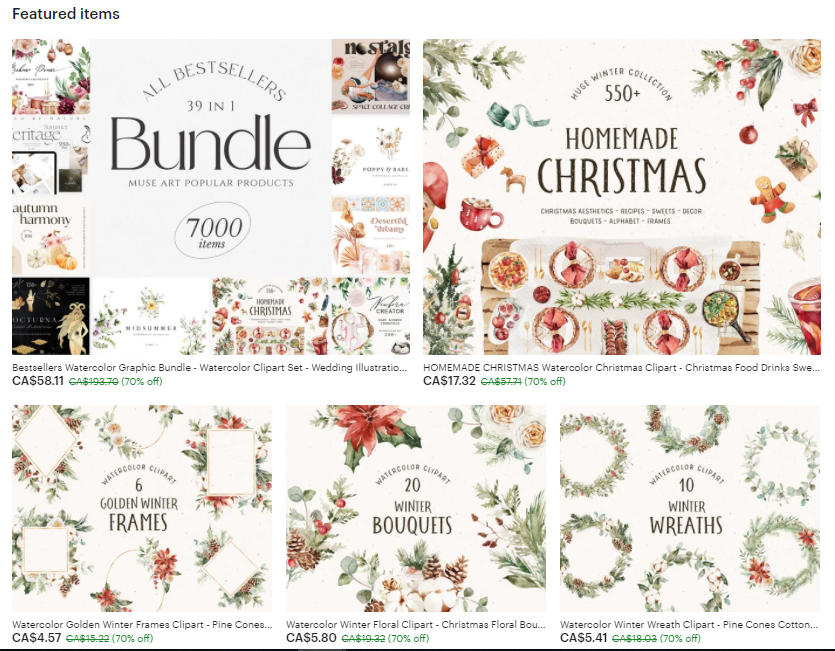 SoftMuseArt is a Stock photo in Russia with more than 350 products which brings 7,893 Sales in total. As you can see, this store sells photos with a high level of creativity, and also, they sell a huge amount of designs for invitation cards.
Each sale is one collection that includes 3-4 designs for multiple purposes namely wall art, banner, Instagram post…The price is quite affordable yet you can still find high-quality and expensive collections which can cost more than 65$.
List and Sell your photos on Etsy for free

With LitCommerce listing tool, you can list up to 1000 pictures on Etsy for free and quickly with templates.
2. Selling digital photos on Etsy
If you feel like logistics are a bit too much for you to handle, digital photos could be the right choice. With Etsy digital photos, you can sell digital versions of your pictures. Customers will get a download link to your photo as soon as they buy it. Digital photography is one of the easiest and fastest ways for merchants to make money on Etsy. There's no shipping or packaging required, all you need to do is send shoppers the URL for downloading.
However, you need to take care of the copyright rules for this type of good. Copyright is a law ensuring that you are the creator who owns the piece of art and has the right to reproduce or use it for commerce purposes. There are several ways for store owners to protect the Copyright:
Registering with the US Copyright Office: If it is just a "normal" product, there's no need to go this far. But if you have a special good that can be sold at a high price, it's worth it. In legal cases, you will have absolute evidence to prove your ownership. Copyright of an image can take from 8-19 months according to the US Government Copyright Office and the fee is $35/per photograph.
Using Watermark: Watermarks are used to mark a copyrighted image identifying that you are the creator of the picture. You can use your logo, some text, or even your name on it. This method will prevent someone from re-posted your image as their item.
Let's take a look at Fotolit – a store that sells Digital photos such as photo overlay, backdrop, background, or even texture. Also, the store has made more than 16.140 sales in total.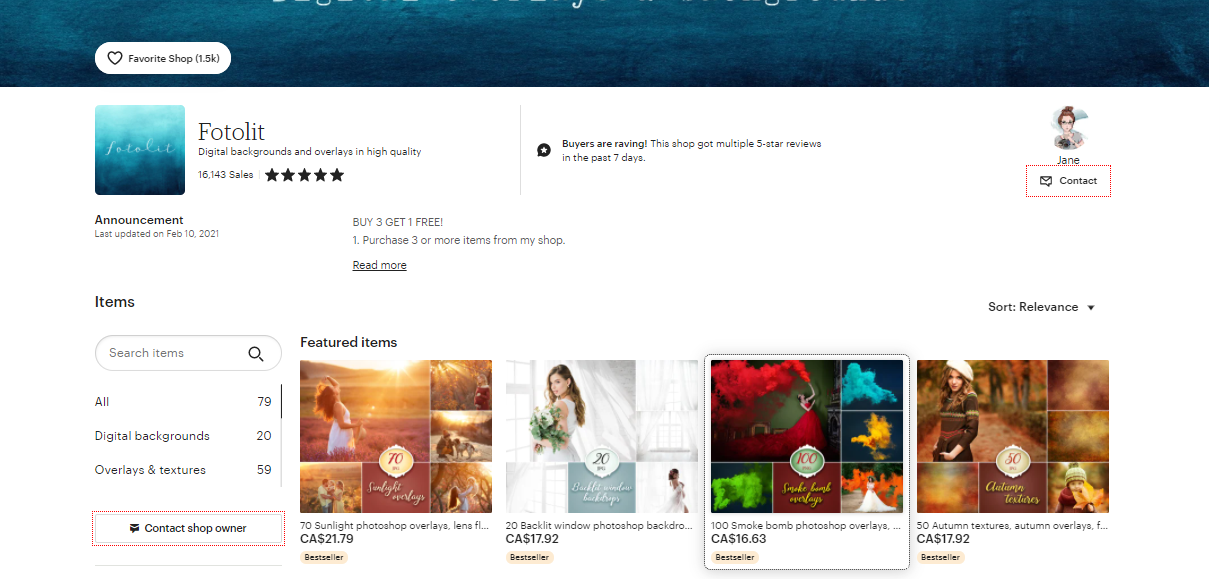 This is a good niche for digital photos. If you have a stunning overlay or background that can easily fit into any picture, there's no doubt that you can sell the piece in a few hours on Etsy.
3. Selling Instagram photos on Etsy
If you want a more profitable niche for selling photos on Etsy with much more potential, you should go with the Instagram template. There's a huge amount of Instagram users who are ready to spend money to make their Instagram photos sparkling.
Basically, merchants need to provide 3 kinds of design for each sale including the Instagram template for your customer to use, the opening PDF template attack to the download link, and the Etsy template for displaying your product.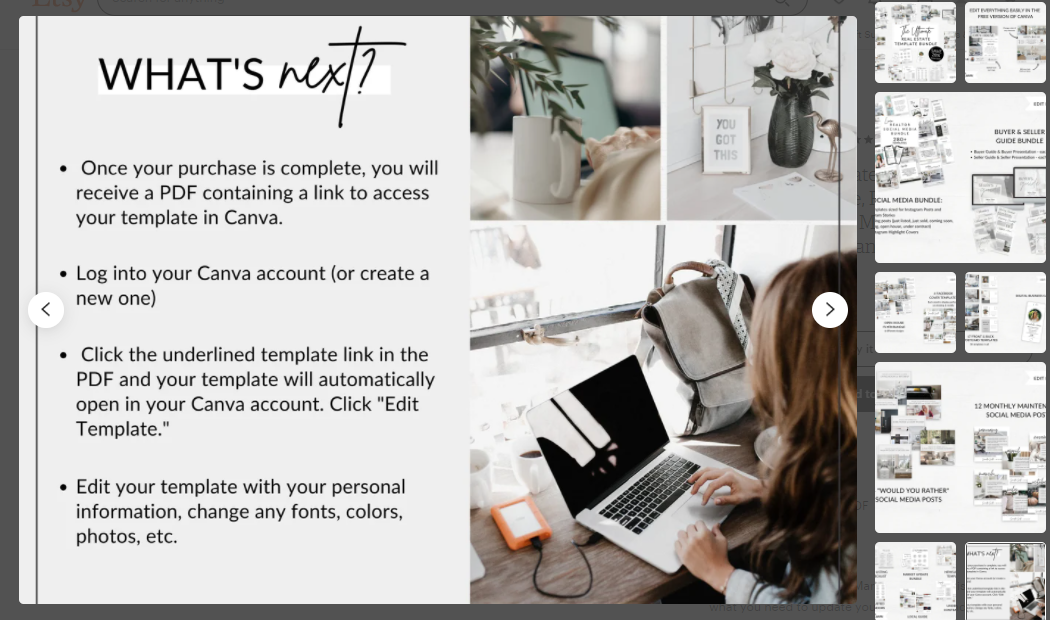 Let's go into detail!
Your template should focus on a specific purpose such as eCommerce, education, weddings… This will help you to aim at a smaller niche that has more potential customers as well as increase your competitiveness. Also, your marketing campaign could be much more effective if you can find keywords with fewer competitors.
Many sellers use Canva to create and store their templates. When the order is placed, the customer will receive a link directed to Canva where they can easily download or customize just like they want.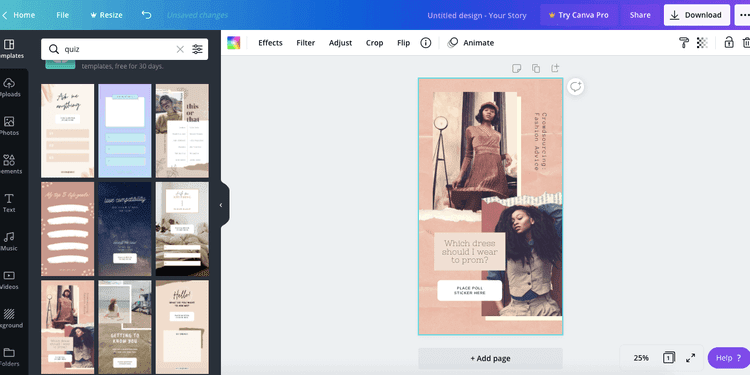 The PDF template is a must when it comes to selling Instagram photos. Do you want to impress the customer at first sight when they open your package? Make good use of the opening PDF to gain the trust of your buyer.
The PDF should include an introduction to your store and the creator. Also, make sure to say thank you to your shopper for purchasing your goods. Most importantly, place your product link into the PDF so shoppers can be directed to the product themself.
Template for displaying products on Etsy:
Etsy allows you to display your template as a bundle product. Hence, you also need a design template for displaying on Etsy.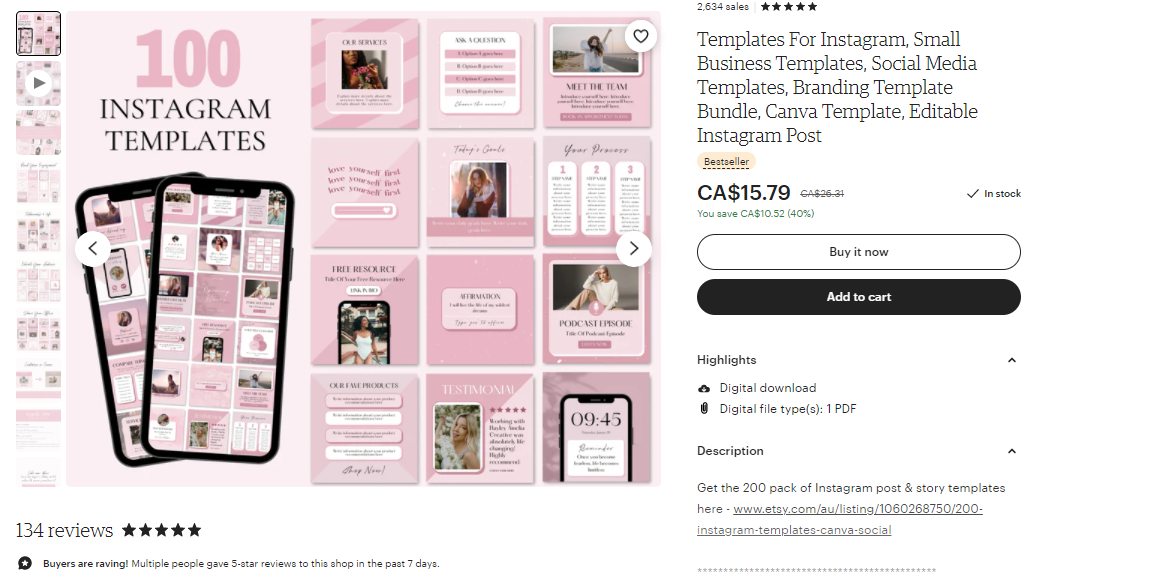 This will be a crucial part of your product photo where you can combine your branding and your design into one and show them to your customer.
---
Bulk listing your photos on Etsy

LitCommerce allows you to bulk list your photos on Etsy, which can save you a lot of time if you have many photos to list.


---
Selling Photos on Etsy: Frequently Asked Questions
Is Etsy good for selling photos?

Yes, Etsy is a popular platform for selling digital downloads in general and photos in particular. Etsy has a very large and active user base, and it is quite easy to set up and start selling photos on the platform using multichannel listing tools like LitCommerce.

How do I put my photos on Etsy to sell?

Select Add a photo to add files from your computer to add photos to your listing. You can upload several pictures at once.
To view how buyers will see your listing, select Preview.
Select Save as draft if you want to store your listing for later.
It's time for you to sell!

Selling Photos on Etsy – What Are the Options?

Selling photos online has already been emerging for decades with some famous names such as Getty Image, Shutterstock, and Adobe Stock. They offer a wide range of products, from stocks to digital images to custom photos and much more.

Why should customers go to Etsy and come to your shop to buy photos instead of Adobe Stock or Getty? Hence, when thinking about selling photos on Etsy, you would want to differentiate your store from these huge companies.
---
Make Use of Making and Taking Photos to Sell on Etsy
It's gonna take time and practice to actually make a profit selling photos on Etsy. As a business owner, you need patience and dedication for selling any of your products. From choosing your niche to selling photos, set up your Etsy store, and learn to effectively manage it. Just remember to learn from your mistakes and move toward your goal, and you will find your way to turn Etsy into a profitable channel.
To simplify the management process, you can use a multichannel selling tool such as LitCommerce to monitor everything in just one place. Our tool will help you speed up the selling process by cutting down a huge amount of repetitive work and automating complicated processes. If you need more info about other best selling platforms, just leave us a message!
Also, join our community or our retailer blog for more exciting eCommerce tips and news. Good luck!