If you're selling on Amazon, you know how competitive it is to show up in product searches. Depending on your niche, thousands of other listings can be vying for your customer's attention.
Amazon's ranking system can seem frustratingly mysterious at first, but the truth is that it follows a certain science. This article will explore Amazon listing optimization and unravel the mysteries that prevent you from ranking higher in product searches.
Let's get started.
---
What is Amazon Listing Optimization?
Amazon listing optimization is the science of boosting your product's rankings in customer searches. It's also known as "Amazon SEO," and aptly so because it shares many similarities with web SEO. These similarities include:
Titles
Images
Descriptions
Keywords
…and more. While they're still different beasts, you'll notice that they both focus on optimizing the user experience. After all, it's real people buying your products, not search engines.
---
How Can I Optimize My Amazon Listings?
Amazon's ranking algorithm isn't all that mysterious. At the end of the day, they just want to create the best experience possible for their customers.
Below, you'll learn the best practices in Amazon listing optimization to boost your rankings fast in the competitive online marketplace:
1. Feature quality images
Your product's featured images are the single most important factor in its success. Without good pictures, you won't make sales, no matter how great your product is.
Feature high-quality images of your product, showing it from every angle. Make sure to include an image of your product on a white background, in and out of the packaging. In addition, you'll want to show your product in action.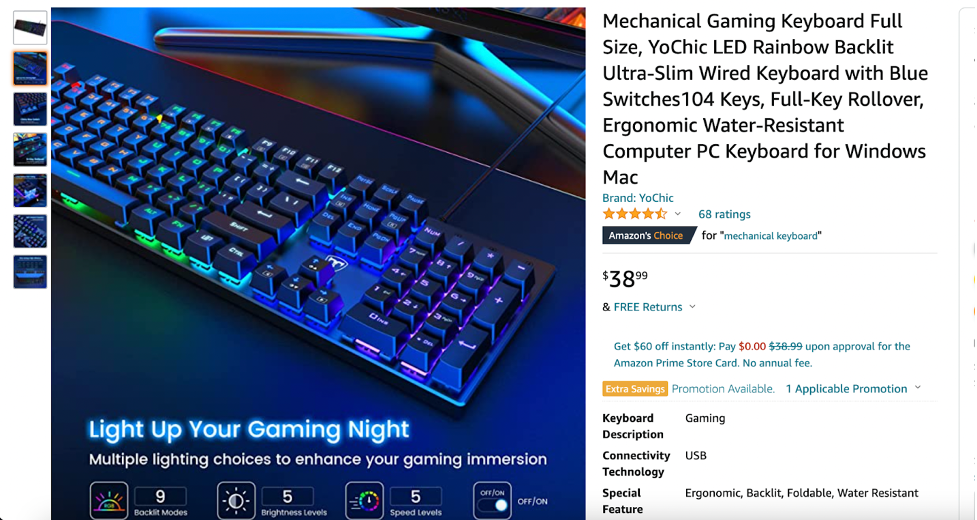 Try to include an object to compare size and scale. This will prevent lots of returns from disillusioned customers angry about the size being different than expected.
2. Write a descriptive title
Your title is the first thing searchers read about your product. The titles have a massive impact on your CTR (click-through rate), meaning you need to get this right in order to succeed.
Your title should accurately describe your product in its entirety. Not only what it is, but the color, quantity, brand, size, and more.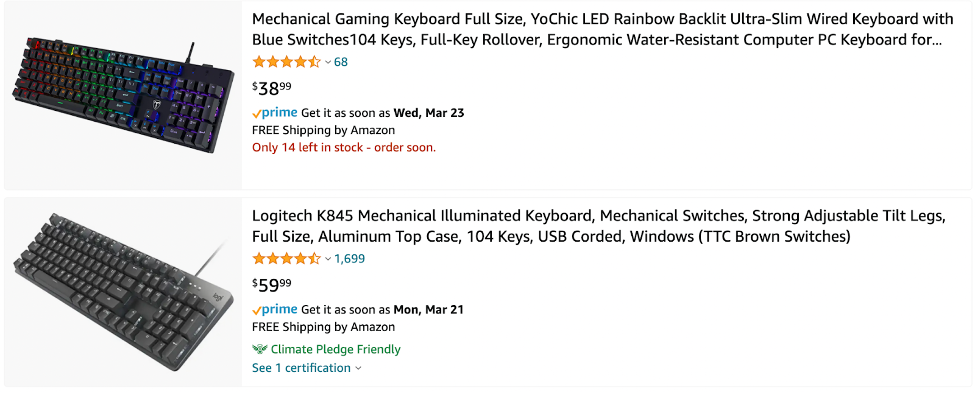 In the above example, we see the first results for "mechanical keyboard." Notice how they include every relevant feature of the keyboard, rather than just something boring and undescriptive like "Amazing Mechanical Keyboard."
While Amazon technically allows up to 250 characters, it's best to keep your title under 200.
3. Write comprehensive descriptions
Your product description gives you the chance to explain what your product does and why it's the best of its kind. You can describe your item in the "About this item" section and the "Product Description" section.
Use bulleted points to give succinct descriptions of your item, highlighting its strengths and what sets it apart from the competition. Again, it's important to emphasize how exactly your product will improve a customer's life.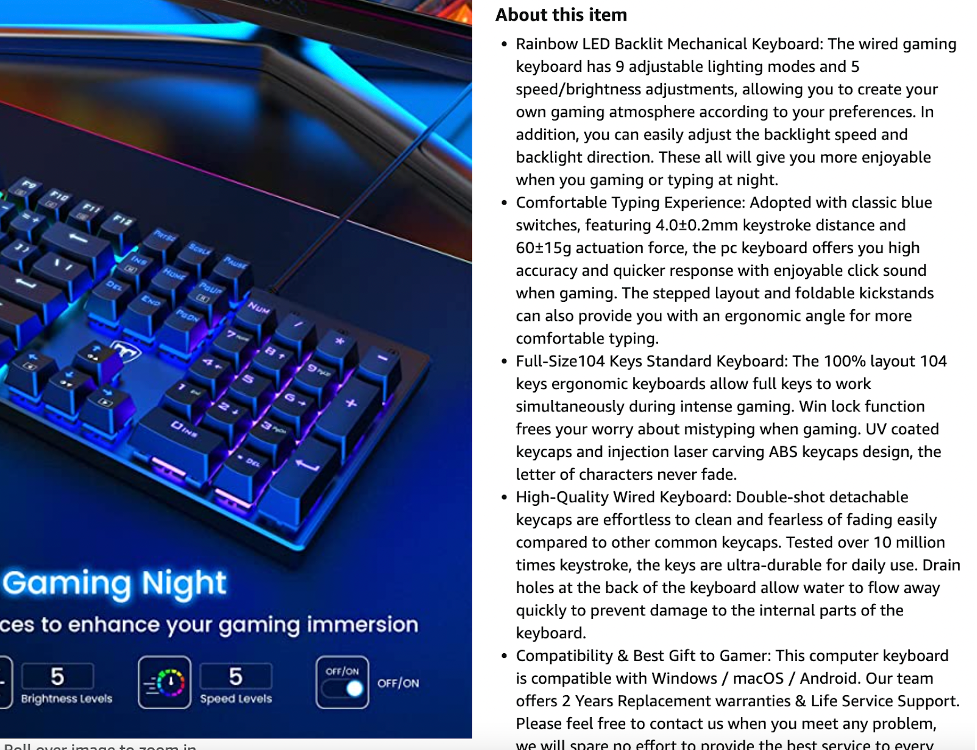 Use every one of the 2,000 characters that Amazon provides you.

Just be 100% truthful, as exaggerations will lead to dissatisfied customers and low ratings.
Additional Product Description Tips:
Include product keywords
No promotional text, such as "free shipping" or "50% off"
Don't include reviews
Don't include any company or seller information besides the brand
4. Include the right keywords
A huge part of Amazon listing optimization is just making sure your keywords are included in the right places. To understand what phrases you need to include, you'll need to do keyword research.
While keyword research can get pretty in-depth, it's not that complicated as a concept. It essentially comes down to finding key phrases that people use when searching for products like yours.
For example, let's go back to "mechanical keyboards." If we enter that term into a keyword tool like SellerApp, we can see related terms, along with their stats: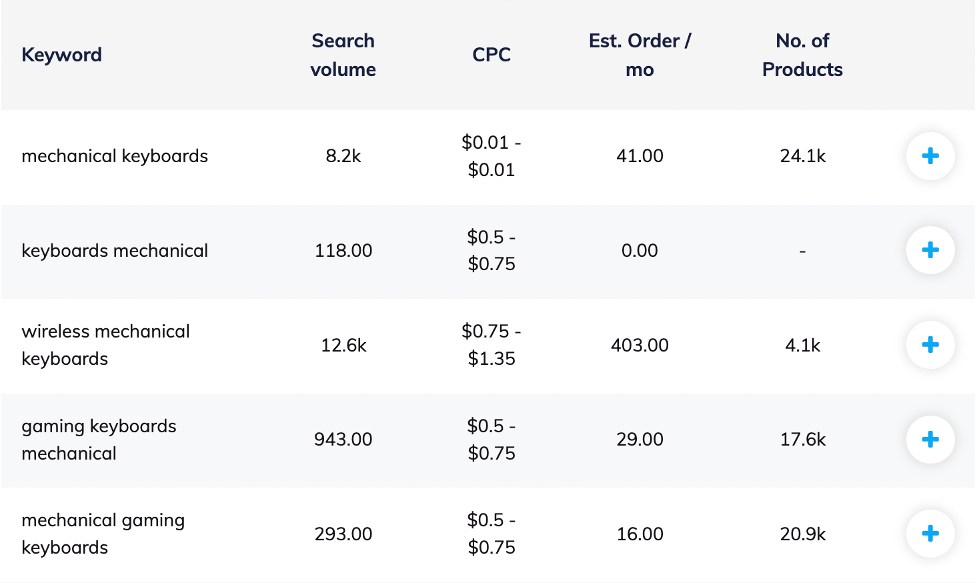 These will tell us the exact phrases we need to include in our listings page. Include these in your titles and descriptions, but don't overdo it; you have limited space and you need to focus on fitting as much valuable information in as possible.
5. Earn five-star product reviews
Whenever you're shopping online, reviews are probably one of the first things you consider when buying a product, like most people. If you have bad reviews, you'll have bad sales, so you have to get this right.
The key to good reviews is a product that meets or surpasses expectations. You don't need to sell top-line, hand-crafted products to do that, you just need to be honest.
If you're selling something cheap, that's okay; just make sure it's advertised as such. If you oversell your product, you're going to get lots of bad reviews and swift returns.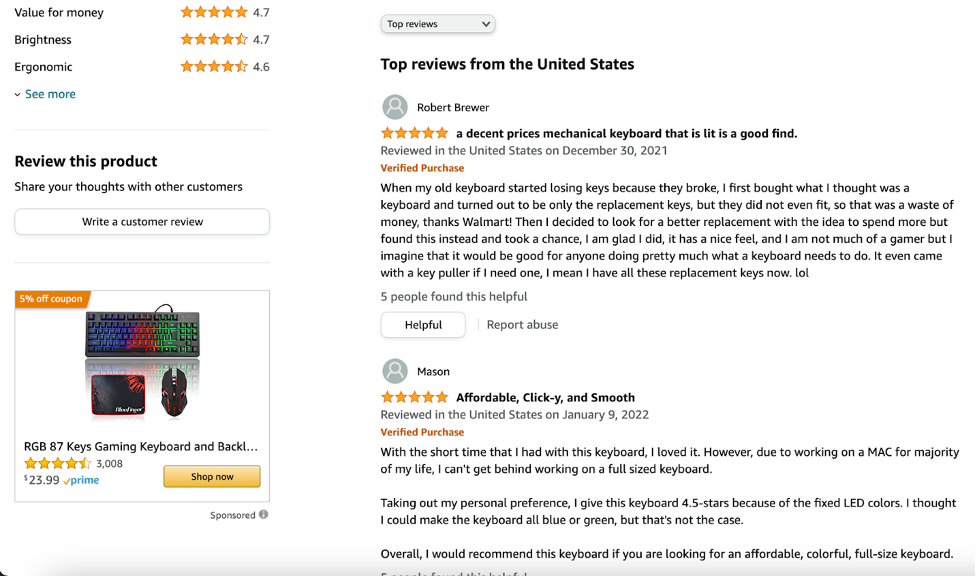 In order to meet buyer expectations, keep these principles in mind:
Never exaggerate: Always be on the level about the quality and features of your product. It's better to make fewer sales to happy customers than more sales that lead to returns
Provide size comparisons: In your product photos, try to provide a reference object, such as a person. Even if you list dimensions, customers may expect your product to be bigger than it is, and be dissatisfied when they receive it
Provide great customer service: No matter how fool-proof your product is, there are going to be customers who run into problems. When that happens, always be there for them so they don't vent their frustrations with a bad review
Dealing with bad reviews
Now let's talk about the inevitable bad reviews. Remember: no matter how good of a job you do, there's going to be occasional dissatisfied customers; it's just human nature. Don't take it personally, and consider these tips when dealing with them:
Check their eligibility: Oftentimes, a customer will write a bad review about a seller in your product review section. That's against Amazon's rules, and you can report them to have them taken down. Reviews that violate Amazon's Community Guidelines can also be reported for removal
Contact the reviewer: Amazon allows brands to contact customers leaving reviews of three stars or below. While the emails are templated, they provide a clear pathway to reconciliation with your customer
Most importantly of all, create a great product. Nothing repels bad reviews like a quality customer experience.
Encouraging reviews
Especially if you're starting out, you know how difficult it can be to get satisfied customers to leave reviews for products. An extreme minority of customers will do so naturally, meaning you have to take every measure to encourage them.
The best way to do this is by including a prompt with your product. Amazon allows sellers to include messages with the packing slip or with the invoice. Take this opportunity to politely encourage your customers to provide feedback.
If they are satisfied with your product, ask them to leave a review on Amazon. If they are dissatisfied, provide contact information so that the issue(s) can be resolved. As a bonus, this is a great time to ask them to join your email list so that they become a repeat customer.
6. Price your products competitively
One of the main reasons people use Amazon is to get great products at great prices. If you're battling a competitor for a similar product, a difference of a couple of dollars can make a world of difference.
If you pay close attention to Amazon listings, you'll notice that their prices are constantly changing. This isn't by accident; many sellers are using repricing software to automatically adjust prices according to factors such as competition, demand, holidays, and more.
Whether you use software or not, it's essential to always be ready to make price tag adjustments. Bad price points can hurt your business's bottom line severely over time, and turn money spent on advertising into dust.
7. Answer customer questions in the Q&A section
Each Amazon product page has a Q&A section where people may answer common customer questions. These have been proven to have a major impact on your purchase rates, making it an essential part of Amazon listing optimization.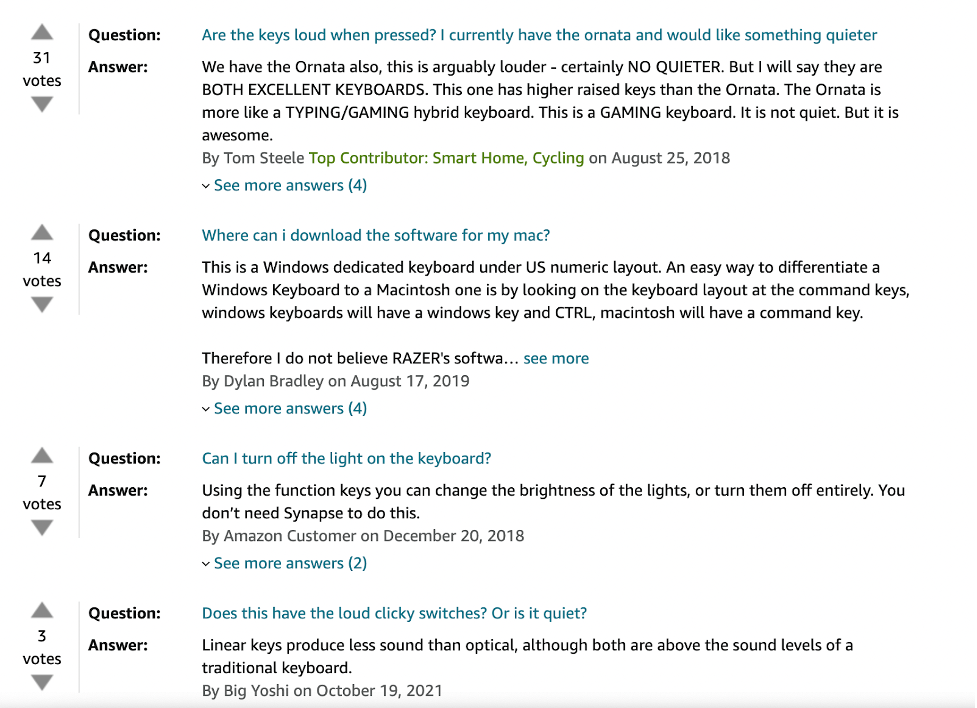 Note that Q&A section answers may be answered by anyone, and operate on a voting system. That said, it's most optimal if you, the seller, answer the questions directly.
If you consistently provide helpful, polite answers to customer questions, you'll quickly develop a reputation as a trustworthy and consumer-friendly brand. Customers seeing your product listing for the first time will know they're dealing with a company that cares.
Conclusion
Amazon is the uncontested largest consumer marketplace in the world. They have millions upon millions of customers, meaning you'll be competing with thousands upon thousands of sellers.
It's competitive, without a doubt. Cutthroat as it is, what will ultimately win the day is a superior customer experience. Amazon's primary purpose is to provide a superior experience to its customers, and it will reward any product that contributes towards that goal.
Remember that quality triumphs over everything else. All the Amazon listing optimization strategies we discussed can ultimately lead back to the principle of making your product more satisfying to the consumer.
Armed with that knowledge, it's now your turn to top the Amazon ranks and make sales like nobody else. So get out there and make some money!
Author Bio: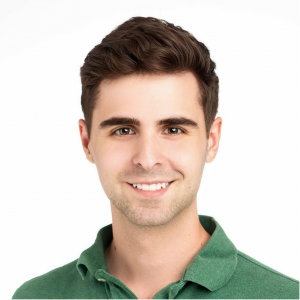 Samuel Szuchan is the founder of SamSzu.com, where entrepreneurs are learning to scale their businesses like never before. His experience in the eCommerce industry derives from his previous ventures and his current entrepreneurial pursuits. When he's not teaching online business to others, he can be found playing the amateur food critic around town.