You've probably heard of the word Omnichannel eCommerce and read about this many times from your business plan to tons of marketing blogs. Occasionally, you might even drop the word yourself and might get confused about what omnichannel actually means.
In this article, we will help you understand what Omnichannel eCommerce is once and for all, including:
What is Omnichannel and Multichannel eCommerce
Omnichannel eCommerce benefits
6+ Effective Omnichannel strategies
The Omnichannel challenges and trends in 2022
Let's get the ball rolling!
Omnichannel definition
First and foremost,  Omnichannel eCommerce is a type of integrated multichannel commerce that activates the synchronization of business data between channels. This form of business mainly refers to the practice of connecting a physical store with its online operation.
Omnichannel can be a part of larger commerce and marketing activities that ties up a numerous of customers' touch points and brand interaction. It also ensures the information is well handed over between touch points.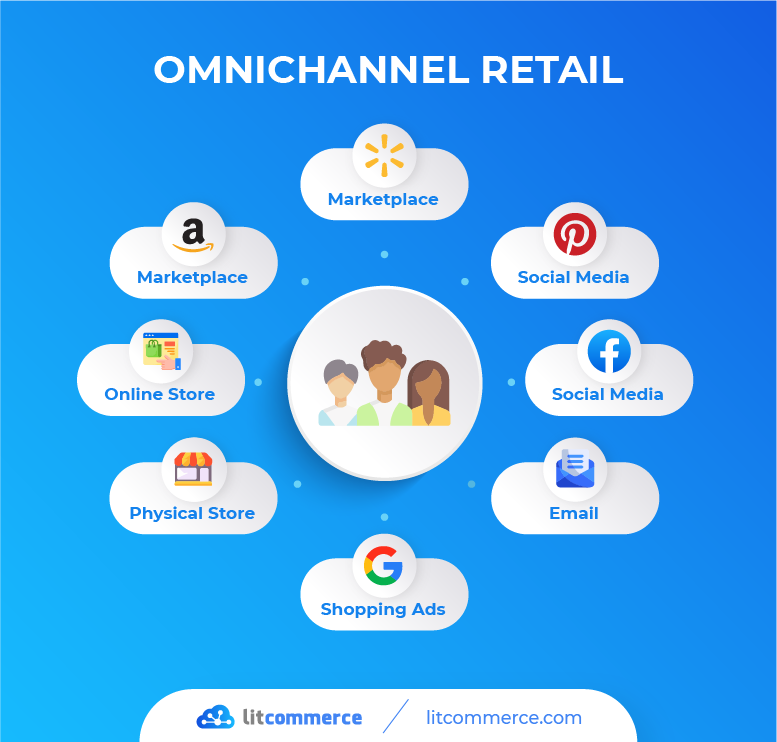 According to a study from The State of Commerce Experience in 2021, almost 44% of B2C buyers and 58% of B2B buyers say they always or often research a product online before going to a  physical store. Even when in-store, they will still surf online to continue their research.
Its main goal is to provide the most seamless customer experience whether they shop from a mobile device, a laptop or a brick-and-mortar store. Long story short, Omnichannel eCommerce focuses on the entire customer journey, not the customer's individual experience on different sales channels.
Omnichannel vs Multichannel eCommerce
Before jumping into the main parts, let's break down the key differences between single-channel vs Omnichannel vs Multichannel eCommerce:
Single-channel commerce: refers to the sale of a product through only one channel. This could be your physical store, online store, or an online marketplace such as eBay. This can be sufficient on its own. However, if you want to provide your customers with a more complete experience with your brand, you should investigate different channels via which you might offer your product.
Multi-channel commerce: allows you to offer your products to shoppers through a variety of channels. You can communicate with them on social media, over the phone, and in-person. Your web presence is flawless, and your shoppers are aware of places they can find you. Multichannel marketing is already a terrific way to get people interested in your business.
Omnichannel commerce: Quite similar to multichannel commerce, this form of business takes place on multiple channels, too. Briefly, there's no Omnichannel without multichannel selling. The most significant difference is that Omnichannel commerce links all sales channels together which can bring a consistent shopping experience to customers across all platforms.
---
Omnichannel eCommerce Benefits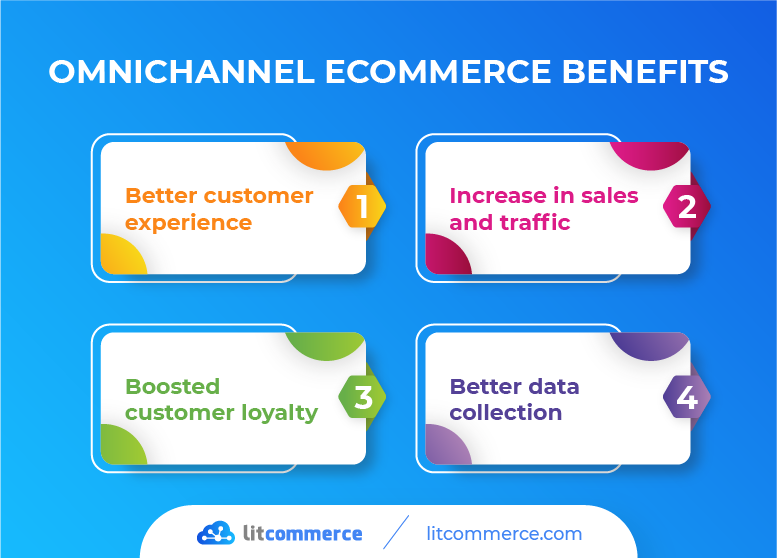 #1 – Brings a better customer experience
As a seller, you must understand your customers' demands first. From there, you can figure out how, where, and which components of an Omnichannel strategy provide the most value while satisfying your customers.
To be more specific, digital experiences should try to replicate in-store interactions as much as possible by allowing customers to zoom in and view your products from different angles, combining the advantages of both online and offline interactions.
After the sale, an Omnichannel eCommerce strategy should also handle the replacements and returns through any channel. For example, it could allow shoppers to use an app to process a return and drop the item off at the local retail location.
According to UC Today, 9 out of 10 customers want an Omnichannel experience with seamless service between communication methods. When your customers believe they have multiple ways to contact your customer support and sales teams, they will be happier in the long run.
Moreover, your customers can easily buy your products regardless of their devices or platforms of choice. Therefore, Omnichannel eCommerce is obviously essential for reducing churn and keeping customers coming back to you for their needs.
#2 – Increase in sales and traffic to your store
Investing in customer experience may considerably boost business revenue. Let's take a Qualtrics study as evidence, companies that earned $1 billion gain an average of $700 million per year after 3 years of focusing on customer acquisition. That is to say, Omnichannel strategy is a powerful tool for improving customer experience and, as a result, increasing revenue.
Furthermore, Omnichannel eCommerce also brings more upsell and cross-sell opportunities. Companies can recommend complementary items and upgrades via emails, SMS, push notifications, and even direct mail. In-store, ship-to-store function is a great example of this concept, since it saves customers money on delivery while also allowing them to buy complementary products or impulsive purchases in-store.
#3 – Boost customer loyalty
Increasingly, an effective Omnichannel strategy is key to meeting customer expectations and driving customer loyalty which have a significant impact on a company's bottom line. For example, integrating an Omnichannel contact center will help provide a more individual approach to each customer
Thanks to the Omnichannel approach, every customer will have a personalized, relevant experience. By combining Omnichannel strategy, your customers will be provided a consistent experience across different platforms, hence, increasing customer retention rate.
In short, an effective Omnichannel can drive customer loyalty, helping a company to reach retention goals for its most profitable and valuable customers. This has huge impacted results including lower costs, increased sales, revenues, and customer life value, as well as improving overall profitability.
#4 – Provides a better data collection
With Omnichannel strategy, businesses can gain insights on how to create better content and promotions that will encourage customers to make a purchase. Benefiting from Omnichannel retail requires you to focus on strategies and take action on important data insight.
For example, website analytics focused on clicks and searches that helps businesses in creating smarter product recommendations. In a similar way, in-person feedback with sales representatives support businesses in planning future Omnichannel marketing campaigns and promotions.
---
The Challenges of Omnichannel eCommerce
Like any major change, implementing an Omnichannel experience comes with its share of roadblocks. Therefore, taking proper plans and precautions can help to avoid them.
Data privacy and security always come first as integrating systems increases overall data exposure. Hence, make sure that you properly set up the control access, encrypt the data in both transit and at rest, and nicely follow the industry-standard security protocols. Moreover, you need to be compliant with any applicable data privacy laws, such as GDPR for organizations that do businesses in Europe.
Not to mention the cost for creating an Omnichannel eCommerce solution is another factor that you should carefully consider. Integrating channels can be expensive, and costs can vary significantly depending on the scale and complexity. Whenever possible, use some effective and suitable tools for tasks like order and product management to save time while reducing scaling-related costs.
Last but not least, customer shipping is a necessary part of any Omnichannel strategy for businesses focused on physical merchandise. Customers expect deliveries to be completed in a proper time with little hassle. Building a cohesive fulfillment strategy is critical, from providing convenient return policies to varied shipment options. Creating a fulfillment plan and carefully considering what your customers expect will help create a pleasant, convenient experience that grows customer loyalty.
---
Create an Effective Omnichannel Strategy
Changing your single business channel to multichannel or Omnichannel takes a lot of time and effort, but it will be worth it. Here are 5 steps to kick off an Omnichannel strategy that works:
#1 – Get to know your customers:
Understanding your customer profile is key to your Omnichannel retail strategy. This includes getting insight into their preferences, purchasing habits, priorities, and how they interact with different channels.
To gather this data, ask your customers the following questions:
What criteria are you looking for before you make a purchase?
What channels do you use to find information?
How do you discover new products?
What channels and devices do you use when making a purchase?
Are there certain channels that you find easier to navigate? Why?
What helped convince you to make or not make a purchase?
After you collect all the answers, it's easier to determine the channels your brand needs to have a strong presence on, and you can make a chart about the customer decision-making funnel.
For example, if you discover that most of your customers start their product search on Google or Amazon, you'll want to invest in paid and organic search when marketing your products. On the other hand,  if you know that many of your shoppers are Facebook users then you can come up with ways to make shopping easier on that particular platform.
#2 – Strengthen your social media presence:
It's hard to be everywhere all the time, but no Omnichannel strategy is complete without having a social media presence. And it's great for sales, as studies show that sales reps with high social network activity achieve 45% more sales opportunities, and are 51% more likely to hit their sales quotas.
On some channels, customers can buy directly from your business' social media where your customers spend most of their time on this platform. Therefore, you should engage with your loyal customer community, welcome new followers by reacting and replying to comments, and create unique social content.
#3 – Create educational content:
High-quality, engaging content is important when it comes to educating your customers, answering questions and instilling trust across channels. The more compelling content you can create to explain why purchasing from you is the best choice, the more you'll sell.
Content marketing campaigns can take many forms: blog posts, social media, guides, video tutorials, livestream videos and far more. Video content is engaging, helps with SEO, and performs well in your social media channels. Consider creating explaining videos for your cornerstone products or services, or launch a video series of tutorials that showcase your areas of expertise.
#4 – Make use of email marketing:
Email marketing is a highly effective form of marketing that shouldn't be overlooked. Around 4.03 billion people in the world use email, and the average ROI from email marketing is $42 for every dollar spent. No wonder that 87% of marketers use email as a key content distribution channel.
Research also indicates that segmented emails perform better than blasting mass emails. Hence, to integrate emails into your Omnichannel strategy, categorize your audience based on their needs and preferences, and then send out highly personalized emails. According to a McKinsey report, 83% of customers say they want their shopping experience to be personalized, and effective personalization can increase  store revenues by 20-30%.
Email also allows you to promote your social media channels and website, which can increase your follower count and site visitors, and enable your Omnichannel marketing efforts to work cohesively.
#5 – Ensure consistency across channels:
It's obvious that designing your cross-device sales presence is very important since customers want to get a consistent experience everywhere they shop.
Also, make it easy for them to shift between devices without losing any information. The last thing you want is to halt the customer's shopping journey when they change devices. Or worse, you don't want them frustrated when they're unable to find what they need due to layout changes and glitches.
To provide a consistent Omnichannel experience, prioritize user experience in all devices and remember browsing history so they don't have to start all over again when they shift from one device to another
#6 – Connect all channels seamlessly:
This is the hard part and only works if you execute it perfectly. You'll need the right technology to follow your customer across all touch points: from reading reviews on your website, seeding social ads, window shopping at an online marketplace to finally purchasing at your physical store.
Otherwise, choosing a suitable tool to seamless your Omnichannel eCommerce might be an utmost option for businesses. Merchants can easily list and sell their products on the world's largest marketplaces like Amazon, eBay, Etsy, etc. at the same time and effortlessly manage everything from one dashboard.
---
2022 Omnichannel eCommerce Trends: Hit or Miss?
#1 – In-person shopping after the pandemic
Consumers are hungry for in-person  shopping experiences after the pandemic. According to a study conducted by Forrester Consulting, over the next year, 59% of consumers say they're likely to look at the products online and buy in-store which is known as webrooming.
On the other hand, 54% are likely to look at the products in-store and buy them online – a.k.a showrooming. This allows consumers to visit your store to test products, try on apparel, and generally experience your brand before returning to their homes to complete their purchase online.
Not only does in-person shopping give customers a chance to touch, feel, and try on your products; it also creates a sense of community that's been sorely lacking since COVID-19 hit. Whether you launch a pop-up shop or consider opening a brick-and-mortar store, keep the in-person shopping element in mind.
#2 – Social selling through video content
The average person is predicted to spend 100 minutes per day watching online videos.
"Selling direct to camera via livestream will continue to grow," says David Whitcroft of Full Stack Finance advisory. This is ideal for influencers with an engaged following who are interested in selling via live videos on Instagram, Facebook, TikTok, and other social platforms.
Similar capabilities are now available via TikTok, thanks to Shopify's latest partnership with the social media giant. Merchants with a TikTok For Business account can add a shopping tab to their profiles, sync their product catalogs, and create a mini-storefront that links directly to their Shopify store.
The twist will come from the Omnichannel approach: selling via video content has been around for years, but technology lets sellers monitor the success of video sales across multiple channels.
The result: more accuracy when tracking your campaigns.
#3 – A great emphasis on community
Polling firm Gallup noticed an uptick in  feelings  of disconnectedness  less than a few months ago due to the lockdowns. These feelings especially hit  the 18 to  34 age  group, meaning this trend may have staying power well beyond 2022.
To create  a sense of community, we dove into a few possible Omnichannel approaches, including:
Minimizing the distance between business and consumer: Social distance is a good idea, but logistical distance is another matter. Hence, businesses should focus on the community with their customers by paring away the layers of distributors and resellers and showing how the products go straight from warehouse to buyer.
Giving customers a role: This  method is about making their customers feel like they are important and contributing to a meaningful community. For example, some brands use their local artists to create arts into their products like T-shirts, bags or decorative prints that bring the brand or local culture. By purchasing any items, merchants can support their art or strengthen local culture by purchasing the products.
Remember:  community varies by country. If you sell products internationally, your community approach needs to be localized too.
Recognizing these differences can help you build stronger communities for each culture represented in your global audience.
#4 – Multi-channel attribution
Every marketing and sales person wants to know that their campaigns are generating a ROI (return on investment). But customer journeys aren't strictly linear, and one channel will never give you a full picture of your sales success.
To fully capitalize on Omnichannel marketing strategies, multi-channel attribution is a must. According to Chris Cantino of investment and consulting firm Color, "Companies who embrace multiple sales channels will pursue analytics that inform a more holistic view of customer journey…which may transition from online to offline and back again."
In essence, multi-channel attribution allows you to collect data across all channels in real time, then deploy cross-channel analytics to study consumer behaviors holistically.
Direct-to-customer (D2C)  brands have always leveraged data and customer relationships to their advantage. Applying this framework to other sales channels will result in increased conversions, more effective promotion, better-informed product development, and stronger customer relationships.
---
Wrapping Up
When implementing a great Omnichannel experience for your customers, you need a partner or services who can help bridge the gaps between your existing channels — and take advantage of new ones — using secure integrations. LitCommerce can provide comprehensive Omnichannel eCommerce solutions for your business by offering a multichannel selling tool with minimum ease of use with order, inventory  management within a single dashboard.
For more information, please contact us for free and we're eager to help.
Don't forget to join our Facebook community for more eCommerce tips and tricks.
You might also read: