As highly reputable powerhouses in their respective categories, WooCommerce and eBay are all-time forces to be reckoned with. Simply put, WooCommerce eBay Sync comes an online seller's way if they dream of running the business to its best advantage. If you are split between these two eCommerce giants, why not meet the challenge head-on by integrating them?
Always aiming to relieve your stress, we would be delighted to work on the idea with you through two main ideas below:
How to connect WooCommerce to eBay using the LitCommerce app.
Benefits of WooCommerce eBay integration.
Let us explore in detail the process of WooCommerce integration with eBay to get your multi-channel selling business up and running fast.
---
How to Connect WooCommerce to eBay Using LitCommerce
Although no eBay Connect App is available in both WordPress and WooCommerce app stores, you can choose a third-party extension to streamline your multichannel selling process.
Among a vast collection available in the market, LitCommerce is a reliable and affordable alternative to integrating eBay with WooCommerce. When you enlist the help of LitCommerce, WooCommerce eBay Sync will take place in 4 simple steps only.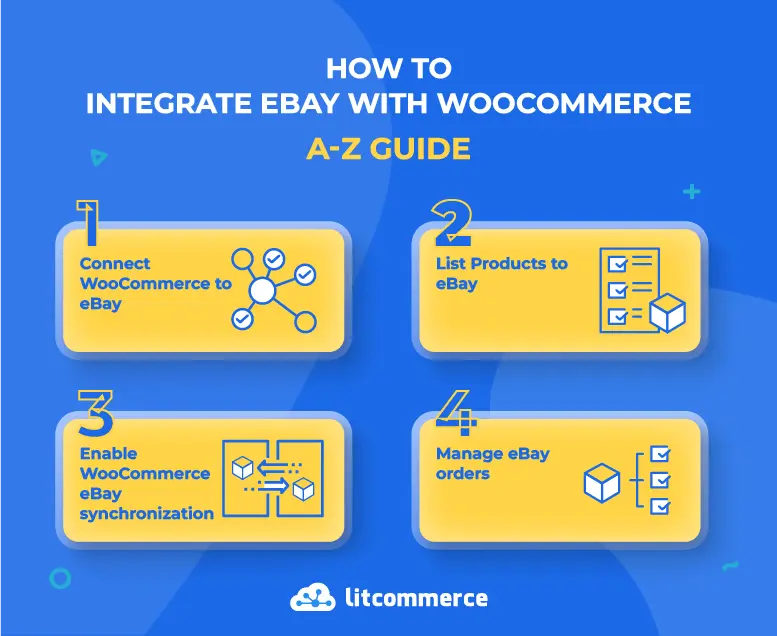 #Step 1: Connect WooCommerce to eBay
For starters, initiate the WooCommerce eBay Integration process by signing up for a new LitCommerce account here. If you have Google and Facebook accounts ready, you can use them to log in instead.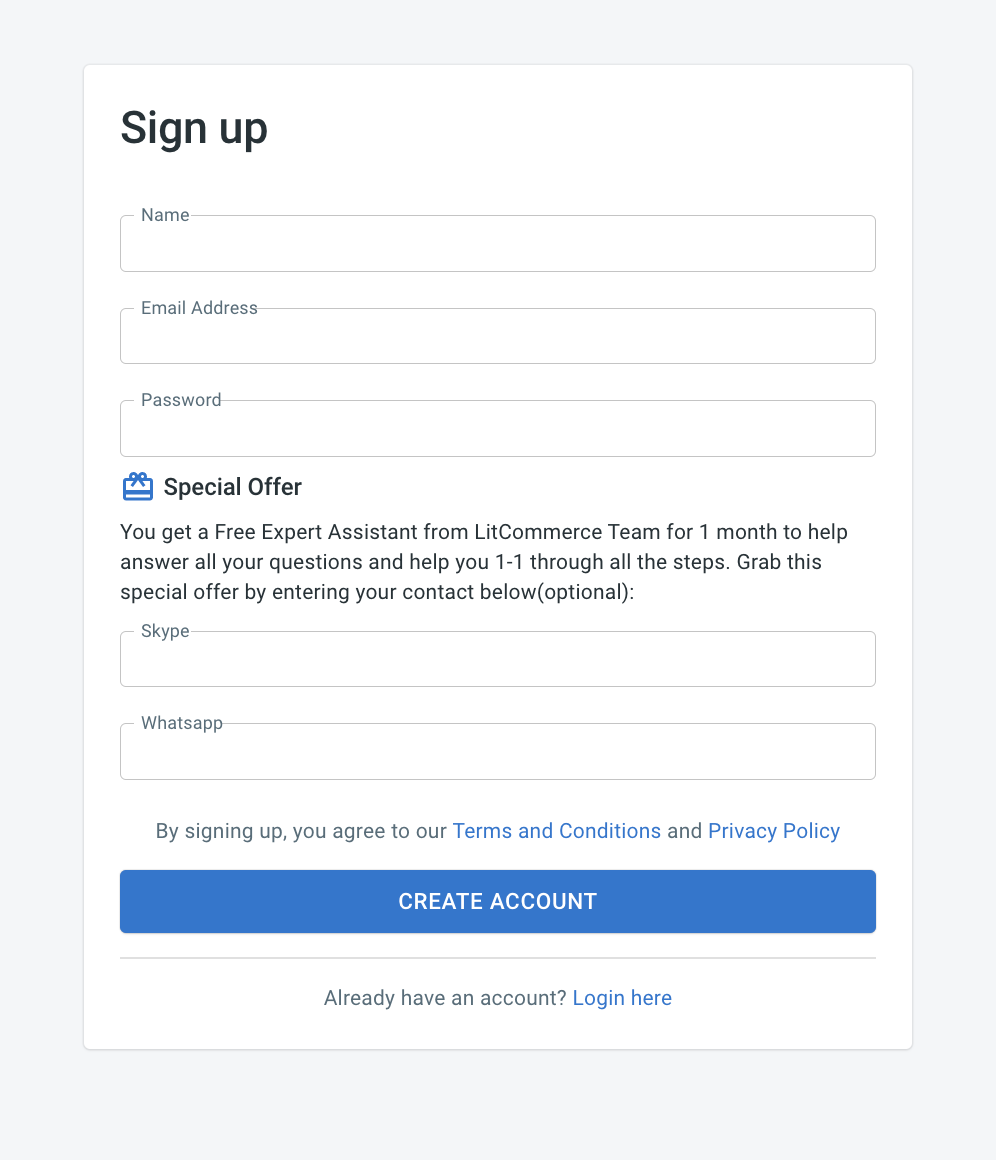 To connect your WooCommerce store with LitCommerce, visit your WooCommerce dashboard. Then, locate Plugins on the left-side menu bar and choose Add New.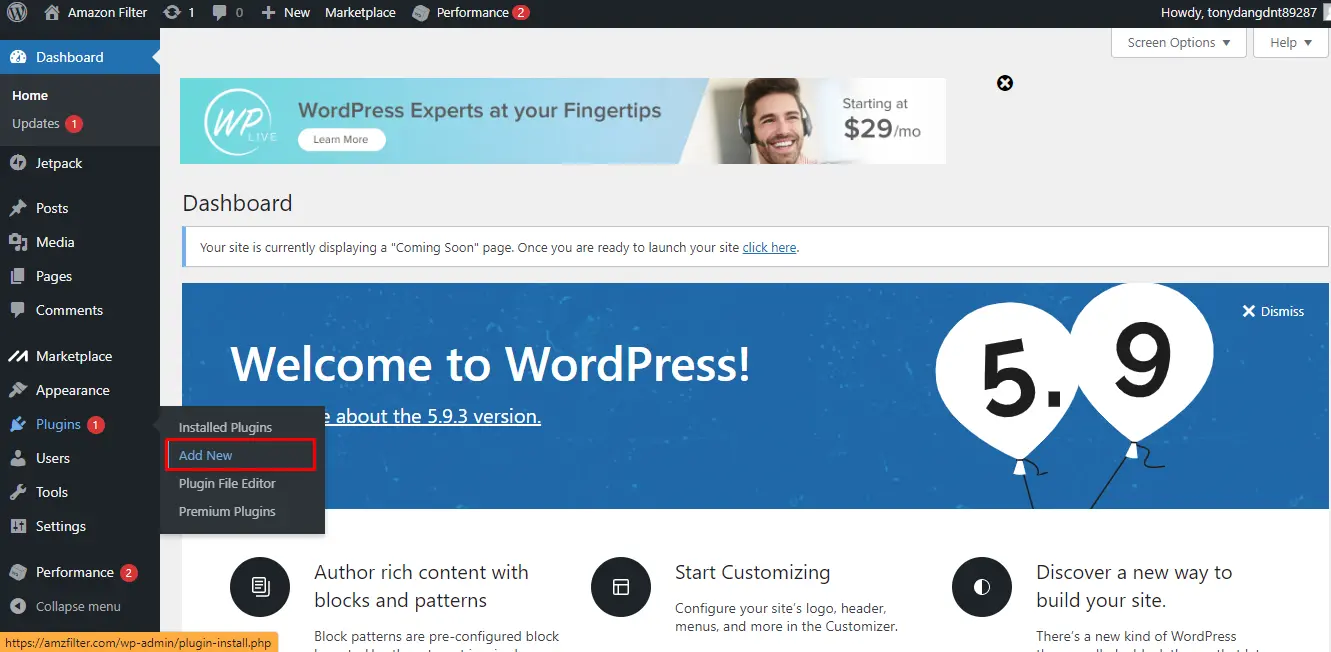 Type LitCommerce in the search bar and the tool will appear right on the screen. Click Install Now and activate it.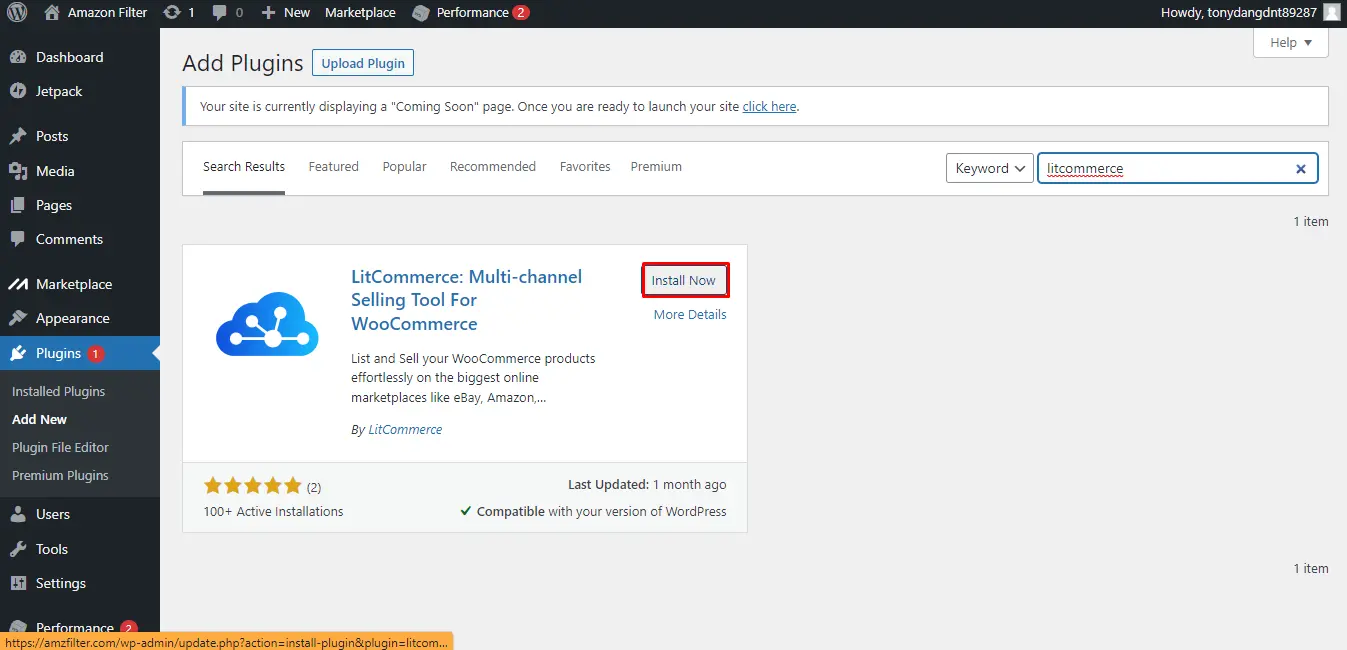 After installing the LitCommerce app successfully, you will see it on the left navigation bar.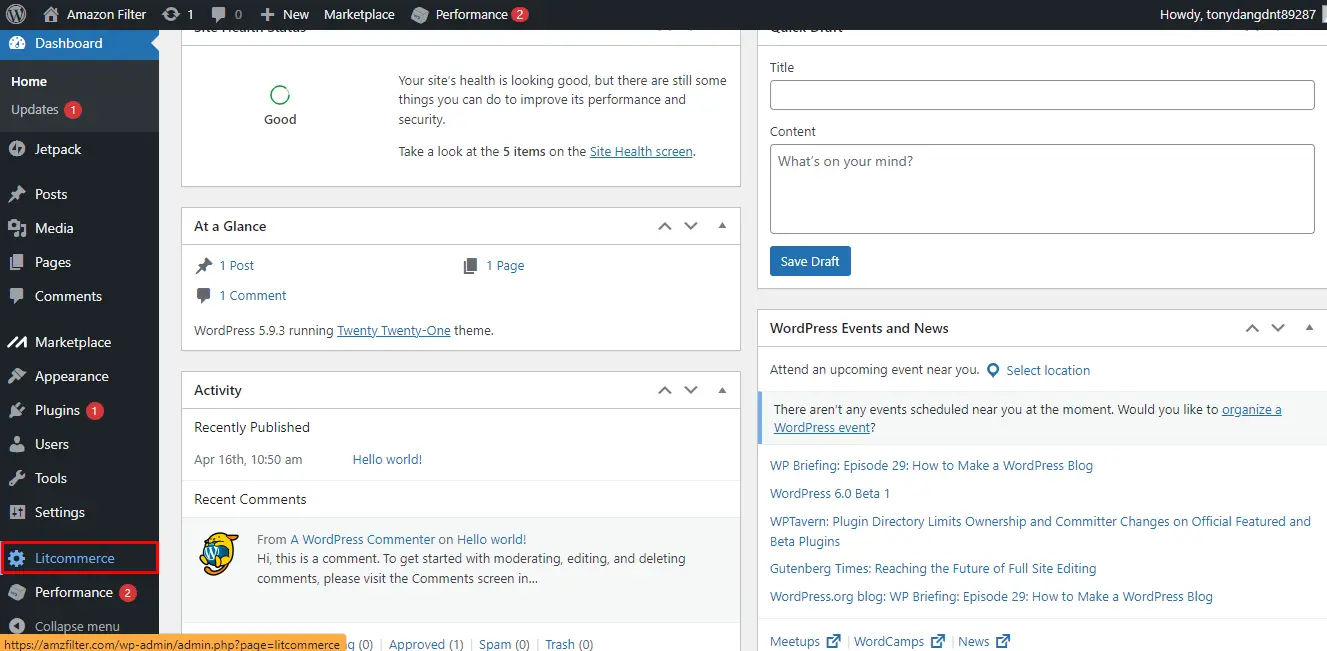 Then, click on Connect to LitCommerce and the process of connecting your WooCommerce store with LitCommerce will be implemented.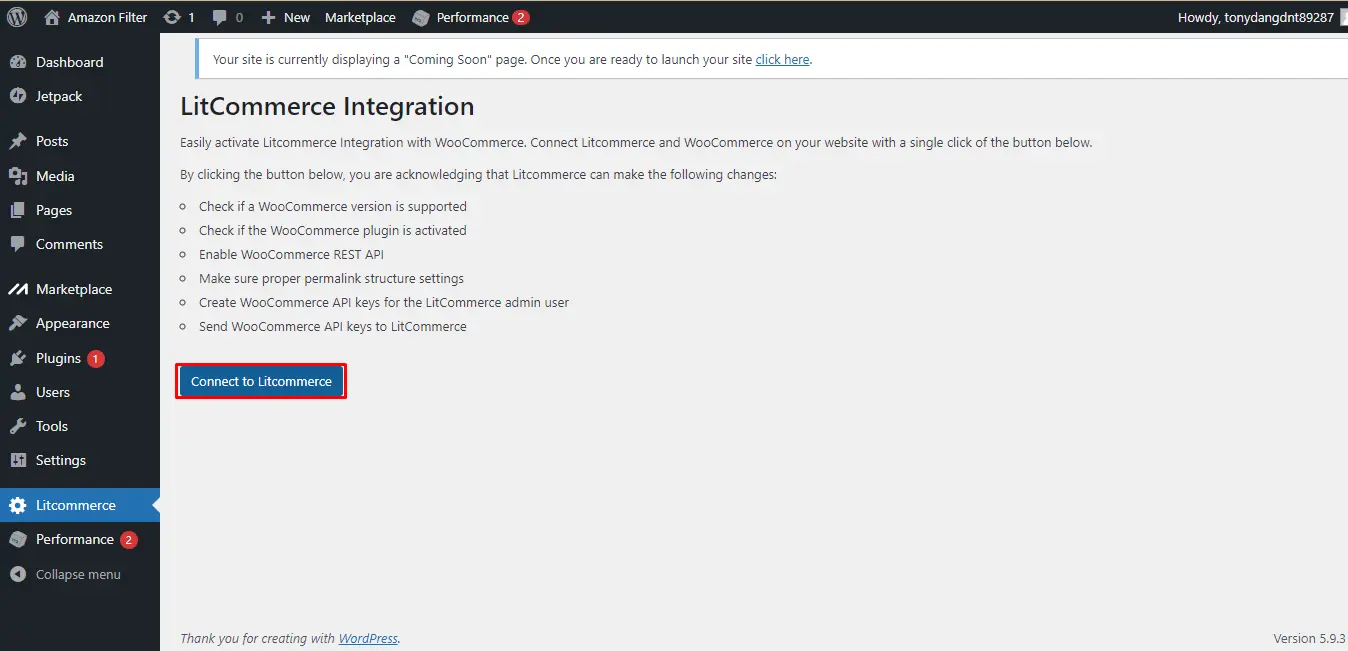 After the process is completed, click on the Connect to LitCommerce and the system will take you to the LitCommerce app so you can continue with the setup.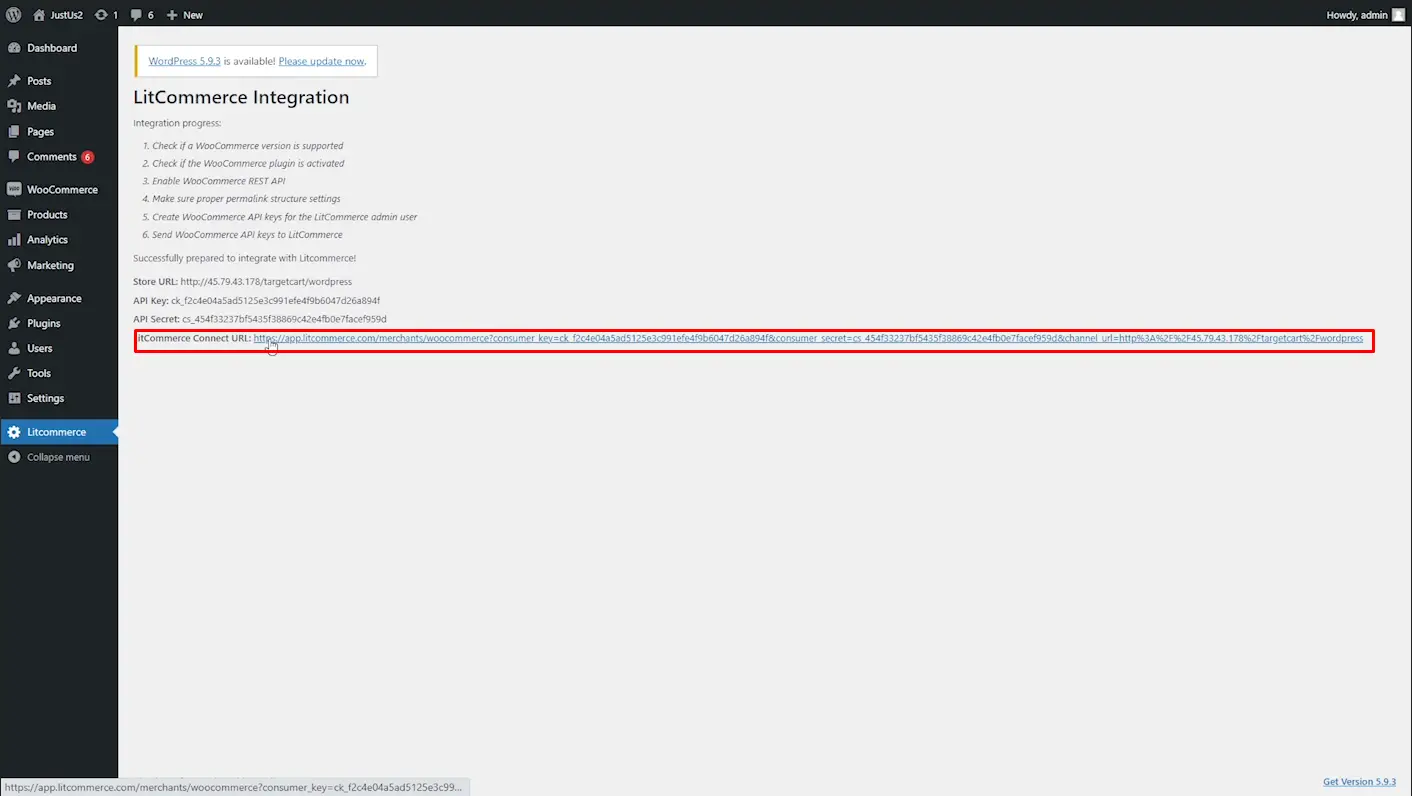 Check out this video if you need a visual presentation of how to connect your WooCommerce store:
After connecting with WooCommerce as your Main Store, you will move on to the next step: Integrating with eBay.
First, at the Setup First Channel window, select eBay as a sales channel and click the Connect button.
Then, proceed to log in to your eBay account and grant LitCommerce access so the app can integrate with eBay.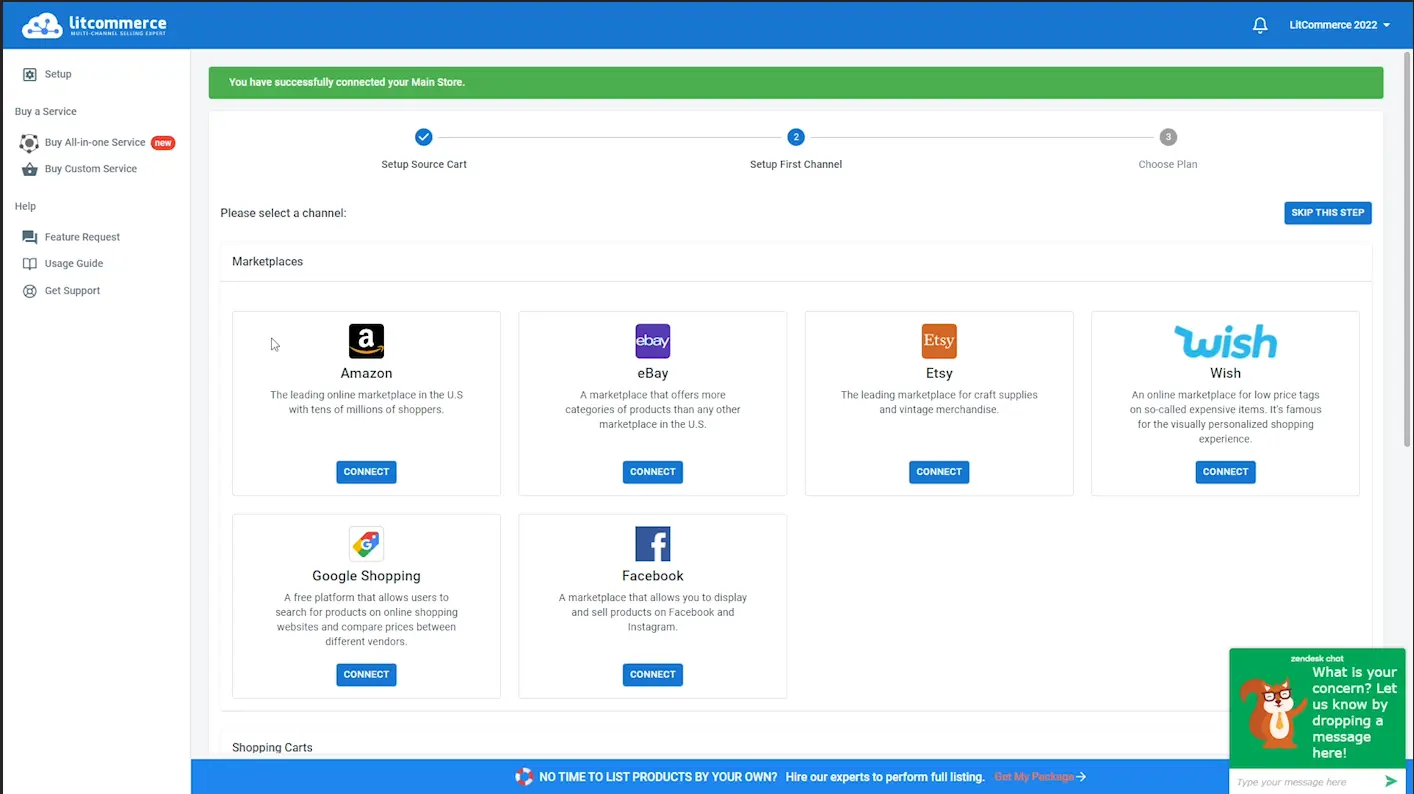 Once you have successfully connected your WooCommerce store to eBay, the system will redirect you to the LitCommerce dashboard.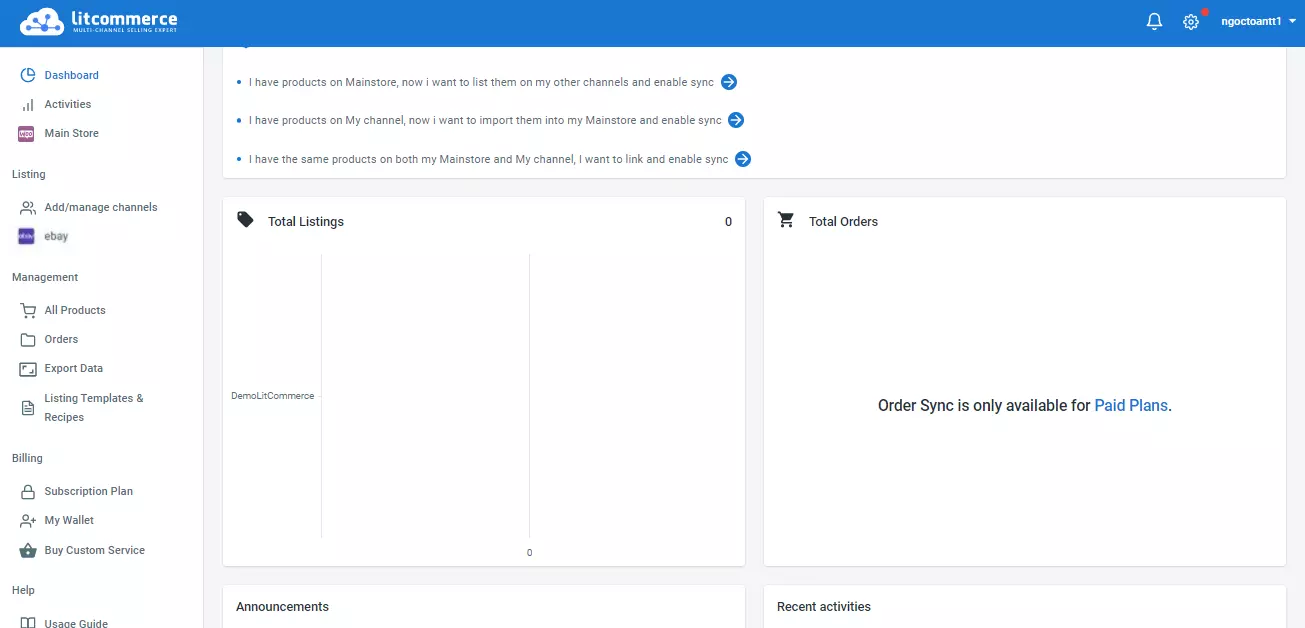 #Step 2: Import and link WooCommerce to eBay products
It is possible to bulk import from eBay to WooCommerce on LitCommerce in just a few minutes. From the left-side menu bar, navigate to All Products.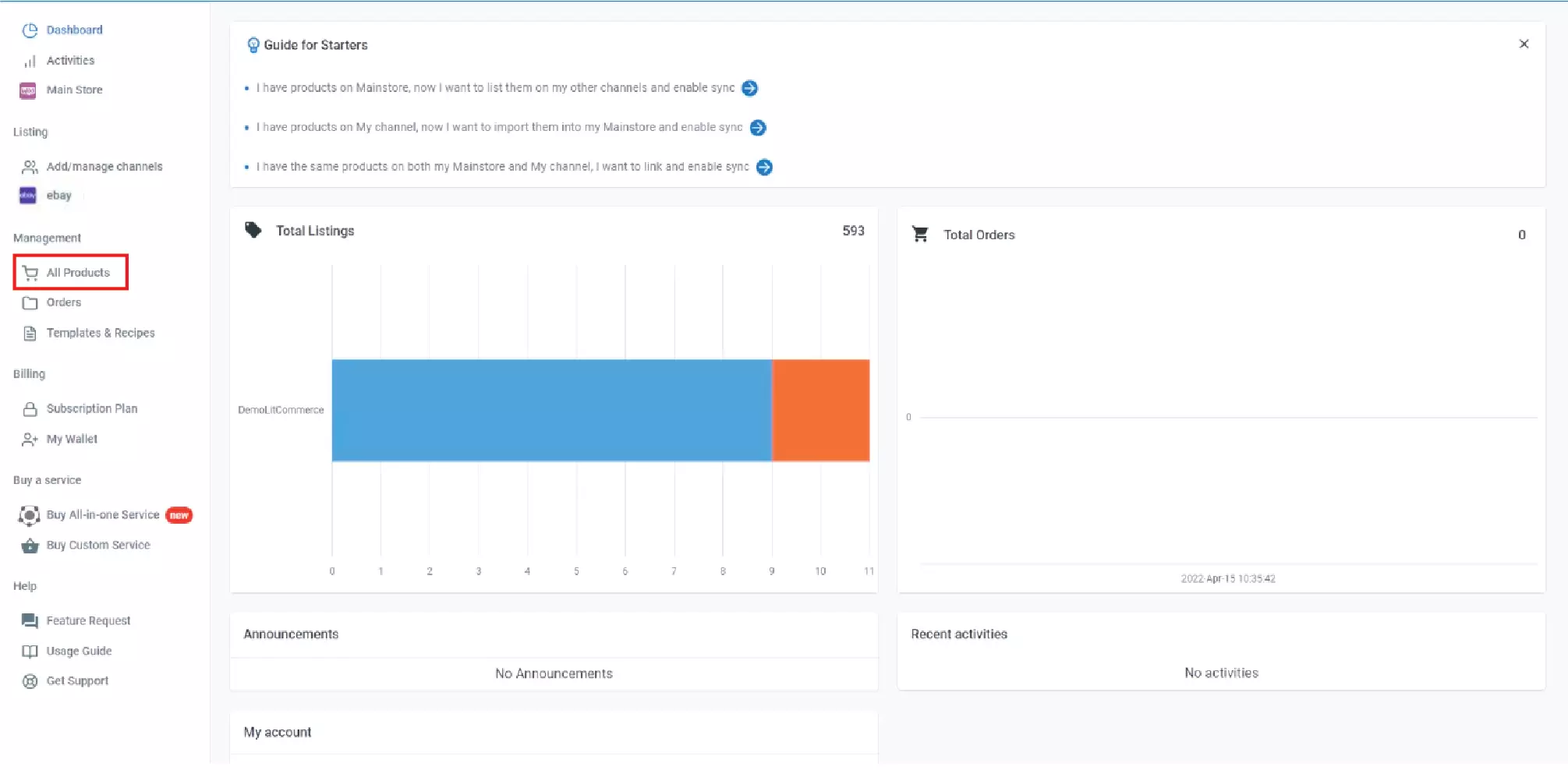 On the top right corner, click Import from WooCommerce to upload all current products on your WooCommerce store to LitCommerce.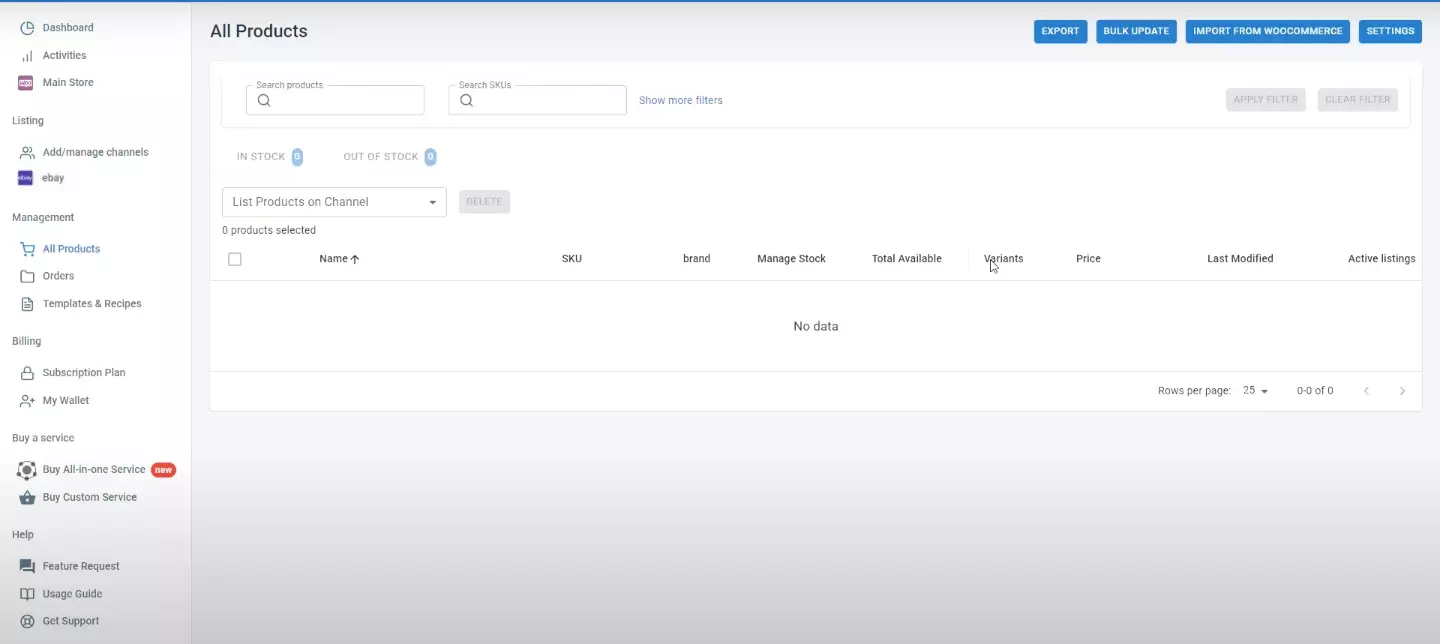 If you have sold on eBay for a while, some existing products and imported listings may have the same SKU in the central catalog after you import from eBay to WooCommerce or vice versa into LitCommerce.
Unluckily, this situation may cause product duplication which you can avoid by linking WooCommerce to eBay.
Read more
: For a better understanding of linking products and listing, go check our detailed instructions
here
.
When the product import is completed, you can freely list all products or certain ones on eBay by clicking the boxes next to the items. Then, above the product table, click on the List Products on Channel dropdown menu and choose your eBay store.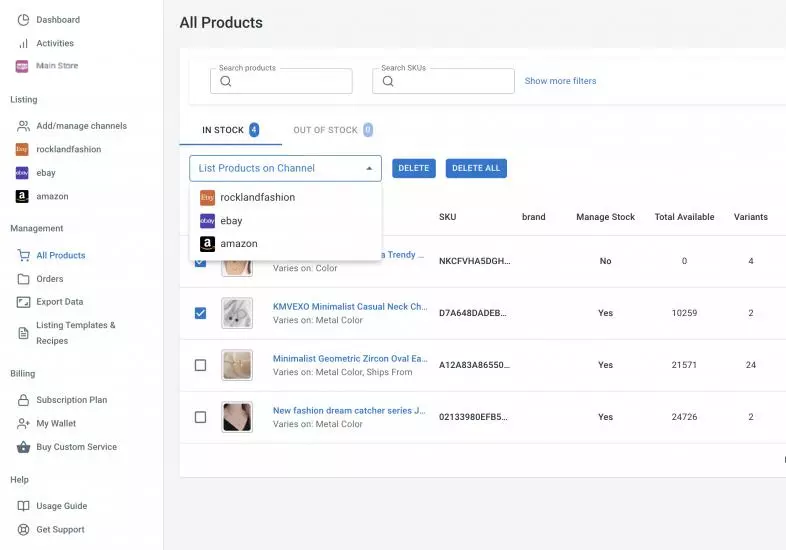 The system will then create draft listings and sort the chosen products there. You need to navigate to Etsy from the left-side menu bar to access the draft listings.
There, you can edit your listing attributes, namely title, descriptions, images, prices, and quantities, before publishing them on eBay up for sale.
Notably, you can expedite the process by applying templates and recipes instead of editing each product.
Being a set of options associated with product attributes, templates can be applied to multiple listings and save your time on manual editing. They apply to such attributes as Shipping, Category, Price, and Title.
Go to the dropdown menu of Select Action and choose  to Publish to eBay and Action. The published listings will then move to the Active tab.
It is possible to create listings between WooCommerce and eBay back and forth.
#Step 3: Turn on WooCommerce eBay sync
WooCommerce eBay sync is among LitCommerce's prominent features in the process in that you can synchronize inventory volumes, prices, and orders.
In your eBay window, go to Channel Settings beside Import from WooCommerce. You will see 3 sections there: Pricing, Inventory, and Order. Click on the switches under the features you would like to enable and confirm.
●      Pricing synchronization
With this feature, you can automatically update all pricing changes from WooCommerce on eBay. Additionally, LitCommerce even makes it achievable to set your own pricing rules.
Whichever way you want to display your prices on eBay, clarify the specific adjustments and they will automatically change accordingly.

It entails decreasing and increasing by either an amount or a percentage and the rules will apply to all eBay listings after you save the changes.
●      Inventory synchronization
Besides pricing, LitCommerce allows you to update your stock quantities between WooCommerce and eBay when you receive new orders.
Similarly, you can create certain inventory rules to instantly adjust the displayed quantity on eBay in line with those on WooCommerce.
Once you enable this feature, you can edit a particular quantity, together with the minimum and maximum amounts you want to sell on eBay.
The system will adjust the inventory quantity in the central catalog, then on eBay subsequently, to stay consistent with that on WooCommerce.
A word of caution here: You can only make updates on WooCommerce for this feature to work instead of on eBay.
●      Order synchronization
Store owners can also prevent overselling by turning the order sync feature on to display the correct product quantity on each channel. The amounts will then decrease equally for all channels to match when customers place new orders.

You can manage and fulfil eBay orders on your LitCommerce dashboard as the system has collected and imported from eBay to WooCommerce. If you want to handle orders separately, you can disregard this feature.
Once you are satisfied with the settings you have made, click Save Setting at the bottom of the screen window to save them all and proceed with the next steps.
Notably, you don't need to find any WooCommerce eBay sync plugin to get your job done. Within a tool, you can sync and manage every data easily and effortlessly.
#Step 4: Manage eBay Orders
After enabling the order sync feature, you can see all order details on your LitCommerce dashboard, which supports your order management and fulfilment.
Go to Orders on your left-side navigation menu on the dashboard.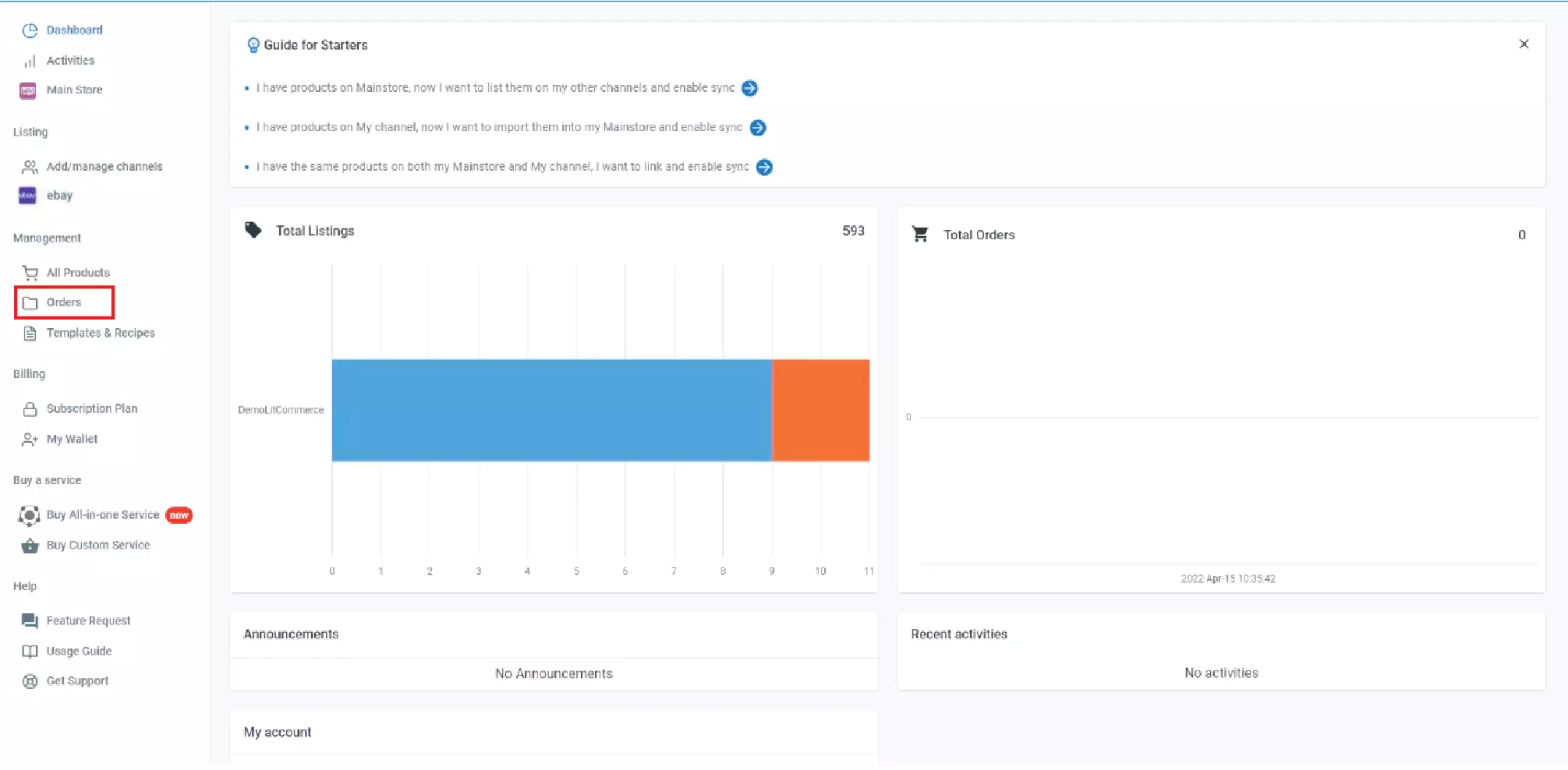 Such important information as order dates, statuses, channel numbers, and buyers' names will appear on the window. It will act as your order management center to keep track of the orders you receive from all sales channels.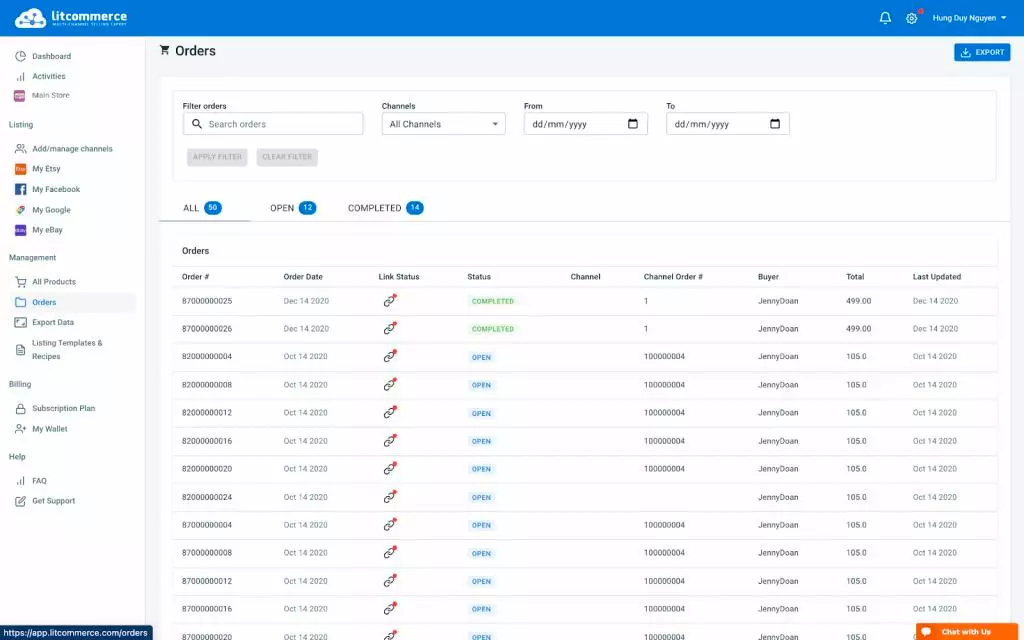 ---
Why Choose LitCommerce for eBay integration for WooCommerce
LitCommerce is a SaaS (Software-as-a-Service) multi-channel selling tool, helping merchants easily list and sell their products on the world's top marketplaces and manage everything from one dashboard.
While using LitCommerce, you can experience the best features possible to streamline the multi-channel selling process:
Multichannel Connect: Effortlessly connect with multiple sales channels and manage inventory, prices ,and orders within a single dashboard. No technical skill is required.
LitCommerce QuickGrid: LitCommerce QuickGrid is a spreadsheet-style interface that lets you view, edit and manage all listings on a single screen. You can edit products individually or in filtered groups and create rules to bulk update products with Templates and Recipes.
LitCommerce LiveSync: LitCommerce LiveSync establishes a near-instant sync of product listing, orders, pricing ,and inventory between your store and your sale channels.
Integrated Order Flow: Import your sales channel orders directly into your eCommerce platform's orders page. You can manage and process orders effectively in one place.
LitCommerce Pricing
LitCommerce Pricing Plans

- 20 listings

- No Price/ Inventory/Oder Sync

- 500 Listings
- Price/ Inventory Sync
- Unlimited Orders Sync

- 2,000 Listings
- Price/ Inventory Sync
- Unlimited Orders Sync


- 10,000 Listings
- Price/ Inventory Sync
- Unlimited Orders Sync
Realizing cost as a prominent factor in online selling, LitCommerce comes up with different subscription plans for all business sizes to choose from.
Note:
Recurring invoices, whether monthly or usage-based, will be delivered to the account you have registered every 30 days. The first billing will take place once you are finished with your payment details after choosing a pricing plan.
You must make payments in USD under the paid plans. However, neither credit cards nor extra fees to pay are required of you for all plans.
Customer Reviews
LitCommerce identifies itself as a dedicated integration service provider that caters to all customers' needs. For that reason, a favorable review like this is more than a strong encouragement to our team:
Responsive and friendly team

Litcommerce is very responsive and listens to their subscribers needs. I experienced some issues when trying to connect my site to ebay, but the Litcommerce team was able to help me resolve all of my issues one by one. They have been very patient and have looked into and resolved all of my issues. Thank you!

– From Michael, Store Owner –
To have a better understanding of how LitCommerce impresses other users as an effective and cost-saving integration solution, check Trustpilot for more feedback.
---
Benefits of WooCommerce eBay Sync
Exploring the benefits of WooCommerce eBay integration can greatly impact your decision when you are looking to sell on more than one channel.
1.    Save time with the bulk listing tool
The process of integrating WooCommerce with eBay can be time-efficient when utilizing LitCommerce.
By using the LitCommerce tool, you will spend little to no time listing and editing products in bulk between WooCommerce and eBay in real time without logging in to separate accounts and worrying about losing product attributes.
Automating your eBay store with WooCommerce will not only reduce repetitive work but also save plenty of resources for other high-priority tasks. Connecting WooCommerce to eBay even with WooCommerce eBay sync data across all sales channels effortlessly and cost-savingly.
2.    Manage everything with the centralized solution
Using LitCommerce, you can oversee your multi-channel selling progress from one place only for better management.
When you have an existing WooCommerce store and intend to sell on online marketplaces, namely Amazon, Etsy, and eBay, you can easily manage everything when performing integration with LitCommerce.
It accommodates the product import from eBay to WooCommerce and uploads from WooCommerce to all these channels with ease.
3.    Improve your business efficiency
While the integration process itself is not complicated, connecting WooCommerce to eBay with LitCommerce is worthwhile when it comes to business operations.
For example, you can ensure larger sales generation and collect wider customer behavior analysis courtesy of the two channels combined. Similarly, it is easier for you to handle other important tasks when running your own business given the benefits above.
All in all, you don't have to worry too much about expanding brand visibility and customer base alike.
---
FAQs – WooCommerce eBay Integration
1. Which is better, WooCommerce or eBay?
Both WooCommerce and eBay can brilliantly differentiate themselves from their competitors with distinct and admirable features.
WooCommerce entices store owners with its high flexibility that grants complete control over their site configuration at reasonable prices. Over 1,000 WordPress plugins are also at your service whenever you plan to empower your business with the abundance of functionalities they provide.
At the same time, eBay still stands tall as a multinational eCommerce empire to date. Adopting the unique auction-listing business model, our resident online marketplace allows store owners to sell items, whether brand new or second-hand, at minimum cost. Despite operating as an online marketplace all along, eBay also offers user-friendly storefront customization, developing seller identity apart from eBay's.
All things considered, integrating WooCommerce with eBay makes perfect sense to make use of their merits together, especially when LitCommerce allows it to happen swimmingly.
2. Can I connect WooCommerce to eBay?
Thanks to LitCommerce, online store owners can make WooCommerce eBay integration possible with just 4 simple steps below:
#1: Connect WooCommerce to eBay.
#2: Import from eBay to WooCommerce.
#3: Turn on WooCommerce eBay sync.
#4: Manage eBay orders.
LitCommerce can even support customers' special needs that are outside the default services with the customizations. Please feel free to discuss them directly with our Customer Support team for more information.
3. How do I sync my WooCommerce inventory with eBay?
To make the most of your multichannel selling business, you cannot miss out LitCommerce as a WooCommerce eBay sync tool.
On your LitCommerce dashboard, in the WooCommerce section, go to Channel Settings and you will see the function right there. Enable it by turning the mode on, then set the inventory rules until you deem them appropriate. Your WooCommerce inventory will be automatically synced with eBay by LitCommerce for you.
4. How do I list my WooCommerce products on eBay?
It is entirely feasible to push your WooCommerce products to eBay in bulk with LitCommerce's product listing feature. Visit All Products on your LitCommerce dashboard > Import from WooCommerce. You can choose either all products or certain ones to list and click on eBay from the List Products on Channel dropdown menu.
As soon as you make sure you are ready to publish the products, in the Draft tab, choose Select Action > Publish to eBay > Action.
---
Conclusion
When you plan to expand to online marketplaces like Amazon, eBay, and Etsy, the integration process can be laborious, especially for your WooCommerce store.
To fulfill the role of a WooCommerce eBay lister app, LitCommerce is determined to prove itself over time with constant improvement. Let's have a chat with us and our Customer Support team will guide you through the process right away.
LitCommerce User Guide is of great help if you want to look into multi-channel selling further. You are also welcome to join our Facebook Community where you can discuss multi-channel selling and other matters with those interested in the eCommerce industry.
These articles can also help you with your business growth: