Introduction
So, you've decided to sell on Etsy. You think of yourself as a bit of an artist. And, hey, it wouldn't hurt to make extra money part-time. At some point, it might even become a full-time job. However, what are the items most likely to bring you money from Etsy?
Etsy is a high-opportunity marketplace for individuals ready to get creative since people shop on Etsy looking for something new and unique. However, knowing that the possibility exists isn't enough; you also need to know what you can sell on Etsy to help you create a profitable eCommerce business.
The best selling items on Etsy strike a balance between your needs as a merchant and your customers' wants. This article will look at the top 7 product types that offer both profit margins and popularity, making them ideal for a new seller.
Let's get started!
Understand the rules before deciding what to sell on Etsy
Before we go any further, it's vital to understand that the Etsy marketplace isn't suitable for all types of businesses. Etsy is established on the idea of unique, handicraft items, and it works hard to maintain that reputation. As a result, you can't sell certain products on Etsy, and thus, certain business models won't work on this marketplace.
For example, a regular wholesale or resale business isn't feasible on Etsy. The handmade category must include one-of-the-kind and handcrafted items (or made from an original design with the assistance of a verified product partner). The Vintage category does allow reselling, but only for products that are at least 20 years old. You can sell commercial, non vintage items in the Craft Supplies Category, but only under very strict parameters.
On Etsy, you can establish a dropshipping business with particular products and categories. You will, however, need to name your dropshipper as your production partner owing to Etsy's transparency standards. You should also make every effort to ensure that your dropshipper complies with Etsy's requirements.
Within these confines, though, the Etsy marketplace offers a world of potential.
How do we decide the best selling items on Etsy?
If you've looked for "the best selling items on Etsy", you will discover that there isn't a single correct answer. Data on Etsy product performance is more difficult to acquire than data on Amazon products, for example. Even the best Etsy SEO tools can only provide a limited amount of trend info.
However, as a new Etsy seller, you need to know what products will give you the most chance of success when you first start out. To that aim, we've devised our own set of criteria for determining the best selling items on Etsy for you to begin promoting your Etsy shops.
For new Etsy sellers, these 3 product success factor influence our judgment of "best":
An excellent sales opportunity: You'll need a product that falls into a popular category but isn't overcrowded. The best items are those that cater to customers who seek a wide range of possibilities or something truly unique.
Low entrance barrier: Some products require costly equipment, lengthy production contracts, artistic ability, or all three. You'll need things that don't require a lot of knowledge or overhead to get started selling on Etsy.
Profitable: Last but not least, especially in these tight financial times, you need to sell things that make you money. The most cost-effective products for novice sellers are those that are easy to create and ship.
While there's no proprietary data or secret code that will guarantee you a winning product idea, we're convinced that these 7 product types will provide you with the popularity, buyer demand, and cost-effectiveness you need to launch a successful Etsy business.
Top 7 Things to Sell on Etsy
1. Stickers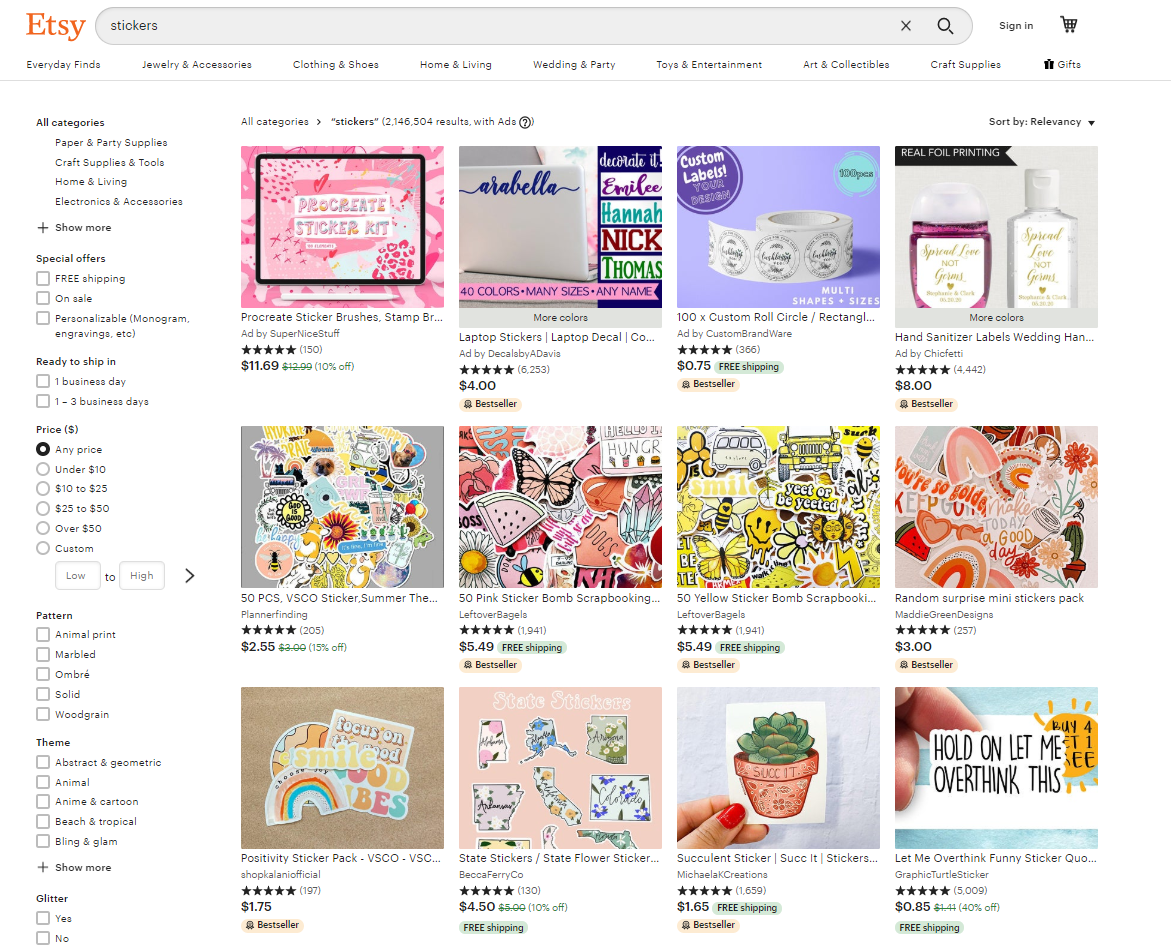 Etsy provides stickers for almost any purpose: wall stickers, labels, bumper stickers, scrapbooks, planners, water bottles, stationery – if you need something bright and sticky, Etsy has it. The designs range from comical to professional personalized labels, allowing retailers to tap into a new market.
You can undoubtedly find an eager audience if you can make it fresh, exciting, and tailored to the demands of the market, as you can with many Etsy products. The key to using stickers effectively is to determine the function of the stickers and then focus your design on that goal. For example,  if you're selling stickers for laptops or water bottles, you'll want to make something that allows customers to express their identity. If you're making wall stickers for kids' rooms, though, you'll need to come up with some amusing designs and quotes.
Stickers are inexpensive and simple to create and ship, which is wonderful for new merchants. There are a variety of outstanding custom sticker suppliers available at various price points, so you can choose the ideal production partner for your needs. To make this products, you'll need some basic graphic design skills and software, although some of the most popular stickers on Etsy are really simple.
2. Personalized Clothing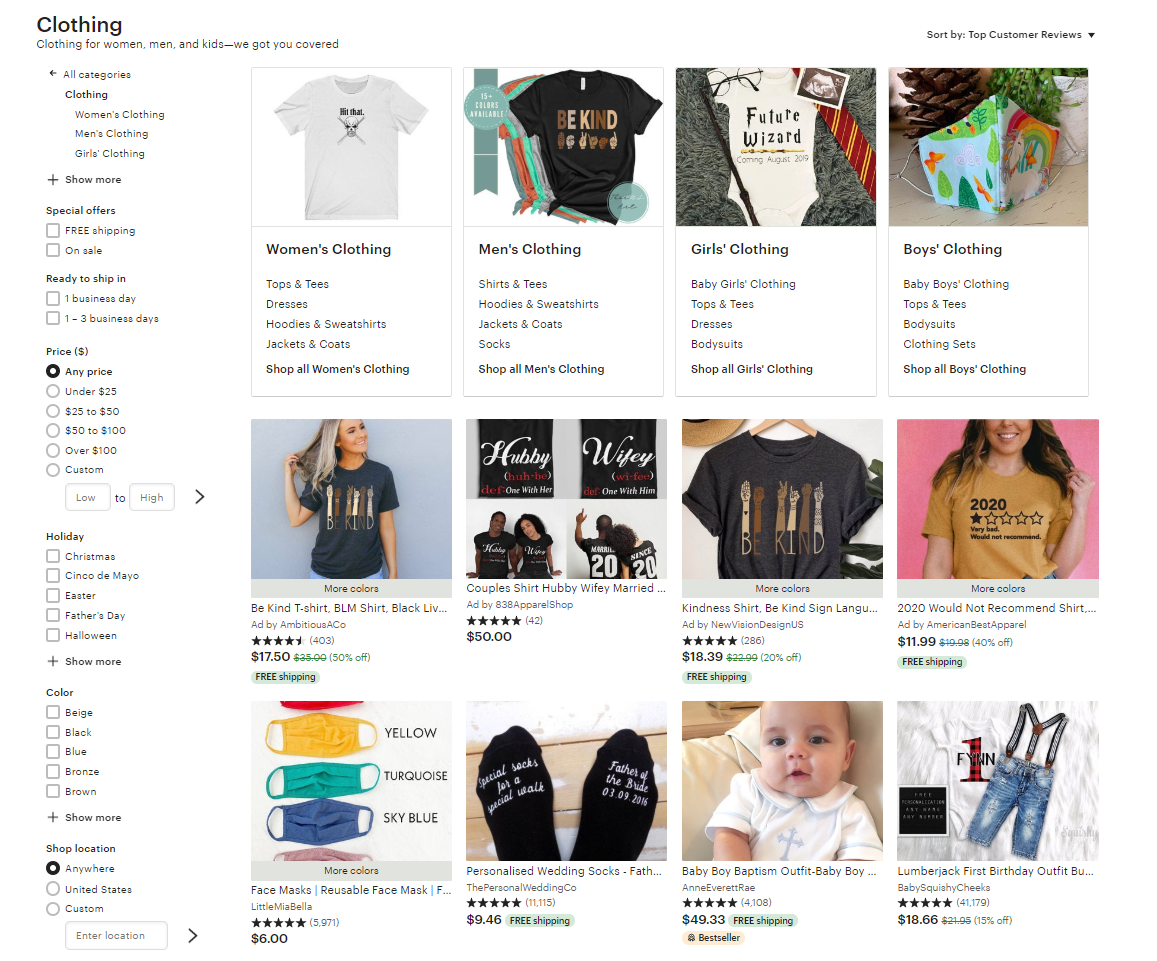 Personalization is a significant market on Etsy in any category, but apparel has the best chance for these kinds of items. Everything from birth announcement onesies to family reunion T-shirts to face-on-socks – the ingenuity and volume of personalized things on Etsy is astounding, and it offers new sellers a diverse audience.
Again, the market is large, but because there's such a great desire for fresh, unique personalized items, this is one of the best things to offer on Etsy. If you can combine a fun or useful idea with a high-quality product, you'll almost certainly find a willing market for it.
It's also one of the best selling items on Etsy. You can sell personalized items and then dropship them through your supplier if you find the suitable production partner. Just make sure you do your product research. Look for a fresh take on a popular genre. If you search "bridesmaids gifts", you'll find a lot of personalized items, so instead of copying what others have done, seek for something that meets the demand but does so in a unique way.
3. Jewelry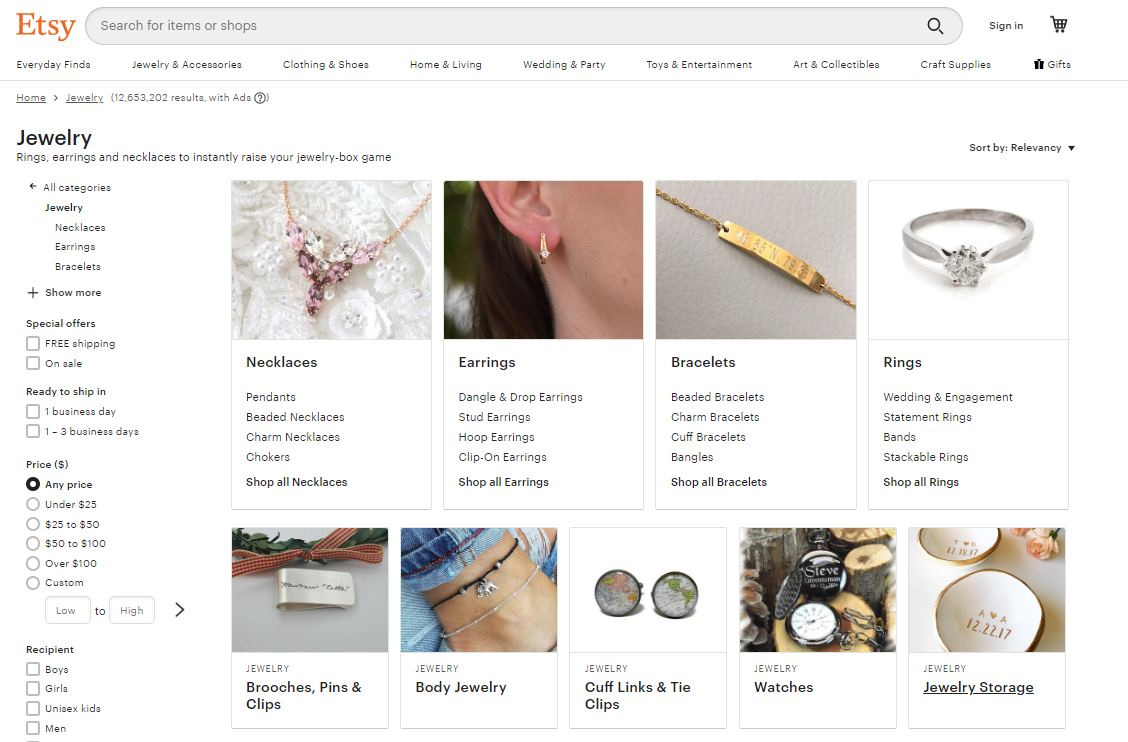 It's no surprise that jewelry is one of the best selling items on Etsy. Because jewelry is a form of self expression, customers come to Etsy looking for one-of-a-kind items, which is why this category is still a viable option for new sellers even though there are over 12.6 million products posted.
Customers choose jewelry that can be customized (with names, monograms, messages, etc.) as well as jewelry with a lot of personality, according to the top sellers in jewelry. Items for relationships or special occasions, particularly those that include a note card, consistently perform well among customers searching for a unique gift.
Jewelry comes up in a wide range of skills, materials, and tools, but there are many low-cost options for capturing a trend or niche. This reduces the entry barrier, especially when the jewelry is not bulky and thus inexpensive to send. You won't need much space to store supplies or make your items, and depending on what you're making, a few basic tools should suffice.
Look through the subcategories for ideas and niches that you think you could fill. Jewelry can be a simple product to get you started on Etsy if you have a little creativity and basic artistic ability.
4. Graphic designs and printables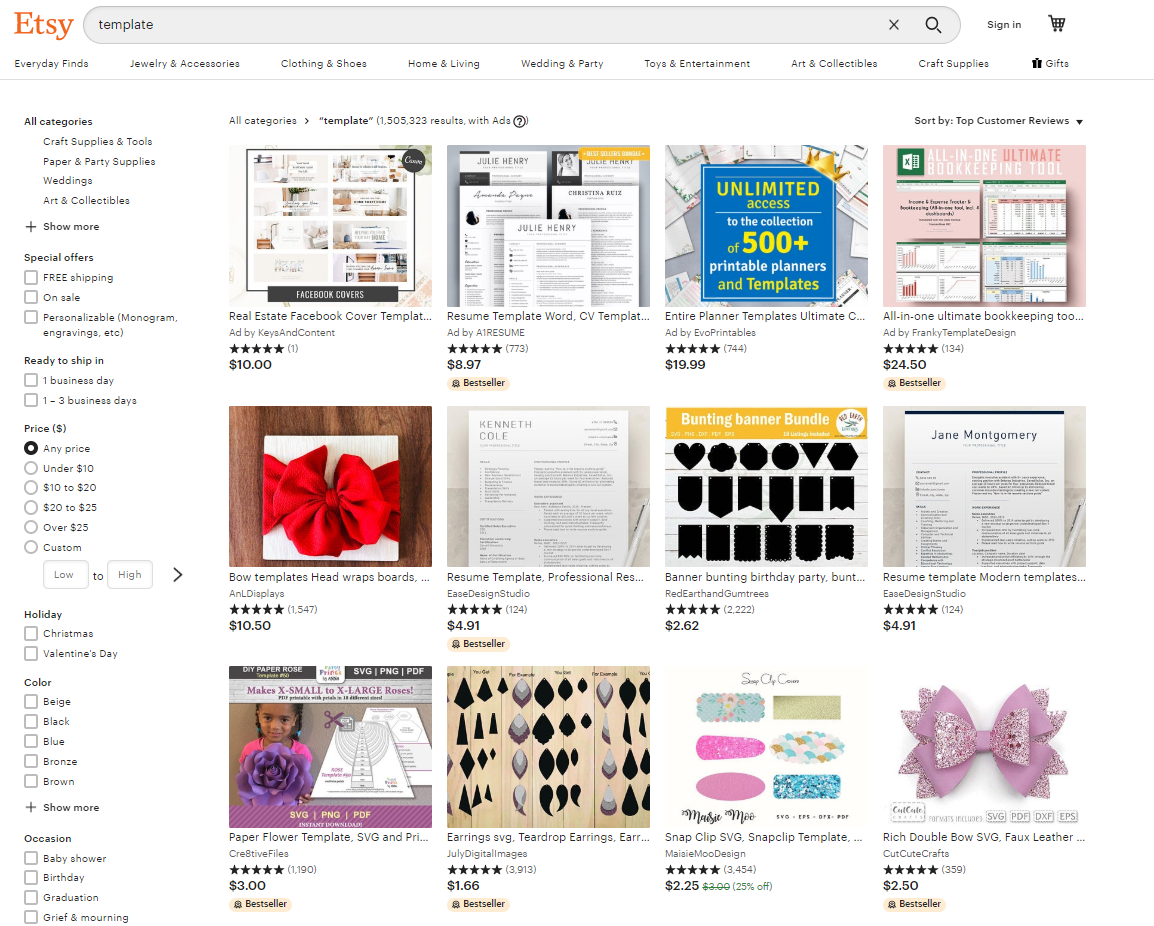 You might be surprised to hear that Etsy offers a robust digital economy in addition to physical goods. Everything from résumé templates to downloadable art prints — as well as a variety of other printables — can be purchased for as little as a few dollars, but some sellers have found success with higher-priced downloads.
When you look at the sales data for all-digital merchants like VectoriaDesigns or ArtCult, you'll notice that there's a lot of variation within this area, as well as a lot of demand. Small enterprises looking for graphics, labels, and business assets to college students looking for an inexpensive way to decorate their dorms are among the target audiences. Get creative with Etsy, as always—meet your market in a unique way.
The good news is that you have a lot more flexibility with this product to experiment and discover something that works. Because Etsy fees are the only necessary overhead, you can start selling on Etsy without any capital or inventory if you can make enough to cover the minimal expenses. You may start selling on Etsy with some basic graphic design skills (or the drive to develop them) and a free program like GIMP or Canva.
5. Wedding stationery
The wedding industry is massive—the wedding market in the United States alone is estimated to be worth $73.6 billion! Add in the overall cost of decor, favors, and stationery, which, according to Wedding Wire, comes to $2,460 per wedding. This is reflected in the size of the Etsy wedding market.
While there are a lot of high-end products in this area, there is enough continual demand for one-of-a-kind items to make it a worthwhile investment for new sellers. Table place cards, customized save-the-date cards, and unique wedding invitations are all low-barrier ways to break into the wedding market. The equipment and abilities you'll need to start selling these kinds of products on Etsy will vary depending on what you're attempting to sell, but many wedding stationery products don't require much in the way of design and production.
Aside from thoughtful, innovative designs, top sellers in the wedding category share a common trait: the branding they give their products and stores. Given many customers' emotional states, sellers who go above and beyond to add a personal touch will be better accepted than sellers who make no attempt to market themselves.
6. Craft Supplies
As previously mentioned, the craft supply category is somewhat of a catch-all. This category includes everything from nails decals and egg stamps to crochet designs and face mask wire strips, but we're talking about selling craft items like breads, charms, ribbons, yarn, and so on. This is where we see a big opportunity for new sellers.
Many Etsy's top sellers provide jewelry and other supplies, indicating high demand. Even better, aside from marketing your business, this niche doesn't require artistic abilities. You can establish a business that reaches a qualified audience with a profitable product if you can understand who your buyer is and what their wants are. (For more information on how to sell craft items, check out Etsy's Seller Handbook.)
To begin, determine what your potential buyers value the most. Is it a low price option? Buying in bulk? Standout designs? You'll need to identify the suitable wholesale provider for your products once you have that information. Whether your wholesaler sends the product directly to you or dropships it to your customers, you need a reliable partner.
If you can match a wonderful product to the needs of a crafting niche, you'll have a low-effort, high-reward product on your hands.
7. Craft Kits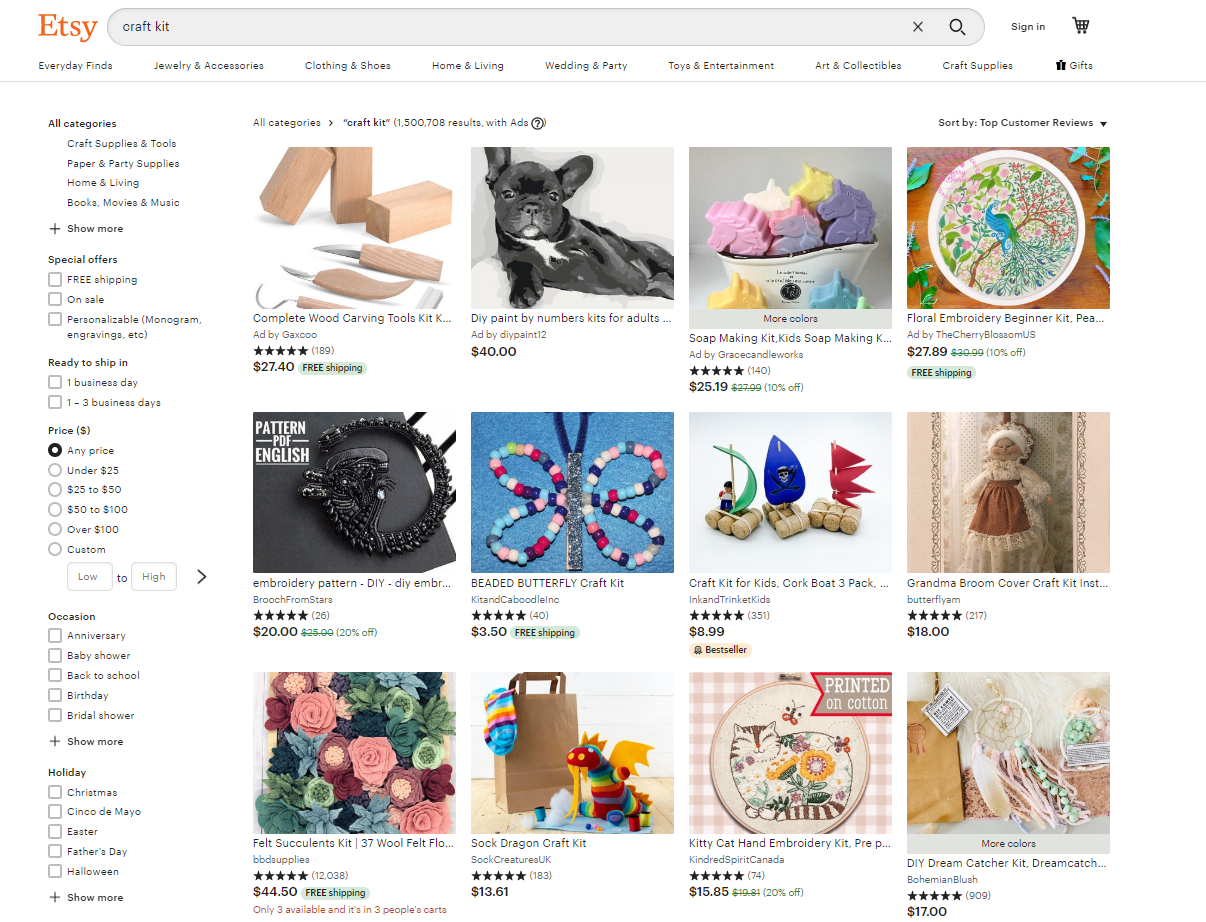 Last but not least, craft kits are one of the best selling items on Etsy these days since everyone spends more time at home. These kits range from more complex crafts in attractive packaging to children's kits. Crafts that provide something fascinating (particularly for children or families) but aren't overly sophisticated fall into this market's sweet spot.
New sellers can find a niche in this market and essentially put together tiny sets of craft supplies for a decent upsell. Smaller, lighter kits are easier to transport and less expensive, and you can make for popular tasks like needlework or jewelry-making.
To sell this type of product, you'll need a place to assemble the kits, as well as the necessary crafting and packing materials. Once you've found a reliable source for these, you'll want to spend some time developing a brand that will help your craft kits stand out.
DIY craft kits are a fun and economical method for Etsy sellers willing to put a little additional creativity and elbow grease into the process to make a profit.
Final words: Get creative!
On Etsy, there are numerous chances for low-effort, high-reward products. Finally, the best selling items on Etsy are something that combines your skills and passions to a buyer's requirement. So perform some product research, set aside some time to prepare by locating reputable manufacturing partners and materials, and then ready to action!
If you're currently having these kinds of items and selling on your website, it's the best time to expand your business by integrating your store to Etsy. LitCommerce is the multi-channel selling expert that can help you sell on the top global marketplaces without knowing a line of coding. You can contact the 24/7 customer support team for further information or join the Facebook Community for more Etsy tips and news.
Good luck!