If you look to leverage the full potential of two dynamic platforms – Amazon and Shopify, consider using Shopify Amazon integration. However, connecting Shopify to Amazon manually seems challenging and time-consuming. Will it be worth all your effort?
Should you find yourself stuck in the dilemma of manual Shopify Amazon integration, we've got you covered. LitCommerce is a simple and affordable multichannel selling tool that helps to lift all your manual tasks and Shopify Amazon inventory management. Particularly, we offer a seamless process to connect Shopify to Amazon in 5 steps:
Now, let LitCommerce be your guiding star and walk you through 5 steps to integrate Shopify with Amazon.
Kick Off The Multi-selling Race On Amazon and Shopify
Don't miss your chance to multiply your profit by going live on Amazon and Shopify. Join us in the multichannel selling journey and strike for skyrocketing revenue today!
---
Why Should You Integrate Shopify with Amazon?
Unlocking your multichannel selling chapter is undoubtedly challenging, yet it has much to offer in the long run. Here are some reasons you should implement multichannel integration, to which extent Shopify Amazon sync is no exception.
Enhance selling capabilities: Relying on a single platform limits your selling capabilities regarding certain aspects. As mentioned, when selling on Shopify, you can take advantage of its full eCommerce toolsets and face fewer sales restrictions. However, your chances of boosting product visibility or accessing an extensive fulfillment network on Shopify can't compete with the Amazon Marketplace. So, why not diversify your sales channels with Shopify Amazon integration?
Increase conversion rate: Once you have tapped into a massive audience from both selling platforms, you can increase the current purchase rate. Not to mention, both Amazon and Shopify have excellent reputations and numerous integration apps to help level up your conversion rate simultaneously.
Simplify selling procedures: With Shopify Amazon integration, you won't have to manage inventory or process orders separately from sales channels any longer. In most cases, sellers use an app like LitCommerce to connect Shopify to Amazon, which lets them manage their business from one screen.
Earn in-depth customer insights: Another reason to carry out an Amazon Shopify sync is to gain a better understanding of your existing or potential customers. Due to platform features, Amazon and Shopify have different customer journeys. Accordingly, you need to implement various methods from the approaching to converting stages. This will surely mean a lot of hard work for you. But once you have optimized your eCommerce strategies based on the insights gathered, you might expect a rise in sales revenue. 
---
Requirements for Shopify Amazon Integration
To successfully link Shopify to Amazon, make sure you have adapted to the following requirements: 
You have an active Shopify store: It is important that you have a source store ready to be integrated. In case you haven't got a store on Shopify, simply create one following the provided guidance on this platform. Then, you can go ahead with your Shopify Amazon integration.
You have an active Amazon Seller account: This is another requirement for connecting Shopify and Amazon. Similar to the previous term, you must have a seller account ready. Or else, register with Amazon. However, the verification process may take you a while.
Your currencies on Shopify and Amazon are similar: All currencies on your stores should resemble one another. If you are not setting them in the same currency, you'd better do it now. 
Your products are approved: As you sell on Shopify, you don't face as many selling limits as selling on Amazon. Therefore, check again to ensure you don't sell any products that are in Amazon restrictions. In other words, your products on Shopify should all be approved by Amazon.
You have all relevant product details in hand: Having all the product information in hand is necessary for any integration, including the Shopify Amazon case. No matter if you integrate Shopify with Amazon manually or automatically, always get your product details ready (especially UPCs and GTINs).
Notes: You should check if you are using Amazon FBA. if you are using it, remember that FBA is only for Amazon products, not those sold from your source store. Therefore, pay high attention to shipping and fulfillment once you integrate Shopify with Amazon.
---
Shopify Amazon Integration in 5 Steps with LitCommerce
Here comes the part we have been waiting for – 5 steps to link Shopify to Amazon: 
#1. Connect Shopify to Amazon

#2. Import and link Amazon products

#3. List Shopify and Amazon products

#4. Enable sync

#5. Manage Shopify and Amazon order flow
Without further delay, let's jump right into our Shopify Amazon integration guide!
Step 1: Connect Shopify to Amazon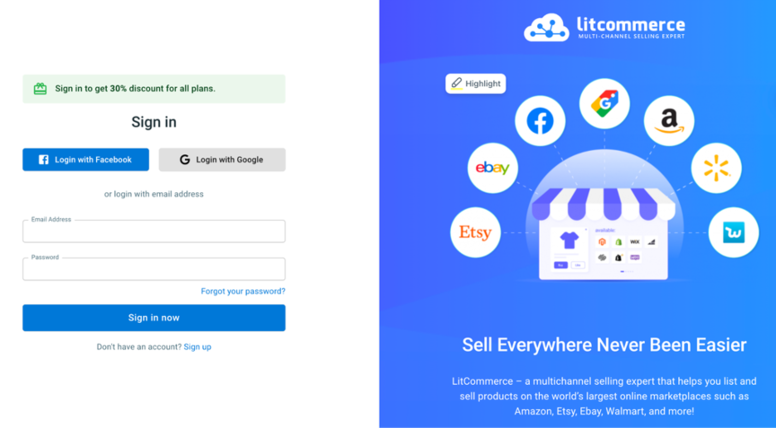 Note: The LitCommerce app is also available on Shopify App Store. Simply go to Shopify and search LitCommerce, then click to install.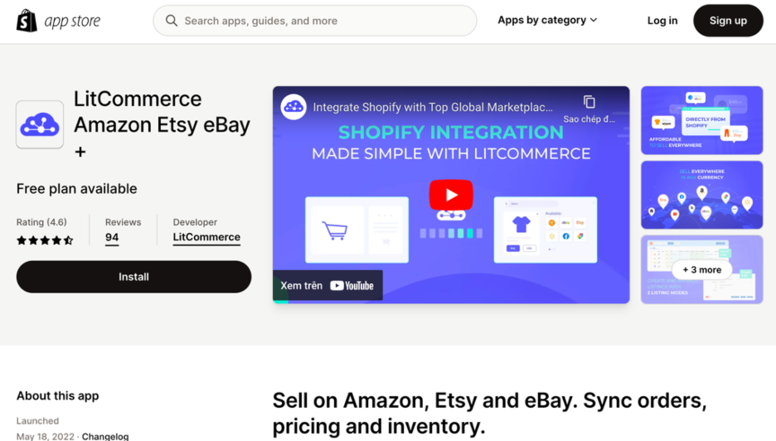 Moving on with our Shopify Amazon integration on the LitCommerce app, it's time for initial setup. This includes connecting your Main Store (Shopify) and First sales channel (Amazon).
Now, from the LitCommerce dashboard, hit Setup and direct to an interface where you can choose Shopify as your Main Store on the app. Apart from Shopify, we offer integration packages for 4 more top eCommerce platforms, including Wix, BigCommerce, WooCommerce, and Squarespace.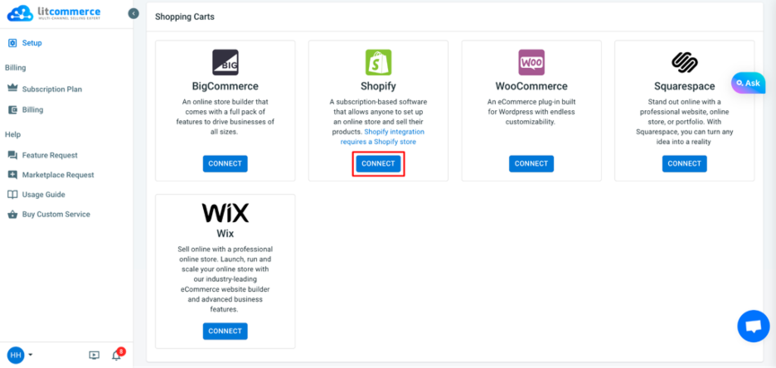 Next, fill in your store URL and you're good to go.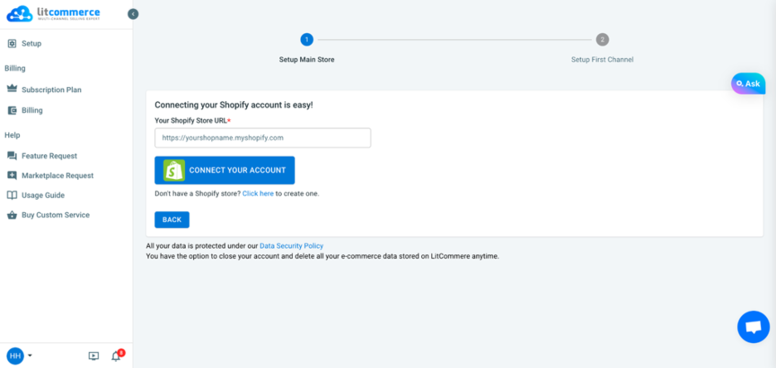 Our Shopify integration with Amazon continues with connecting to Amazon (your First sales channel). At this point, click Amazon. More about connecting sales channels, you have more than 10 popular marketplaces besides Amazon. So, if you intend to expand to other selling platforms, we've got you covered!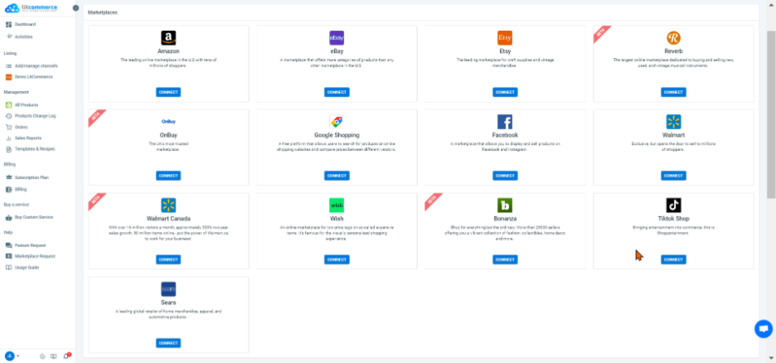 You have succeeded in connecting Shopify to Amazon. Let's head to the next step of Shopify and Amazon integration!
Step 2: Import and link Amazon products
Continuing our Shopify Amazon integration, let's learn how to import and link Amazon products. This is an optional step serving sellers who are selling products to Amazon already and want to link products on Amazon to Shopify for better inventory management.
#1. Import Amazon products
Navigate to the left-sidebar menu and click the Amazon channel. From there, choose Import from Amazon.

Note: On the importing page, you can seamlessly create new listings on Shopify. As soon as you've clicked the button, we will import your Amazon listings and add them to your Shopify store.
#2. Link Amazon products
It is worth noting that you must match Amazon listings in the same SKUs from Shopify to avoid duplication during the integration process. More about data linking products on Amazon and Shopify, it allows straightforward data transfer from litCommerce to your listings, making sure that your sales channel stays updated 24/7.

Notes: Here is how you check the linking status of each listing. Look at the chain icon next to your product listing from the above image. It may have a blue or red dot. In detail, the blue dot means your products are linked, while a red dot indicates your listings aren't linked to any product. If your listings aren't connected to available items, you cannot use pricing and inventory synchronization during Shopify Amazon integration.
By any chance you haven't linked your listings, here are 2 ways to perform it: automatically and manually.
1. Automatic Amazon product linking
During your Shopify Amazon integration with LitCommerce, you can link your listings to products while running a listing import. As you conduct listing import from Amazon to LitCommerce, choose Build products from these imported listings.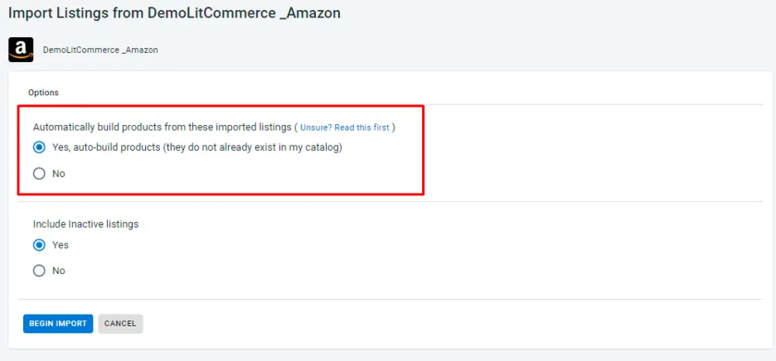 Once you have clicked to build products automatically with LitCommerce, our system will create products based on your provided details (SKUs, titles, descriptions, etc.) and auto-link your listings to those products. By enabling auto product linking, you won't have to worry about product linking or handle them manually.
2. Manual Amazon product linking
While linking Shopify to Amazon, you might have to link products manually. Discussing the matter further, there can be several root causes leading to this inconvenience, which include:
Your SKU numbers across selling platforms have mismatched;
Some of your listings don't have SKUs.
Whatever case you are in, manual linking is a must for successful Amazon Shopify integration, and here is how to do it.
Choose an unlinked listing and hover above the chain icon, then click Link to a Product;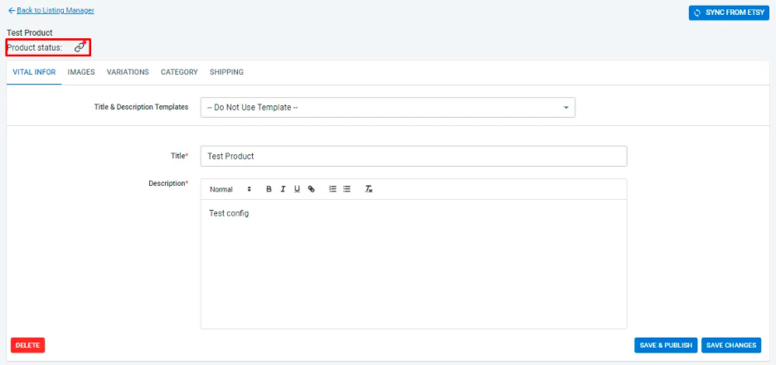 Fill in the product SKU that needs to be linked;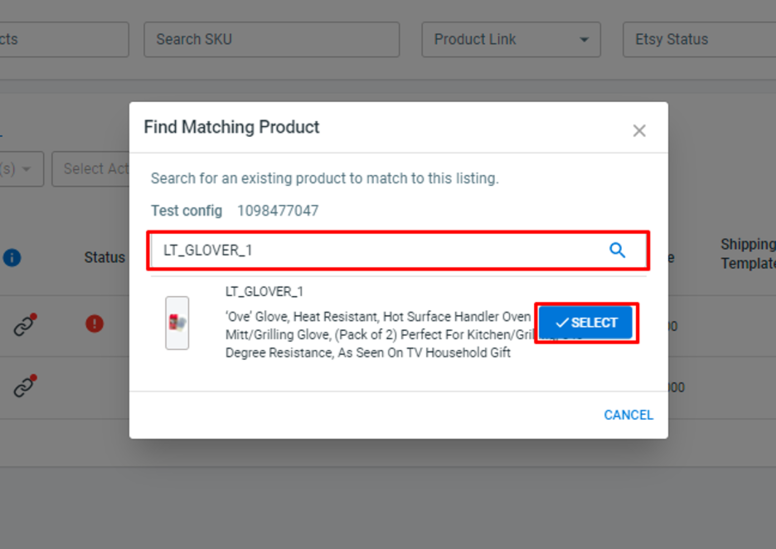 Select your wanted product as it shows up on the screen;
Once you have completed these steps, a notification will appear confirming that your listings and products are now linking to each other. Ensure all products are linked to smoothly perform Shopify Amazon fulfillment and inventory management later.
Take Your Chances and Connect Amazon to Shopify
Why not take your chances and jump into the new multichannel selling chapter, starting with our Shopify Amazon integration? Try LitCommerce today!
Step 3: List Shopify and Amazon products
If you haven't got an Amazon store, we'll guide you on how to list Shopify products on Amazon during this Shopify Amazon integration. To start with our Shopify Amazon listing, you need to create a new listing draft first.
Go to the left-sidebar menu and navigate to All Products.
Tick the corresponding checkbox next to any product you want to list on Amazon.
Click List products on a channel, then select Amazon.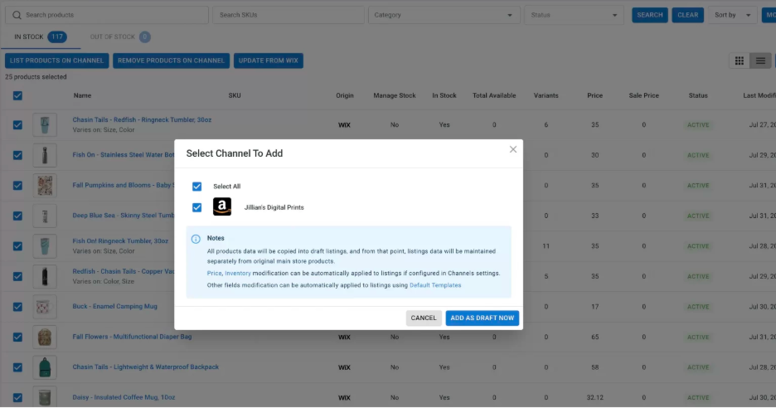 After that, LitCommerce will redirect you to your new draft listings, and a notification will pop up for successful draft listing creation. At this point, you can edit your listings before publishing them.
LitCommerce offers you Single Mode and Multi-edit Mode in terms of listing editions for Shopify and Amazon integration.
Single Mode: It lets you edit listing individually with 4 tabs for Product Identifiers, Vital Info, Pricing, and Offer. Simply click on any title and start editing your listing.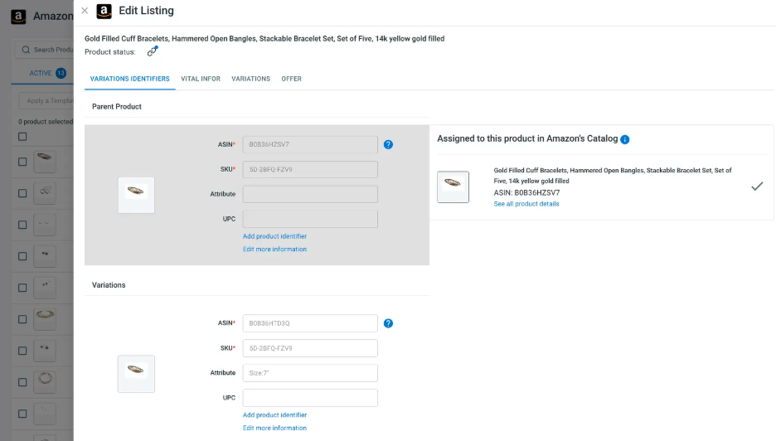 Multi-edit Mode (Known as our QuickGrid): It helps save you time and effort while creating or editing listings from multiple channels. Notably, the Multi-edit Mode features a spreadsheet-styled interface that allows you to edit or add new listings – all from a single screen.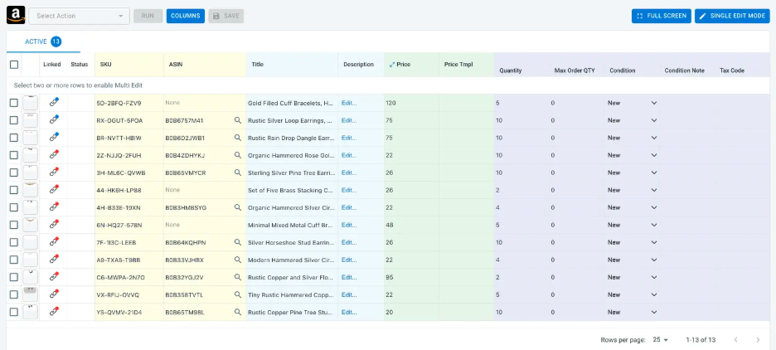 However, remember that our LitCommerce QuickGrid is only available for paid plans.
To save your listings while maneuvering on our Multi-edit Mode, look at the bottom right corner and choose among these buttons:
Save & Publish: Save and publish all your changes on Amazon immediately;
Save & Close: Save your listings as drafts after you make any changes;
Save Change: Save your listing changes, but you will continue editing.
About our Templates and Recipes
Templates are attributes and settings for listings on a specific sales channel for bulk adding and editing. In any case you make changes to a template, all listings applied will automatically update accordingly.
A recipe refers to a set of templates for a certain sales channel, which even helps you save more time and effort for listing creation and edition.
Steps to apply Templates and Recipes
Go to the left-sidebar menu and choose Listing, then find Amazon.
Select any template you want to apply, tick the product checkboxes, and hit Apply a template.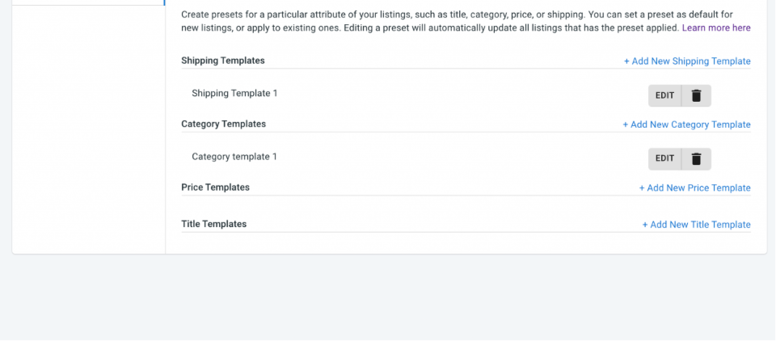 When you finish your listing editions, you can choose any active listing from the Select Action list to publish on Amazon. After that, your listing will immediately transfer from your Draft tab to the Active one.
Step 4: Turn on Shopify Amazon sync
We are reaching the final steps of Shopify Amazon integration. Now, let's learn how to sync data among your stores, including pricing, inventory, and orders.
Go to Channel Setting, which locates under the Listing section;
Switch on Pricing, Inventory, and Order synchronizations;
Choose Save Setting.
Shopify Amazon pricing sync

The pricing sync feature by LitCommerce helps you update pricing from your Shopify store and display them on Amazon up to your preference. More than that, you can create pricing rules, which include an increase or decrease (by percentage or a fixed amount).
Shopify Amazon inventory sync

Like pricing sync, you can make any changes to your inventory on Amazon and Shopify and set rules for each sales channel. However, only inventory changes made from the LitCommerce dashboard take effect as you carry out Shopify to Amazon integration.
Shopify Amazon order sync

Here is how we help you prevent overselling or out-of-stock incidents. When you turn on Order synchronization, our system automatically decreases the inventory number every second an item is sold. If you want to monitor orders on separate channels, you can turn off the Order sync anytime.
Step 5: Manage Shopify Amazon integrated order flow

After allowing data synchronization for Shopify Amazon integration, you can track, process, and fulfill orders from your source store – Shopify. And the best part? All navigation is done on one centralized dashboard.
To start managing the integrated order flow, go to Orders. From this tab, you can:
Regulate and monitor orders across selling channels;
View order information (status, order numbers, buyers' details, shipment, etc.).
And that's it! You have reached the end of our Shopify Amazon integration guide.
Still Need More Information About Shopify Amazon Sync?

We've got you covered anytime, anywhere. Don't hesitate to drop us a message and find out what works the best for you!
---
Why LitCommerce Is The Best Amazon Shopify Integration App?
Having LitCommerce by your side, implementing Amazon and Shopify integration has never been easier. With 10 years of experience and proven success in the field, we have supported 20,000+ customers worldwide in platform integration. Will you be the next?
If you are still hesitant to use our multichannel sync tool, let us show you 4 main reasons why we can offer you the best Shopify Amazon integration.
LitCommerce 4 main features
Multichannel Connect: The name already spoke for itself. Currently, we support more than 20 best selling platforms, including Amazon and Shopify. By using the LitCommerce Multichannel Sync solution, you can seamlessly connect and sell on multiple channels simultaneously and manage them from one central dashboard.
LitCommerce QuickGrid: This is our state-of-the-art feature that comes in a spreadsheet interface. It helps to create or edit listings in bulk. Especially, LitCommerce provides you with Templates and Recipes to save even more time and effort while managing your product listings on any platform.
LitCommerce LiveSync: Real-time pricing, inventory, and order synchronizations are just a few clicks away with LitCommerce LiveSync. When switching on this feature, overselling and manual updating will be your last concerns. We'll keep you updated 24/7 and create instant sync as any change occurs.
Integrated Order Flow: Here goes our final missing piece in your Amazon integration with Shopify – LitCommerce Integrated Order Flow. With this feature by your side, you will seamlessly view and fulfill orders across selling channels in one place. For LitCommerce, we are responsible for importing, tracking, syncing, and keeping you updated constantly.
LitCommerce pricing plans
We have 5 major pricing plans for Shopify Amazon integration, as well as other packages. Below is the pricing detail for your reference:
LitCommerce Pricing Plans (30% Off for Yearly Plans)

- 20 listings

- Multichannel

- No Price/

Inventory/Order Sync

- 1,000 listings

- 3 channels

- Price/Inventory Sync

- Unlimited Orders Sync

- 2,000 listings

- 4 channels

- Price/Inventory Sync

- Unlimited Orders Sync

- 5,000 listings

- 5 channels

- Price/Inventory Sync

- Unlimited Orders Sync

- 10,000 listings

- 6 channels

- Price/Inventory Sync

- Unlimited Orders Sync

- 25,000 listings

- 7 channels

- Price/Inventory Sync

- Unlimited Orders Sync
Shopify Amazon integration – Customer reviews
We have helped thousands of sellers to connect Shopify to Amazon, and here are some kind words from them. From the bottom of our hearts, we are truly grateful that customers have trusted and let LitCommerce accompany them. We promise to always try harder so that we can innovate our Shopify Amazon integration in the future!
I am very impressed with this app. I tried several apps to post to Amazon, and none of them worked quite right. This one works, and has the benefit of a couple of other features that the other apps didn't have 1) If there is an error pushing your listing to one of the channels, they tell you. And it tells you what the error is so it can be resolved. Many of the others are just "black boxes" that require support 5 times a day. 2) being able to add custom content to the Descriptions (such as meta fields from Shopify) was HUGE for me. It's the only one I know of that does that.

From Vibeworks Guitars on Shopify
I am still testing this app. It seems to be working well, there is a learning curve, but I am taking my time and getting better. I am really, however, wanting to talk about the customer service. Because I feel a reputable good company means that there are good people that are there to help you. I am really impressed with the customer service I got with help making sure something was working correctly.

From Scrapwood Martial Arts, LLC on Shopify
---
Link Shopify to Amazon – FAQs
1. Can you connect Shopify to Amazon?

Yes, ABSOLUTELY! You can connect Shopify to Amazon manually or use LitCommerce and sell on both channels in just 5 steps:

Connect Shopify to Amazon by LitCommerce app 
Import and link Amazon products 
List Shopify and Amazon products 
Enable live sync on both channels 
Manage integrated Amazon Shopify order flow

2. How do I sync my Amazon inventory with Shopify?

When you integrate Shopify with Amazon using LitCommerce, you can sync Amazon inventory with Shopify by going to Channel Setting. Then, switch on Inventory synchronization and click Save Setting.  

3. Can I connect my Shopify dropshipping store to Amazon?

Yes, you can connect your Shopify dropshipping store to Amazon using LitCommerce and any marketplace within our support. 
---
Go Multichannel Selling with Shopify Amazon Integration
Can you link Shopify to Amazon? Yes, ABSOLUTELY. You can seamlessly conduct Shopify Amazon integration in 5 steps using the LitCommerce Multichannel Sync solution. Just in case you need a summary, here they are:
Connect your Shopify store to Amazon
Import and link Amazon products
List Shopify and Amazon products for sales
Turn on the data sync
Manage Amazon Shopify integrated order flow
Got any questions about Shopify Amazon integration? Leave us a message right here and we'll reach out to you in no time.
Should you need more information about multichannel selling or eCommerce, you might want to check out LitCommerce Retailer Blog and join our elite Facebook community. Every growth hacks, insights, sharings, and so many more are waiting for you to check out. Happy selling!