Your product or service might be the best thing existing in the world. The quality, price, and practicality can be objectively stellar. Yet, every business project needs all-around representation. And one, even beautifully designed, website may not suffice to help you attain your business goals.
WIX is a powerful tool for designing your website. Moreover, the platform allows the creation of masterpieces of web pages without coding skills. And the freemium business model makes that platform mostly free to use, with rare purchases for more functionality.
Afresh, ask yourself: will the design be sufficient? Spoiler, the answer is negative. The pretty web page is nothing without WIX search engine optimization. And again, SEO for WIX is one component of the whole list. So, let us elucidate the complex WIX tricks that will boost your business rankings and sales:
Prioritize the audience, not the search engine;
Never force keyword usage;
Condense headings and subheadings for ultimate clarity;
Post systematically.
Brand monitoring and analysis tips: 
Incorporate business monitoring tools;
Observe the stats behind your website;
Fix information.
Use templates for landing pages;
Dynamize the pages;
Edit visual materials;
Optimize the site for the most-used devices.
Promotion of site on WIX tricks: 
Work on social sharing;
Share your unique WIX story;
Create newsletters.
The plan might seem vast, but nailing all those challenges makes your business thrive. No business doer wants their project to get lost in the depths of the Internet. So, make sure to follow:
---
SEO WIX Tricks
1. Prioritize the audience, not the search engine
A business doer 100% must know what the audience prioritizes and craves. That axiomatically means doing a lot of audience research with a brand monitoring software. 
Remember that the search engine is your tool for more representation, not the inquiry source. Do not make your answers fit SEO demands 100% if they make your content unreadable. The search engine might make your website appear on the first page at the top. Yet, will that be relevant when your offers consist of keyword combos with zero essences on the matter?
2. Never force keyword usage
Every WIX SEO guide will advise you to use keywords. That is objectively significant, and no SEO WIX plans will bring fruits without basics like keywords. Yet, those components might hinder the whole composition if you spam them. Imagine reading a text with repeatable words in such a density that you cannot see anything else. That does not contribute to a positive user experience, even if your WIX SEO work takes hours.
3. Condense headings and subheadings for ultimate clarity
Language is our foremost tool, equal to every other instrument we use to boost the WIX SEO component. Gladly, languages are resilient, and words have tones that can alter meanings. So, take the most eloquence to make your (sub)headings concise.
There is the Magic Number Seven Rule for a reason. The rule says that the short-term memory of most people can hold around seven objects — words in our case. Sure, you can add two words, but seven is more advisable. Suppose your subheading needs to describe something, including two keywords. Do not hesitate to write a long sentence, but then play with your words! Juxtapose them, incorporate synonyms, and use the power of your language to the maximum.
Remember that your (sub)heading must contain the answer. The answer might need more details — you will present them in the explanation below. But your audience must comprehend the concept immediately.
4. Post systematically
The circus of our existence make all processes accelerate. Information pieces get outdated in hours, not even days. So, you must keep your representation afloat by adding new media materials to your WIX blog.
One post per two days is close to being insufficient! And it is challenging to create many bright pieces in such short terms. Thus, collecting those materials and reusing some parts is advisable if you are late with posting. Furthermore, your content might be diverse! Who said you could not add aesthetics-focused posts in parallel with elucidating/educational ones?
---
Brand Monitoring and Analysis WIX tricks
1. Incorporate business monitoring tools
Those apps and programs are the only things that can show you how your brand representation echoes in the client's heads. The results of brand monitoring direct your business: they explain if you need to stick to a strategy or alter it. WIX tricks are likely to mention standard tools for brand monitoring. No wonder, as WIX offers integration with:
Google Analytics;
GoSquared;
Web-Stat.
While that may suffice for starters, your business will grow. So, a business doer might need newer digital accessories to stay alert about all mentions. Also, shopping cart migration solutions will become necessary.
You may prioritize digital helpers over the human workforce, which is 100% valid. Furthermore, automated tools are more affordable. Their user-friendliness, in turn, contributes to the proficient business. 
2. Observe the stats behind your website
It is advisable to analyze your stats systematically. The market is more volatile than the ocean in a storm, so a business adept must be alert almost 24/7. Alas, many enthusiasts start to neglect their health to stay on top of the news. That is why, newly, the tools are so necessary for your well-done SEO WIX website. 
You can even use hashtag tracking performance on other platforms and see how they relate to your WIX site. This way, you can make the necessary changes to ensure that your hashtag usage is helping rather than hindering your ranking and sales goals.
3. Fix information
Even though people switch their attention in supersonic speeds, saving data on your business is advisable. Many projects store information that describes past years. That material might be significant for analysis and contrast. That, newly, directs your further actions. Doing that manually might be challenging. So, the database migration help might become your most practical solution.
---
WIX Tricks on Design
1. Use templates for landing pages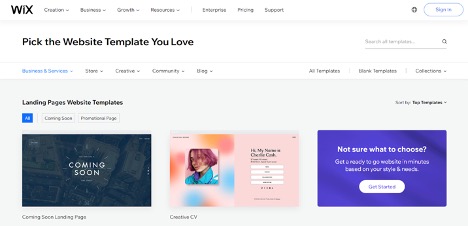 The correctness of visuals is another important component in parallel with WIX SEO and monitoring. The website guest must associate your brand with something pleasant. And, anyway, at first, they see and only then do they buy.
The heartwarming fact about WIX is that it allows users to get templates for visual projects without charging a cent. Thus, you have the right to follow a design that clicks something in your soul. Moreover, the WIX website creation tool gives you an axis that you brighten up with your original vision. The drag-and-drop technology allows doing that with zero coding skills.
2. Dynamize the pages
Aesthetics are a significant component, but dynamism doubles their power. When users see static pages, they seek a detail to lay their eyes on alone. But when the components of your content smoothly flow up, the guests' attention will stick to those objects immediately. That is how our mind works!
Also, remember that today's culture is more visual than it used to be. People react to visual stimuli in 180–200 ms, while auditory components take 140–160 ms. Yet, movement cuts the reaction time on visuals almost in half.
Business enthusiasts will not even need WIX tricks to deal with page dynamization. The tool asks you for minimal clicks to make some components move. So, take those extra minutes to make your webpage lively with the power of motion.
3. Edit visual materials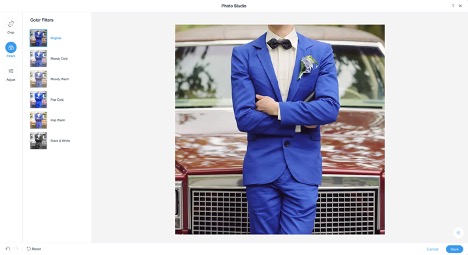 The holistic look of all pieces is necessary. So, we recommend using the same filters and toggling things like brightness and contrast to unify your materials. Furthermore, it is advisable to prioritize a couple of colors with semi-tones instead of making your webpage a rainbow.
Your webpage guests will see the whole picture when entering the site. If there is a chaos of tones and abruptly altering hues, that will load the guests' brains. Of course, you can keep some accents, but strive to keep one theme.
The WIX website creator has an in-system visual editor. As a rule, it suffices, but you might need extra apps for image unifying. There are nice free applications like PicsArt and InShot. The mentioned programs have sufficient functionality without extra payment. But you might need to scan the App Store/Google Play for apps that fit your plans.
You might want to check this out: 11 Ways to Edit Product Image your Website in 2021
4. Optimize the site for the most-used devices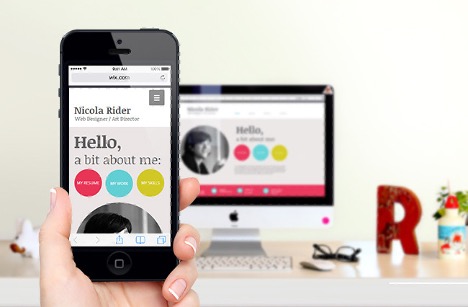 Initially, you are likely to create a version for PC but do not neglect mobile devices. Even if your product is a novelty that makes our life a dream, no client will spend an eon of time searching for the right button to click/tap. So, all your WIX SEO and analysis will not make your website more gripping if there is a lack of optimization.
Sure, a phone can open your webpage even when you have neglected optimization. Yet, the PC-optimized navigation and look will be inconvenient for mobile users. And remember that they will not spend an extra second searching.
---
Promotion of site on WIX tricks
1. Work on social sharing
Connect your brand informational hubs to make it easy for users to get redirected to another page of yours. The WIX website design tool allows creating and placing thumbnails for a visibility boost. Plus, you can immediately share info about your website updates on social platforms! It can be vital after publishing or refreshing your materials.
2. Share your unique WIX story
Your WIX SEO optimization, design, and other operations have a purpose. If there were no purpose, you would not spend time creating the page — that is axiomatic. But what has motivated you? What is the story behind your ideas and plans?
Your story might not be the first thing clients analyze, but its unveiling contributes to your brand concept. Moreover, there is a thing designated as WIX stories: the collection of testimonials that unravel stories of creation. And visitors start clicking the most gripping ones, redirecting to your projects. So, that is another plus to representation and sales.
3. Create newsletters
Picture being a client that gets a beautifully-designed letter with a lucrative and long-lasting promo code. Even if that does not motivate the recipient to buy something, they might still click the link. A thousand of those clicks give you a boost to ranking and around one hundred fresh orders to process. And WIX website creation demands minimal effort to design those newsletters.
---
Final Words
Your rankings and sales will rise after comprehensive project implementation. Gladly, the WIX SEO, design, monitoring, and sharing tools are majorly free. So, your wallet or purse will not lose a lot of weight because you work with that program.
Remember that prioritizing one aspect might be insufficient. All of the listed components are significant — thus, take your time to nail 100% of them. Furthermore, your business idea deserves to get maximum attention.
You might also want to read: