WooCommerce Etsy Integration Guideline
In case you're an eCommerce seller seeking to expand your reach and simplify your operations, utilizing our LitCommerce WooCommerce Etsy integration is a smart and effective solution. By using our tool, you can easily sell on Etsy with WooCommerce store as well as sync WooCommerce and Etsy within a single click. Let's take a look at how to integrate WooCommerce with Etsy in 4 primary steps:
1. Connect WooCommerce and Etsy
2. List products on Etsy
3. Sync WooCommerce and Etsy
4. Manage Etsy orders on WooCommerce
To learn more about how you can integrate WooCommerce with Etsy and simplify your selling activities, check out our comprehensive guide on WooCommerce Etsy integration with LitCommerce.
#Step 1: Connect WooCommerce to Etsy
Create a new LitCommerce account or log in using your Facebook or Google account. Select WooCommerce as the main store and ensure that your WooCommerce store is set up before proceeding. In the Setup First Channel section, click on the WooCommerce logo and proceed to download the WooCommerce plugin.


Then, in the same section, choose Etsy as the additional sales channel. Assign a nickname to your channel and select the desired region for your store. Finally, click on Connect Your Account to establish the connection between WooCommerce and Etsy through LitCommerce.
Here is our guide to visualize the whole process of integrating Etsy with WooCommerce:
#Step 2: List products to Etsy
To create a new draft listing, firstly, go to All Products from the left sidebar menu. From here, choose the items you want to list on your channels. After that, click List Products on channel, then choose Etsy.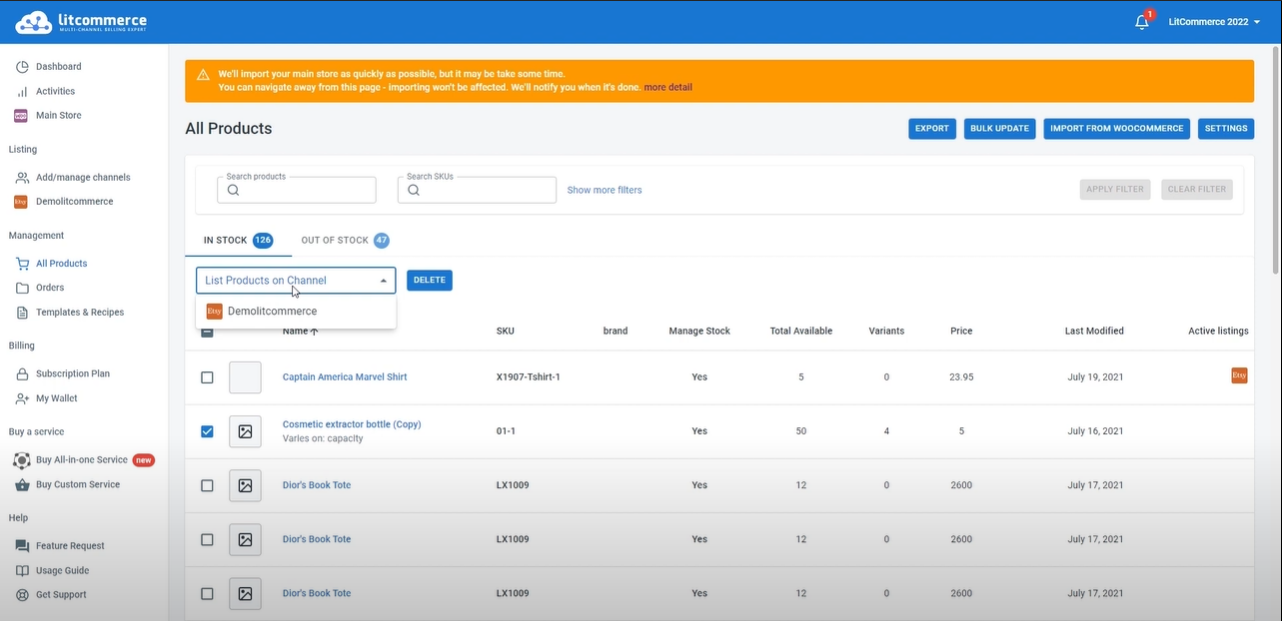 The system will then create draft listings on your channel page and redirect you to it. Along with that, you will see a notification Draft listings successfully created. Now you can freely customize your listings before going live.
#Step 3: Enable WooCommerce Etsy Sync
With LitCommerce app, you can synchronize your Etsy and WooCommerce with just a click. To enable Etsy WooCommerce inventory sync, from the main dashboard, choose the sales channel you want, and then click Channel settings. From there, you can see the Inventory section in the picture below.

Click on the switch next to Inventory Sync to turn on this feature.
After that, click on Save Settings from the bottom of the page to save any changes you've just made. And you're ready to go!
#Step 4: Manage Etsy orders
While the WooCommerce store will be the place where you fulfill your orders, you can also manage them in the LitCommerce system. To manage orders, go to Orders from the left sidebar menu.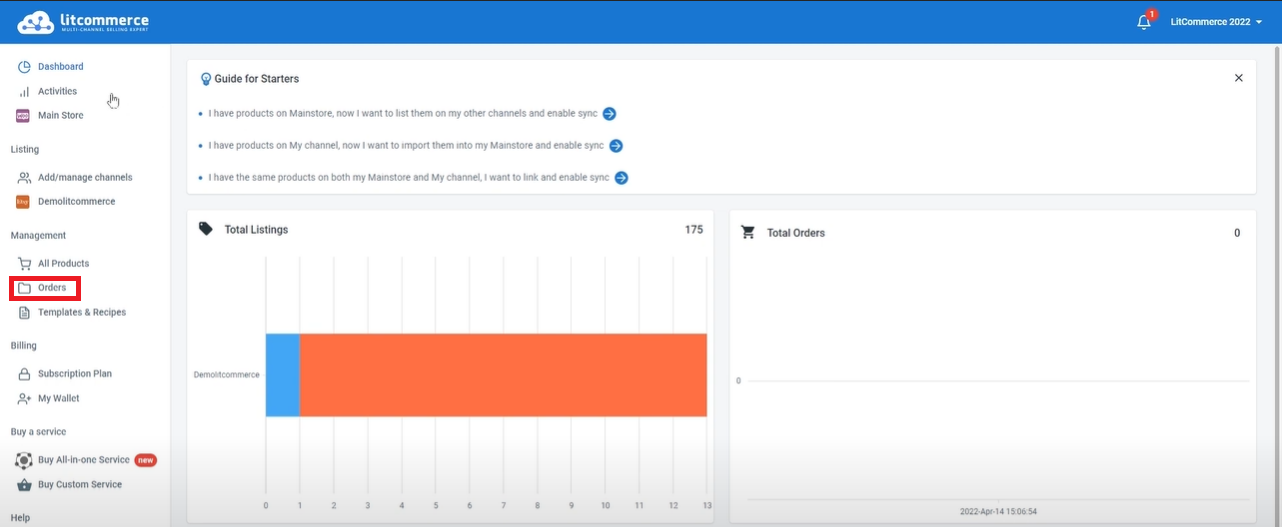 You'll find the buyer's name, order status, channel order number, and other important components. This will help you monitor and manage orders from all sales channels in one place.
That's how easy it is to utilize WooCommerce Etsy Sync using LitCommerce app.