BigCommerce Etsy Integration Guideline
In case you're an eCommerce seller seeking to expand your reach and simplify your operations, utilizing our LitCommerce BigCommerce Etsy integration is a smart and effective solution. By using our tool, you can easily sell on Etsy with BigCommerce store as well as sync BigCommerce and Etsy within a single click. Let's take a look at how to integrate BigCommerce with Etsy in 4 primary steps:
1. Connect BigCommerce and Etsy
2. List products on Etsy
3. Sync BigCommerce and Etsy
4. Manage Etsy orders on BigCommerce
Here is our detailed 4-step instruction on BigCommerce Etsy integration!
#Step 1: Connect BigCommerce to Etsy
Before diving into BigCommerce Etsy integration, access bigcommerce.com and log in from the homepage.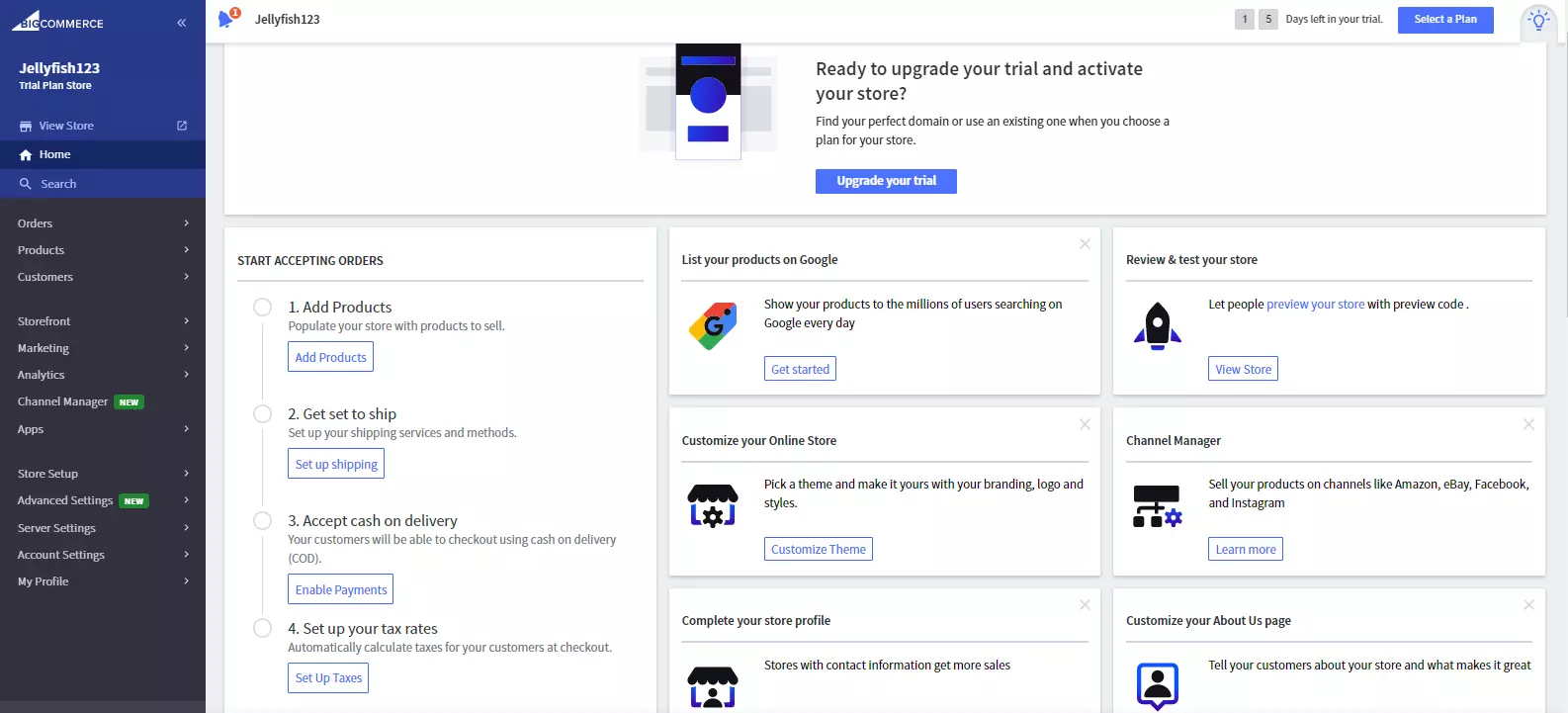 Then, simply type LitCommerce on the search bar. As you have got the search result, go with the Install or GET THE APP button.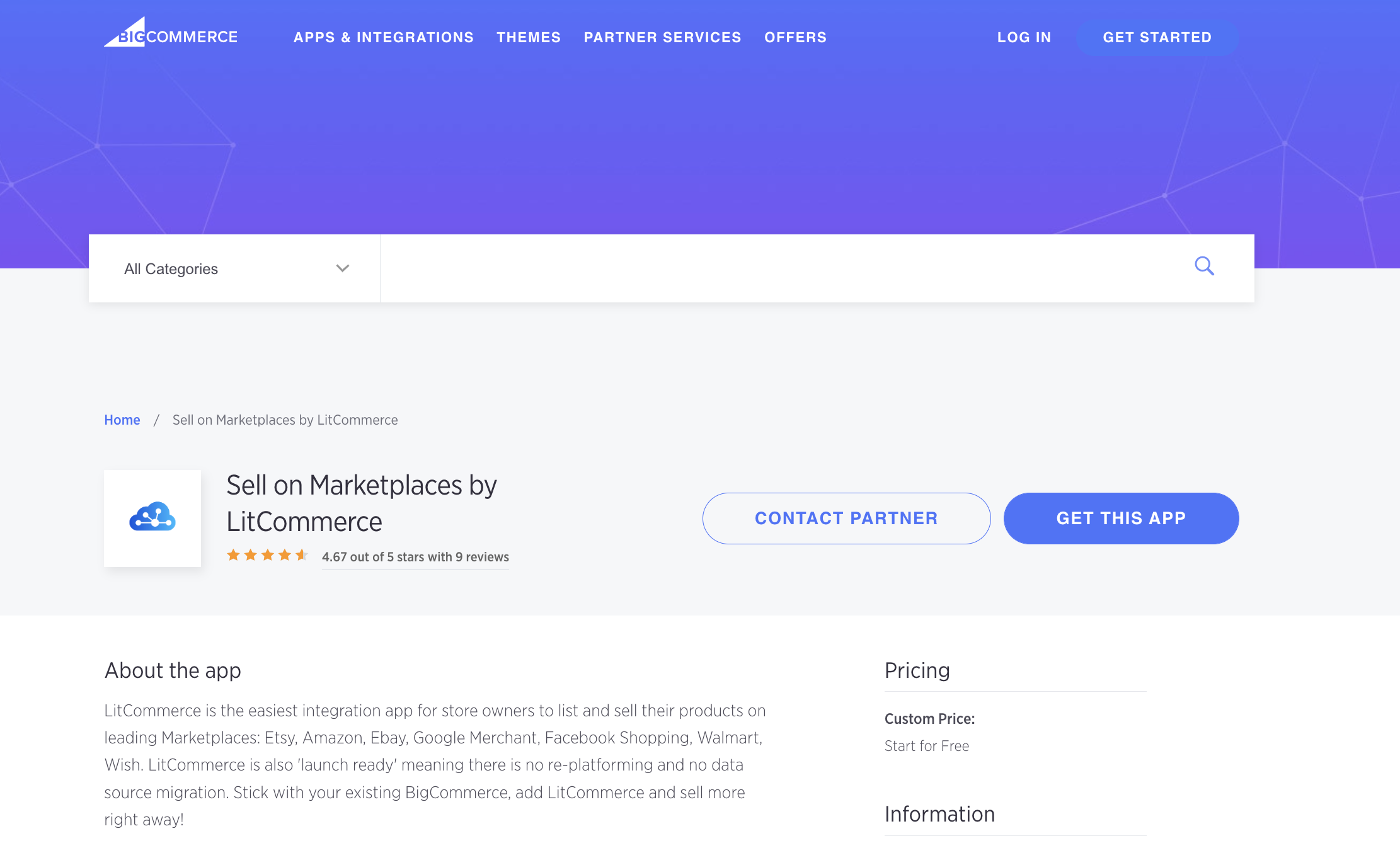 After successfully installing the LitCommerce app, it will show up in the My apps. Click on it and follow the link inserted, directing to the LitCommerce interface.

Continuing to integrate BigCommerce with Etsy, you need to:
Click Add/ manage channels and choose your Etsy marketplace.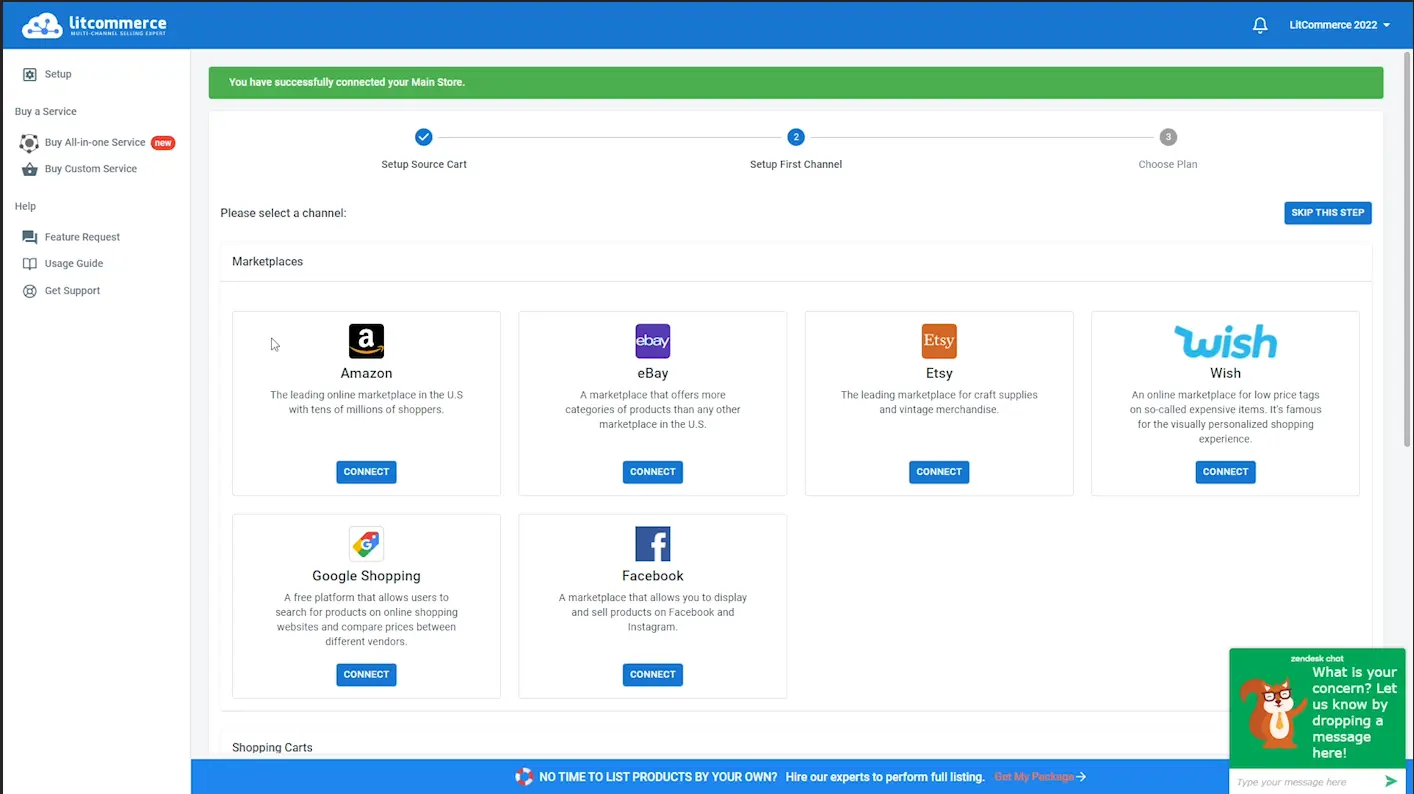 Fill in your store's name then hit Connect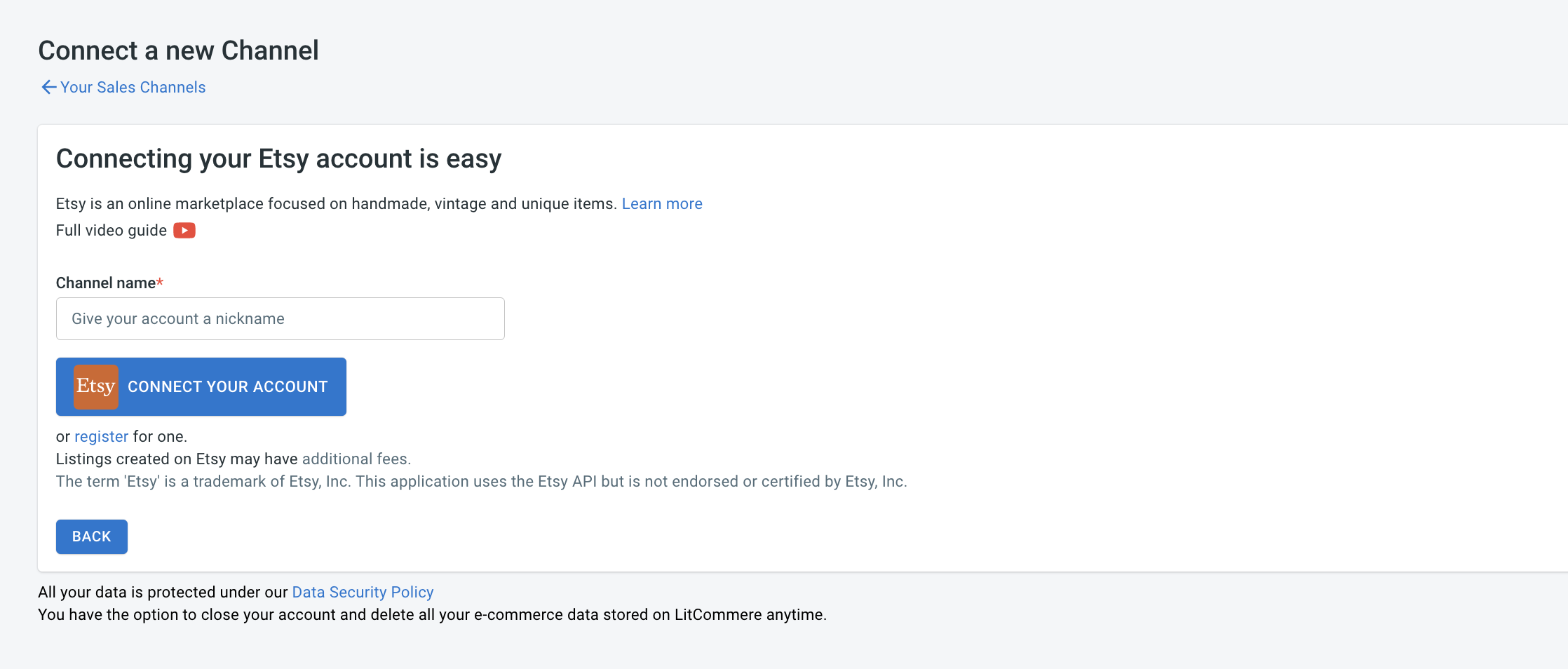 Asides from BigCommerce Etsy integration, online business owners can maneuver several others, including BigCommerce and eBay, BigCommerce and Amazon, etc.
Follow our video tutorial on how to connect to Etsy:
#Step 2: List BigCommerce products on Etsy
Following in the integration is to list BigCommerce products on Etsy. Firstly, check the Management, located on the left panel of your screen, then click on All Products.
Within the section, you will see all existing listings. You then have to choose which products go on Etsy.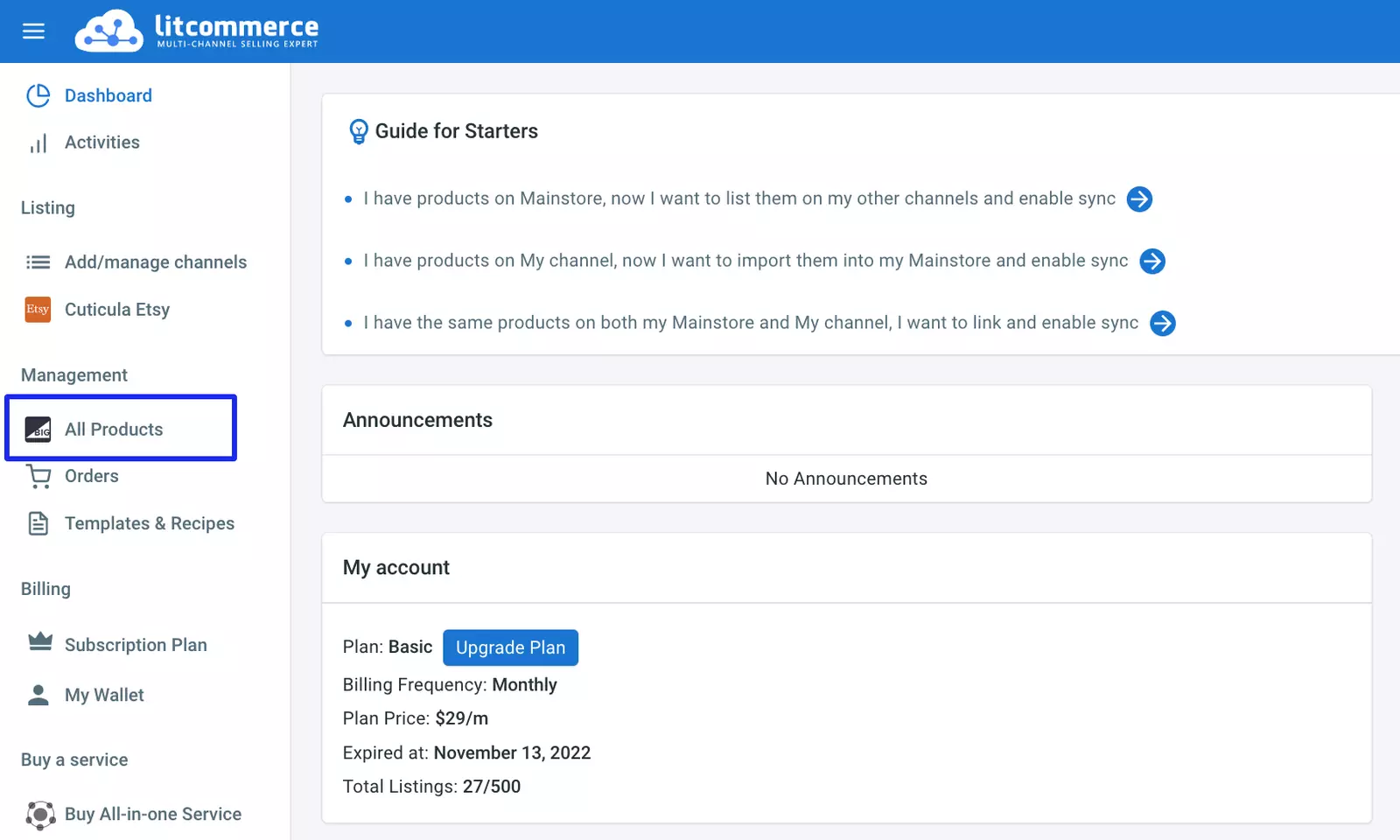 Once you have done selecting items for your Etsy store, look up the List Products on Channel in the upper left corner and choose Etsy. In case you have new listings, select Update from BigCommerce, then follow the guide as usual.
You will be now redirected to your new channel listings (in edit mode). It's time to perfect your Etsy listings before you go live while doing the BigCommerce Etsy integration. When using the LitCommerce app, you can edit your listings in these two ways.
Simple mode: Click on the listing title and fill in the necessary information in the pop-up board. E-sellers need to complete details about Vital Info, Images, Variations, Category, and Shipping.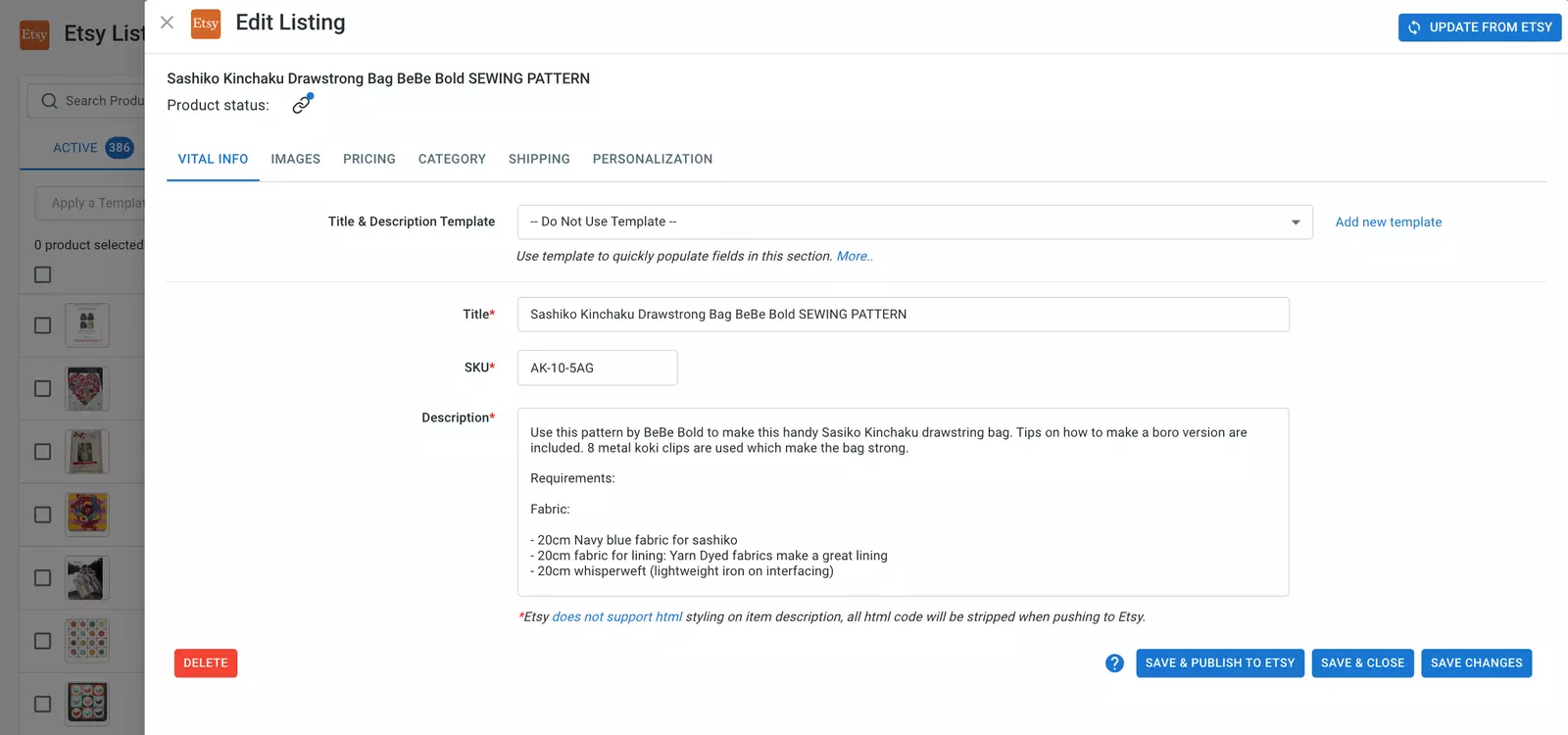 Multi edit mode: Use our QuickGrid feature to do Multi edit mode, which helps to save a lot of time. All listing edition now lies in one central dashboard for your maneuverings. Nonetheless, please keep in mind that QuickGrid is only available for premium plans.

When the editing is done, select Active Listing from Select Action to publish your item list on Etsy. It will then get transferred from the Draft tab to the Active one, resembling your editings.
#Step 3: Enable BigCommerce Etsy synchronization
You may notice there are three synchronizations for BigCommerce Etsy integration, which are Pricing, Inventory, and Order. They are other features in our plans for businesses. But how do they actually work?
Pricing synchronization
Briefly, the feature is responsible for pricing-related updates of your online merchants in both selling channels.
When switching on the Pricing Sync, you can now edit pricing on each channel individually. This means that your pricing on Etsy and BigCommerce does not necessarily resemble one another.
As businesses sell Etsy products on BigCommerce while in BigCommerce integration, it may get slightly different due to factors such as audience, remarkable categories, and many more. Hence, we advise that you adjust your pricing to the best fitting.

Inventory synchronization
In addition, LitCommerce provides you with effective inventory control on both marketplaces when doing BigCommerce Etsy integration. The function is fully devoted to updating product quantity statements in your central catalog. Any change will then get reported, preventing sellers from overselling and keeping them stay tuned.
Enabling inventory synchronization will help you to:
Adjust item amounts on Etsy and BigCommerce individually (similar to pricing)
Set up minimal and maximal amounts for each product

Note: You can only make adjustments and setups on BigCommerce and not vice versa.
Order synchronization
Lastly, pay attention to our Order Synchronization in Etsy integration for BigCommerce sellers. Specifically, it helps e-sellers manage all orders from both Etsy and BigCommerce from one BigCommerce central dashboard. As a result, inventory control and order fulfillment are now less complex and more time-saving.
When the Order Synchronization is on, the LitCommerce app will list all orders in one central board on BigCommerce. At this point, make changes if needed. Or else, go ahead and click Save.

Nevertheless, to use the Order synchronization, you must first switch on the Inventory Synchronization.
#Step 4: Make use of BigCommerce Etsy integrated order flow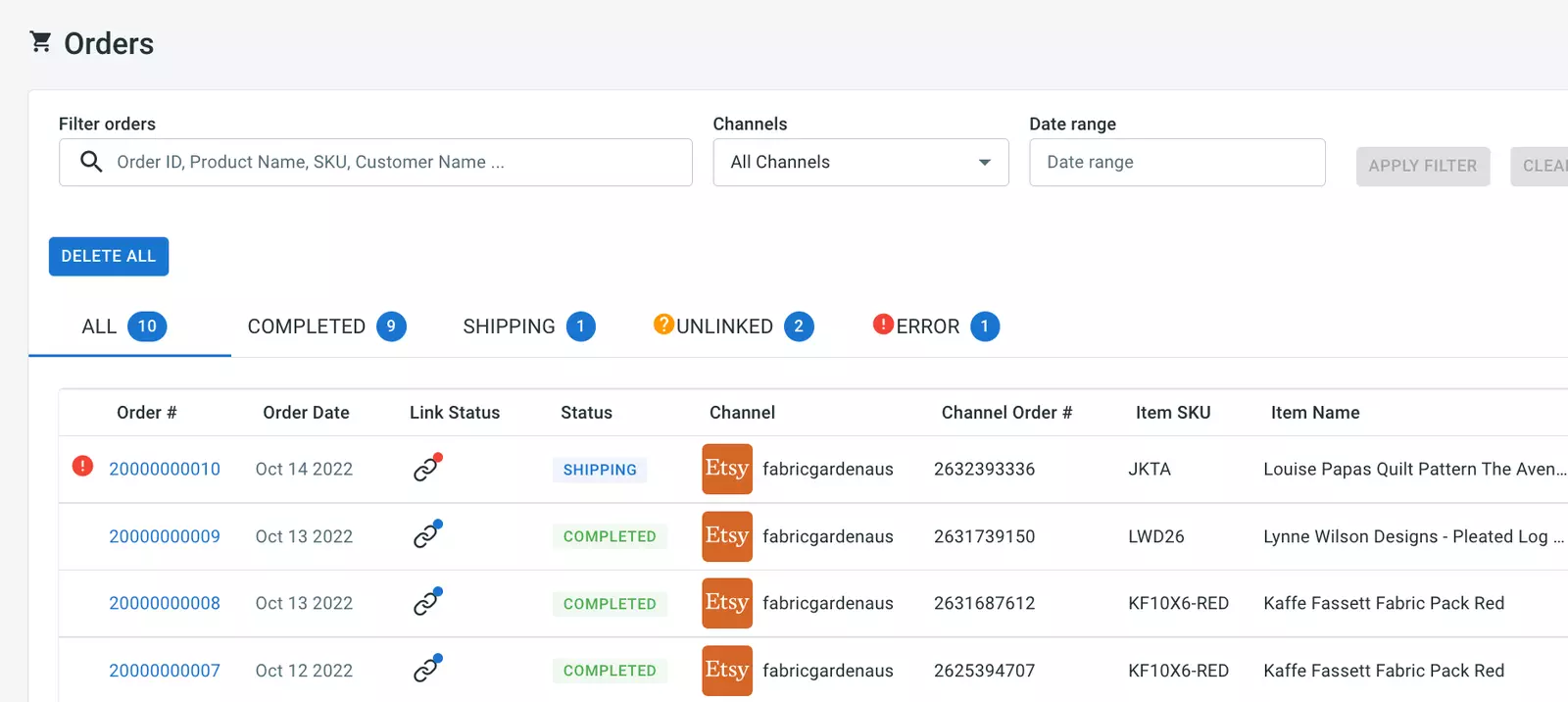 The final step in BigCommerce Etsy integration is to make use of the order flow supported by LitCommerce. With the three functions featured in our plan, e-sellers are able to manage orders from the two channels in one central dashboard.
In detail, as you are in the BigCommerce central dashboard, you can choose either to review orders before conducting the fulfillment process or have them imported into your existing flow by LitCommerce. If it is the second case, LitCommerce will support you to:
Import and keep track of orders from one single dashboard
Stay tuned with real-time inventory updates from transferred orders
Constantly update tracking data and shipment information from all selling channels
With LitCommerce, multichannel integration is easier. Apart from BigCommerce Etsy integration, e-sellers can reach other selling channels such as Google shopping, Facebook, and Amazon. We also offer integration for Wix, Shopify, and WooCommerce.