You might have a Shopify-based online store and are looking to expand your business on Etsy as well. It makes perfect sense as Shopify and Etsy are two incredible eCommerce platforms where millions of online merchants worldwide operate their businesses.
Taking that into consideration, this article is the right place for you to learn how to integrate Etsy with Shopify effortlessly. Here, we would like to walk you through these main ideas as follows:
How to integrate Etsy with Shopify with LitCommerce
Benefits of Shopify Etsy integration
Let's find out why you should integrate Etsy with Shopify to make your business thrive!
---
How to integrate Etsy with Shopify with LitCommerce
Deciding to integrate Etsy with Shopify means that you must have considered all important factors, including the fees involved. However, after taking advantages of multichannel selling solution, sure it will worth every penny.
Now that Shopify has taken down its official app to connect with Etsy, we will gladly show you how to integrate one of the most popular online marketplaces with Shopify using LitCommerce.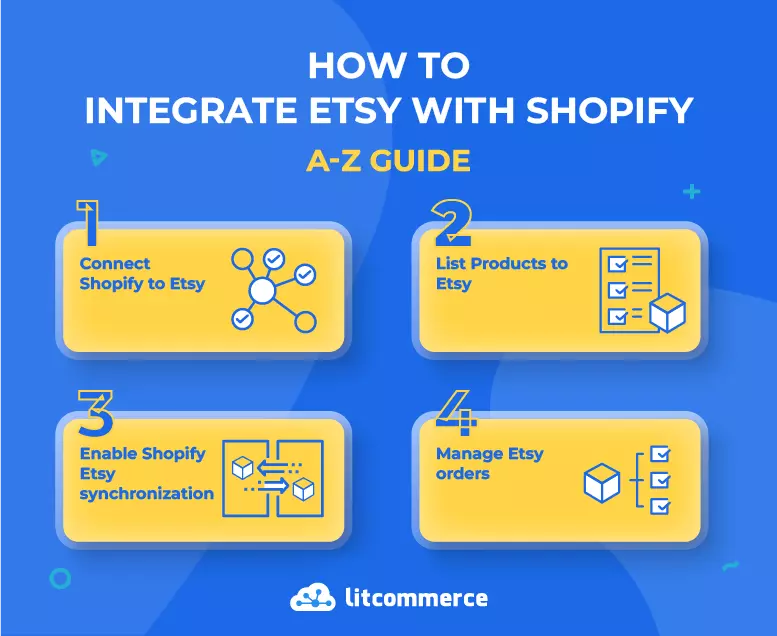 #Step 1: Connect Etsy to Shopify 
Firstly, look for the LitCommerce Etsy Plus app on the Shopify App Store. Then, click on Add App to connect with Shopify.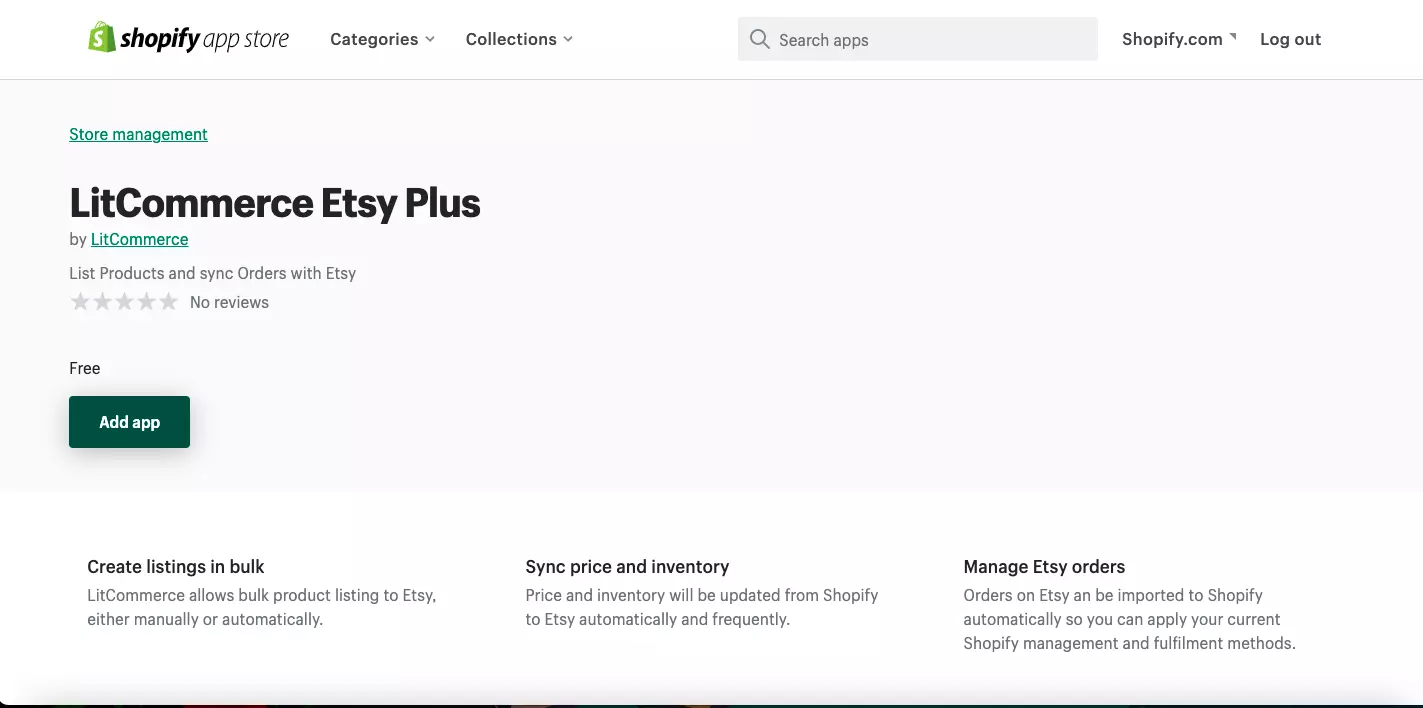 Then, proceed to log into your Shopify account and click on Install App and you will be ready to go!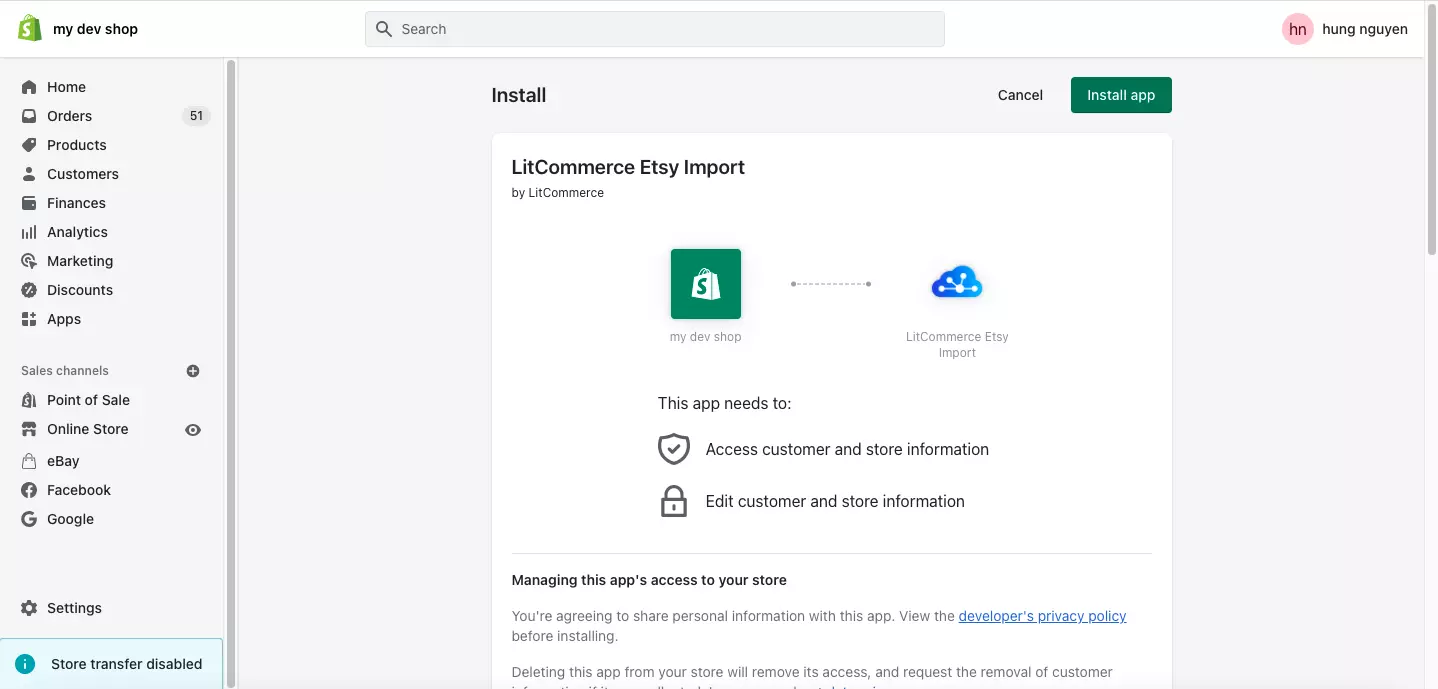 Give your channel a name before clicking on the Connect your account button. Previously, make sure you have a business account on Etsy before the connection.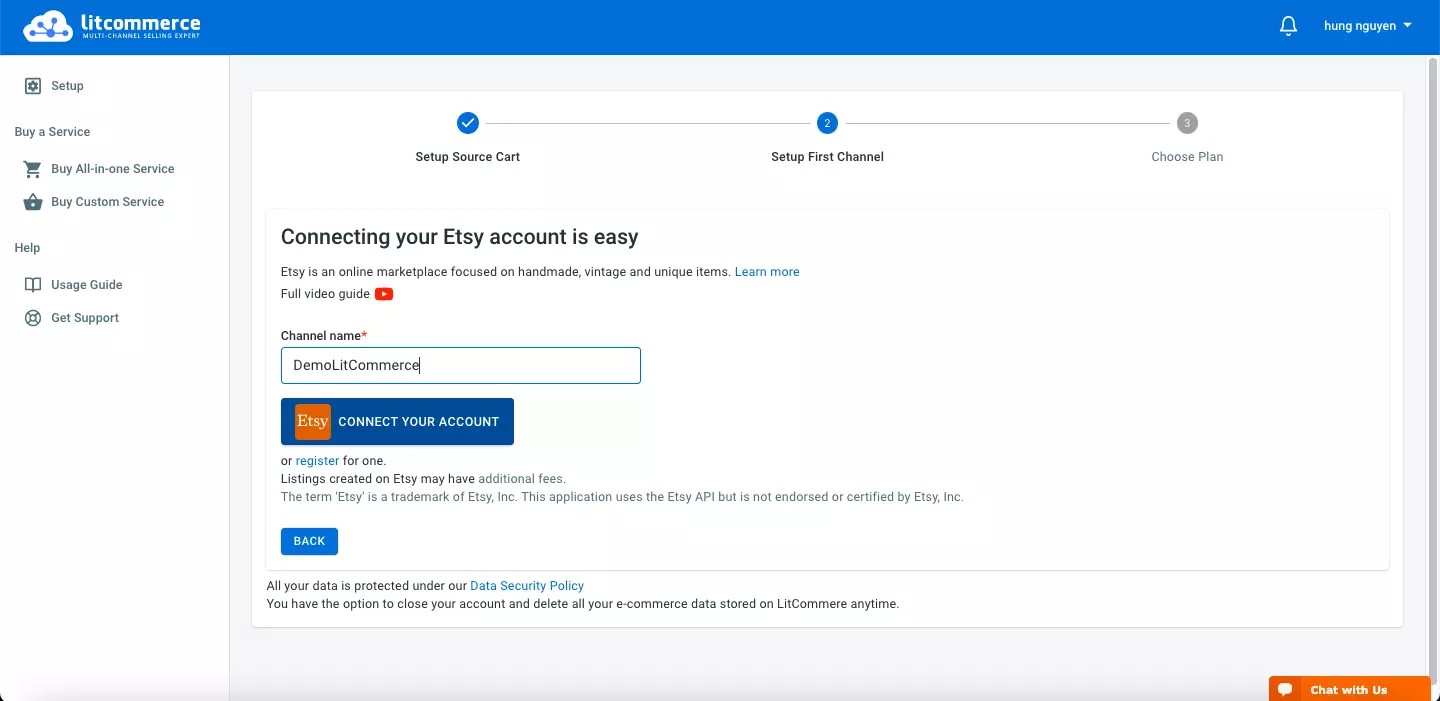 Then, a pop-up window will appear asking you to log into your Etsy account and allow LitCommerce access.
Afterward, you can add other sales channels from the LitCommerce dashboard if you want to integrate with other marketplaces as well.
Finally, you have arrived at your dashboard. Now you can get to work from here. Below is the detailed guide on how to connect to your Etsy store while using the LitCommerce app.
#Step 2: Import and Link Shopify to Etsy products
Secondly, you must import products from Shopify to Etsy or the other way round. On the main sidebar menu of your LitCommerce dashboard, visit All Products and click on Import from Shopify so you will push all existing Shopify listings to LitCommerce.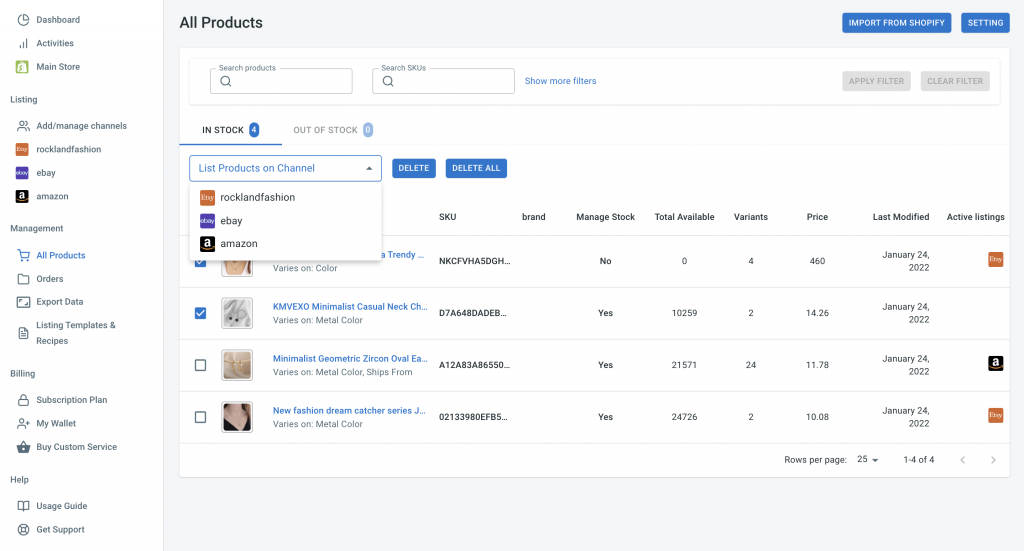 You also need to link current products from your imported listings automatically which have the same SKU in your LitCommerce catalog.
Following the product import, choose either all products or certain ones you wish to list on the marketplaces. Then select Etsy from the List Products on Channel dropdown menu.

#Step 3: Enable Shopify Etsy sync
LitCommerce allows you to establish price and inventory quantity synchronization as well. When you enable the sync function, all pricing changes made in your Shopify store will be reflected on Etsy. When an order is placed, inventory sync changes the inventory quantity for all channels to match.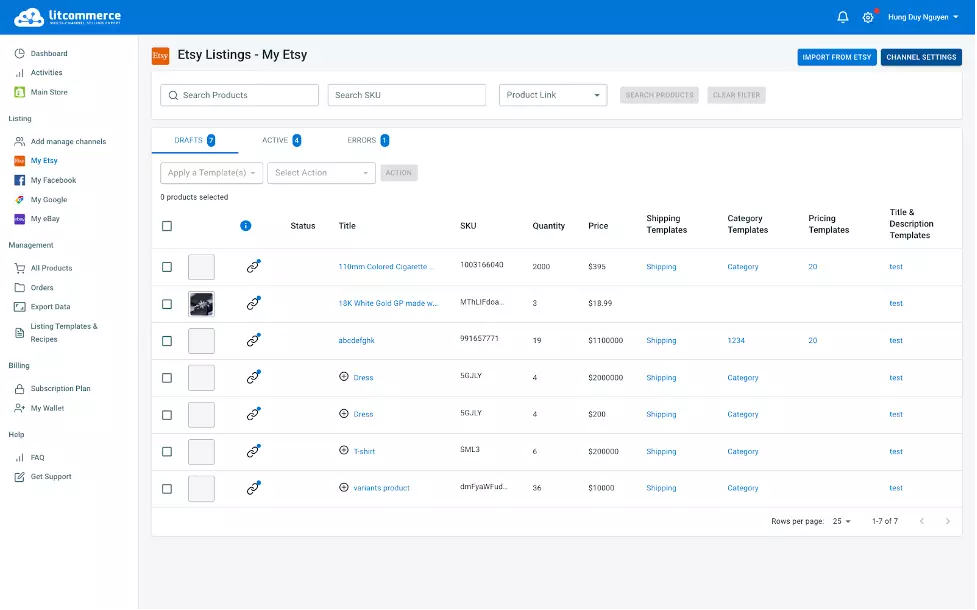 To start syncing, choose Etsy from the main dashboard and click Channel Settings at the top right corner.
You will arrive at 3 sections: Pricing, Inventory, and Order. Click on the switches beside all the Sync options and confirm to turn on these features.
You can create your own rules to fit how you want them to be displayed on your Etsy store. Price rules allow you to increase or decrease the price of all Etsy listings by a fixed amount or by a percentage. After you set the rule, it will apply to all listings on Etsy.

Inventory synchronization
Set inventory rules by indicating the proportion of available inventory or the minimum and maximum amounts to be displayed on Etsy.

LitCommerce will update adjustments in the central catalog to match with your Shopify catalog once Inventory Synchronization is active. Then, it will change the inventory quantity on Etsy by default to correspond with that on your LitCommerce account. However, the inventory sync only works if you change the quantity on your Shopify Main Store rather than the other way around.
This feature can also help you avoid overselling by displaying the correct number for each product. For example, if you receive orders through a channel, the product quantity in the LitCommerce central catalog will decrease by the same amount.

By enabling this feature, you will be able to access your Shopify store and fulfill orders from Etsy. LitCommerce collects new Etsy orders and imports them into Shopify, allowing you to handle orders from your Shopify dashboard.
If you want to manage orders on different channels, deactivate this option. When you're finished, select Save Setting< at the bottom of the page to save any changes you've just made.
#Step 4: Manage Etsy Orders
Begin by importing all your Shopify and Etsy items and listings into the LitCommerce dashboard. After that, you can begin listing your products on Etsy or creating Shopify products based on your Etsy listings.

To list products on Etsy, select All products from the left-side menu bar, then select single or more products and click List products on Etsy.
LitCommerce will generate draft listings based on the products you've chosen. Navigate to your Etsy listing page and choose the Drafts tab to see your listings. Before publishing your listings live on Etsy, you can update them and apply templates here.
Upon the completion of the listing, the products will be switched from the Drafts tab to the Active tab.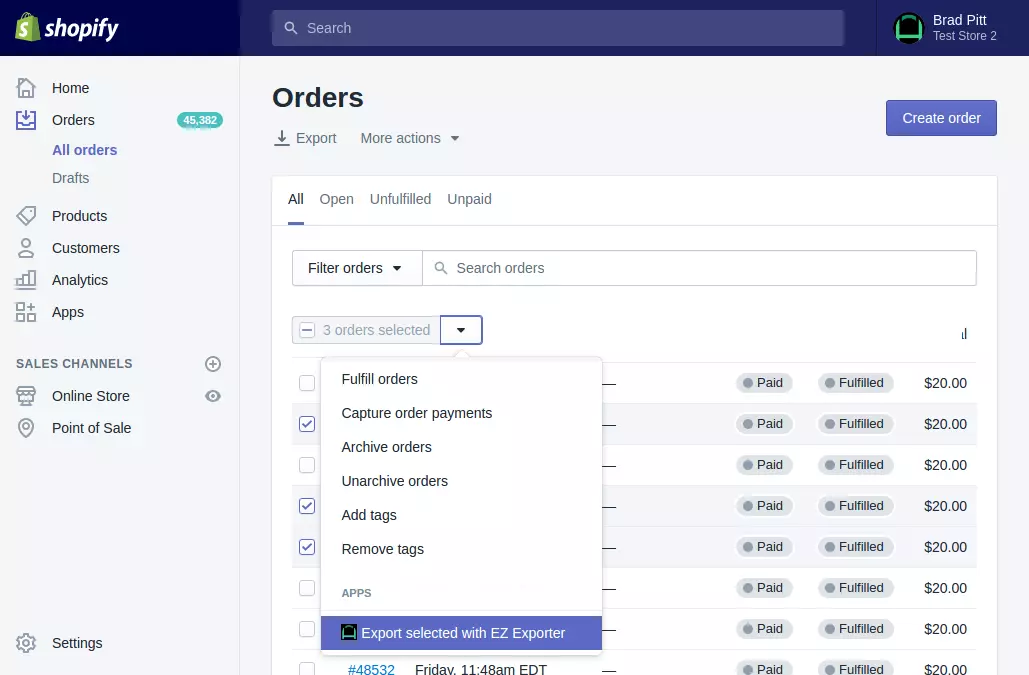 After the product listing, post-sales activities include order handling and fulfillment. Next, navigate to the Order section of your Shopify store. You can use the Shopify-integrated order fulfillment methods.
---
Why choose LitCommerce
LitCommerce Pricing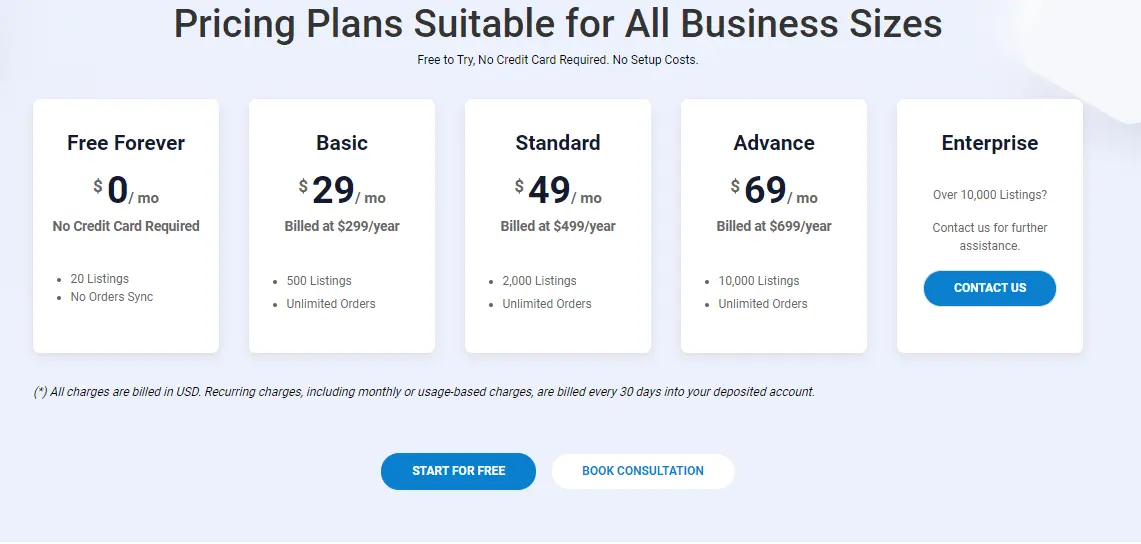 LitCommerce provides a variety of pricing options to meet the needs of the customers. They are determined by the number of products in the central catalog of users and the number of orders received per month. When a company's listing or order limit is reached, users must upgrade to the appropriate plan. Let's have a look at which one suits your company's size best:
Free forever: This plan charges you nothing. However, it offers a listing limit of 20 only and no order synchronization.
Basic: Open to 500 listings, this plan allows unlimited order integration while costing users $299/year.
Standard: This plan is billed $49 or $499 yearly with 2000 listings featured.
Advanced: Supporting 100,000 listings and syncing orders automatically is highlighted in this plan. LitCommerce quotes a monthly price of $69 and $699 yearly.
Enterprise: If you own an enterprise-level store with an inventory higher than 10,000 or an order number higher than 2,000, this plan is fully made for you. Your project will take priority which involves the highest sync frequency and all support levels available. Quickly contact us and discuss how to integrate Etsy with Shopify appropriately together.
Note:
All plans ask for neither credit card nor extra fees. Recurring invoices, including monthly and usage-based, are delivered every 30 days into your registered account.
Apart from the Free Forever plan, LitCommerce users need to make payments in USD. The first billing takes place on the day you choose a pricing plan and fill in your payment information.
Customer Reviews
It is LitCommerce's responsibility to constantly monitor and update our service quality. In this regard, we always welcome every feedback we can get to understand our customer experience better.
LitCommerce transfers my products from 2 Etsy stores to my new website.

I used LitCommerce to transfer all my product from my 2 Etsy stores to my new website. I moved over 400 products and photos and no issues.

– From William, Store Owner –
You can also spare some time to visit Trustpilot for a better look at LitCommerce services before reaching your final decision on Shopify Etsy Integration.
---
Benefits of Shopify Etsy Integration
LitCommerce team always strives for a simplified process, together with a scalable and cost-effective integration solution. Consequently, it is our mission to guarantee the greatest user experience.
Bulk product listing: Save a lot of time and effort by easily choosing multiple products to create listings from the LitCommerce central catalog and publish on Etsy in bulk within a single click.
Real-time synchronization: Update recently made changes in product attributes like name, price, inventory, etc. between your Shopify and Etsy stores automatically to reduce repetitive tasks to a minimum.
Advanced order management: Acknowledge the orders coming in from your Etsy sales channel instantly and import them into your Shopify store, helping you keep track of products effectively.
---
FAQs – Shopify Etsy Integration
1. Which is better, Etsy or Shopify?

Shopify is a comprehensive platform for businesses of all sizes. It aims to help a company's online store grow and develop with their business by providing a wide range of eCommerce selling features.
Meanwhile, Etsy is notably an online marketplace for independent sellers such as artists, craftsmen, antique dealers, and other small companies. Their easy-to-use web-based platform makes it simple for a retailer to set up a viable online store.
If you are interested in the utmost Shopify and Etsy comparison, don't forget to check this out.
2. How to connect Etsy to Shopify?
With LitCommerce's help, you can successfully integrate Etsy with Shopify through these 4 steps:
#1: Connect Etsy to Shopify via the LitCommerce app.
#2: Import and link Shopify products to Etsy.
#3: Turn on Shopify Etsy sync.
#4: Manage Etsy orders.
Should you have any specific requirements for your Shopify Etsy integration project, feel free to consult our support team for detailed instructions.
3. How do I sync my Shopify inventory with Etsy?
Thanks to one of LitCommerce's higher functions, you can easily synchronize your inventory between Shopify and Etsy. Access Etsy on the sidebar menu from your LitCommerce dashboard, and choose "Channel Settings". There, you will see the Inventory Sync function. Turn it on and you are good to go!
4. How much does it cost to integrate Shopify with Etsy?
LitCommerce always aims to provide affordable but still efficient solutions. For that reason, we offer a collection of pricing plans available for our customers' needs, which include Free Forever, Basic, Standard, Advanced, and Enterprise. They differ in the product quantity displayed in your central catalog on LitCommerce and the order number placed on a monthly basis. When either the listings or the order quantity exceeds that allowed in a certain plan, you will upgrade to the respective one.
If you either are unsure of LitCommerce's services or just want to use it for a trial period before the final call, it is advisable to go for the Free Forever plan and see for yourself how the system works.

---
Conclusion
Setting up and managing an eCommerce website takes a lot of time and effort. Adding all of the essential external platforms to attract customers and grow your business might be challenging.
Check out LitCommerce if you are planning to expand your business and want to manage everything in one place. LitCommerce is the easiest way for store owners to list and sell their products on the top global online marketplaces, not only Etsy but also Amazon, Facebook Shops, eBay, and so on.
For more information, please contact the support team; we are always happy to assist!
You can also become a member of our community to receive more relevant eCommerce news and tips.
You might also want to read: